In search of a Great White shark - Neptune Islands.🦈🇦🇺
Gather round my blockchain friends as I want to tell you a tale about how we sailed the seas in search of a Great White shark 🦈!!
So my birthday is coming up and what better way to celebrate with seven of my mates from all around Australia.
The plan was to all meet up in Adelaide, then embark on a road trip to Port Lincoln to cage dive with Great white sharks!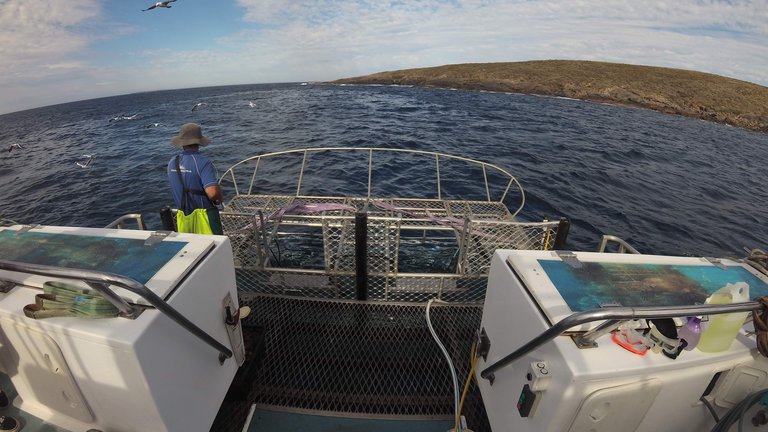 We all knew this was going to be an extremely fun and exciting weekend! And even though shark sightings have been low at the moment, we were all keen to roll the dice and take the chance of seeing one of these monsters in the wild.
So I picked up mostly everyone from their hotel at 9am in Adelaide, then another one from a truck stop. Then we were finally on our way to Port Lincoln!!!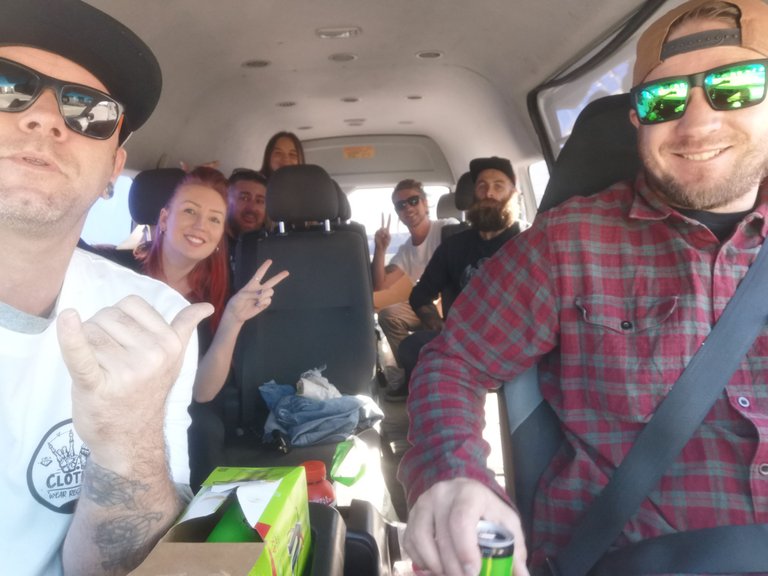 With the drive to Port Lincoln from Adelaide there are two options:
1 - drive all the way around from Adelaide to Port Lincoln which takes about 10 hours.
2 - drive to Wallaroo which is a two hour drive. Then catch a car ferry to Lucky Bay which takes three hours. After that it's another two hour drive to Port Lincoln.
We all decided on option 2 as it would break up the long drive and we could all stretch our legs for a bit.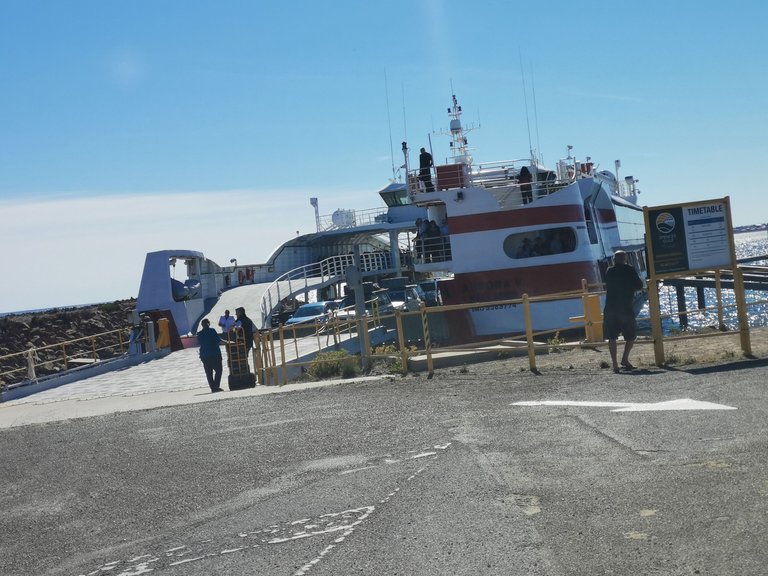 As always getting there is part of the fun!.. And the shit talk was def in full effect.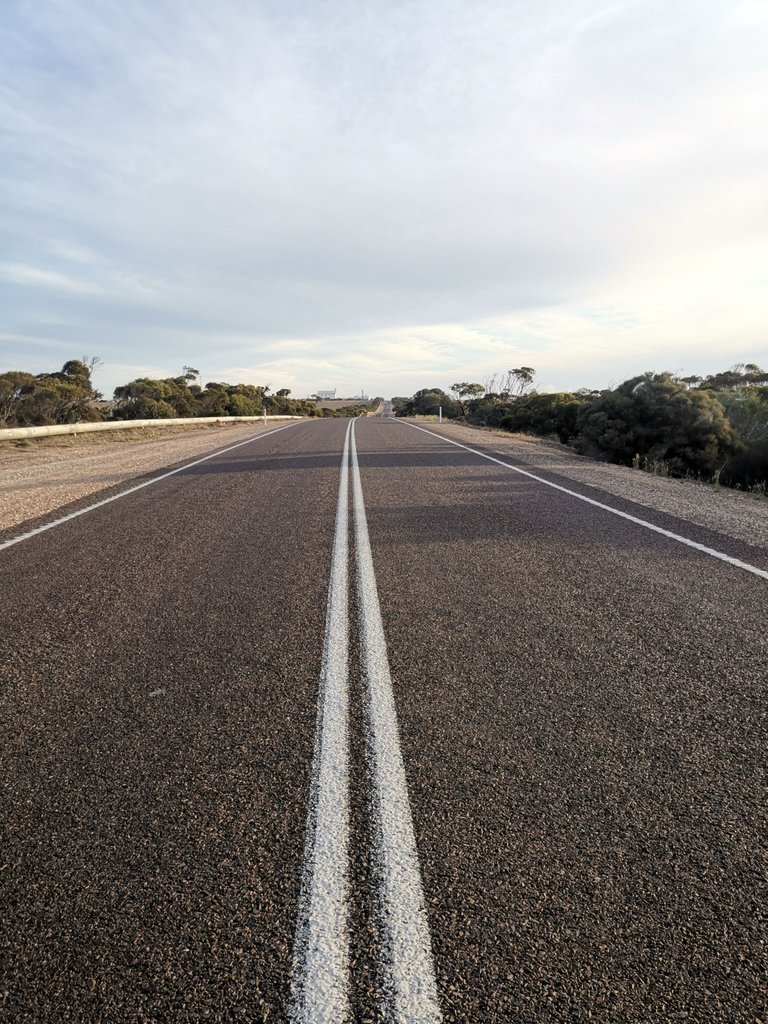 After a quick stop at the bottle shop we finally arrived at our Airbnb at sunset. We were all super excited for the next day of unknown and the drinks started flowing.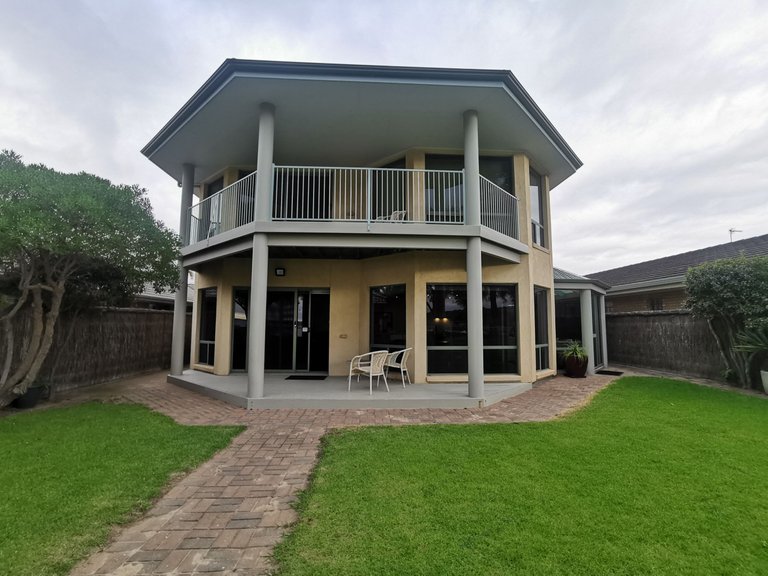 Maybe we had one too many drinks but this isn't our first rodeo...
As we all woke up 5am and were in the van by 5.50am heading to the marina. Everyone was excited cracking jokes and speculating what today had installed for us.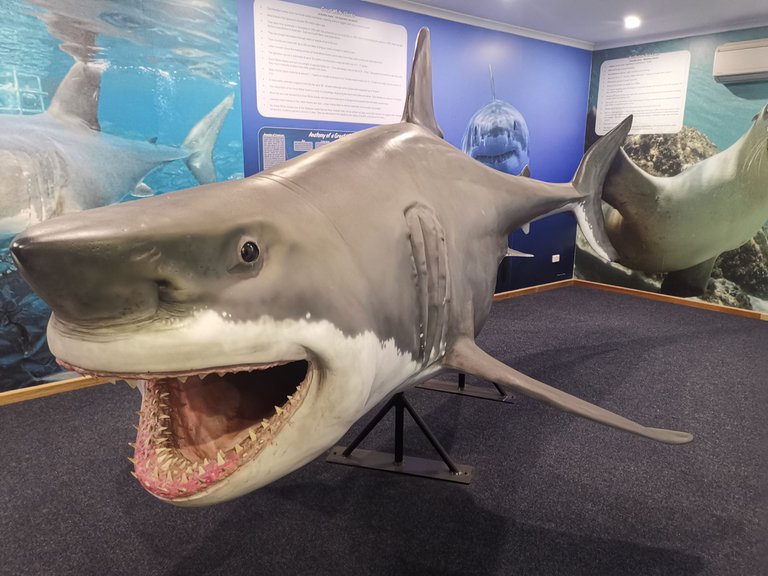 The lady at reception said we were all very chirpy for this time of the morning. But the truth is we were all probably still drunk from the night before haha
As we waited for the other people for the cage dive to arrive the sun started to break the horizon.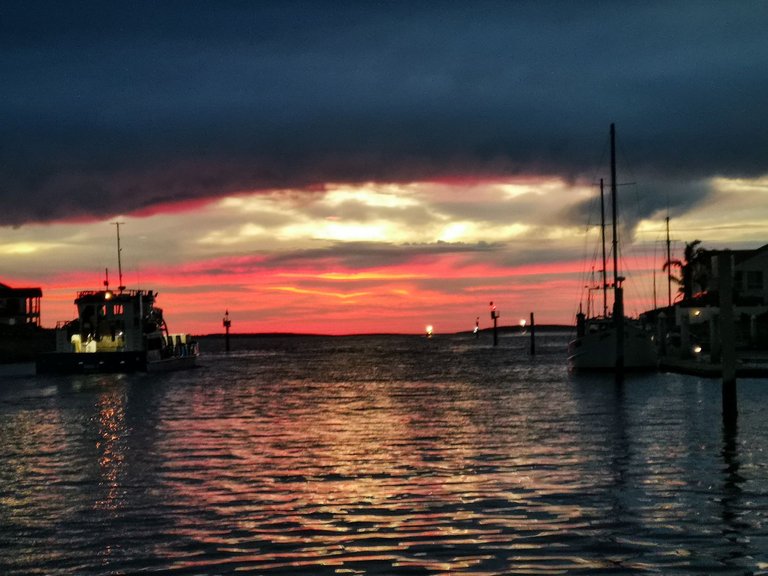 At 6.30am we all board the boat then started our three hour boat ride to the Neptune Islands.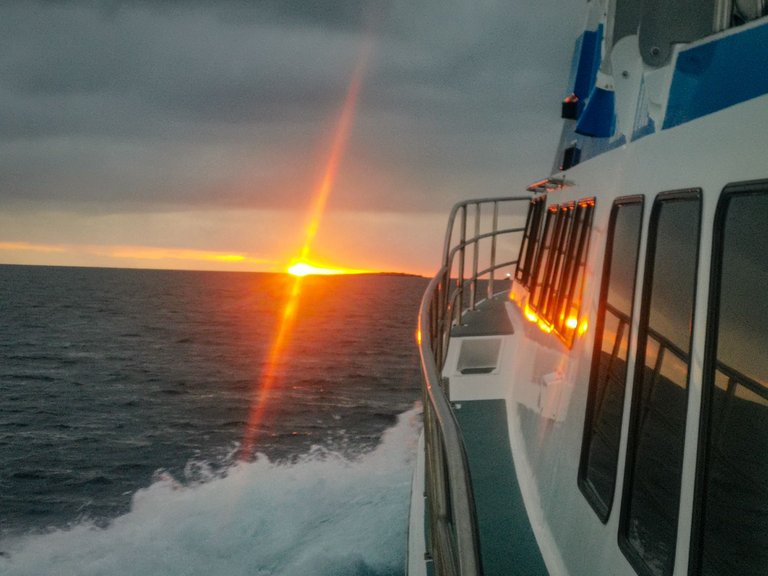 The sea was a bit rough on the way out and some people were questioning if that last drink last night was necessary haha.
Once we arrived at North Neptune Islands the shore was full of seals. There are lots of baby fur seals around atm and baby fur seals are a great snack for Great White sharks.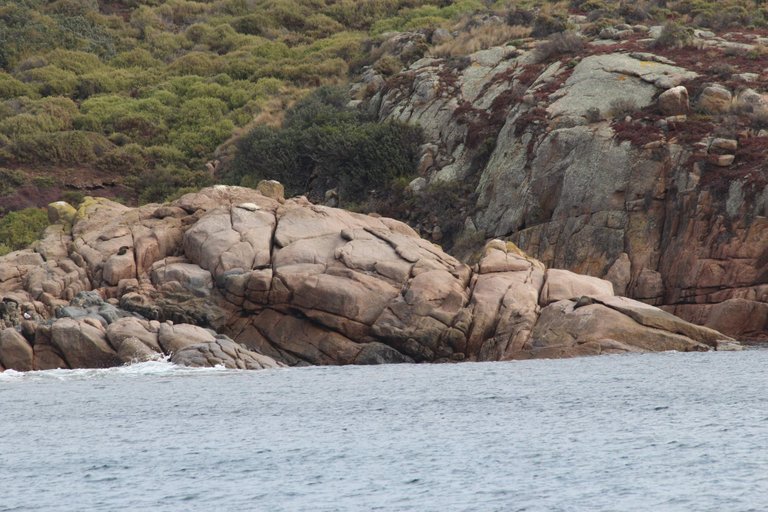 Aparently in this area there is over 30,000 fur seals! Which normally attracts Great Whites especially at this time of year.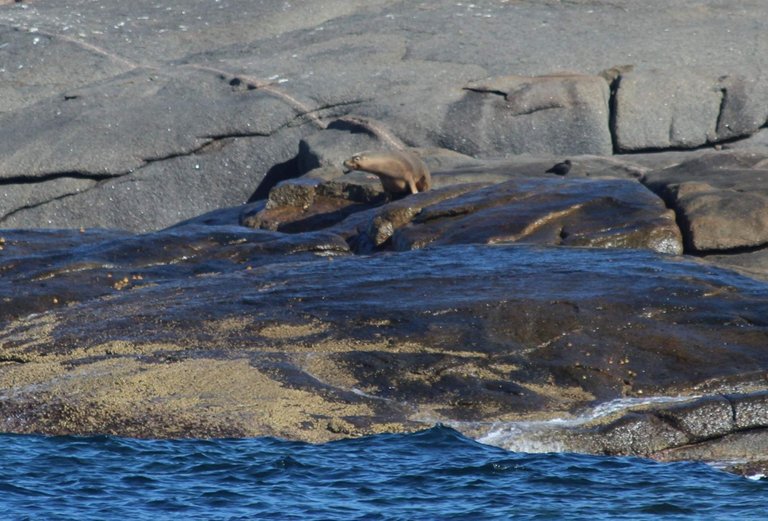 You might have seen the Neptune Islands on documentaries during shark week... Or from saw clips in Jaws..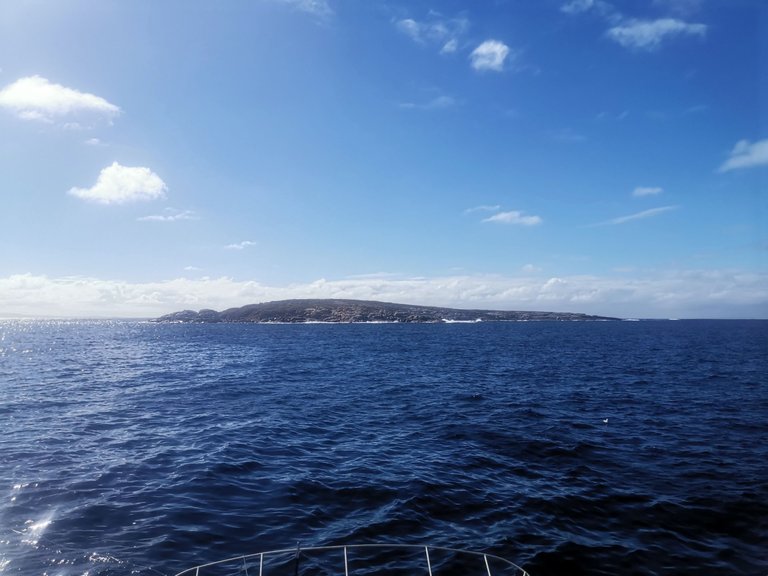 The Neptune Islands is the only place in Australia where you can cage dive with Great White sharks.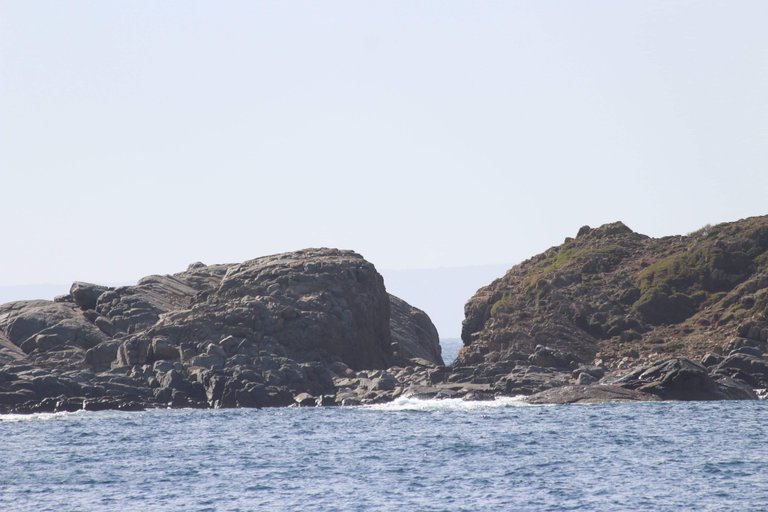 And another fun fact!! Cage diving with Great Whites was invented in Australia.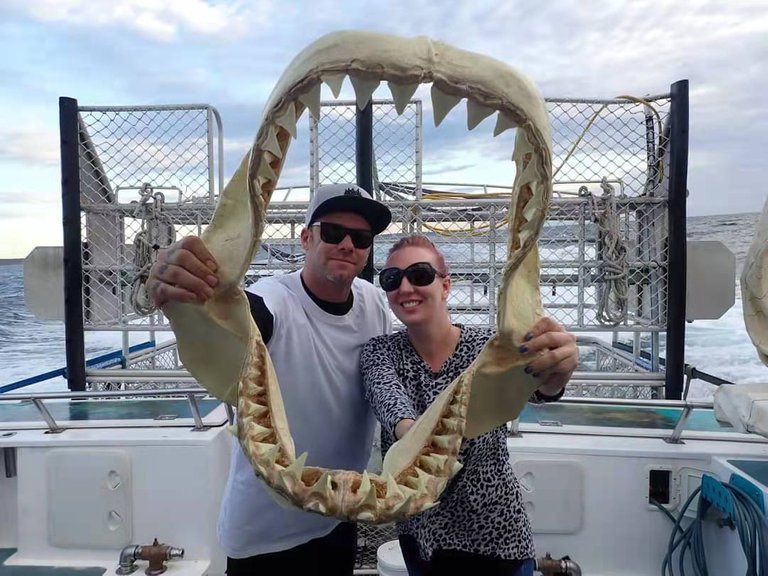 Now after a safety briefing,it was time to pick groups for the cage. And just our luck the cage fits eight people so we could all go in together.

We were the first cab off the rank so got into our wet suits, as it's just coming into winter.
They lowered the cage down then proceeded to berley up the water.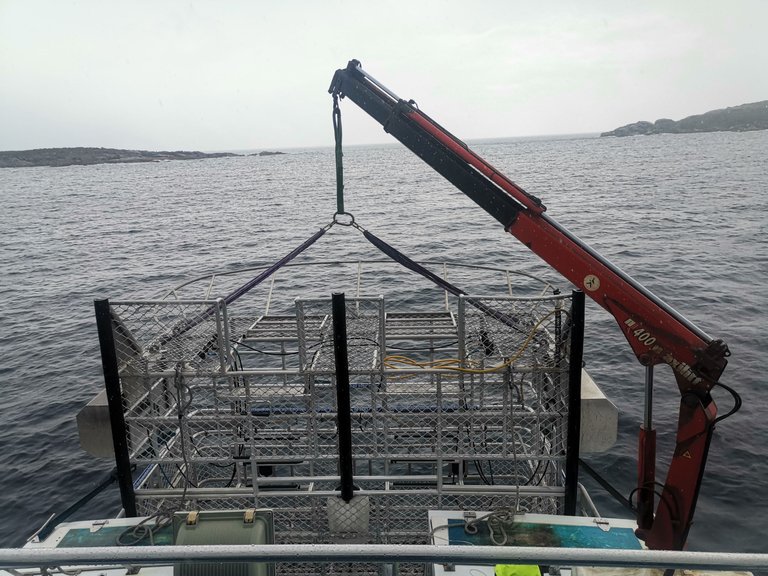 The berley they use is off cuts from blue fin tuna which is big business here in Port Lincoln. They also have blood and oil berley as well as the tuna gills on a rope.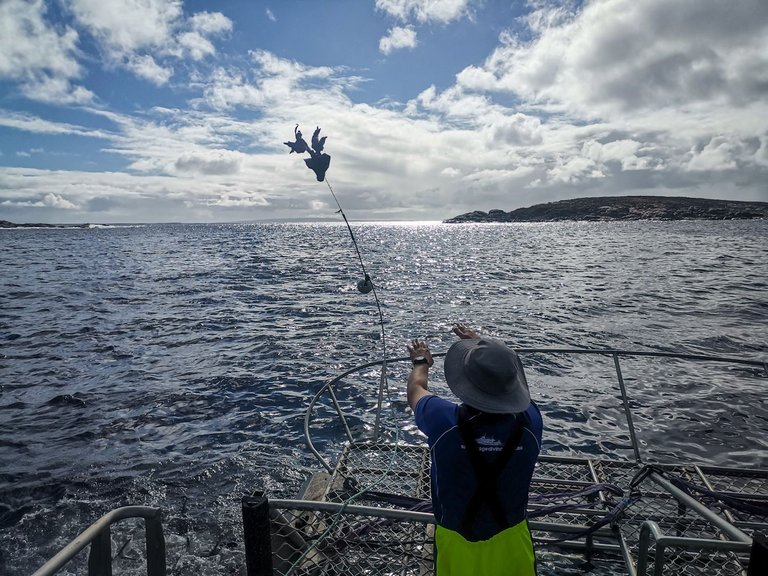 The moment the berley touches the water hundred's of trevally and King fish start eating it.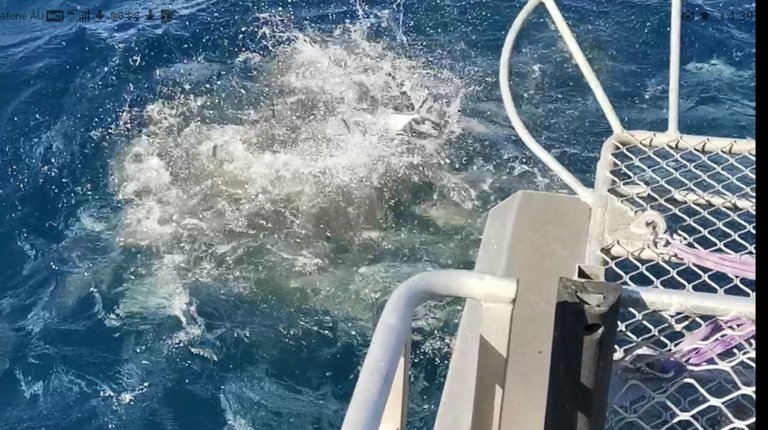 They berley up the water for about an hour to get a good trail going to try and attract a shark to the boat.
Sharks can pick up the blood scent in the water from up to 500 meters away.
The anxiety and suspense was in full effect. As we had our wetsuits on and weights to keep us at the bottom of the cage and not float around in the cage.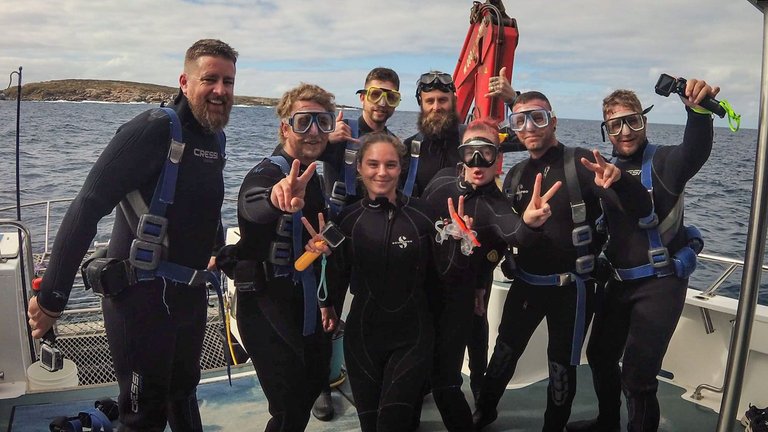 We had regulators for breathing under water. Which is something I had never used before. I have snorkeled many times before but have never been scuba diving so this was an all new experience which adds to the anxiety.
With the regulator you can't really get a full deep breath in. It's just shallow breaths and add in the tight wetsuit and weights it makes breathing a bit difficult.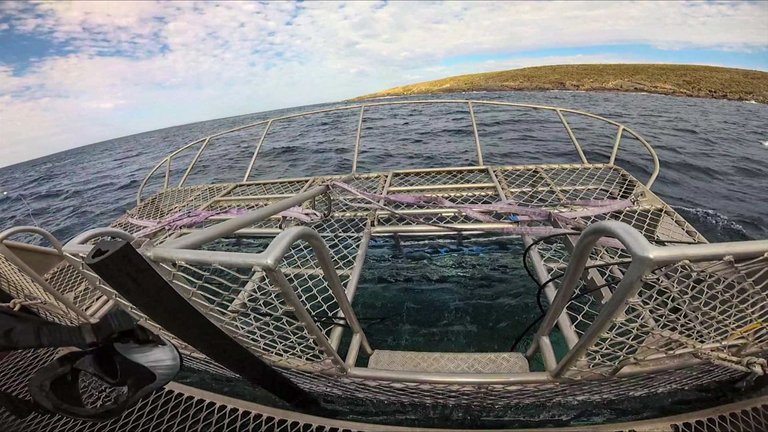 They skipper was saying that it takes about three minutes once you're under water to get used to the slow breathing and to just keep calm. Which is easy said then done. But the reality is we are getting into a cage with lots of blood in the water, into cold water as this is the closest I have ever been to Antarctica, in the hope to see the apex predator of the ocean. Haha sure I'll just keep calm no worries mate 👍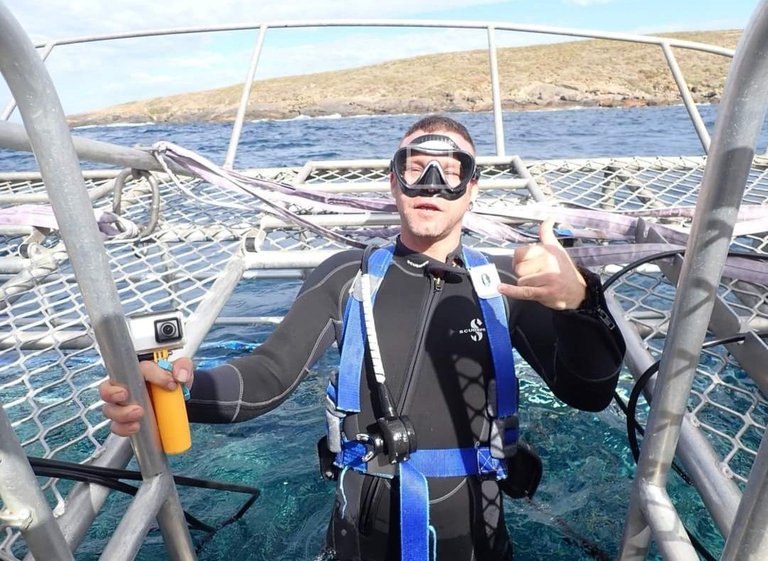 The moment I tried to put my head under water the cold took my breath away and it felt like the regulator wasn't giving me enough oxygen. So it took me about a minute or two to get used to it before I made my way under.
Once we were all under the water it was like another world. Deep blue, with a splash of red filled our googles as we looked around to see if we could spot a shark coming from the deep.
Inside the cage there is a bar at the bottom to hook your feet under to stop you from floating. And hand rails inside to hold on.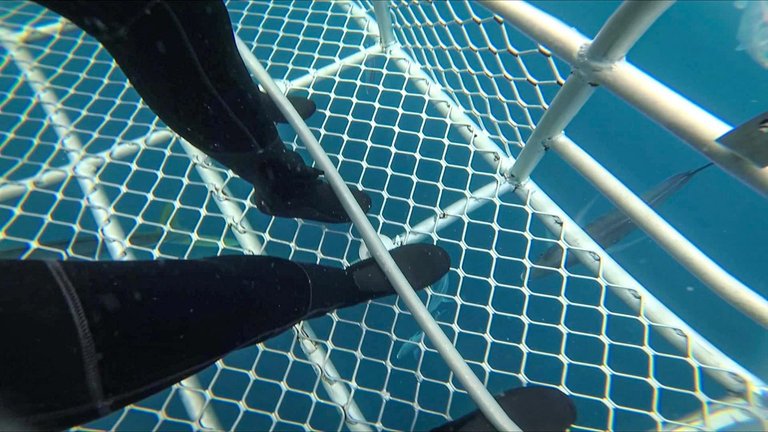 This time the rolls are reversed, we are the caged zoo humans that the sharks can come and see for free and even get some tuna gills for a snack.
We were constantly surounded by hundred's of trevally while the big yellow fin king fish stayed behind them.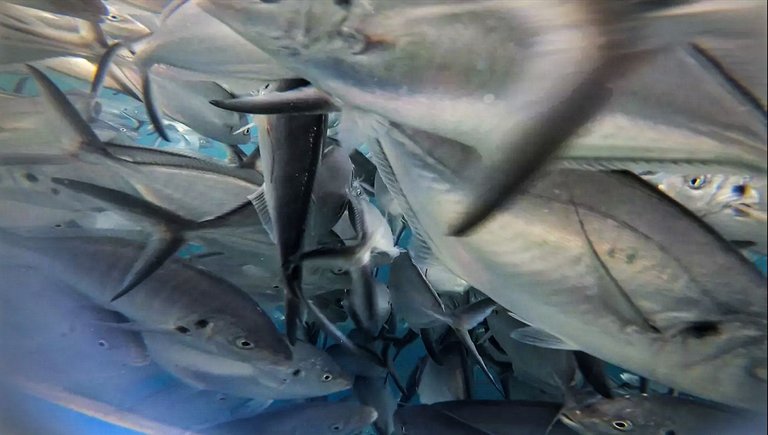 It was like they were cloaking us and keeping our vision into the blue as limited as possible.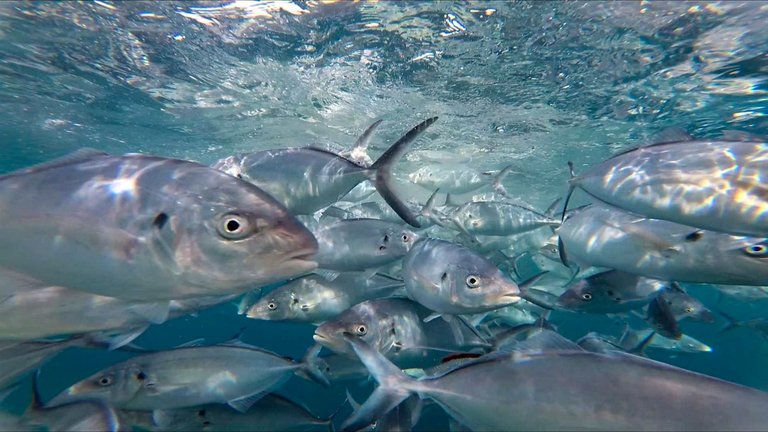 Whenever they threw some berley into the water all the trevally would dash straight for it. Which would give us a clear view for a minute.
But then they would come straight back and be inside the cage with us. Some would even have a sneaky nibble on your finger.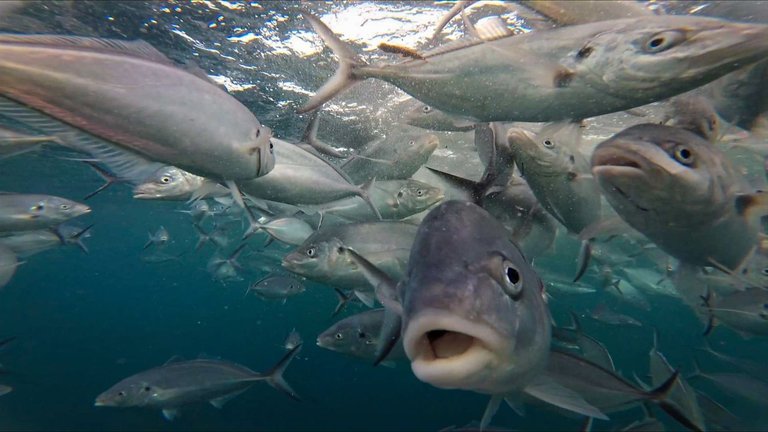 As we looked around the cage in hope we will see a shark, we noticed the bent and damaged parts of the cage where a great white has rammed it! Bending the metal from the impact.
We spent about 45 minutes before they banged on the top of the cage, which was our sign it's time to come up out of the cage. With no luck of a sighting but we all still had high hopes as the day was early.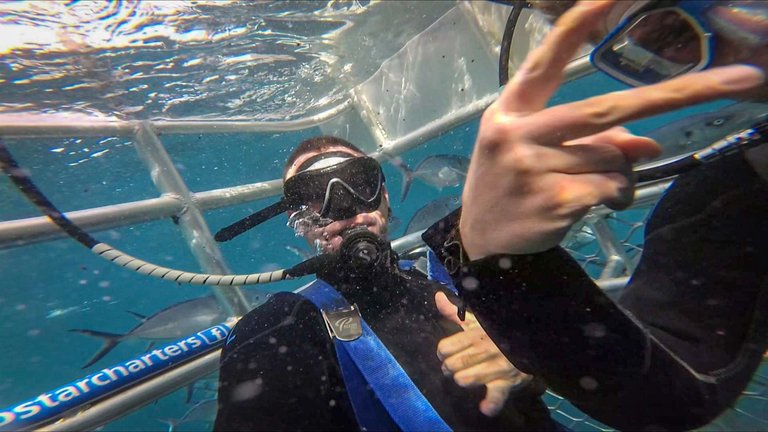 There were four groups so they run through all four groups giving each later group about 30 minutes in the cage. Until a Great White shows up then they will run through the groups again so everyone gets to see one under water.
Now as I said earlier there has been very limited sightings this season but we were still hopeful.
The rule is if no shark shows up by 3.30 pm we throw in the towel and head home. So we all had our fingers crossed.
It was a beautiful day out on the water. Just kicking back and taking it all in. Knowing that we are definitely in shark infested waters.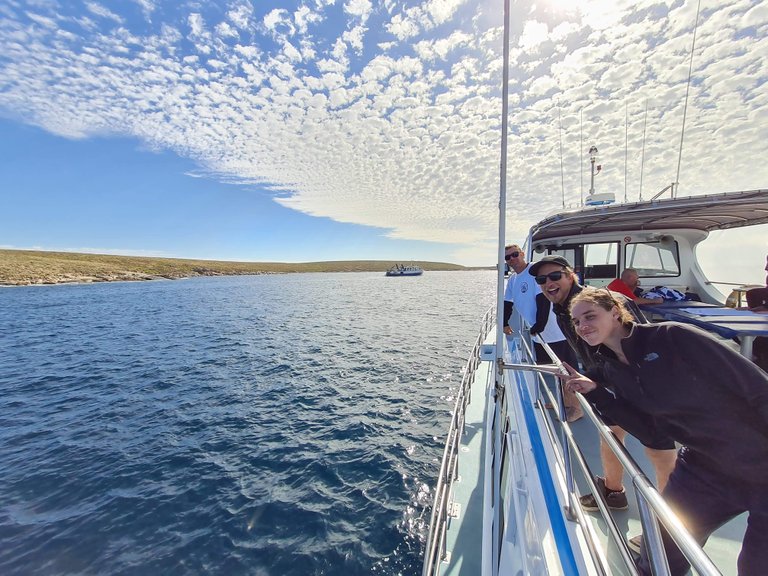 When ever I'm out having a surf or just swimming in the ocean I have never really thought twice about sharks. But knowing that this is the number one place in Australia to see a Great White it really set the mood.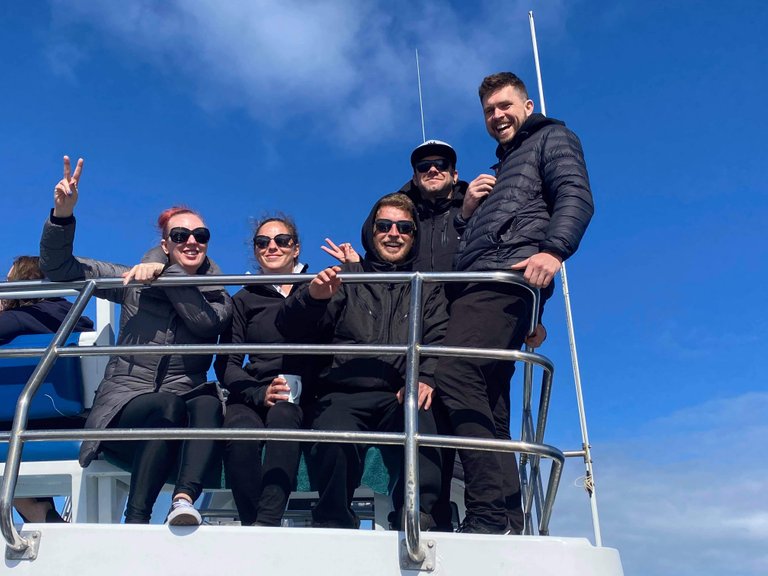 Now there is only three companies that are allowed to take you out cage diving here.
There are two other boats here. One boat is owned by Rodney Fox who was an early pioneer of cage diving in the 1960's. Their research boat is a liveaboard where you can sleep on the boat and even cage dive on the sea floor.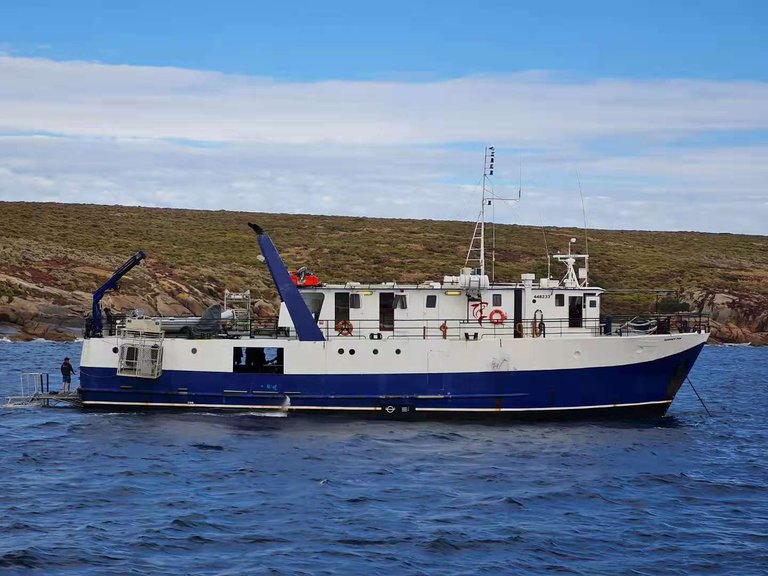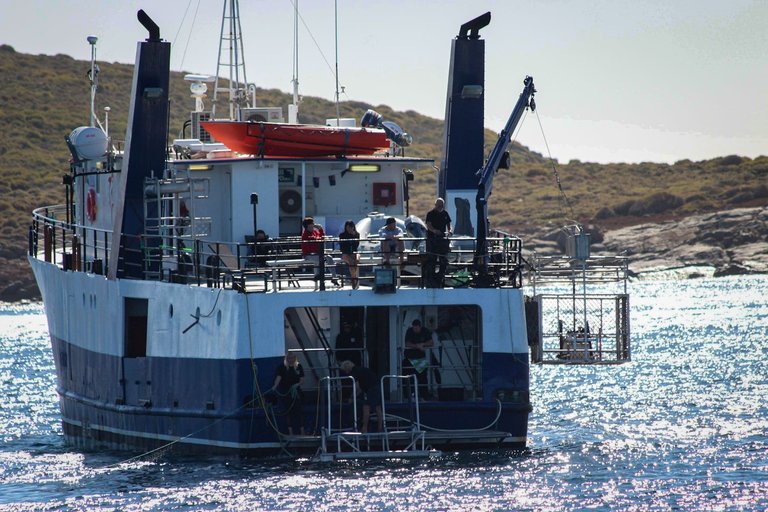 The second boat is Adventure Bay which attracts the sharks with sound vibrations. So they play music to attract them. They said the sharks like AC/DC and the Hilltop Hoods at the moment.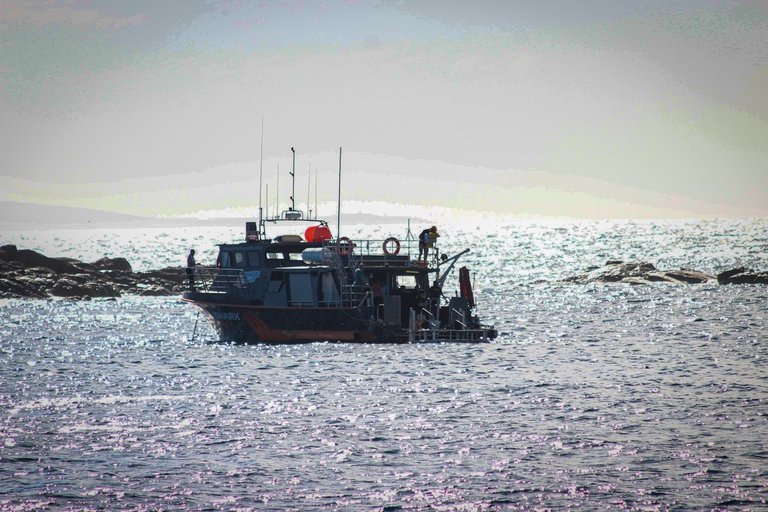 Only Rodney Fox and Calypso Star charters are allowed to berley up the water.
But another way to try and attract them was to bang on the Marlon deck with sinkers to make some noise.
As 3pm came closer with no luck with a shark sighting they opened up the bar. So we sat on the top deck with a beer in hope that a shark will show up in the next half hour.
But these are nomatic wild animals that live under the water. So it's super hard to spot one, we just have to anchor up and hope that one will smell the berley and come and check out the human zoo. Or they were practising social distancing.
But this day we had no luck. So we reluctantly threw in the towel and headed back to Port Lincoln.
They beers were flowing as we drowned our sorrows. Along the way back we went past a hump back whale that just breached out of the ocean!.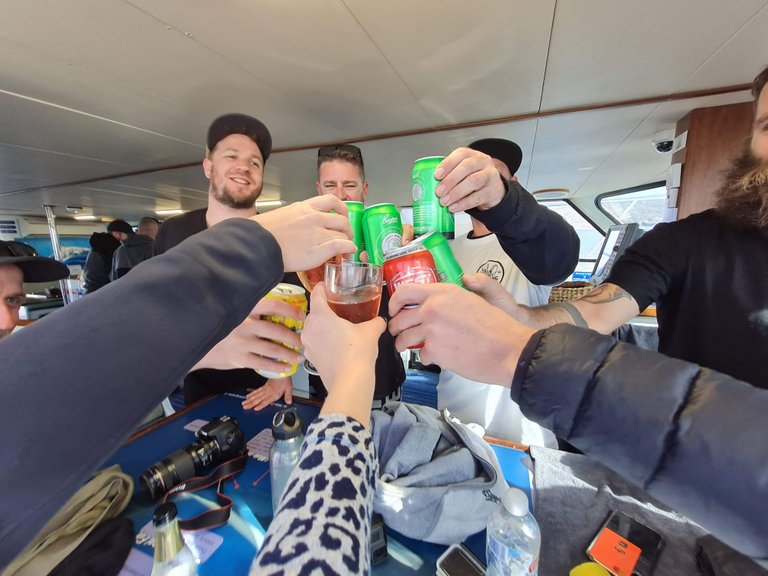 Now Calypso star charters has a partial refund policy where they will give you $100 refund and a $200 credit for the next trip.
And lucky for us. They had some room on the trip the next day. So we locked that in with the quickness to secure our group a spot.
Once we got home it was about 8.30pm and we were all smelling like fish guts and blood. And after some drinks and laughs, we found a book about the history of Port Lincolin and in this book we all learnt about the tales of a lady called Black Fanny... Apparently she was very well known around these parts, but that is a whole other story for another time!
Jake snapped this awesome long exposure shot of us just outside our Airbnb then it was time for bed.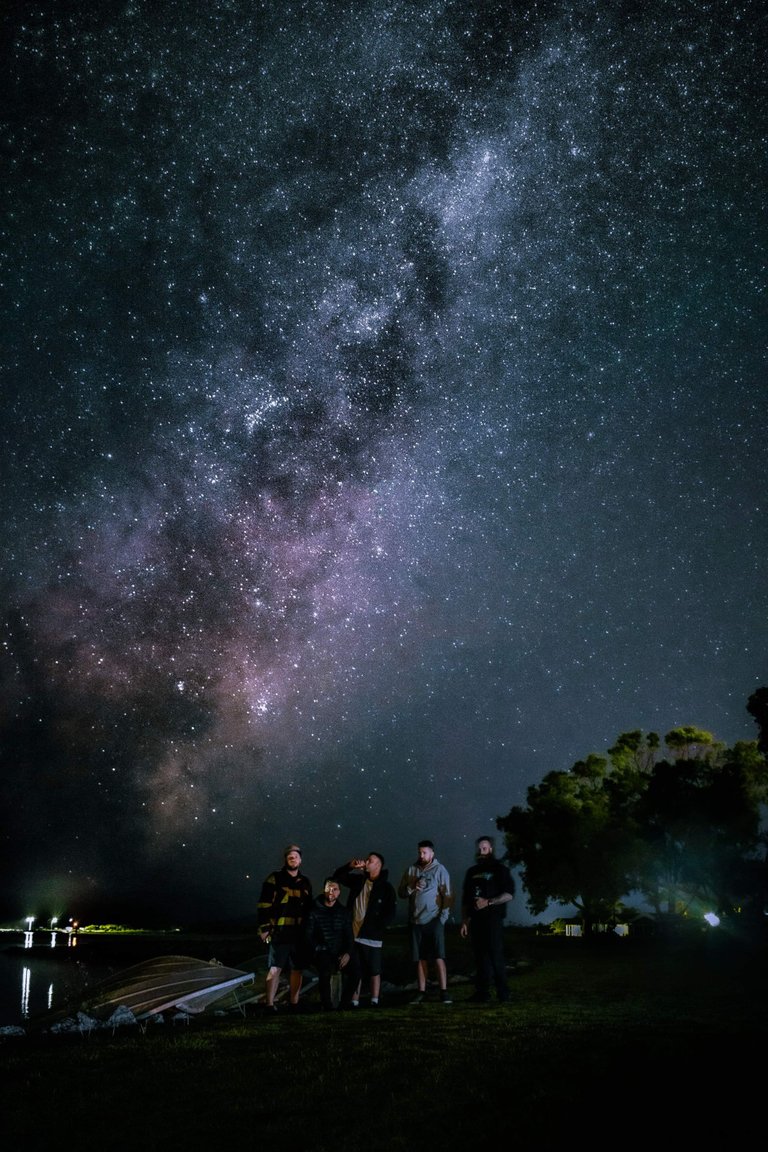 The next day it was another early morning and getting to the marina by 6am. The sea was alot rougher this time around but luckily I found a spot to have a sleep and beat the sea sickness.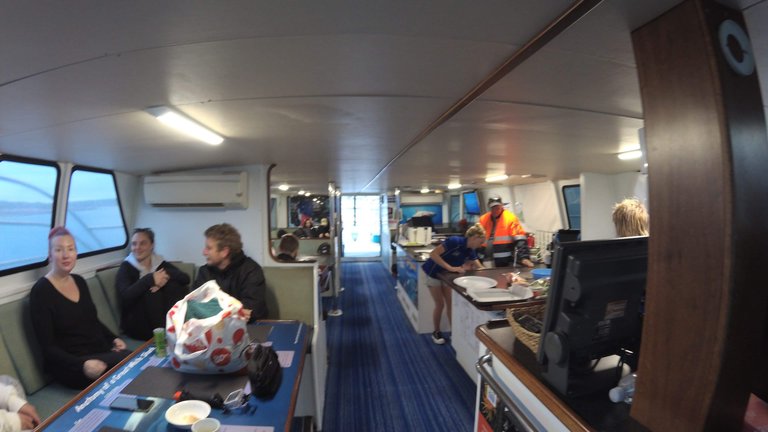 Once we arrived at the islands it was raining, dark and gloomy. It really set the scene for a shark attack movie.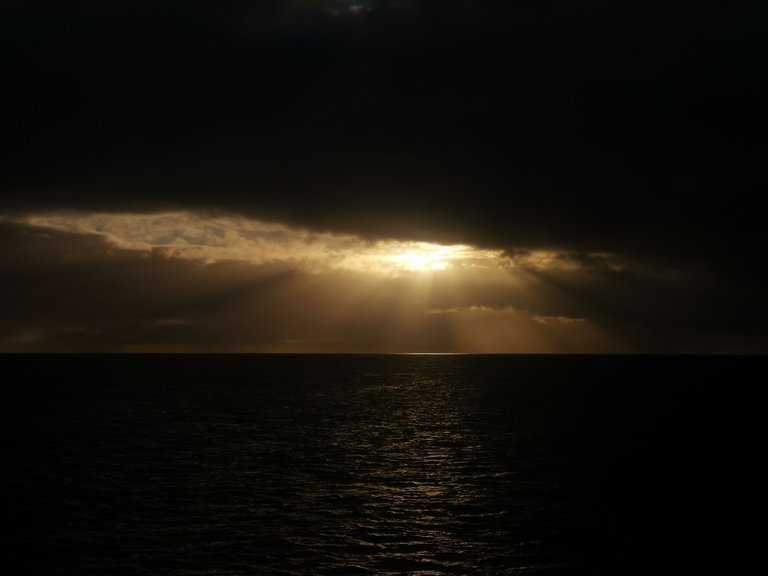 The cage was lowered into the water and the chumming began.
Luckily it wasn't long until the sun came out and warmed the day up. Also the water was alot calmer today and we could see the trevally and king fish very well. Even from the top deck of the boat.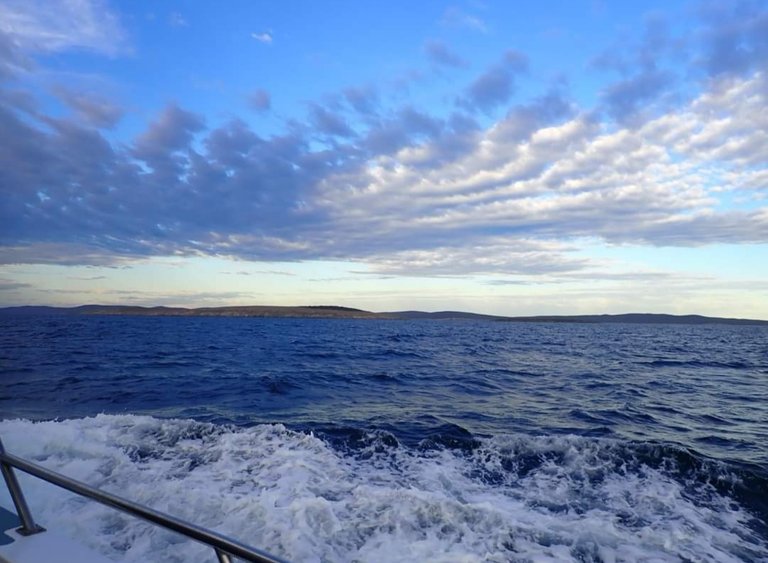 This time we picked to be group four. So we would be the last ones in the water in hope for a better chance as it might take a while for the shark to pick up on the berley trail.
One of the staff members got creative and tied on some sinkers to the bottom of her gum boots. Then she started stamping her feet on the Marlon deck to make some noise to try and attract a shark.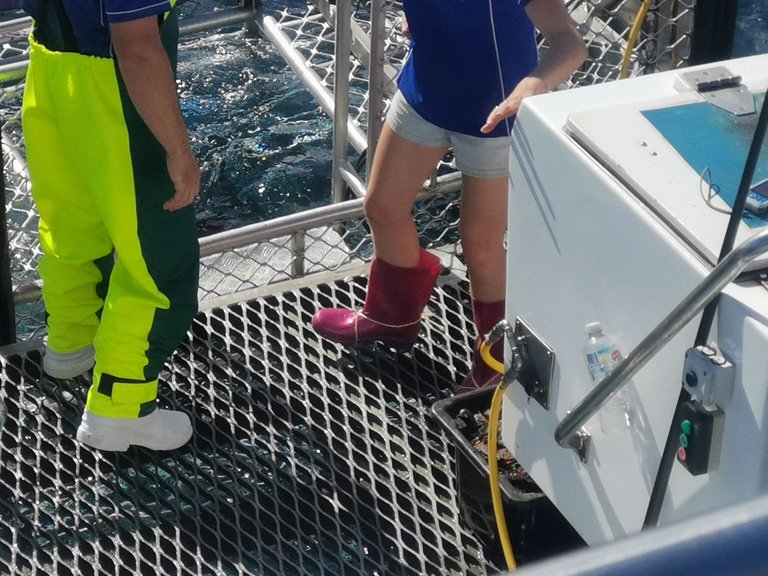 Today there was only our boat at the islands and we could hear the sounds of the seals and birds from the islands.
It was finally our turn to enter the cage and with not a single sighting all day, we were all determined to try and attract a shark.
This time round the wetsuit and regulator wasn't an issue and the water seemed to be not as cold. So we all got in as quick as we could.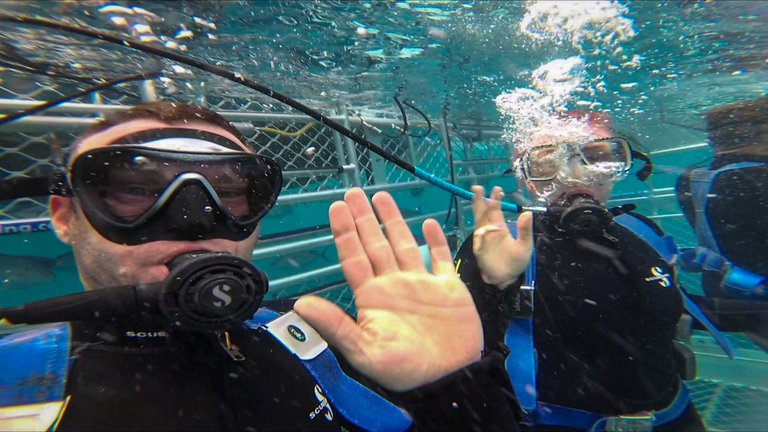 We all felt a bit more complacent in the cage situation so we all took off a sinker and started banging it on the cage to send out some noise vibrations.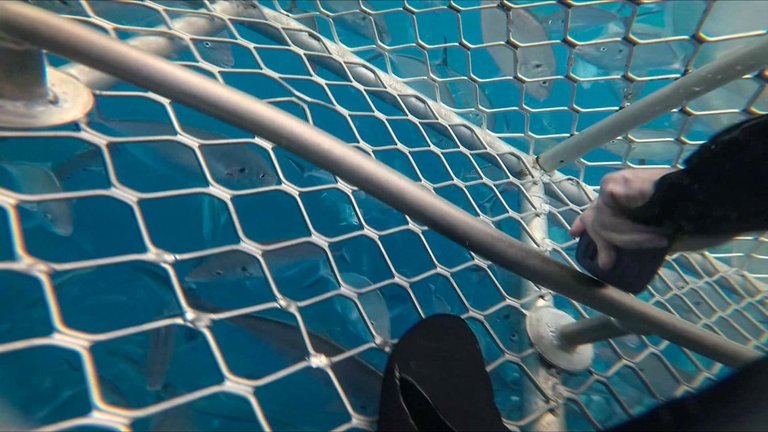 All eight of us where hitting anything we could. If there was a shark close by they definitely would stop by to see what all the noise is about.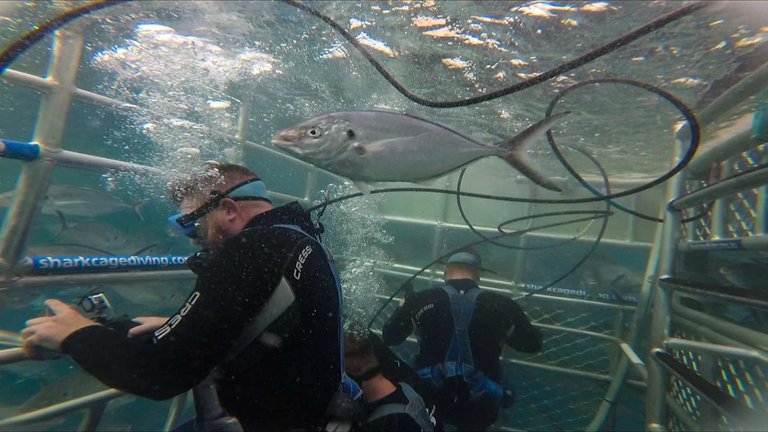 It seemed like such a surreal moment. As we were all banging on the cage while the water was turning blood red around us as they were using the last of all the berley for the day.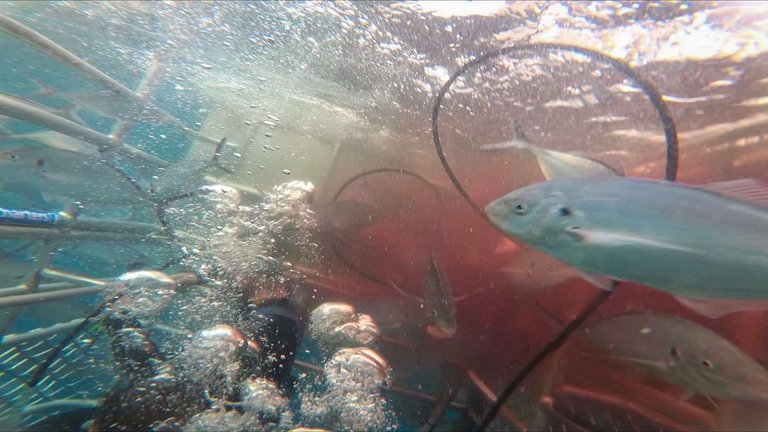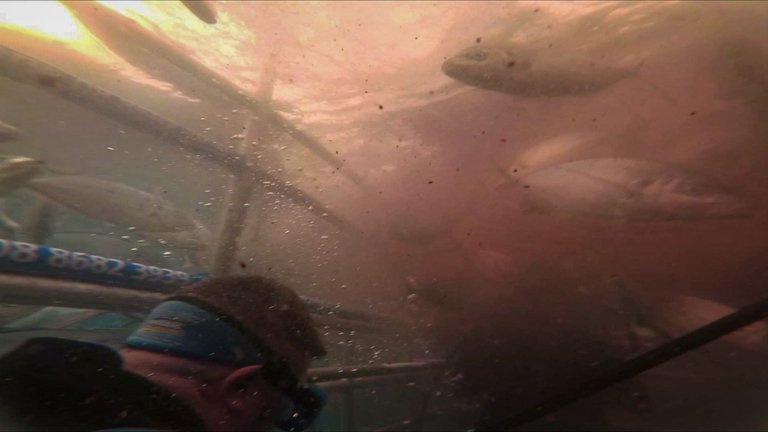 The trevally was so thick there must have been at least 300 of them all swimming around and inside the cage.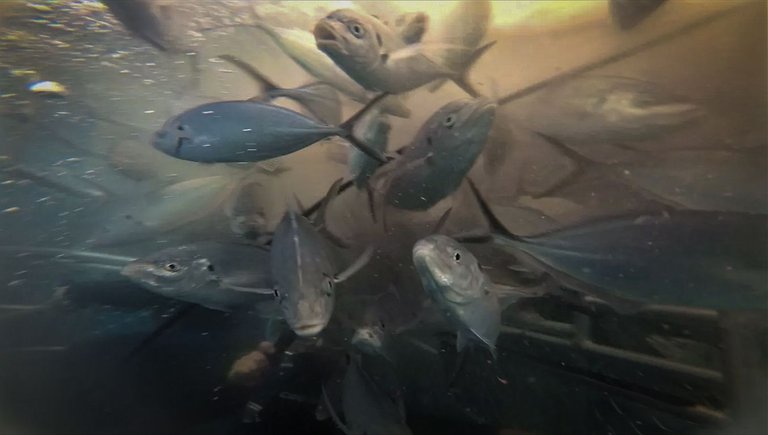 We gave it all we got for about an hour under water, inside the cage making as much noise as possible in hopes we would get even a glimmer of a great white. But this weekend it just wasn't meant to be.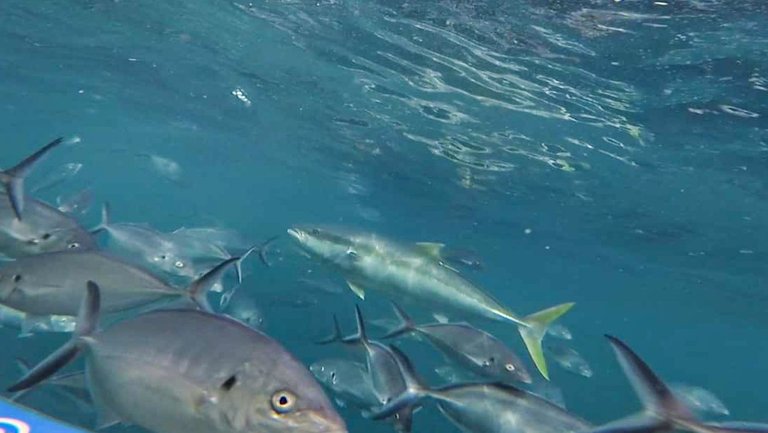 We made so much noise inside the cage that they could here it inside the boat haha. So you def can't say we didn't try.
And despite our best efforts they threw in the towel and we started to head back a little bit early so we could try our luck with some drag lining for tuna.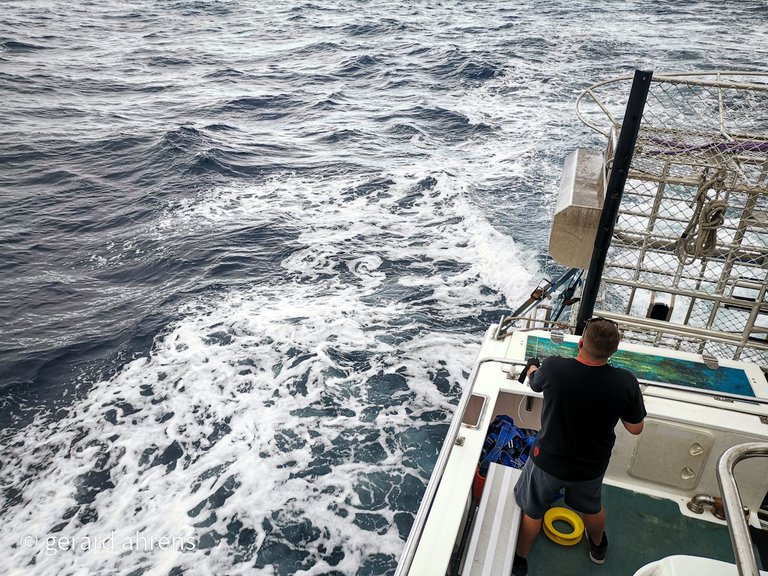 One thing we all agreed on was how impressive the trevally was down there.
We came for the sharks and stayed for the trevally. So we renamed our group the trevally kings. And decided that we should start up a cage diving business for trevally. If you don't see 50 trevally you get your money back - that will be our guarantee!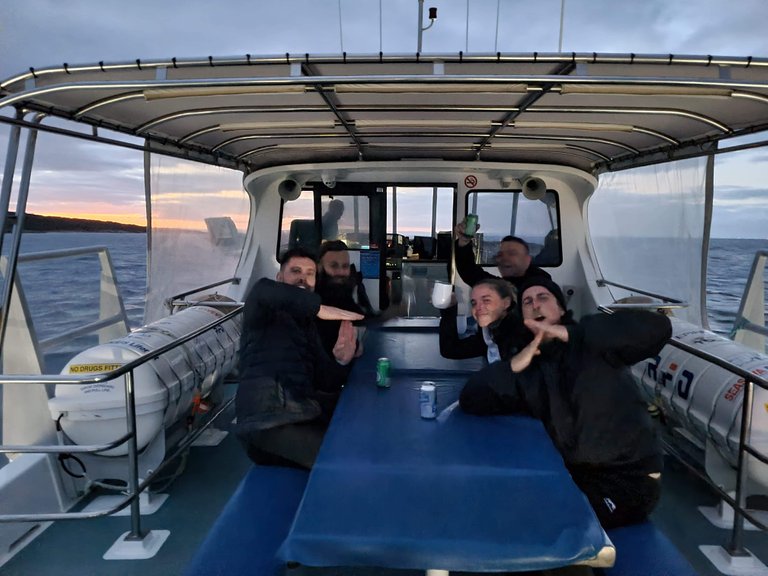 So looks like we will be all coming back to Port Lincoln with this band of misfits soon and with better luck of seeing a Great White shark in real life...
---
---