Good Morning Hive family, another day blessed to us in this life and reality. It's been a few day since my last travel post here, so here is my Thirty-sixth Travel Digest post and I'd like to present to you a continuous of my trip in Florida, I have been from Fort Lauderdale, to Orlando and then Miami Beach, then all the way down to the Florida Keys and onto the Cruise ship all the way to Nassau Bahamas. Many photo's lost, so many photo's not shown on all these locations but to start bringing to a close of this amazing two week trip of a lifetime and now we are in Jacksonville Florida, to stay a week with another best friend, that unfortunately as we talk about this now, a friend that has been lost thru time, we no longer speak anymore but not all doom and gloom we are just on different frequencies and I wish him well, always. Let's just say I have lost many friends from living around the world but I have moved on, I no longer allow others to drain my energy in this life, its not worth it anymore.
So here is what I have left from Jacksonville, The Main Street Bridge and is now named John T. Alsop Jr. Bridge. The bridge crosses the St. Johns River in Jacksonville Florida, it however is the second bridge built across this river, four lanes of traffic and is a lift bridge as well. This bridge opened in July 1941 and cost $1.5 million in hard earned tax payer dollars. In 1957 the bridge was named after Mayor John T. Alsop Jr., still to this day thought it continues to be known as the Main Street Bridge and even the signs too. This bridge remains one of the most recognizable features of the Downtown Jacksonville skyline.
We took a little walk around each side and even drove over the bridge with a few car shot's too, so let's take you thru the post now, glad you took the time out to check out another post on my blog, appreciate it. I had a hard time figuring out what cover shot to choose and finally made up my mind with this one, something about the trees in the shot I like. Anyways, have a look and thank you, have a blessed day or night wherever you are in this world.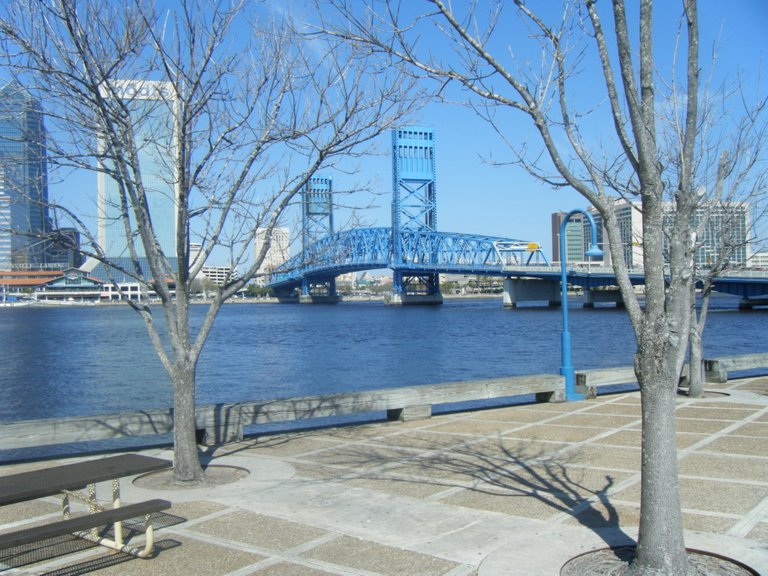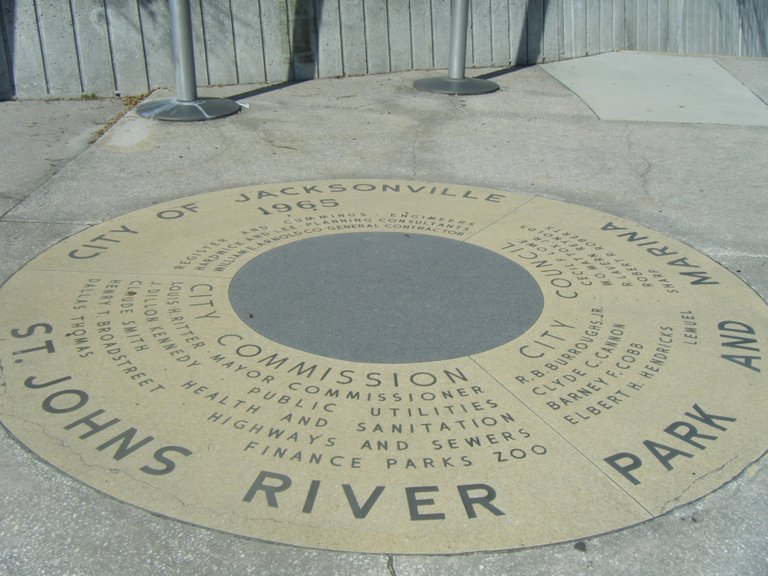 Pretty cool looking water feature they have here too, pretty massive thing but I used to build these and come on you could make the water higher than that, haha. Probably smaller due tot he wind the whips thru here.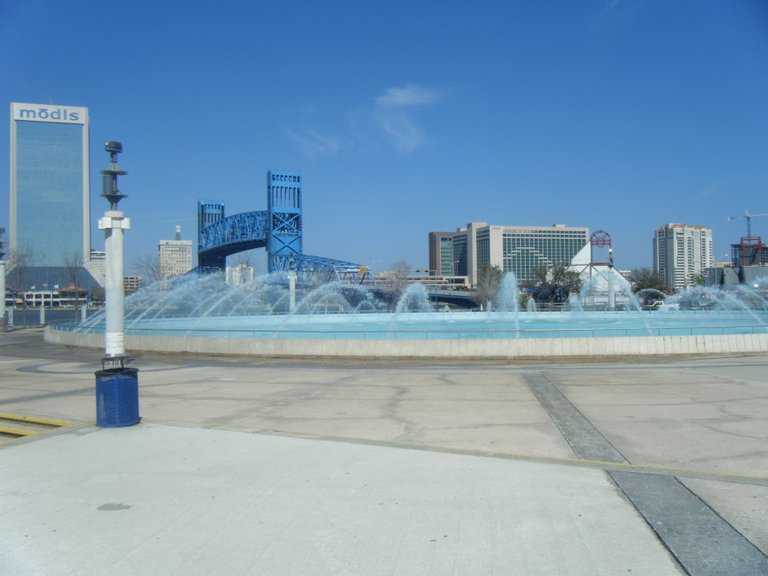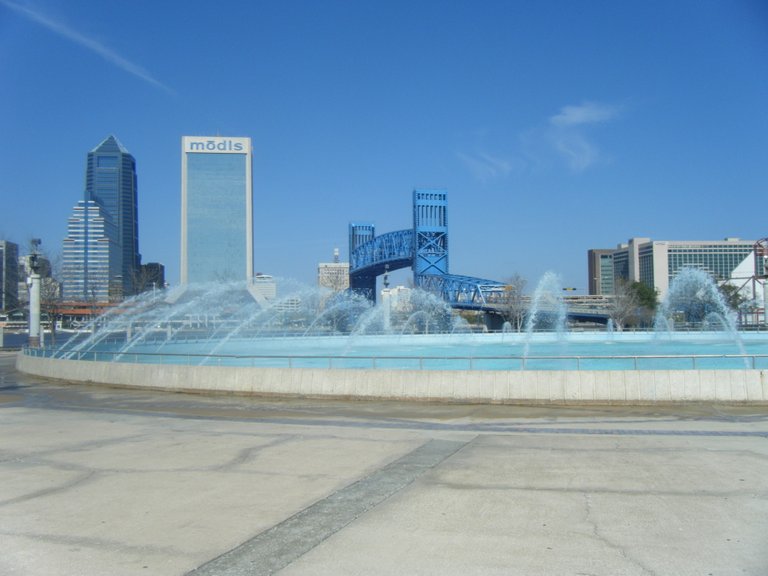 Here is the other shot I was fighting with for the cover shot but I seem to like the one with the trees in the shot better.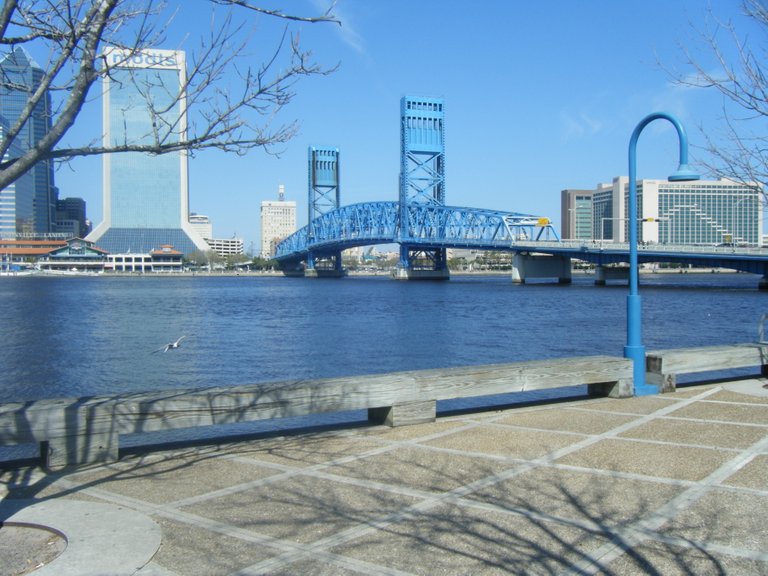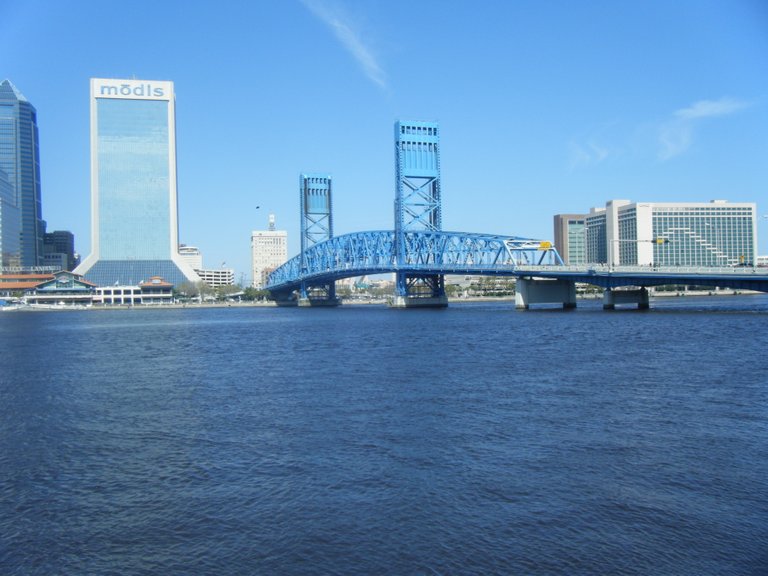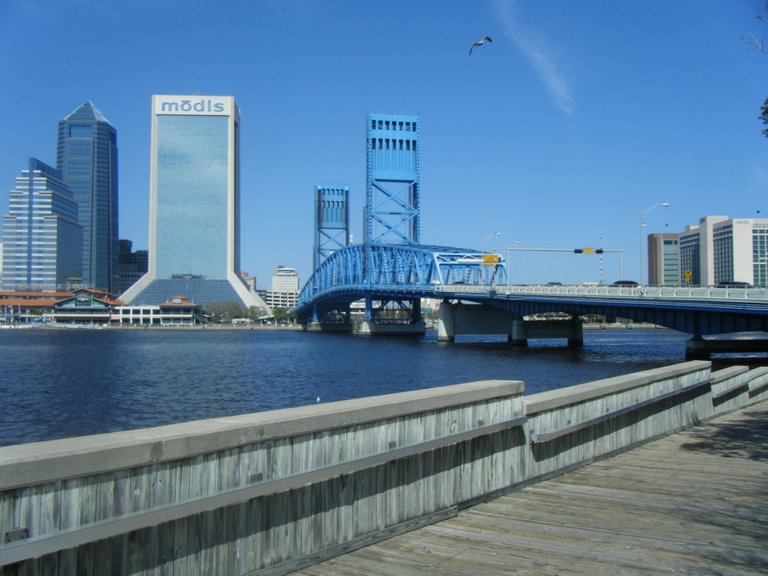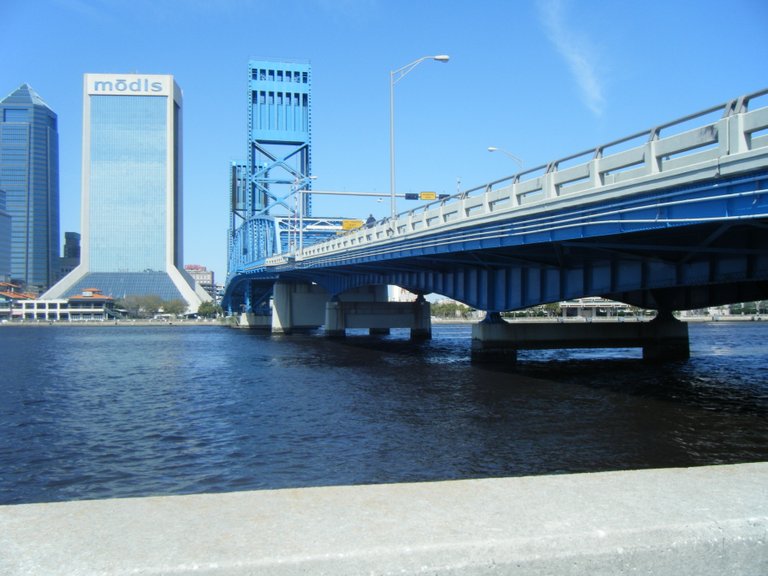 This would be Jacksonville stadium, A nice stadium, I will be doing another small post because I actually have been their too. We had went to the Monster Jam, if you know what that is and if not, you'll see in a future post. I once wanted to make it to as many stadiums as I could but now that I let the whole sports thing go, probably wont. So much better things in life than sports, yea crazy for me to say, I was a sports nut.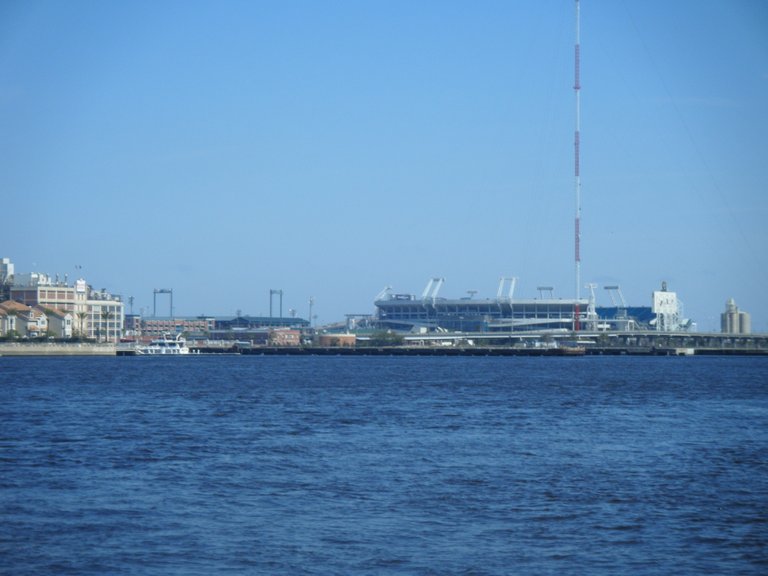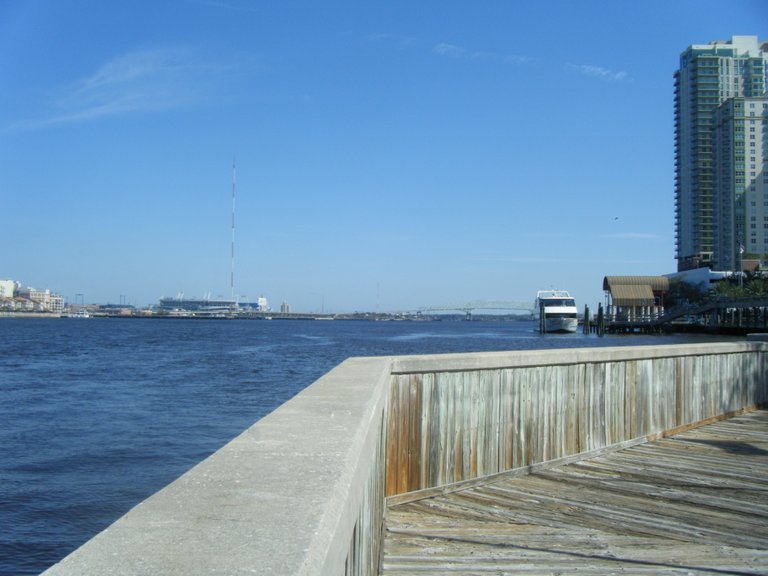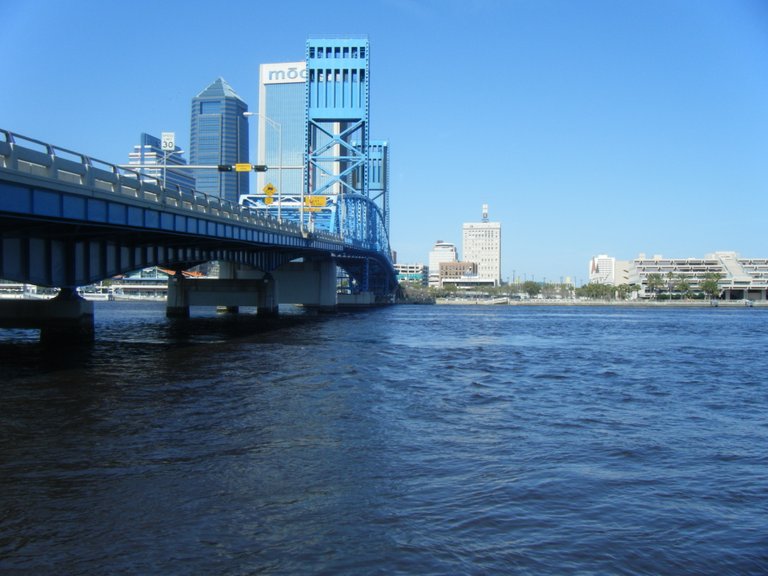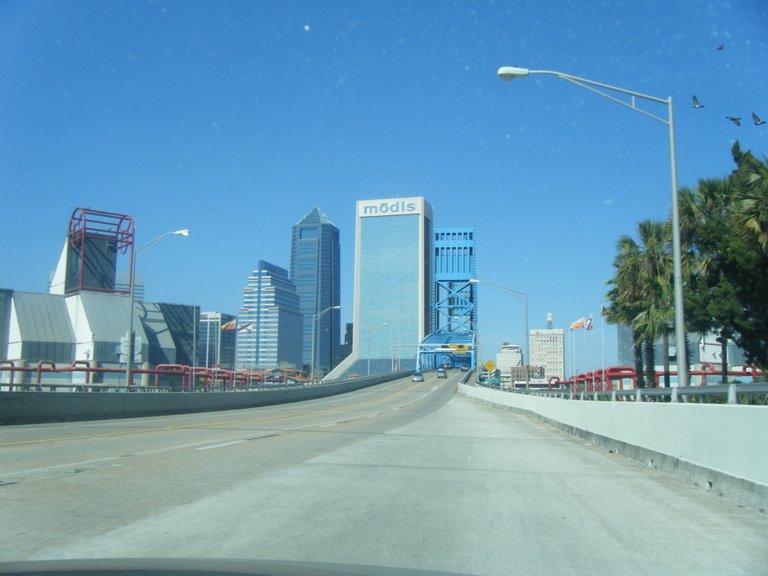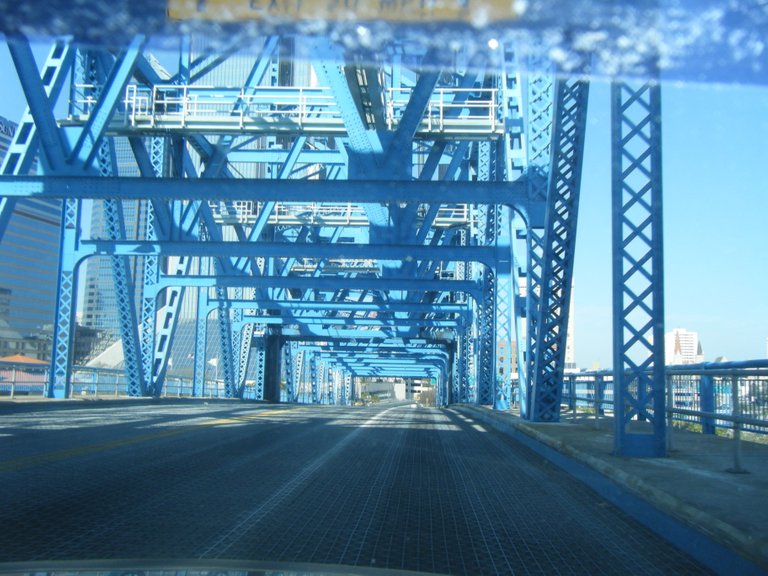 This shot is real nice too and if you haven't figured out by now I love Architecture and structures big time, it amazes me what we can build but also amazes me what we destroy as humans.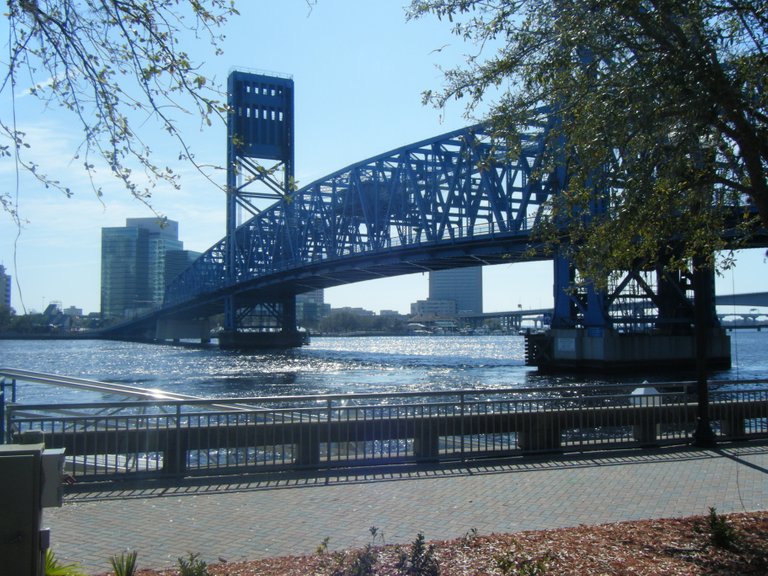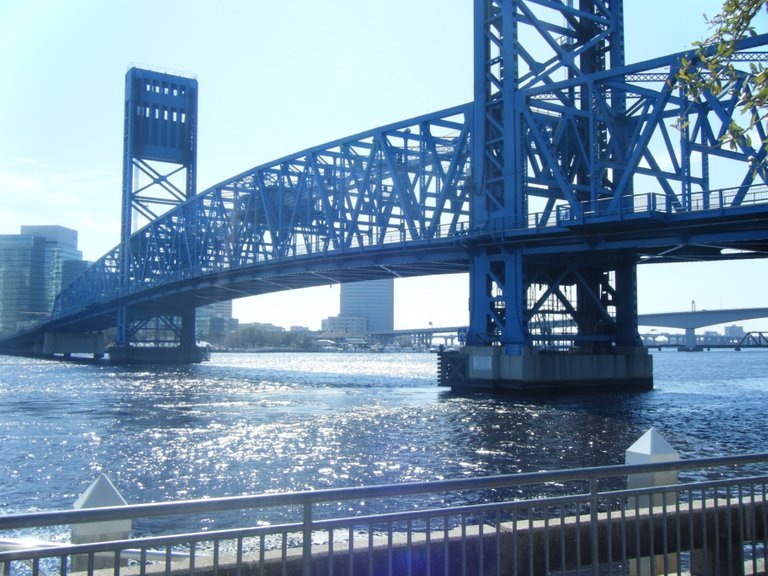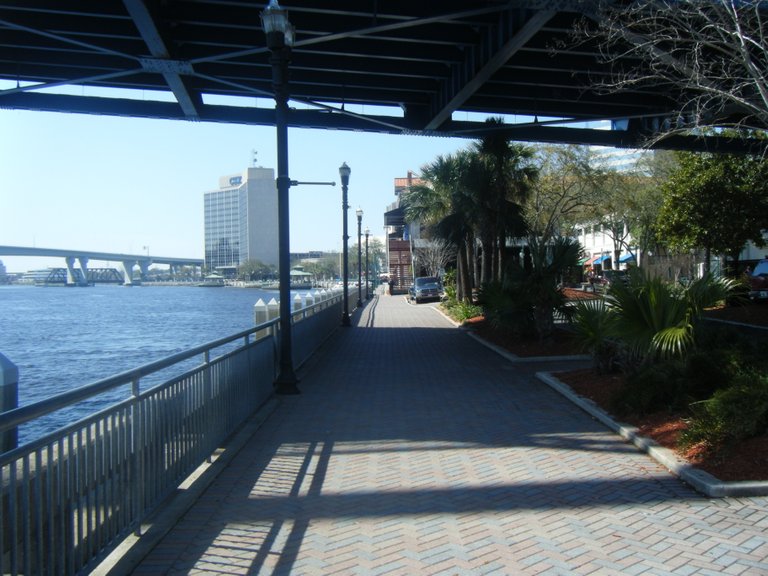 The Chicken Koop Wings & Things, yea in the hood, haha. This was delicious and I even wonder if they still have them over in Jacksonville.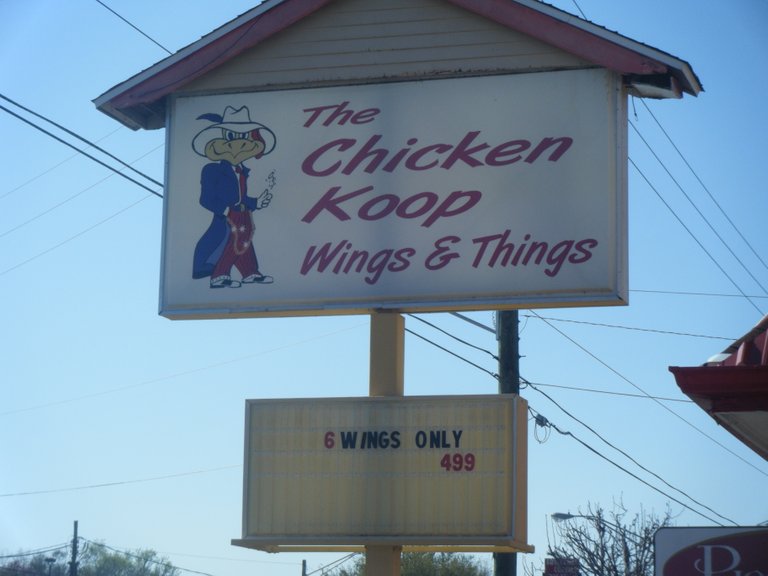 We managed to hit up the beach for a bit too but it was a windy day, so we couldn't stay that long but it was a nice stroll on the beach.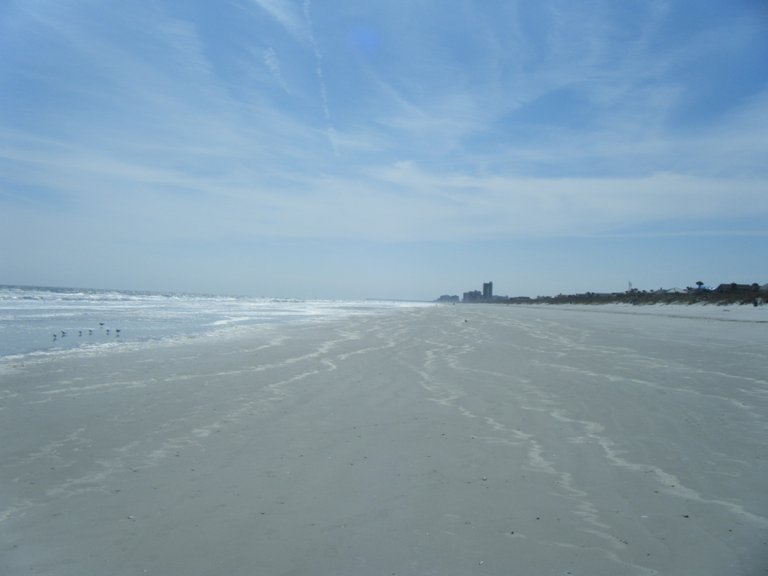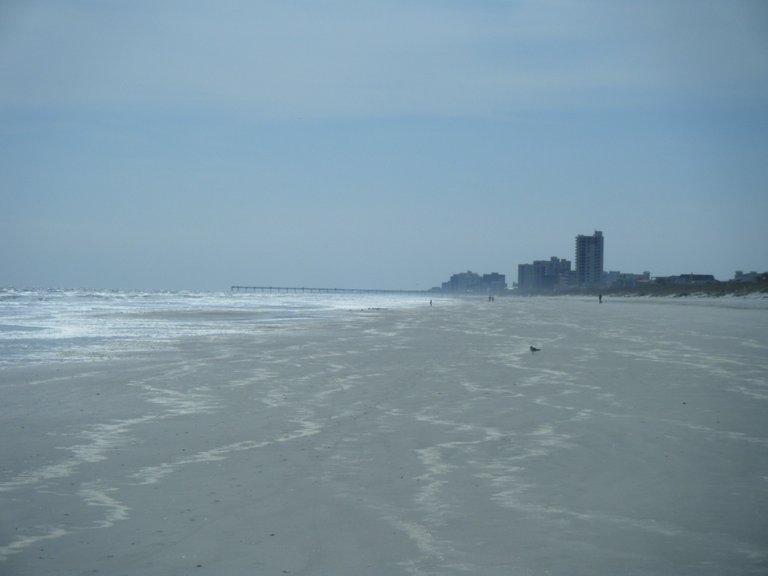 Pretty cool storms and clouds that come in thru Jacksonville, I don't think I could live like this. The weather here in Florida is to crazy.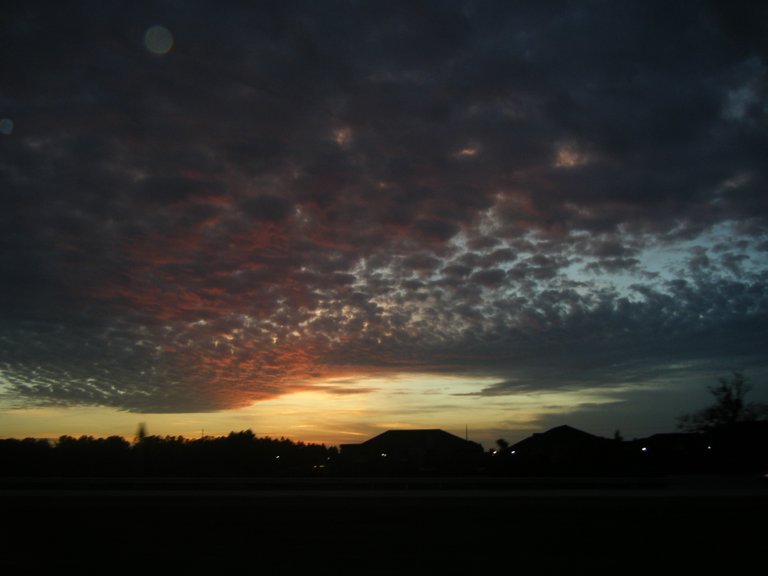 As we set our sites on leaving Jacksonville and on our way to airport to go back to California we get another bridge to cross, this things was amazing too and massive. The newest and probably the most visually impressive bridge, commonly known as the Dames Point Bridge, is officially the Napoleon Bonaparte Broward Bridge and was named for Florida's 19th Governor.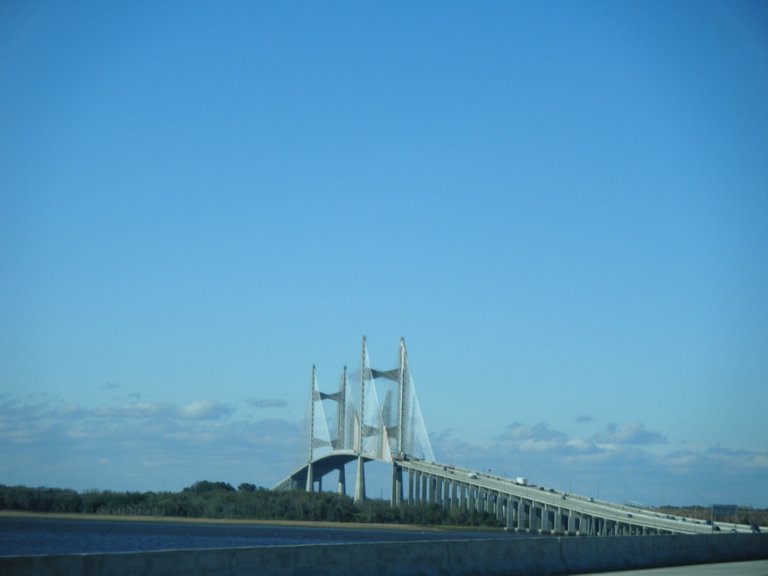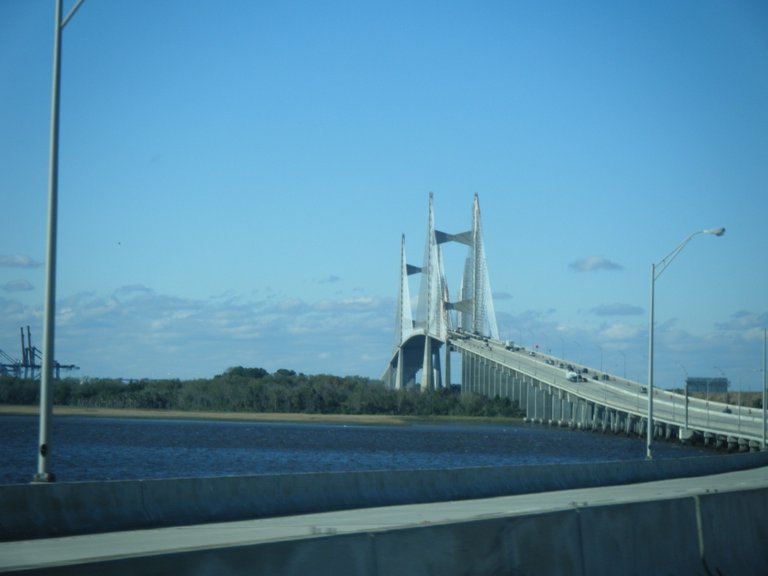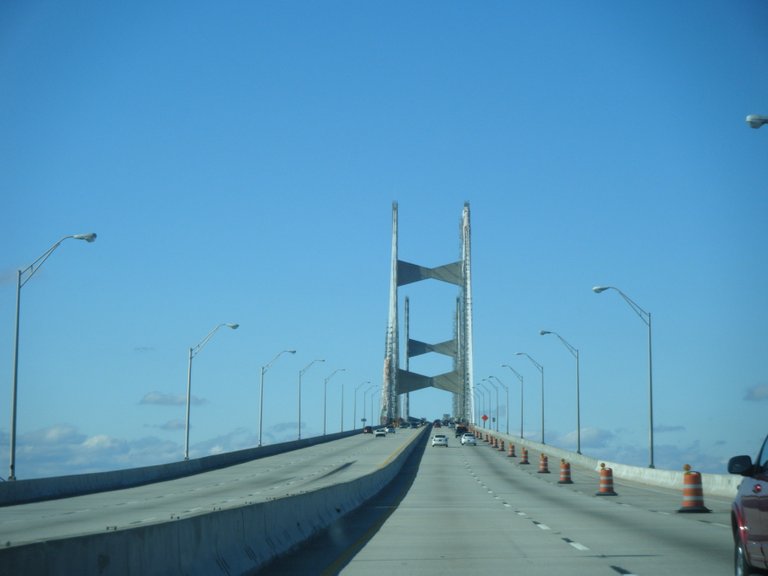 Jacksonville International Airport it is, time to go home but I will have a few more posts in Jacksonville.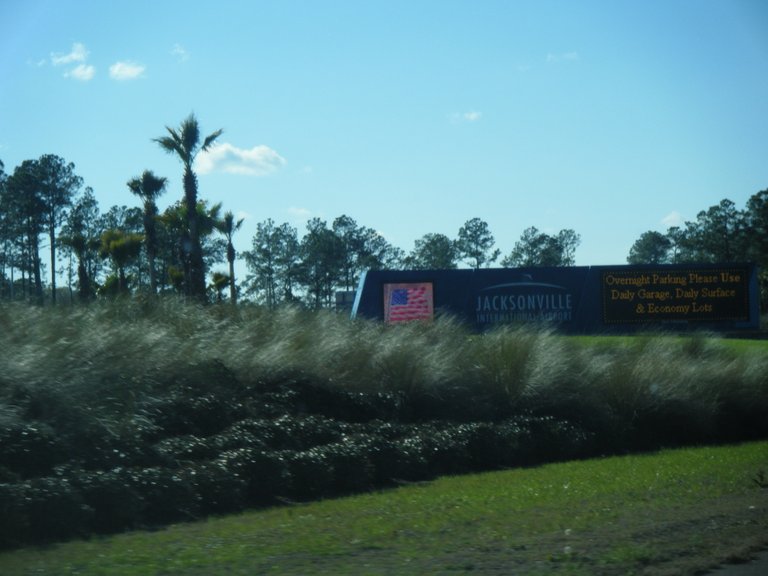 I am not a professional writer nor photographer, I just want to do my best and show my hike's and travel journey's with the community and I do appreciate each and everyone of you. You all have been so wonderful to me since I started all this.
Once again Thank you for taking the time and checking out my post and following me on this journey. Always Blessed to be here and I want to continue creating the best content I can, sharing my thoughts and sights of pictures in my way. So many more to come and I hope you continue enjoying my hikes, posts and pictures. Until the next post, Thank you all, God Bless....
All photo's are my own and are copyrighted unless quoted otherwise.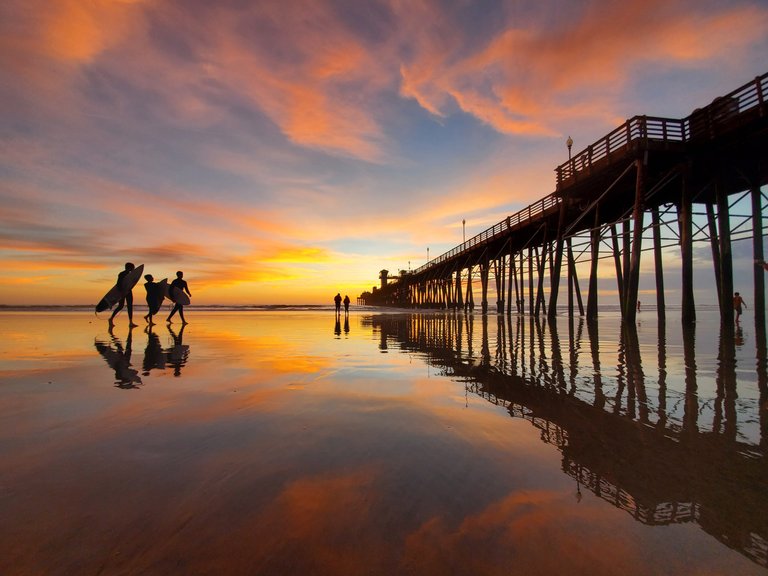 If you would like to learn more about @pinmapple and @haveyoubeenhere go and check out their blogs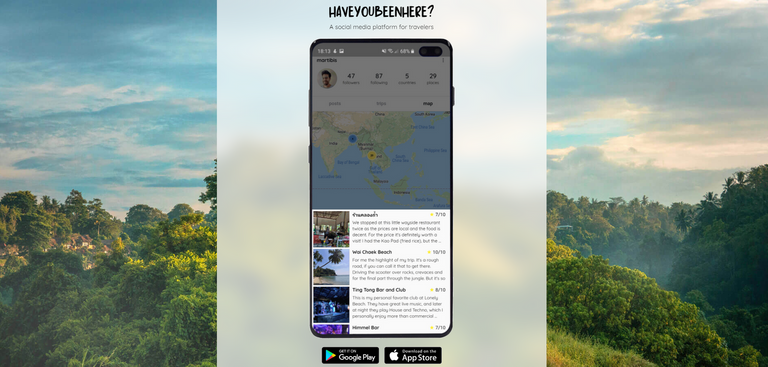 If you would like to check out my pinmapple and all my locations, click the link and it will show my posts and locations.
https://www.pinmapple.com/@shoemanchu

If you would like to help me out with my journey's, you can donate to these addresses....
---
Bitcoin : 13z8G6thHHVsiCj95AkSAMJLivEyb9YHdK

Ethereum : 0x29062f4585DB37b2AC1DDAb8f6B33EB0d76a202b

Litecoin: LdQHXahvpF1UcstTboEHQbHGfzjj9cpM4N
---
---
Ionomy exchange
---
My Referral link to buy Hive Tokens:
---
---
Coinbase
---
Also I've been using Coinbase which makes it really easy and safe to buy, sell, and store digital currency (like Bitcoin).Sign up now and get $10 of free Bitcoin when you buy or sell at least $100 of digital currency.
https://www.coinbase.com/join/5a1e4d14dfb316011f890a07?src=android-email-invite
---
Robinhood App
---
Your free stock is waiting for you! Join Robinhood and we'll both get a stock like Apple, Ford, or Facebook for free. Sign up with my link.
---
Kucoin Exchange
---
---
---
Splinterlands
---