Good Morning Hive Family, another wonderful day is upon us and I am ready to conquer what is put forth in front of me. Blessed to be here and grateful for all the wonderful friends with comments and yes we all love votes too but I am loving the response and the communication thru our platform. I believe if we truly want to succeed, the time is now to give up all centralized platforms, I know we may think they help but they don't. The writing is on the wall and if we want to get our nose out in the lead, we must start using all our own decentralized products, App's and platforms. This is the only way or we will just keep floating and getting silenced one by one and I can careless about politics, I am just saying we are all in a sense travelers in the internet world and here on Mother Earth. To me it is time, time to give all that up and focus on us, no longer do I allow politicians to silence anyone, free mean's what it mean's to be free in all aspects and especially away from extortion thru taxes. I am not judging anyone, the good thing about being free is to choose what you want to do and this is what my opinion is and what I choose to do, regardless if other's do not. That's freedom, Signed We The People of The World.
Now with that being said, today I present to you a little stroll by the Ocean Front, Downtown San Diego with a small portion thru the Gaslamp's district, mainly know as the Gaslamp Quarter in Downtown San Diego. Now this is just a quick preview for one day I will get into the Gaslamp Quarter and show you all the old buildings and such but for today it's just a walk the wife and I did on a beautiful winter day. Here I present you with my thirty first Travel Digest post on my blog and I sure hope you all enjoy it. I am really just on one with the photo's and I just don't want to stop, so much to see and so much to share. I know I'm not professional writer or photographer but I sure am enjoying them and the blogging, so thank you all for understanding and appreciating what I am.
This has to be my favorite shot, I did get three and it was hard to decide between the two main ones I like. Really love the shot with the Sailing Boat with the Historic Coronado Bridge in the back ground.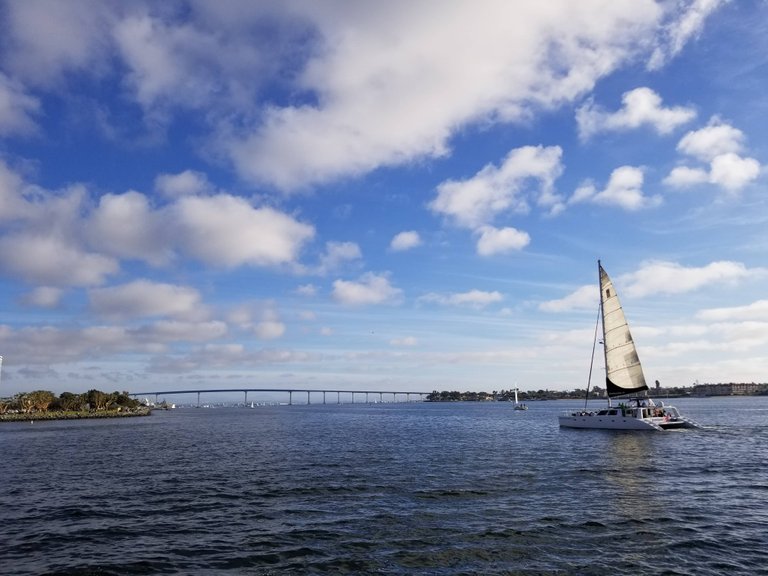 One day I will dive into the Historic Heart of San Diego, the Gaslamp Quarter.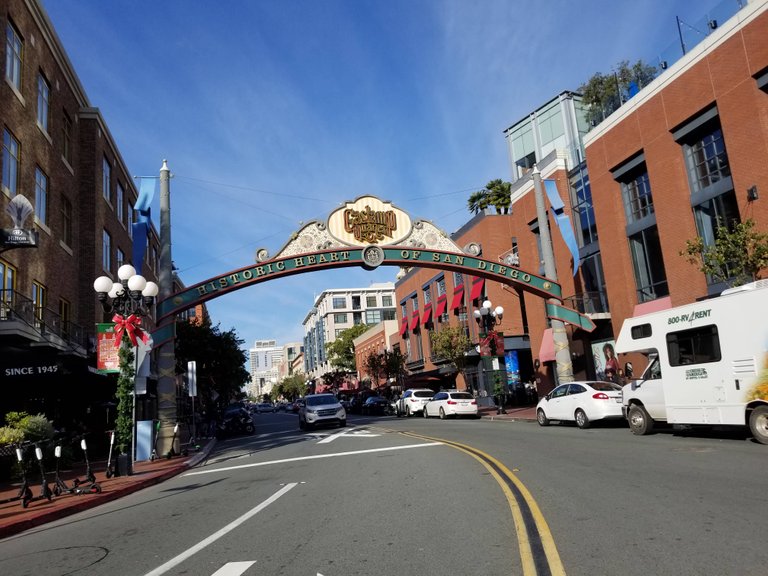 I am really big on buildings too, I have always loved architecture and it amazes me what man can build but amazes me more what we can destroy.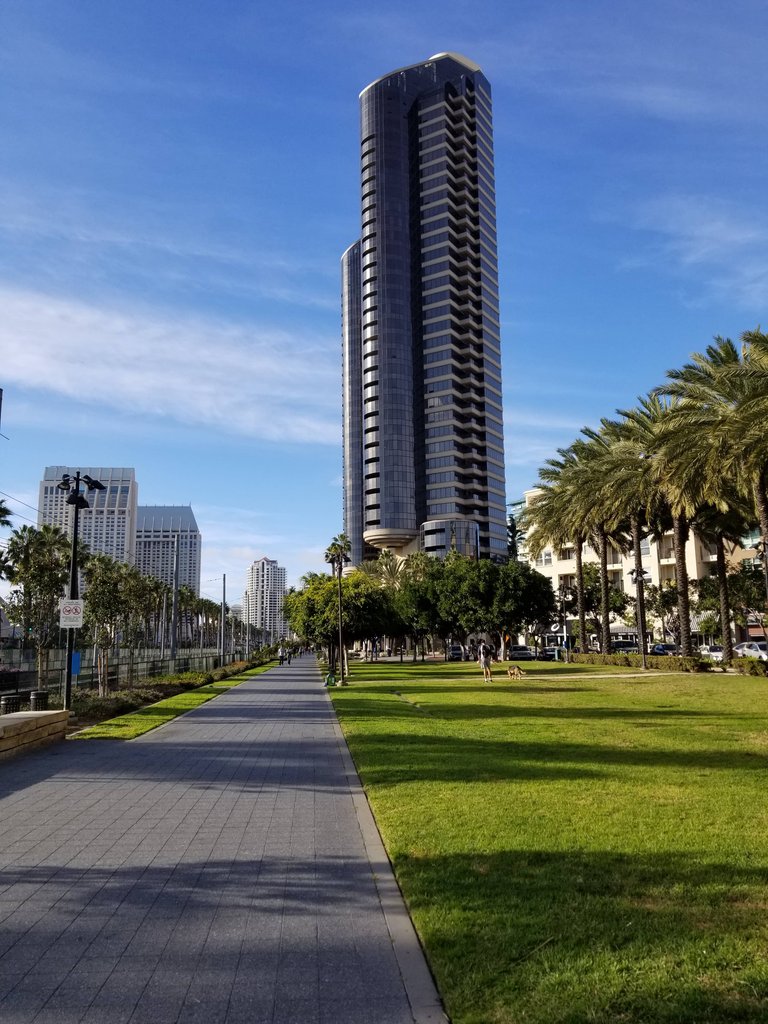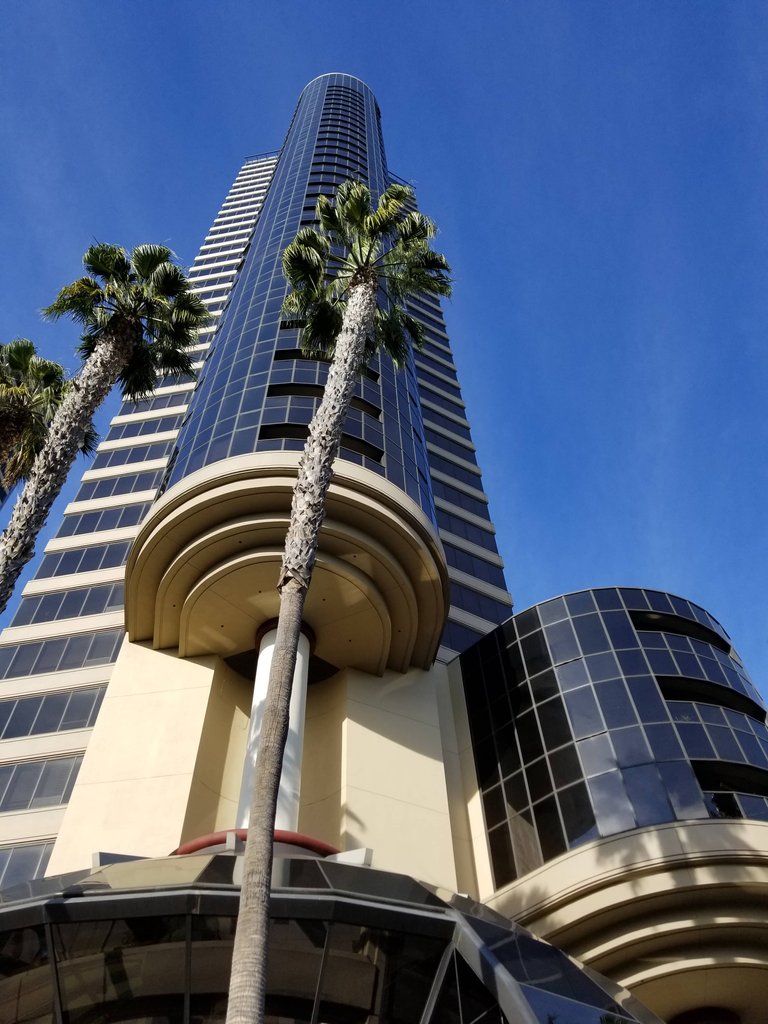 Here is the San Diego Convention Center, were they put on many Conventions, such as Comic Con and car show's etc.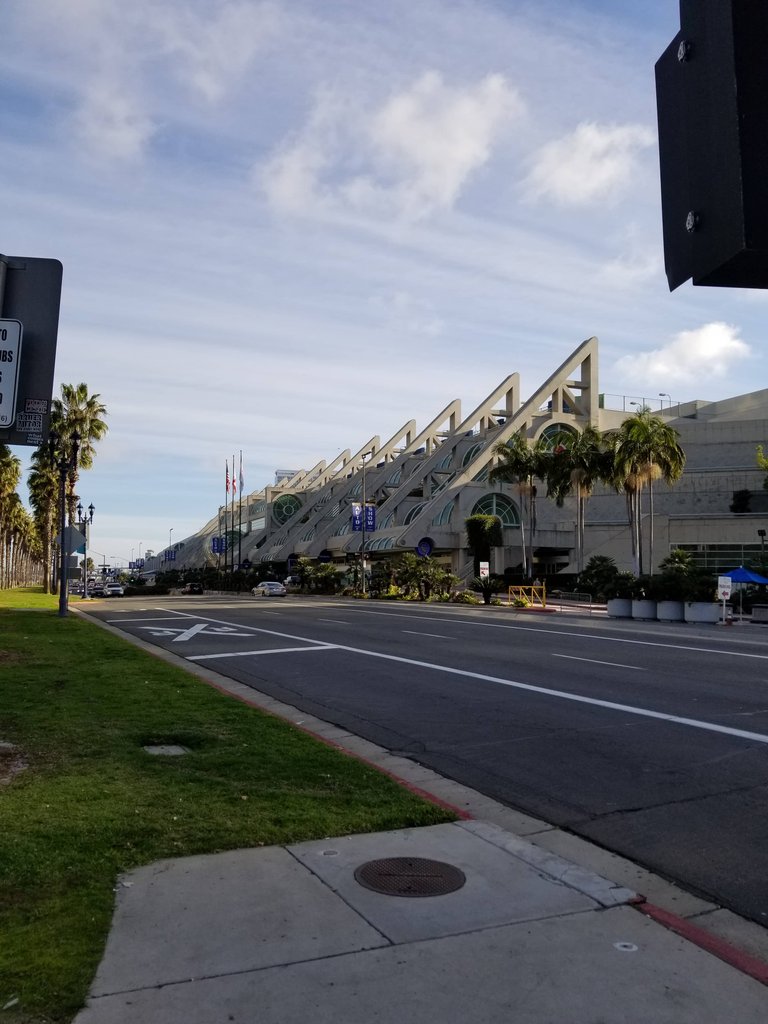 This shot too because that small building on the water is one of my favorite Seafood spots in San Diego, The Fish Market and I sure love the fresh Fish and Chip's.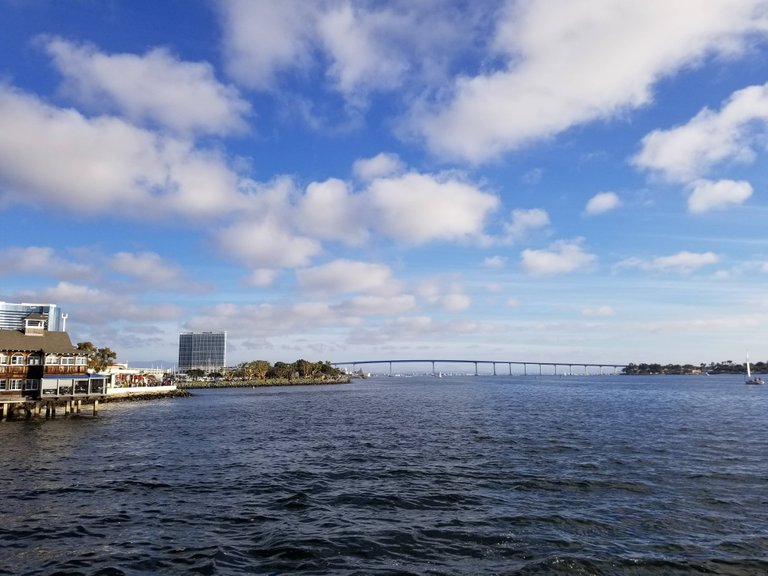 Here is the other shot I couldn't decide on but regardless they both are nice. I couldn't decide because I am more panned left and I get the building on the left in the shot, or go with the one without and the Sail Boat is closer to the lens. I think I like the closer one the best without the building.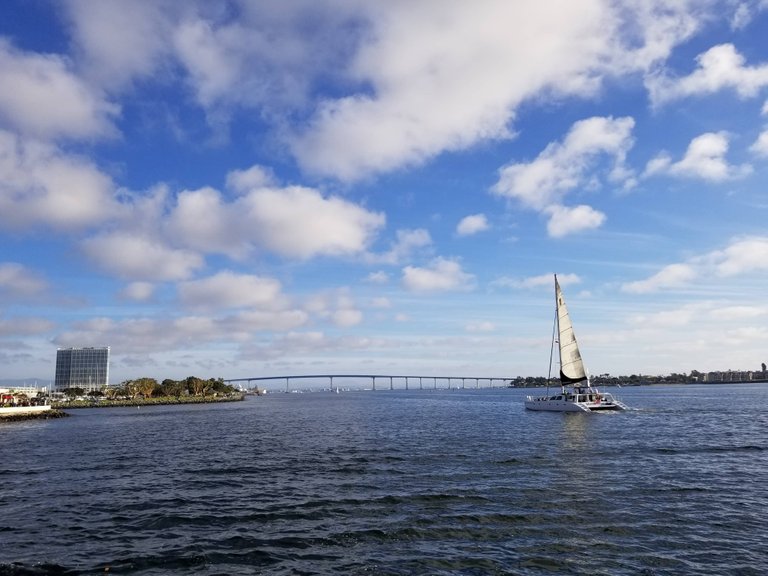 On the right here is Coronado Island and yes one day I will take you thru this wonderful place too. So much history on that Island too and I want to keep it going, even if its in my City.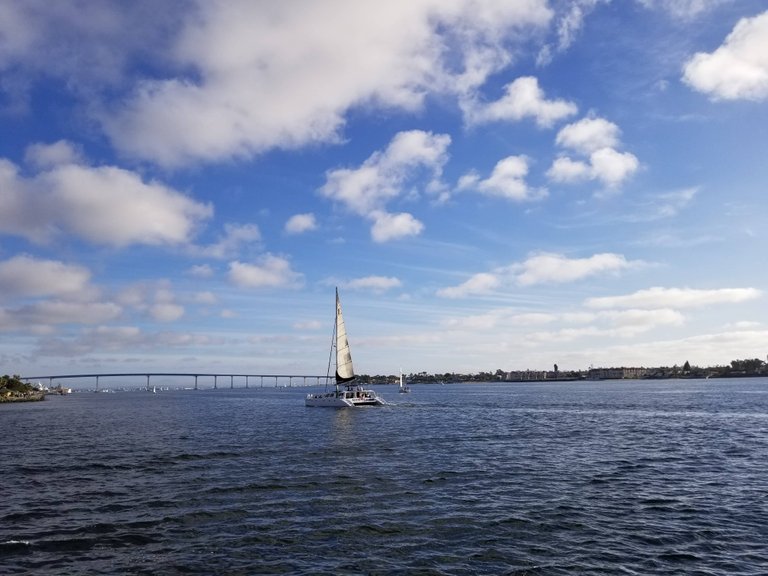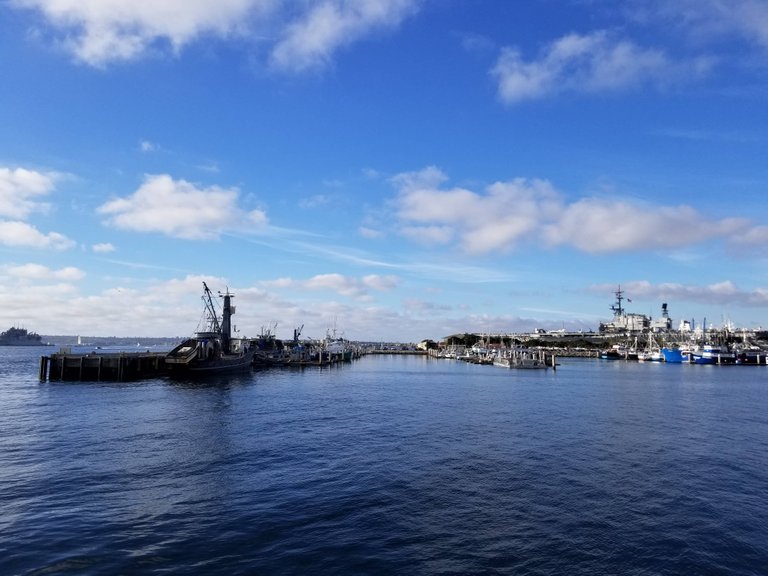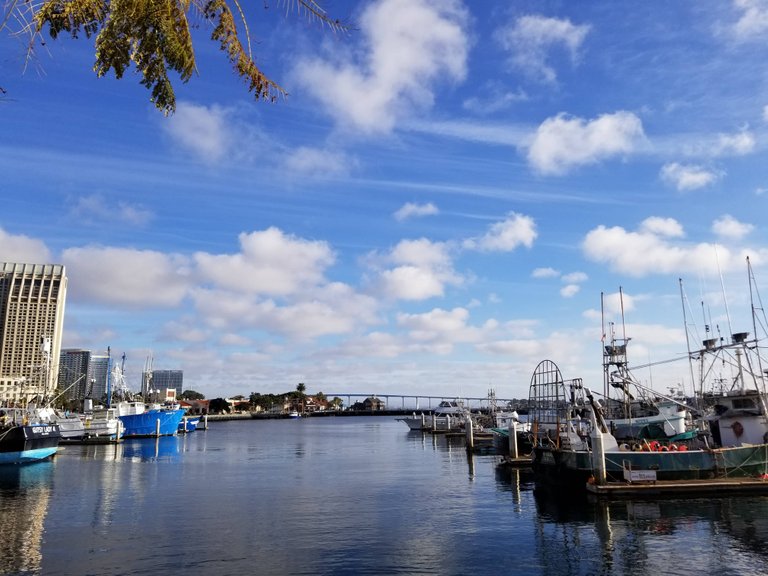 On our way back from our walk now and the way the Sun is changing the color of these buildings. Enjoy some shot's as we walk back the way we came from.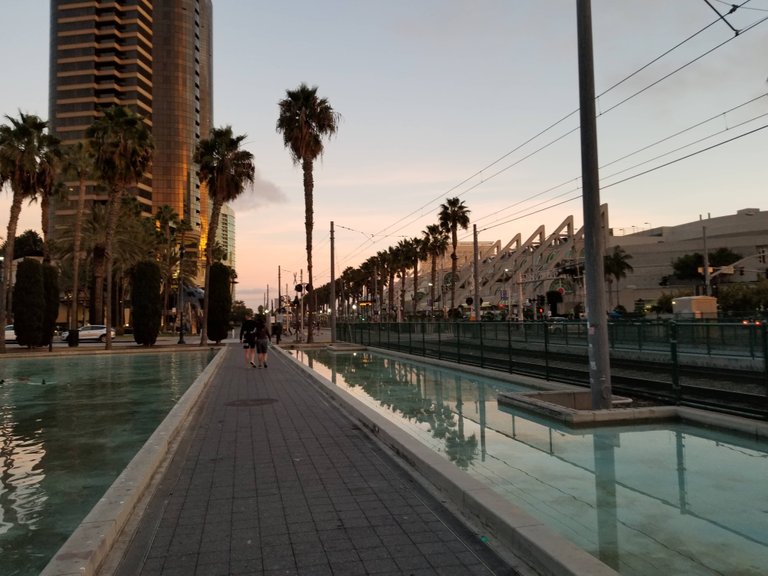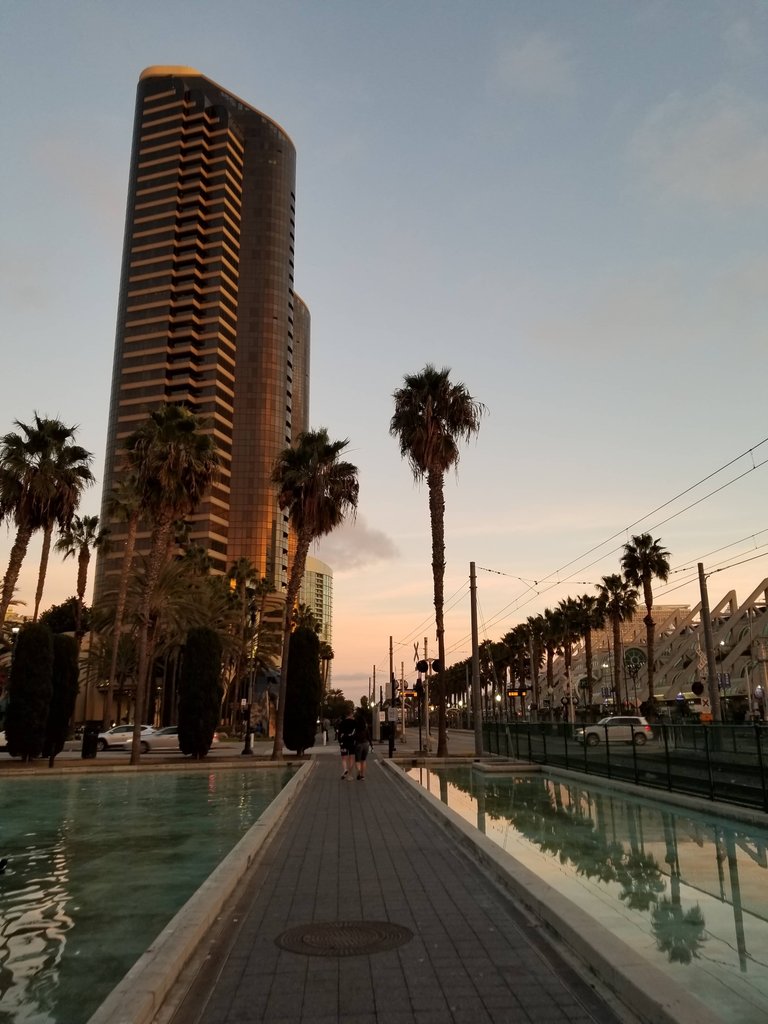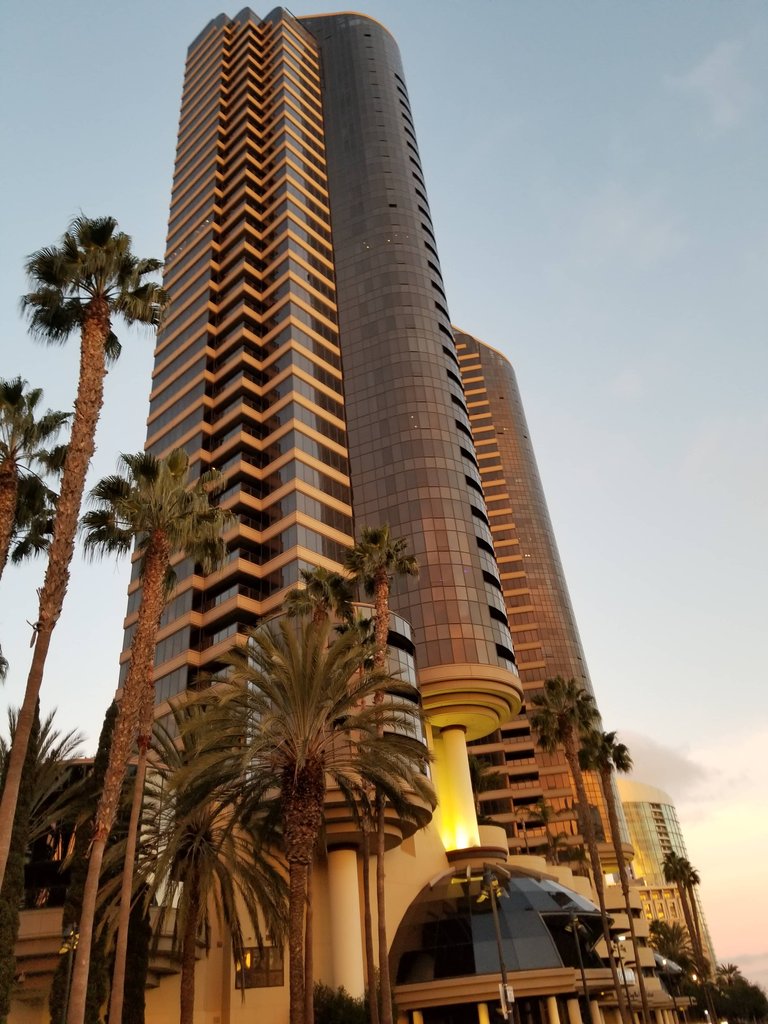 The Sun just gives us so much beauty and it's such a shame and a scam on what they have done programmed us into thinking the Sun is Bad, No the Sun is Life and the Battery to Mother Earth and to your body as well.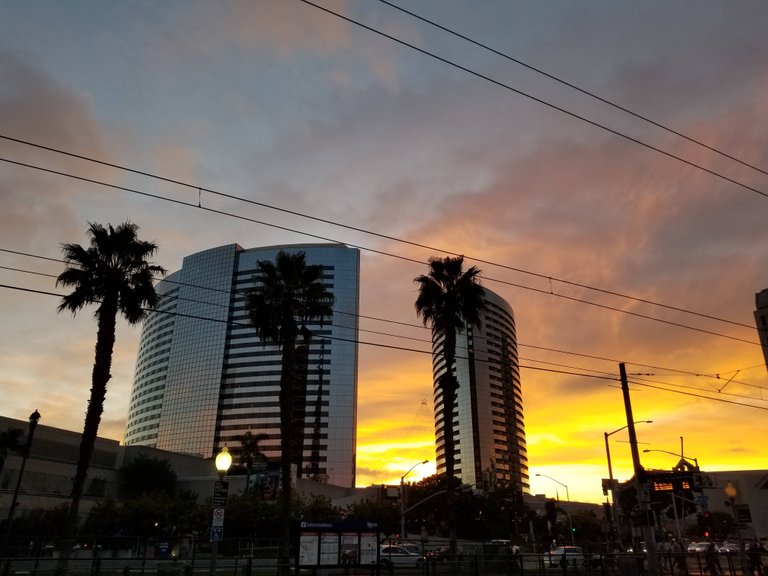 Right back where we started and as the Sun goes down so does my post, haha. Thanks for checking in on me today, I am grateful for all of you.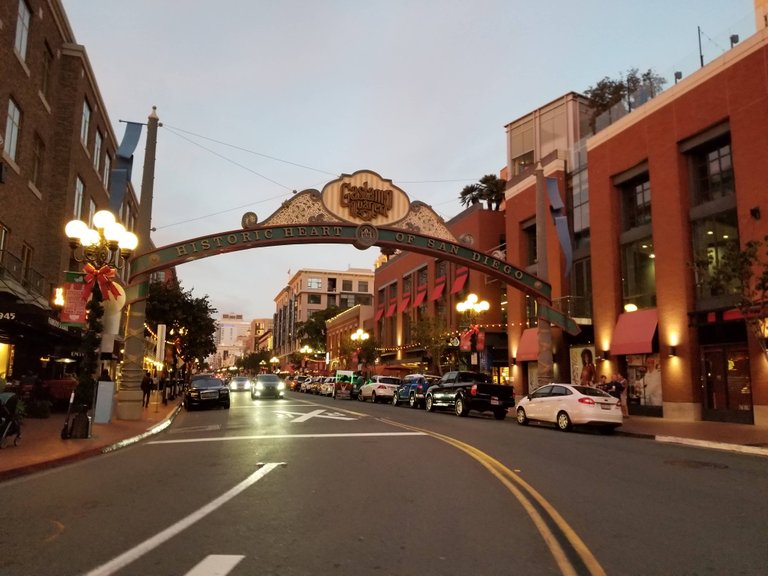 I am not a professional writer nor photographer, I just want to do my best and show my hike's and travel journey's with the community and I do appreciate each and everyone of you. You all have been so wonderful to me since I started all this.
Once again Thank you for taking the time and checking out my post and following me on this journey. Always Blessed to be here and I want to continue creating the best content I can, sharing my thoughts and sights of pictures in my way. So many more to come and I hope you continue enjoying my hikes, posts and pictures. Until the next post, Thank you all, God Bless....
All photo's are my own and are copyrighted unless quoted otherwise.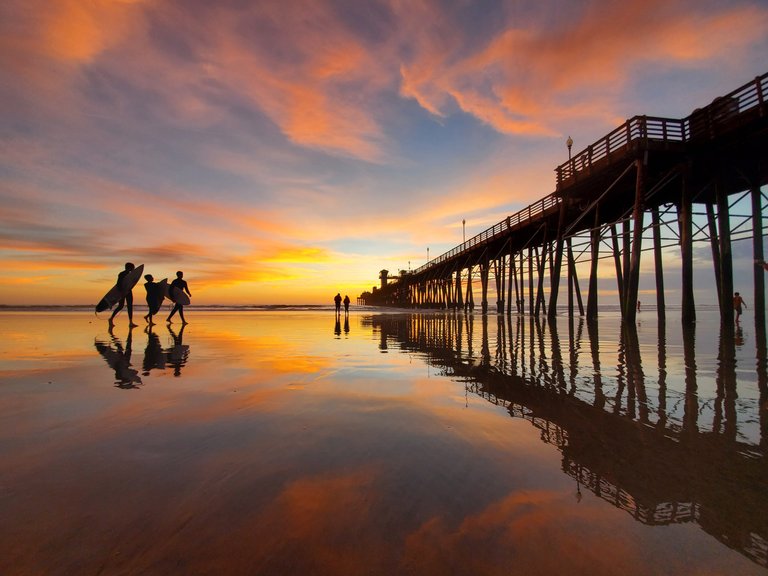 If you would like to learn more about @pinmapple and @haveyoubeenhere go and check out their blogs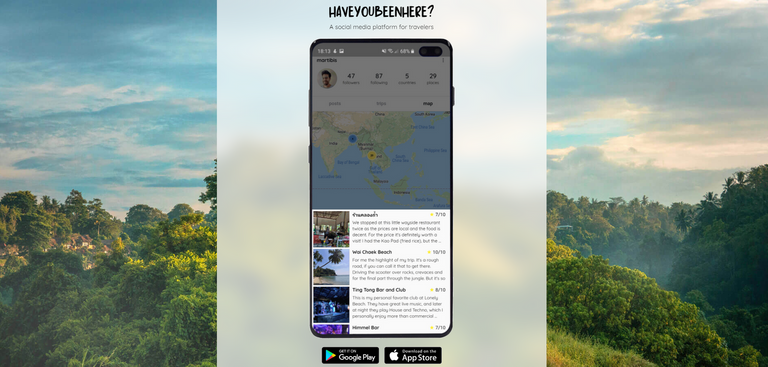 If you would like to check out my pinmapple and all my locations, click the link and it will show my posts and locations.
https://www.pinmapple.com/@shoemanchu

If you would like to help me out with my journey's, you can donate to these addresses....
---
Bitcoin : 13z8G6thHHVsiCj95AkSAMJLivEyb9YHdK

Ethereum : 0x29062f4585DB37b2AC1DDAb8f6B33EB0d76a202b

Litecoin: LdQHXahvpF1UcstTboEHQbHGfzjj9cpM4N
---
---
Ionomy exchange
---
My Referral link to buy Hive Tokens:
---
---
Coinbase
---
Also I've been using Coinbase which makes it really easy and safe to buy, sell, and store digital currency (like Bitcoin).Sign up now and get $10 of free Bitcoin when you buy or sell at least $100 of digital currency.
https://www.coinbase.com/join/5a1e4d14dfb316011f890a07?src=android-email-invite
---
Robinhood App
---
Your free stock is waiting for you! Join Robinhood and we'll both get a stock like Apple, Ford, or Facebook for free. Sign up with my link.
---
Kucoin Exchange
---
---
---
Splinterlands
---