I absolutely love graffiti art that's not really graffiti art. Melbourne's a great home for graffiti - huge murals adorn the most hipster of suburbs and colour up the place, and the country is also getting it's dose on huge concrete silos. On our drive up to the deserts in NE Victoria we couldn't resist driving in to get a great shot of Buttercup in front of a silo or two. We did miss a couple, but the drive was hot and it was getting late, so Lake Lascelles it was!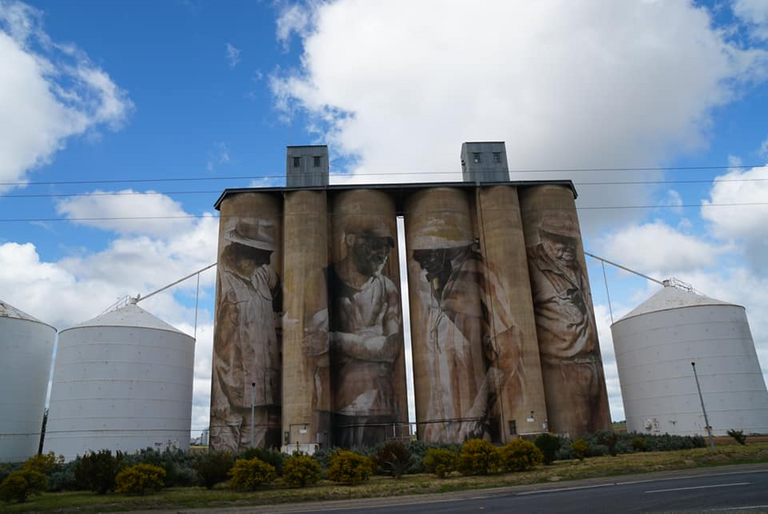 Firstly, the silo art!! There's an entire map - I think we saw about five, but there's plenty along the highway you'll see simply for spotting a silo!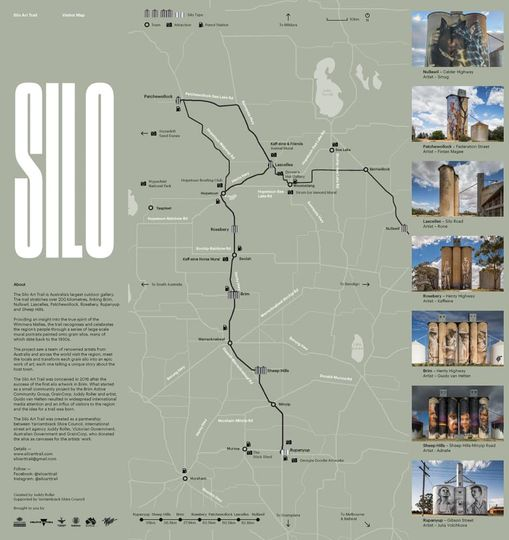 I did get yelled at by a guy who wanted to take a photo but we were in the way. To our credit, he was standing there for ages when we rocked up so we thought he was done! We were in and out taking a photo for Instagram as you do - I mean, why wouldn't you? The funny thing was, he said 'oh, of course, it's all about the photo isn't it' in a totally sarcastic way - did he not realise he was getting grumpy because he wanted a photo as well? I think some people are a LITTLE stir crazy from being locked up, as that was completely unneccessary! I do hope he got a photo as cool as we did, haha!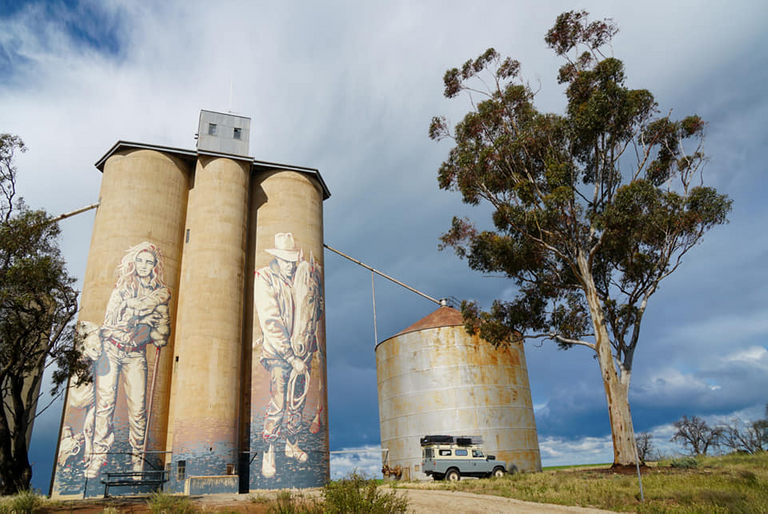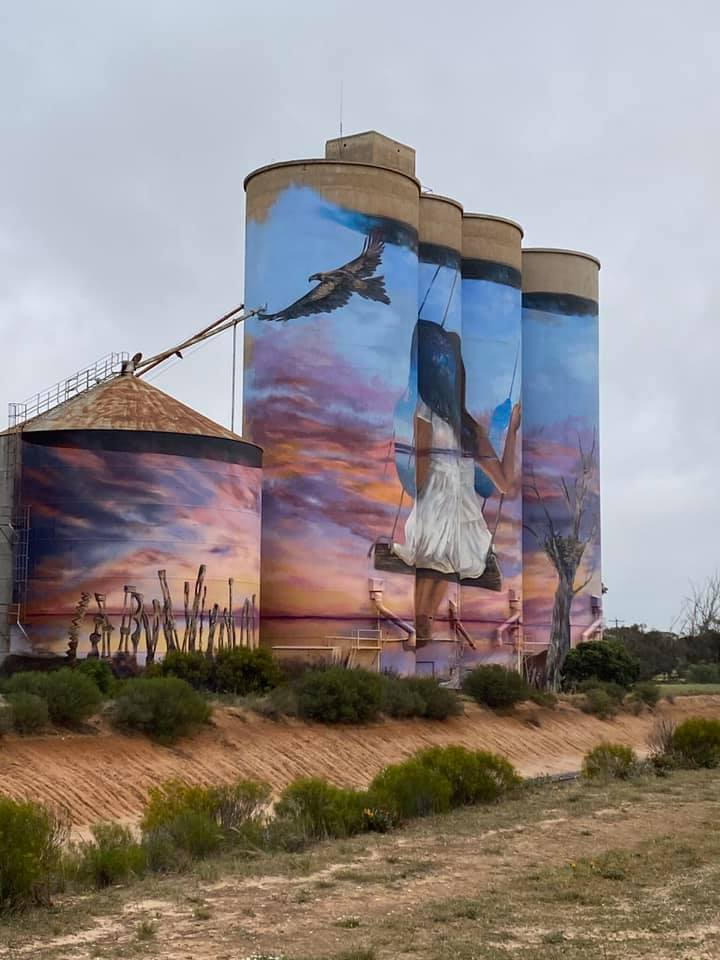 We stopped at Hopetoun after the silos, as we needed to rest and eat and sleep before heading into the desert. Hopetoun has a FABULOUS free camp run by the community - I suppose travellers bring business to the town! It's very safe, nice and quiet, and a great spot to spend a day or two if you're travel weary. The campground is actually right on the lake.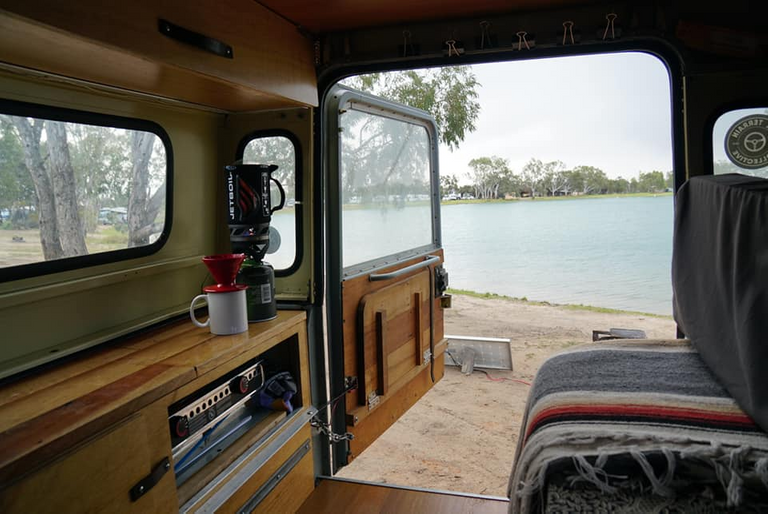 Lake Lascelles is great if you've been driving from SA, down from the border, or up from the coast. It's a bit of a crossing point to go either way, and is a really easy free camp only a kilometre work from a small town with a supermarket, a pub and a few other shops. It's possible to swim in the lake and even water ski if you have a boat. There's a lot of 'grey nomads' (Australian for retired people in RV's and caravans) because it IS an easy camp.
There's the most amazing shower and camp kitchen that's also free to use. In fact, on the way back we stopped JUST for a shower - we'd been in the desert for days and it was super hot, so a long shower was welcome. WE sat by the lake and had a beer and a swim before driving further south. We realised we'd been here before as well, heading over from the Flinders Ranges.
You'll also find some fabulous accomodation here - simple sheds and converted silos with nothing but a reverse cycle air con and beds. You still have to use the shared facilities but if it's freezing or hot or you're sick of sleeping in a tent, they are only 30 bucks a night!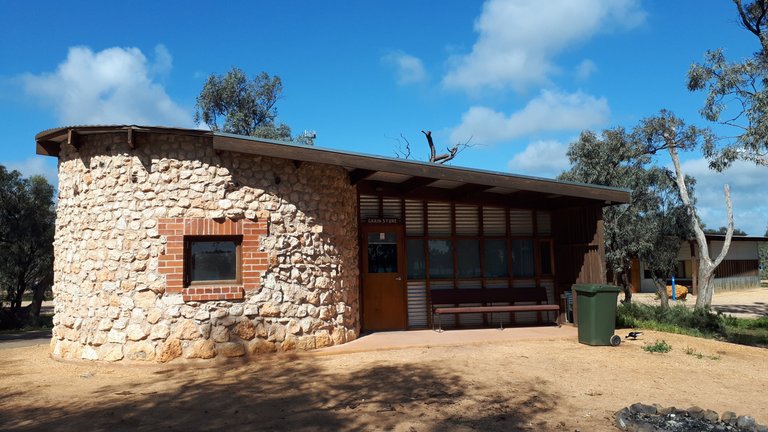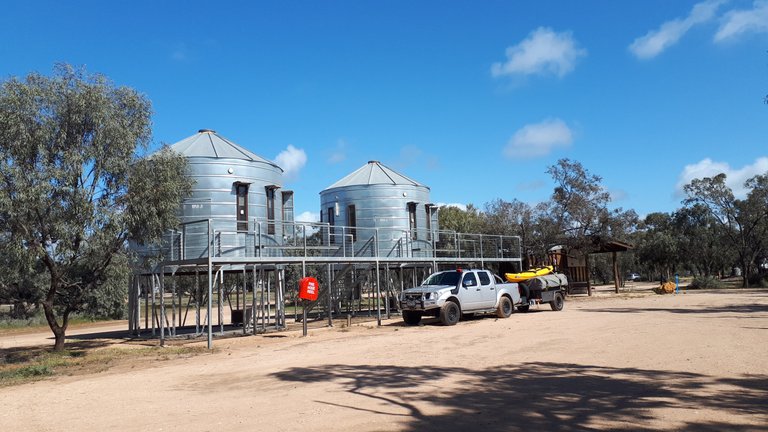 From Lake Lascelles you can head to one of the big salt lakes close by at Lake Tyrell, or head into Wyperfield National Park, which was our choice. I can't recommend the place highly enough for a jumping off point for NE Victoria!


'Have You Been Here' is a travel community on HIVE. You can download their app here and connect with other travellers. You can find where in the world other HIVE bloggers have travelled by exploring the map on your desktop at Pinmapple here too. Drop a pin anywhere on the map to generate a code to add to your blog so that others might find it.
With Love,

Are you on HIVE yet? Earn for writing! Referral link for FREE account here




PeakD - The Best Way to Experience The Hive Blockchain
---
---