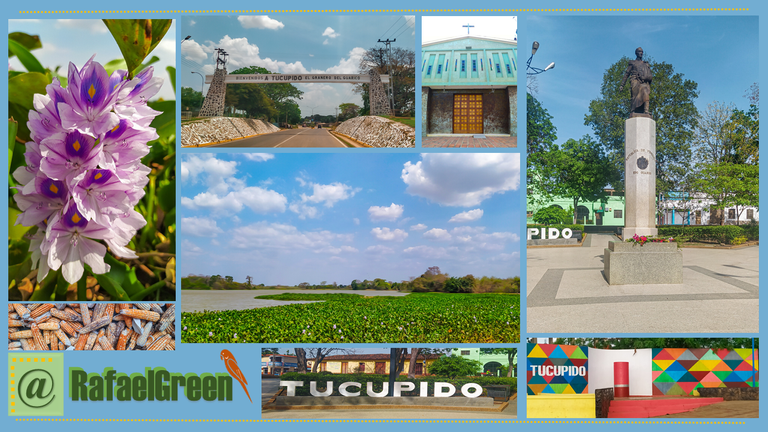 This time I bring you on a tour of one of the towns of the Venezuelan plains, this is Tucupido known as "The Granary of Guárico", it is so called because it has the highest agricultural production of Guárico State, based on cattle, milk, vegetables and sorghum. First of all, I will tell you that it is not mainly a tourist destination, but it has a lot of history and beautiful places.
Esta vez les traigo en un recorrido por uno de los pueblos del llano venezolano, este es Tucupido conocido como "El Granero de Guárico", se le denomina así debido a que tiene la más alta producción agrícola del Estado Guárico, basada en ganado vacuno, leche, rubros y sorgo. De entrada, les diré que no es un destino turístico principalmente, pero posee mucha historia y lugares hermosos.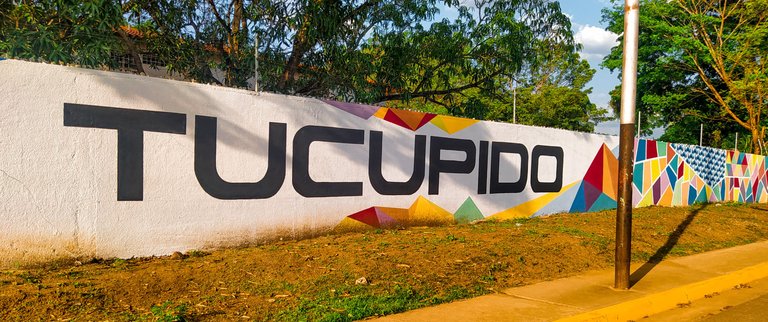 Mural in the streets of Tucupido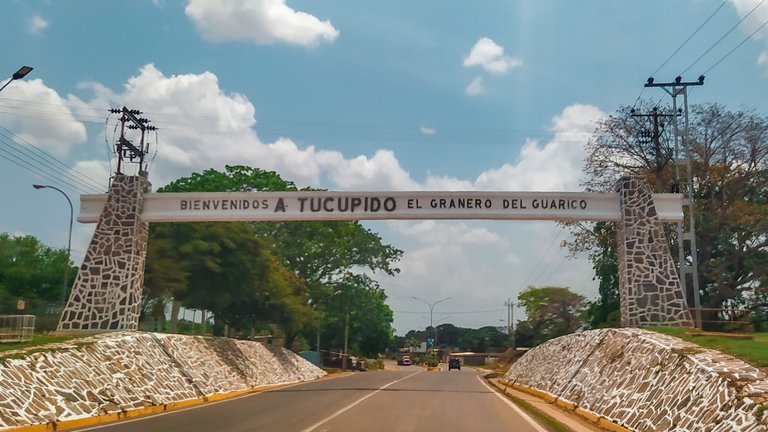 Rocks and cement entrance to Tucupido
Nothing like arriving to a town surrounded by nature and trapped in time, with old houses, vegetation and all kinds of fauna that develops in this area, as I am taking you on trips to many parts of Venezuela, I will show the places on the map of
@pinmapple
and a capture here.
Nada como llegar a un pueblo rodeado de naturaleza y atrapado en el tiempo, con casas antiguas, vegetación y todo tipo de fauna que se desarrolla en esta área, ya que los estoy llevando de viajes a muchas partes de Venezuela, mostraré los lugares en el mapa de @pinmapple y una captura aquí.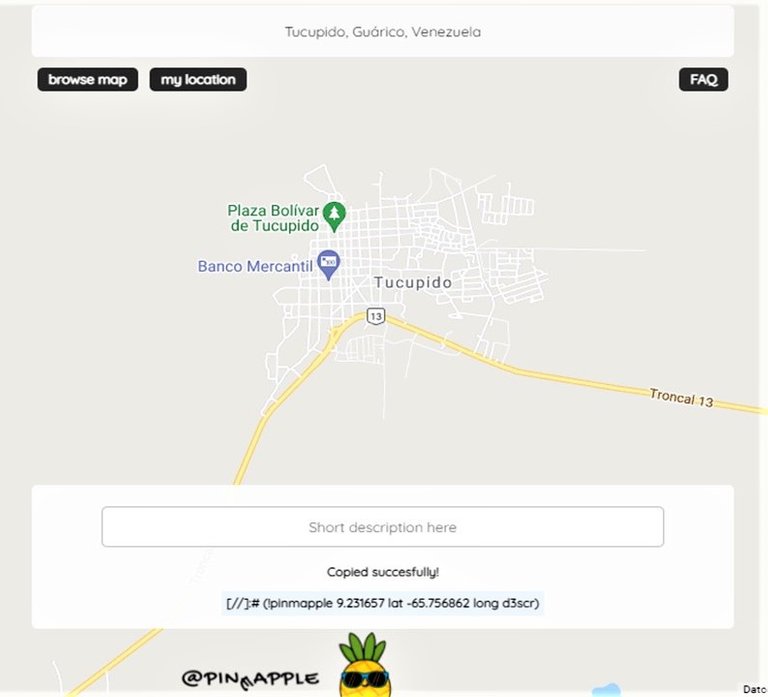 Map extracted from @pinmapple platform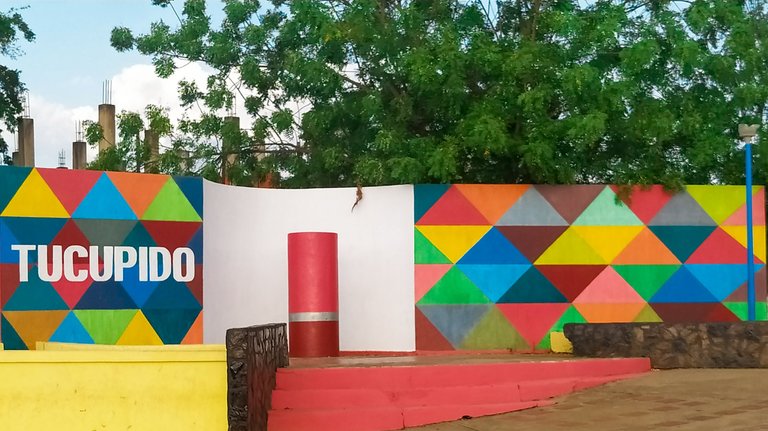 Streets of the town of Tucupido
The trip begins traveling many kilometers of Guárico state, between plains and plains, arriving in Tucupido we are greeted by its great door, an arch built with rocks and with the inscription of its name and as it is known (Tucupido "The Granary of Guárico") this welcome I loved as it is a town that identifies itself in front of the visitor. I continued walking through its streets and I realized that they had old houses and structures made of mud and tiles.
El viaje comienza recorriendo muchos kilómetros del estado Guárico, entre planicies y llanuras, llegando a Tucupido nos recibe su gran puerta, un arco construido con rocas y con la inscripción de su nombre y como es conocido (Tucupido "El Granero de Guárico") esta bienvenida me encanto ya que es un pueblo que se identifica frente al visitante. Seguí recorriendo sus calles y me percaté que poseían casas y estructuras antiguas a base de barro y con tejas.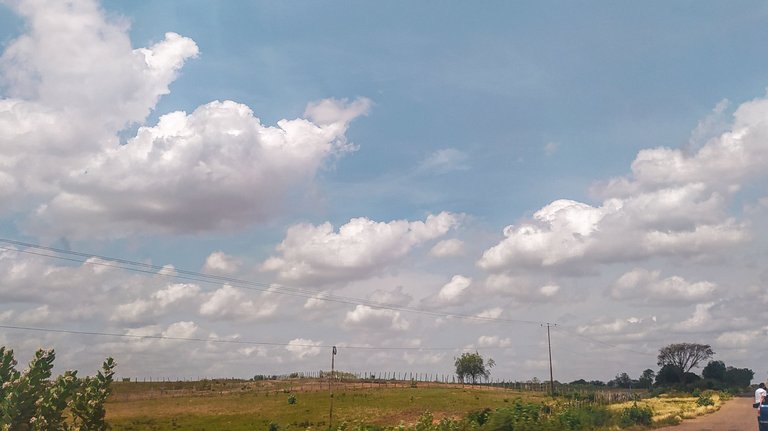 before reaching the town of Tucupido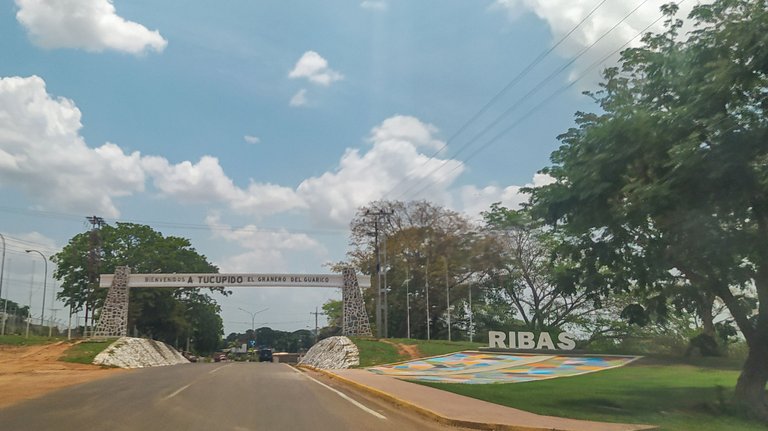 Rocks and cement entrance to Tucupido
My first destination to visit in this beautiful town was its main square, the Square Bolivar de Tucupido where there were some flowers in front of the statue due to the celebration of April 19, a symbolic day in Venezuela because on this date the act of April 19, 1810 was signed for the dismissal of Vicente Empara and the first form of autonomous government of the country at that time.
Mi primer destino a visitar en este hermoso pueblo, fue su plaza principal, la Plaza Bolívar de Tucupido en donde se encontraban unas flores frente a la estatua debido a la celebración del 19 de abril, día simbólico en Venezuela debido a que en esta fecha se firma el acta del 19 de abril de 1810 para la destitución de Vicente Empara y la primera forma de gobierno autónoma del país en esa época.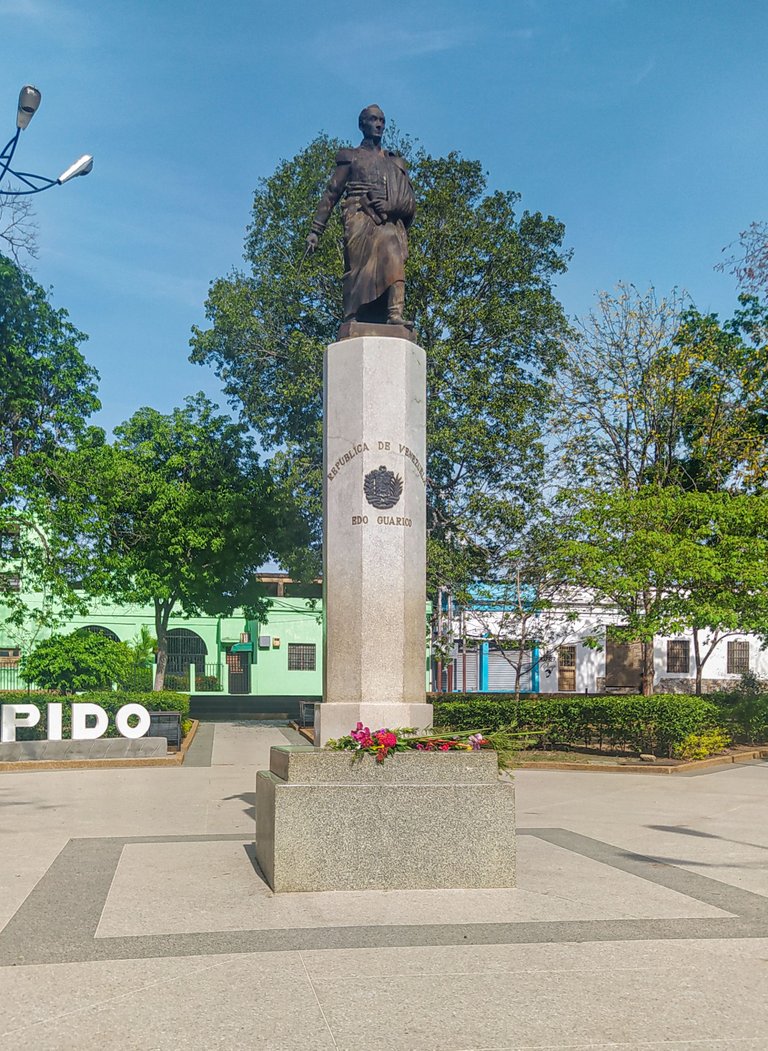 The Bolívar Square de Tucupido
This square has around it a historic center of old infrastructures that are part of its charm for people who visit the place, practically gives us a trip back in time. It also has in big white letters the name of the town that invites us to visit it again.
Esta plaza posee a su alrededor un casco histórico de infraestructuras antiguas que forman parte de su encanto para las personas que visitamos el lugar, prácticamente nos da un viaje en el tiempo. También tiene en letras blancas y grandes el nombre del pueblo que nos invita a volver a visitarlo.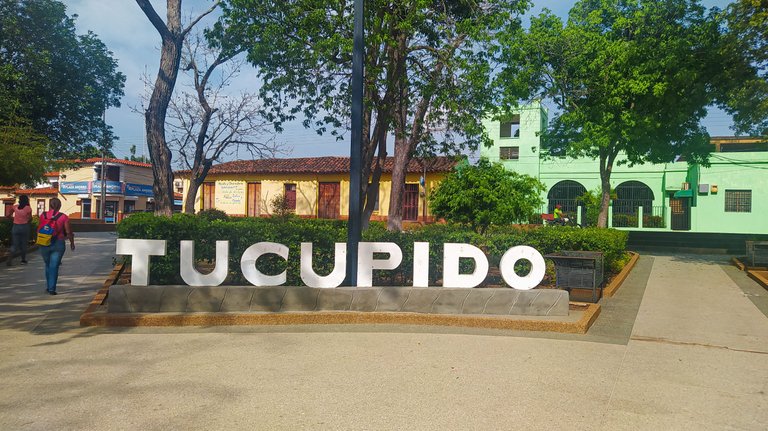 White letters in the Bolívar square, with the name of the town "Tucupido"
This town is a place wrapped in folklore, religion and culture, with an old church that is located in the surroundings of its main square which has a large wooden door and a structure of years, but with recent restorations. Also observe religious figures that are part of the culture of the place where believers reflect their faith and for the contemplation of travelers.
Este pueblo es un lugar envuelto en folklore, religión y cultura, con una iglesia antigua que se encuentra en los alrededores de su plaza principal la cual tiene una gran puerta de madera y una estructura de años, pero con restauraciones recientes. También observe figuras religiosas que forman parte de la cultura del lugar donde sus creyentes reflejan su fe y para contemplación de los viajeros.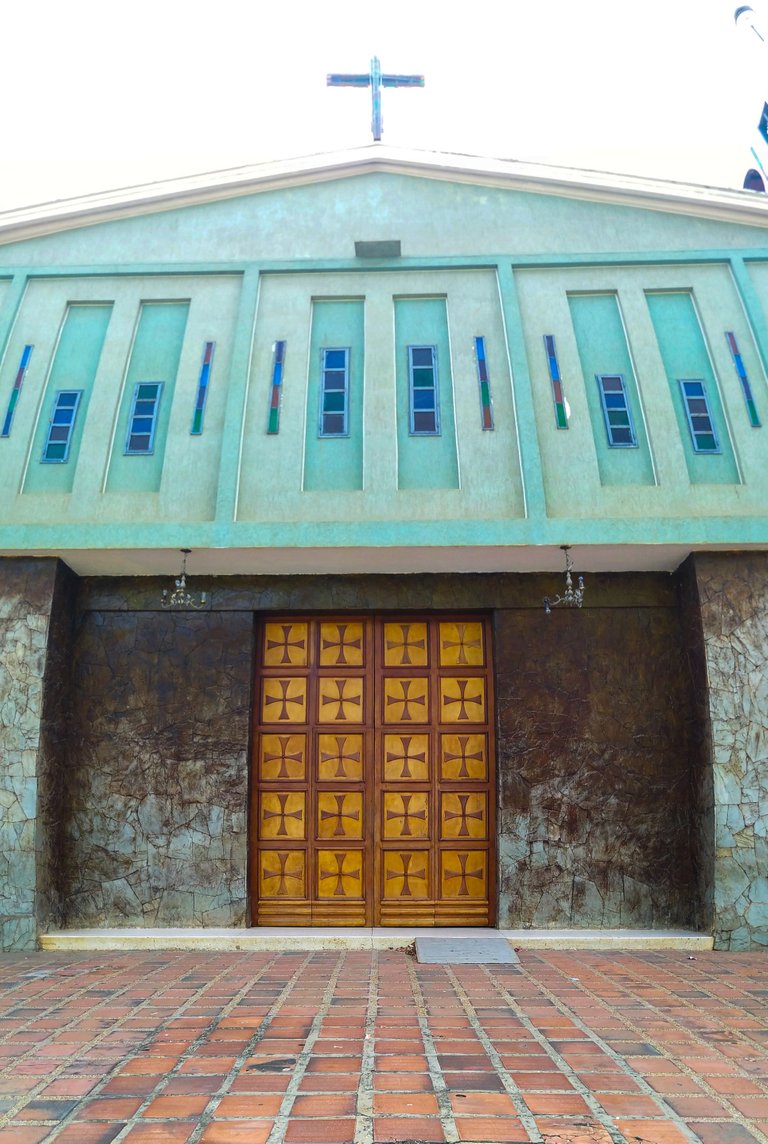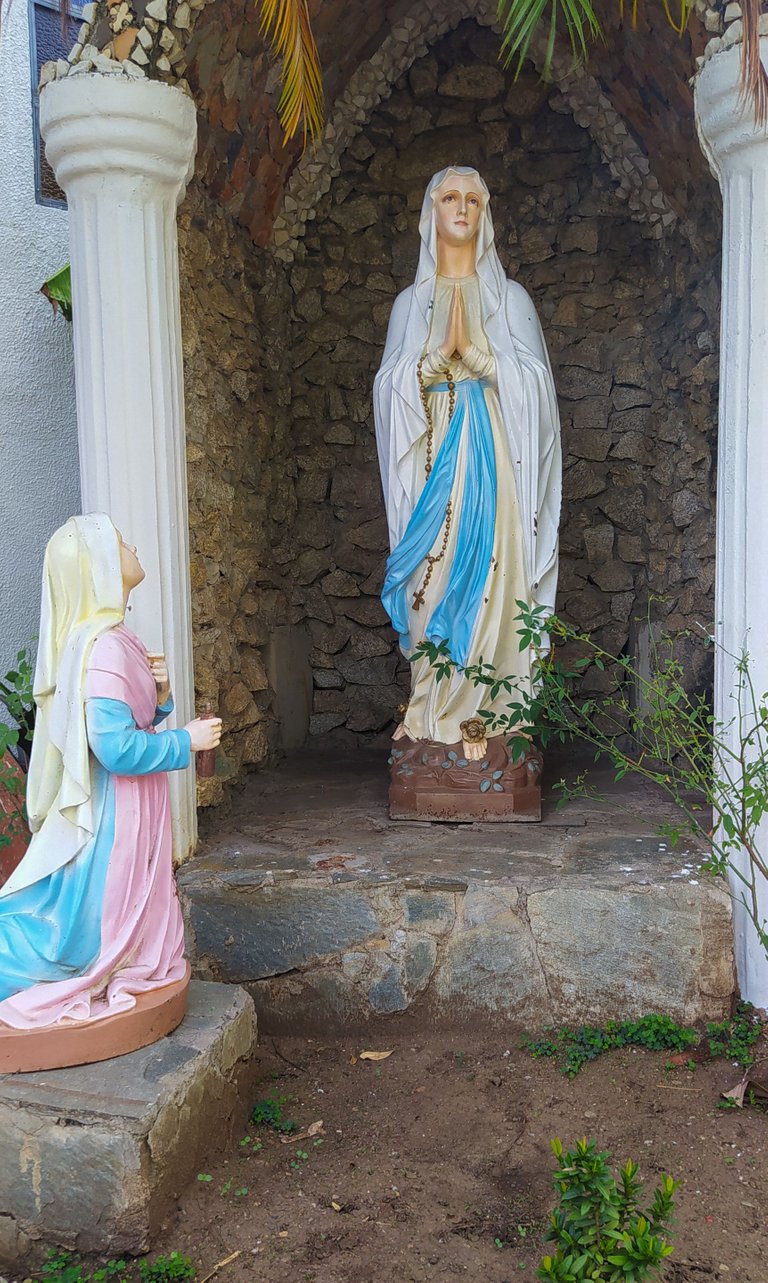 ---
Church of Tucupido and images of the Virgin Mary
As I explained at the beginning this is an agricultural area, which allows the observation of different environments that are developed for planting, cattle and economic activities of rural areas. I had the opportunity to see artificial ponds, cows, calves, horses and more animals raised in this area, as well as pastures and vast plains full of cattle.
Como explique al principio esta es una zona agrícola, lo que permite la observación de diferentes ambientes que se desarrollan para la siembra, el ganado vacuno y actividades económicas de espacios rurales. Tuve la oportunidad de ver lagunas artificiales, vacas, becerros, caballos y más animales criados en esta área, como también potreros y llanuras inmensas llenas de ganado.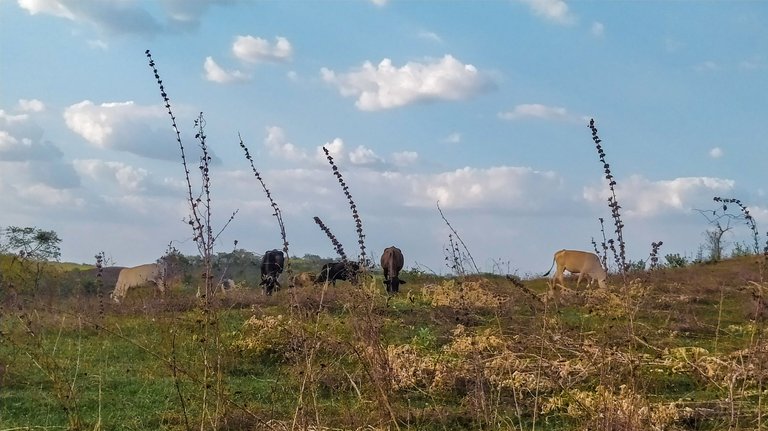 Beef cattle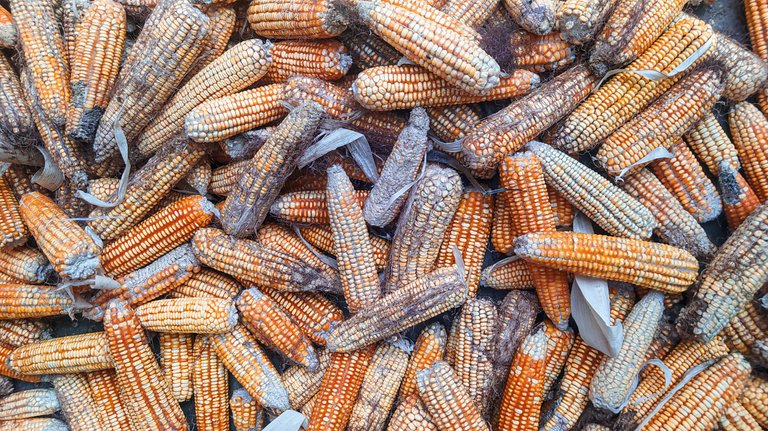 Dry corn
To finish this beautiful tour I will show you the Tucupido Reservoir, an aquatic space in the Venezuelan plains where several streams such as the Morrocoy stream and the Tamanaco river flow into. People come here to refresh themselves, have fun, see a different landscape, get distracted and get inspired. When I arrived here I felt like I was in an unexplored place, in a space that represents the essence of my beloved plains. Green vegetation, beautiful flowers and a clear sky. This reservoir is part of the hydrological sources of this area.
Para finalizar este hermoso recorrido les mostrare el Embalse de Tucupido, un espacio acuático en el llano venezolano donde desembocan varios riachuelos como el arroyo de Morrocoy y el río Tamanaco y es que las personas vienen acá a refrescarse, divertirse, ver un paisaje diferente, distraerse e inspirarse. Cuando llegué a este lugar me sentí en un lugar inexplorado, en un espacio que representa la esencia de mi llano amado. Vegetación verde, flores hermosas y un cielo despejado. Este embalse forma parte de las fuentes hidrológicas de esta área.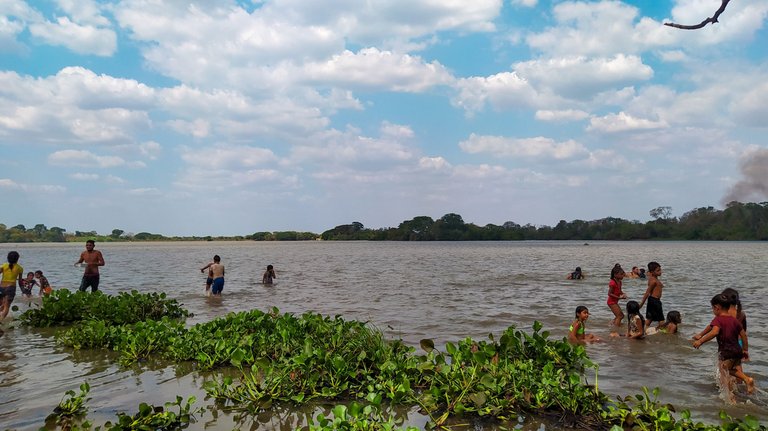 ---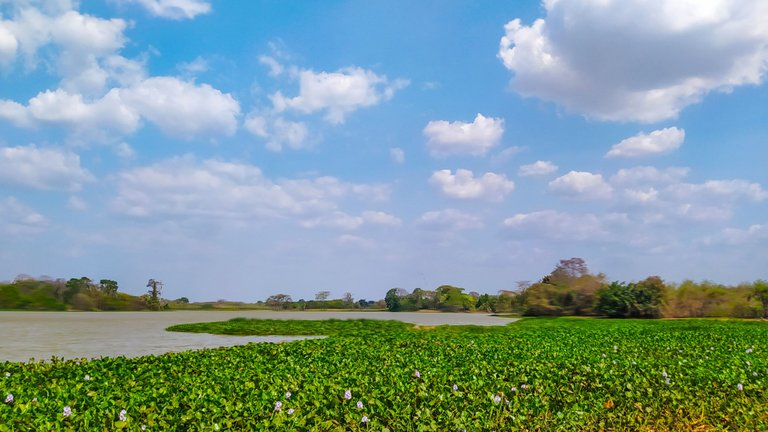 ---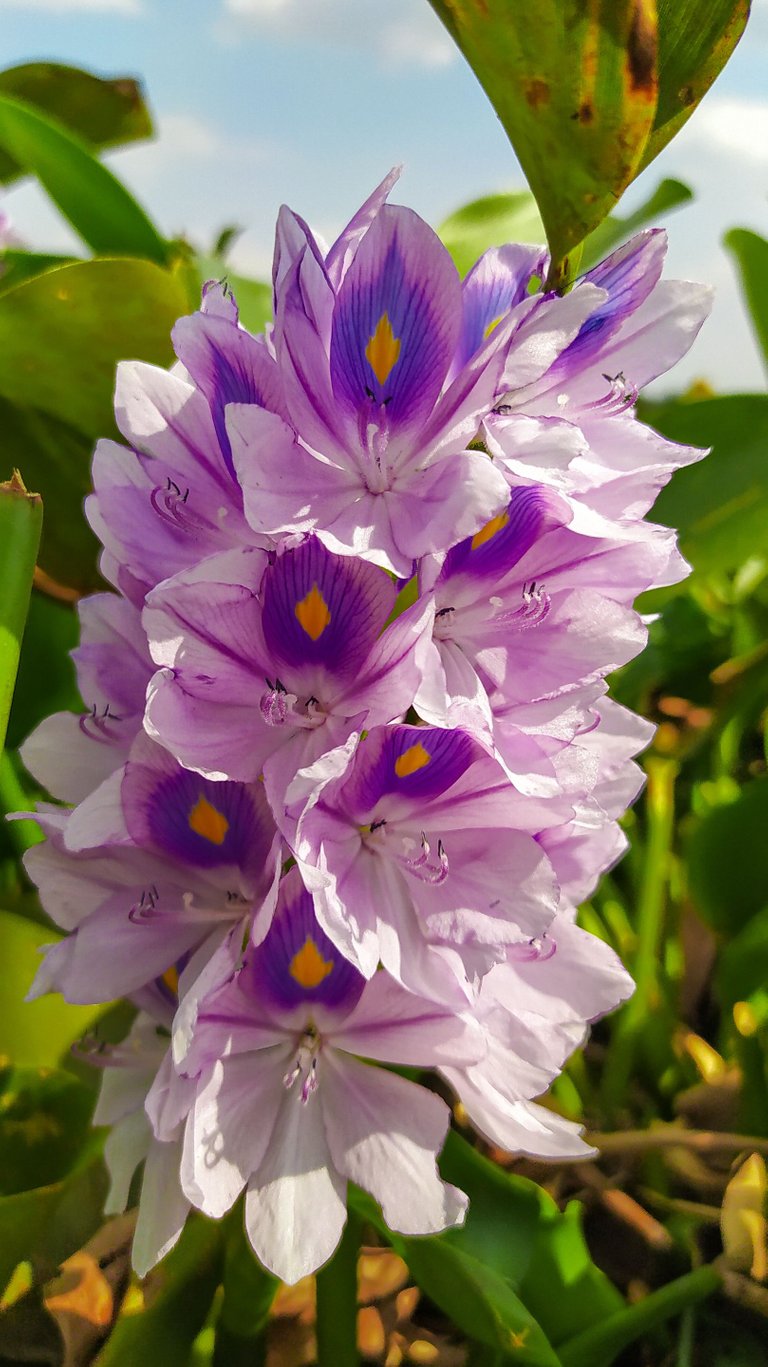 ---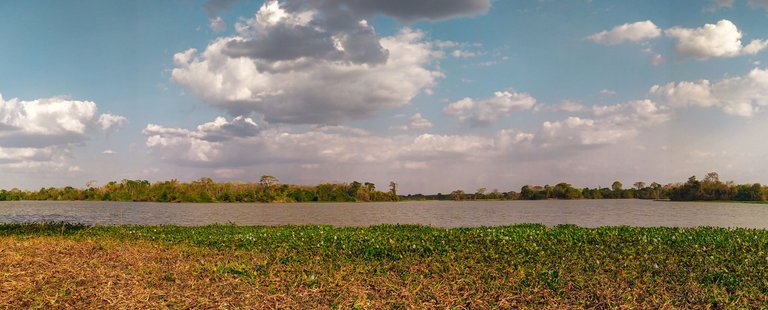 Tucupido reservoir landscape
This place where I traveled in time is one of the most wonderful I have ever been, delicious and traditional food, sharing, living an adventure and most importantly, not only I met places, but also people who with their good attention and good vibes made this trip unique.
Este lugar en el que viajé en el tiempo es uno de los más maravillosos que he realizado, comida deliciosa y tradicional, compartir, vivir una aventura y lo más importante, no solo conocí lugares, si no también personas que con su buena atención y buena vibra hicieron de este viaje único.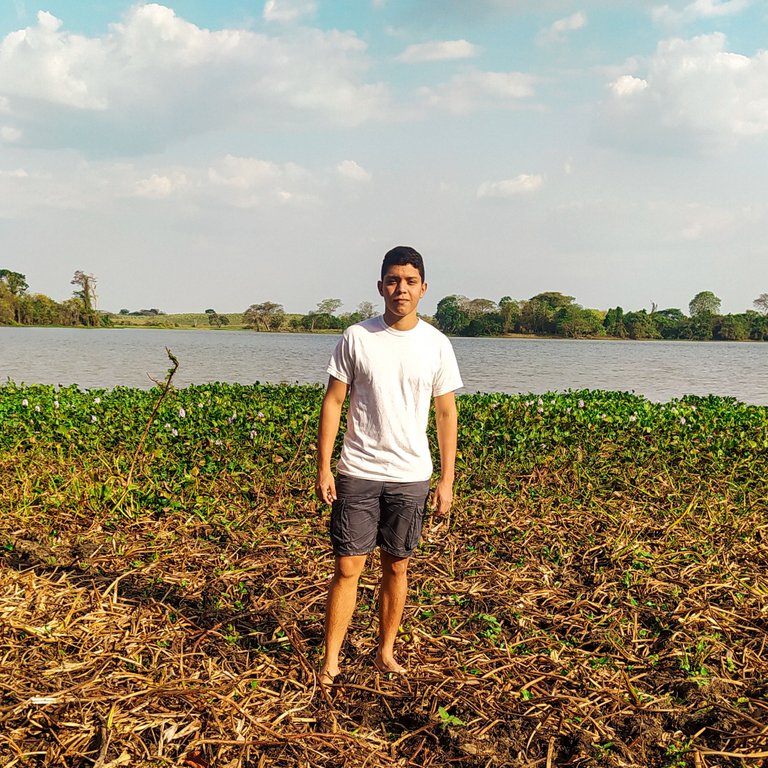 Your travel guide @RafaelGreen
---
---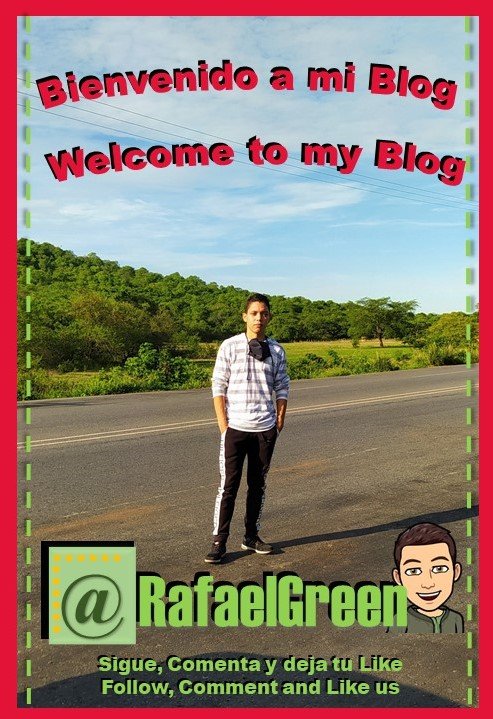 [ESP]Bienvenido a un pedazo de mi mente, un espacio de @RafaelGreen, Militar de profesión, Licenciado y Bloguero. Aventurero, narrador de aventuras y experiencias, camino a ser creador de historias. Conociendo lugares nuevos, ecologista por pasión, buscando la mejor forma de emprender y lograr mis metas. Llevándote a conocer lugares de Venezuela, contando una historia, una aventura y algo más. Si te gusta mi contenido, no olvides dejar un comentario, tu like o tu opinión, y muchas gracias por el apoyo.
[ENG] Welcome to a piece of my mind, a space of @RafaelGreen, Military by profession, Graduate and Blogger. Adventurer, narrator of adventures and experiences, on my way to being a storyteller. Knowing new places, an ecologist by passion, looking for the best way to undertake and achieve my goals. Taking you to know places in Venezuela, telling a story, an adventure and something more. If you like my content, don't forget to leave a comment, your like, or your opinion, and thank you very much for your support.
---
Mi idioma nativo es el español por lo que uso Deepl para mis traducciones.
Las fotografías son de mi propiedad, usé la cámara del Redmi Note 8 para las fotografías, edite con PowerPoint y retoque con lightroom.
"Somos una partícula en el universo con el poder de cambiar el mundo"
Si te gusto el escrito deja tu opinión y si tienes alguna observación constructiva no dudes en hacerla.
---
My native language is Spanish so I use Deepl for my translations.
The pictures are my own, I used the camera of the Redmi Note 8 for the pictures, edited with PowerPoint and retouched with lightroom.
"We are a particle in the universe with the power to change the world"
If you liked the writing leave your opinion and if you have any constructive observation do not hesitate to do it.

Banner designed by myself in PowerPoint / Banner diseñado por mi persona en PowerPoint.