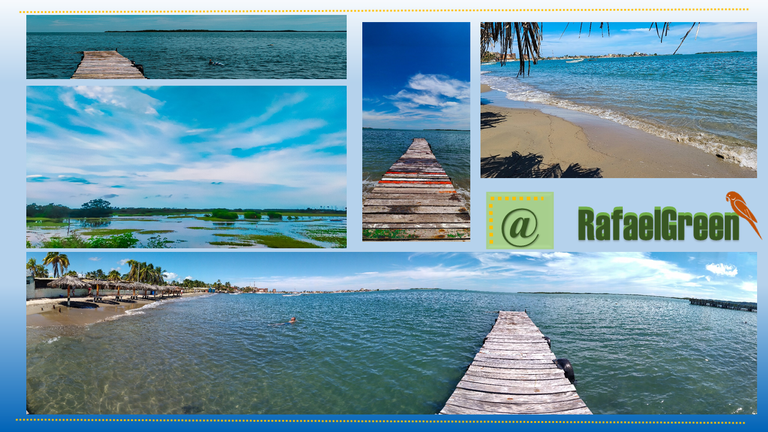 A fraternal greeting, here
@RafaelGreen
with one more coastal adventure, knowing a new beach, this time I made a trip to Chichiriviche with some colleagues, where the purpose was not to go to the beach, but the opportunity arose and I was able to document some of the trip.
Un saludo fraternal, por acá @RafaelGreen con una aventura costera más, conociendo una nueva playa, en esta oportunidad realicé un viaje a Chichiriviche con unos compañeros, donde el propósito no era ir a la playa, pero se dio la oportunidad y pude documentar algo del viaje.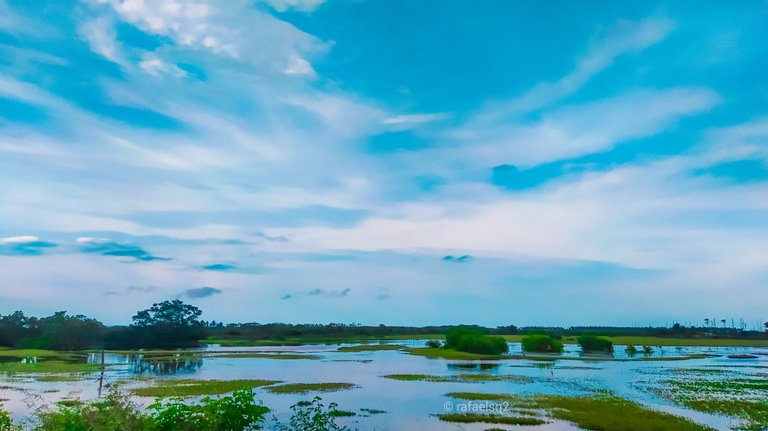 Landscape of an area of Chichiriviche
---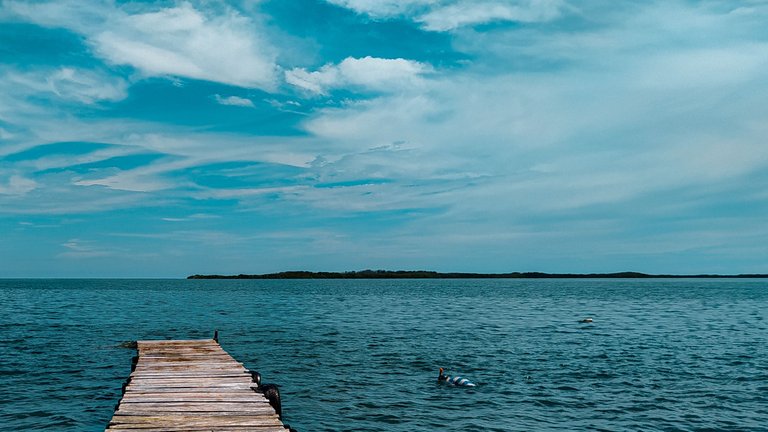 Sur Beach and an islet in the background
---
Chichiriviche is a coastal area of the Falcon state of Venezuela and its name means "place where our sun is born" of the aboriginal language Caribbean, in it are beautiful beaches and keys of my country, I will tell you that this trip I made at night so the photos will be night, and I will begin by saying that we left at 19:00 from Maracay, Aragua, and arrived at 22:30 to our first destination which was Flamingo city. This city is an accumulation of residential complexes for vacation, where people have houses and apartments for when they travel to the beaches of this area to stay in their vacation homes.
Chichiriviche es una zona costera del estado Falcón de Venezuela y su nombre significa "sitio donde nace nuestro sol" del idioma aborigen Caribe, en ella se encuentran hermosas playas y cayos de mi país, les comentare que este viaje lo realice de noche por lo que de ida las fotos serán nocturnas, y comenzaré diciendo que salimos a las 19:00 de Maracay, Aragua, y llegamos a las 22:30 a nuestro primer destino que fue ciudad Flamingo. Esta ciudad es un cumulo de conjuntos residenciales para vacacionar, donde las personas tienen casas y apartamentos para cuando viajan a las playas de esta zona poder quedarse en sus casas vacacionales.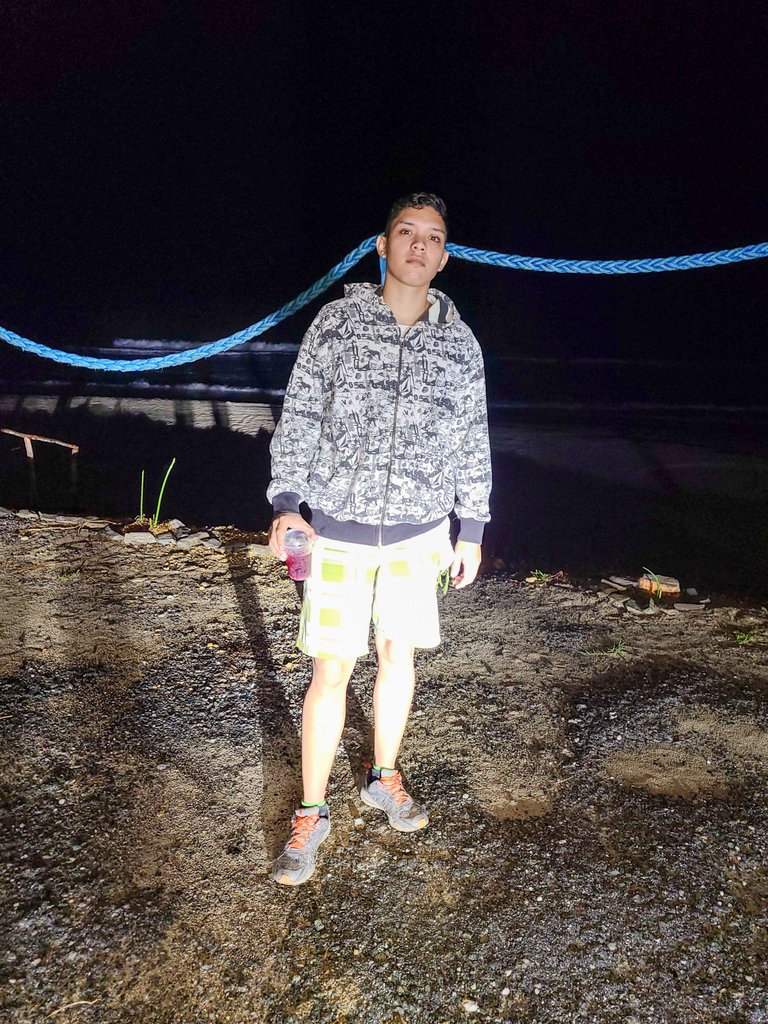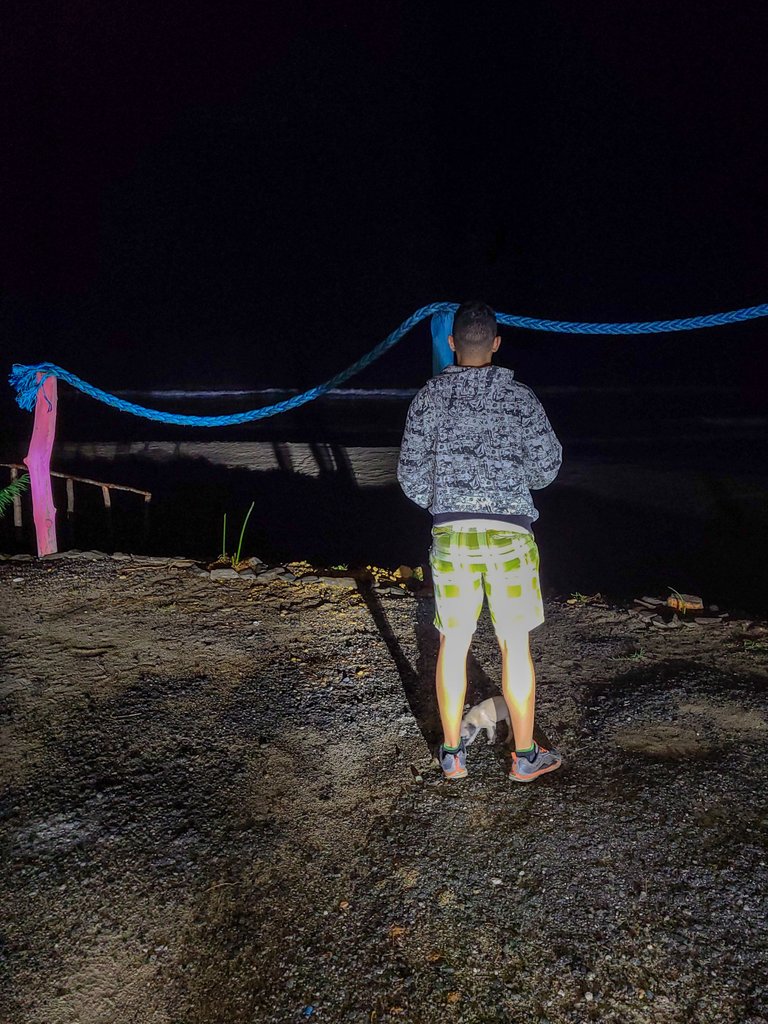 Overnight trip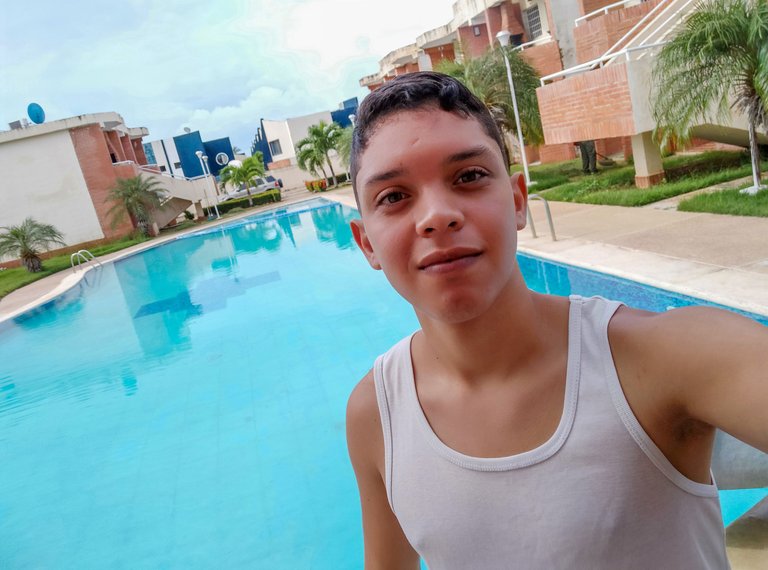 Flamingo City
Of these houses we borrowed one, and previously agreed to stay, we arrived, unloaded things and went to bed to sleep, for the next day to perform the work entrusted, but it turns out that due to pandemic issues and agreements of the work we could only perform a part of it and I had the opportunity to go out to meet Club Nautico Beach.
De estas casas nos prestaron una, ya previamente acordado para quedarnos, llegamos, descargamos las cosas y nos acostamos a dormir, para al día siguiente realizar el trabajo encomendado, pero resulta que por cuestiones de la pandemia y acuerdos del trabajo pudimos solo realizar una parte del mismo y tuve la oportunidad de salir a conocer Playa Club Náutico.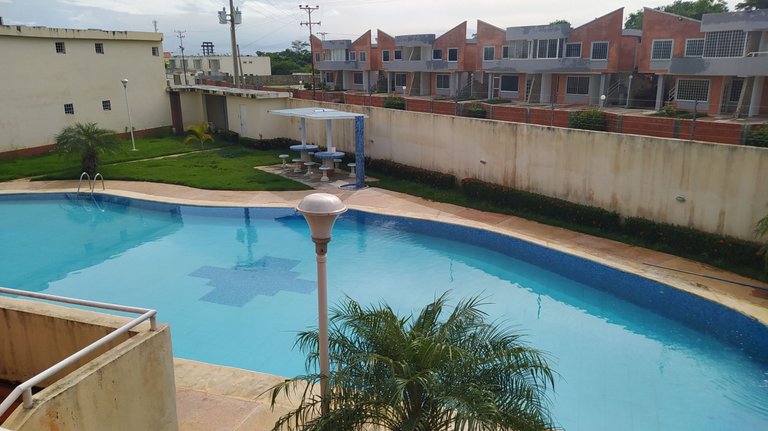 Vacation homes in Flamingo
---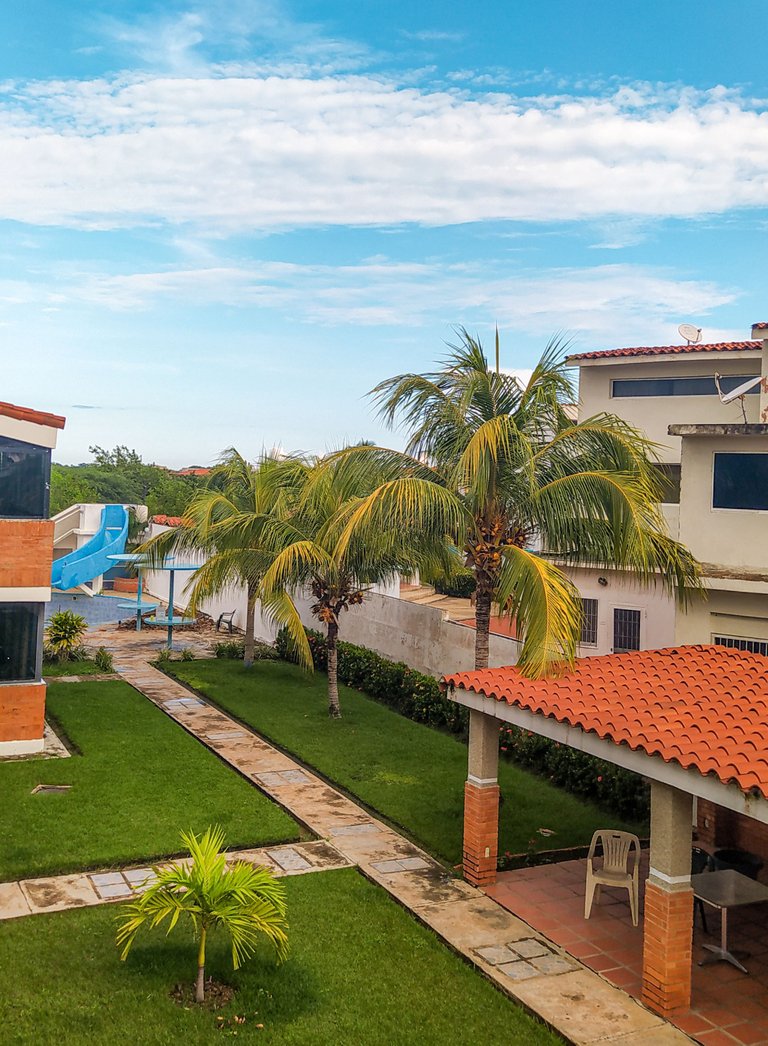 ---
Club Nautico Beach or Sur Beach of Chichiriviche is a beautiful place and a small bay where you can swim, its water almost always has a perfect temperature to enter the water, has a pier that allows the departure and arrival of fishermen and boats that go to various places of this magnificent coast, has places to buy local food, also has features such as a gentle swell, a beautiful transparency in its water, palm vegetation, awnings to share in a group and the pier of Sur Beach.
Playa Club Náutico o Playa Sur de Chichiriviche es un lugar hermoso y una pequeña bahía donde te puedes bañar, su agua casi siempre tiene una temperatura perfecta para adentrarse al agua, posee un muelle que permite la salida y llegada de los pescadores y lanchas que van a varios lugares de esta magnífica costa, tiene lugares para comprar comida local, también tiene características como un oleaje suave, una transparencia hermosa en su agua, vegetación de palmeras, toldos para compartir en grupo y el embarcadero de Playa Sur.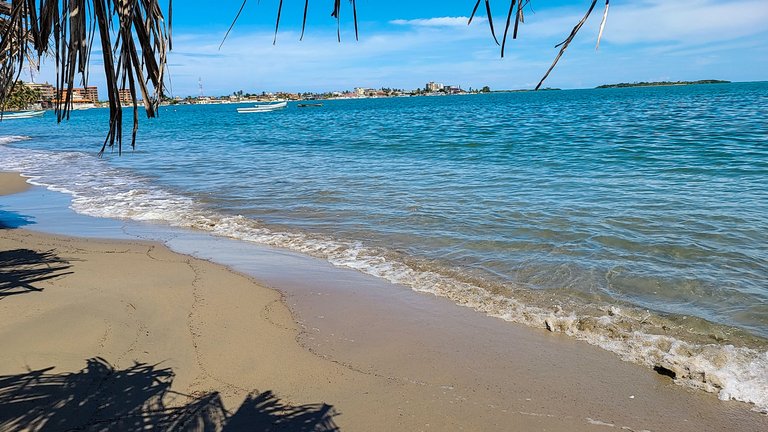 ---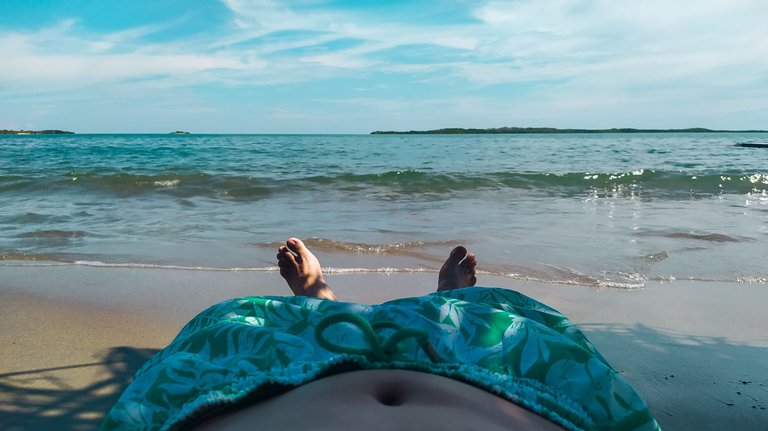 ---
The pier of Sur Beach is a dock that allows the arrival and departure of boats and boats bound for the nearby keys, from it you can see some small islands or keys as we call them in Venezuela. Now to enjoy the trip, the sea and the soft clear sand! This area of my country has a great tourist attraction in coasts, beaches and keys, since it is the starting point for the Morrocoy and Tucacas National Park.
El embarcadero de Playa Sur es un muelle que permite la llegada y salida de lanchas y botes con rumbo a los cayos cercanos, desde él se pueden apreciar unas pequeñas islas o cayos como le llamamos en Venezuela. ¡Ahora a disfrutar del viaje, el mar y la suave arena clara! Esta zona de mi país posee un gran atractivo turístico en costas, playas y cayos, ya que es el punto de partida para el parque nacional Morrocoy y Tucacas.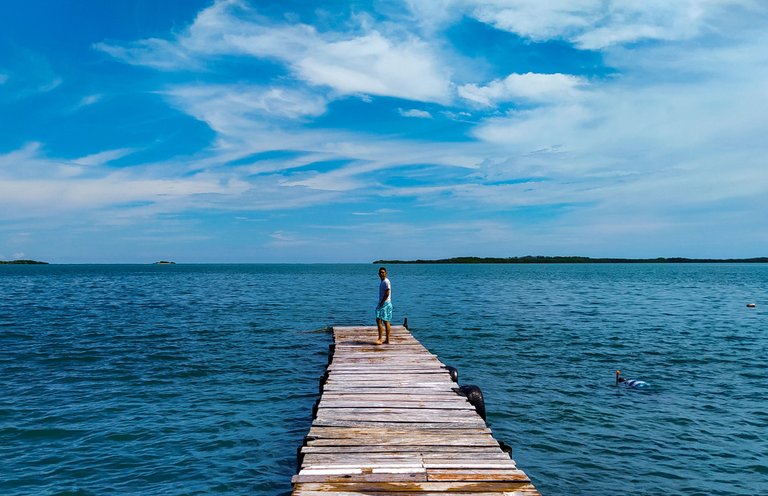 ---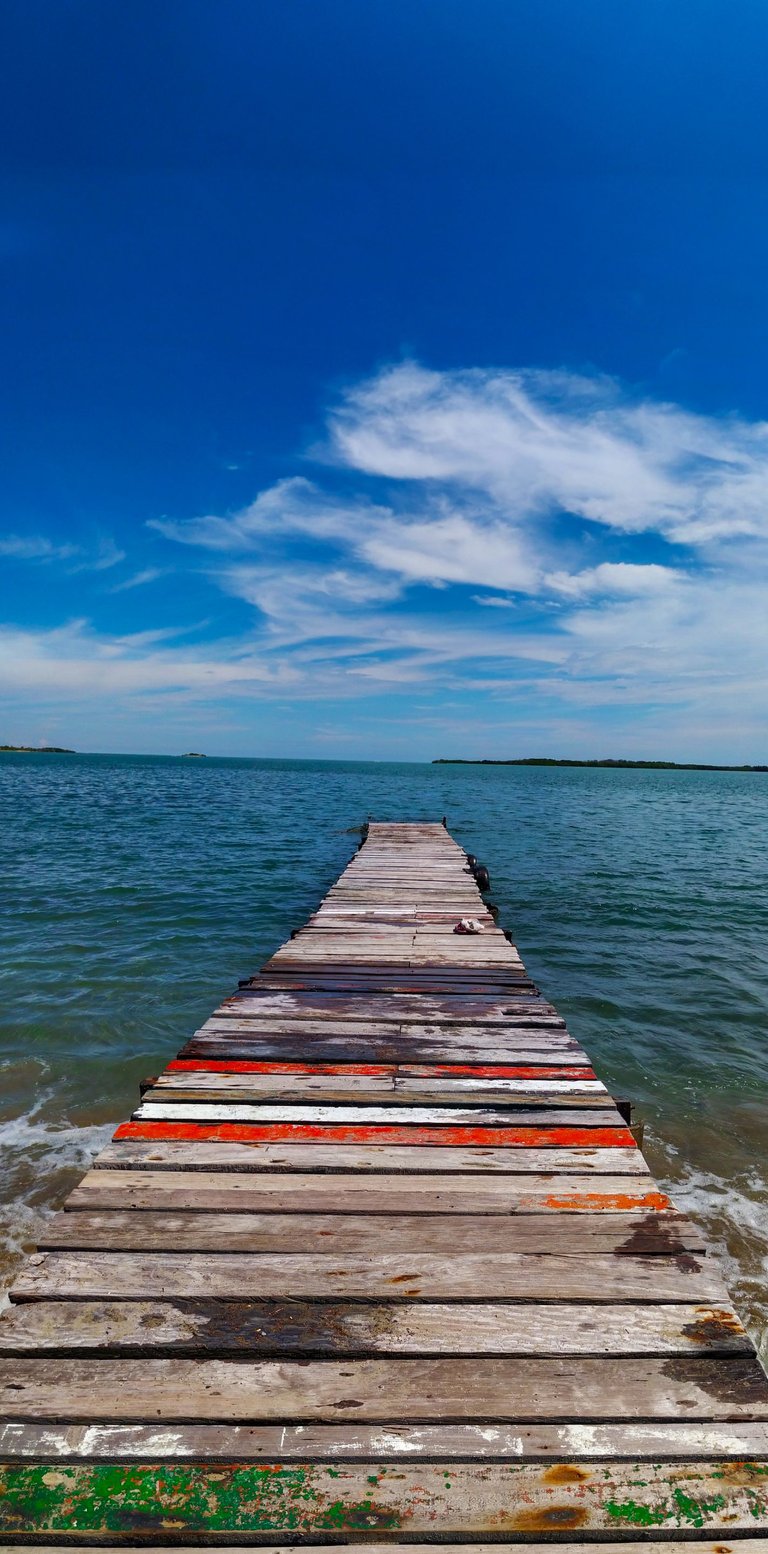 The pier of Sur Beach
I finish by telling you about the soul of a traveler, enjoyment is when we are ready to appreciate the small details that places offer us, and appreciate the company of those who are with us, and although the people with whom I went on this trip were co-workers and we do not have the best of friendships, on this trip they were my brothers and friends.
Finalizo contándoles del alma de viajero, el disfrute esta cuando nos disponemos apreciar los pequeños detalles que los lugares nos ofrecen, y apreciar la compañía de quienes están con nosotros, y aunque las personas con las que fui a este viaje fueron compañeros de trabajo y no tenemos la mejor de las amistades, en este viaje fueron mis hermanos y amigos.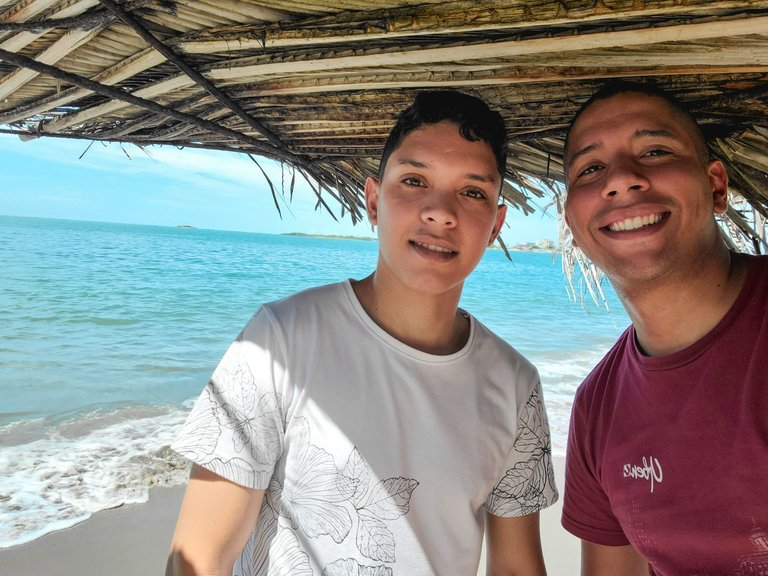 ---

Panoramic photo of the South Beach
---
If you are Venezuelan and have suggestions of places in Caracas, Maracay or nearby places I will try to continue bringing good adventurous content, and if you are not Venezuelan and do not know these places write whatever you want and tell me about your last trip, I will also leave you the link of the famous youtuber Alex Tienda showing the beaches of Morrocoy and Tucacas.
Si eres venezolano y tienes sugerencias de lugares en Caracas, Maracay o lugares cercanos trataré de seguir llevando un buen contenido aventurero, y si no eres venezolano y no conoces estos lugares escribe lo que quieras y cuéntame de tu último viaje, también te dejare el link del famoso youtuber Alex Tienda mostrando las playas de Morrocoy y Tucacas.
---
---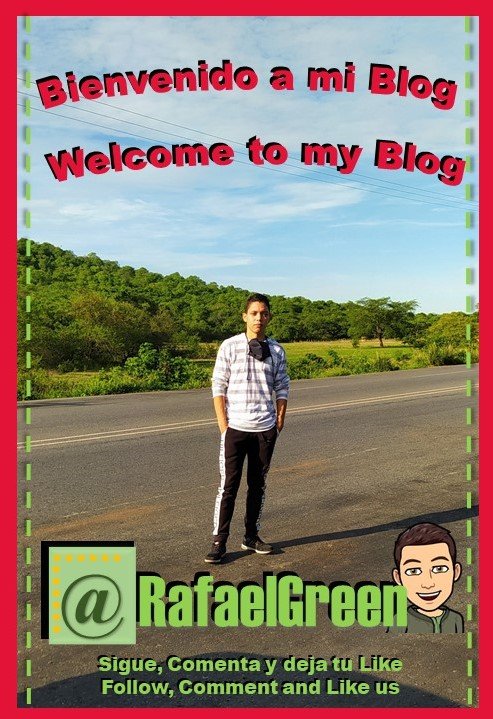 [ESP]Bienvenido a un pedazo de mi mente, un espacio de @RafaelGreen, Militar de profesión, Licenciado y Bloguero. Aventurero, narrador de aventuras y experiencias, camino a ser creador de historias. Conociendo lugares nuevos, ecologista por pasión, buscando la mejor forma de emprender y lograr mis metas. Llevándote a conocer lugares de Venezuela, contando una historia, una aventura y algo más. Si te gusta mi contenido, no olvides dejar un comentario, tu like o tu opinión, y muchas gracias por el apoyo.
[ENG] Welcome to a piece of my mind, a space of @RafaelGreen, Military by profession, Graduate and Blogger. Adventurer, narrator of adventures and experiences, on my way to being a storyteller. Knowing new places, an ecologist by passion, looking for the best way to undertake and achieve my goals. Taking you to know places in Venezuela, telling a story, an adventure and something more. If you like my content, don't forget to leave a comment, your like, or your opinion, and thank you very much for your support.
---
Mi idioma nativo es el español por lo que uso Deepl para mis traducciones.
Las fotografías son de mi propiedad, usé la cámara del Redmi Note 8 para las fotografías, edite con PowerPoint y retoque con lightroom.
"Somos una partícula en el universo con el poder de cambiar el mundo"
Si te gusto el escrito deja tu opinión y si tienes alguna observación constructiva no dudes en hacerla.
---
My native language is Spanish so I use Deepl for my translations.
The pictures are my own, I used the camera of the Redmi Note 8 for the pictures, edited with PowerPoint and retouched with lightroom.
"We are a particle in the universe with the power to change the world"
If you liked the writing leave your opinion and if you have any constructive observation do not hesitate to do it.

Banner designed by myself in PowerPoint / Banner diseñado por mi persona en PowerPoint.