Landscapes and scenes of Costa Rica. A great tour of a tiny country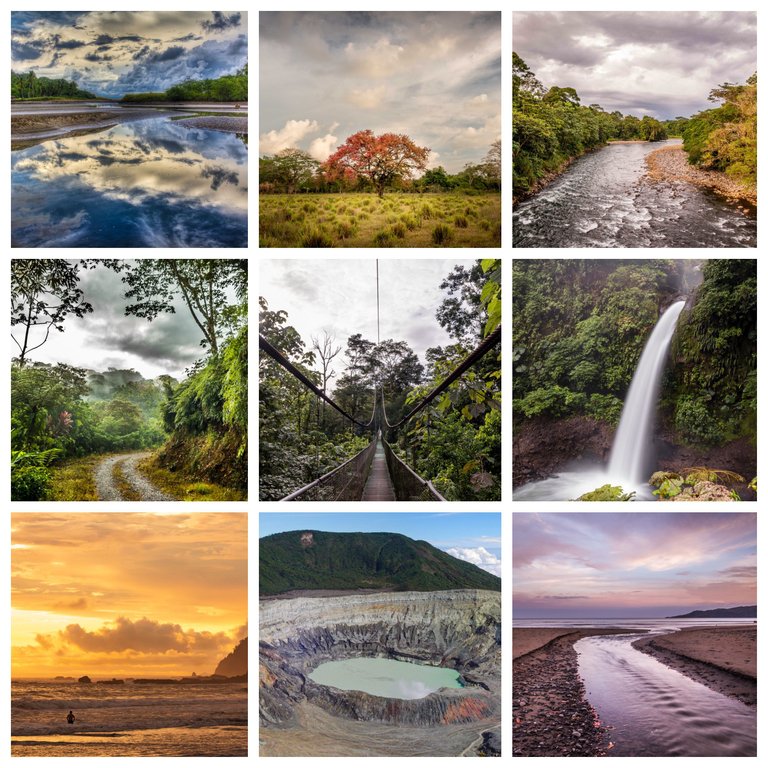 Costa Rica is a small country, but full of different and beautiful landscapes and places. With only 52 thousand square kilometers (smaller than the state of Florida in the USA) it protects an enormous diversity and varied climates, where in a 4-hour car tour you can go from a tropical beach, to a height paramano and arrive to the dry tropical forest. Here you can discover beaches, rivers with huge waterfalls, mountains covered with dense jungles and colorful cities.
I want to share this collection with some of these beautiful places which are a small representation of all the natural wonders that can be found in Costa Rica.
Colorful sunset in Puntarenas Port
https://peakd.com/photography/@photographercr/colorful-sunset-in-puntarenas-port
La paz al final del díahttps://peakd.com/photography/@photographercr/la-paz-al-final-del-dia
Sunrise on a beach in Costa Rica
https://peakd.com/photofeed/@photographercr/sunrise-on-a-beach-in-costa-rica
At the end of the road
https://peakd.com/photography/@photographercr/at-the-end-of-the-road
Waking up in the mountains
https://peakd.com/photography/@photographercr/waking-up-in-the-mountains
Old railroad to the Pacific Coast of Costa Rica
https://peakd.com/photography/@photographercr/old-railroad-to-the-pacific-coast-of-costa-rica
Tropical Forest Costa Rica
https://peakd.com/photography/@photographercr/tropical-forest-costa-rica
Colorful sunset in the estuary
https://peakd.com/photography/@photographercr/colorful-sunset-in-the-estuary
Sunsets of Costa Rica
https://peakd.com/photography/@photographercr/sunsets-of-costa-rica
La Paz waterfall
https://peakd.com/photography/@photographercr/la-paz-waterfall
The geological book
https://peakd.com/photography/@photographercr/the-geological-book
Golden hour at Bejuco beach
https://peakd.com/photography/@photographercr/golden-hour-at-bejuco-beach
Naranjo Beach Ferry. Costa Rica
https://peakd.com/partiko/@photographercr/naranjo-beach-ferry-costa-rica-8t7u7gaj
Port of Puntarenas, Costa Rica
https://peakd.com/photography/@photographercr/port-of-puntarenas-costa-rica
Sunrise on the beach
https://peakd.com/photography/@photographercr/sunrise-on-the-beach
Sky trail in the tropical forest
https://peakd.com/photography/@photographercr/sky-trail-in-the-tropical-forest
Tambor Beach, Costa Rica
https://peakd.com/photography/@photographercr/tambor-beach-costa-rica
Tourist pier of Puntarenas, Costa Rica
https://peakd.com/photography/@photographercr/tourist-pier-of-puntarenas-costa-rica
Old grocery store, still working
https://peakd.com/photography/@photographercr/old-grocery-store-still-working
Agujas Beach, Costa Rica
https://peakd.com/photography/@photographercr/agujas-beach-costa-rica
Flored in the neighborhood
https://peakd.com/photography/@photographercr/flored-in-the-neighborhood-csqb6ve7
Costa Rican Sunsets, tropical paradise.
https://peakd.com/photography/@photographercr/costa-rican-sunsets-tropical-paradise
Santa Rosa, Nacional Park. Costa Rica
https://peakd.com/photography/@photographercr/santa-rosa-nacional-park-costa-rica-bwepfs9v
Santa Elena Bay, Guanacaste, Costa Rica
https://peakd.com/photography/@photographercr/santa-elena-bay-guanacaste-costa-rica
Immensity, loneliness and freedom
https://peakd.com/photography/@photographercr/immensity-loneliness-and-freedom
Pochote Beach, Costa Rica
https://peakd.com/photography/@photographercr/pochote-beach-costa-rica
Amazing sunset on Tambor beach, Costa Rica
https://peakd.com/photography/@photographercr/amazing-sunset-on-tambor-beach-costa-rica
Sunset in Puntarenas Costa Rica
https://peakd.com/photography/@photographercr/sunset-in-puntarenas-costa-rica
San Jose Island Santa Rosa National Park, Costa Rica.
https://peakd.com/photography/@photographercr/san-jose-island-santa-rosa-national-park-costa-rica
Frigatebird, waiting for the moment to eat. Cuajiniquil, Costa Rica
https://peakd.com/photography/@photographercr/frigatebird-waiting-for-the-moment-to-eat-cuajiniquil-costa-rica
Puntarenas, Costa Rica
https://peakd.com/photography/@photographercr/puntarenas-costa-rica
Surfing in paradise. Jaco Beach, Costa Rica
https://peakd.com/photography/@photographercr/surfing-in-paradise-jaco-beach-costa-rica
Sunset on a tropical beach. Costa Rica
https://peakd.com/photography/@photographercr/sunset-on-a-tropical-beach-costa-rica
Pochote Beach, Costa Rica
https://peakd.com/photography/@photographercr/2mynfg-pochote-beach-costa-rica
Old railroad, Puntarenas, Costa Rica
https://peakd.com/photography/@photographercr/old-railroad-puntarenas-costa-rica
Pristine waters. San Ramón Costa Rica.
https://peakd.com/photography/@photographercr/pristine-waters-san-ramon-costa-rica
Rocks that tell stories. Santa Elena Bay. Costa Rica
https://peakd.com/photography/@photographercr/rocks-that-tell-stories-santa-elena-bay-costa-rica
Sunrise from the top of Cerro de la Muerte. Costa Rica
https://peakd.com/photography/@photographercr/sunrise-from-the-top-of-cerro-de-la-muerte-costa-rica
Poás Volcano National Park
https://peakd.com/photography/@photographercr/parque-nacional-volcan-poas
Windows of the old Durán Sanatorium.
https://peakd.com/photography/@photographercr/windows-of-the-old-duran-sanatorium
The walls of the colossus. Arenal Volcano. Costa Rica
https://peakd.com/photography/@photographercr/the-walls-of-the-colossus-arenal-volcano-costa-rica
Costa Rica beaches, a tropical paradise.
https://peakd.com/photography/@photographercr/costa-rica-beaches-a-tropical-paradise
One night in Pochote beach, Costa Rica
https://peakd.com/travelfeed/@photographercr/one-night-in-pochote-beach-costa-rica
Geological formations of Guanacaste Costa Rica
https://peakd.com/photography/@photographercr/geological-formations-of-guanacaste-costa-rica
Murcielago Islands, Costa Rica
https://peakd.com/qurator/@photographercr/murcielago-islands-costa-rica
Guanacaste tree, the national tree of Costa Rica.
https://peakd.com/qurator/@photographercr/guanacaste-tree-the-national-tree-of-costa-rica
Magic trees of Costa Rica
https://peakd.com/hive-181964/@photographercr/magic-trees-of-costa-rica
The flowering of the Carao tree. Costa Rica
https://peakd.com/hive-181964/@photographercr/the-flowering-of-the-carao-tree-costa-rica
Pochote Beach, fantastic sunsets in Costa Rica.
https://peakd.com/hive-194913/@photographercr/pochote-beach-fantastic-sunsets-in-costa-rica
Sea and stars on a tropical beach.
https://peakd.com/hive-181964/@photographercr/sea-and-stars-on-a-tropical-beach
Hermosa Beach, paradise in Costa Rica. (eng/spa)
https://peakd.com/hive-194913/@photographercr/hermosa-beach-paradise-in-costa-rica-engspa
Volcán Arenal. Costa Rica
https://peakd.com/hive-173844/@photographercr/volcan-arenal-costa-rica
Plaza de la Democracia, Costa Rica.
https://peakd.com/hive-194913/@photographercr/plaza-de-la-democracia-costa-rica
Órganos beach, a hidden gem in Costa Rica.
https://peakd.com/hive-184437/@photographercr/organos-beach-a-hidden-gem-in-costa-rica
La Paz Waterfalls, Costa Rica
https://peakd.com/hive-194913/@photographercr/la-paz-waterfalls-costa-rica
The most beautiful light. Sunrises and sunsets on the beach
https://peakd.com/hive-194913/@photographercr/the-most-beautiful-light-sunrises-and-sunsets-on-the-beach
Cabo Santa Elena, Costa Rica. Geological paradise.
https://peakd.com/hive-163772/@photographercr/cabo-santa-elena-costa-rica-geological-paradise
Curú Wildlife Refuge. Costa Rica
https://peakd.com/hive-163772/@photographercr/curu-wildlife-refuge-costa-rica-engspa
Punta Blanca Beach, Santa Rosa National Park.
https://peakd.com/hive-163772/@photographercr/punta-blanca-beach-santa-rosa-national-park-costa-rica-engspa
Magical sunsets in San José
https://peakd.com/hive-194913/@photographercr/magical-sunsets-in-san-jose
---
---