Lava Camp Lake
I took a short drive from my house for a little walk on the Pacific Crest Trail. My starting point would be Lava Camp Lake near McKenzie Pass in the Central Oregon Cascades. From the lake I will take a short walk on a spur trail that connects to the PCT.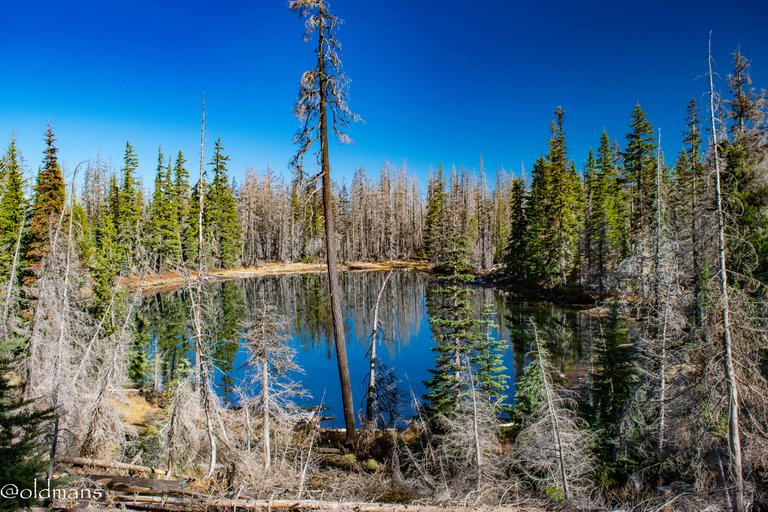 A view of the lake near the starting point. This area was ravaged by wildfire a few years ago so you will see some of that carnage through out this hike.


Click images for larger view
The start of the quarter mile long trail that leads to the junction with the PCT.
---
Not long after the start we enter the Three Sisters Wilderness area.
---
A little pocket of greenery and fall colors among the fire's devastation. So very peaceful and soul enriching here.
---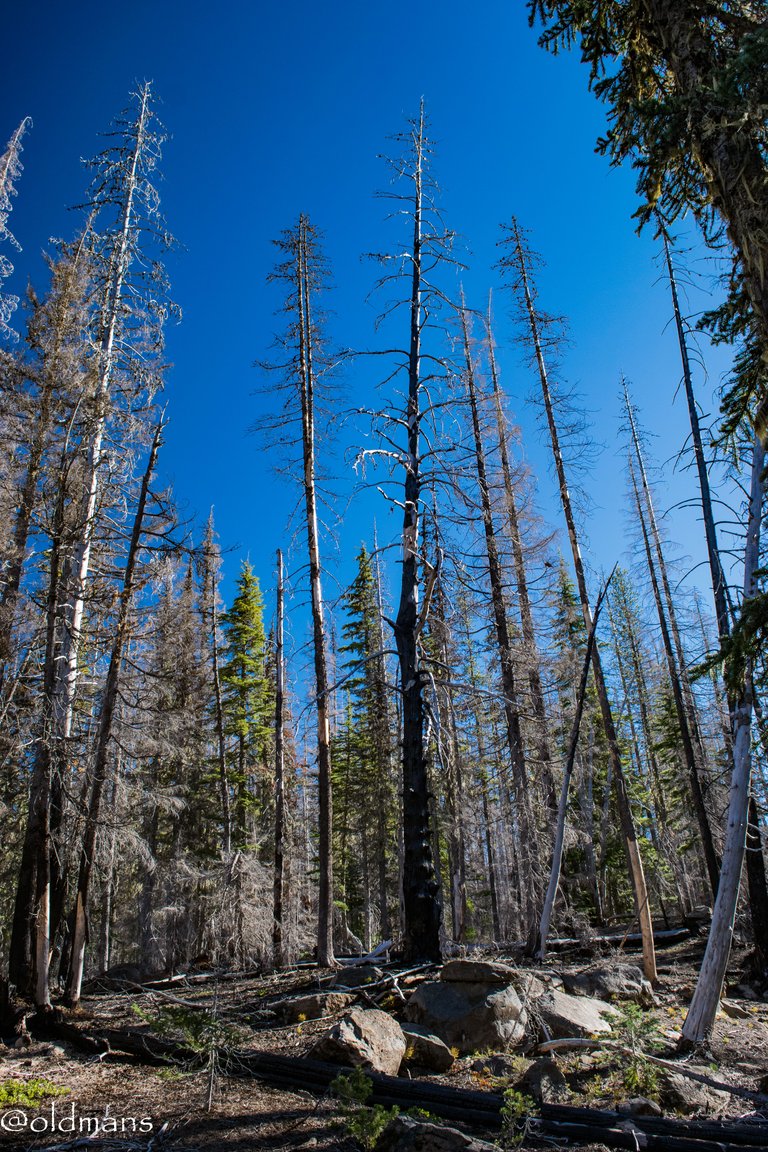 A look to the left shows the remnants of the once majestic trees.
I reach the junction with the PCT and the edge of the lava flow that dominates this area.
---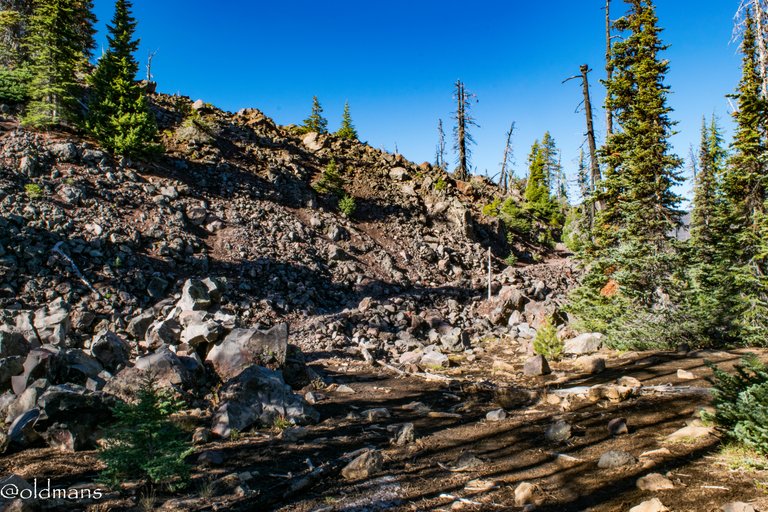 The PCT as it starts to head up the side of the lava flow.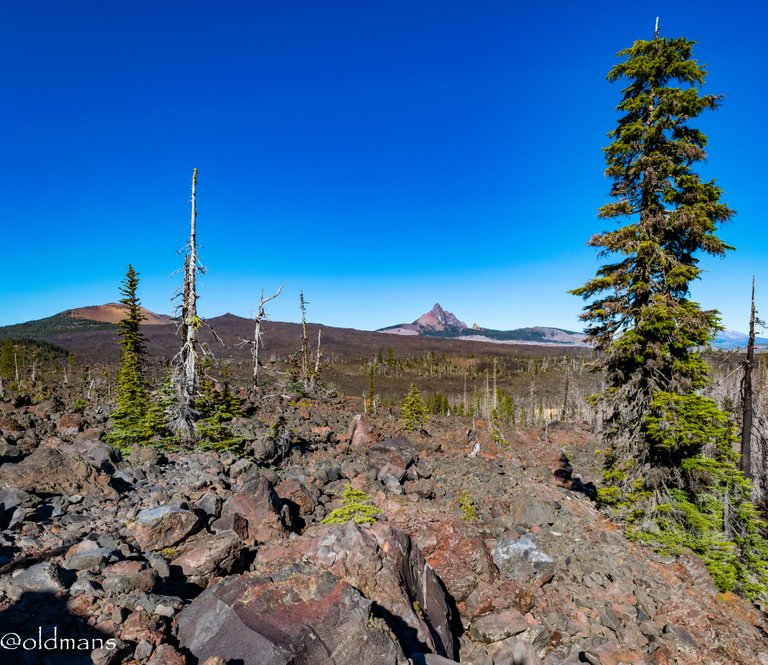 My first view of Mt Washington in the center with Belknap Crater being the little mound on the left.

The end of the trail for me today. A sweeping panorama of a small portion of the lava flow and some of the Cascade Mountain peaks in the distance. Belknap Crater on the left, Mt Washington center left, Three Finger Jack just behind the dead tree, Mt Jefferson center right. You can even see the very tip of snow covered Mt Hood if you zoom in and look at the bottom right flank of Mt Jefferson.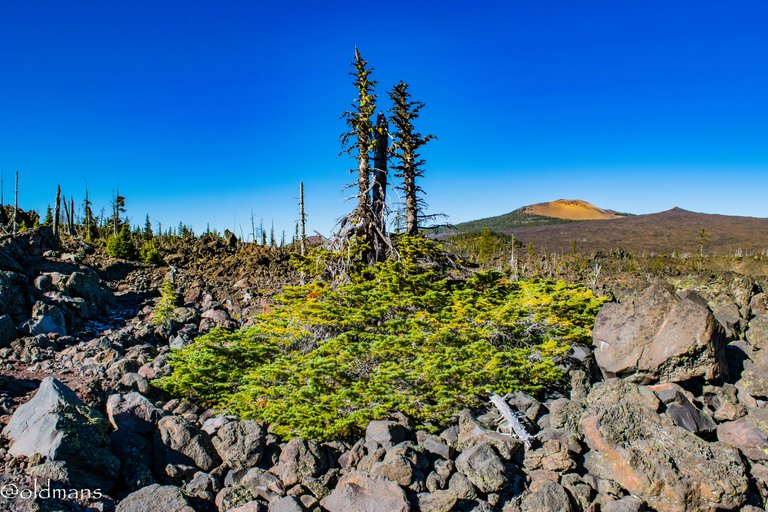 On my way back down this tree or trees caught my eye. For whatever reason growing upward didn't work out so it decided to spread out across the rocks. I guess life will find a way. 😀
A few last shots of Mt Washington as I head back to the trailhead.
---
Please feel free to make comments or ask me any questions about this post.
Photos taken by me, @oldmans, with a Nikon D3300/Nikon 18-55mm lens and some Lightroom post processing.
Please visit Pinmapple to see the locations of some of my other posts.
Thanks for looking and enjoy your day!