Friends of Hive, in response to the invitation of the community
#Haveyoubeenhere
and
@pinmapple
to celebrate the publication 1000 of
#traveldigest
, I am like to share with you one of my most desired travel wishes: Prague.
Amigos de Hive, en respuesta a la invitación de la comunidad #Haveyoubeenhere y @pinmapple para celebrar la publicación 1000 de #traveldigest, me gustaría compartir con ustedes uno de mis más anhelados deseos de viaje: Praga.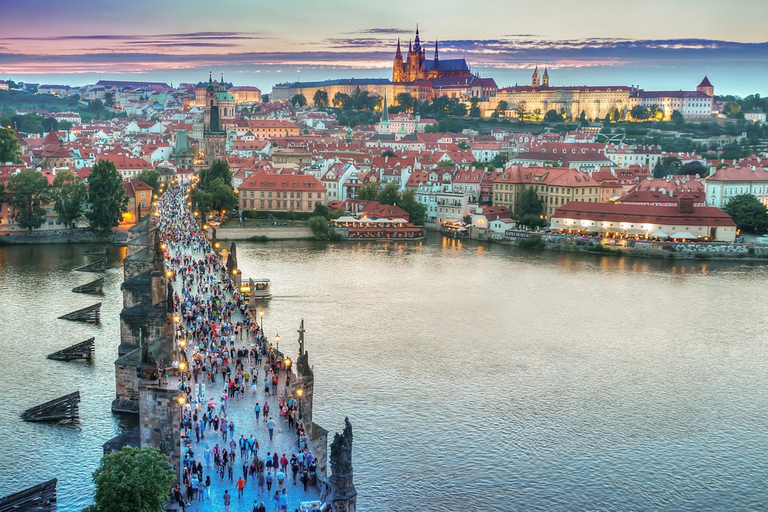 Pixabay
PRAGUE: WHERE THE STARS ARE TOUCHED

PRAGA: DONDE SE TOCAN LAS ESTRELLAS

I see a great city, whose glory touches the stars! A place in the middle of a forest where a steep cliff rises over the Vltava River. It will be honored, privileged with great renown and praise from all over the world Princess Libuše

Veo una gran ciudad, cuya gloria se tocan las estrellas! Un lugar en medio de un bosque donde un empinado acantilado se eleva sobre el río Moldava. Será honrado, privilegiado con gran renombre y alabanza por todo el mundo
Princesa Libuše

At the beginning of the century, when I was studying Philology in Madrid, the idea that the best beer was made in Prague was famous among students. In addition, there were stories about beer fountains in the streets and places to go and even to bathe in beer.

A principios de siglo, cuando estudiaba Filología en Madrid, era famosa entre los estudiantes la idea de que la mejor cerveza la hacían en Praga. Además, se contaban maravillas sobre las fuentes de cerveza en las calles y los lugares para recorrer y hasta bañarse en cerveza.

The famous and tempting drink

La famosa y tentadora bebida

So Prague had not only given us the best continuation of Saussure's studies through his Linguistic Circle with the studies of Nikolái Trubetskói, Roman Jakobson, Jan Mukařovský and René Wellek; nor was it enough to give us Jan Neruda, Rainer Maria Rilke, Jaroslav Seifert , Franz Kafka and Milan Kundera; Nor was it enough with give us the restlessness and curiosity about the testimonial landscape of the two great wars of the twentieth century, the invasion of the USSR in the sixties, which generated so much controversy and cold war novels and, finally, the so-called Velvet Revolution, which had become a model of peaceful transition for the world and we enjoyed in the film "Kolya, the name of hope".

De manera que Praga no sólo nos había dado la mejor continuación de los estudios de Saussure a través de su Círculo Lingüístico con los estudios de Nikolái Trubetskói, Roman Jakobson, Jan Mukařovský y René Wellek; ni fue suficiente con darnos a Jan Neruda, Rainer Maria Rilke, Jaroslav Seifert , Franz Kafka y Milan Kundera; tampoco lo fue con la inquietud y curiosidad por el paisaje testimonial de las dos grandes guerras del siglo XX, por la invasión de la URSS en los sesenta, que tanta polémica y novelas de la guerra fría generó y, finalmente, por la llamada Revolución de Terciopelo, que se había convertido en un modelo de transición pacífica para el mundo y que disfrutamos en la película "Kolya, el nombre de la esperanza".


Pixabay


Kafka (Pixabay)

Because of study issues I was unable to make the long-awaited trip. In Madrid we found a place that brought the beer from Prague in barrels and we corroborated something of the wonder of this city. Therefore, if I had a thousand dollars to spend on a trip, it would be to Prague, without a doubt.

Por cuestiones de estudios no pude realizar el tan ansiado viaje. En Madrid encontramos un lugar que traía la cerveza de Praga en barriles y corroboramos algo de la maravilla de esta ciudad. Por tanto, si tuviese mil dólares para gastar en un viaje, sería a Praga, sin lugar a dudas.

A few creeps

Parte de sus puestas.

Now his spirituality, his mysteries and deep beauty:

Ahora su espiritualidad, sus misterios y belleza profunda:


St. Vitus Cathedral (Pixabay)


Pixabay

Riddles of the night

Enigmas de la noche

Thank you very much for your visit.

Muchas gracias por su visita.