It's funny how you live near a city most of your life yet you never actually see the city as a place, but merely a passing place. I go to Bristol all the time (when I'm in UK) and every time I drive into the city I always pass by these areas, yet I've hardly ever properly set foot and walk around.
College Green
This magnificent building is the city council building, one of Bristol's two iconic buildings. The other, and more famous being the Clifton Suspension Bridge which I didn't visit on this occasion. This was built post war, fairly new by architecture standards though its Georgian style architecture gives the impression it is quite old. The sweeping facade, slightly curved with a moat in front, makes this look more like a grand 5 star hotel than a government office building.
The green open space in front is called College Green and is a favourite for people to hang out during summer. Who wouldn't on such a beautiful day. Due to it being so near to the city council offices, College Green is also a popular spot for demonstrations such as the global Occupy movement back in 2011, and when Greta Thunberg came to the city in February this year.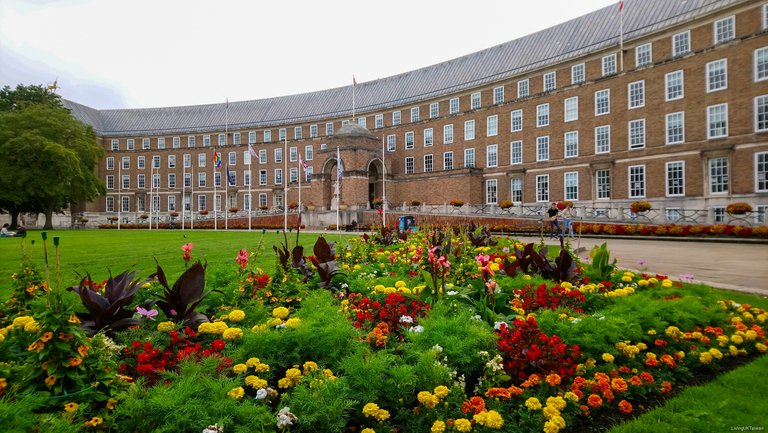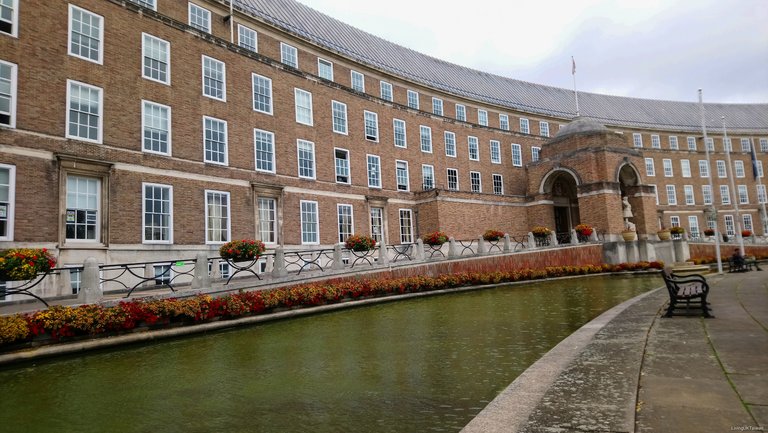 Bristol Cathedral
Whenever I go to other cities in UK (which isn't as often as I would like to be honest), I always like to visit cathedrals. Not because I'm religious, but I just like the atmosphere inside cathedrals. Every cathedral has its own story and history that connects the current with the past through every brick and every stone.
Bristol Cathedral is located next to the City council. It was built in the 12th century with parts gradually added on over the centuries, as is common with many cathedrals. During all my life living around Bristol, I've never once set foot inside Bristol Cathedral. That seems unfair to it given that I've already been to other UK cathedrals such as Wells, Leceister, York, Worcester, Lincoln, London St Pauls etc. It was a pity that photography wasn't allowed inside. There was only one other visitor when I went, I guess I could have sneaked a few shots, but the Cathedral is the last place I want to commit a sin, so I thought I'd better not.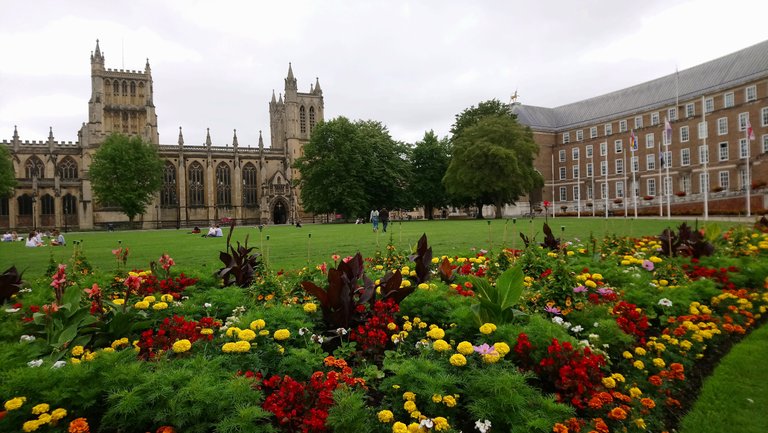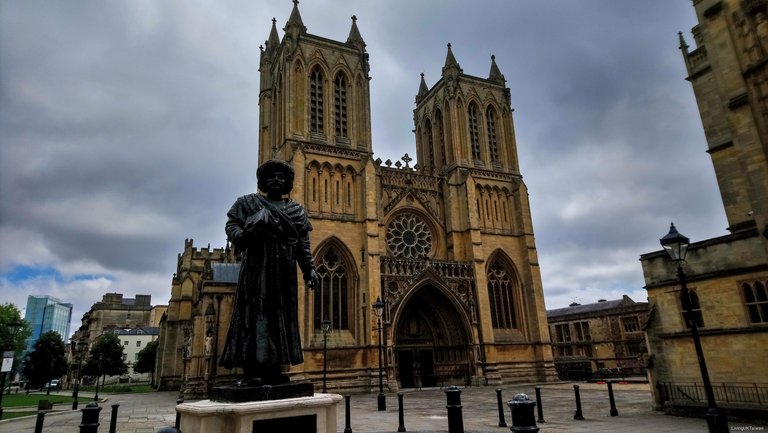 Colston Avenue
It's unlikely many people outside of UK would have heard of Bristol. Our neighbouring tourist locations such as Stonehedge and Bath are much more famous. I am standing on Colston Avenue when I took this image, with The Cenotaph ahead of me. You'll find similar memorials in many towns and cities around UK in remembrance of those who fought and lost their lives in the two world wars. Anyway, what I want to talk about today, is another memorial on Colston Avenue.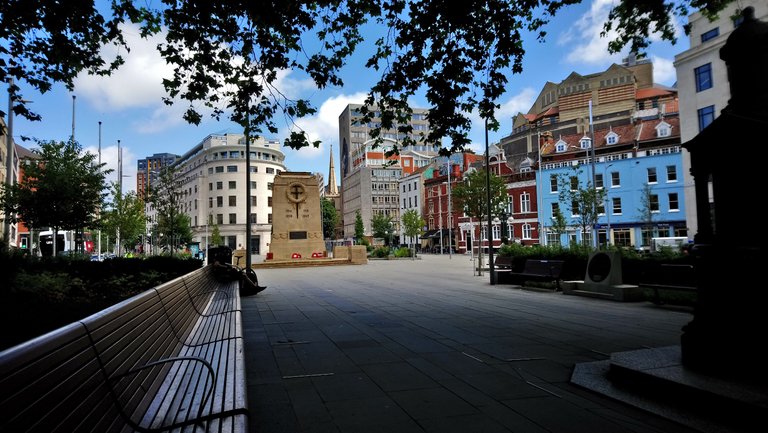 Does the name Colston ring a bell? If not, you may have heard or seen the video recently of BLM protesters toppling a statue of an 18th century slave trader called Edward Colston. This is where it happened, this is where Edward Colston stood for 125 years until he was toppled over and thrown into the river last month.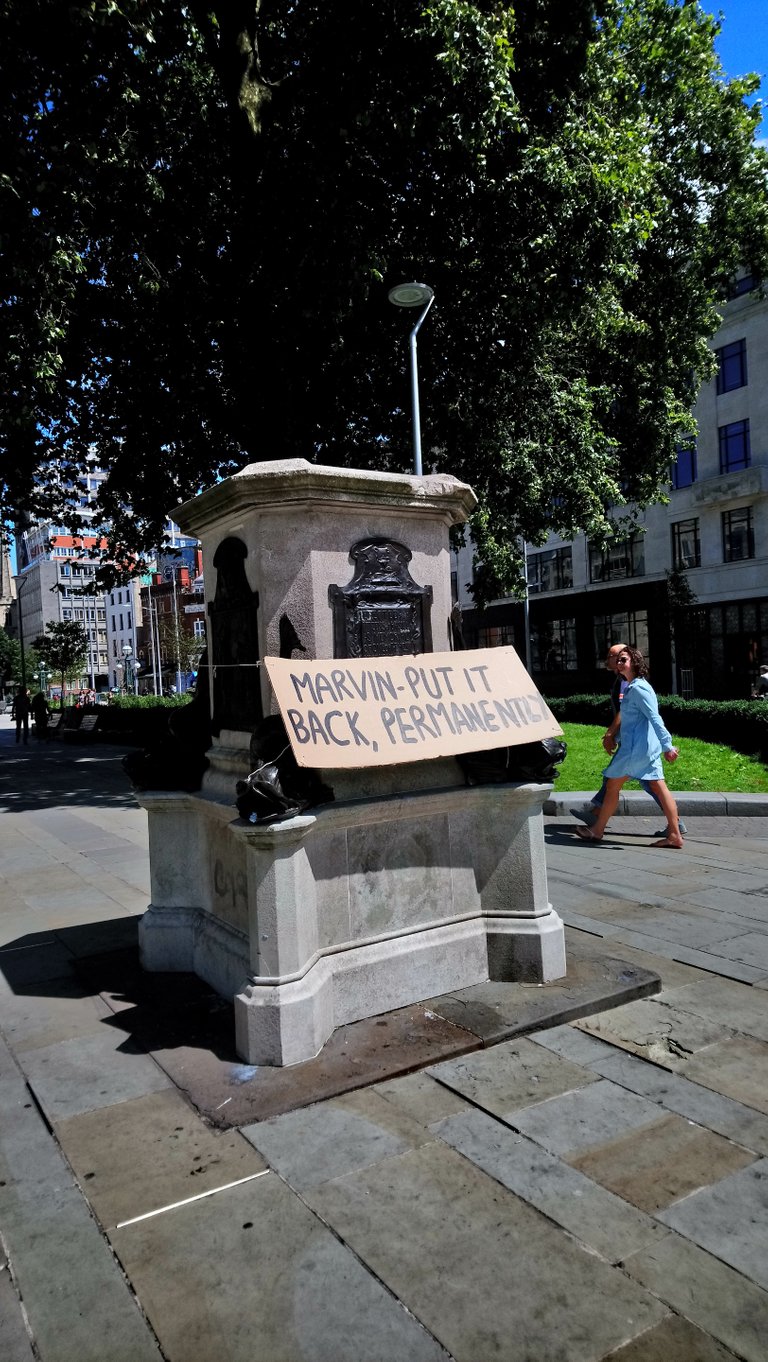 Someone has put a sign on the empty plinth which says "Marvin - put it back, permanently". Marvin is Bristol city's mayor Marvin Rees, and the reference to "put it back, permanently" probably refers to this statue that was erected on the empty plinth. It's a statue of a BLM protester who climbed onto the empty plinth after the Colston statue was toppled, fist in air protesting for BLM. This statue stood on Colston's plinth for a day only and was removed the day before I came here.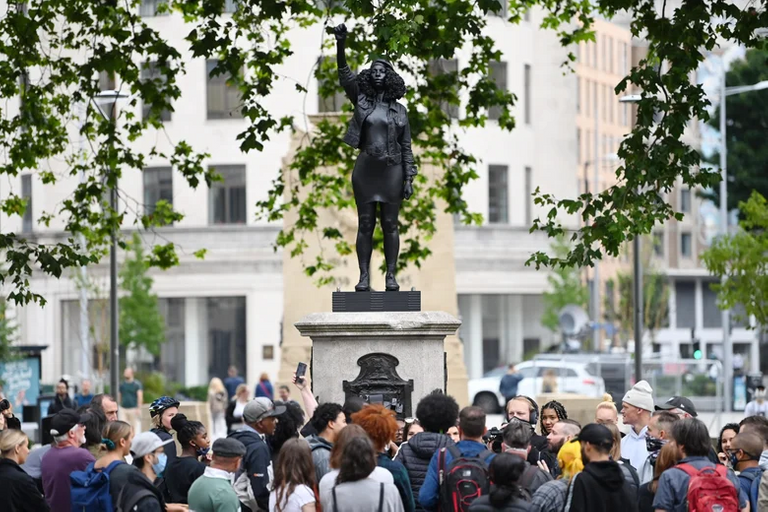 Souce https://slate.com
Colston is a part of Bristol's history and that's something Bristolian's can't deny nor erase, whether you like it or not. I was standing on Colston Avene, the building ahead of my is, or was called Colston Tower until they removed the name from the top of the building recently. There are references to Colston at many places over the city. To what length does one go to erase and change history? Or should it be used to teach future generations about where we came from? Food for thought.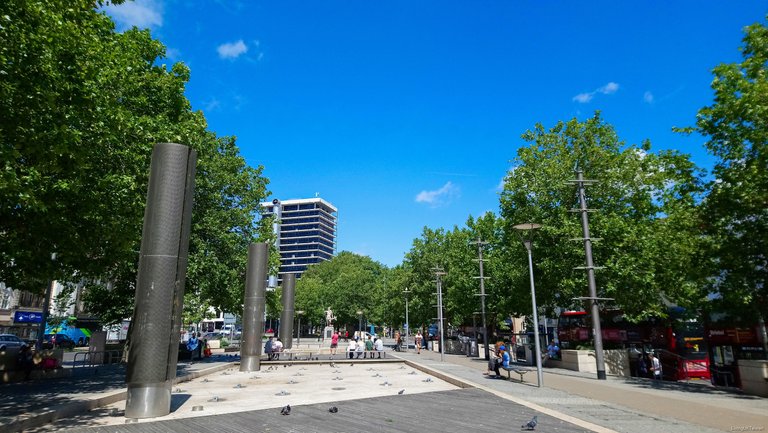 Queen Square
Queen Square is an open area just next to the city center and is named after Queen Anne who visited the city in 1702. The buildings around the square were built in the late 17th, are three-story high, and built of the same type of brick, which was unusual back in those days. It is said that the officer responsible for drafting the building leases had a friend who owned a brick kiln, so he dictated that all the houses had to be built using that particular type of brick!! Many of the houses are listed now and if one has time and like architecture, it's great to stroll around the square.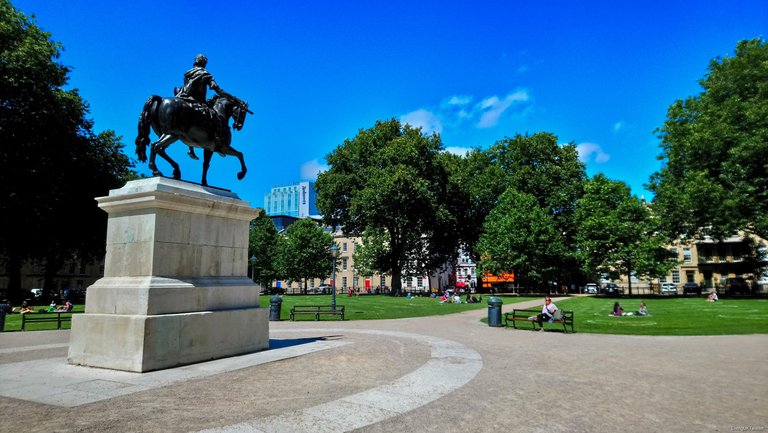 When I was a teenager I used to accompany my dad here when he came to see his bank manager. The bank used to be located in one of these houses. That's why Queen Square has a special place in my heart. As a Chinese kid growing up in UK, you get roped into the business world at a relatively young age (16/17 in my case) when we had to act as parents' interpreter. My dad only had small business but somehow there seem to be quite a bit of dealings with bankers and lawyers in those few years. I was trotting around with him to Queen Square and Colston Avenue where our lawyer's offices were located.
My first impression when I stepped into Queen Square on this visit was that it's a lot bigger than I remembered. That's odd because when you revisit a place from childhood, they always seem to be smaller than you remember from younger. Queen Square was the opposite. I remember there used to be some parking bays as it was always very difficult to find somewhere to park, and the open space was definitely a lot smaller back on those days. After a bit of online research, turns out my memory wasn't wrong. In 1999 the city council restored Queen Square to its former glory by diverting busy traffic away from the square, and thus enlarging it to a 2.4 hectare square bang in the middle of Brisol city center.
I wanted to bring hubby to Queen Square as he had never had a chance to meet my dad, I reckon my dad would have liked him. It was like a way to connect the two of them together. The best thing I found about Queen Square during these difficult times is how they had turned social distance into something so adorable. There were many hearts drawn all over the lawn so everyone was sitting inside a heart, what's not to love about this ❤️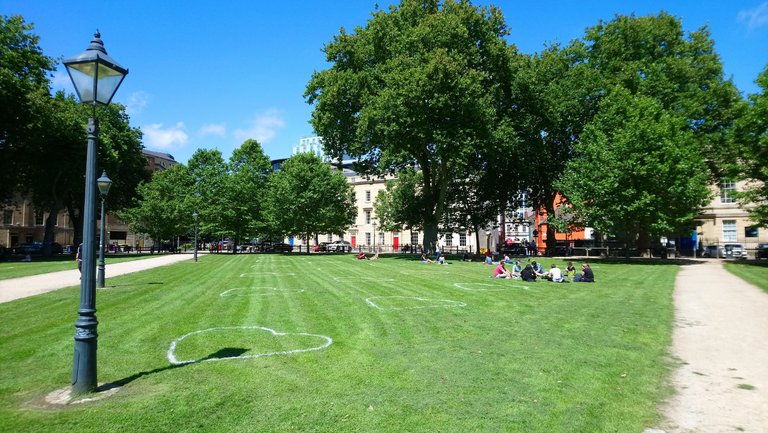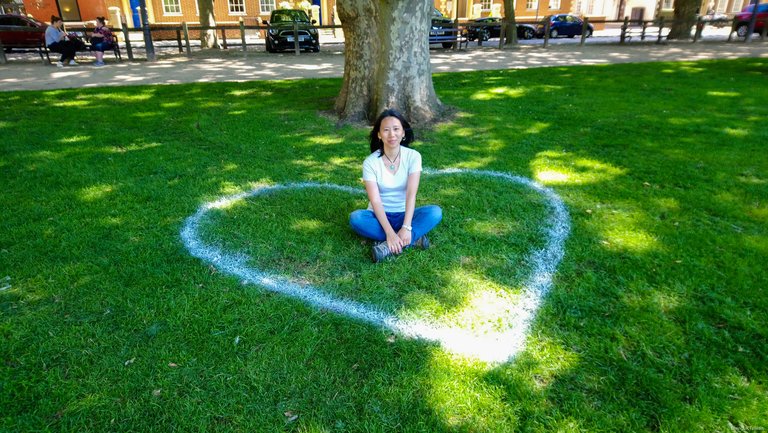 Yesteryears
Here's a few more shots of buildings around the College Green area which I've edited in black and white for a nostalgic feel. Next time I'm going to continue my tour around Bristol to another part - the docks. Hope you'll join me.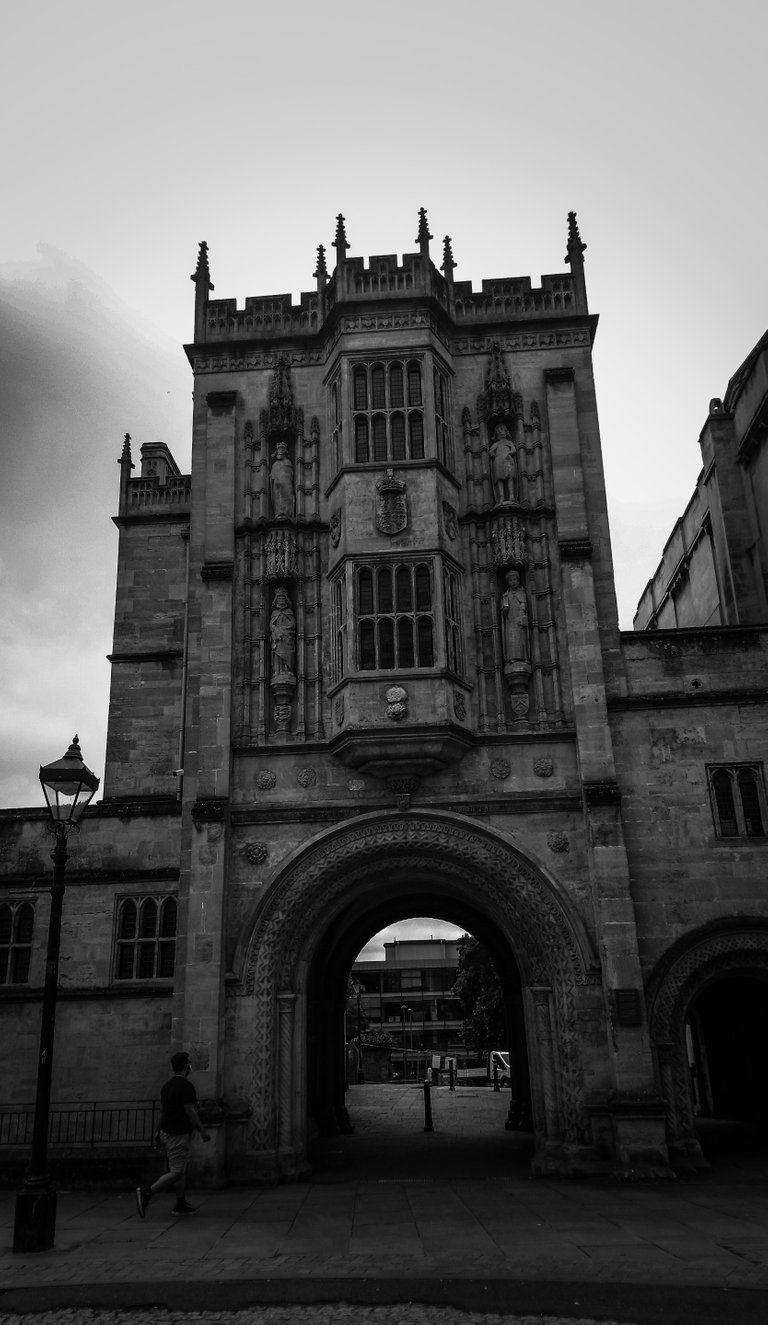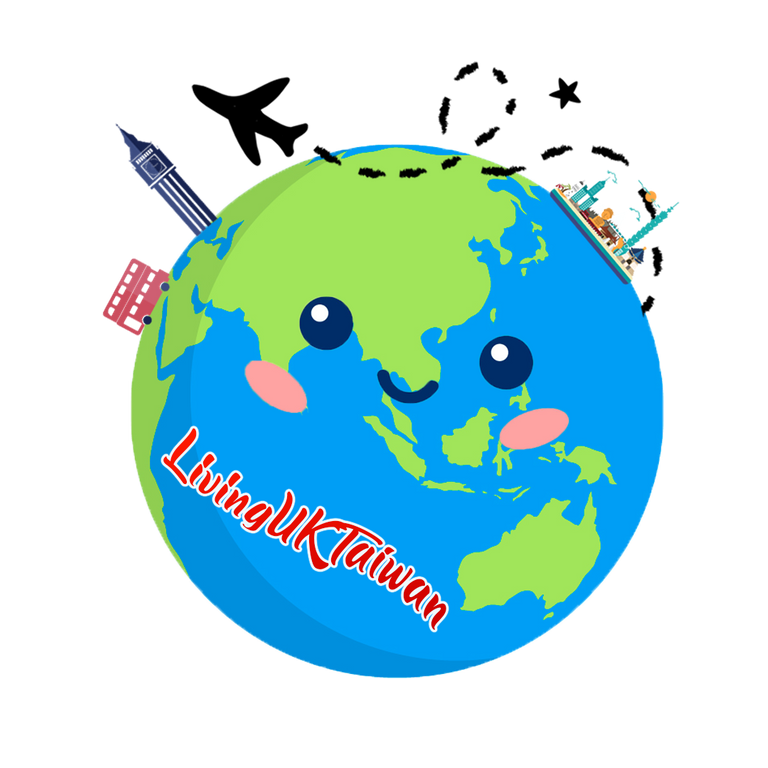 You can checkout all my travel post on the Pinmapple here or click on Mr Pinmapple below