Many people may have seen these two names crop up, but perhaps aren't sure who they are and what they do. Let me give you a quick overview so you won't have any excuse to say you don't know anymore 😃
---
Pinmapple
My followers may have seen the Mr Pinmapple footer at the end of my posts. Pinmapple used to be called Steemitworldmap on Steem and was rebranded to it's current name on Hive. In the most simplistic term, Pinmapple is the travel map for Hive users.
When you write a travel post, you can go to https://www.pinmapple.com/ to get a bit of geolocation code and add it to your post. Your post will be pinned onto Pinmapple and you can gradually build up your own personalised travel map of all the places you've been. It's just like one of those big travel maps people have on their wall, except its on the internet and you can share it with everyone. We also curate all the posts that are pinned to Pinmapple, giving you even more incentive to grow your personalised map. Here's what mine looks like.....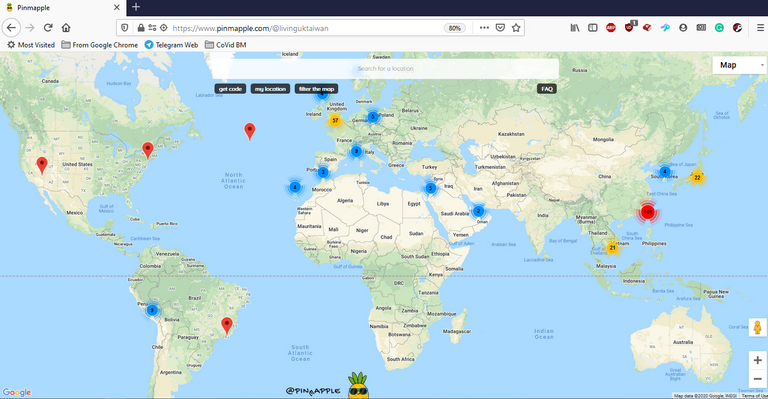 ---
Haveyoubeenhere
Haveyoubeenhere is a mobile app, it's similar to Pinmapple but takes it one step further. You don't have to be a Hive user to use it, so it's great to share with friends and family. Perhaps they might even want to come on board Hive afterwards!
A few years ago, I went on a two week holiday with my sister and we visited loads of places. Every time we went a place, she'd take some photos, and write down the name of the place and date on her phone, so she wouldn't forget when she got home. Haveyoubeenhere will do this for you, and more.
---
Navigating in Haveyoubeenhere
The first time you access Haveyoubeenhere you can login with either Hivesigner, Facebook or Apple Signin for iOS users. If you want to cross post to Hive, you have to use Hivesigner. Once you're in, you will see 5 icons at the bottom of the screen.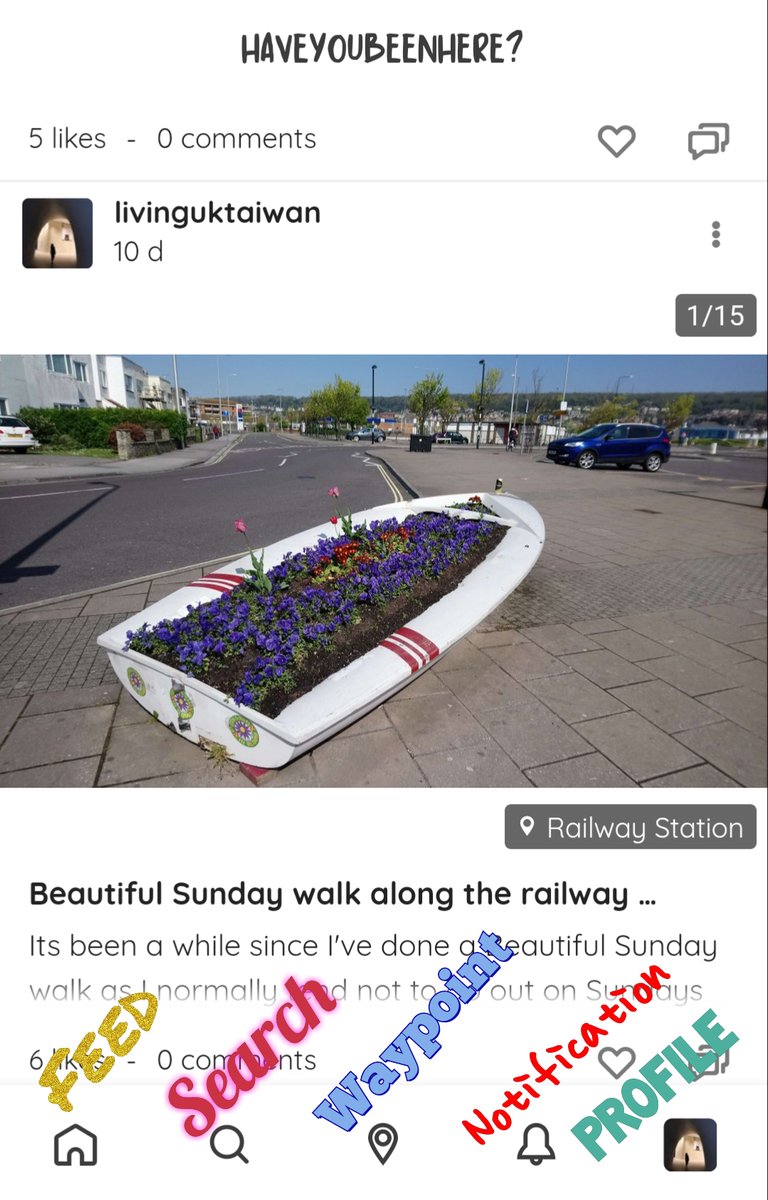 Feed - your own posts and posts from the people you are following will show up here
Search - for people, places (by name or tag eg beach, waterfall etc to see the place details ) and map (search by tag to see the place on the map)
Waypoint - this is where you create waypoints and see all your existing ones
Notifications - new followers, likes or comments to your post
Profile page - here you'll see the number of your following and followers, and countries and places pinned on Haveyoubeenhere. You can create new Posts and Trips and see all your waypoints on the map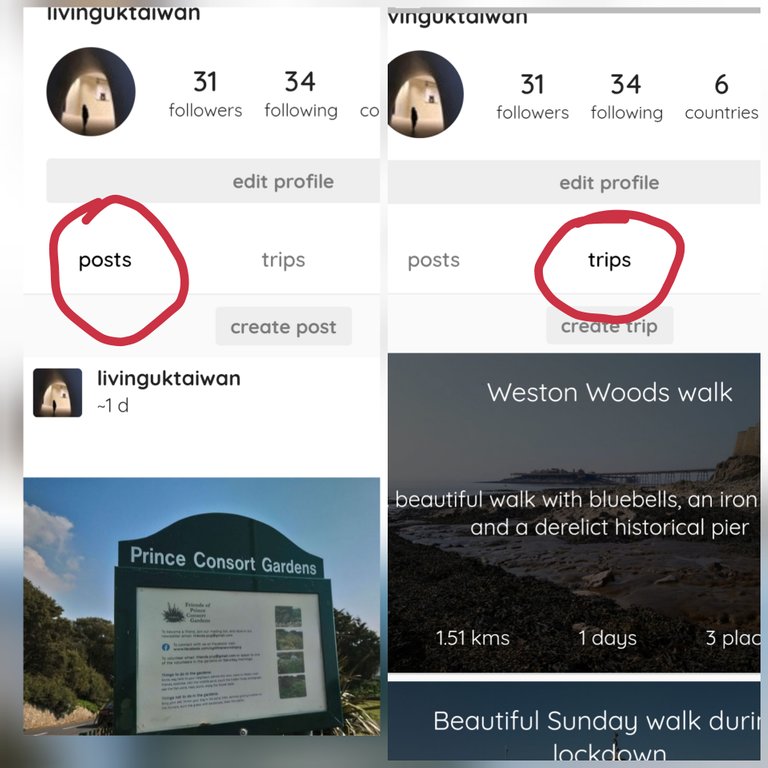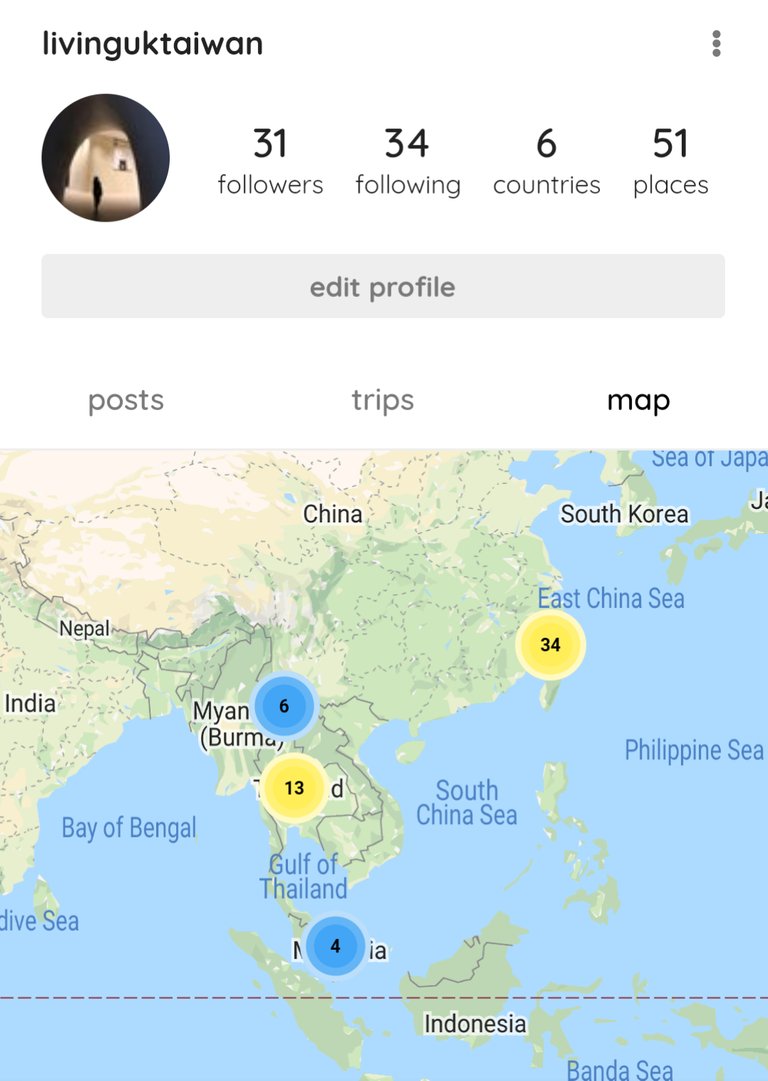 The app is very easy to use, but like all new apps you just need a little time to get used to it, but trust me it's not that difficult. The only thing that needs a bit of explanation, are the concepts of Waypoint, Trips and Posts.
---
Waypoints
Waypoints are the building blocks of Haveyoubeenhere. Think of it as a combination of Facebook check-in plus Tripadvisor review. You can create a waypoint for any place you have been. It's as simple as 1, 2, 3, 4 and 5!! Upload some images, select its location, give it a rating, write a review, and add some tags to make it easier to search in Haveyoubeenhere. Isn't that easy!!!
You can select the place from the geolocation if that's available on your image. Or you can use your current location, this is very useful if you want to add waypoints as and when you visit the place. And finally, you can search for the location by typing in the place name, it will give you a list of suggestions.
Your waypoints will appear on your map on the profile page (see above image), and you can see them when you hit the waypoint icon - the middle one at the bottom of the screen. Your waypoints are shared with all Haveyoubeenhere users. Likewise you can see everyone else's and compare the experience. If you're thinking of going to a place (or not) it's really useful to see what other people have to say about it, or maybe you had a bad experience at a place, you may want to see if you were unlucky of whether everybody else thought it was rubbish as well.
---
Trips
Trips connect waypoints together. It's very handy if you want to link up all the places, landmarks, restaurants etc, and things you did on a holiday, all within a time period. To create a trip, go to your profile page and tap on trips. You'll know you're in the trip screen when you see create trip. Tap create trip, enter a short title and introduction, and choose a cover image. You also need to specify a start and end date for your trip. If it's a one day trip, you still need to tap the same date twice for the end date. Always make sure you have two dates at the top of the screen.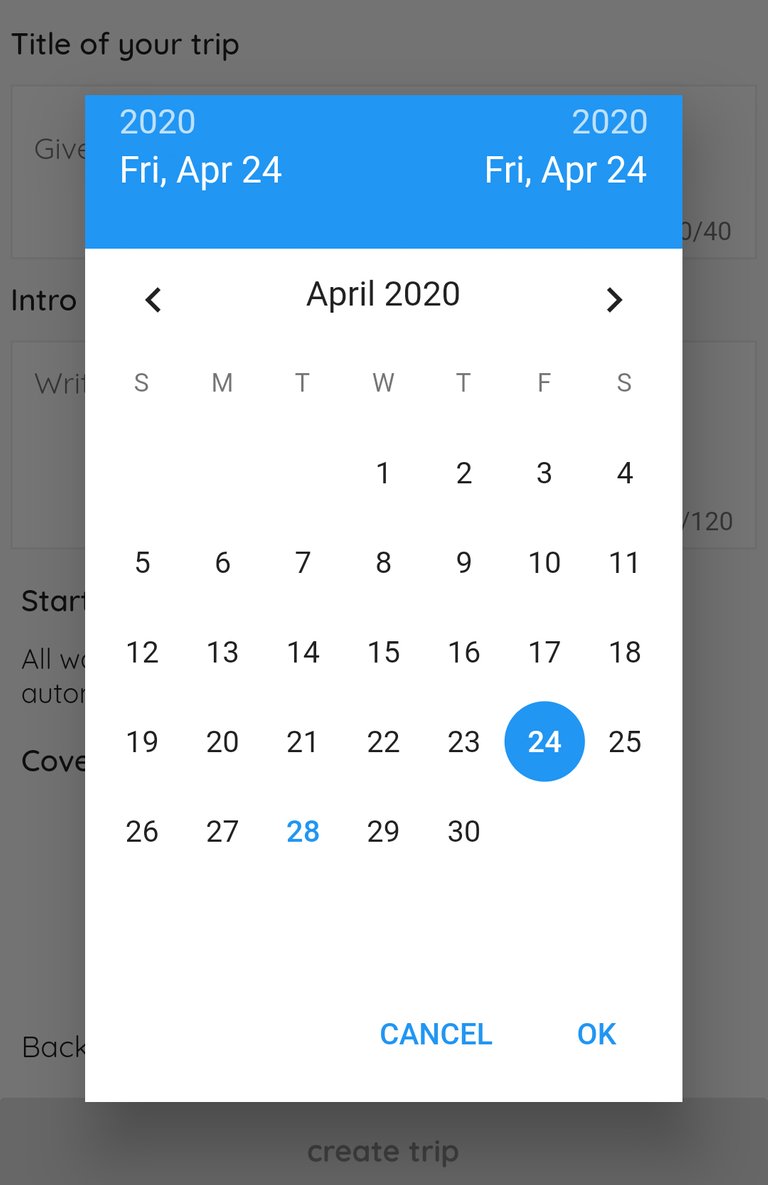 Haveyoubeenhere will pick up all the waypoints during that period and create your trip. The trip shows the waypoints in chronological order on the map, how many places you went and the distance travelled. This is a great way to document and share a journey, and can be very useful for people if they're planning a similar trip.
To view the trip, zoom in or out on the map to see all the waypoints. Swipe the waypoint review up to see the images, and swipe sideways to see the other waypoints. You'll see the waypoints on the map jump at the same time.
(You'll see this in the short video below)
---
Post
Posts differs from Trips as you can select any waypoint you want, it doesn't have to be bound by time. For example, you may want to do a post about all the waterfalls you've been to. From your profile page, tap on post, create post, and long press the waypoints you want to include. Some waypoints have a lock next to them. They are included in a post already, and you can't include them again. Alternatively, you can create a new waypoint before you start the post. Once you've selected all the waypoints for your post, add the post title, and post introduction. If you want to cross post to Hive tap on the Hive logo, it will turn from grey to red. Then hit create post.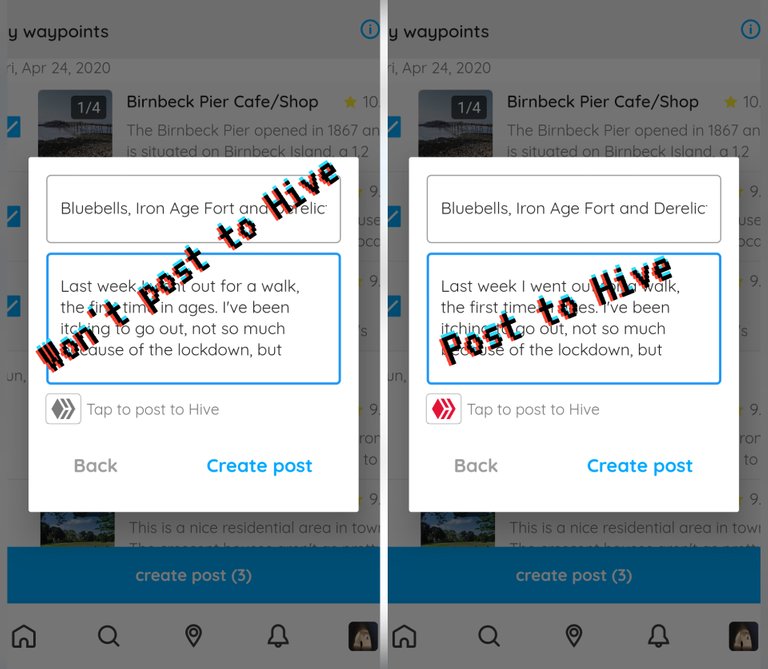 Your post will appear in the Haveyoubeenhere community on Hive, and will be pinned onto Pinmapple. The default tags for your post are travel, haveyoubeenhere and the post country tag. You can add other tags by editing your post on Hive. If you forgot to click on the Hive logo when you created the post, or want to make sure everything looks ok before you cross post, you can do that afterwards. Just go to your post on Haveyoubeenhere, click on the three dots on the right, and tap To Hive.
---
Trip or Post?
The same waypoints can be used to create a trip and a post, so why the two? The easiest way to grasp this is a trip is map (visual) based. People can see the places you've been to on the map, and the map even moves with each waypoint. It's like they're travelling with you on you even though they're not!
A post, on the other hand, is text-based, and well, looks like a post 😁. Followers will see your post on their feed. All the images are displayed at the top, then you will see the post title, introduction, followed by the review for each of the waypoints. That's how it will be displayed on Hive as well, except the images for each of the waypoints will be displayed below the waypoint review.
The short video below will give you a better idea of what Haveyoubeenhere looks like.

---
Haveyoubeenhere Discord channel
I've kept this overview nice and simple as I think the easiest thing is to play around in the app yourself. You can add, edit or delete any waypoints, trips or post so it doesn't matter if you've messed things up. If you really messed something up, you can always hop onto the Haveyoubeenhere Discord channel,
https://discord.gg/EGtBvSM. Or go and bug @martibis, he's the creator of these two projects!
ps You can still hop on the Haveyoubeenhere Discord channel even if you haven't messed anything up 😃
---
You can checkout all my travel post on the Pinmapple here or click on the footer below