Some years ago we went to Cornwall in UK for a long weekend. Cornwall is at the most south western tip of England. There are only a few main roads into the region, no motorways, or highways as the rest of the world calls them. That makes the area a bit remote from the rest of England, hence retaining a lot of originality and character. And it's exactly this reason, why Cornwall is such a popular holiday destination for many Brits.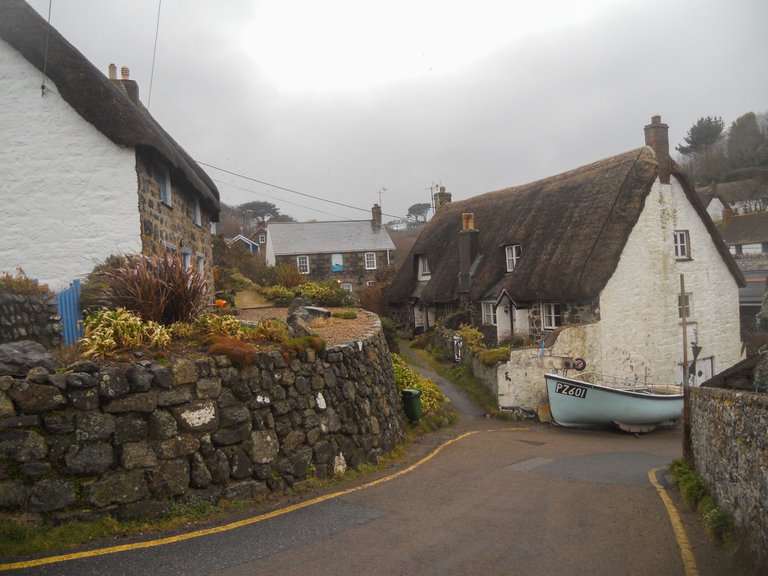 CADGWITH VILLAGE
My first stop at Cornwall is a little fishing village called Cadgwith. Thatched cottages are very popular in this part of the world, you'll find many of them dotted around the village, making it quintessentially very Cornish. The village itself isn't very big and the roads were quite narrow, some parts were quite challenging especially if you're driving a large vehicle and there's oncoming traffic.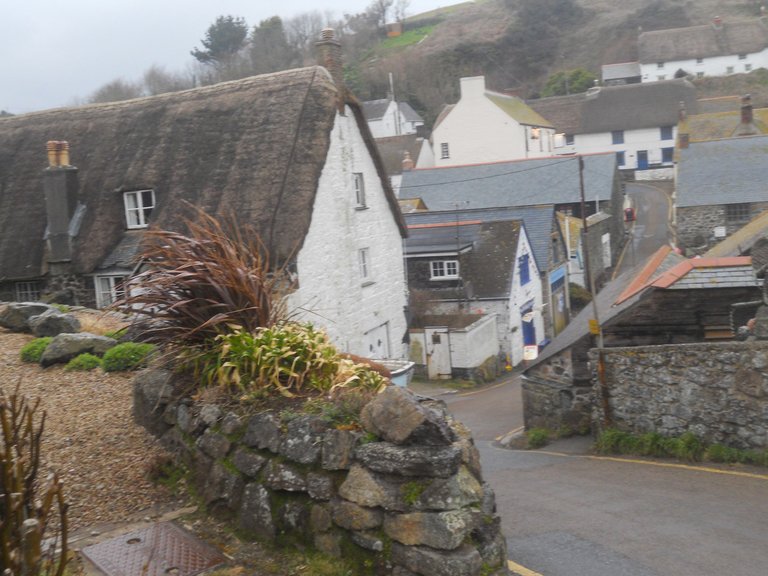 ---
THATCHED COTTAGE B&B
I booked ourselves into a B&B, if anyone still remembers what these are. Most people tend to book Airbnb nowadays as you get the entire apartment to yourself, I do as well when I go on city break. But for village breaks, particularly these charming places, I still prefer B&B as it allows me to interact with the locals and find out a bit more about the place.
This is the B&B I was staying at. I didn't realise it was a traditional thatched cottage when I booked it, not that it made any difference as I wasn't going to be sleeping on the roof! It's the experience of staying in a traditional thatched cottage that makes things special.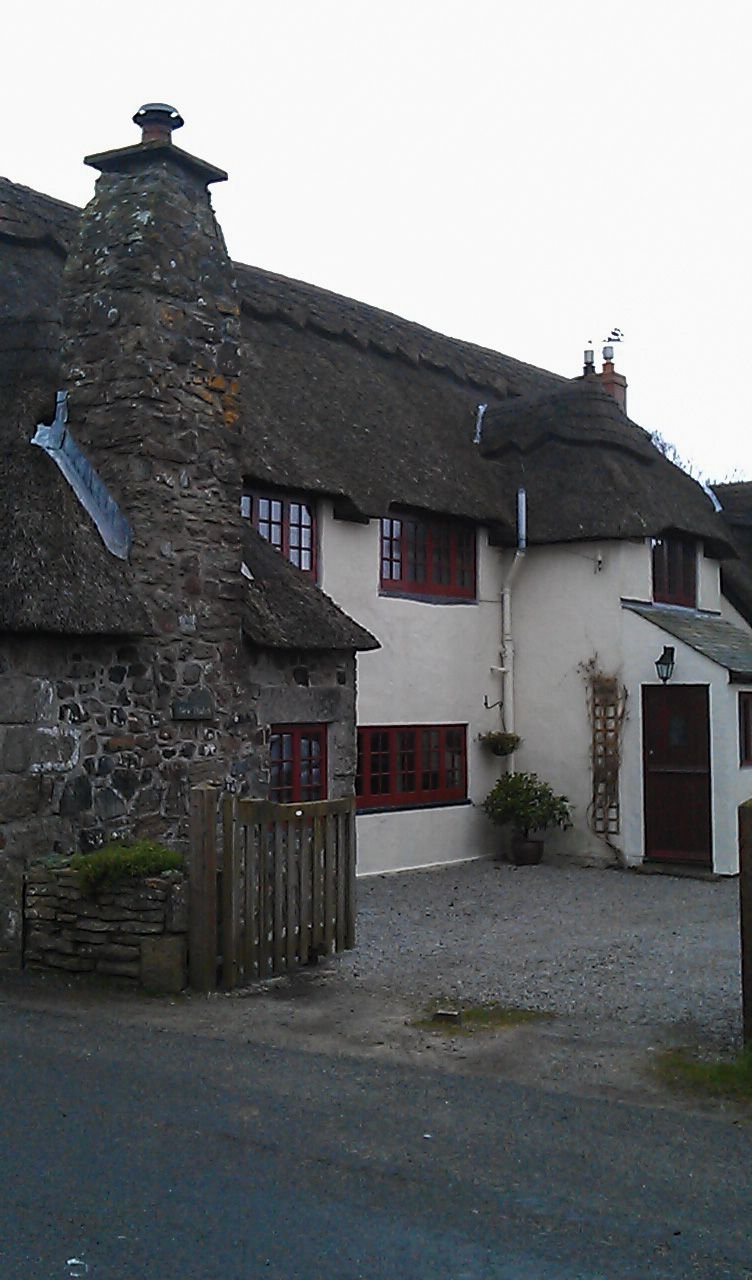 ---
SAVING CADGWITH COVE
Cadgwith village is perched slightly higher up the hill and this little road leads down to the Cadgwith Cove. It was a short walk from our B&B. The cove is a shingle beach used by the local fishing community. The fishermen used to fish pilchards decades ago, nowadays it's more crabs, lobsters (yum!!) and monkfish.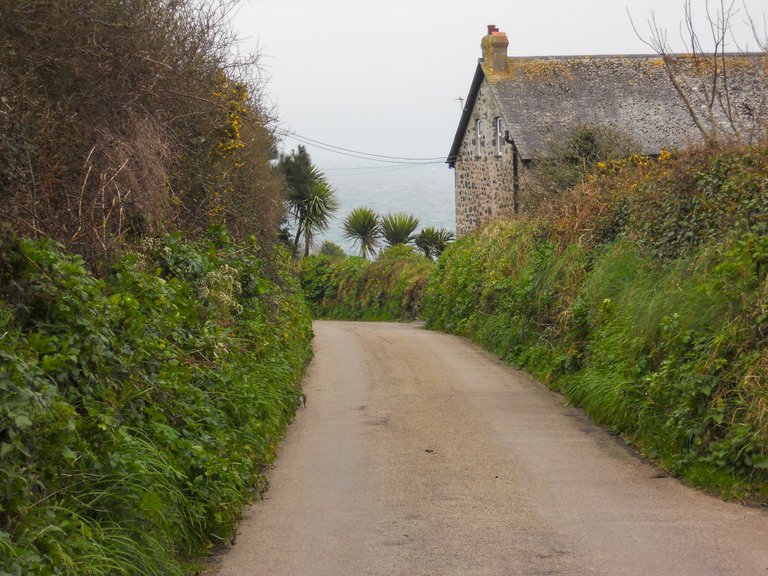 It was the end of March, not the best time to go anywhere for holiday in England due to the unstable weather. This is a still image taken from a crappy video I took that day. Although the quality is poor, I wanted to show you two things. First, the force of the waves swelling up the cove, this is the type of weather conditions the local fishermen are up against at times. The other thing I want to show you are the three old buildings on the beach. They are the core and integral to the fishing community at Cadgwith.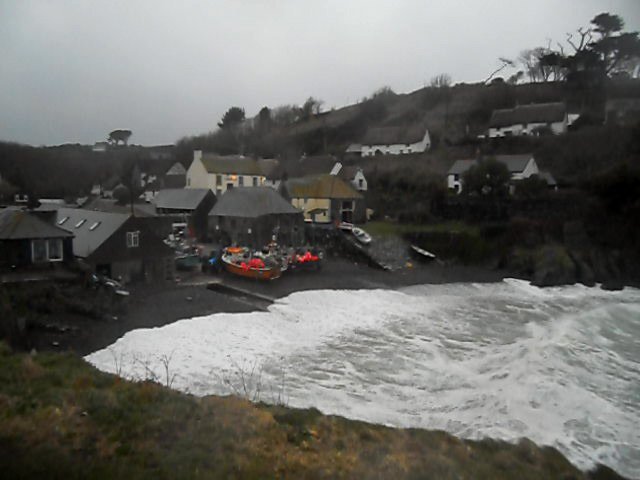 Earlier this year, those buildings were in danger of being redeveloped which would pretty much bring an end to the livelihood for many fishermen. Luckily the local authorities and donors chipped in to raise enough funds to purchase these buildings, thus saving the local community from redevelopment (source). I think that's such a touching story, and a great example of how a community can come together to preserve an important part of society.

---
THE TODDEN
This is a great viewpoint of Cadgwith and its two beaches. The raised mass of land in the middle of the sea is called the Todden. It's about nine meters high and splits Cadgwith Cove on its left from Little Cove or Little Beach on it's right. Cadgwith Cove is used by the fishermen, whilst Little Beach is used by tourist and locals for swimming. Not on this day though!!!
Let's head over to the Todden for a walk.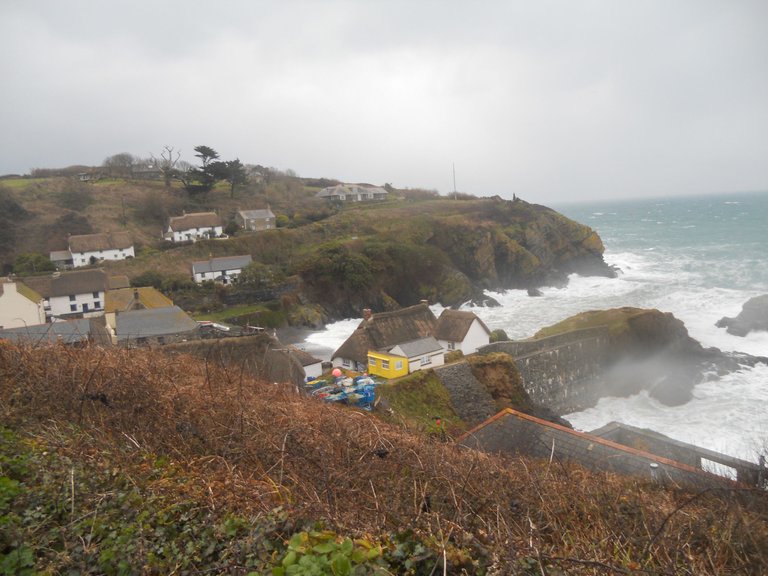 This is pretty much as close to the sea as I can get when standing on the Todden. And this is where I took my crappy video of Cadgwith Cove. I don't know why I didn't take photos of Cadgwith Cove from here. The village and the coves would have looked so pretty even during these dull days. The sea ahead looks rough but okish from here, but boy, don't let it fool you! It was really windy when I was here. I'll show you in a minute. The fact it was late afternoon didn't help either.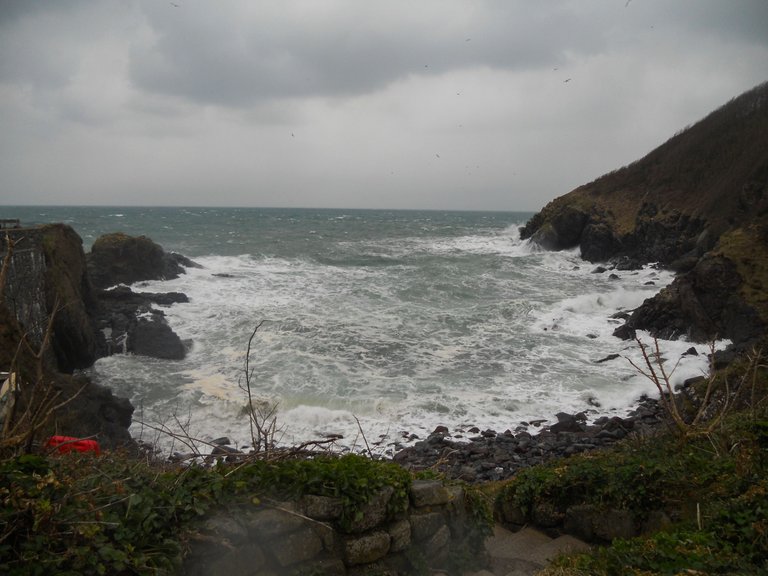 These two rocks are call The Island and The Mare. During low tide, you can walk from one beach to another over The Island, but during bad weather, and I mean really stormy weather, you can't even see The Island.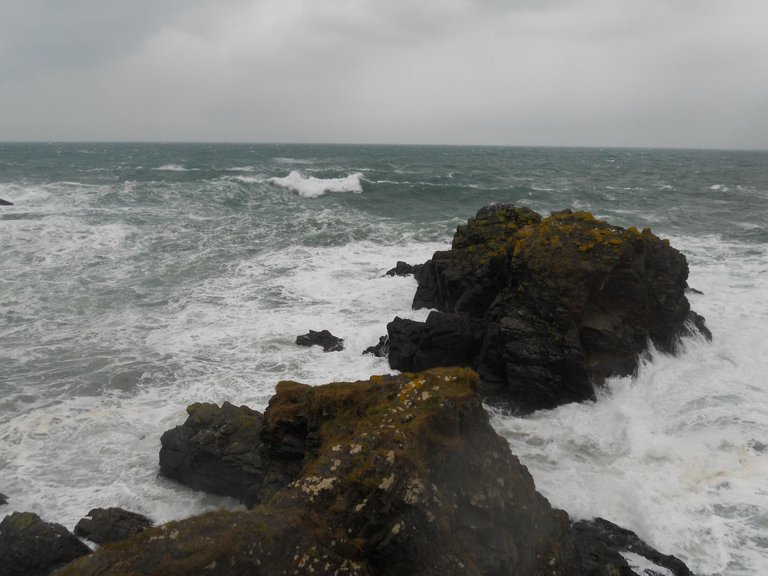 A bit like this, but I imagine even worse!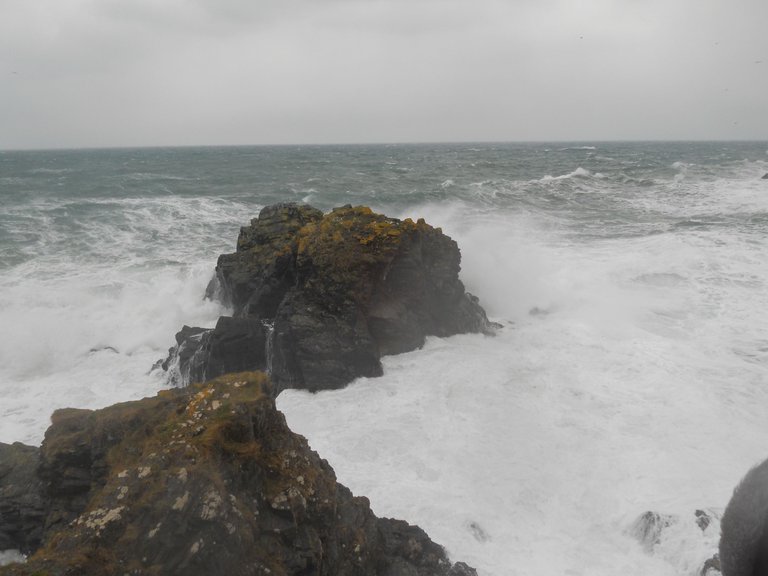 And if you want to see how windy it gets here, how about this?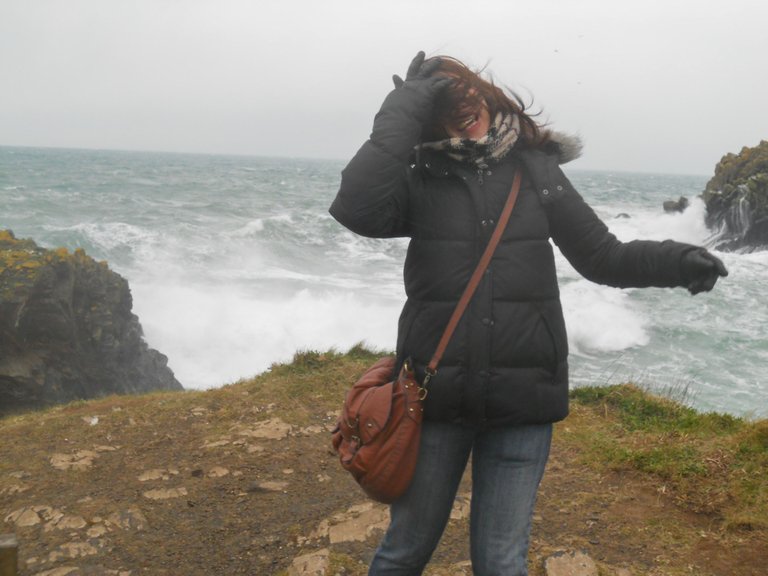 Cadgwith is a great example of a typical fishing village in Cornwall. Cornwall itself is a very unique region in England, almost a bit isolated from the rest of the country. And its these traditional little villages dotted around the coast that makes the region even more unique. A lof of these villages rely on tourism, but on the other hand they want, and need to preserve its authenticity and charm. Tricky situation, but luckily Cadgwith solved it by preserving an important part of the village.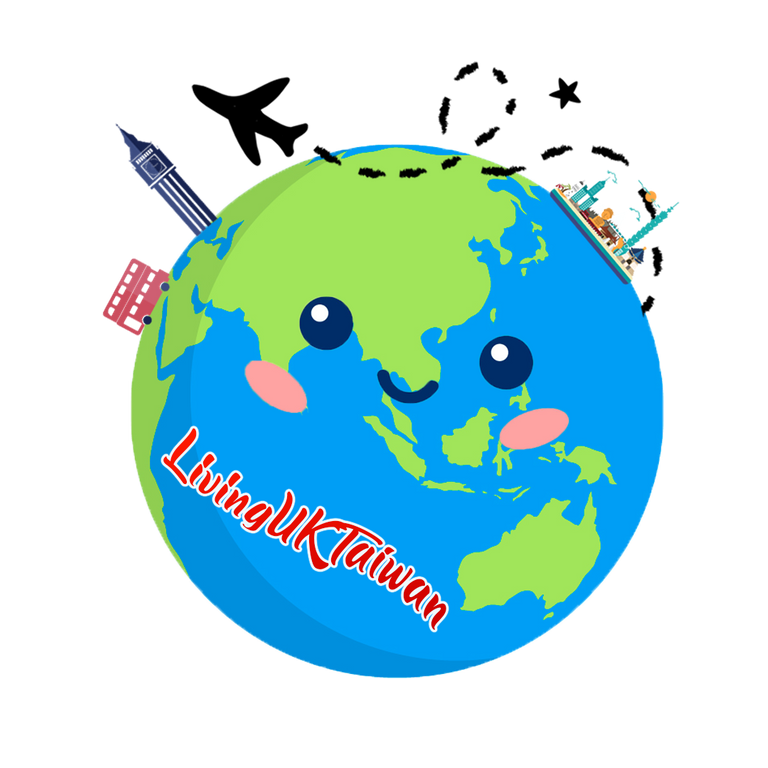 You can checkout all my travel post on the Pinmapple here or click on Mr Pinmapple below