I seem to find myself going back to the narrow roads in Bangrak district of Bangkok quite often these days. The familiar old shop-houses and narrow lanes are very comforting as I grew up around similar setting. The elderly Chinese people living in these houses always remind me of my grandma and crazy Chinese aunties of my happy childhood. This narrow road called Sriwiang has become my sanctuary for emotional support and nostalgic reminiscence of my happy days. I seem to get more energy and become more cheerful after a leisurely walk along this old road.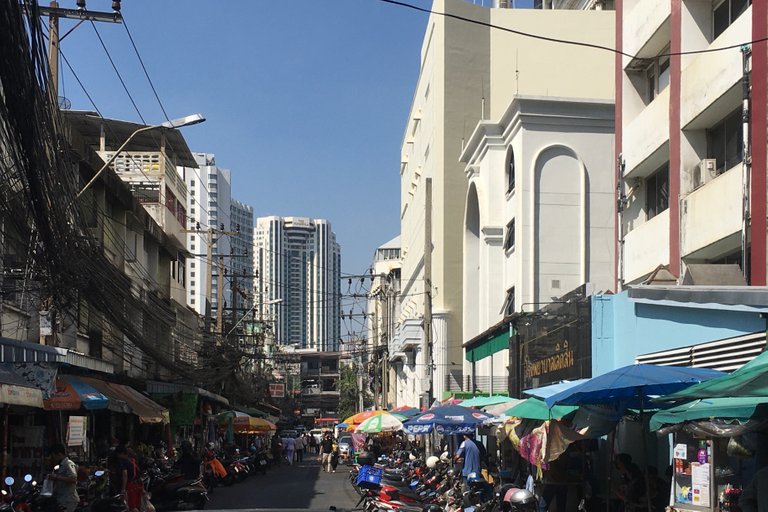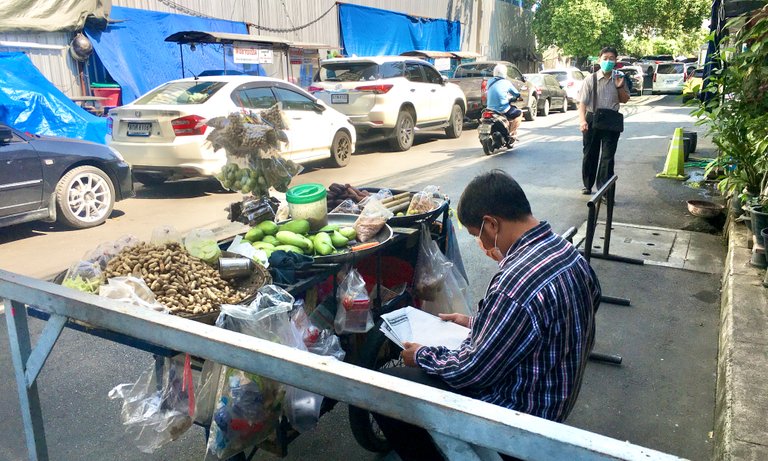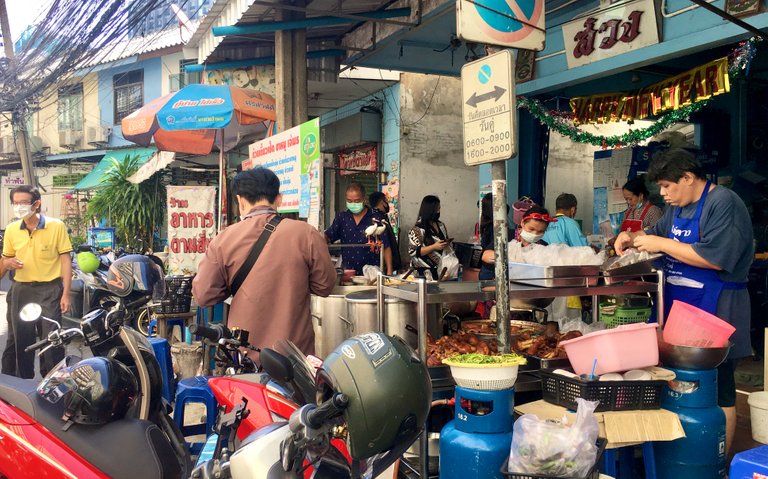 Local people are very friendly and too occupied with their daily chores. The street food part is always lively during lunch time when staff from the nearby hospital and various offices would be refueling themselves with delicious food. I would walk along towards the quieter part of this road where residents live simply and happily in very small space of two-level shop-houses. I always wonder how they could live in condition where privacy could hardly be expected. This reflects the subtle considerate give-and-take way of life around here. Our family was very lucky to be able to move to a much bigger house when we grew bigger and required more space.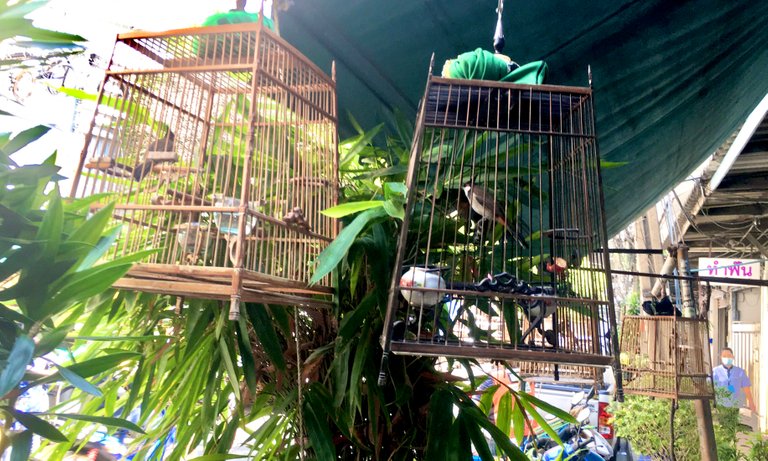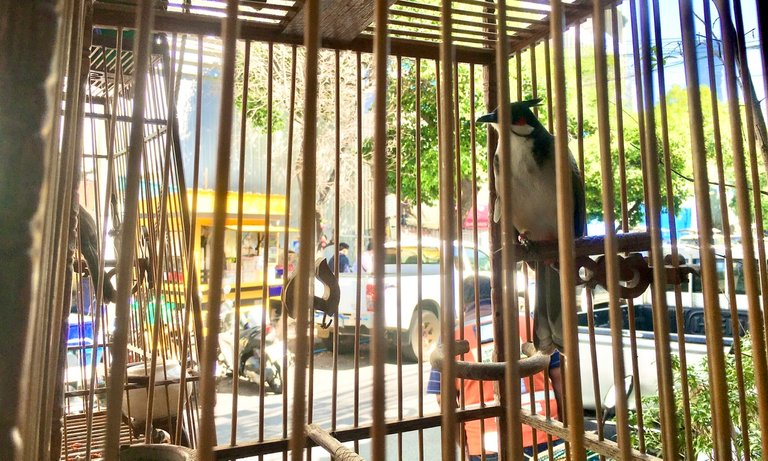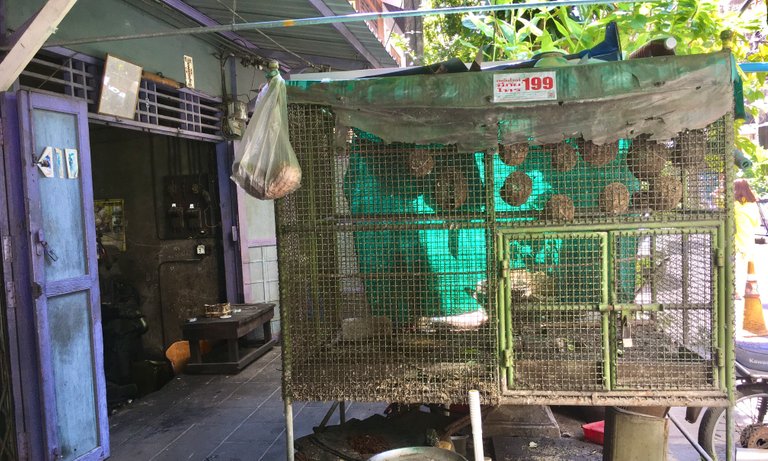 I am quite surprised to see several birds' nests hanging in front of a shop. These are special singing birds which are often entered into competitions on birds' songs contests. So, they are very expensive and supposed to be a protected species under conservation law. Some houses have big bird cages in front of their houses while mini-gardens could be seen along the residential houses.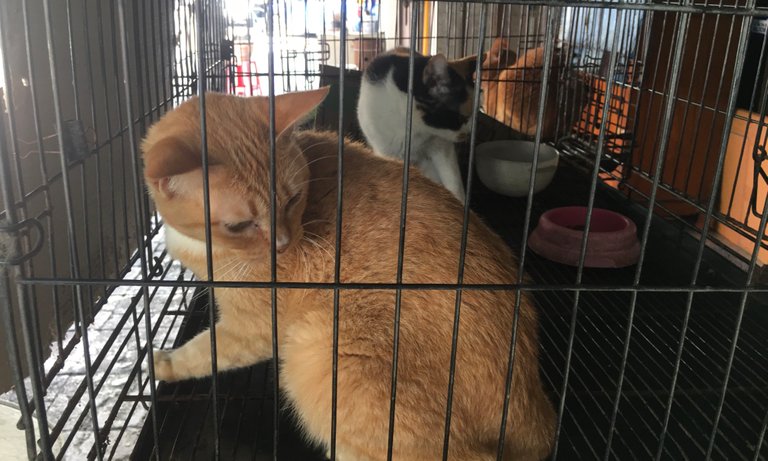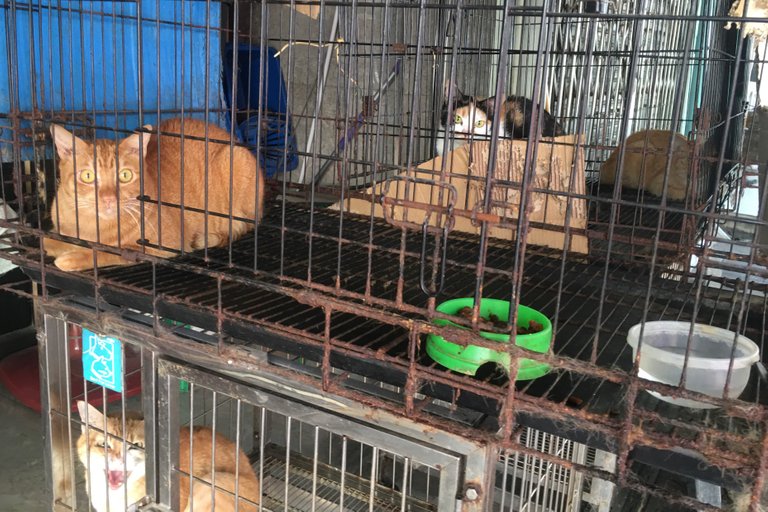 I wonder why these cats have to be kept in cages; whether they are too aggressive and would start fighting among themselves or with neighbours' cats. I could spotted several friendly cats in front of some houses; evidently people around here are cats' lovers.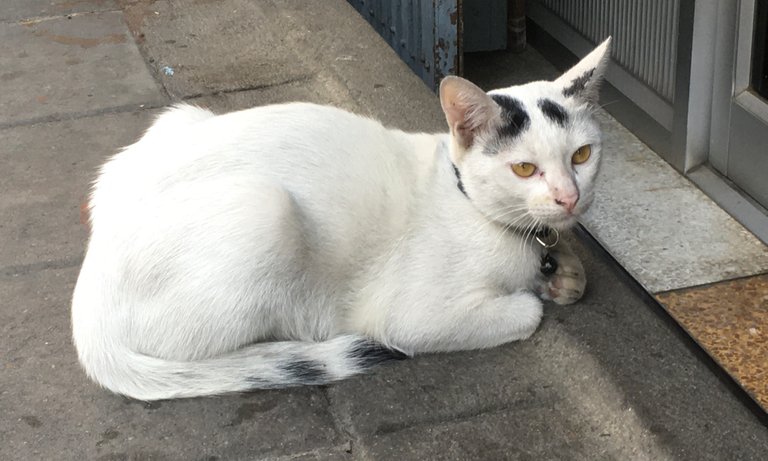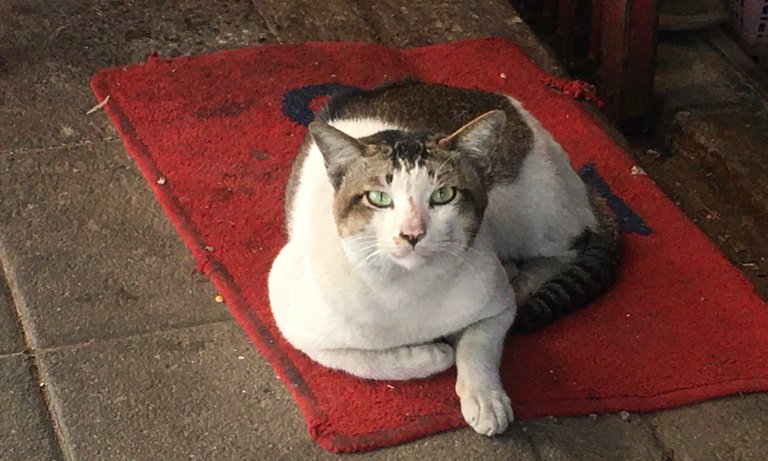 People try their best to create green garden in front of their houses.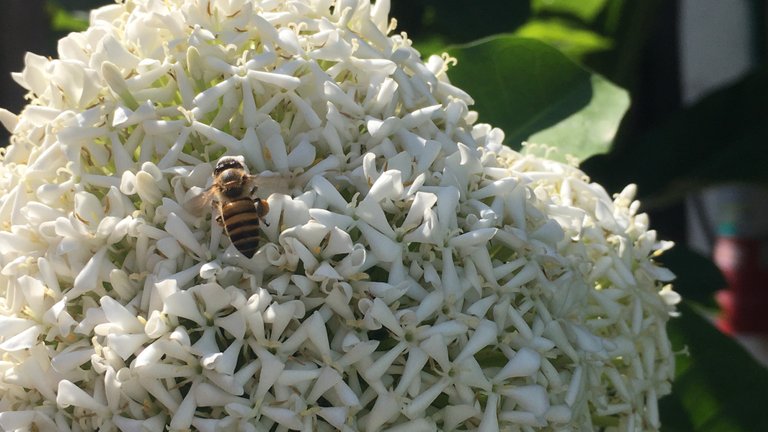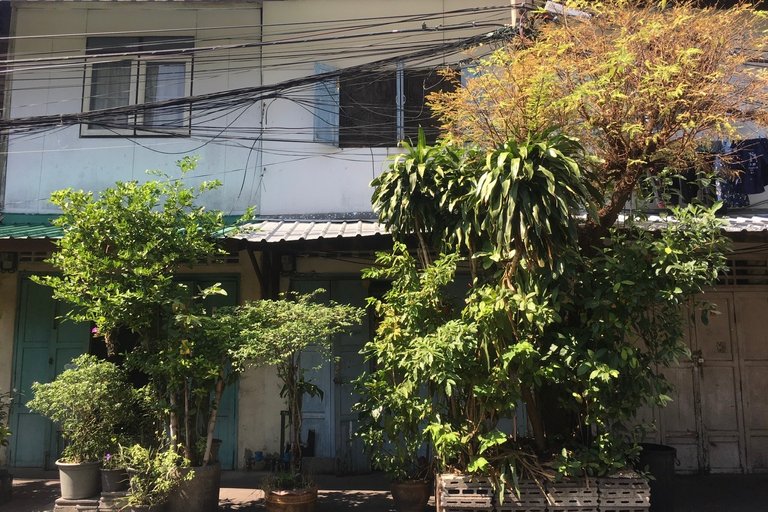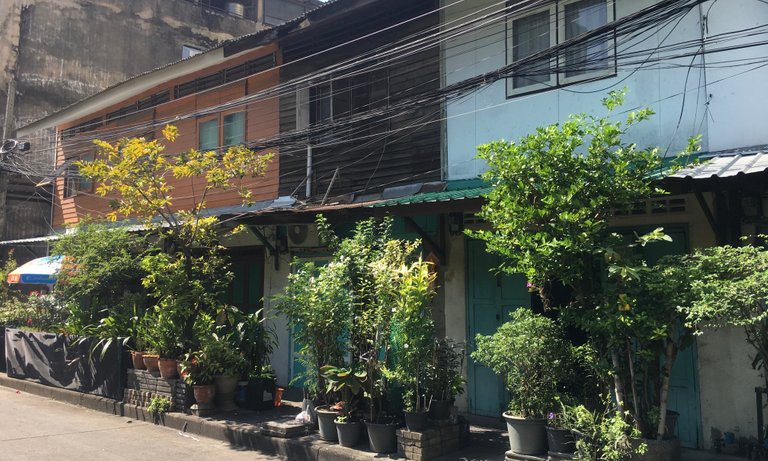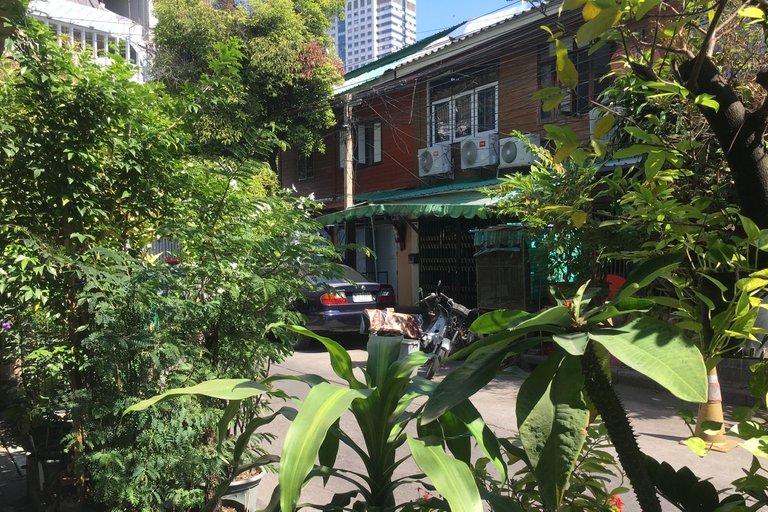 Some shop-houses still carry on with their parents' businesses while some have improvised coffee stalls to make some extra income. Coffee shops have replaced traditional tea-shops completely. Though you could still find few tea-shops in Chinatown.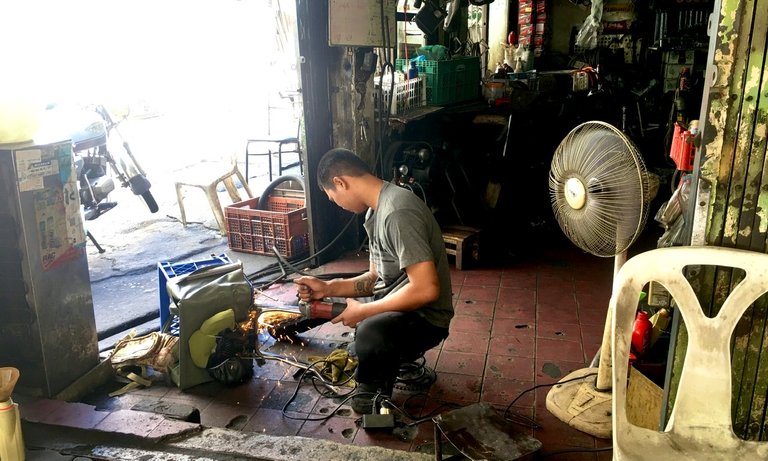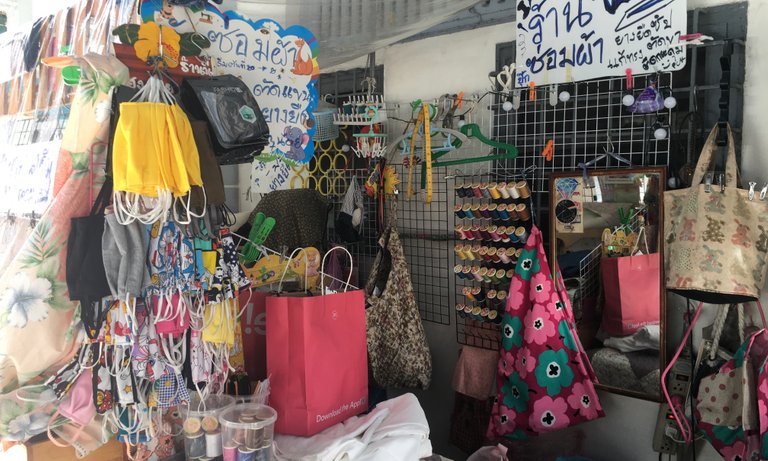 A lady has set up a clothes repair shop selling home-made masks and cheap clothes in front of her house during daytime. It amazes me how these people with minimum education could make a living to sustain themselves. I couldn't even manage a simple food stall or noodle shop; it seems I need to acquire more basic skills for survival.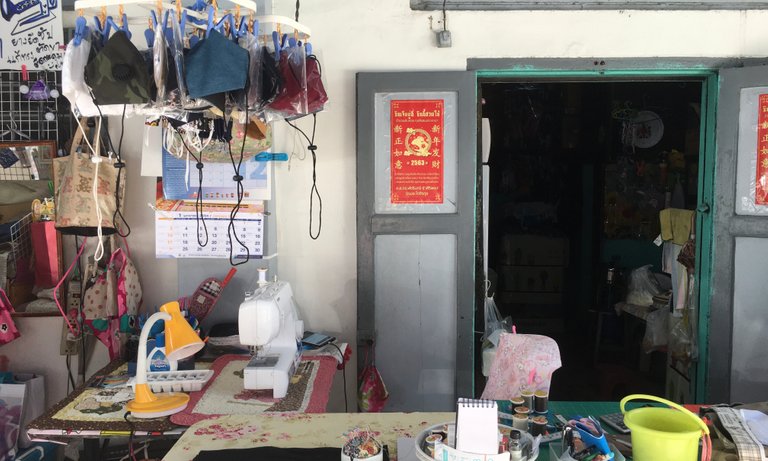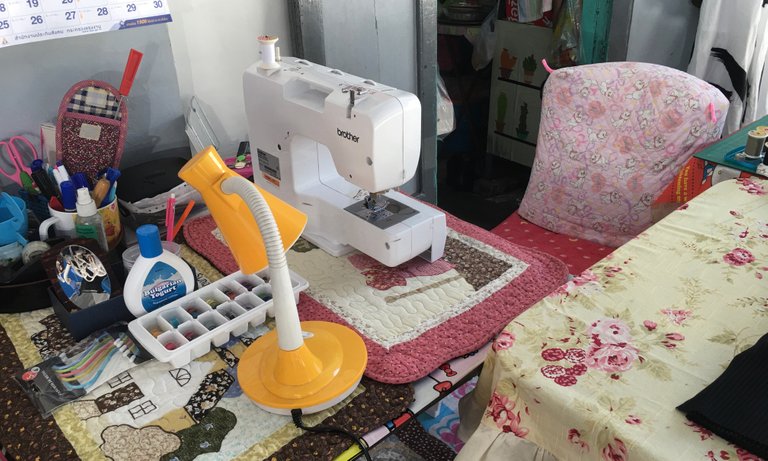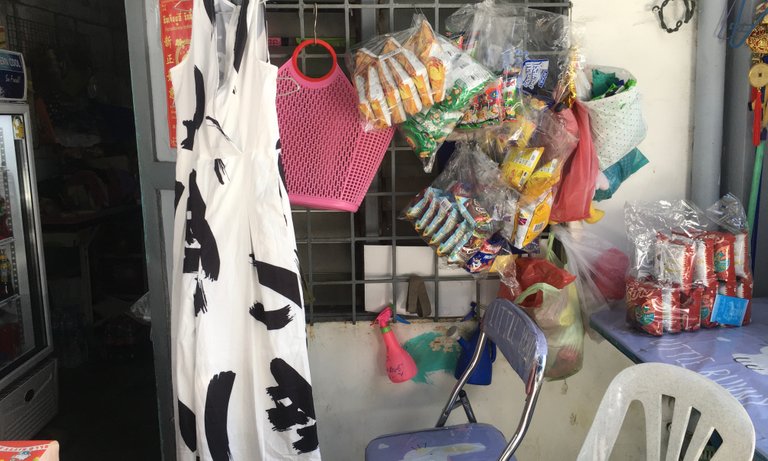 The best discovery for me has been the freshly made noodle shop. This shop has been making fresh egg noodle since fifty years ago; now the shop is managed by the third generation of descendants. Lucky people in this area; they could buy freshly made noodle everyday.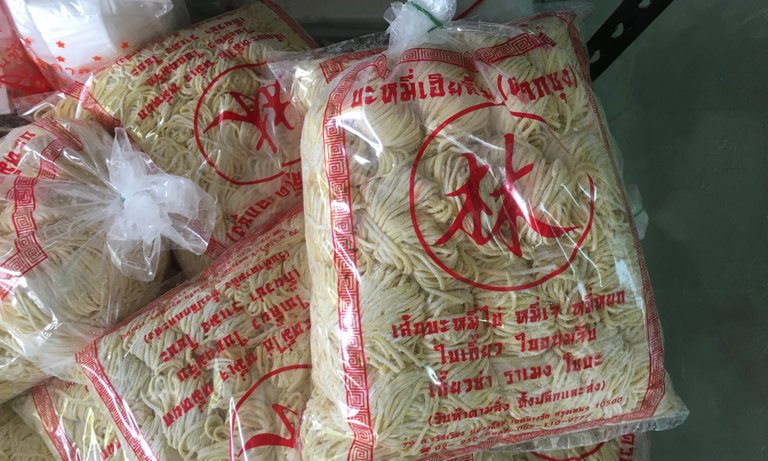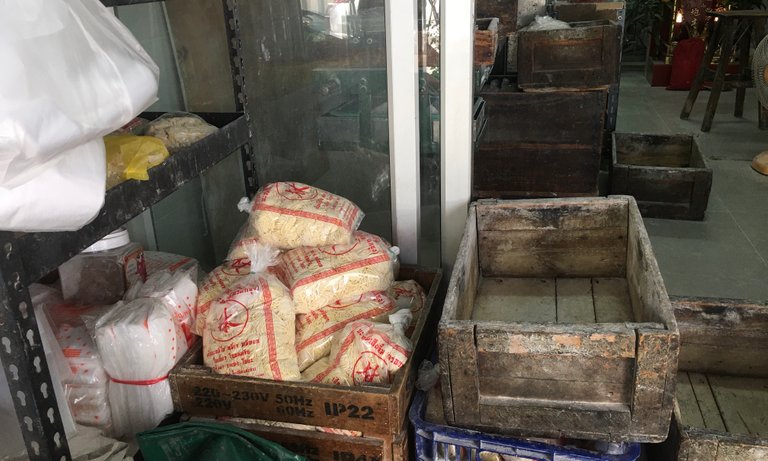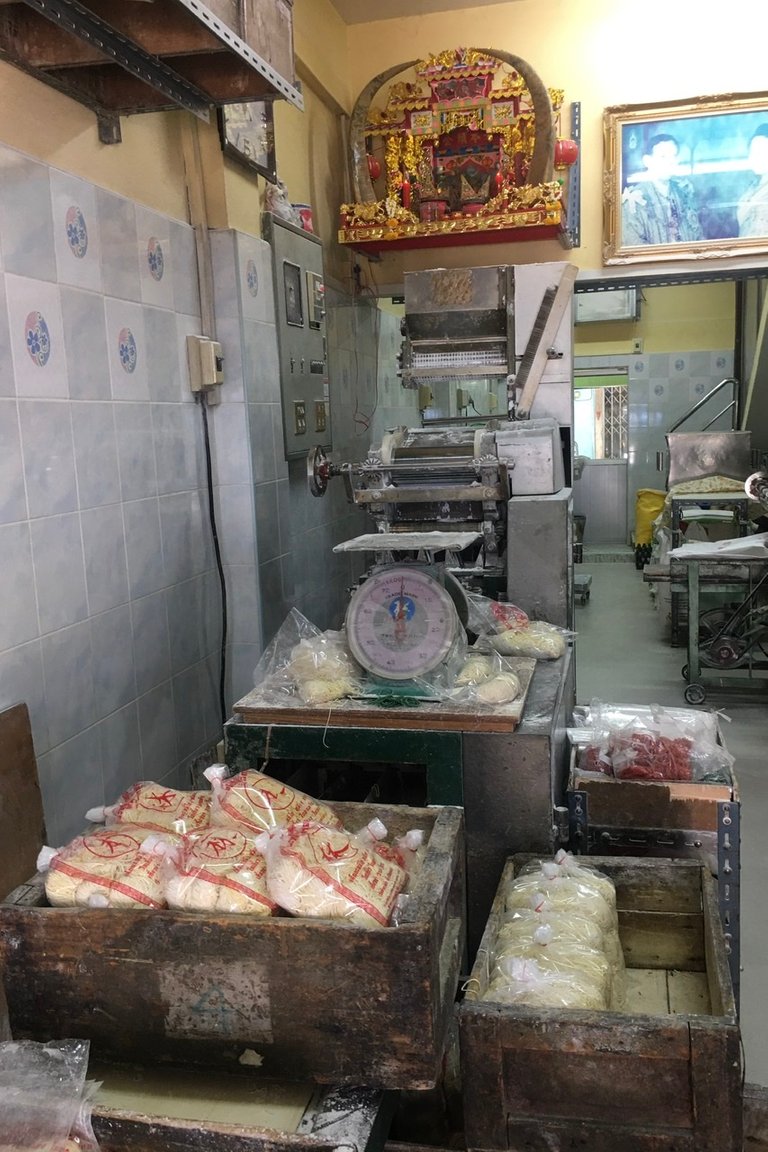 Bangrak district is one of the authentic old Chinese communities in central Bangkok which is very lively and friendly. Where there are lots of Chinese people, you would be certain to find good food and famous restaurants from the good old days. Sanyod is one such restaurant which used to be very famous among wealthy Chinese merchants. This eatery stands at the end of Sriwiang road. The food is very good and affordable even for a small budget.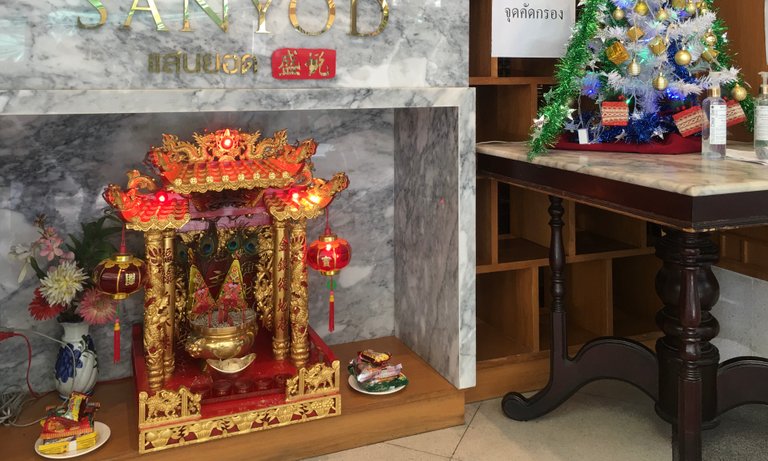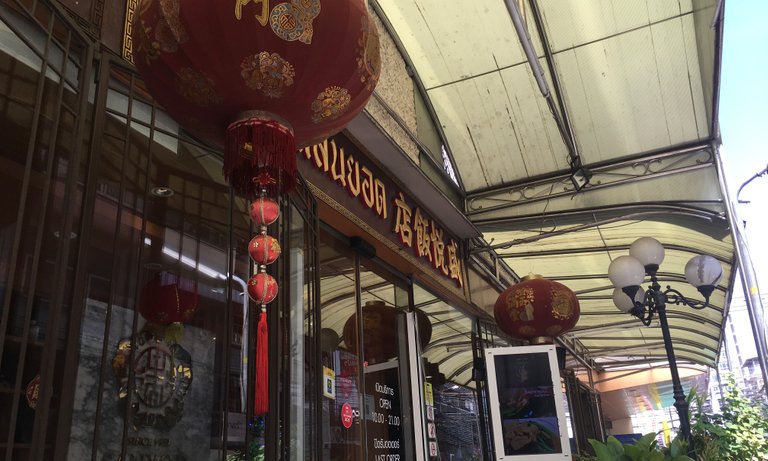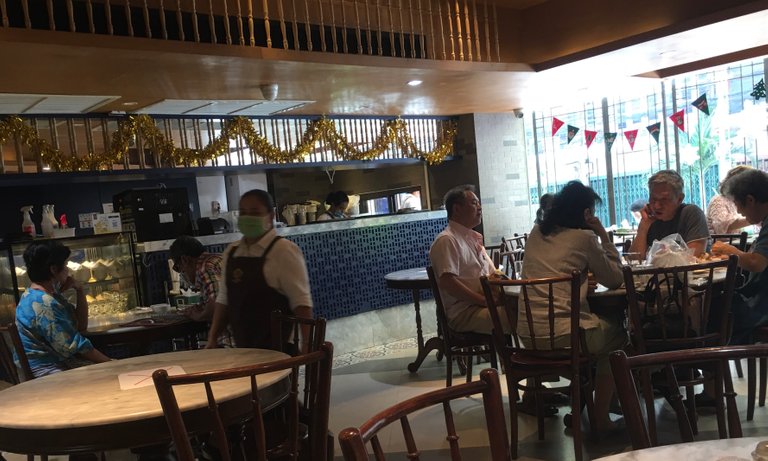 เราติดใจแหล่งเดินเที่ยวเล่นแถวบางรักมากเป็นพิเศษ เราชอบหาเวลาไปเดินสำรวจร้านอาหาร และถ่ายรูปบ้านเก่าแถวนั้นมาก อาจเป็นเพราะเราเติบโตมากับสังคมญาติที่เป็นคนจีนตอนเราเป็นเด็ก ปู่ย่าเป็นคนจีนมาจากเมืองจีน และเรามีป้าชาวจีนนับสิบคน ชีวิตในวัยเด็กจึงถูกห้อมล้อมด้วยคนจีนที่เสียวดัง และชอบทำอาหารตลอดเวลา และบ้านเก่าๆในถนนศรีเวียงในย่านบางรักก็ทำให้เราคิดถึงบ้านเก่าสมัยเด็กอีกด้วย เราไปเดินเที่ยวเล่นย่านนี้ทีไร เรามีพลังมากขึ้นและมีควรรื่นเริงขึ้นทุกครั้ง คนที่นั่นใจดีและอยู่กันแบบง่ายๆสบายๆ เราต้องเดินผ่านเขตที่เป็นร้านอาหารไปก่อน จึงจะเจอบ้านเรือนที่ชาวบ้านอยู่กันเงียบๆ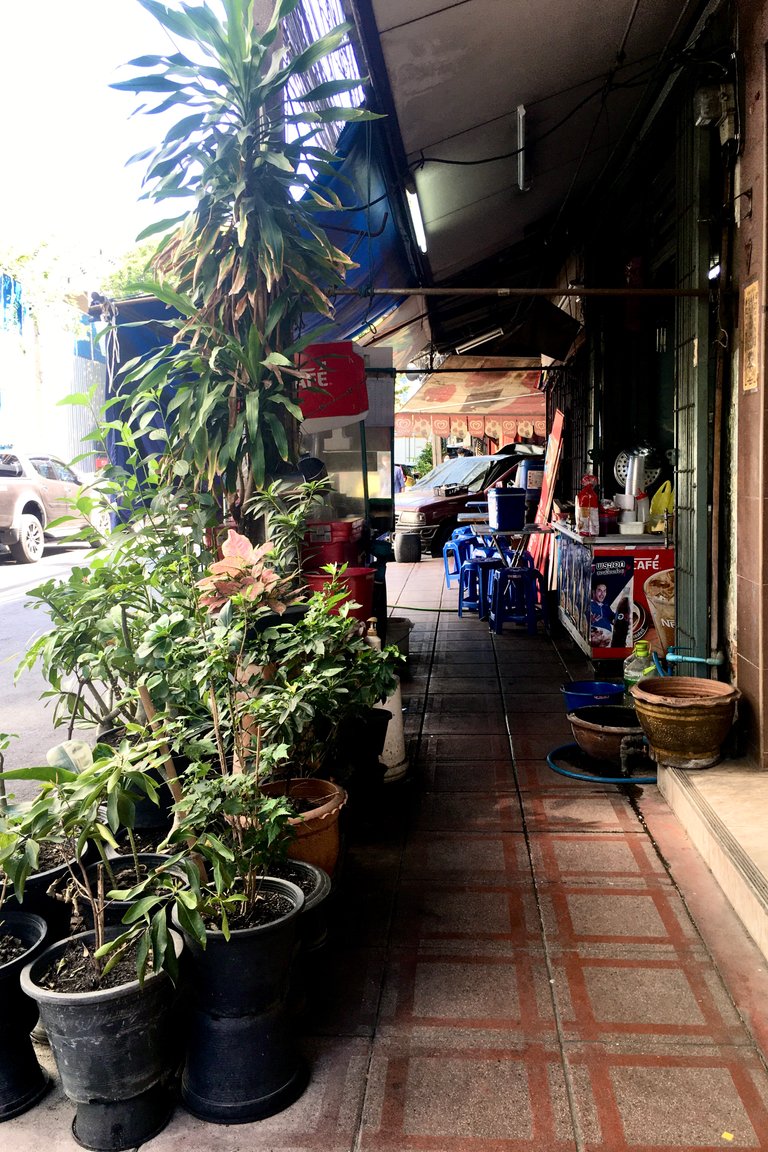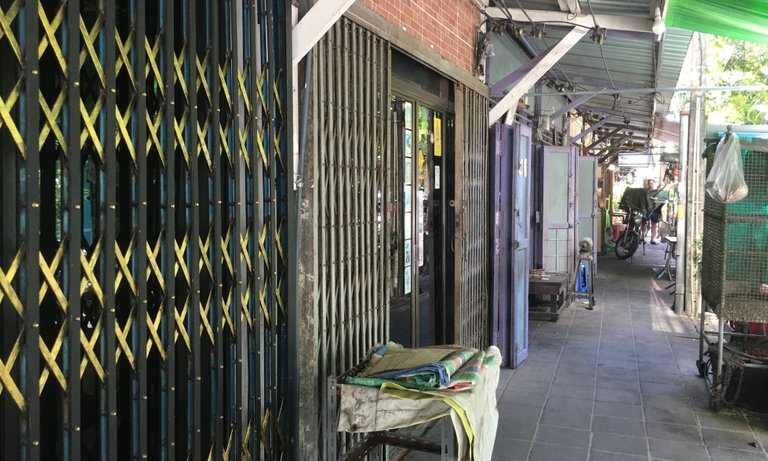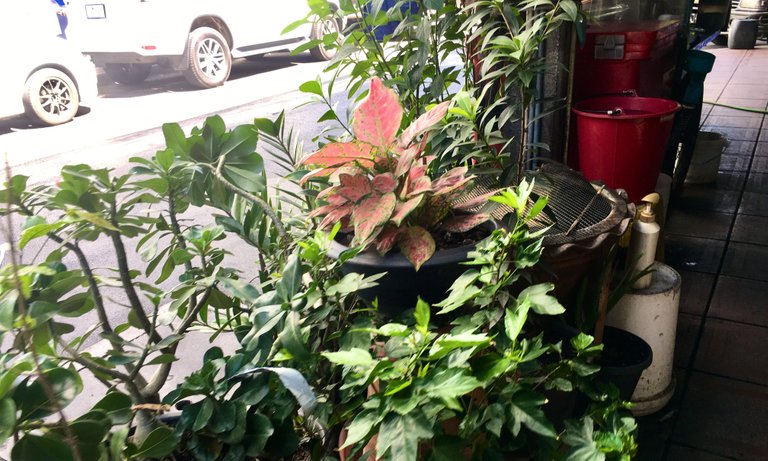 ส่วนที่ขายอาหารก็จะมีคนตามสำนักงาน และคนที่ทำงานในโรงพยาบาลใกล้ๆออกมาหาของกินกันช่วงเที่ยง อาหารตามสั่งและอาหารอีสานหรือผัดไทก็มีให้เลือกหลายเจ้า แต่เราสนใจร้านขายของกินเล่นและร้านขายขนมไทยๆมากกว่า เราเห็นรังนกแขวนอยู่หน้าร้านอาหาร และไปเจอกรงแมวขนาดใหญ่มีแมวอยู่หลายตัว เราก็ไม่รู้ว่าทำไมเขาจึงต้องขังแมวไว้ แต่เราก็เจอแมวใจดีหลายตัวที่นั่งเล่นอยู่หน้าบ้าน บางบ้านมีกรงนกขนาดใหญ่ด้วย โชดคดีที่ไม่มีนกเหลืออยู่ในกรงแล้ว เราเดินไปก็ดูว่าเขาอยู่กันอย่างไรในบ้านเล็กๆแบบนั้น นี่แสดงว่าคนที่นี่เขาอยู่กันอย่างมีความเกรงใจและเอื้อเฟื้อกันมากๆ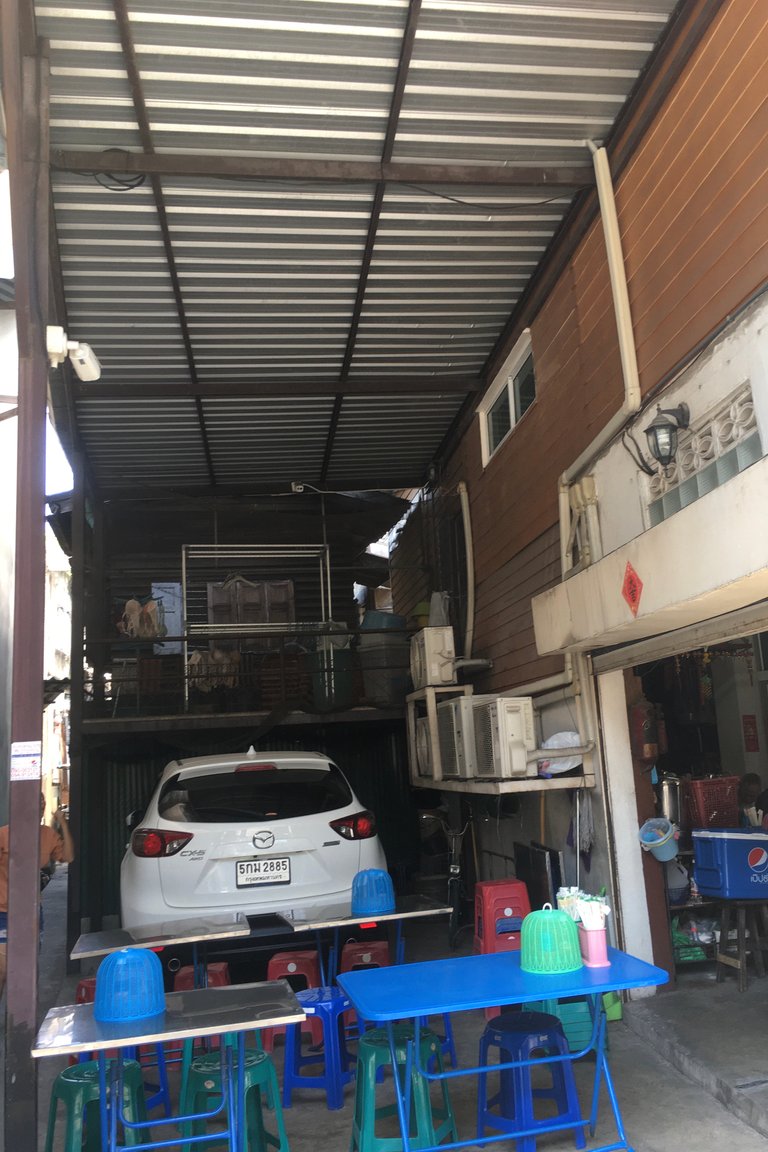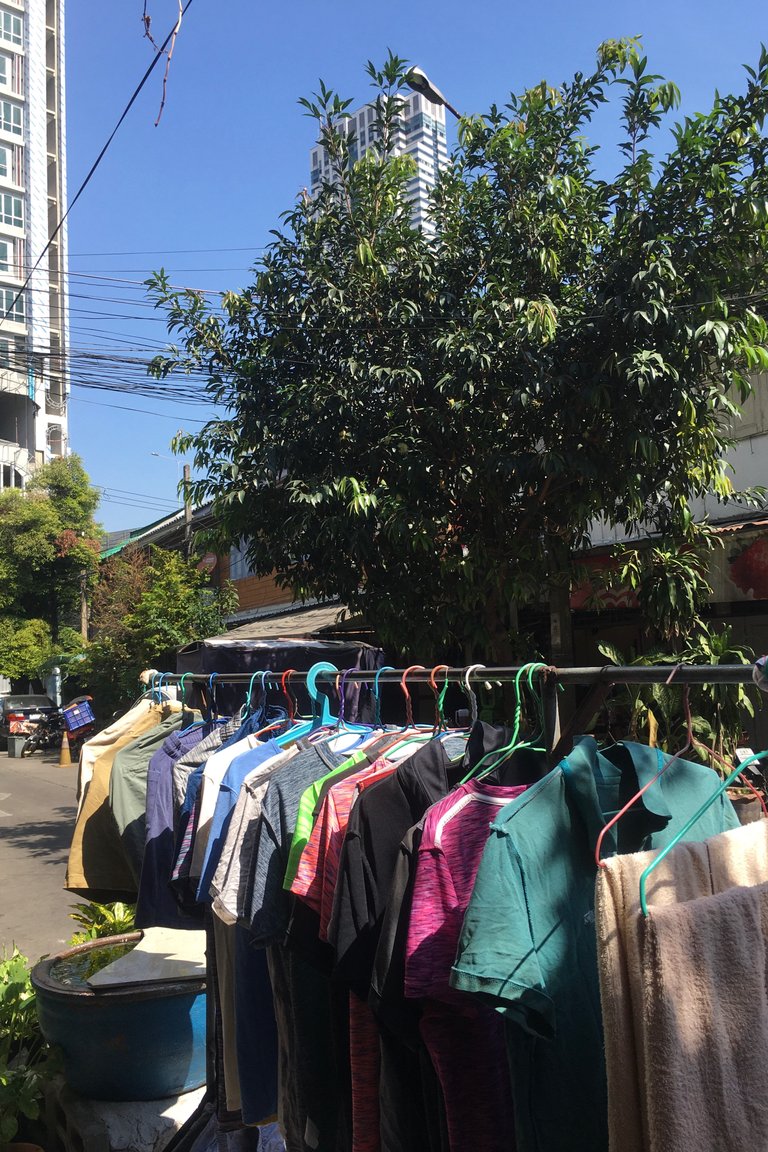 เราชื่นชมการใช้ชีวิตที่เรียบง่าย และความพายามในการทำงานหารายได้เพื่อความอยู่รอดของคนที่นั่น บางบ้านก็เปิดเพิงขายกาแฟบ้าง ขายก๋วยเตี๋ยวบ้าง บางคนเปิดร้านซ่อมเสื้อผ้าและเย็บหน้ากากผ้าขาย เราเองรู้สึกว่าเราไม่มีความสามารถในการเอาตัวรอดเลย ทำอาหารก็ไม่เป็น ขายกาแฟก็คงขาดทุน มีความรู้มากจนทำไม่มีทักษะเพื่อการอยู่รอด เราต้องหาความรู้ด้านนี้มากขึ้น เราไปเจอร้านเก่าแก่ที่ทำเส้นหมี่ไข่สดๆทุกวันในราคาย่อมเยาว์ คนแถวนี้โชคดีมาก ที่มีเส้นหมี่สดๆกินทุกวัน นอกจากร้านอาหารจานด่วนแล้ว ที่นี่ยังมีร้านอาหารจีนที่มีชื่อเสียงมากในอดีต ร้านแสนยอดเป็นร้านอาหารจีนกวางตุ้งที่เปิดมานานกว่าห้าสิบปี อาหารที่นี่ไม่ใส่ผงชูรสเลย มีรสชาดอร่อยและราคาถูกกว่าที่อื่นมาก เราชอบไปกินก๋วยเตี๋ยวราดหน้าปลาที่นี่ เราก็หวังว่าถนนเล็กๆสายนี้คงดำรงเอกลักษณ์ขอตนเองไว้ตลอดไป เราจะได้มีที่เดินเล่นและหาของกินอร่อยๆในราคากันเองต่อไปอีกหลายสิบปี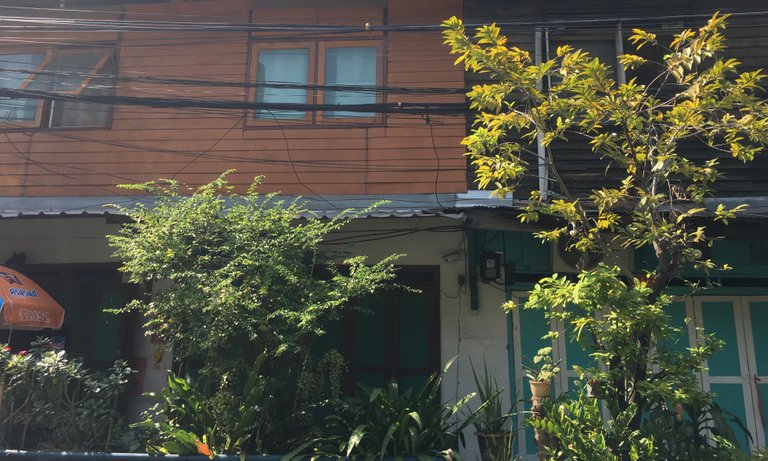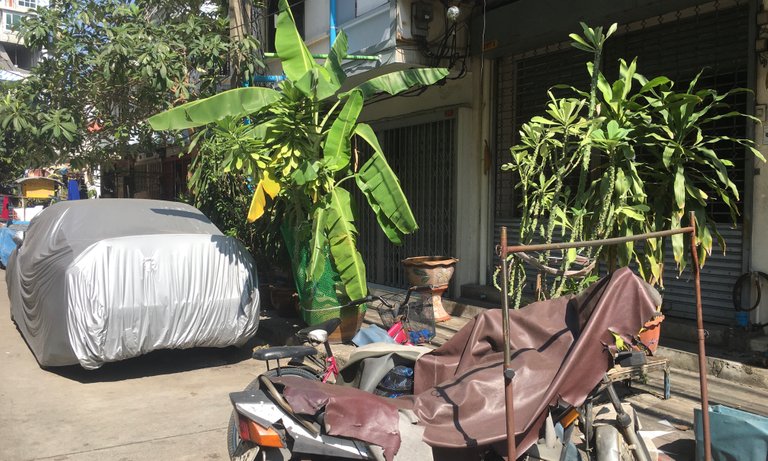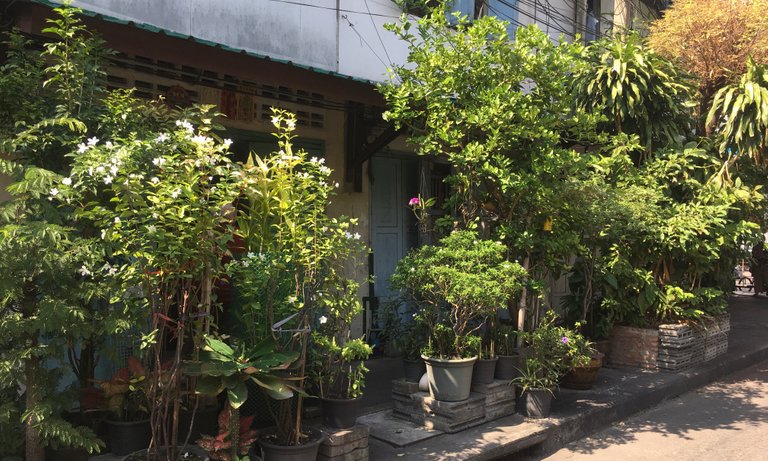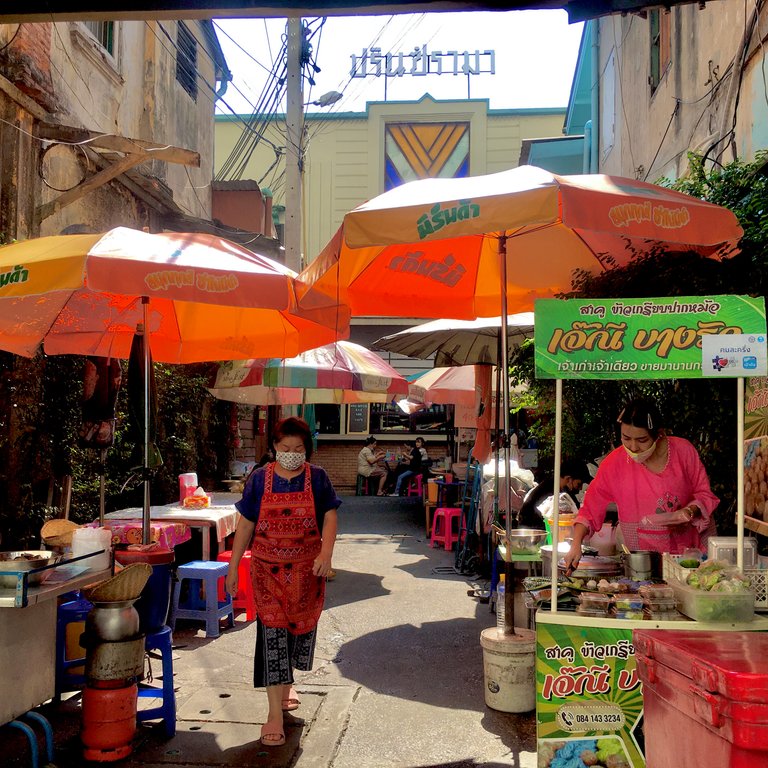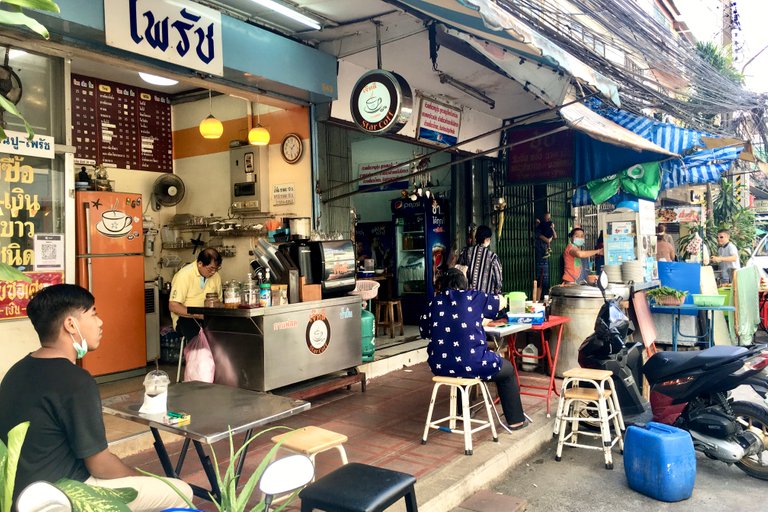 Wishing you all a very nice week!