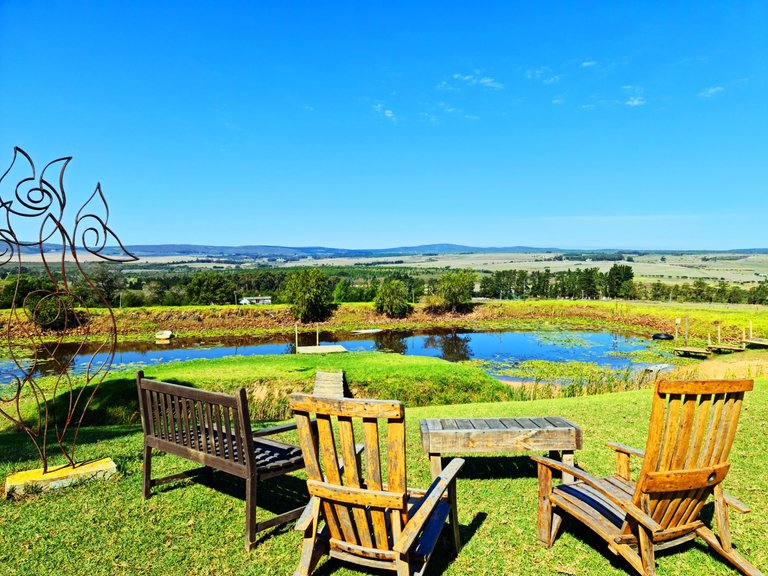 Today was just one of those days where I wanted to get out of the house. Well, in honesty - it was not just for myself but for Jude too. Never a bad day for a little fresh air and sunshine! Mother nature was playing ball... so we hopped into the car and headed out to a little town called Stanford which is about 35 minutes drive from where we are staying.
Stanford, a little different to the other coastal towns which we are more closely surrounded by. It is more inland and is what would be considered a "riverside town" - in fact, I have discovered, also home to the smallest river in the world. It is one of those places that you can visit many times and never tire of. The town itself holds such enormous country quaintness and although we didn't venture toward the main street today - the outskirts offer precisely the same level of escape from pretty much any and all hustle and bustle.
One of the things I love most about the Overstrand and Overberg areas which I now get to call home, is the endless rolling hills and mountains. They literally do go on forever and in every direction. There is something enormously comforting and grounding afforded simply by the looking.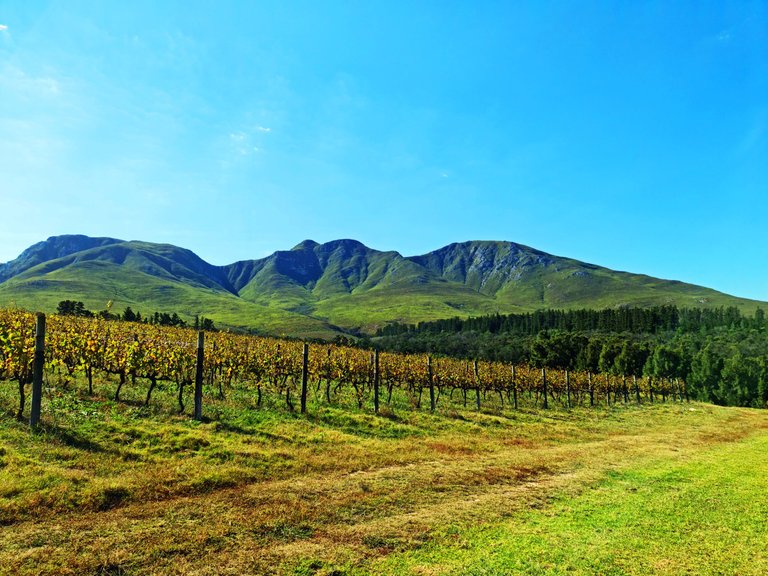 Jude was literally beginning to eat his arm en route to "wherever in Stanford", which is one of the reasons we ended up at the place we did - on the outskirts of the village. The Tasting Room is where we landed. I have driven past this place before, but had never actually eaten and enjoyed the place and space until today.
Off the main route and onto the dirt road, the adventure begins. Surrounded by plenty other restaurants, vineyards and wine tasting venues - we made our way up the hill. I am forever in awe of just how much beauty these places encompass - it is literally never ending, including the dusty road trip toward the venue... which naturally, required several stops for all the photos along the way. It was one of those "ooh I need to capture that, but it will be the last one" and then "oooh I just need to get a pic of this" journeys to the top of that hill and probably ended up taking about four times as long as it would have with a straight drive - but, it was totally worth it!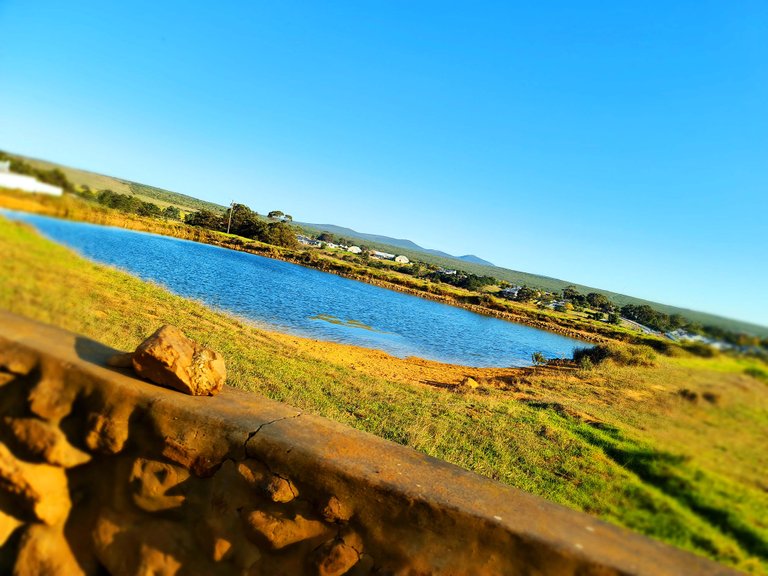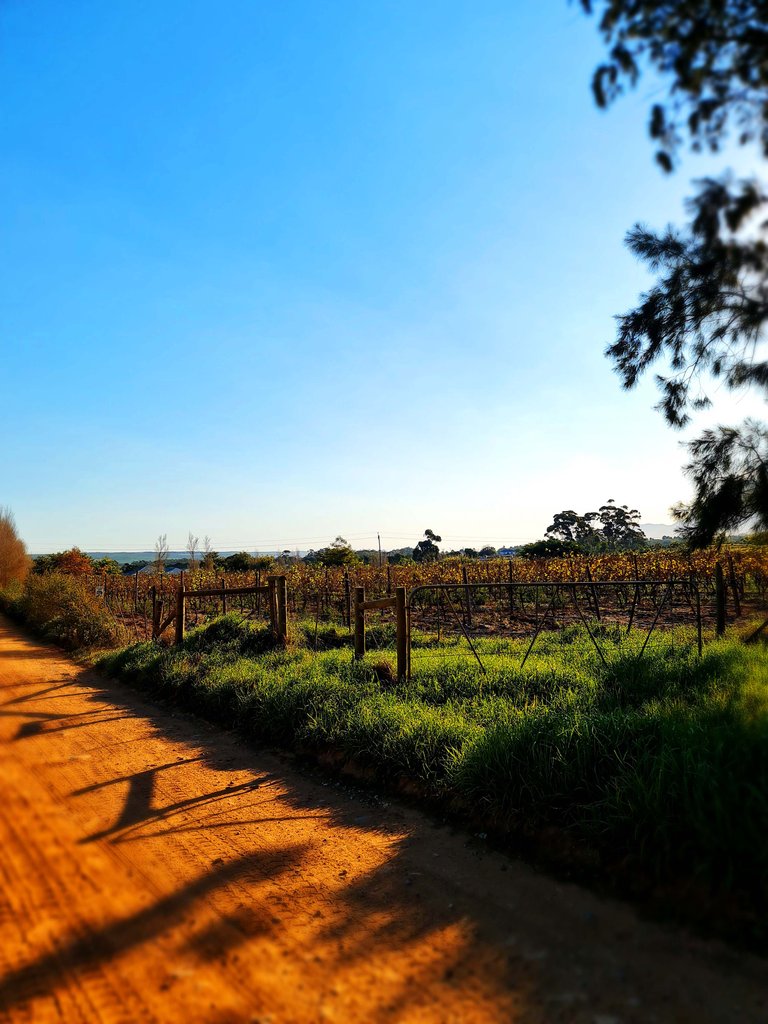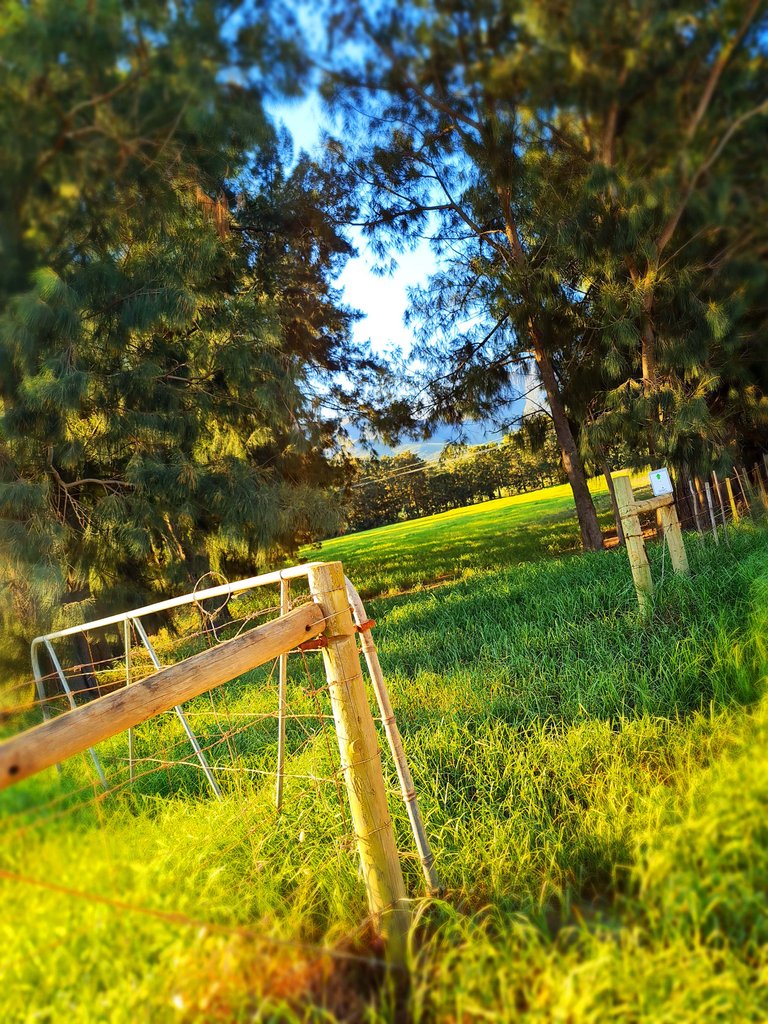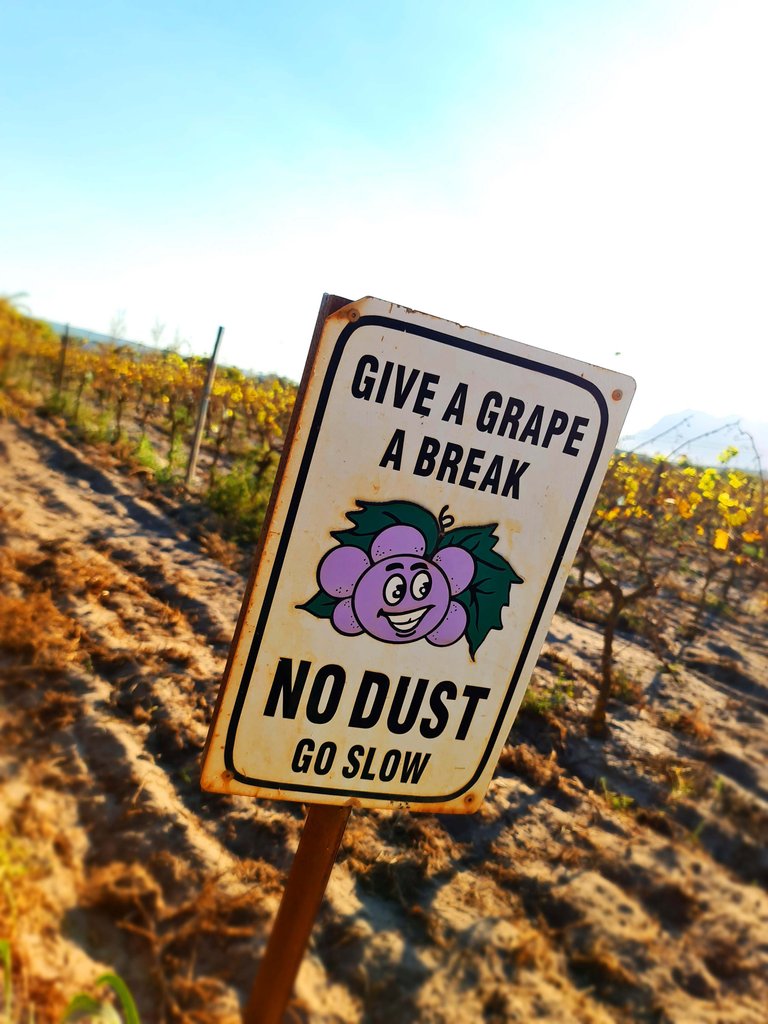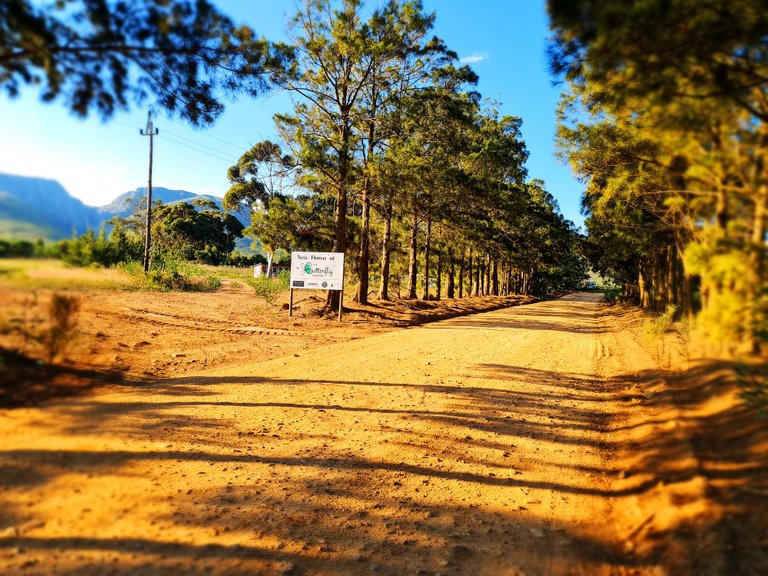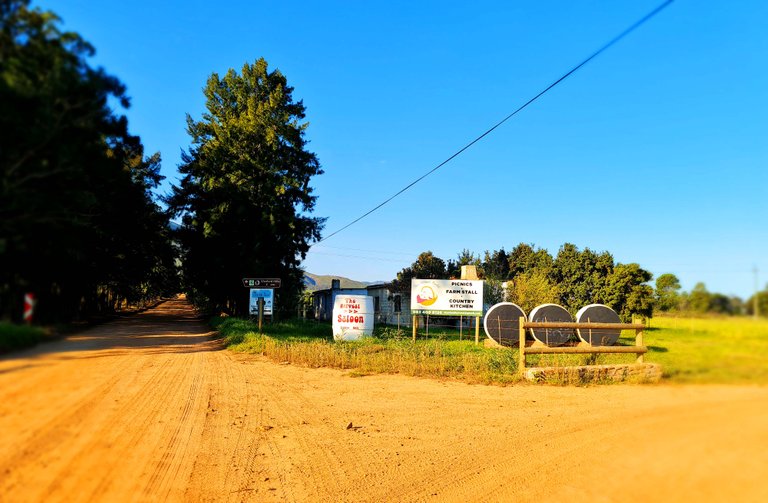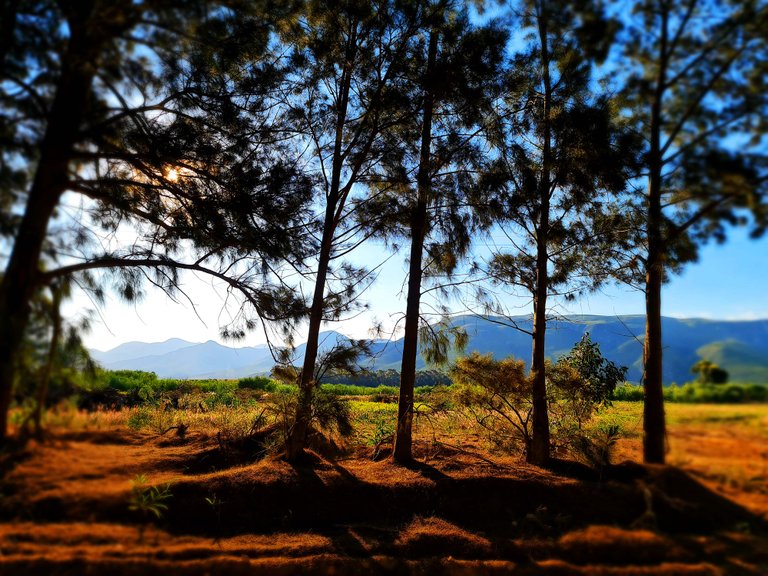 Along the way we also discovered that there is a special needs establishment on the property called The Butterfly Centre which is geared for accomodating kids which simply don't fit the boundaries and expectations of mainstream schools. An NGO which relies mostly on sponsorship and donation.
I stand to be corrected, but I am assuming that the owners of the restaurant which we ended up dining at were the brain children behind this initiative, because upon arrival, there was a young lad having his lunch alone at one of the tables and he seems to be prominently featured in several of the pics on their website. Either way, I think it is a fantastic initiative - and what an amazing space for ANY child to be educated! It also probably explains the below sign we passed which gave me a good giggle...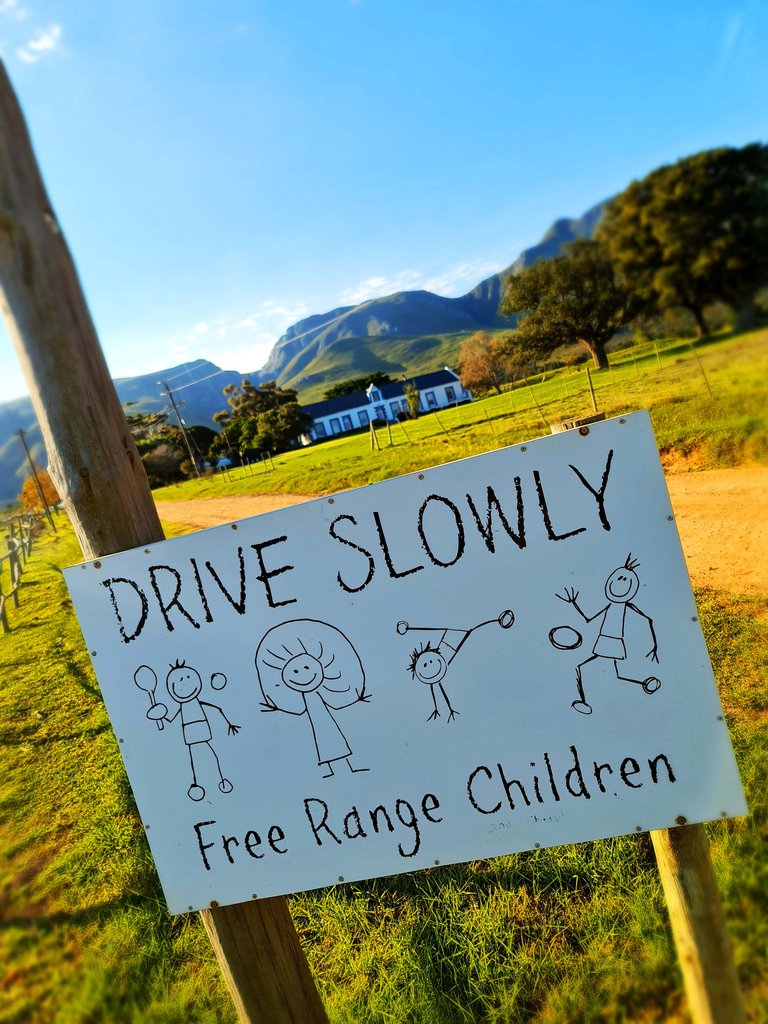 Finally, we were approaching the end of the dirt road and arriving at the venue. Jude had a about half an arm left and in all honesty, I was also about ready to start gnawing on a table. We parked and headed toward the restaurant - admittedly, somewhat stunted by the views getting there.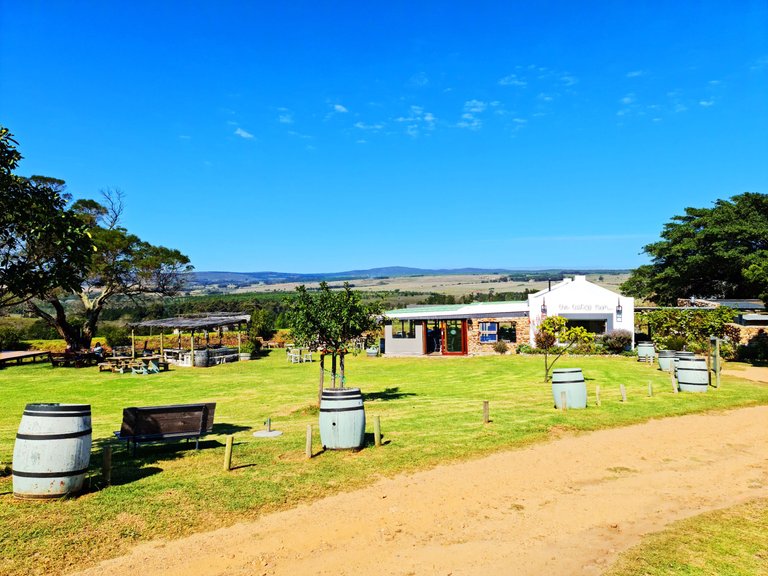 The Tasting Room, is a breakfast and lunch venue, which also caters for private events such as weddings and birthdays - and one which I will definitely be returning to for some bacon and eggs! The restaurant itself is actually one of the original farm cottages which the owners renovated, overlooking the entire Stanford valley - truly one of the most picturesque scenes with countless white cottages dotted all around.
The general vibe is what I would describe as SUPER CHILLED! Everything about it, invites you in to just plant your rear end on or in some random spot, order a glass of wine, munch on whatever deliciousness is on offer, soak up the sunshine and silence and forget about time. Tables and chairs scattered all over the place - indoors and outdoors... you can literally pick and choose your little slice of heaven and dissolve into it.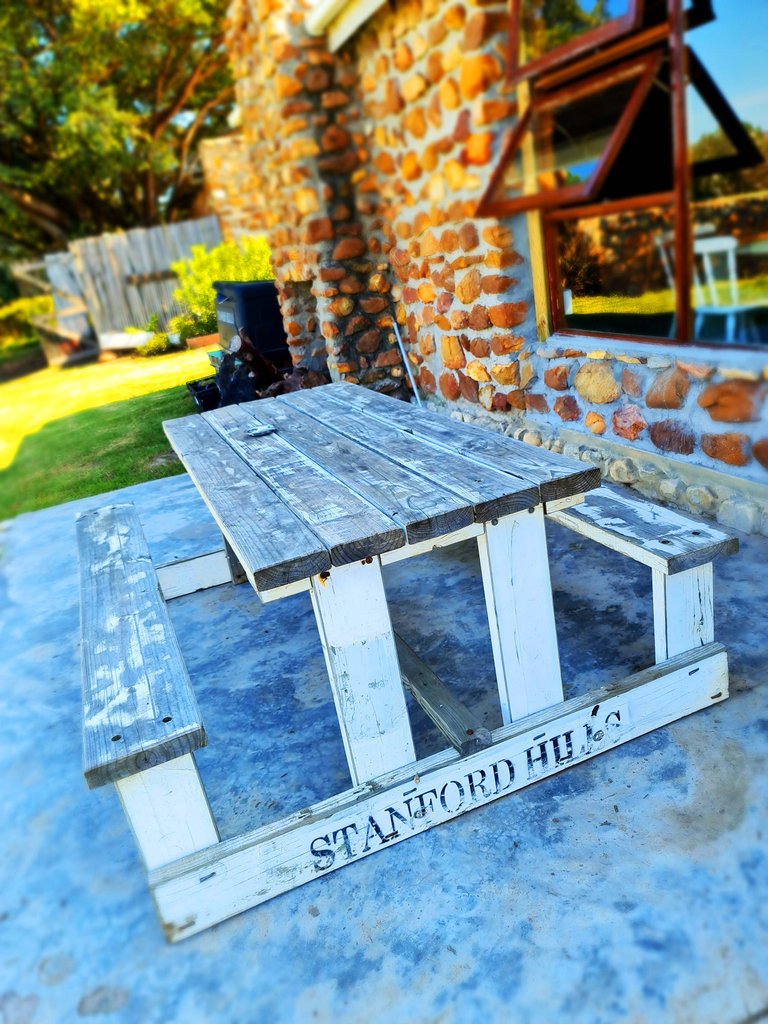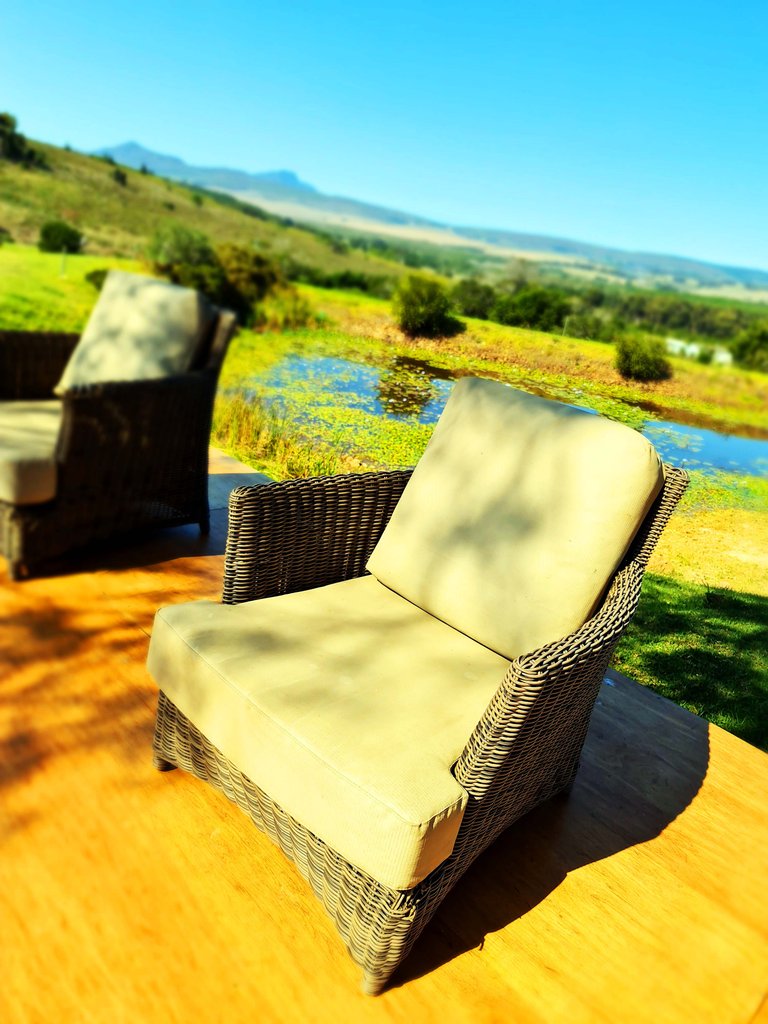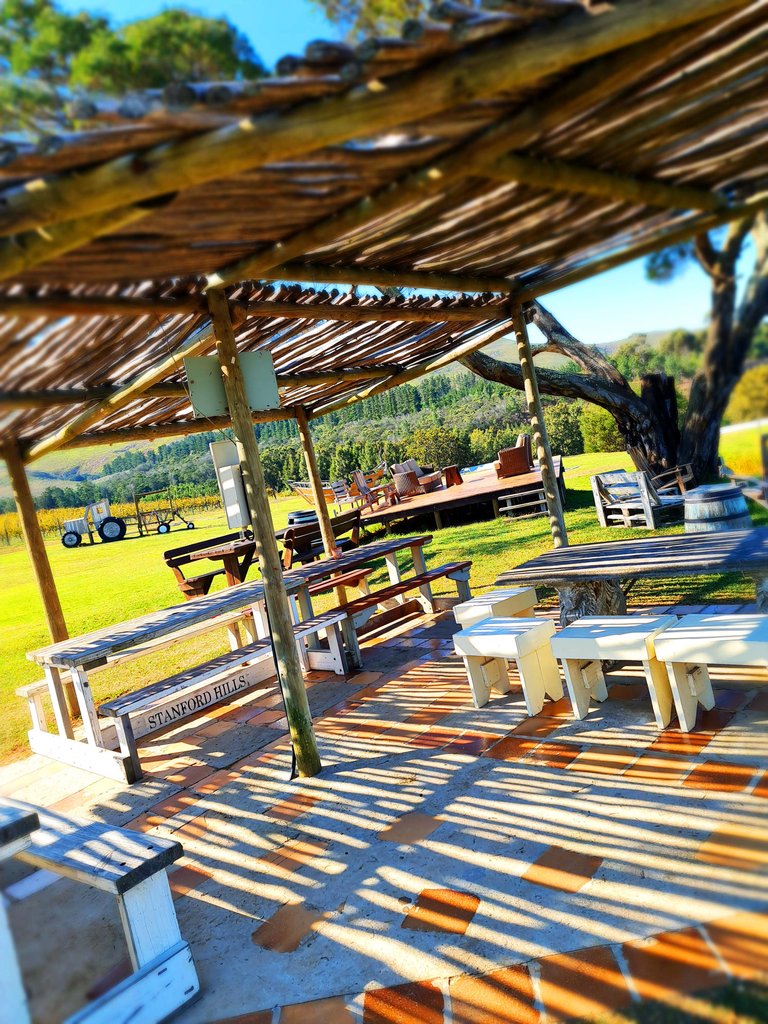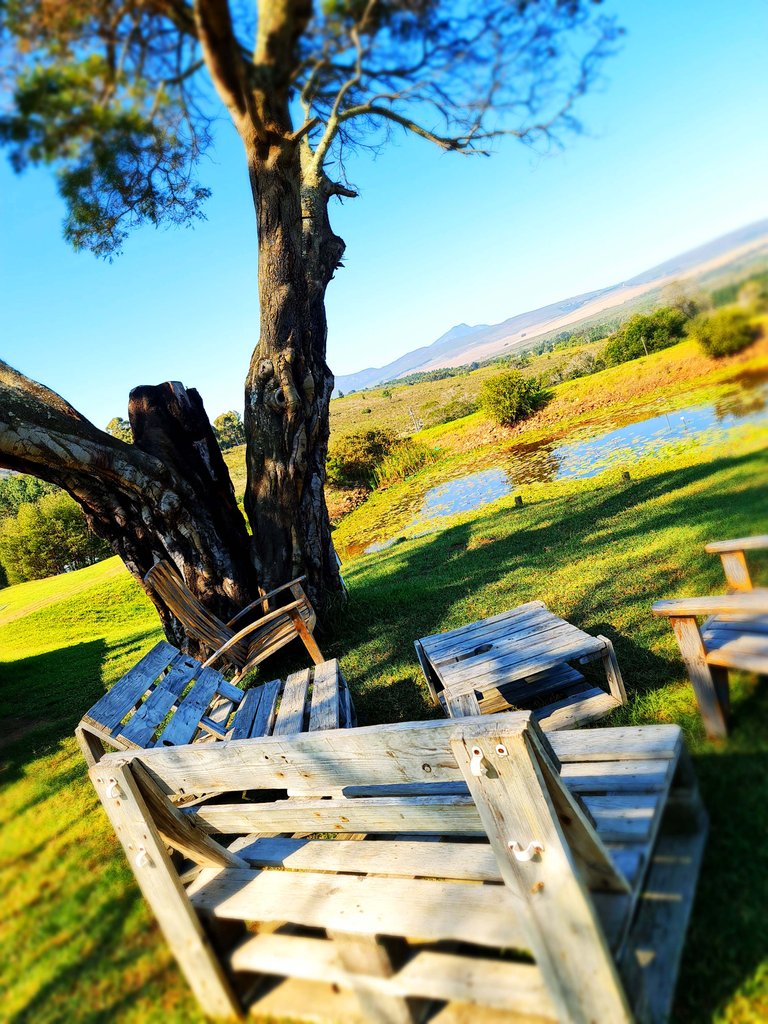 The decor of the place was RIGHT up my alley! I have incredibly eclectic taste in pretty much most things and decor is definitely one of them. I love the way in which they have left everything creatively original - rustic. It is simply fine ;) Even the rest rooms are delightful! My home is, was and always will be a medley of colour and cultural influence, and I REALLY enjoyed what they have done with this space.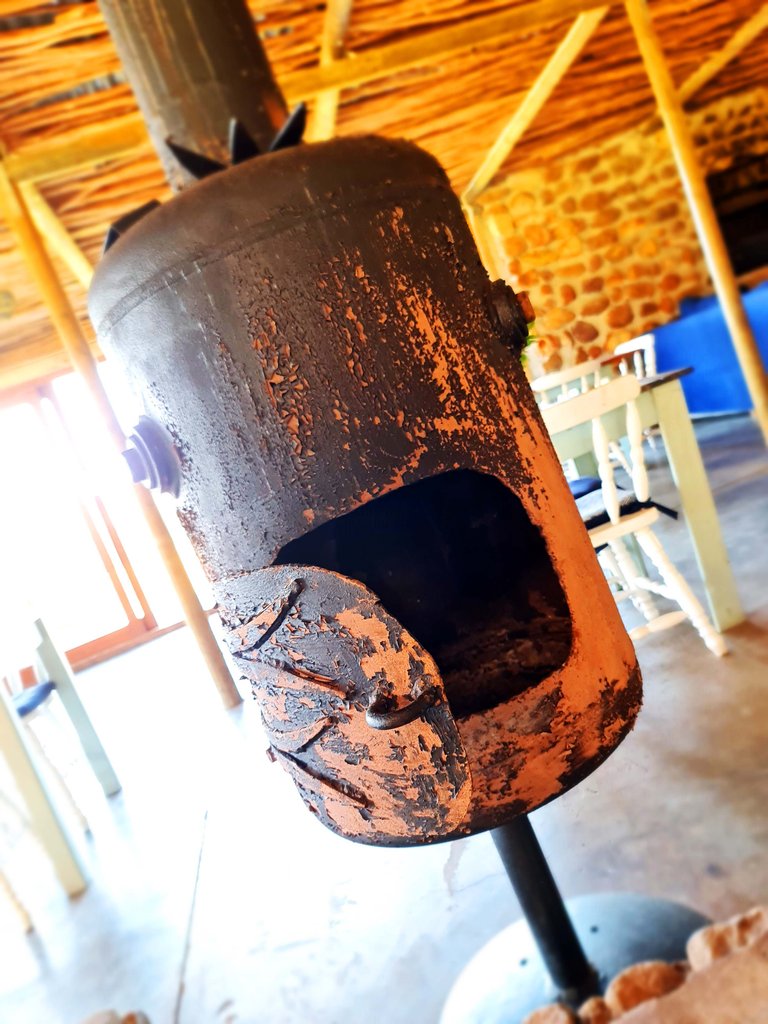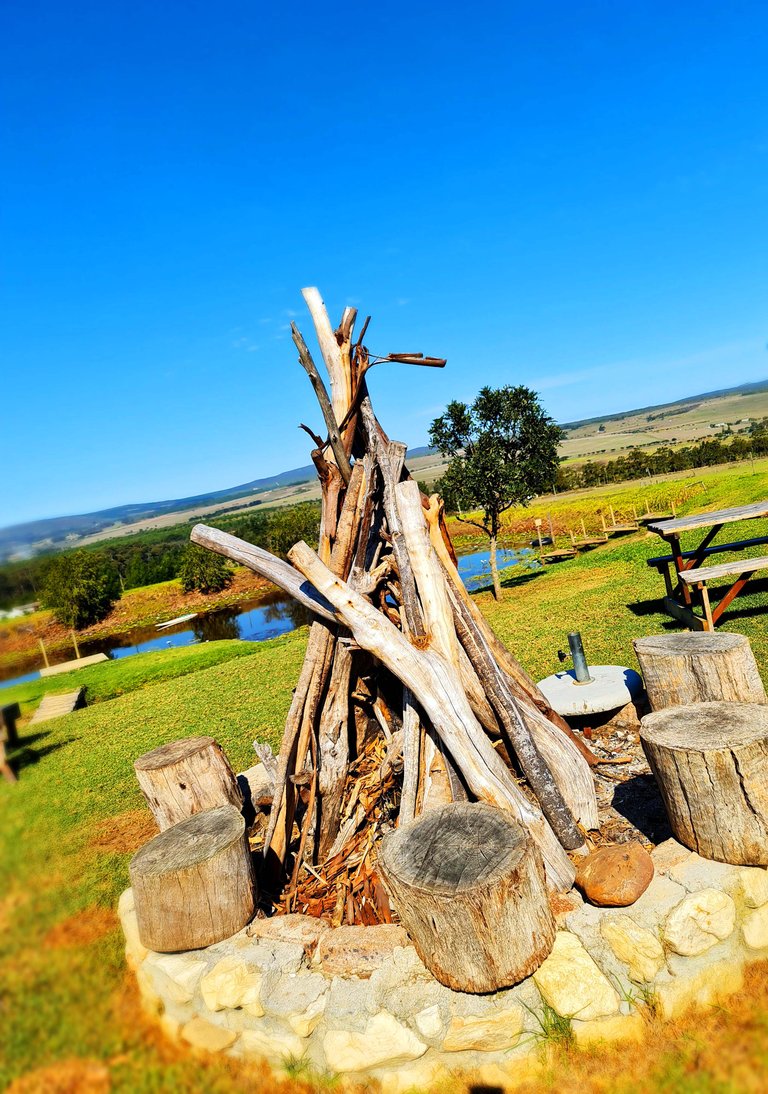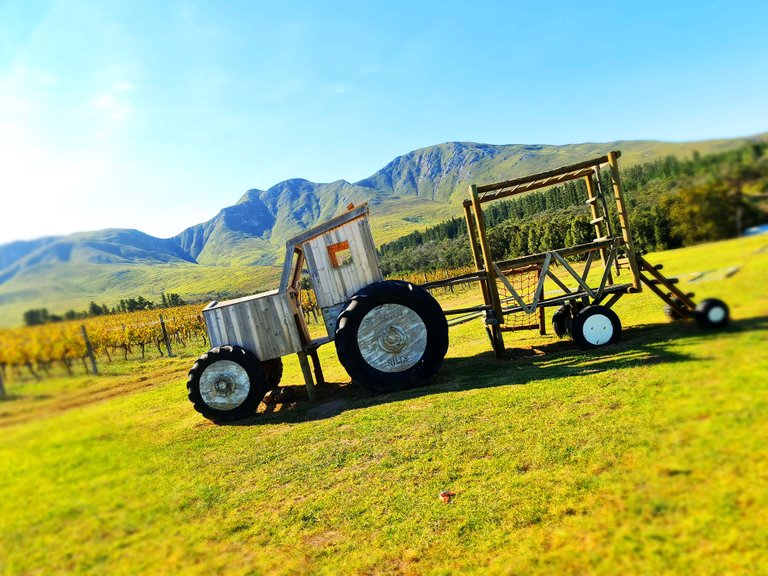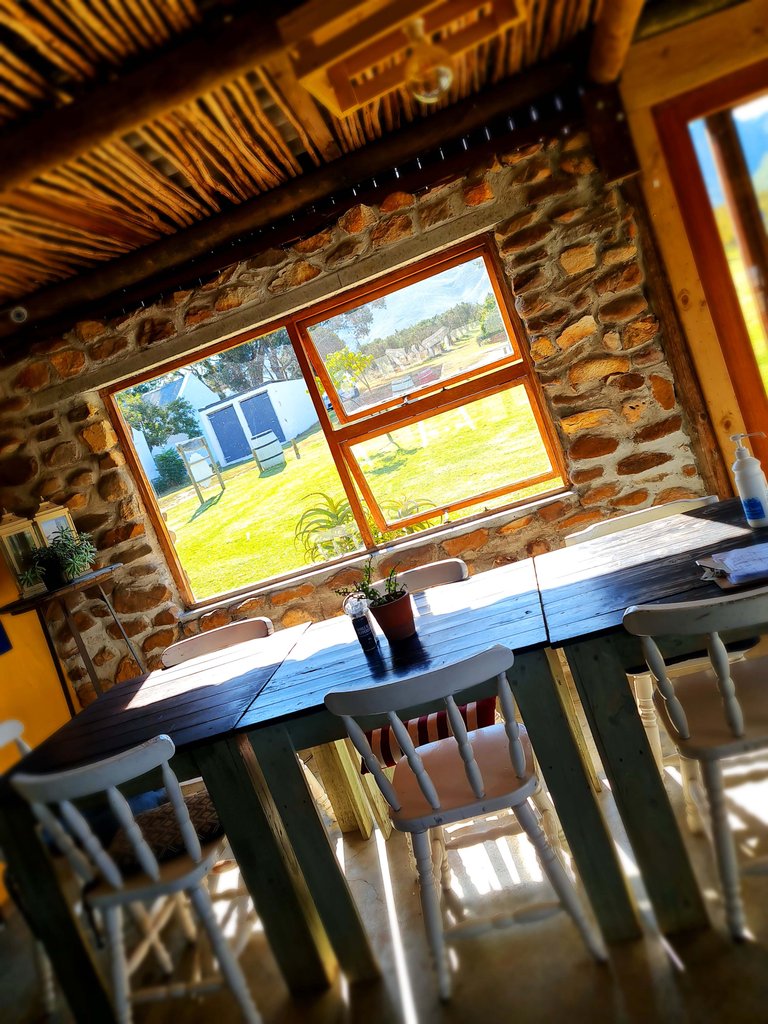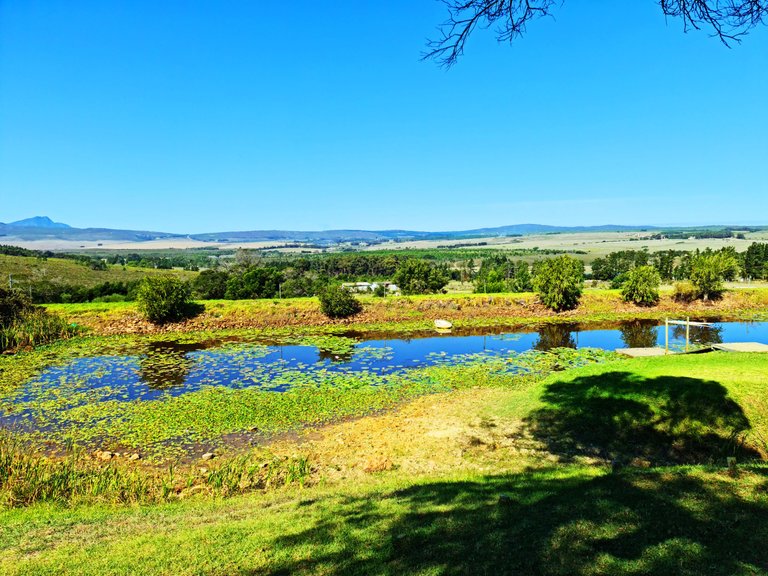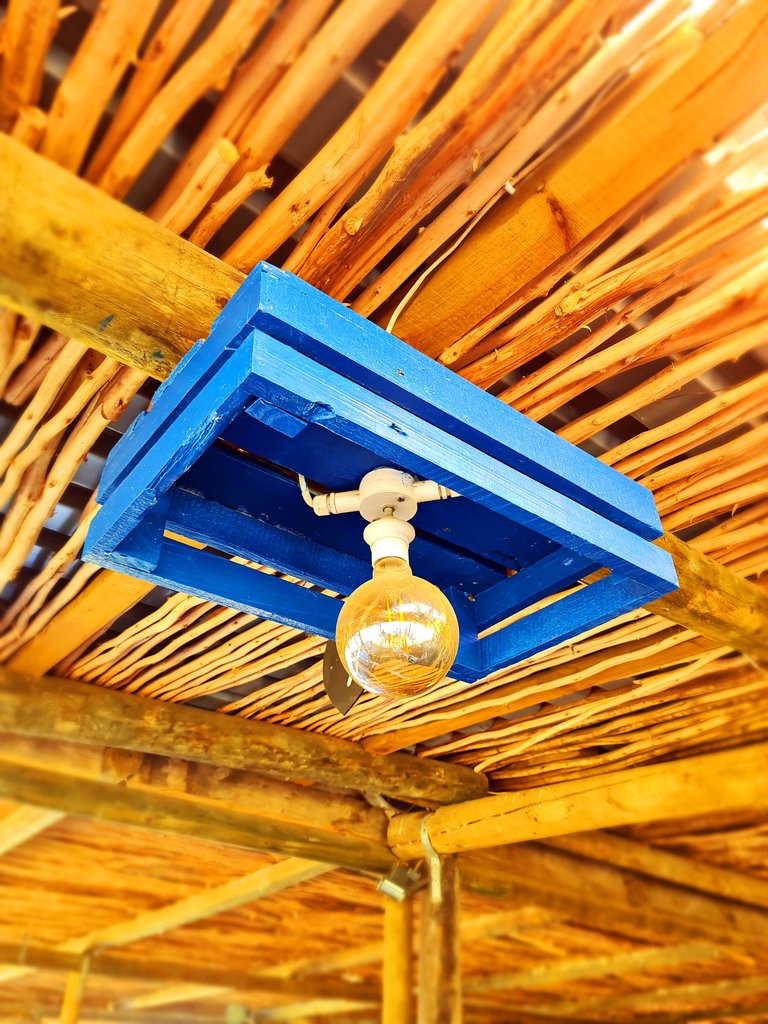 Tine to get to the good stuff - the FOOD! I mean my son was literally on his death bed at this stage, lol! The menu was one of the things I found most interesting and fell in love with the concept!!! I had actually searched them online to see if I could take a look at what was on offer... but you can't! HA! They do not hand out menus at the venue either - they have ONE SINGLE chalk board menu on site, and... it changes DAILY! LOVE IT!!!!
Like I said - DYING CHILD! A cheese burger was ordered practically before my butt hit the chair. I took a little longer to decide. Something I often do, but was NOT actually intending to do today... is, I order two starters instead of a main. Apparently, I am not alone in this preference :)
I was debating between the steak and the battered fish and chips as a main, but I wanted a starter - so ordered the flat bread which was served with three dips - Hummus, Sundried Tomato and Beetroot. It was DIVINE!!!! But being in country bumpkin land, the servings are more often than not overly generous! That serving... was a meal on it's own!!!! There was NO WAY I was going to be able to stomach a MAIN after that... so, I ordered another starter - one which may make certain people curl their toes, but I LOOOOOOOOVE! Spicy Chicken Livers!!!! YUMMM!!!!!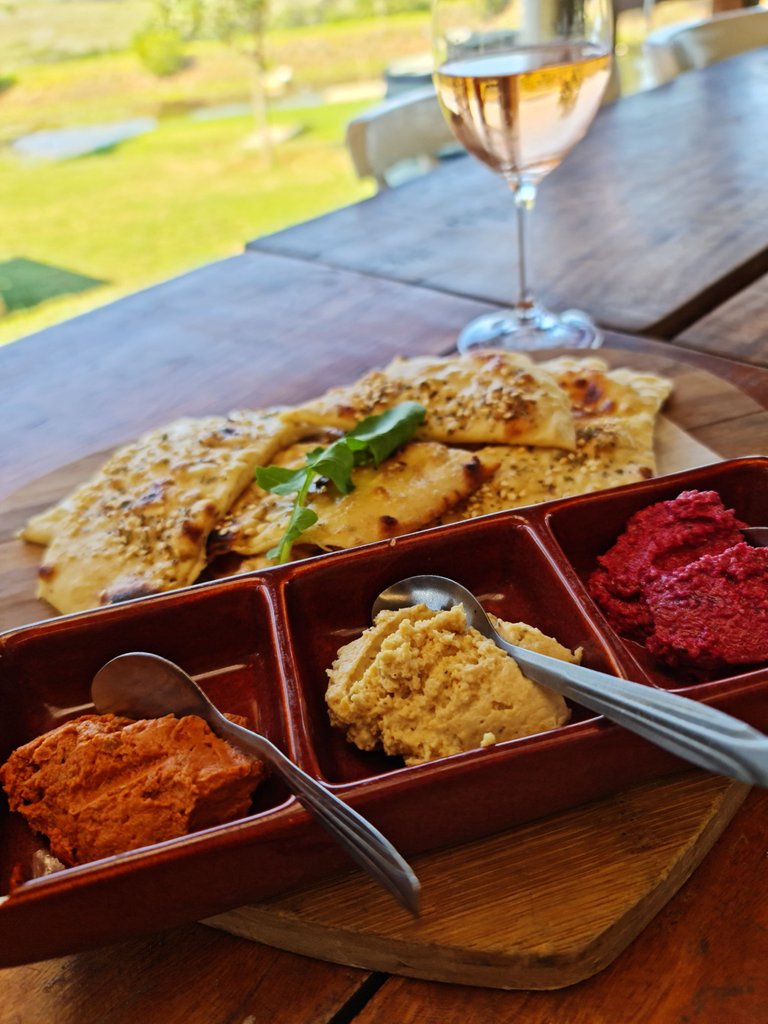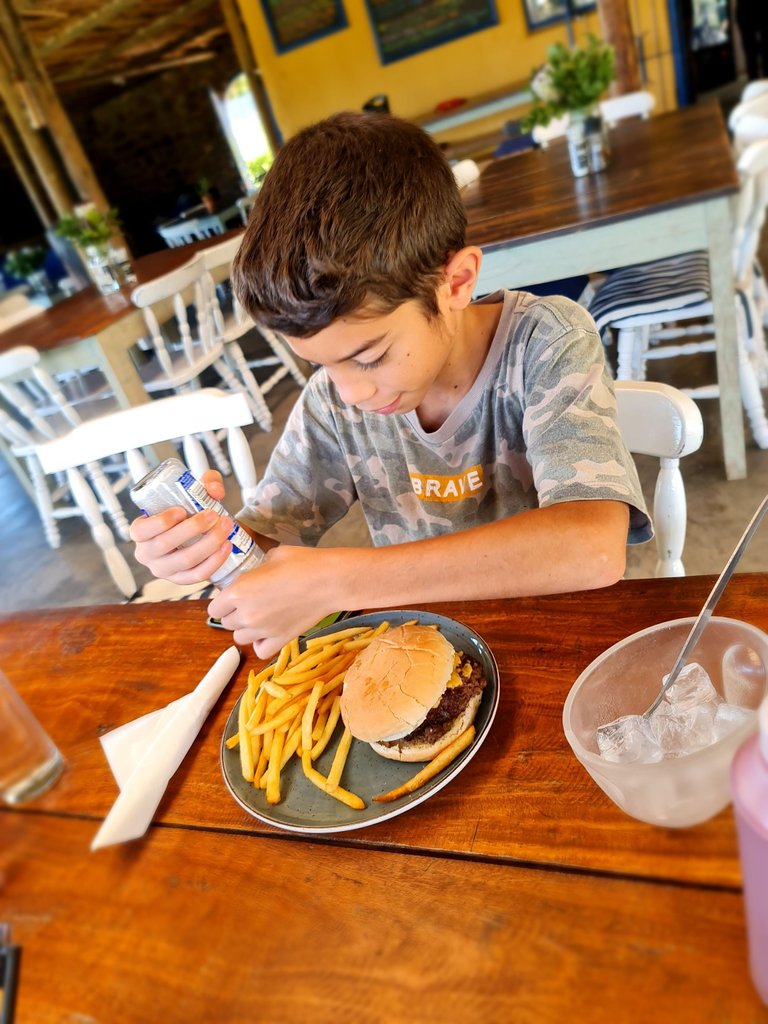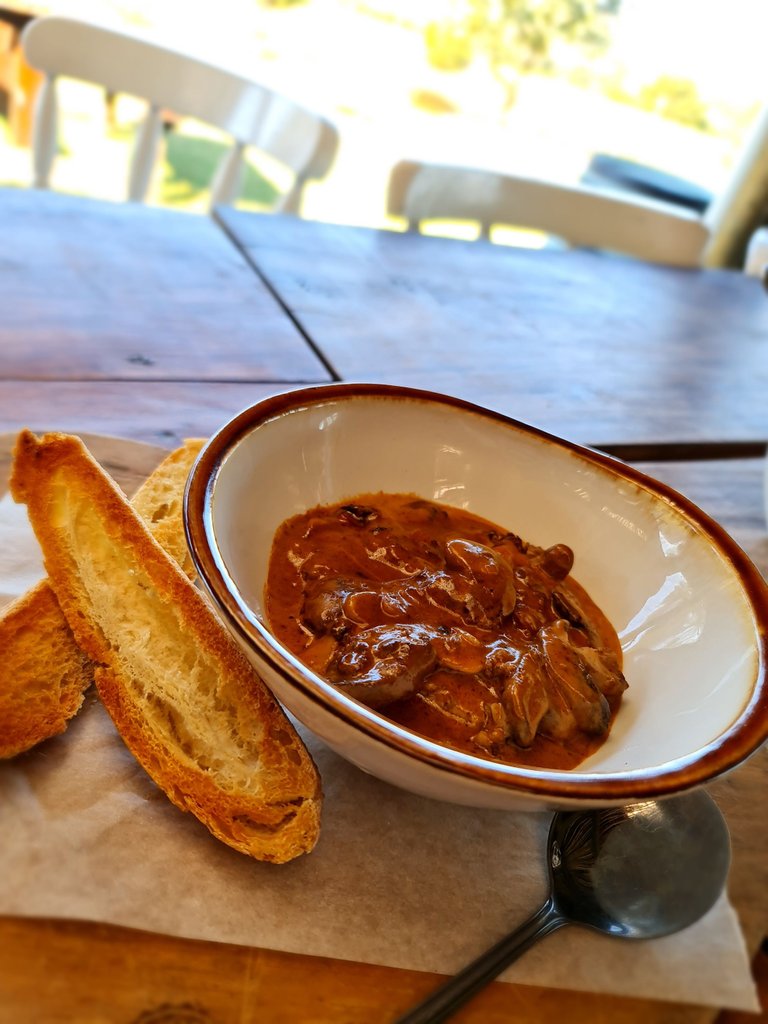 Absolutely EVERYTHING was divine! BUT - and it's a BIG BUT (isn't it always)... they had cheesecake on the dessert menu!!!!! I LOVE cheesecake, but you will get my middle finger if it is baked! Most places get my middle finger, lol - but I was pleasantly surprised...not only was it a FRIDGE CAKE, but a LEMON FRIDGE CAKE... you know, the way it should be!!! :) I just had to!
I was MORE than satisfied! Could have done without the caramel on top, and also requested the chocolate sauce on the side (which would have been poured over) - but it was GOOOOOOOOD! I like a simple lemon fridge cake... but REALLY enjoyed this one. The strawberries were a WINNER!!!! Really broke the ridiculous sweetness of the caramel which I simply don't have the tolerance levels for. I dipped it once into the chocolate sauce, because I will try most things - but NO! Not happening again, lol - To me, that is like... have some sweet with your sweet and here is some sweet on the side too.... nope! Would rather have more chicken livers or flat bread, lol!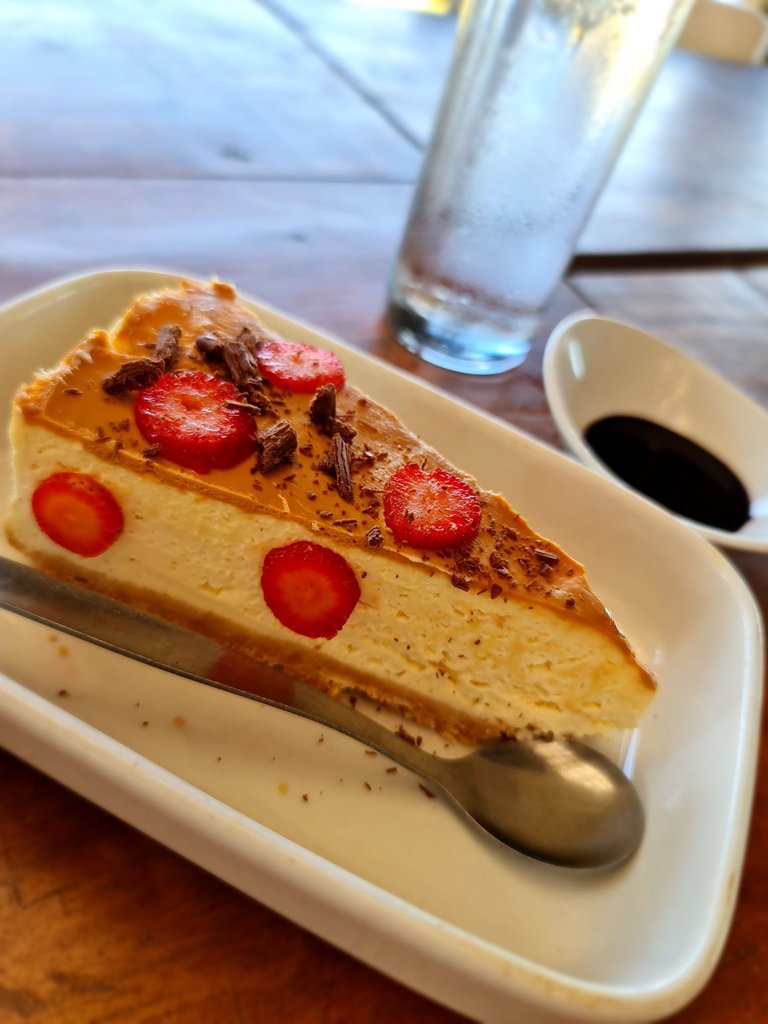 Tummies full, we popped over to the tasting room / shop. The lovely lady that had served us was on her lunch break (the lady on the far right in the pic below). I had actually spent the five minutes prior trying to find her to thank her for her excellent service! She was having a good giggle and convo with her colleague in the tasting room...I did have a glass of wine with my food, and would loved to have done a tasting... perhaps next time!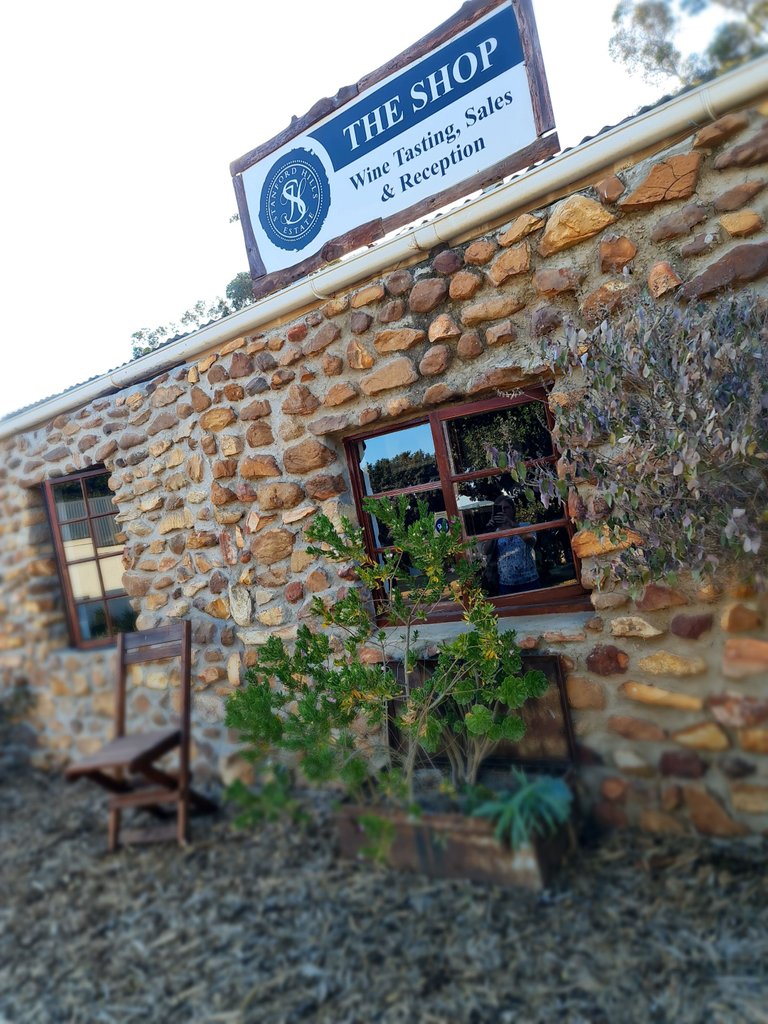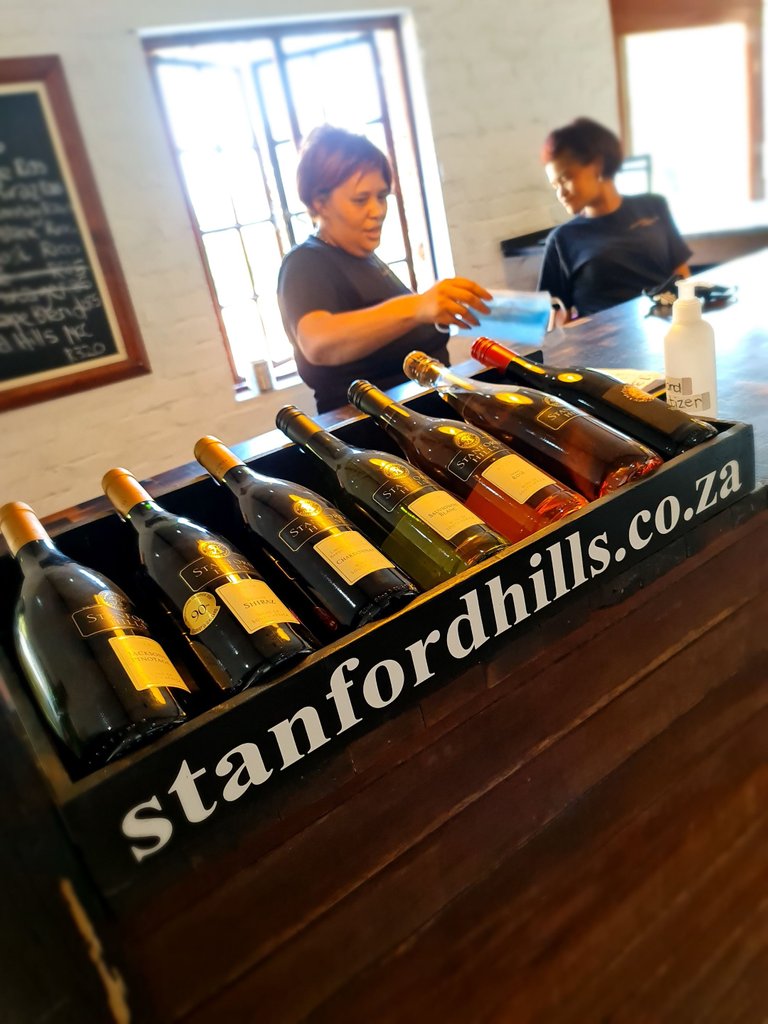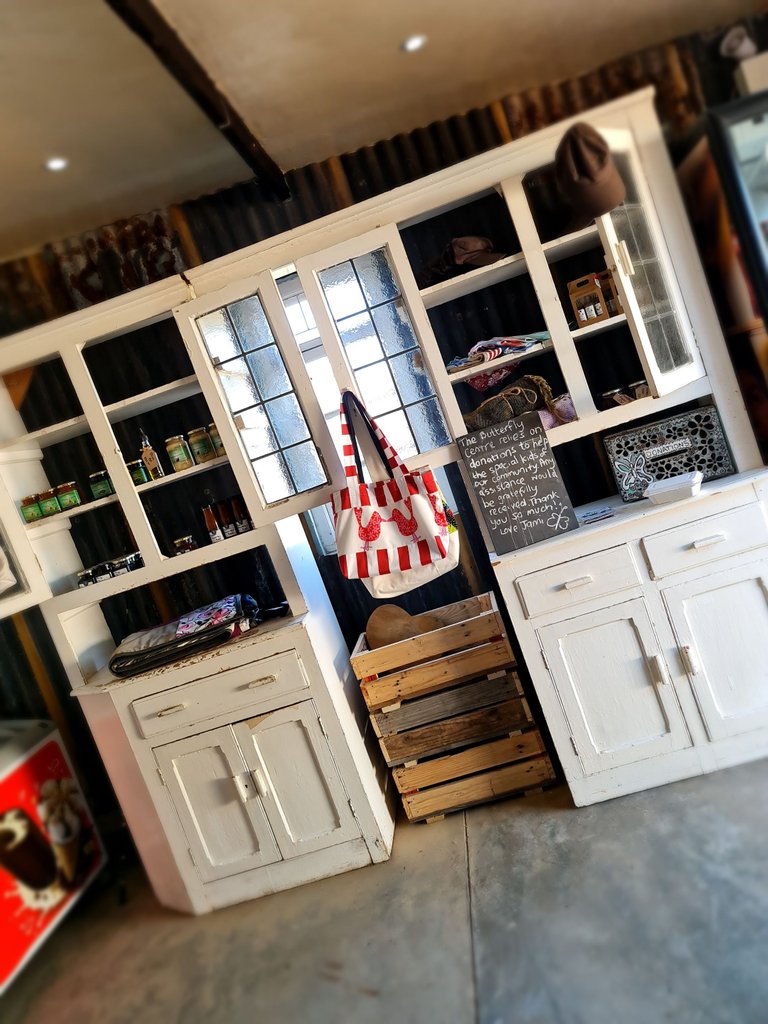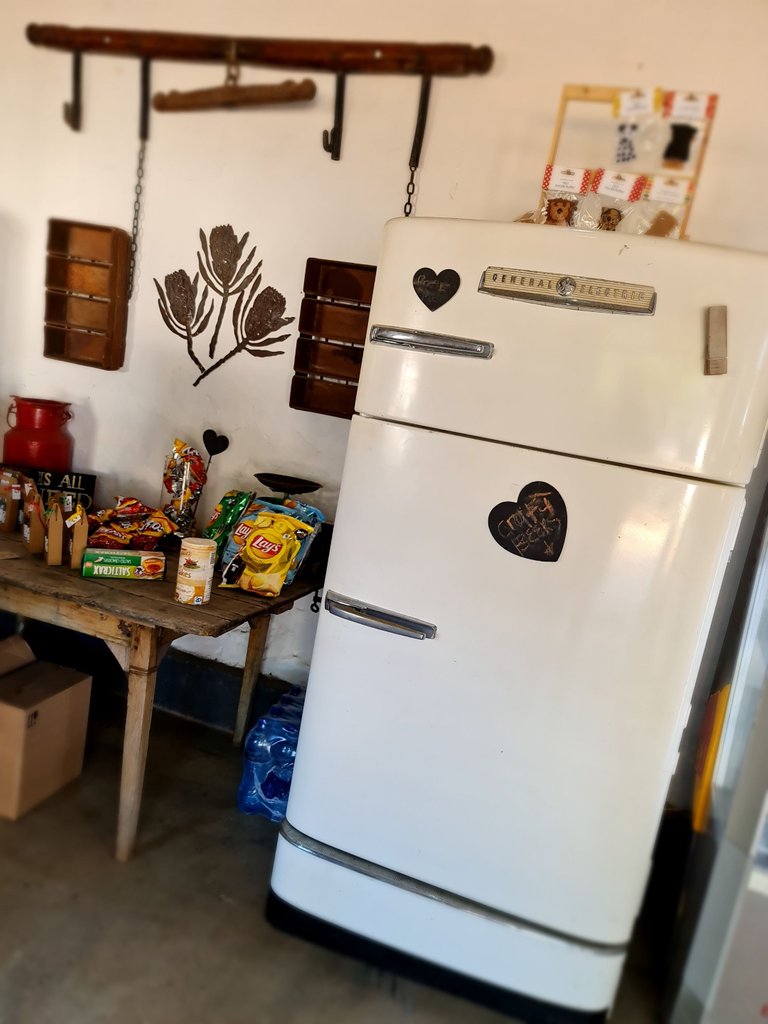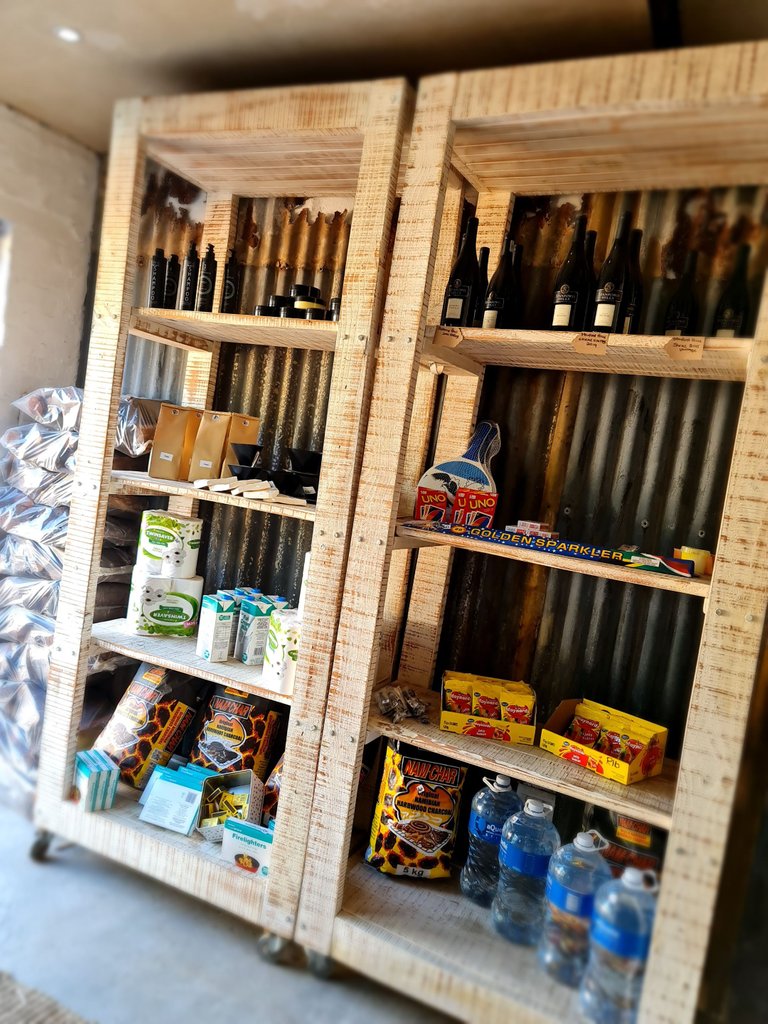 Along the way, we discovered and met some interesting locals. Firstly, let me introduce... Pinot - yes, as in Pinot Noir the wine hehehe - CHEERS to that! He spent a good part of the afternon snoozing and sniffing (aka begging) by our table. Second was Mr. Oinker, lol! He spent most of his time munching on the lilies in the dam. Last, but definitely not least, we spotted a baboon herding a flock of sheep! No doubt, he was blissfully unaware of the flock of sheep which were trailing behind him... but there they were, lol! Jude asked "why are they following him though mom?!" kekekekeke..... I replied "because they are sheep honey" HAHAHAHAHA!!!! I got one of those whatever mom - that was funny but I refuse to admit it looks, LOL!!!! - I love laughing at my own jokes... y'all should try it sometime. Endless entertainment, I promise haha!
The baboon leading the sheep is not the easiest to see, but if you look just below the half way mark of the last pic, at the base of the tree line - toward the right and just left of the tree on the far right, you will see the baboon... to the left of him, his sheeple... hahahaha!!! Ok, I should probably shut up now! :D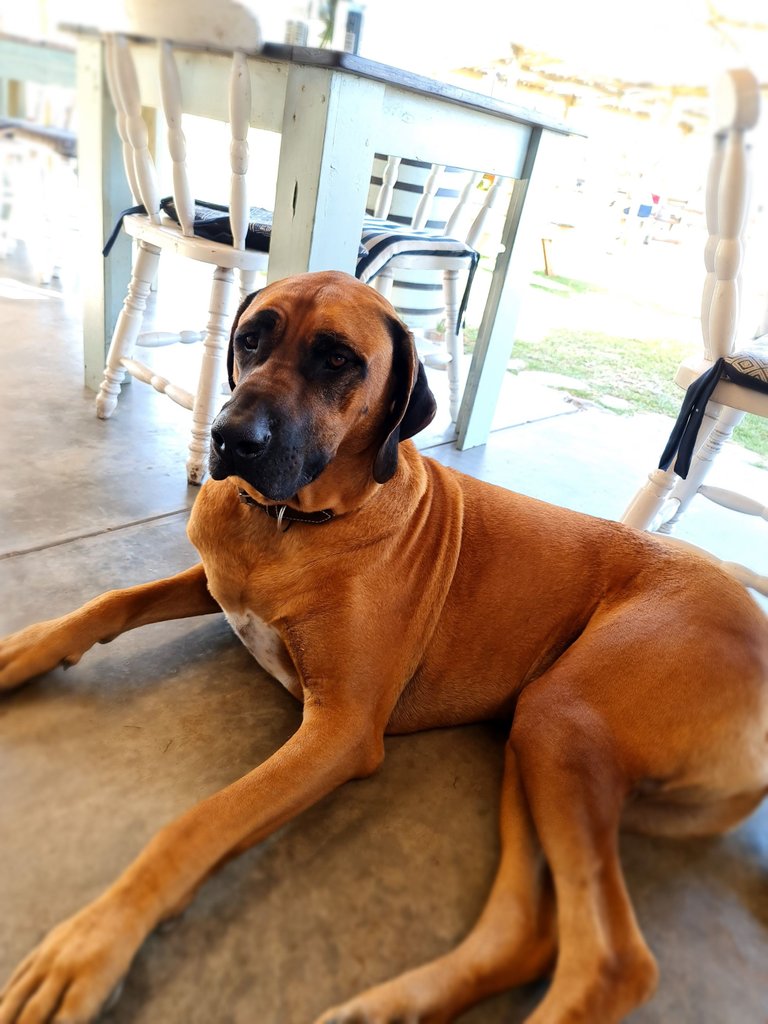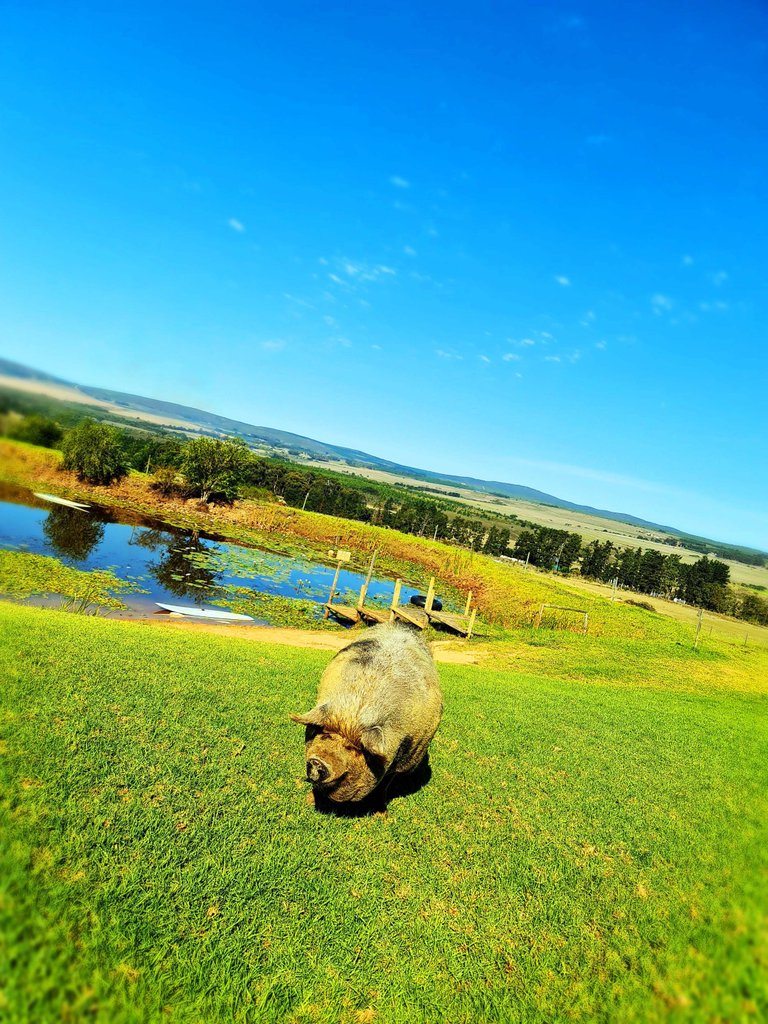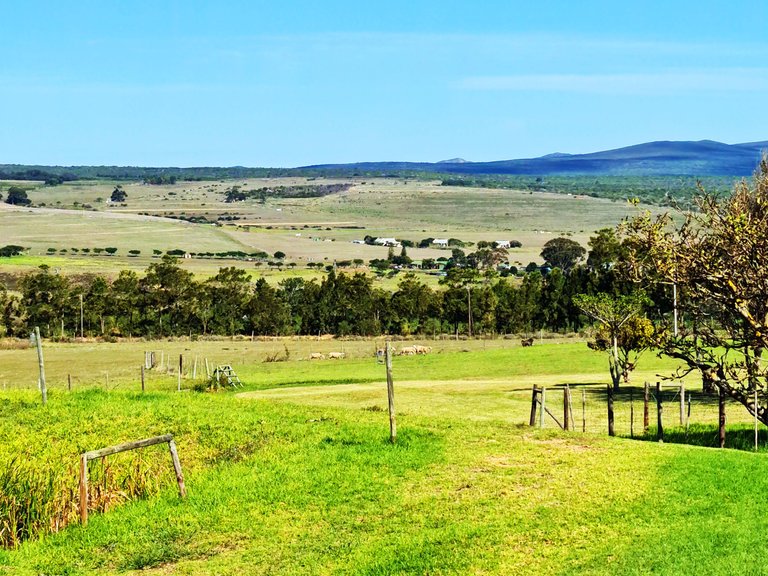 Bad jokes aside... it was a REALLY awesome afternoon! Such a great place and I would definitely like to visit them again. Not only was the food amazing, but they were beyond hospitable. I went into the kitchen just prior to leaving, to go thank and compliment them all - you know, the people behind the scenes that never really get any recognition for what they do. Such a great place! An afternoon which did us good! Would do it again in an instant! Loved every minute!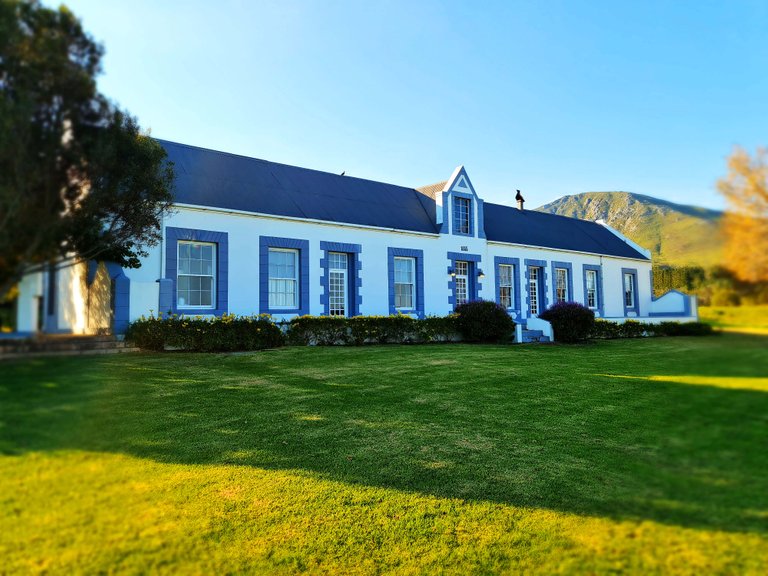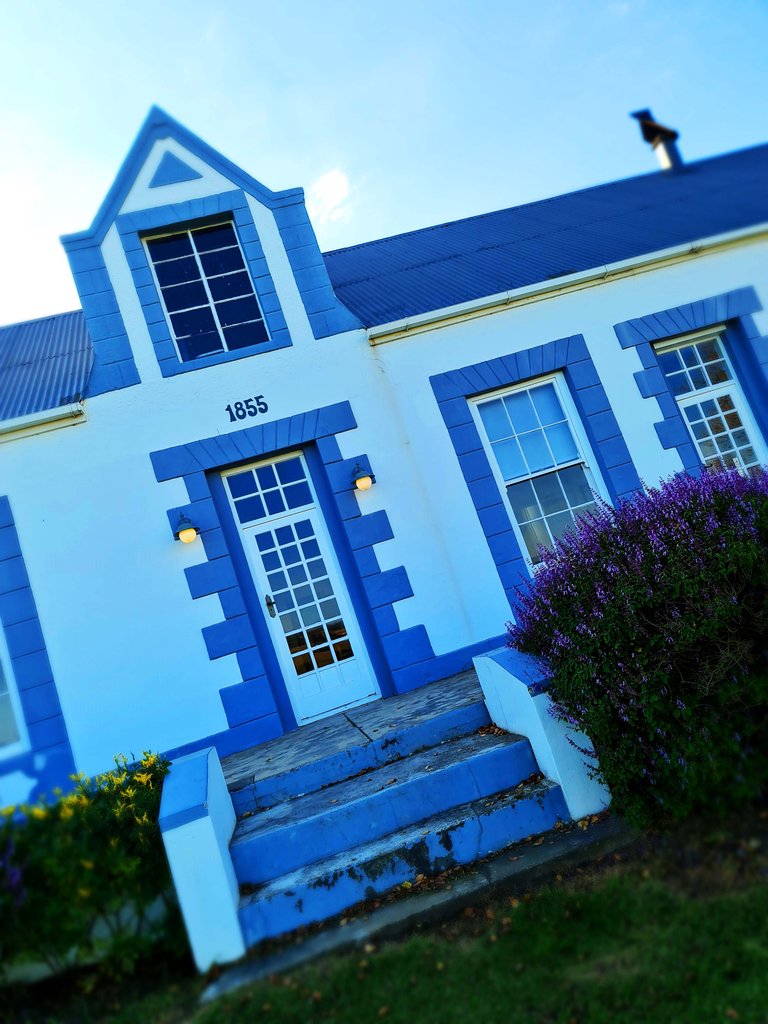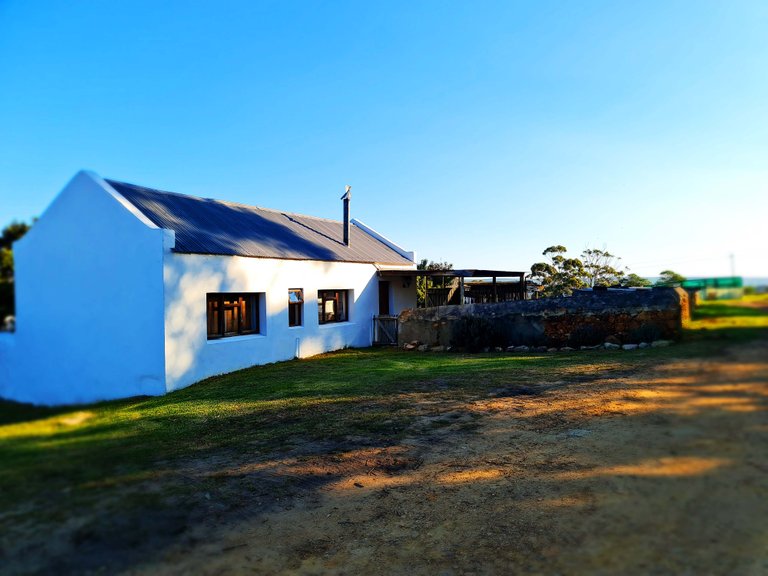 ❤❤❤
Until next time...
Much Love from Cape Town, South Africa xxx
Jaynielea

JOIN US ON DISCORD
SUBSCRIBE TO THE LIFESTYLE LOUNGE COMMUNITY HERE
JOIN US ON TWITTER


ALL IMAGES ARE MY PROPERTY UNLESS OTHERWISE CREDITED