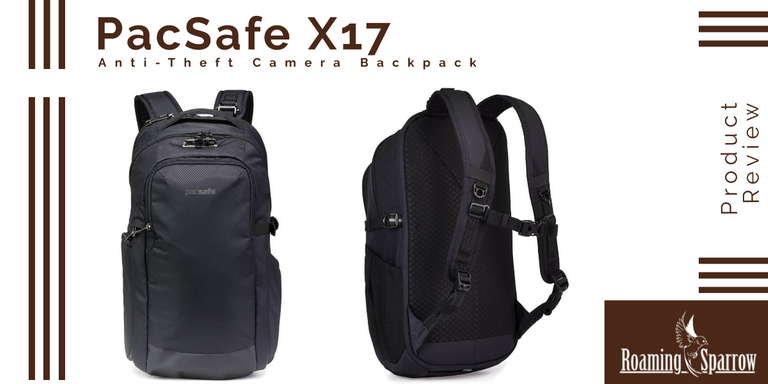 PacSafe X17 Anti-Theft Camera Backpack
Whether you are getting on a metro, driving your car, hitchhiking, or biking, protecting your gear comes first if you are traveling far. You can't have your expensive camera stolen before you get to your destination and capture breath-taking pictures. PacSafe X17 anti-theft camera backpack is an excellent choice for photographers who hit the road often. Its unique features allow you to carry heavy stuff with ease and make sure your gear is safe inside your bag.
---
---
Check the Price on Amazon
---
What are its unique features?
The bag is furnished with hides stainless steel wire mesh to protect your camera from slash and run theft. It offers you extra security with anti-theft technology. There is a central lockdown point for zippers and an additional hole for a small lock. Radio Frequency Identification (RFID) blocking material along 10 MHz-3 Ghz protects your data from electronic theft. A secured buckle with a twist and lock clasp makes it difficult for snatchers and pickpockets to open and snatch your belongings. The shoulder straps are also provided with hidden steel mesh, so it is impossible for thieves to slash off the straps. This backpack is much improved than the previous PackSafe versions.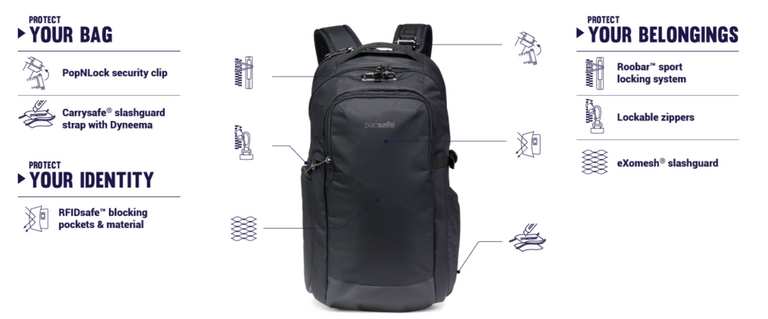 Pros
The bag is designed for security, and it does that very well. The enmeshed body and shoulder straps ensure safety from slash and run thieves. Your data remains locked from RFID sneaking and theft.

Shoulder straps are comfortable and evenly distribute your gear's weight on your body, making it easy to carry. Just swing your equipment at your back and free your hands for other activities as you walk, cycle, or hike.

You can remove or readjust the Velcro cubes to create your own space according to your equipment's size. You can have various compartments or one ample space to fit in all your stuff.

A protective laptop sleeve and smaller pockets for storing a phone, i-pod, credit cards, memory cards, and other accessories give you meticulous arrangement. So, you can carry all your important stuff without the fear of losing or misplacing it.

The material is sturdy with good stitching along the borders. Thick padding protects your equipment from exterior damage.

Seventeen liters of storage ensures sufficient space to fit in your camera and extra lenses.
Cons
The backpack is great for a day out. But if you are looking for something more spacious to hold other stuff like clothes and snacks beside your camera, this bag may not be for you. You can't fit in your laptop and charger or the tripod.

Secured buckle and extra zippers maybe a little too much hassle while opening your bag, especially when you are in a hurry.

The inside padding is thick but a little stiff. You will need some effort to pull your gear in and out.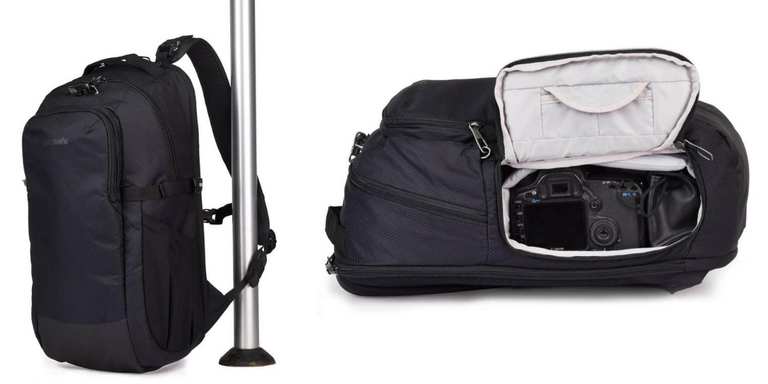 Conclusion
Overall, PacSafe CanmSafe X17 anti-theft camera backpack is an excellent product with lots of positive reviews from users. Your gear remains secure inside your bag as you travel with ease. If you need something for lightweight travel, this product will suit your needs with enough space for the bare essentials.
---
---
Check the Price on Amazon
---
Full article posted on my blog at:
https://roamingsparrow.com/product/pacsafe-x17-anti-theft-camera-backpack/
---
Disclaimer:
As an Amazon Associate I earn from qualifying purchases. Certain other links on this post might earn me a commission if a product/service is purchased.
---
---
---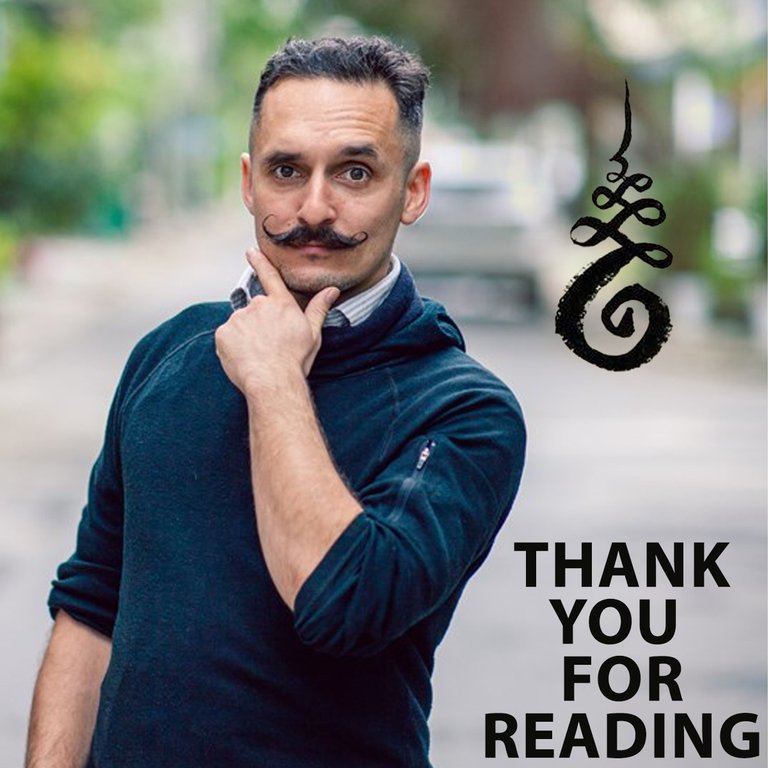 ---

---
Help Support Ongoing Content
| | |
| --- | --- |
| Bitcoin (BTC) | 18zopjg9Y2VA1ouCqCZapN3UzdpK3UnMdm |
| Ethereum (ETH) | 0x849C33abCb753540fD0D6cDd25df05BC20a1254E |
| litecoin (LTC) | LdWUz5haDfkn4D1fxmte8nJePEGjJv6Lqh |
| Bitcoin Cash (BCH) | 1DRRtY3j5xzx6Dn9ofQgoosXdqGVsYYNcU |
| Helix (HLIX) | HPnubkb9FBtSZKPjRvqD166BX4vPK3GtAz |

Thanks for reading my post, you inspire me to keep posting!
Thank you for your support!