I have always liked to travel and see other places in the world and other cultures and I think that many people like to travel and thinking that time flies by without stopping, one more reason to know the world. With little or a lot there will always be an inexpensive place for all budgets and with what you have it is worth daring to travel and thus you can tell your adventures that will remain engraved in your mind forever although you never imagined that you would live them.
Siempre me ha gustado viajar y conocer otros lugares del mundo y otras culturas y creo que a mucha gente le gusta viajar y pensando que el tiempo pasa volando sin detenerse, una razón más para conocer el mundo. Con poco o mucho siempre habrá para todos los bolsillos un lugar económico y vale la pena con lo que uno dispone animarse a viajar y así puede contar sus aventuras que le quedarán grabadas para siempre aunque nunca imaginó que iba a vivirlas.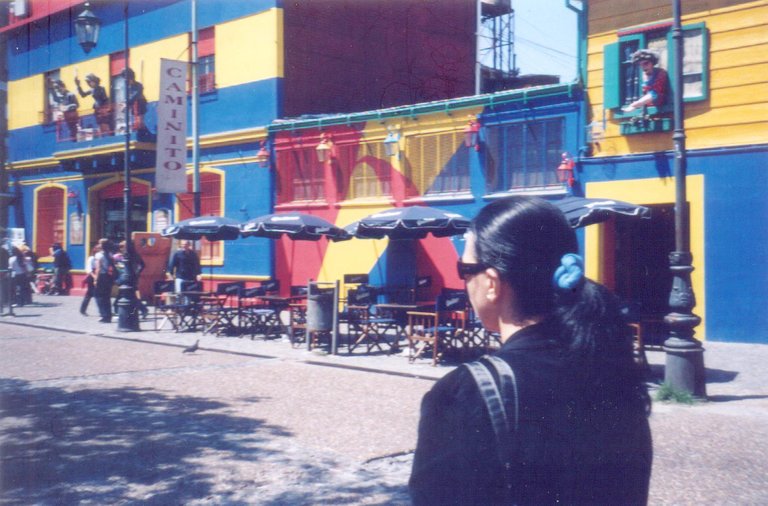 My daughter and I decided to travel to Argentina, I had long dreamed of knowing Buenos Aires, so one day we bought the tickets, it was early October and preparing suitcases and traveling spirit, we went with a taxi to the Maiquetía airport, in Venezuela. It was two hours of travel because we came from the interior of the country. Arriving at the destination, we unloaded the suitcases from the taxi and went in to wait until the flight time.
Mi hija y yo decidimos viajar a Argentina, yo desde hace mucho soñaba con conocer Buenos Aires, entonces un día compramos los pasajes, era principios de octubre y preparando maletas y espíritu viajero, nos fuimos con un taxi al aeropuerto de Maiquetía, en Venezuela. Eran dos horas de viaje porque veníamos del interior del país. Llegando al destino, bajamos las maletas del taxi y entramos a esperar hasta la hora del vuelo.
We traveled at night and arrived in Buenos Aires in the morning. The ride was good except for some turbulence. We had the accommodation booked and the taxi took us to the Metro hotel, in a central area of the city, they welcomed us very well and guided us to our room. It was big and comfortable and with a good view, we rested and after a shower we changed our clothes to a more comfortable one for walking. We went to have breakfast near the hotel because breakfast was included, they gave us a ticket every morning, in that cafeteria they served us coffee with milk, juice, croissant, which in Argentina they call "facturas" or half moons, in short, very good breakfast and the service. We left and from there our adventure through the city begins.
Viajamos de noche y llegamos en la mañana a Buenos Aires. El viaje fue bueno a excepción de algunas turbulencias. Teníamos el hospedaje reservado y el taxi nos llevó al hotel Metro, en una zona céntrica de la ciudad, nos recibieron muy bien y nos guiaron a nuestra habitación. Era grande y cómoda y con buena vista, descansamos y después de una ducha cambiamos de ropa a una más cómoda para caminar. Fuimos a desayunar algo cerca del hotel porque el desayuno estaba incluido, nos daban un ticket cada mañana, en esa cafetería nos sirvieron café con leche, jugo, croissant, que en Argentina llaman "facturas" o media lunas, en fin, muy bueno el desayuno y el servicio. Nos fuimos y a partir de ahí empieza nuestra aventura por la ciudad.
Photo: The view from the hotel balcony / Foto: La vista desde el balcón del hotel
My daughter had downloaded the information online for each place we were going to visit. Walking through the city we stopped at a shopping center that had clothes, shoes and other things and we spent a long time there watching. Then we passed through pretty squares and European-style cafes surrounded by tall trees that made it a pleasure to sit and have a coffee. Later we went to a craft fair and they had all kinds of fabrics, very nice jewelry, by the way we bought some and other little things, I even saw a man weaving scarves on a loom and he gave me the impression that Argentine women really like crafts.
Mi hija había bajado antes por Internet la información de cada lugar que íbamos a conocer. Caminando por la ciudad nos paramos en un centro comercial de ropa, zapatos y otras cosas y duramos un largo rato ahí viendo. Después pasamos por plazas bonitas y cafeterías al estilo europeo rodeadas de árboles altos que daba placer sentarse y tomar un café. Fuimos después a una feria artesanal y tenían todo tipo de tejidos, bisutería muy agradable, por cierto compramos unas y otras cositas, yo hasta vi a un hombre tejiendo en telar bufandas y me dio la impresión de que a las argentinas les gustan mucho las manualidades.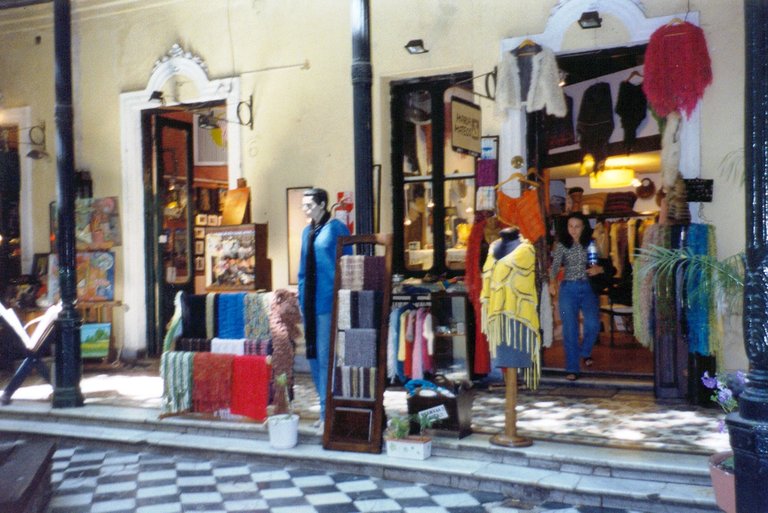 Walking we went to the Museum of Fine Arts, we saw pictures of modern art and leaving the museum we continued through the city full of shops, kiosks and many people walking. They were all skinny, there were very few chubby. And I was impressed by the amount of cigarette butts on the streets, I saw that they smoke a lot. We also saw buskers from various parts of the world.
Caminando fuimos al Museo de Bellas Artes, vimos cuadros de arte moderno y saliendo del museo seguimos por la ciudad llena de tiendas, kioscos y muchísima gente caminando. Todos eran flacos, escasos gorditos. Y me impresionó la cantidad de colillas de cigarros en las calles, vi que ellos fuman mucho. También vimos músicos callejeros de varias partes del mundo.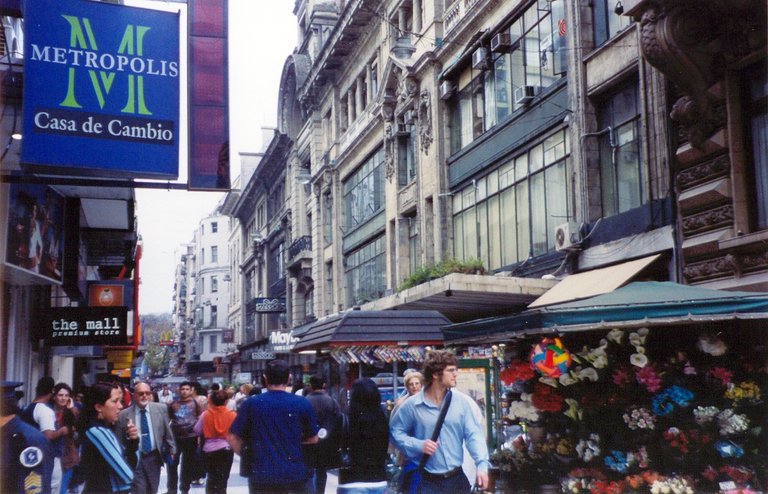 Photo: Florida street / Foto: calle Florida
At lunchtime we stopped to eat at a restaurant to recharge our batteries because the walk was really exhausting. We ate tasty and from there we went to a little square to rest and take pictures of the place. We continue our route and enter the largest bookstore, there we last until late, leafing through different interesting books. Then we went to a supermarket to buy something for dinner because it was almost dark.
A la hora de almorzar nos paramos a comer en un restaurante para reponer las energías porque la caminata de verdad era agotadora. Comimos sabroso y de ahí fuimos a una placita a descansar y sacar fotos del lugar. Seguimos nuestra ruta y entramos en la más grande librería, ahí si que duramos hasta tarde, hojeando distintos libros interesantes. Luego fuimos a un supermercado a comprar algo para cenar porque era casi de noche.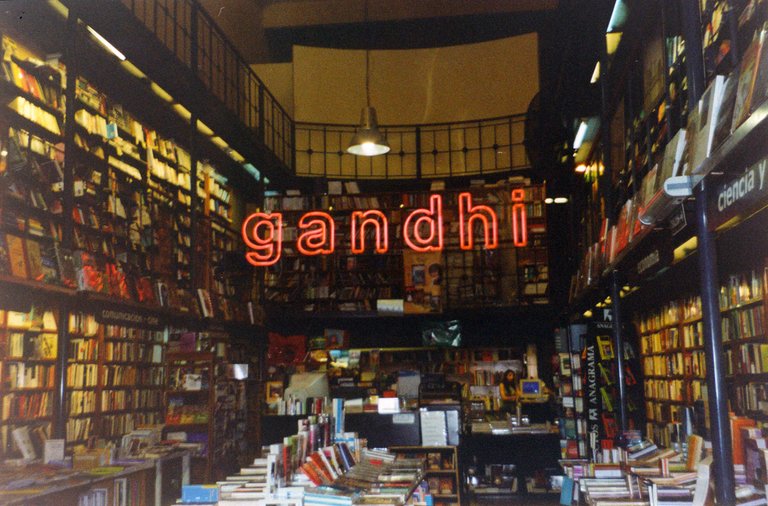 Photo: Gandhi bookstore / Foto: Librería Ghandi
The city seemed safe to us, so far everything was going well and we finally arrived at the hotel exhausted and I couldn't stand my feet, the hotel manager told us: "don't tell me you were walking on the street all day long" we laughed saying to her so it was, a long marathon. We entered the room and after a shower, we had dinner and we rested, until sleep and fatigue won us over and of course, to sleep and thanking God for allowing us to have a wonderful day despite our fatigue.
La ciudad nos pareció segura, hasta ahora todo iba bien y por fin llegamos al hotel agotadas y yo que no aguantaba los pies, la encargada del hotel nos dice: "no me digan que todo el santo día andaban en la calle" nos reímos diciéndole que así fue, un largo maratón. Entramos a la habitación y después de una ducha, cenamos y descansamos, hasta que el sueño y el cansancio nos ganaron y claro, a dormir y agradeciendo a Dios por permitirnos pasar un día maravilloso a pesar del cansancio.
The second day dawned sunny and windy, in Buenos Aires it is always quite pleasant. We went to the same place for breakfast because of the good service and from there we continued to see the galleries. It was a long way but these huge galleries had everything about antiquity, clocks, plates, pictures and many things of value and looking and looking we spent a long time there and then we went to the Museum of Natural Sciences, we saw a huge dinosaur skeleton and other things that were on display.
El segundo día amaneció soleado y con viento, en Buenos Aires siempre ventea bastante agradable. Fuimos al mismo sitio a desayunar por el buen servicio y de ahí seguimos a ver las galerías. Fue largo el camino pero estas galerías enormes tenían todo lo que de antigüedad se refiere, relojes, platos, cuadros y muchas cosas de valor y mirando y mirando duramos largo rato ahí y luego fimos al Museo de Ciencias Naturales, vimos un enorme esqueleto de dinosaurio y otras cosas que estaban en exhibición.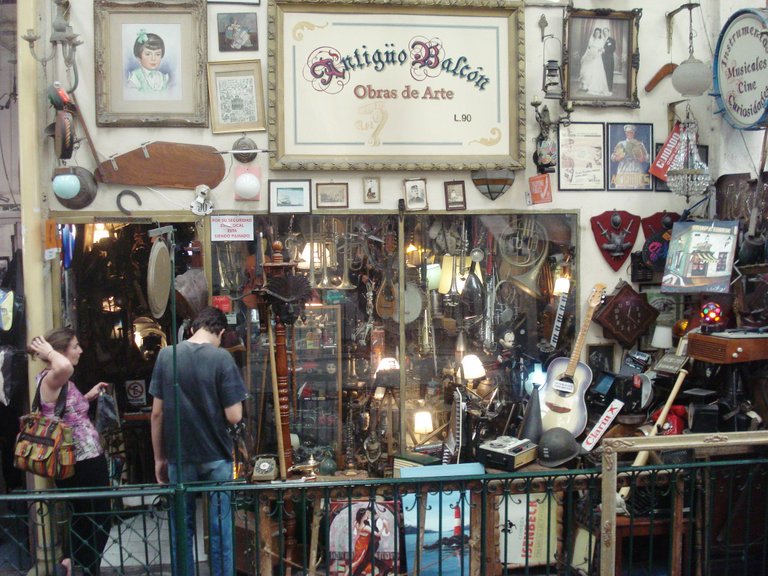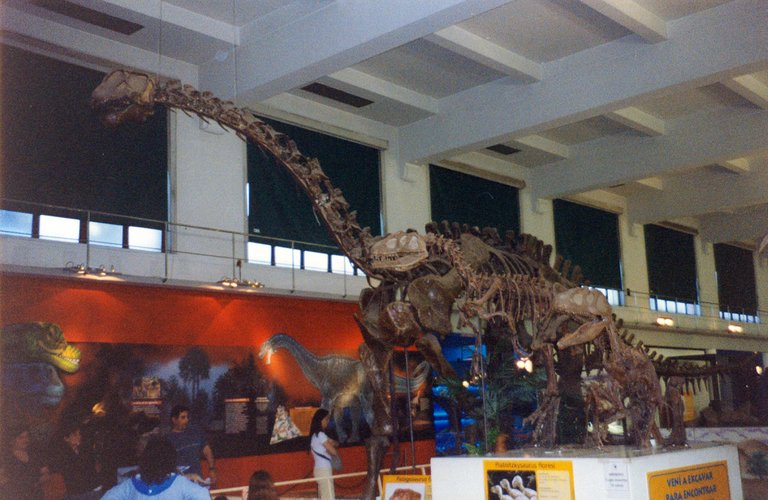 We then walked along Avenida 9 de Julio and saw the striking Obelisk and the widest avenue in Latin America. To cross it you have to have four eyes because of how dangerous it is. We continue to see beautiful squares and stop at one to have something to eat and also to take a break. It was time to continue knowing and we went to the Zoo, bought the tickets and entered. What a spectacular place! I have no words for the amount of beautiful animals, huge space, a large lagoon with swimming ducklings, I kept looking and looking at so much beauty in front of us.
Caminamos luego por la Avenida 9 de Julio y vimos el llamativo Obelisco y la avenida más ancha de Latinoamérica que para cruzarla hay que tener cuatro ojos por lo peligrosa que es. Continuamos viendo bonitas plazas y nos paramos en una para almorzar algo y también para tomar un descanso. Ya era hora de seguir conociendo y nos fuimos al Zoológico, compramos las entradas y entramos. ¡Que lugar tan espectacular! No tengo palabras de la cantidad de bellos animales, enorme espacio, una laguna grande con patitos nadando, yo me quedé mirando y mirando por tanta belleza frente a nosotras.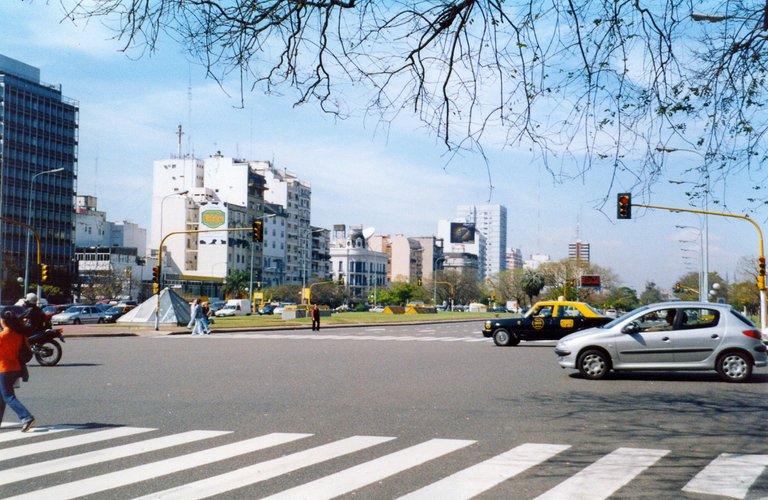 Photo: Avenue July 9 / Foto: Avenida 9 de Julio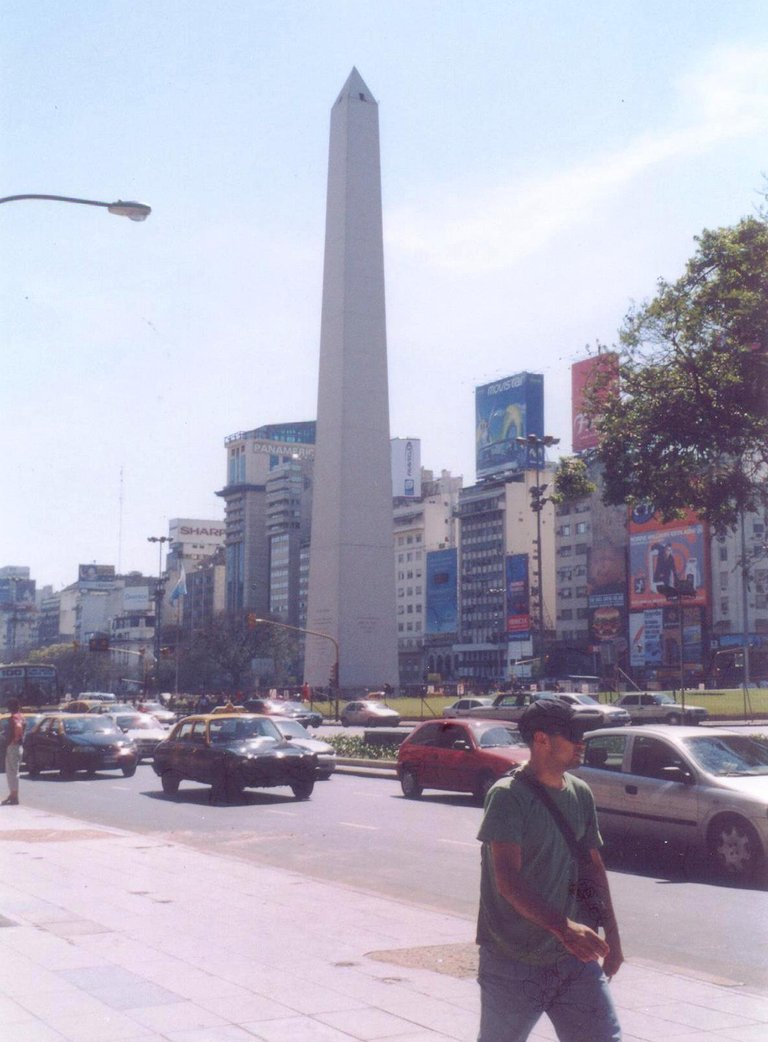 We saw a beautiful peacock, some huge bison, llamas, camels, rhinos with an innocent face but that gave chills by their large size, black swans with red beaks and their cute and funny babies swimming, ponies, lions and many more, and some monkeys that I was stuck watching for a long time the funny antics they did and my daughter telling me, "But mom, we have to continue, you are going to stay all day watching the monkeys." Well, yes, you think those little monkeys want to say something to you, looking deeply at you, then we saw creepy snakes, sheep, goats, I would stay all day but we had to continue on our way.
Vimos un bello pavo real, unos enormes bisontes, llamas, camellos, rinocerontes con una carita inocente pero que daban escalofríos por su gran tamaño, cisnes negros con el pico rojo y con sus lindas y graciosas crías nadando, ponis, leones y muchos más y unos monos que me quedé pegada viendo un buen rato las travesuras chistosas que hacían y mi hija diciéndome, "pero mamá, tenemos que seguir, te vas a quedar todo el día viendo los monos". Pues sí, uno cree que le quieren decir algo esos monitos mirándote profundamente, después vimos escalofriantes serpientes, ovejas, chivos, me quedaría todo el día pero había que seguir nuestro camino.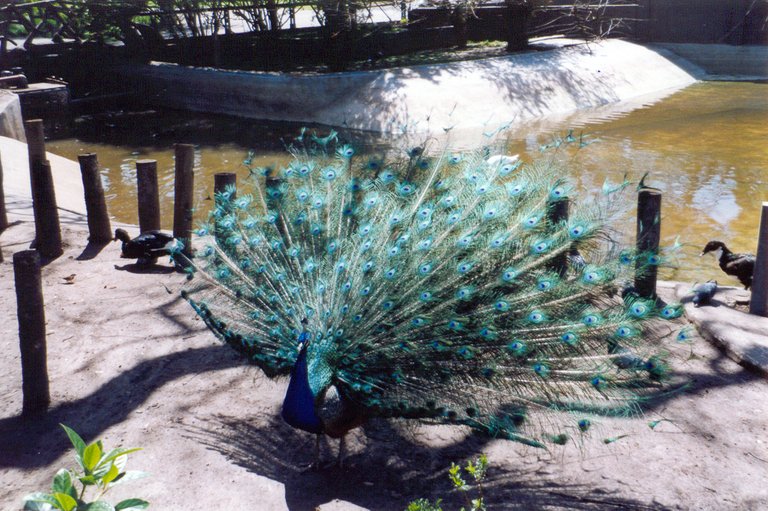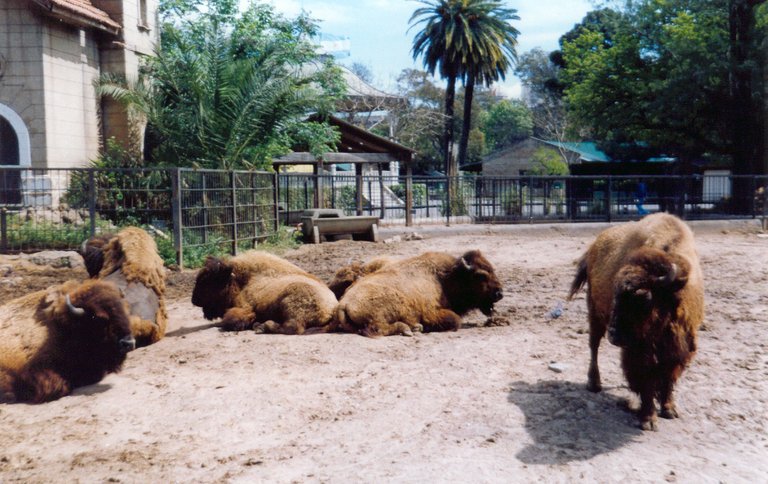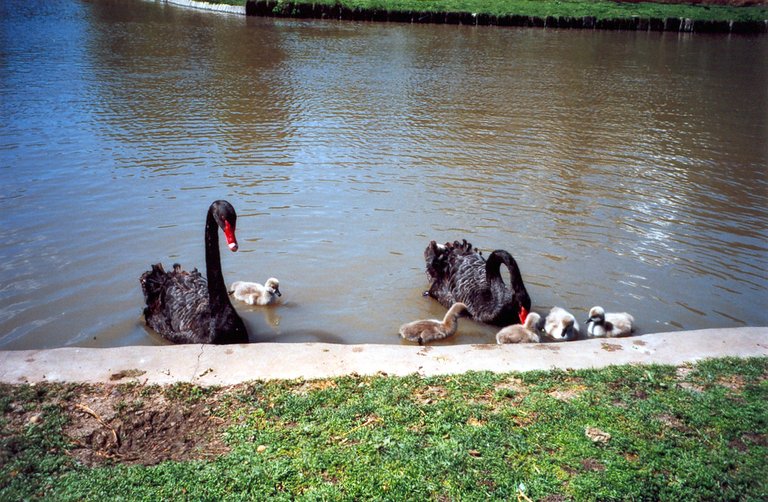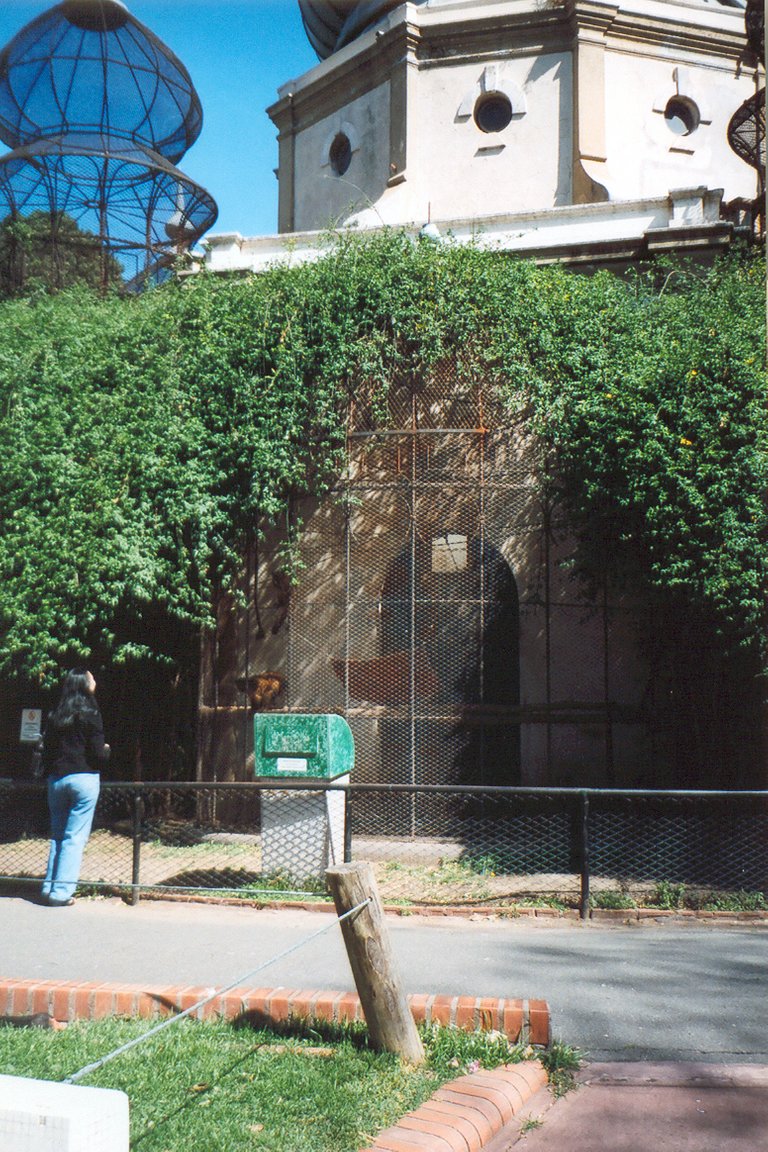 The monkeys and me / Los monos y yo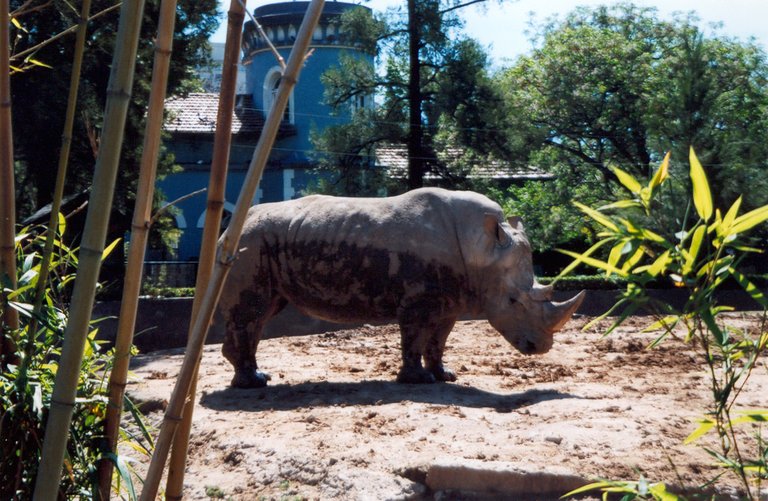 We went through the Capitol, we passed by Casa Rosada (Pink House, seat of the Government), by Plaza de Mayo, very beautiful, we took photos and thus we arrived at Caminito in La Boca, a very romantic town with its little houses, souvenir shops, cafes and of course, the tango with a couple who danced for the people who visit this place.
Nos metimos por el Capitolio, pasamos por la Casa Rosada (sede del Gobierno), por la Plaza de Mayo, bien bonita, tomamos fotos y así llegamos a Caminito en La Boca, un pueblo muy romántico con sus casitas, tiendas de souvenirs, cafés y por supuesto, el tango con una pareja que bailaba para la gente que visita este lugar.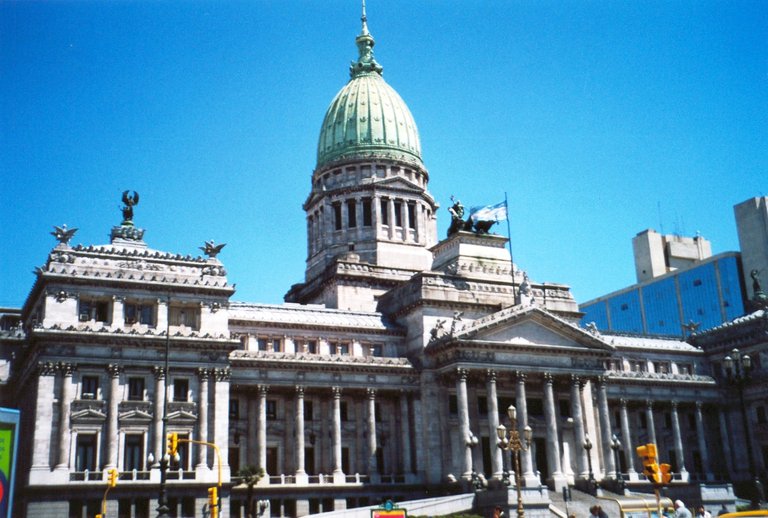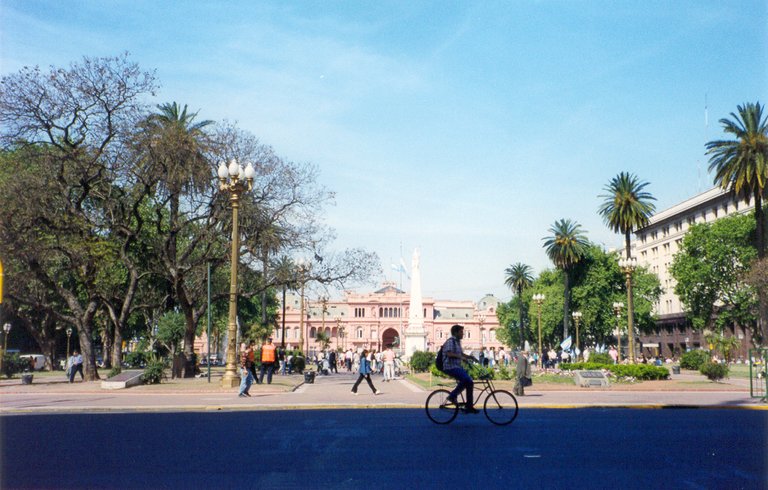 Photo: The Pink House / Foto: La Casa Rosada
The tango gentleman took my daughter out to dance for a while, and so we had a great time and then sat down to order something to eat, such as meat, Argentina is famous for its excellent meats that it also exports to other countries. We had a beer and went to see the shops, I really liked that happy and quiet little town.
El caballero del tango sacó a mi hija a bailar un rato, y así la pasamos chévere y nos sentamos después a pedir algo de comer, como carne, Argentina es famosa por sus excelentes carnes que también exporta a otros países. Tomamos la cervecita y fuimos a ver las tiendas, me gustó mucho ese pueblito alegre y tranquilo.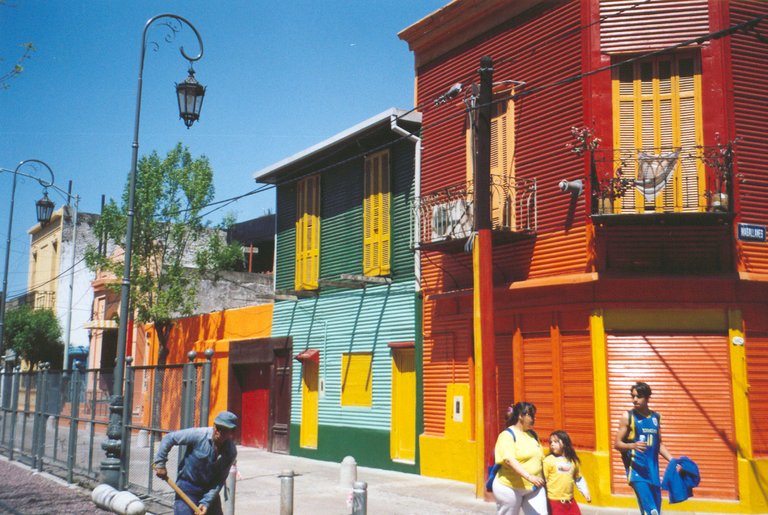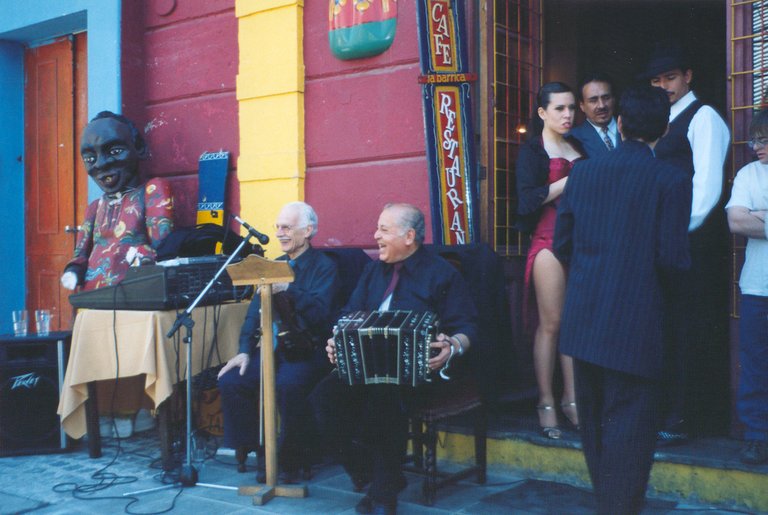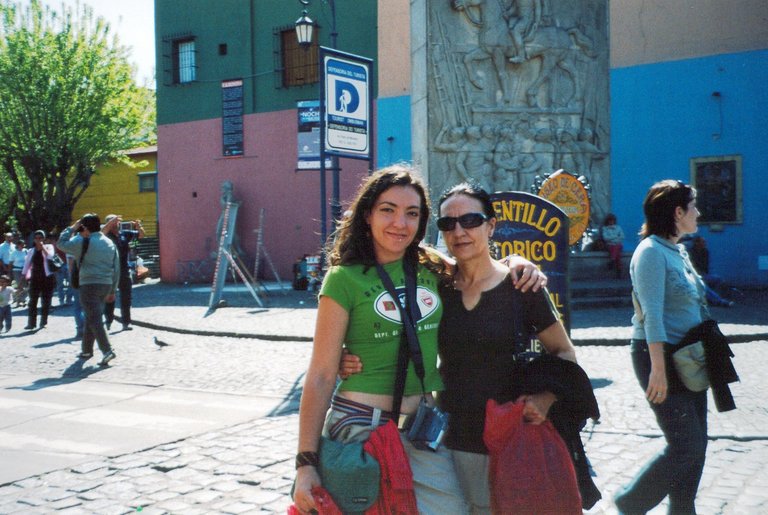 Photo: In Caminito / Foto: En Caminito
Nearby was the Boca Juniors stadium, at the door is a statue of one of the best soccer players of all time, Diego Maradona. We paid entrance fees to see the inside of the stadium, we took photos, we sat for a while to rest, we visited other little shops and further on we saw the horse carriages that make tours of the city. Being late, we bought some dinner in a market and returned to the hotel almost at night. After a tasty shower, we ate dinner and watched television until bedtime, thinking about where we were going the next day and thanking God for the good day we had.
Cerca estaba el estadio del Boca Juniors, en la puerta está una estatua del mejor futbolista de todos los tiempos, Diego Maradona. Pagamos entrada para ver el interior del estadio, sacamos fotos, nos sentamos un rato a descansar, visitamos otras tienditas y más allá vimos los carruajes de caballos que hacen paseos por la ciudad. Siendo ya tarde compramos en un mercado algo de cenar y regresamos al hotel ya casi de noche. Luego de una sabrosa ducha, cenamos y nos pusimos a ver televisión hasta la hora de dormir y pensando que sitio íbamos a conocer al día siguiente y agradeciendo a Dios por lo bien que pasamos el día.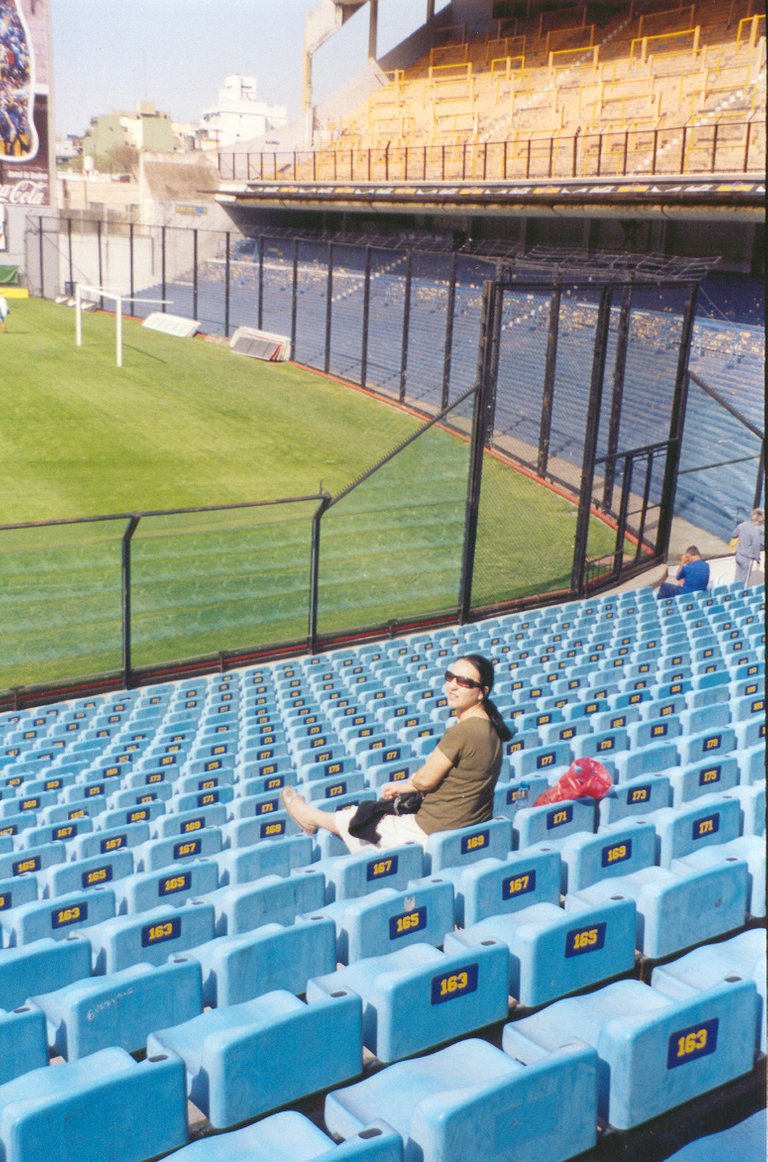 Photo: At the Boca Juniors stadium / En el estadio del Boca Juniors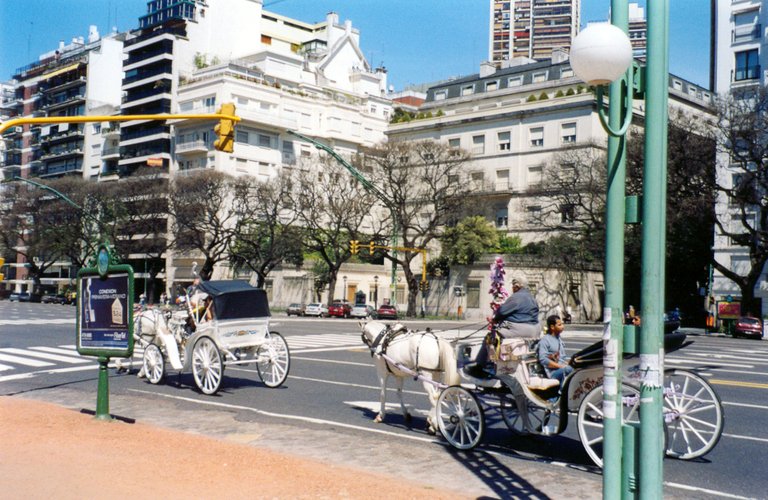 The next day, we visited the Japanese Garden, we paid the entrance fee and we walked around that huge garden with the unique beauty of its lagoons with different fish, a red wooden bridge, trees, a magical garden, many flowers, green grass to take a siesta receiving the breeze from the trees and the song of the birds. A spiritual peace like no other, by the way, that garden is in Palermo, many people, tourists especially, there were also some shops with little things, souvenirs and a nursery of different plants and seeds, which we bought some. There was a very nice Japanese drum display too. Then we went into the restaurant to eat sushi but without shoes, with socks. They are Japanese customs. The food was rich and light, my daughter loves sushi, I also liked it a lot although I had never tried that. We stayed for several hours in that wonderful garden, for me I would stay to live there haha, but we take a lot of photos and every time I see them I feel nostalgic to return to that place.
El día siguiente, visitamos el Jardín Japonés, pagamos la entrada y caminamos por todo ese jardín enorme con la belleza única de sus lagunas con distintos peces, un puente de madera rojo, árboles, un jardín mágico, muchas flores, grama verde para echar una siesta recibiendo la brisa de los árboles y el canto de los pájaros. Una paz espiritual como ninguna, por cierto, ese jardín queda en Palermo, mucha gente, turistas sobretodo, también había unas tienditas con cositas, souvenirs y un vivero de distintas plantas y semillas, que compramos algunas. Hubo una exhibición de tambores japoneses muy bonito también. Después entramos al restaurante a comer sushi pero sin zapatos, con las medias. Son costumbres japonesas. La comida fue rica y ligera, a mi hija le encanta el sushi, a mi también me gustó mucho aunque nunca había probado eso. Nos quedamos varias horas en ese jardín maravilloso, por mi me quedaría a vivir ahí jaja, pero sacamos bastantes fotos y cada vez que las veo me da nostalgia de volver a ese lugar.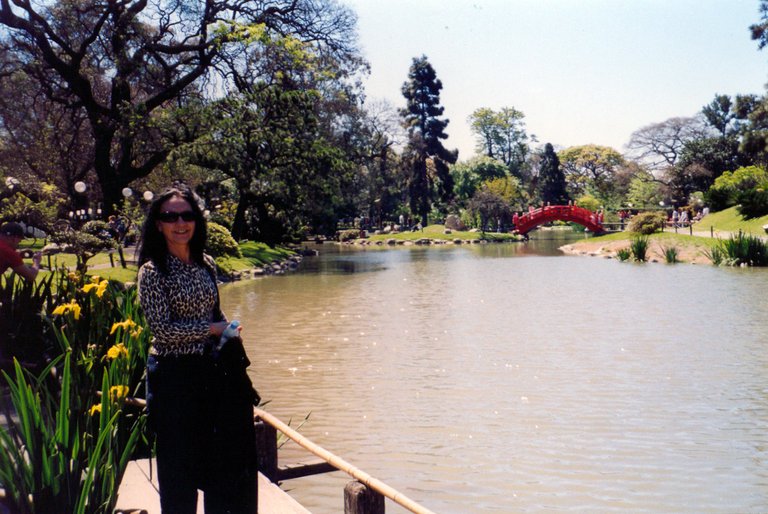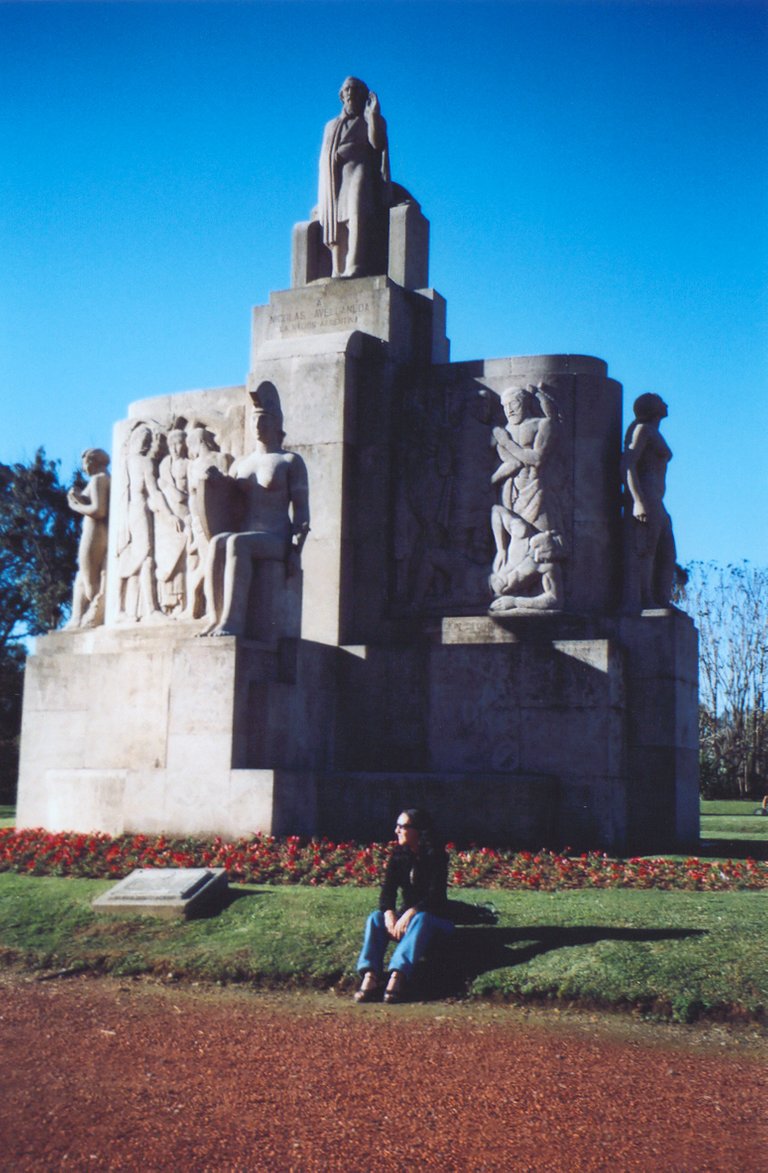 Photo: Around the Palermo area / Foto:
Por la zona de Palermo
Leaving the garden we visited several museums in the city of Buenos Aires, we went to the famous Café Tortoni, we had a good coffee with some sweets there. We continue to Puerto Madero, that was hard walking in full sun without shade for almost two hours without stopping until we reached a beach that was not suitable for bathing, there were almost no people, just some trees and some seats. My legs burned, we sat down to eat what we had in the bag, we took photos of the place.
Saliendo del jardín visitamos varios museos de la ciudad de Buenos Aires, fuimos al famoso Café Tortoni, nos tomamos un buen café con algunos dulces de ahí. Seguimos a Puerto Madero, eso sí fue duro caminando en pleno sol sin sombra casi dos horas sin parar hasta que llegamos a una playa que no era apta para bañarse, casi no había gente, solo unos árboles y unos asientos. Mis piernas me ardían, nos sentamos a comer lo que llevábamos en la bolsa, sacamos fotos del lugar.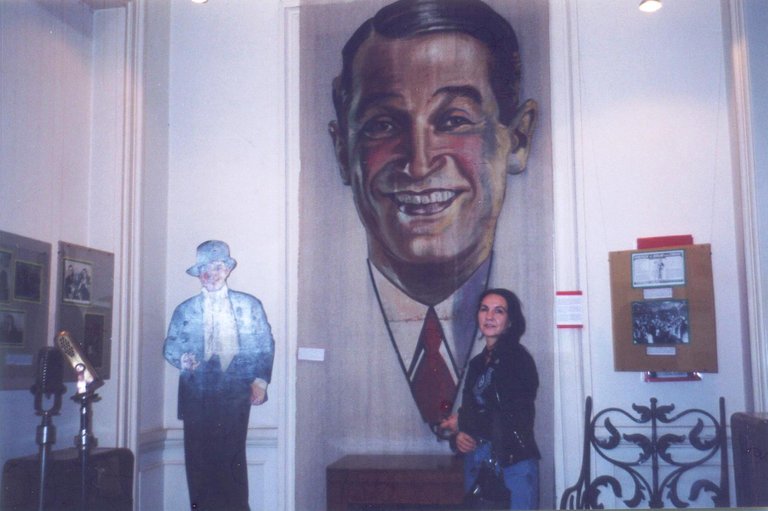 Museum of the City / Museo de la Ciudad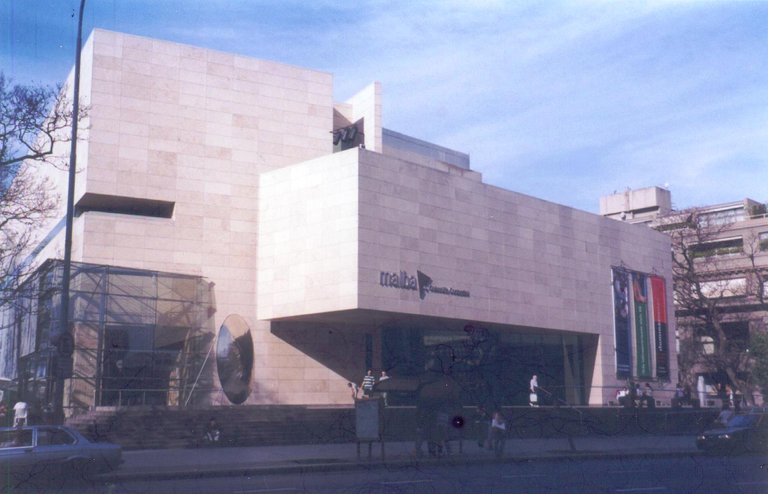 Photo: Museum of Latin American Art (Malba) / Foto: Museo de Arte Latinoamericano (Malba)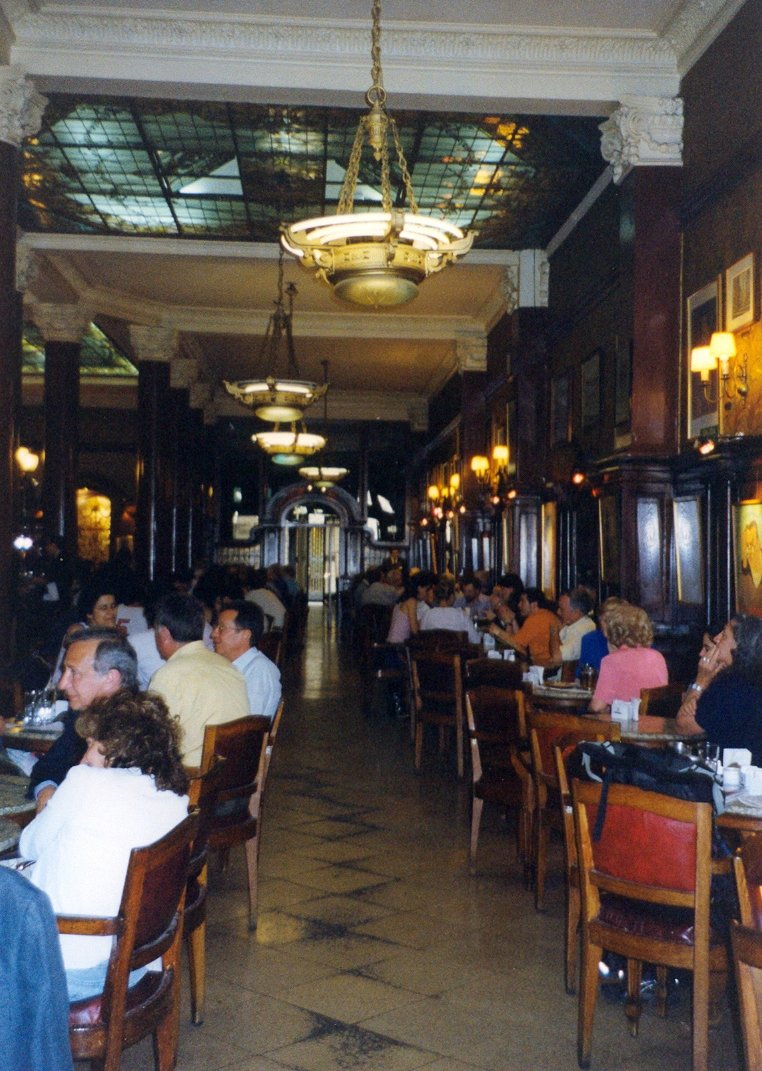 Café Tortoni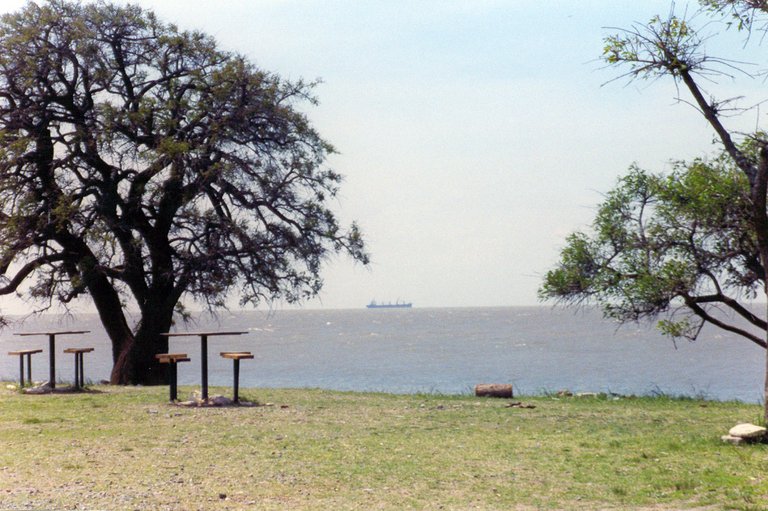 Photo: By Puerto Madero / Foto: Por Puerto Madero
We also went to the Botanical Garden, beautiful and full of beautiful cats of all breeds sleeping peacefully. What a nice show! I love cats, we have two. A short distance away we took the metro to return. At that station, I am sad to say it, but the smell of the toilets was so strong that one would faint, very dirty and abandoned and even though I feel like urinating, I wasn't going to get there. Well, without further ado, getting to the subway we got on and that was full of people, so much that one couldn't move. Almost crushed and me screaming because I felt suffocated and a boy laughing while I desperately couldn't wait to get down and breathe fresh air until we finally reached the final destination. We go down in the same tight way and people pushing as if it were a wild river that takes you. God what a moment! When we left we laughed a lot at that adventure. We returned to the hotel exhausted but somewhat hungry.
Fuimos también al Jardín Botánico, hermoso y lleno de bellísimos gatos de todas las razas durmiendo tranquilos. ¡Que agradable espectáculo! A mi me encantan los gatos, tenemos dos. A poca distancia fuimos a tomar el metro para regresar. En esa estación, me da pena decirlo, pero el olor de los baños era tan fuerte que uno se desmayaba, muy sucio y abandonado y aunque tenía ganas ni loca me iba a meter ahí. Bueno, sin más, llegando al metro nos montamos y eso estaba full de gente, tanta que uno no podía moverse. Casi aplastados y yo gritando porque me sentía asfixiada y un muchacho riéndose mientras yo desesperada no veía la hora de bajar y respirar aire puro hasta que por fin llegamos al destino final. Bajamos de igual manera apretadas y la gente empujando como si fuera un río bravo que te lleva. ¡Dios, qué momento! Al salir nos reímos bastante de esa aventura. Regresamos al hotel agotadas pero con algo de hambre.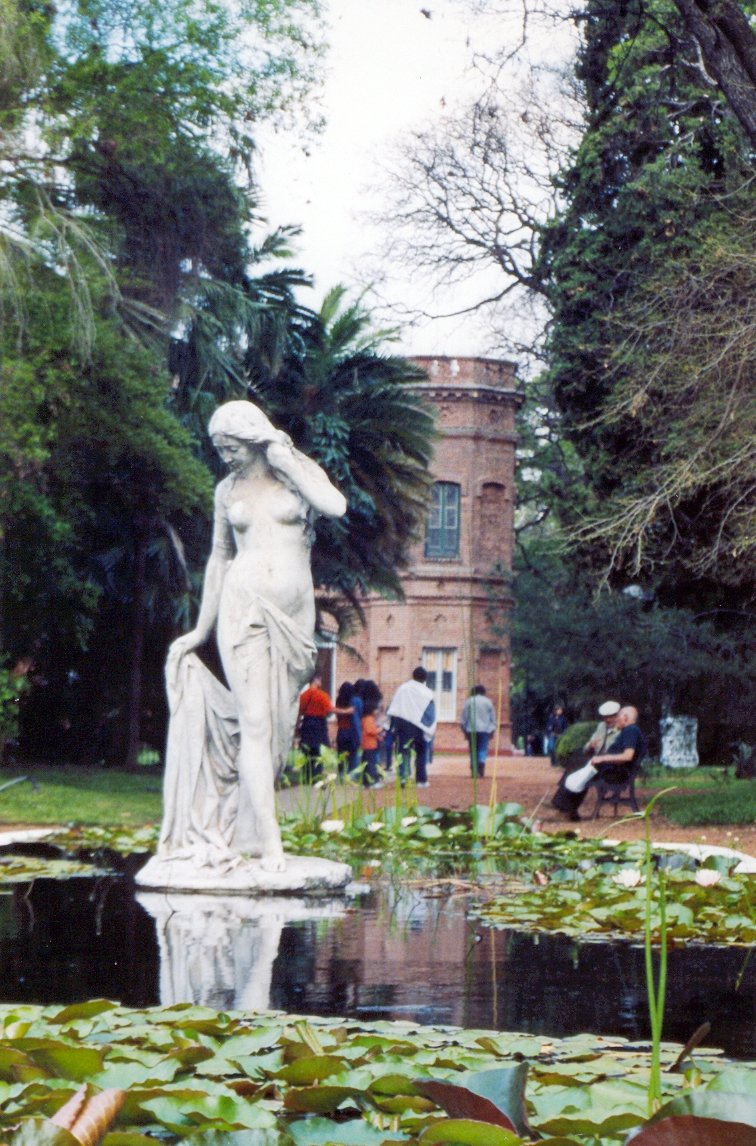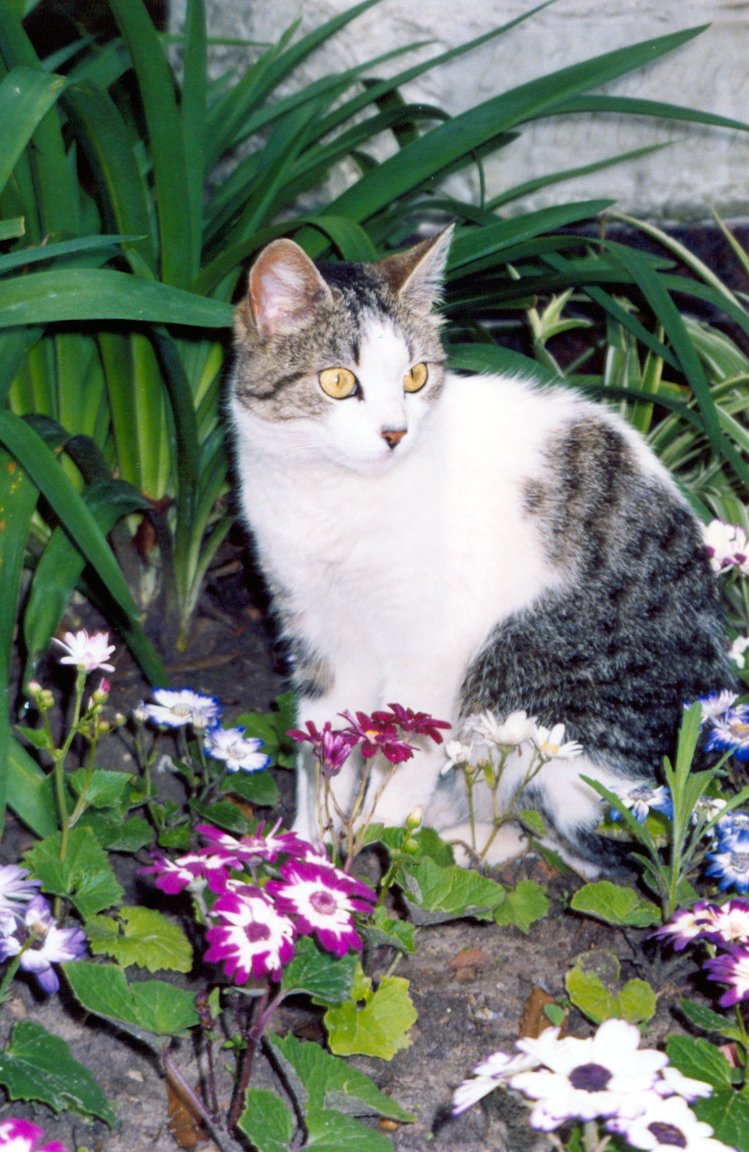 Friends, I will tell you that for now our adventure ends that was worth living but this trip to Argentina continues and I still have much to tell you about the other places we visit. See you soon and a big hug.
Amigos les cuento que por ahora aquí termina nuestra aventura que valió la pena vivirla pero este viaje a Argentina sigue y tengo mucho aún que contarles de los otros lugares que visitamos. Hasta pronto y un abrazo grande.
Thank you very much for reading and supporting! / ¡Muchas gracias por leer y apoyar!


All photos are of my daughter @sofathana/ Todas las fotos son de mi hija @sofathana