Hello fellow travellers! Today I'm going to continue sharing my last year's adventure in Chiang Mai, Northern Thailand. If you missed out on my previous post about this magical place you can click here to check it out.
Chiang Mai is known for it's mountains and overal cooler weather, especially in the 'winter' season, which in Thailand is from November until February. We went there for New Years and stayed only for 3 days but managed to do a lot. We did go up in the mountains twice - once for a Zip Line activity and once for a Hike that ended with a mountain biking on the way down. I'll share the stories about those two today.
Eagle Track Zip Lining Chiang Mai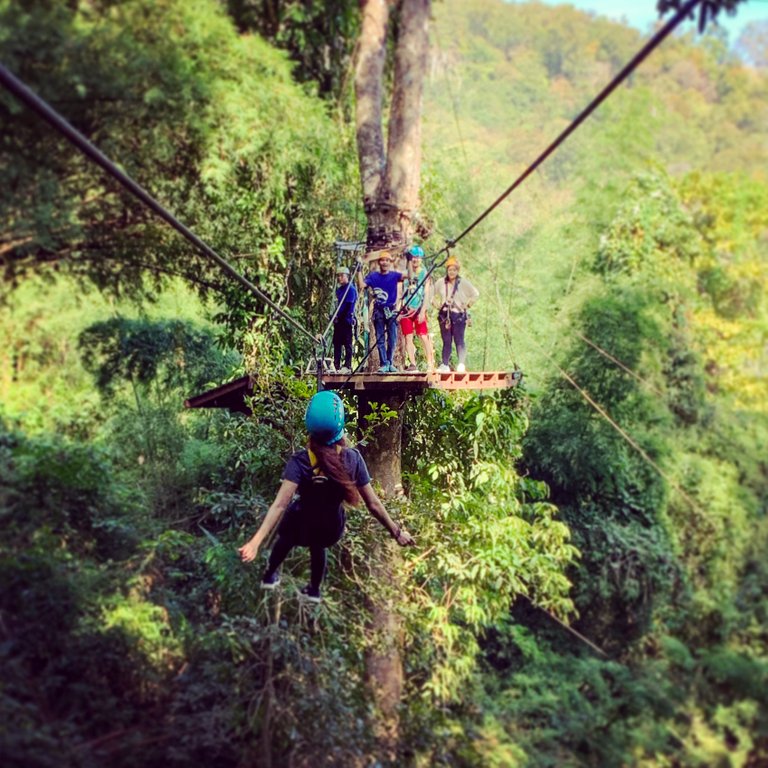 We went to bed quite early on New Years eve and because we didn't really have anything special planned for the night, we booked an early activity. On the 1st of Jan we got picked up at 9am from our hotel and went straight to the mountains. I thought we'd be the only crazy people doing that but it turned out there were plenty of other enthusiasts. It did make sense since Thailand's New year is in April, but I did see quite a few foreigners too enjoying the fun.
This place had 3 different levels you could chose from - Silver, Gold and Platinum. Escentially what that meant is that you had an extra few slides to do. We picked the gold one because the price on the Platinum was becoming a bit too steep for about 5 extra minutes of fun.
You are hooked almost a 100% of the time and there were always people on both ends or with you to keep you safe. Inbetween slides there were some fun obsticles like walking on ropes, or climbing up and down ladders etc. It made it a lot more fun, rather than just queue in line for the next few seconds of sliding to come.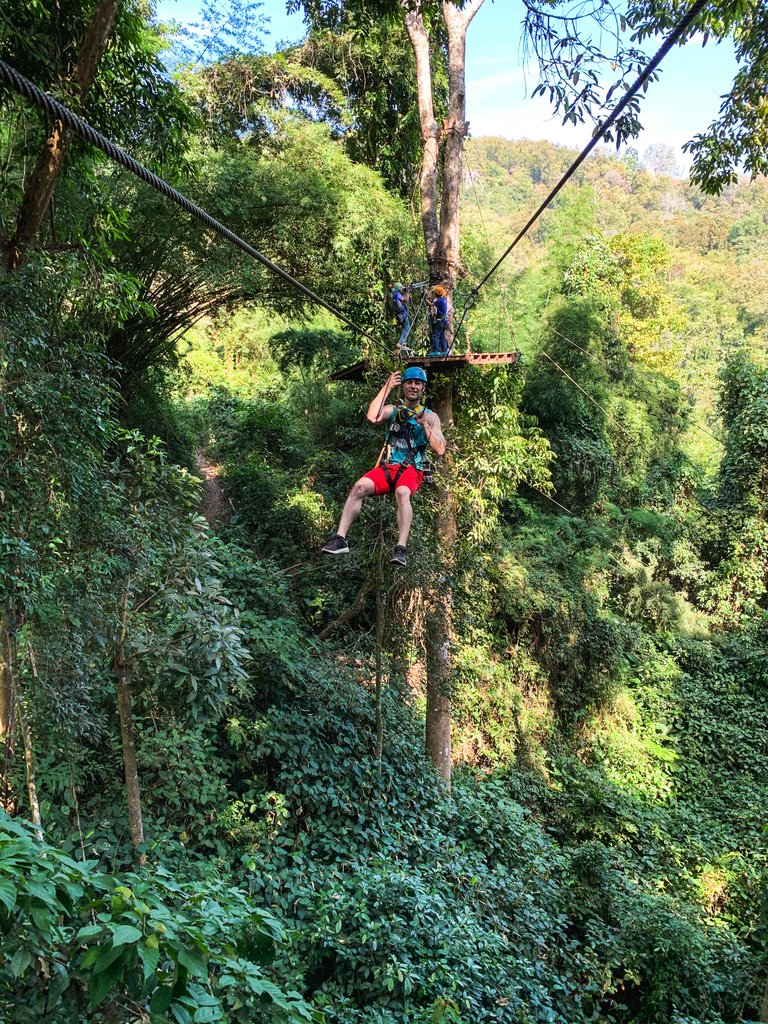 Everyone would wear a helmet but I think helmet may not have saved you if you manage to fall off
The staff were pretty fun. They'd shake the ropes you walk on, take a slide alongside you to help you take photos and overall make it more exciting. After 30ish minutes of good fun we got to the last place. It was basically a free fall jump (5-6 metres or so). You are obviously hooked to a rope and swing before you land and the landing area is soft.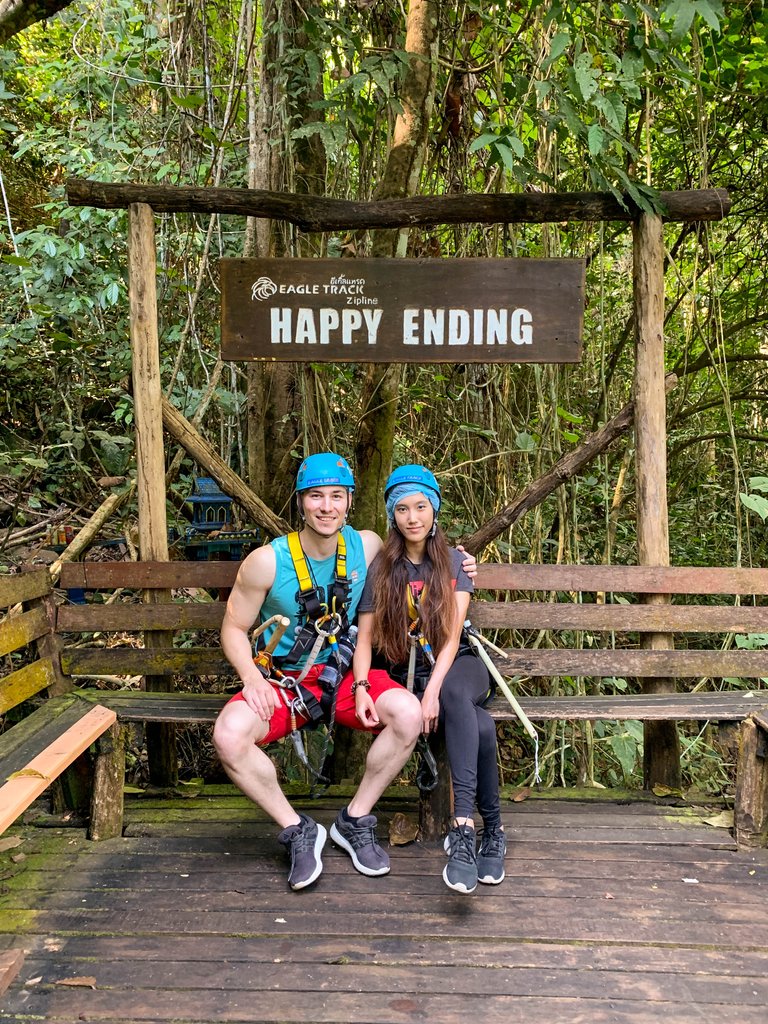 This is right after the last fall. We managed to get a 'happy ending' with no incidents which is nice!
This isn't the end at all through. Before we return to the starting point and have lunch, we walked along the stream of a little lake. The scenery was quite nice and here are a few photos from that.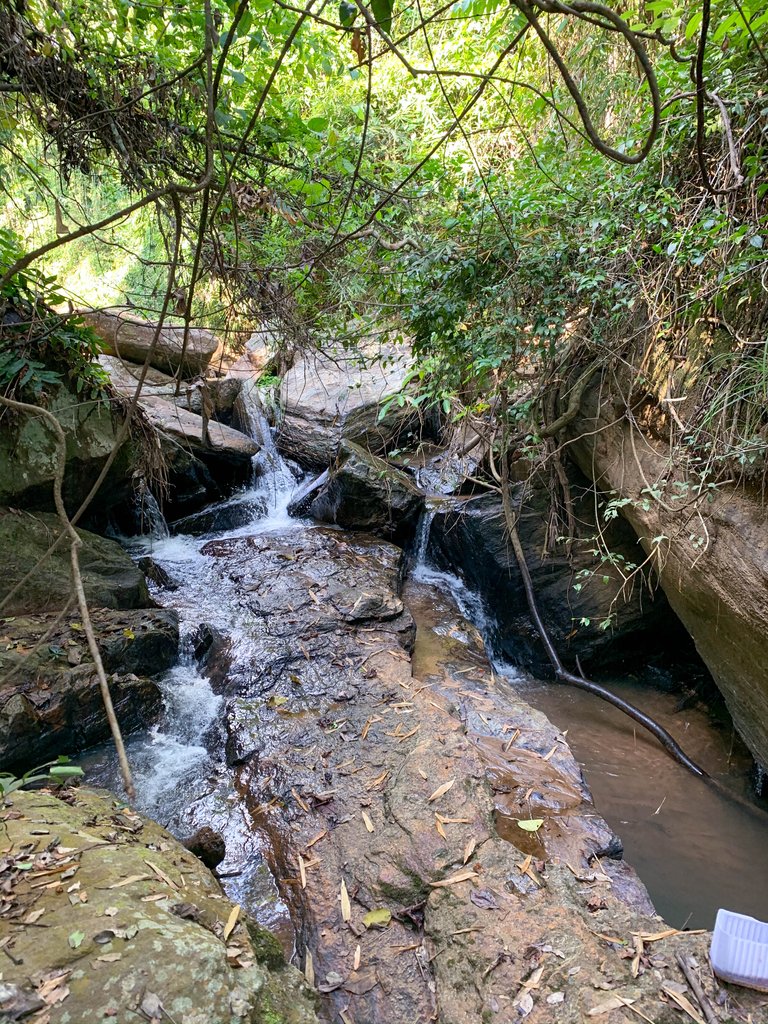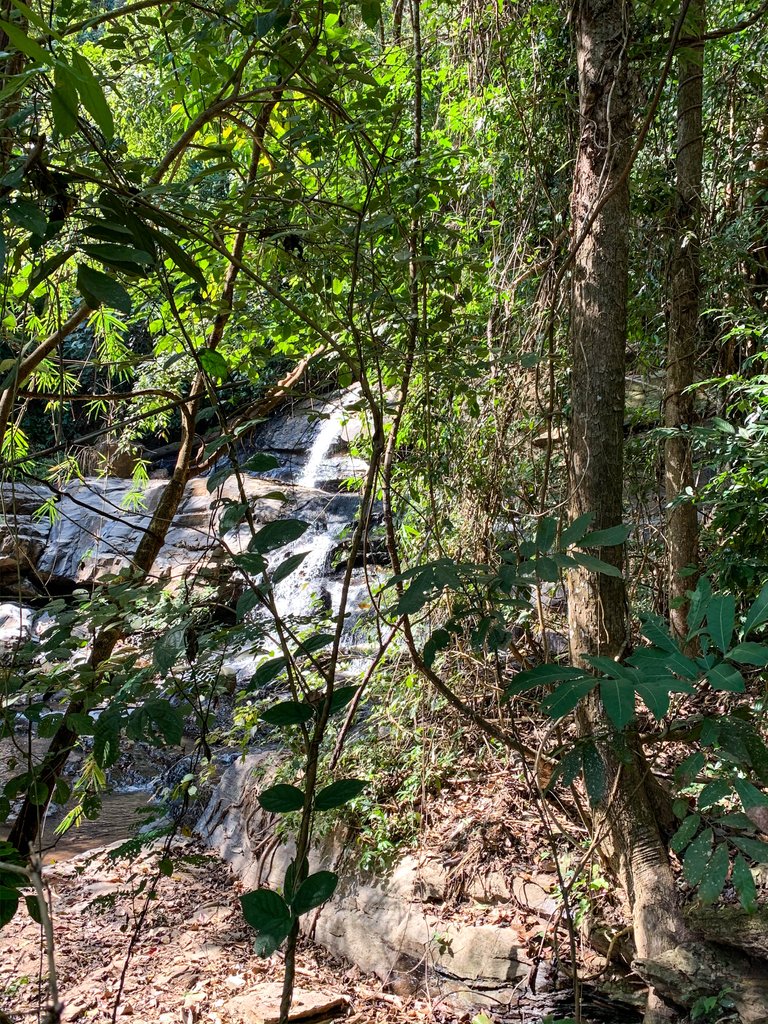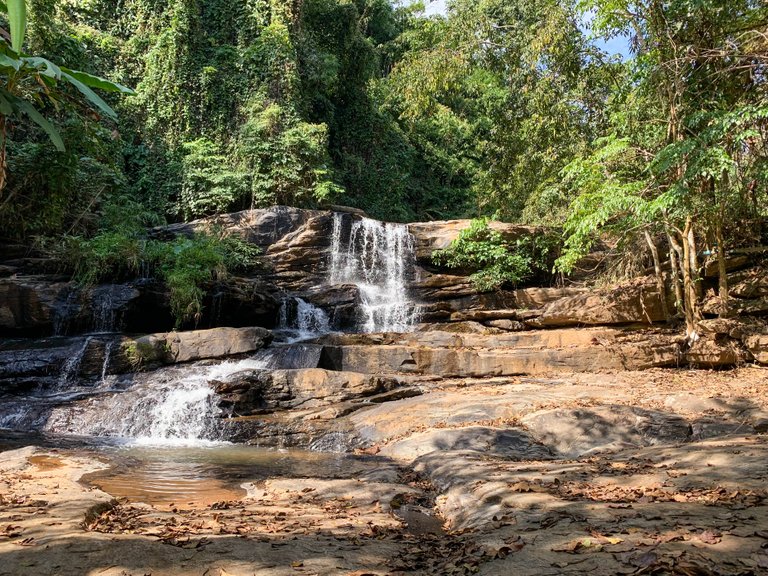 We finished with a tiny Thai buffet for lunch before getting back.
Hiking and Mountain Biking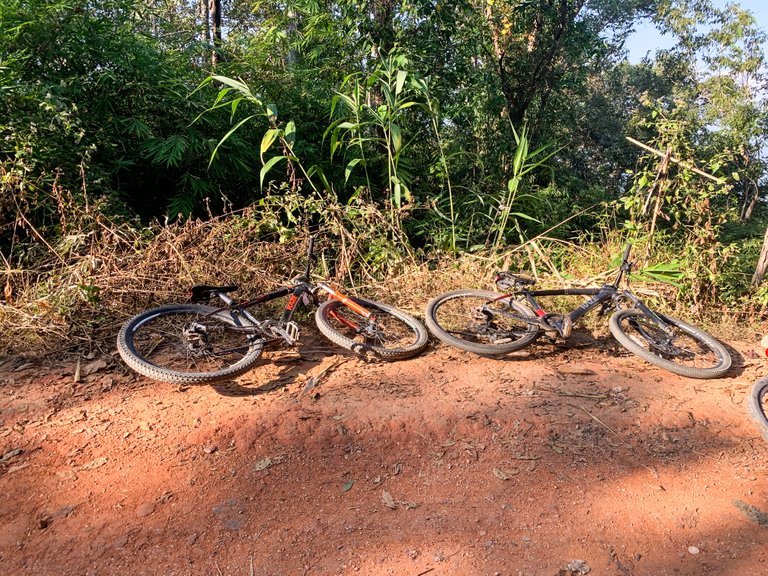 So the story of how we got into that is a bit funny. Basically while I was booking stuff on Trip Advisor in advance - I had opened about 15 tabs. Called Nat to help me pick and we decided to go on a hike to the waterfalls. Booked it and got my reservation and all. Thing is I clicked the wrong tab and booked Mountain Biking instead. Neither me nor Nat have done this before (Nat actually have done it once but ages ago) and let me tell you the trace was ROUGH! Hiking was fine, we are both fairly fit but man that Biking killed me.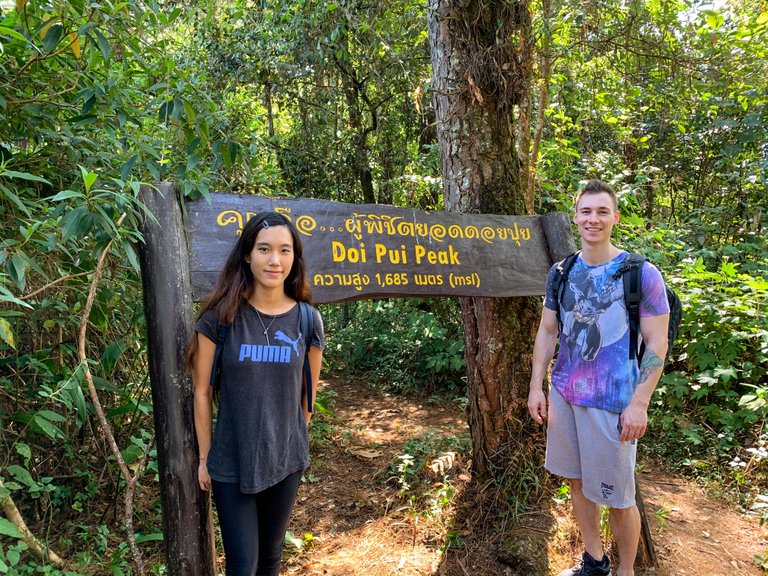 Not the greatest photo of us but only one we have from the hike itself. Rest is mostly scenery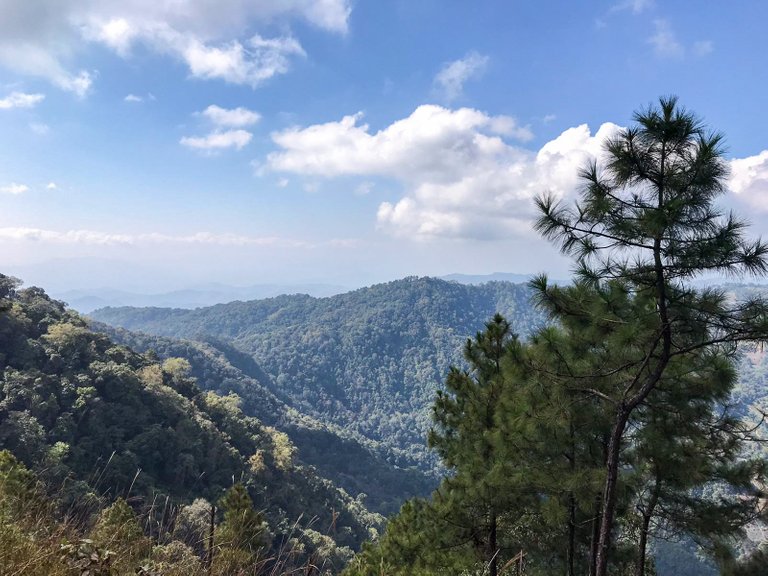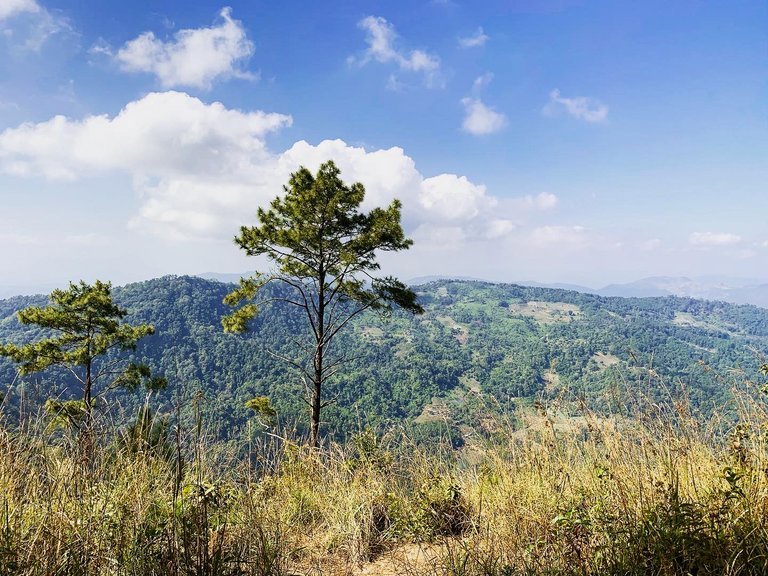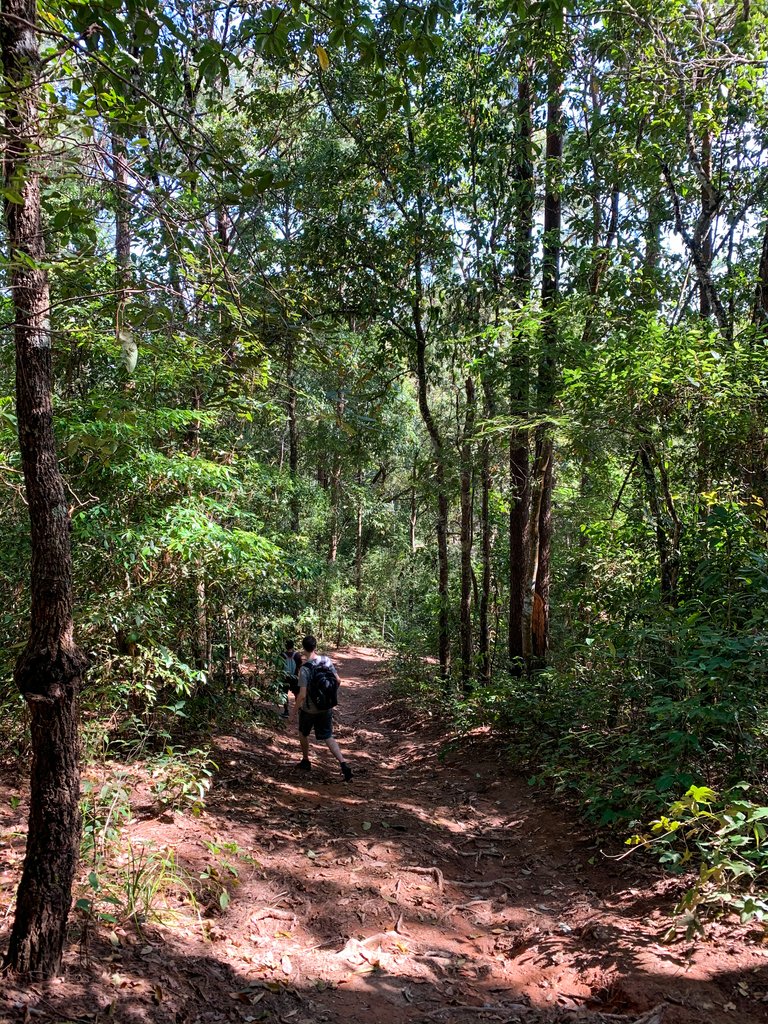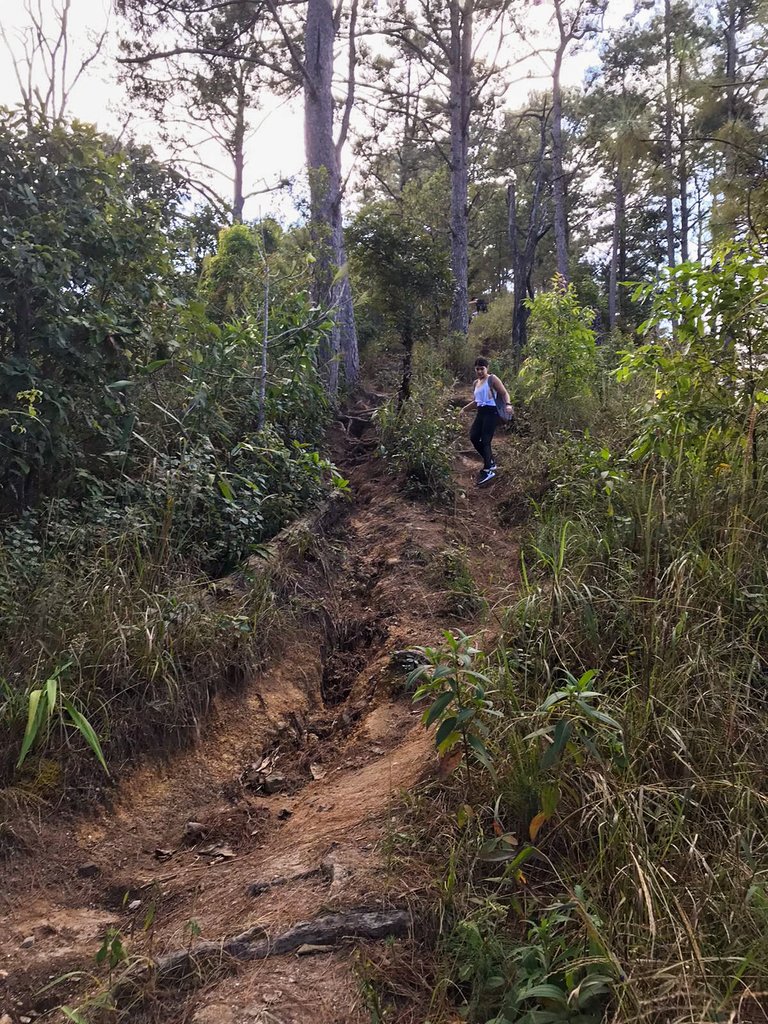 The hike was actually quite fun. We had to go all the way up where we had this real nice panoramic view. Wish I had a better than a phone camera with us but I guess next time.. After going up we had to climb down on a fairly rough road filled with rocks and what not. Little did I know, we would be riding bikes on very similar roads later on.
After a while we arrived at a mid point where we would have lunch. We had some nice Thai noodles there. The place looked pretty nice, filled with flowers and nice views around it.
Here are some photos from there: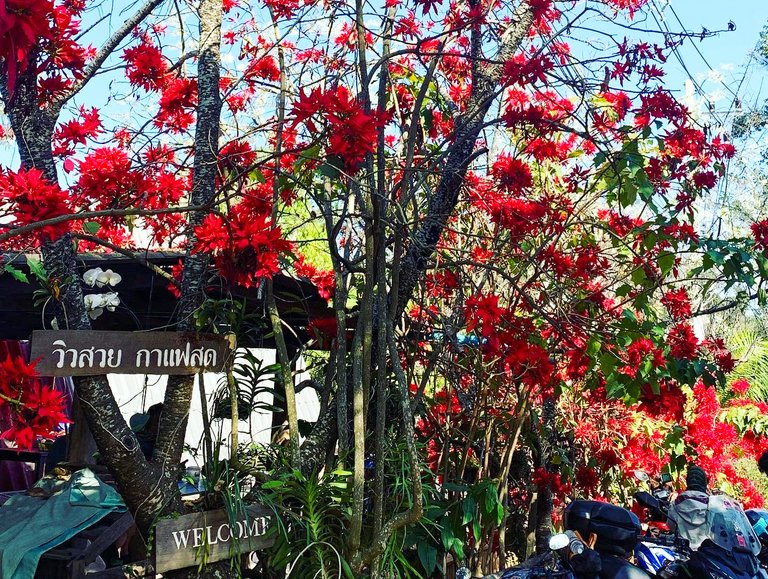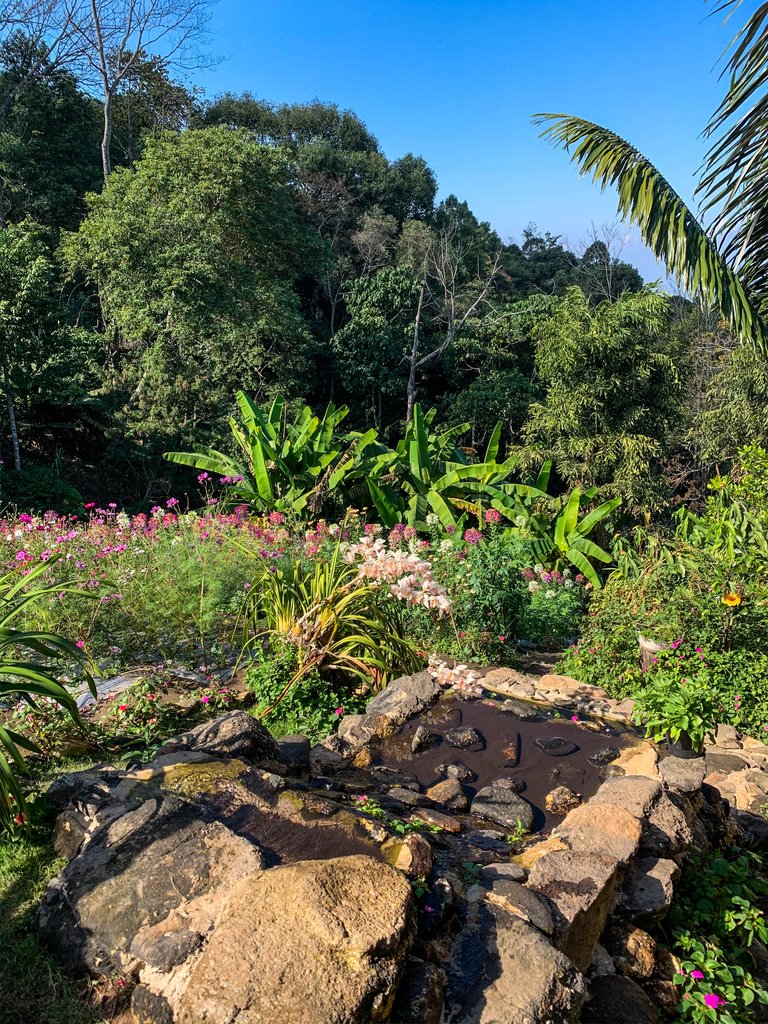 Once we refilled with some food, it was time for us to get on the bikes. There was quite a lot of protective gear we had to put on and for a reason. Only problem was the knee pads were falling non stop because they were old and just wouldn't stick together. Changed one pair only to find the next one was kind of the same a bit later on but oh well can't have everything perfect.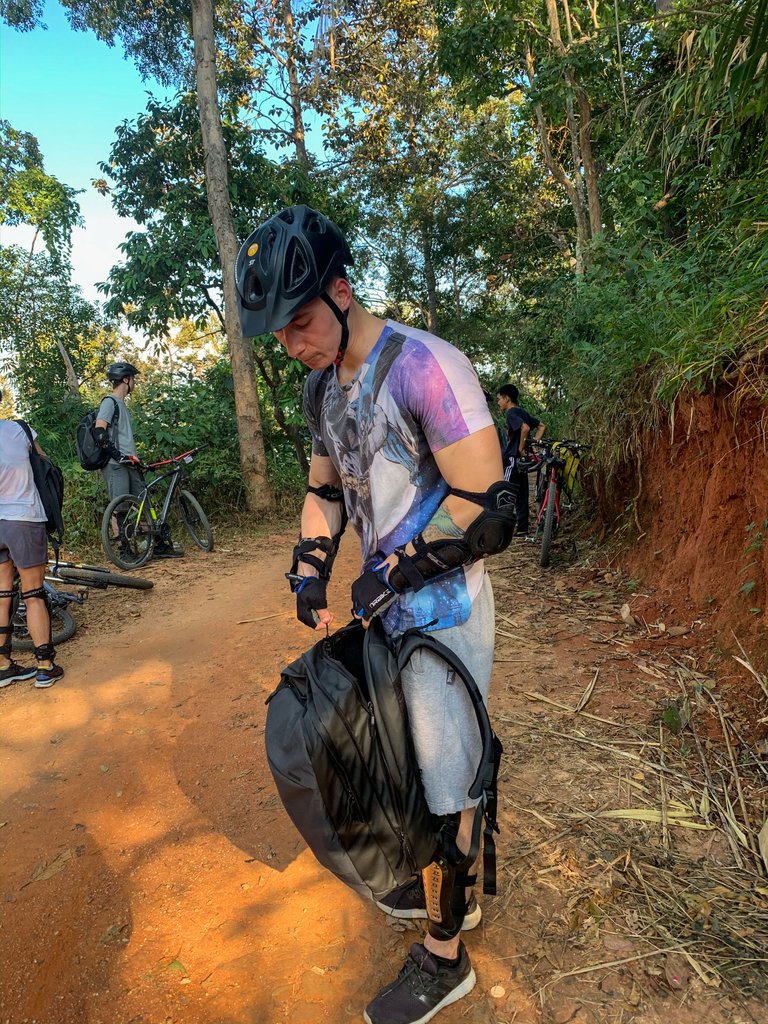 And so we ride!
Let me tell you.. I'm glad we did it but I probably wouldn't go through it a second time. The roads were pretty rough, I mean massive gaps, lots of rocks and very small narrow places you can ride in certain places. My main problem was that it was all downhill, so it was constant break for me as a total newby and that tires the socks out of you! The other part that made it hard for me was that there were trucks going up and down occasionally on these roads and they didn't really wait of care for you. All in all I managed not to fall once, but had to throw the bike on a side twice. Nat was doing a bit better than me but we were the slow ones in the group. I mean slow by a big margin.
At some point the road became more narrow and even had a bit of an uphill part. That one I enjoyed more. Found it easier to balance and had a lot more speed because I wasn't relying on the breaks so much. That was a very tiny part of it though - about 15 mins or so. At the end we arrived at this beautiful lake where we had dinner. The finish was quite nice and the place looked amazing.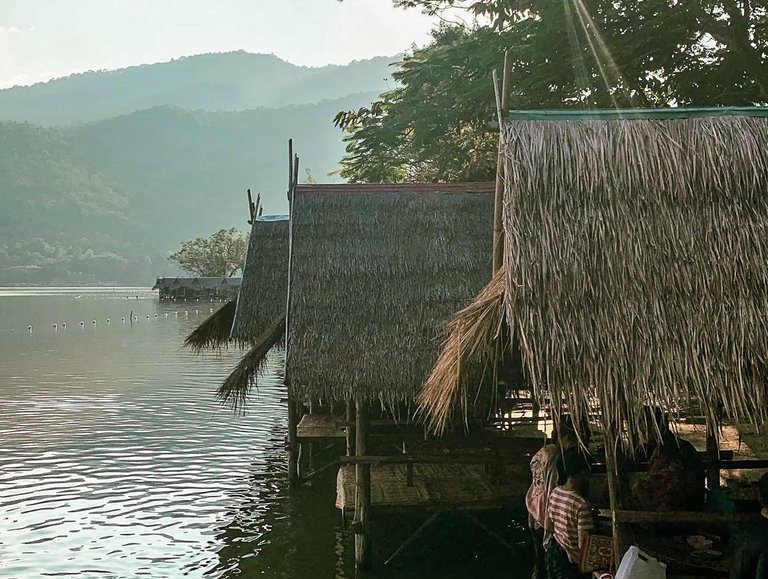 This photo looks a bit different than the rest but I think it is just taken with my old phone that has a pretty dull camera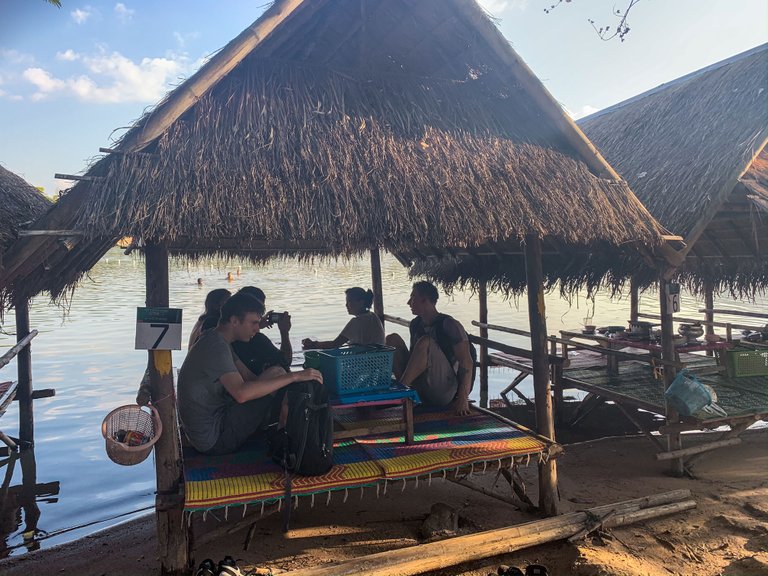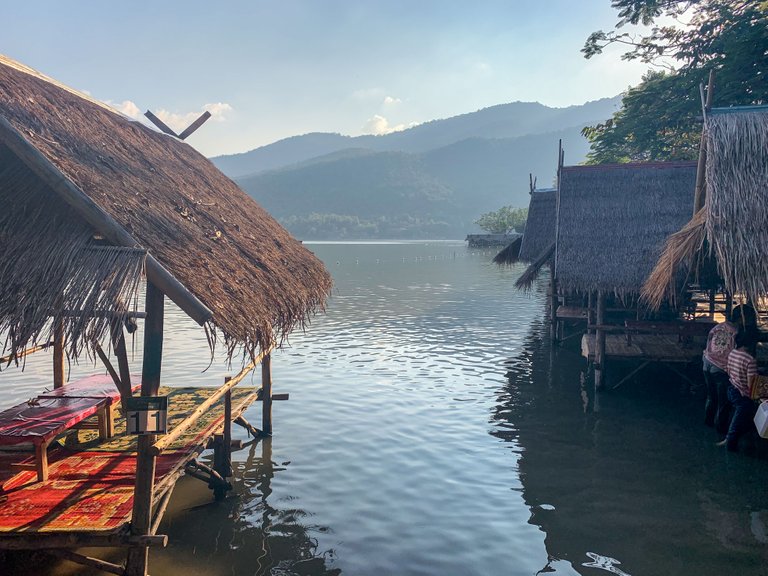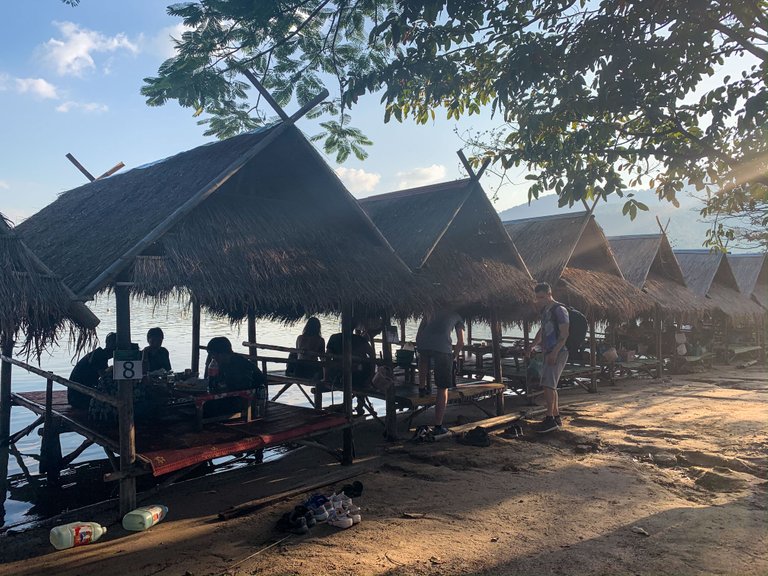 We didn't really know anyone from the rest of the group but they were all pretty nice people. Everyone else was American - One mom with her 2 kids (they were both grown ups) and a lone quiet guy that came for the biking. We had dinner together and got back home right before dark. Felt pretty wrecked after this so we immediately went for a massage. Was a soft massage though.. not a traditional Thai (they beat me up on this one each time and that is the last thing I needed after that long day).
With that there is only one place I have left to share with you from Chiang Mai. Keep tuned for that one and I hope you enjoyed the stories and the photos! Have you done any mountain biking before?