Hello again fellow travellers! I was absent from Hive for a few days due to a tough wisdom tooth removal that made me want to lay around and not bother doing much. Anyways with a swollen face I'm gonna take you on a trip to Koh Samui again following my previous two posts. Today I'll show you some of the temples we visited on the island. There are many temples and shrines on this island - the biggest and probably most famous one is the Big Buddha Temple. We managed to visit 3 of these sights and that is what today's post is going to be about.
Big Buddha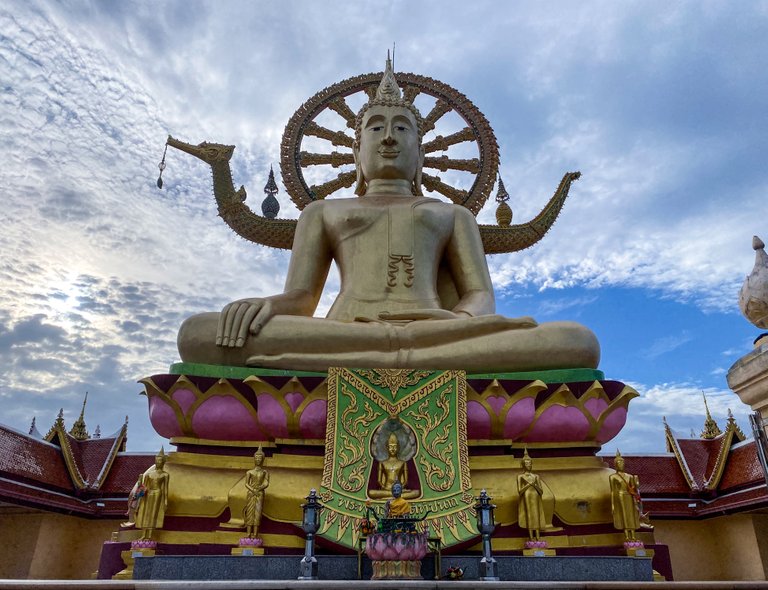 Big Buddha temple was quite close to the villa we stayed in. There weren't many people there when we arrived. It was only us and a Thai couple. Outside the temple is something like a small open market for clothes and all sorts of souvenirs which leads to the stairs.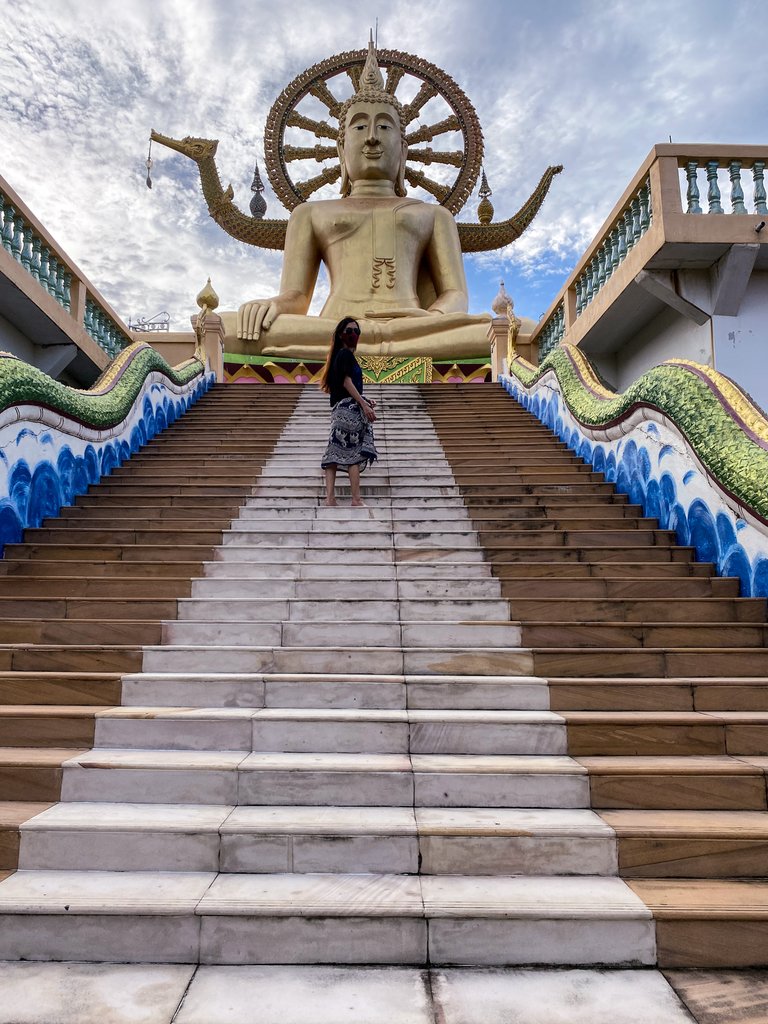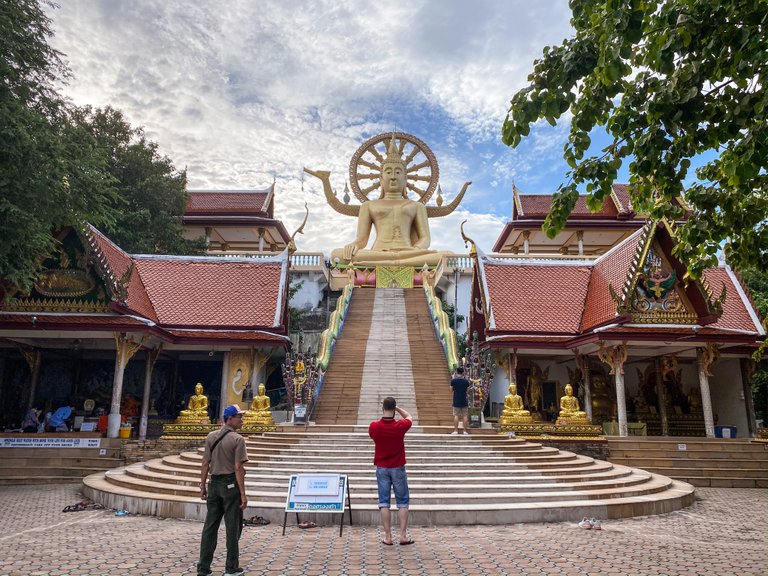 As any other Buddhist Temple, you need to follow certain rules about clothing when you enter. No tank tops, short skirts etc. You can still wear shorts or T-shirts though as long as your knees and shoulders are covered. Most temples offer clothing to cover yourself if you aren't dressed appropriately. In here that was free but some places would ask for a small fee or even sell you clothing to use. Another thing that one has to do before entering is to take their shoes off. That's why there are so many shoes below the stairs.
Upstairs there's a pretty nice viewpoint of the surrounding area and bells that you can ring for good luck.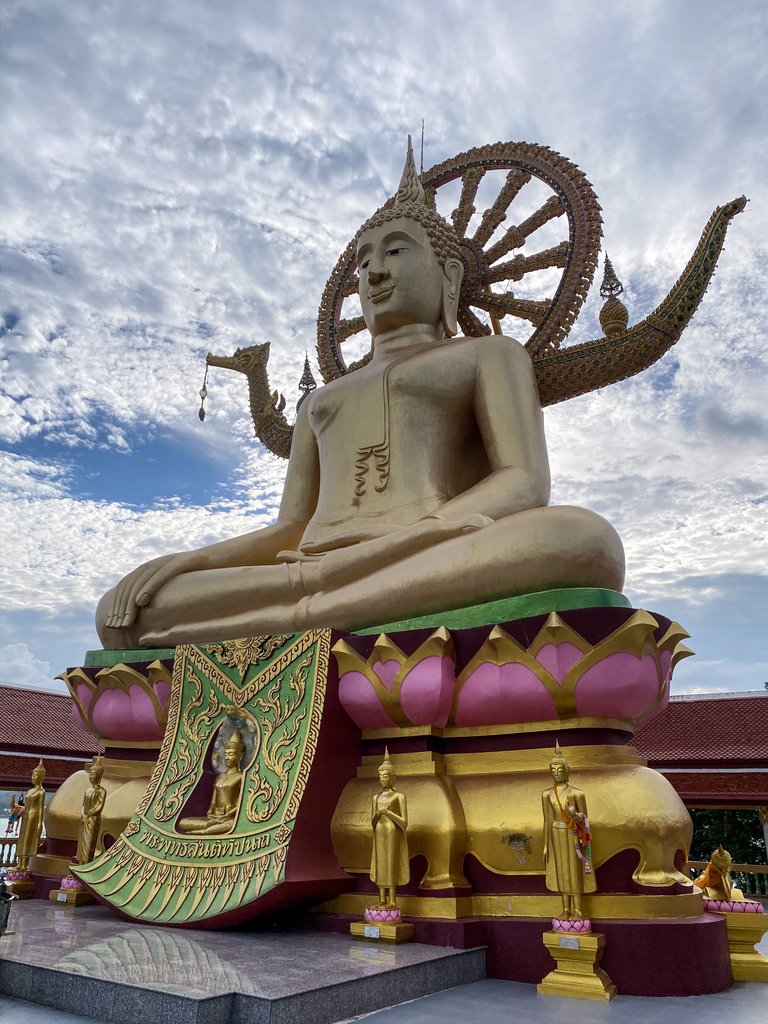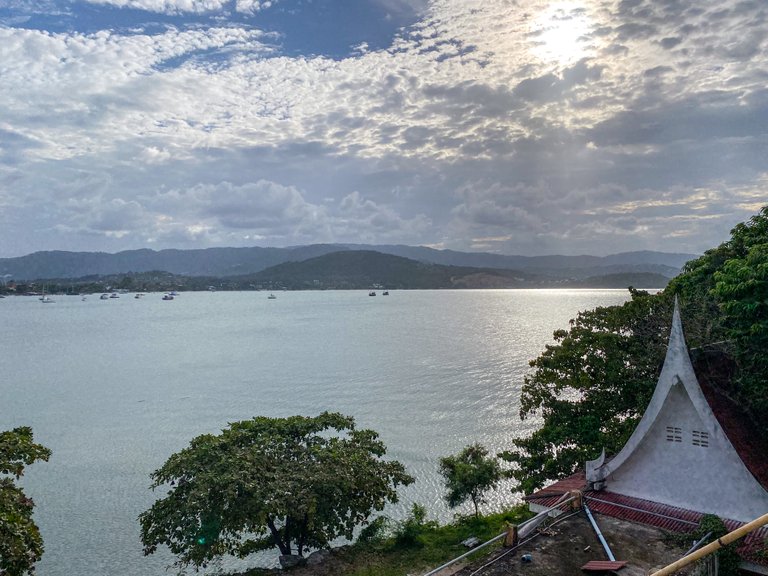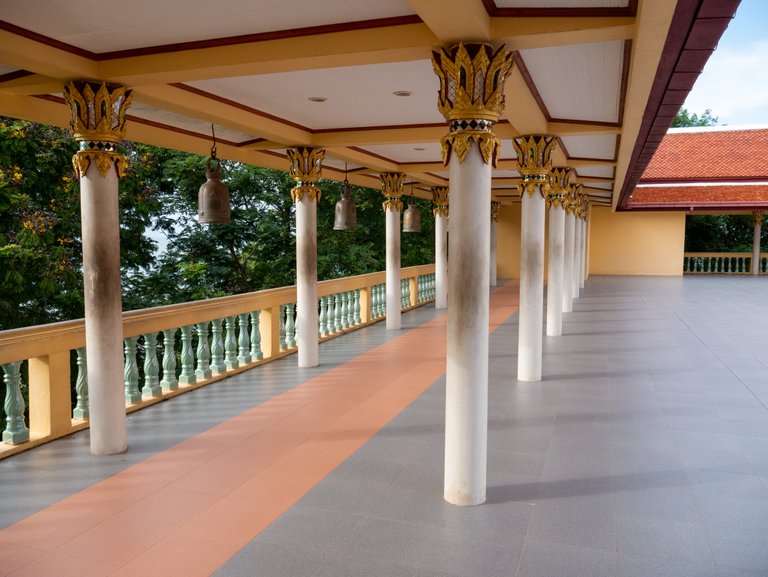 Wooden planks were left to hit the bells if you wish.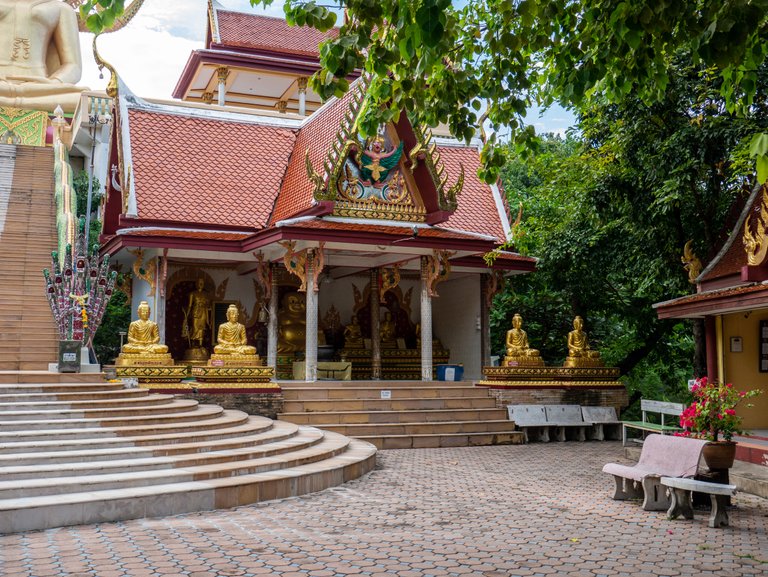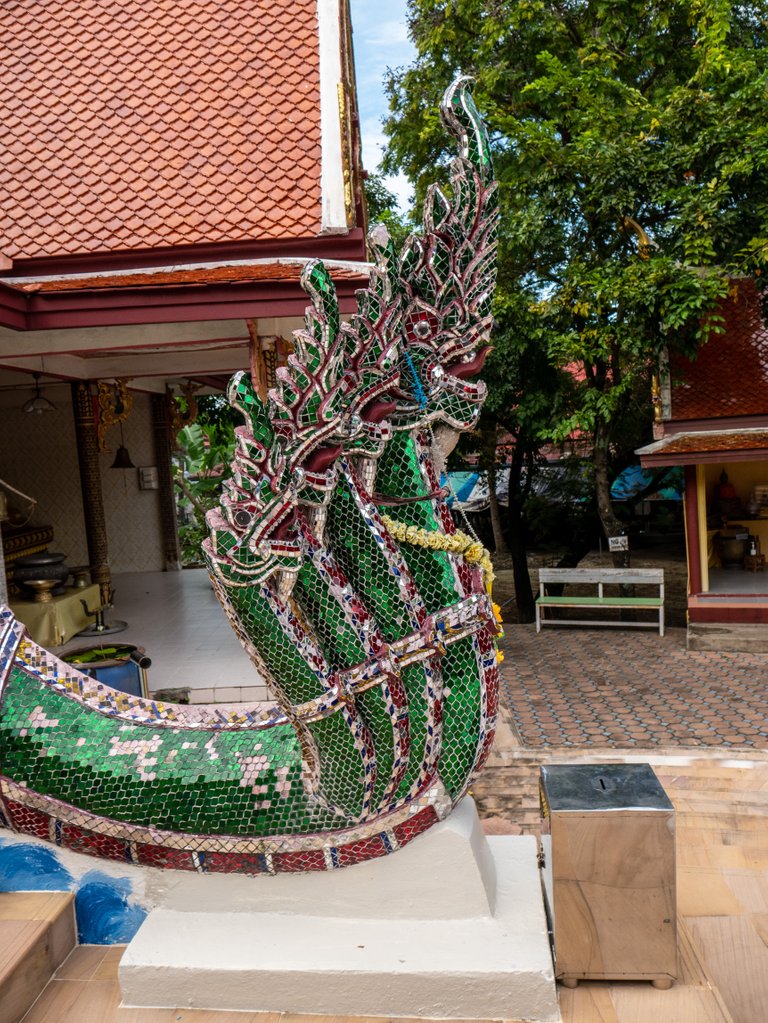 The area below the stairs was pretty clean and nicely decorated. Could be because there were no other visitors at the time but the place was so peaceful.
We only stayed for 20-30 minutes here and had to move to the next destination. Wish I had more time to take some photos of the nice view from the top.
Wat Khunaram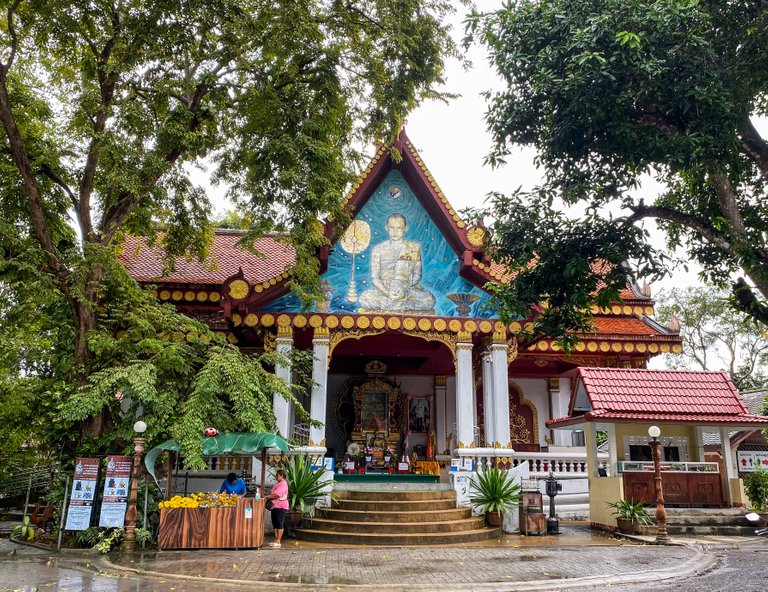 Wat Khunaram is a small temple that is quite unique. This is the shrine of 'The Mummy Monk'. The monk Luong Pordaeng died in 1973 while meditating and ever since his body has been on display in a glass case at the temple. It is said that he requested of his followers to have his body displayed after his death if it doesn't decompose, as a visual reminder of Buddhist teachings.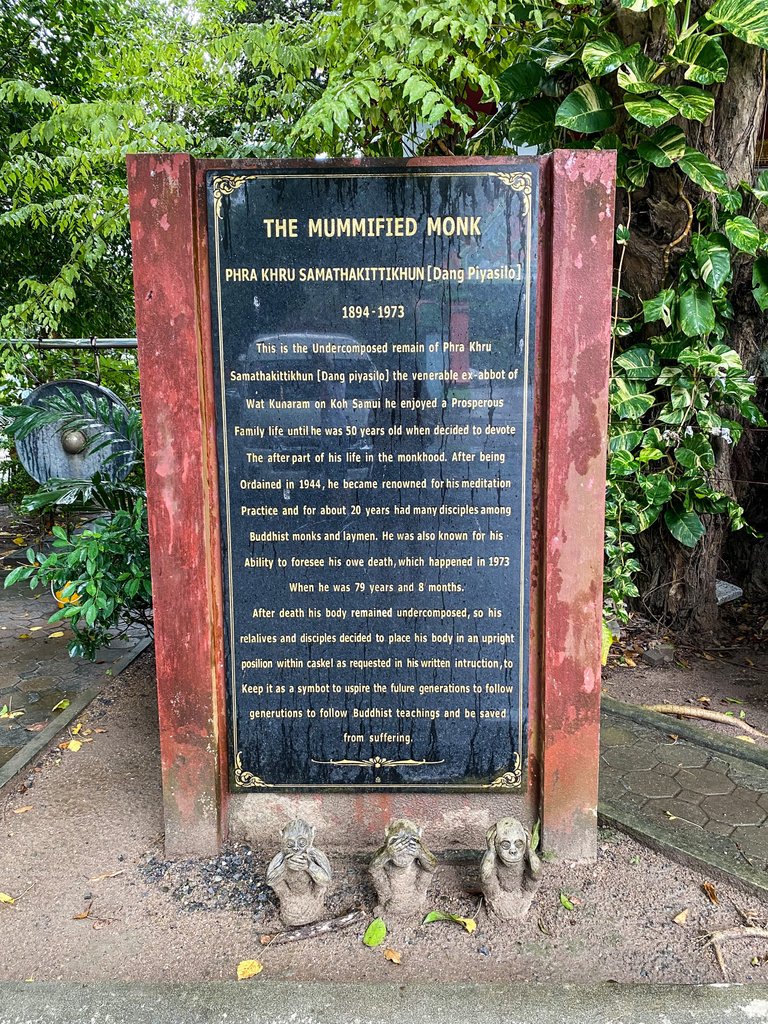 This text gives some more information about the 'Mummy monk'. The english is a bit broken in some places but still understandable enough'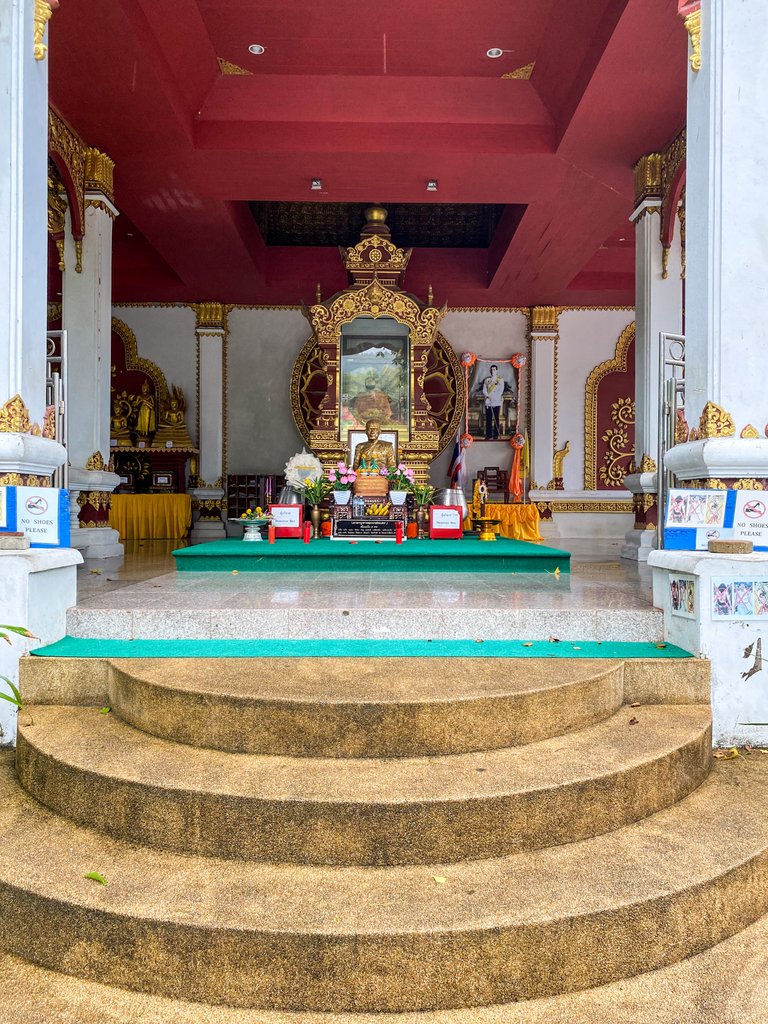 On the side is a decorated area with a shrine and some very interesting statues.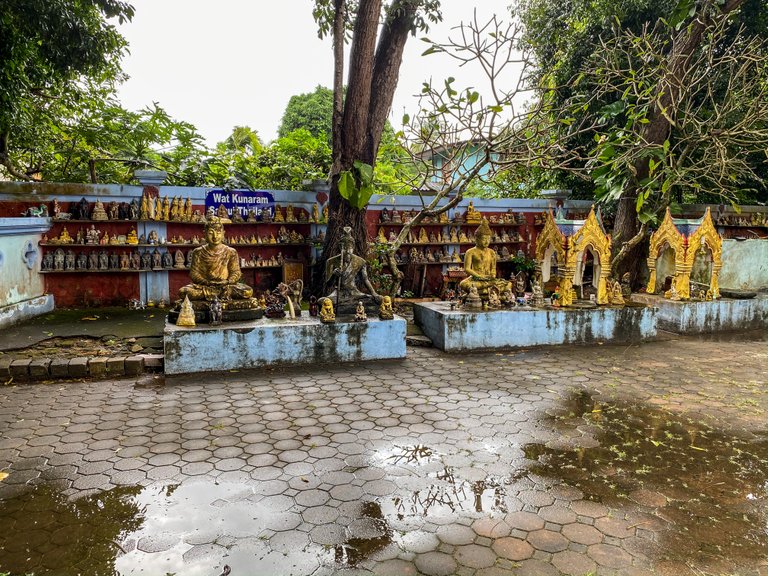 It started raining straight after we arrived so couldn't hang around much. However managed to take pictures of the area. Again we were the only visitors, so it felt very peaceful and secluded.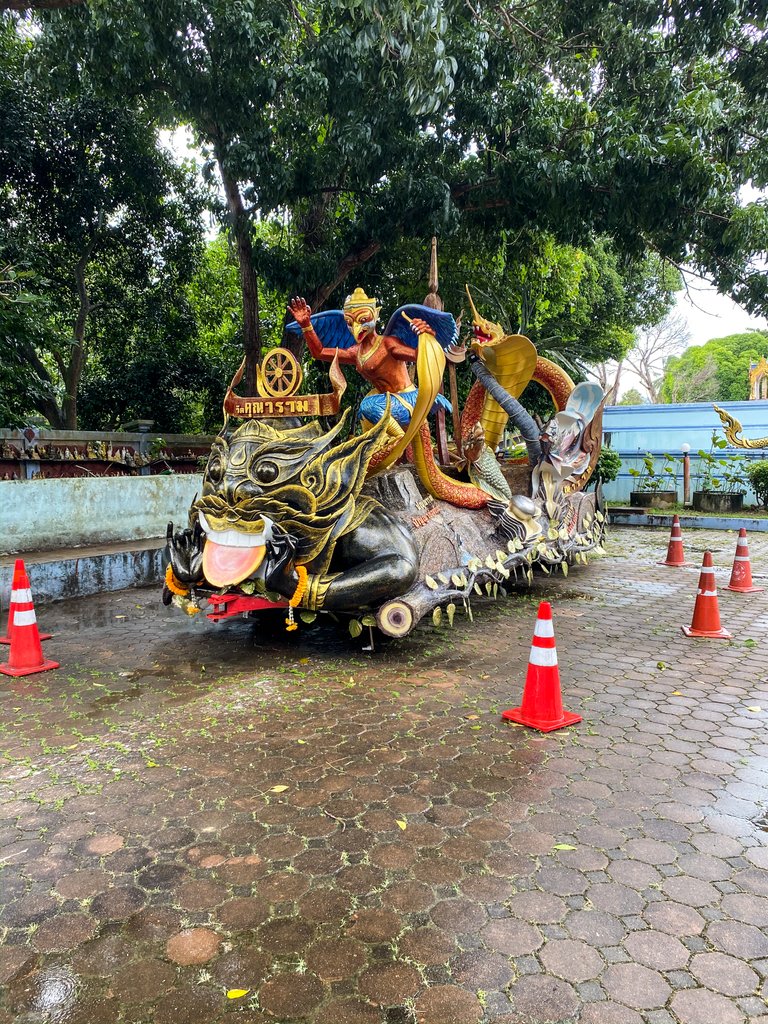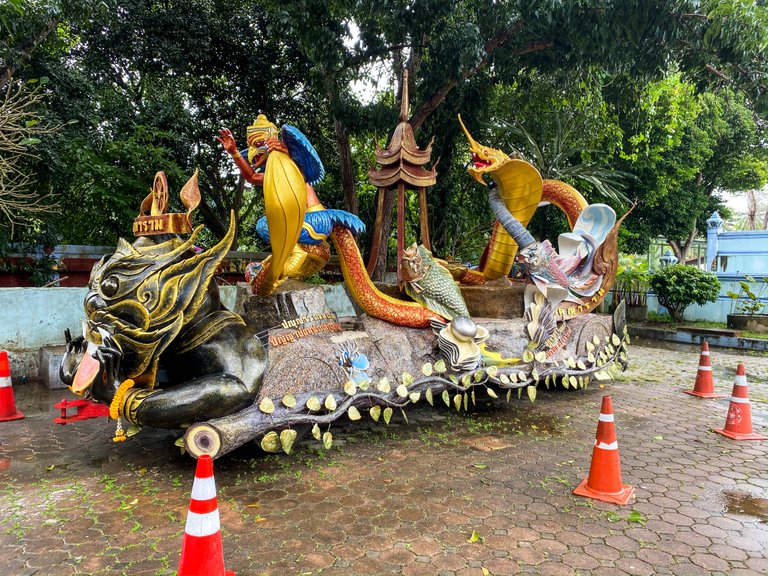 This was something I haven't really seen anywhere else. It did look like a kids playground but surely wasn't.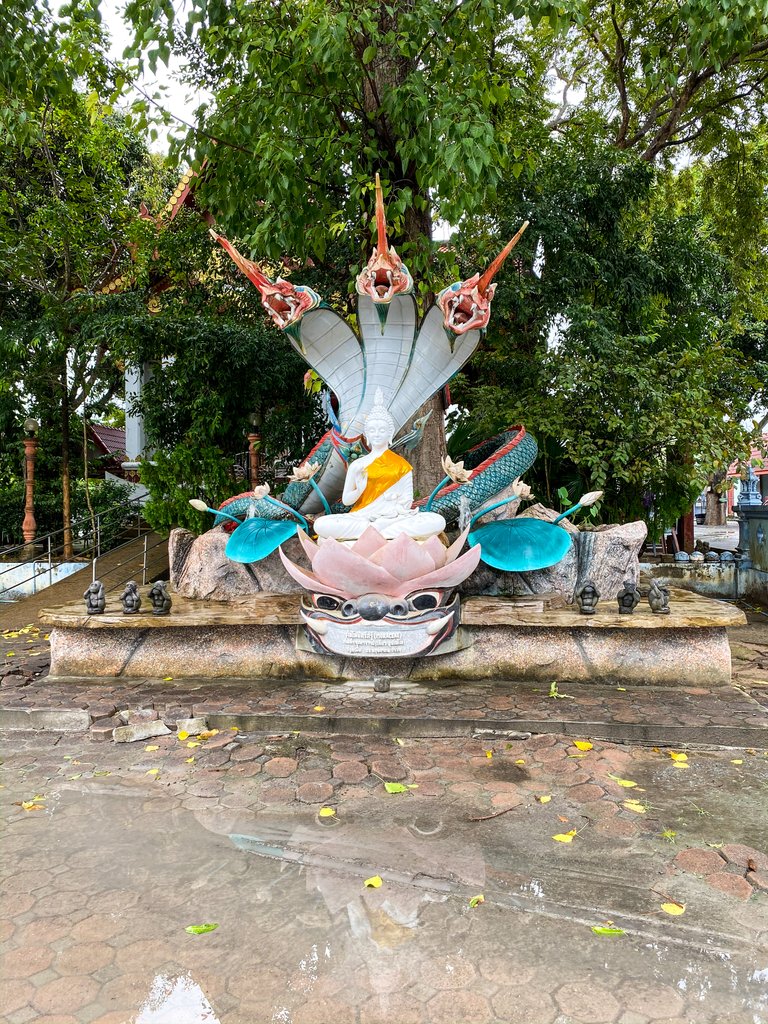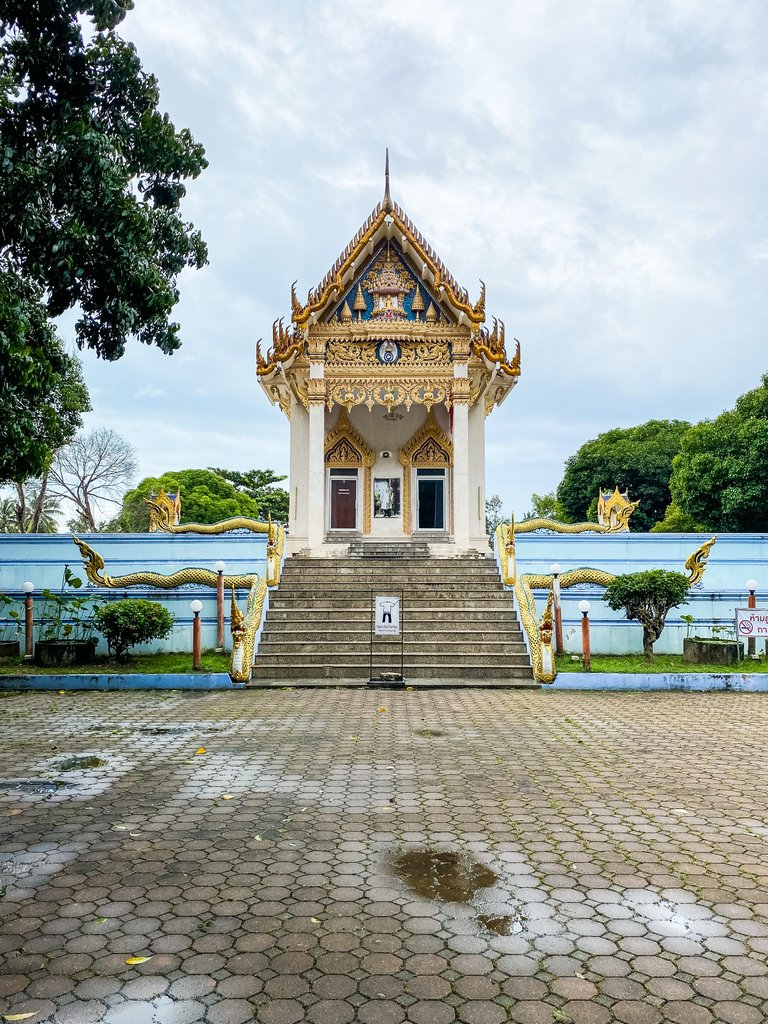 This is the second praying area just pat the statues. It would look a lot nicer if the weather isn't as gloomy but I didn't mind the rainy jungle atmosphere.
Guan Yu Shtine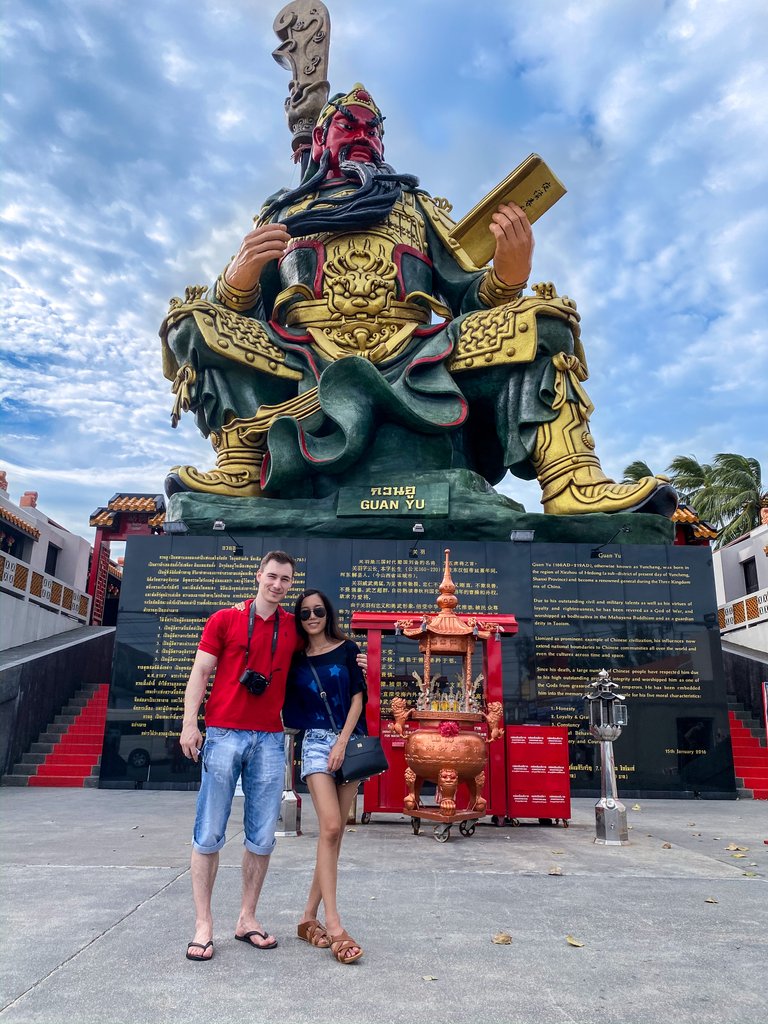 Guan Yu Shrine is relatively new - Built in 2016. The statue is 16 metres high and is the highest Guan Yu statue in Thailand. The shrine is located at Huathanon village, wich is on the south side of Koh Samui.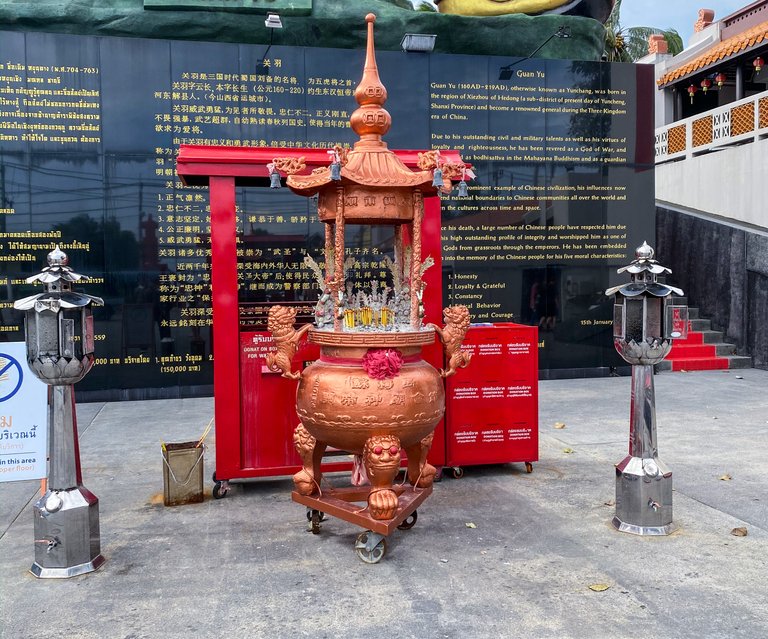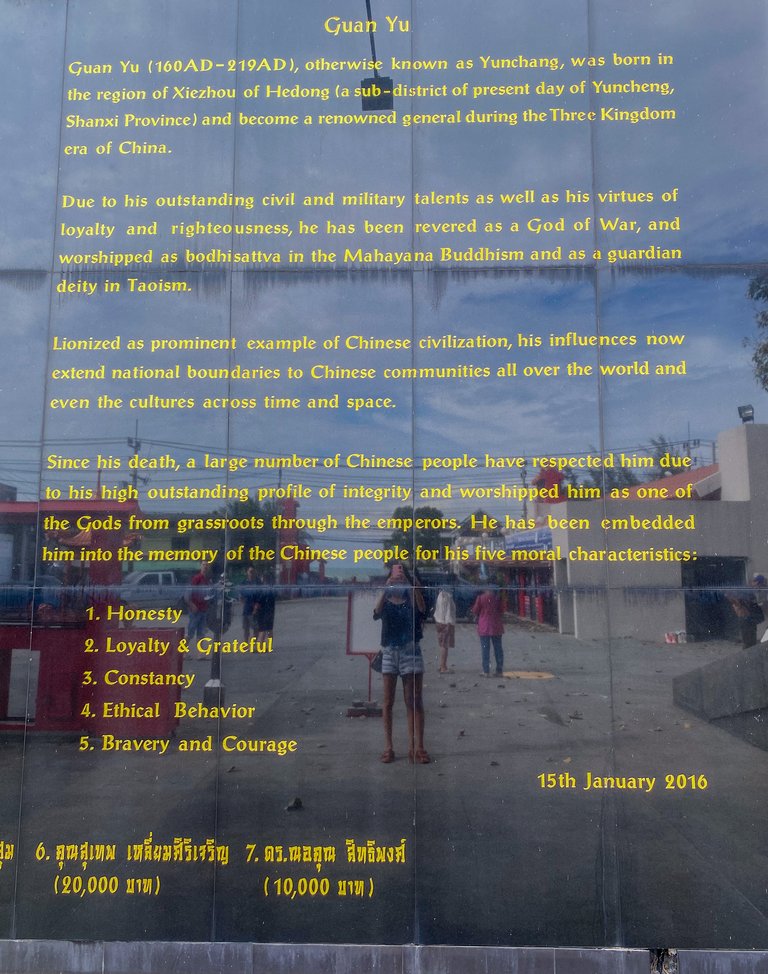 Guan Yu was a renowned Chinese general during the Three Kingdom era. Due to his great accomplishments in life, he's been worshipped as a God of War after his passing.
We didn't go upstairs where the praying area was. Our group was mostly Thais and they weren't interested in the chinese shrine as much I assume. It was lunch time as well and we were all quite hungry so that was another factor.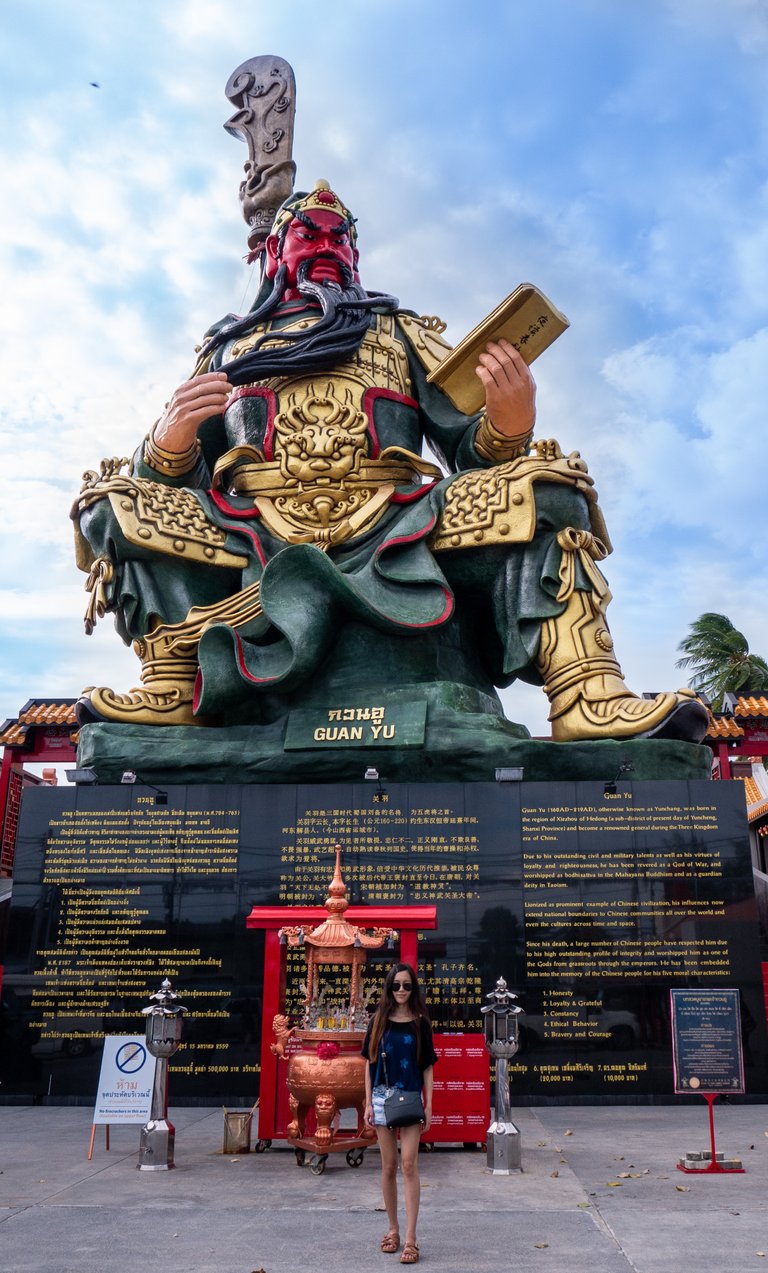 Here's one final photo of Nat standing in front the statue
That's all for today. Hope you enjoyed the photos! I'm almost done with the Samui posts, but there are still a couple of places I'd like to share from that trip. Stay tuned for that and I'll see you in the next one!