Hello folks! Today I'm showing you a place that I can only call - weird. Weird but in a good way. This restaurant in Bangkok is placed inside of an old Lockheed L-1011 Tristar airline. They have taken out everything from inside the cabin, added all sorts of gothic decorations, shiny and vivid colored windows, statues and the owners taxidermy collection. It's just a very unique and weird place but really interesting to experience. The restaurant itself is luxurious - food is amazing and it has a set course that you follow but have a few options to pick from. We went here for our anniversary with Nat a few months ago.
The Restaurant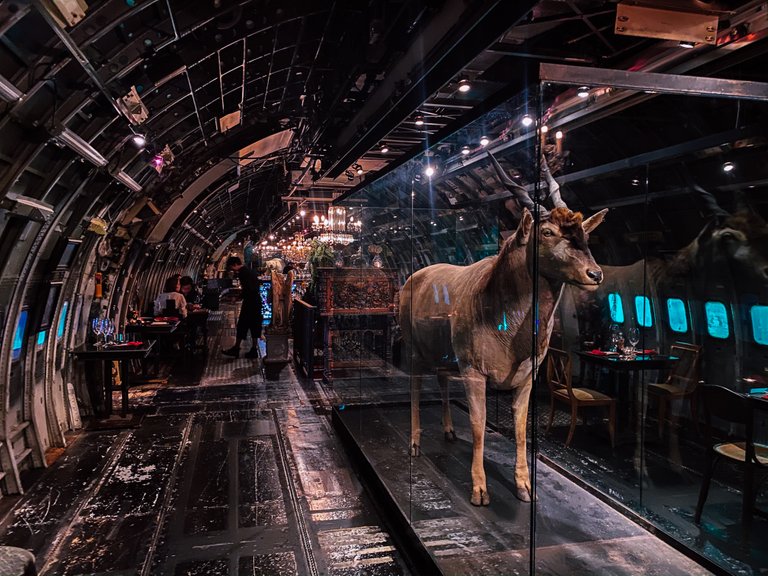 The place was quite far away from where we live. You can find the plane parked in the middle of the creative space Chang Chui in Thonburi. To get into the plane you hop on an old elevator that is controlled by one of these factory elevator remotes (believe it was built from something like that). Once you enter, it's hard to focus on a certain part of the scenery. There is so much that your eyes could stop on while walking towards your table.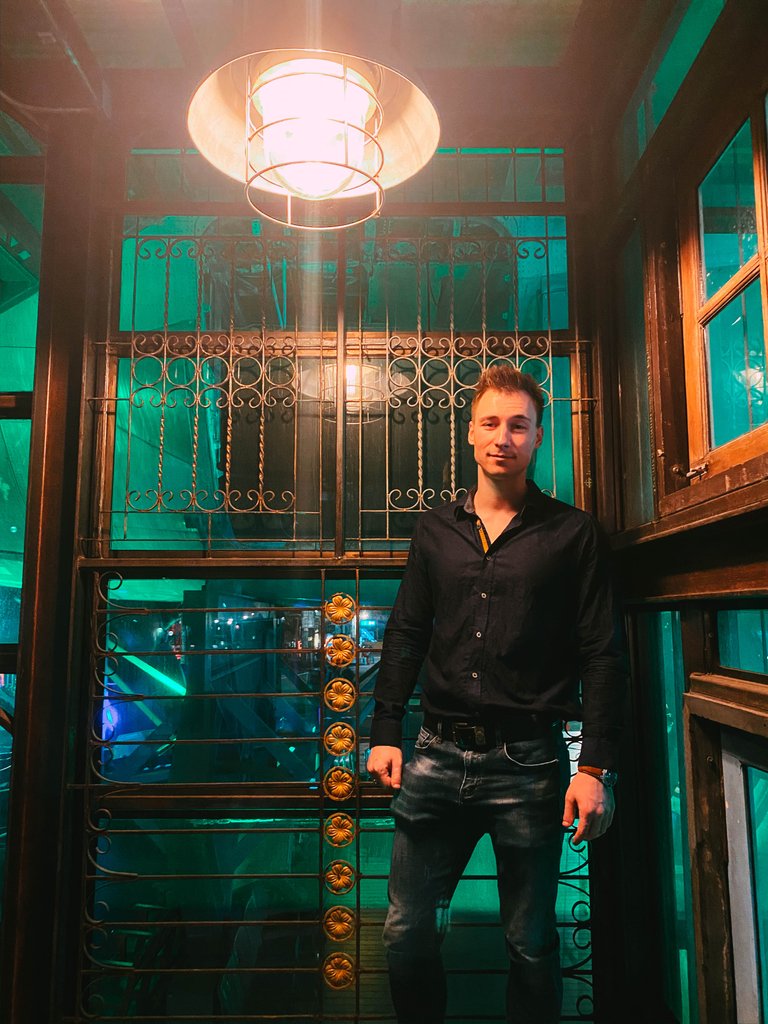 This was the staircase part on the side where we left from.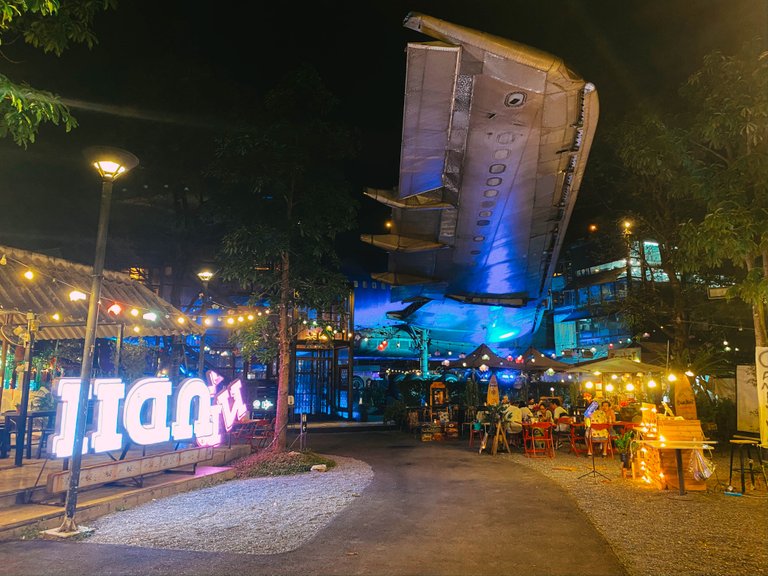 This is kind of how it looks outside. You can see the road leading towards the elevator that gets you to the airplane. There is usually a host that gets you and takes you up.

And this is the entrance through that elevator I've been blabing about so much.
And now is time to show you around the inside of the restaurant. Here is where it becomes interesting and a little bit weird. Pretty much every table and spot around the plane was unique in it's own way. Could be the table, seats, surrounding decorations or light. The place represents something like a futuristic Noah's Ark, taking chosen survivors of a post apocalyptic world(the people dining) on a flying vessel, to a safe zone. More on that later. I know the name of the restaurant isn't No-ah as I though it was up until I started writing this post, so It isn't a typo.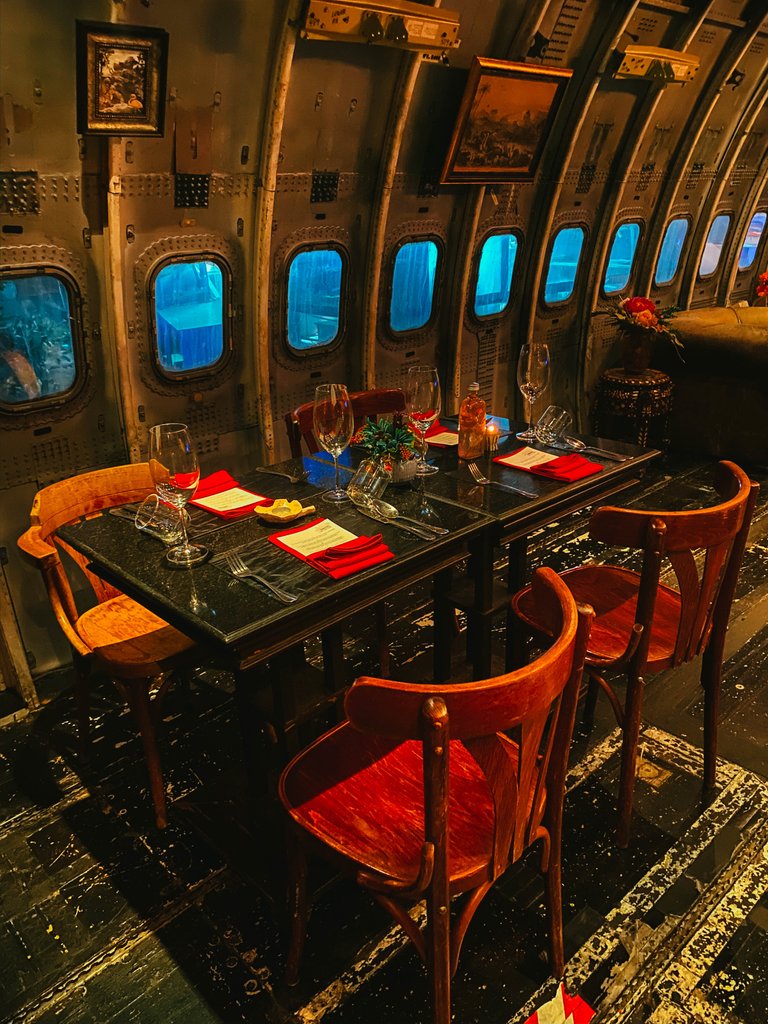 All of the furniture was vintage and these chairs and tables were placed in the middle part of the restaurant. This is where we were seated as well.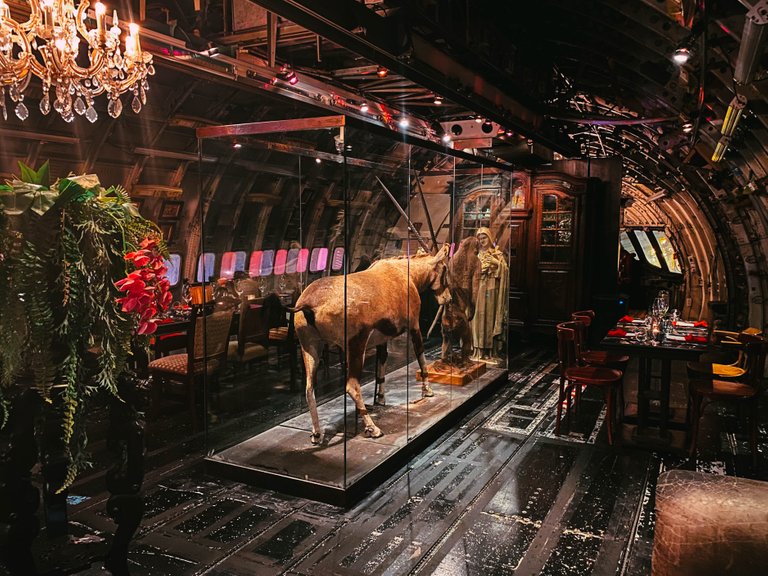 There were 2 screens on both ends of the cabin with taxidermy.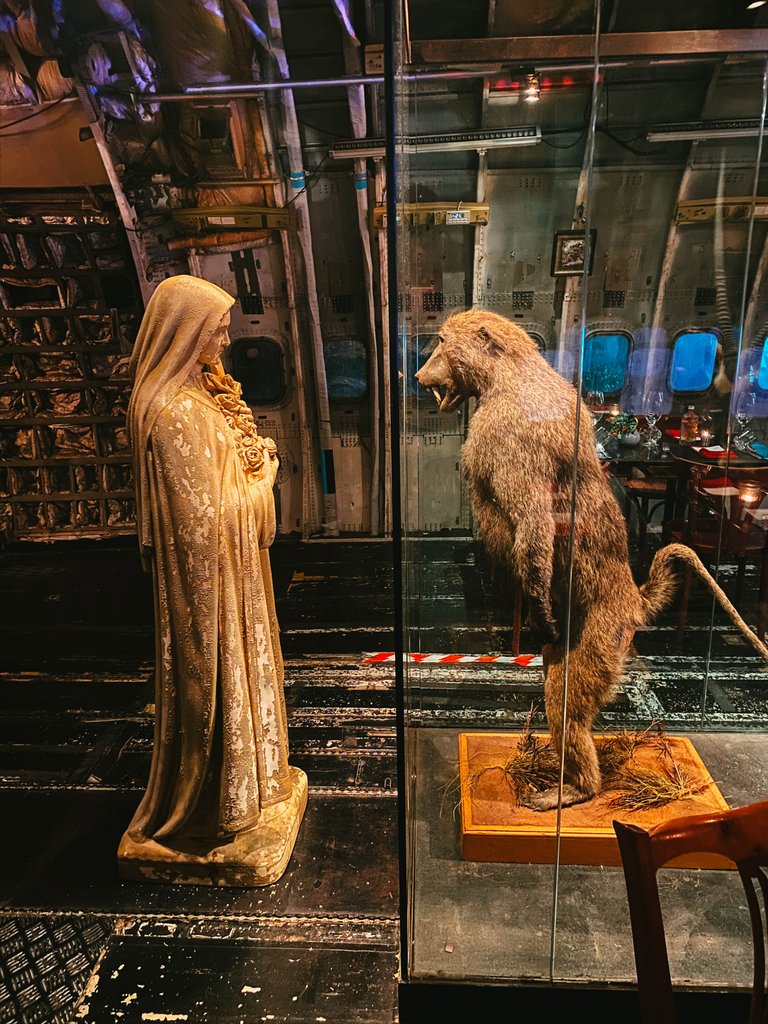 On the other side of the glass frame was this monkey facing a statue. The arrangement was quite comical but I did like the idea. There were a bunch of these statues around and this is how they made the taxidermy and the statues interract in a way so they aren't just randomly there on their own.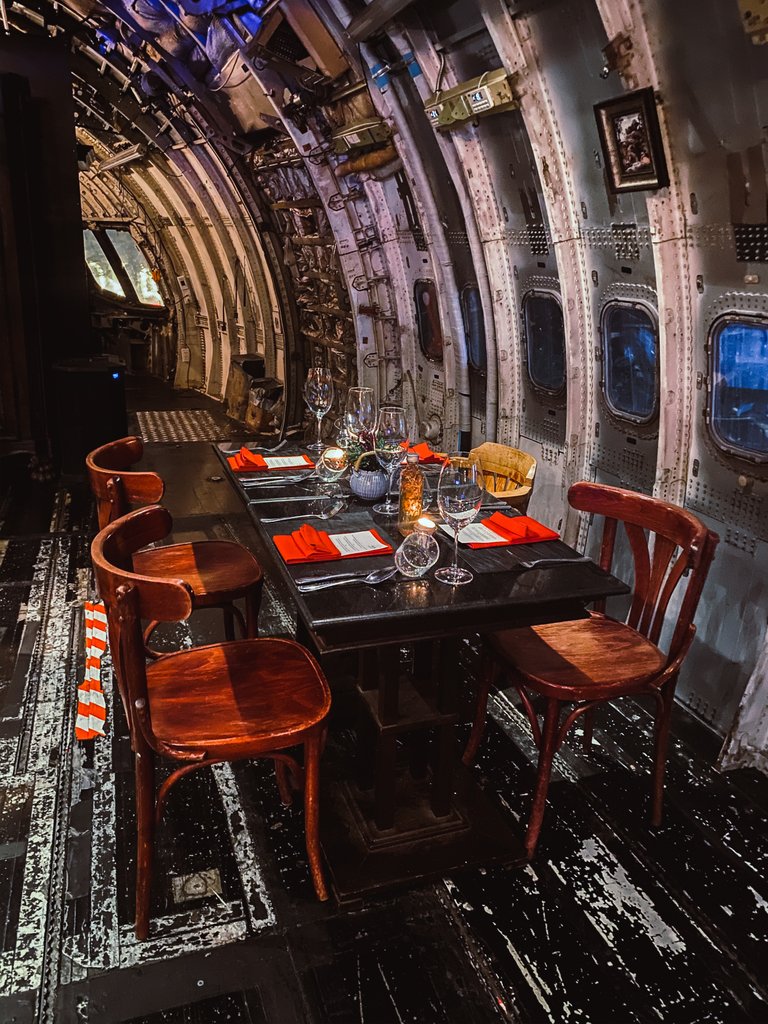 The windows were all tinted in bluish-turquoise color and the frame of the wall was stripped making the surrounding seem a bit more futuristic but vintage - kind of like an old sci fi movie.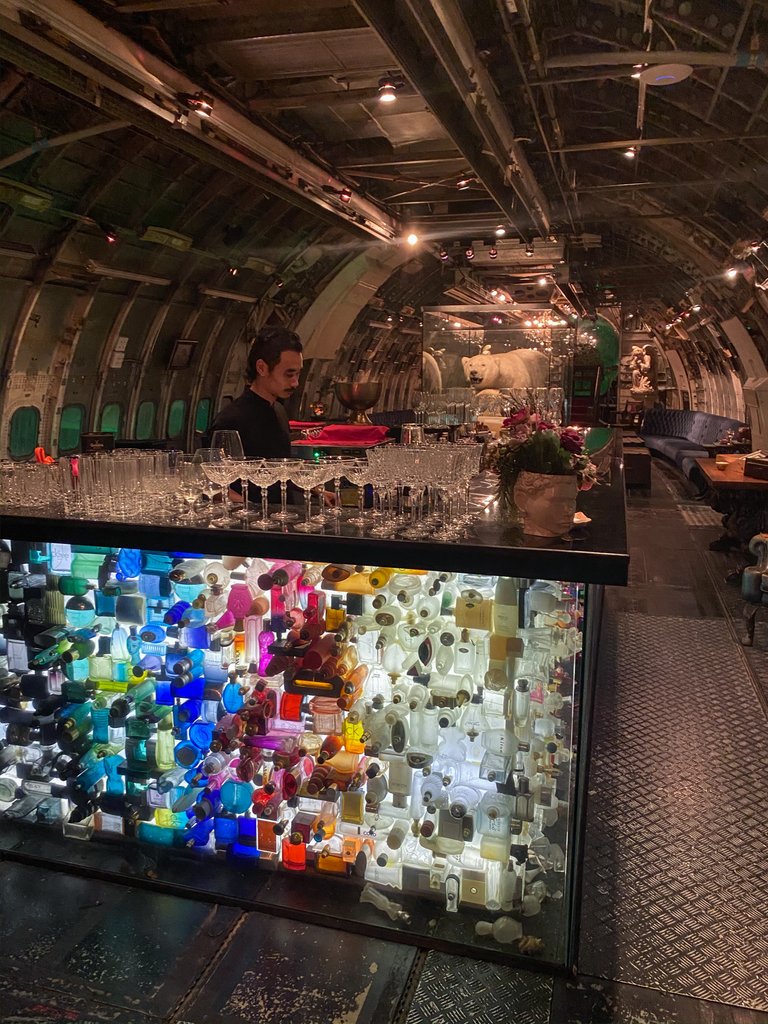 The bar had a very interesting glass frame filled with colorful bottles of all sorts. It was very different from everything around it but somehow with all the weirdness it fits.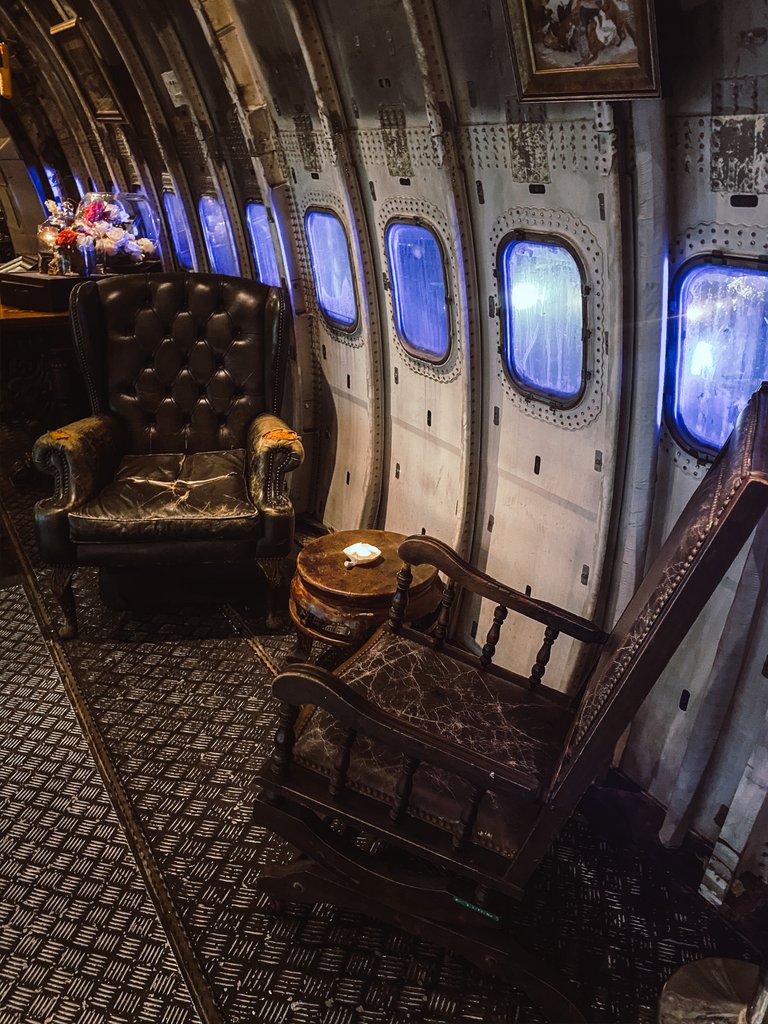 Some of the areas had some pretty old looking furniture with smaller tables - for cocktails I assume. Not sure if you could sit there or was it just for decoration, but there were a lot of these around so I assume it is for people that aren't dining.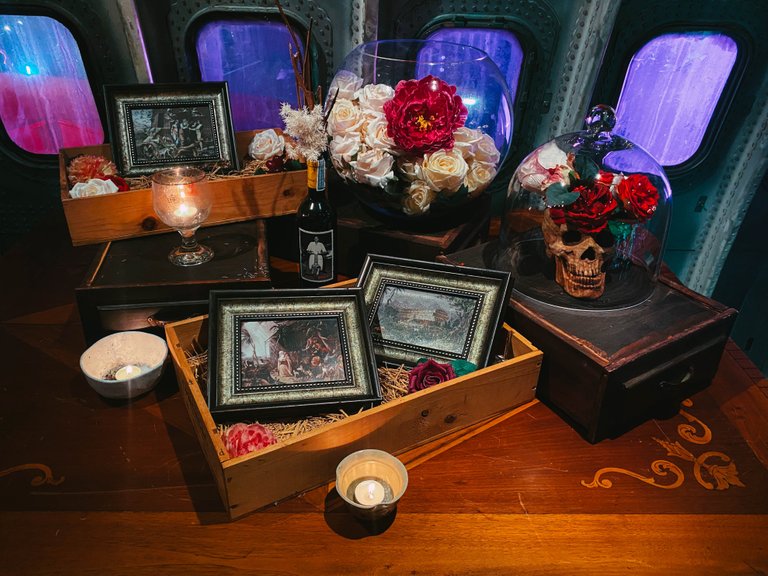 Believe there were a few wooden frames that had a bunch of these decorations on them. The theme was the same - flowers, candles, old wooden boxes and skulls.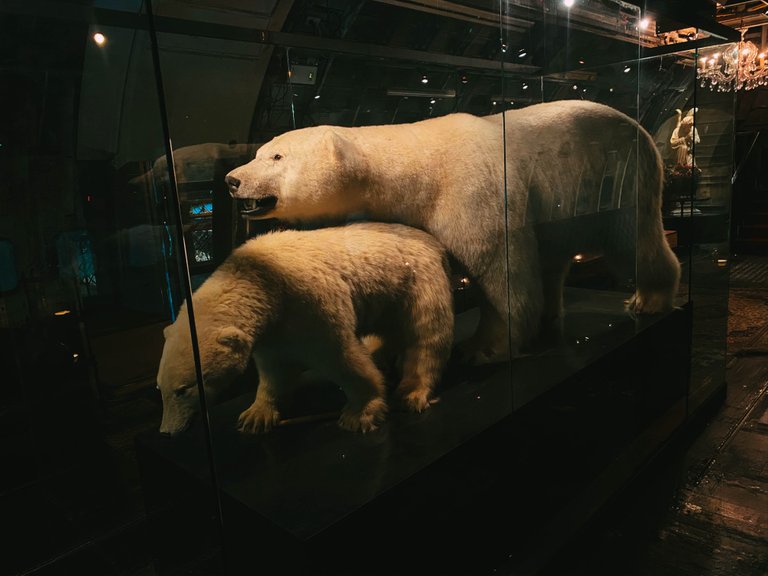 The last thing you expect to see in a restaurant in Thailand is Polar bear taxidermy.. I guess I've seen it all now.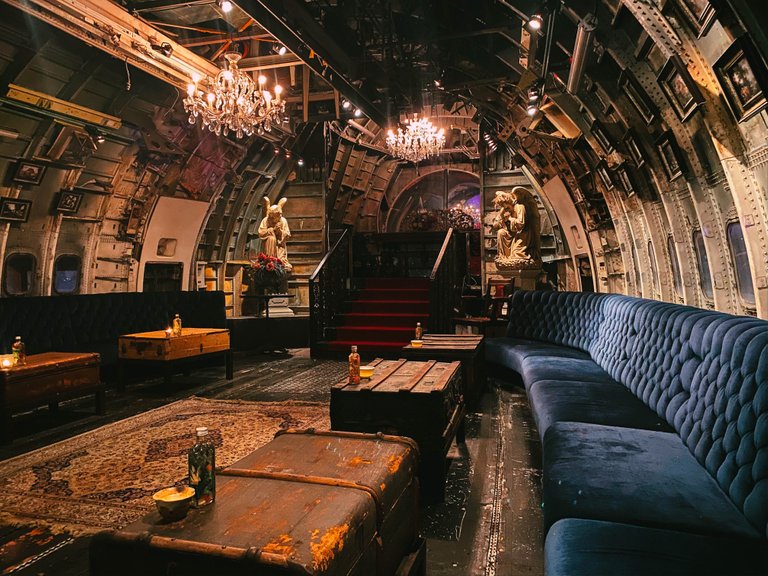 This side was unoccupied while we had dinner, but it takes quite a big space on the back side of the restaurant. It doesn't look very comfortable for dining because the tables are very low, but I guess people still enjoy the different feel to it.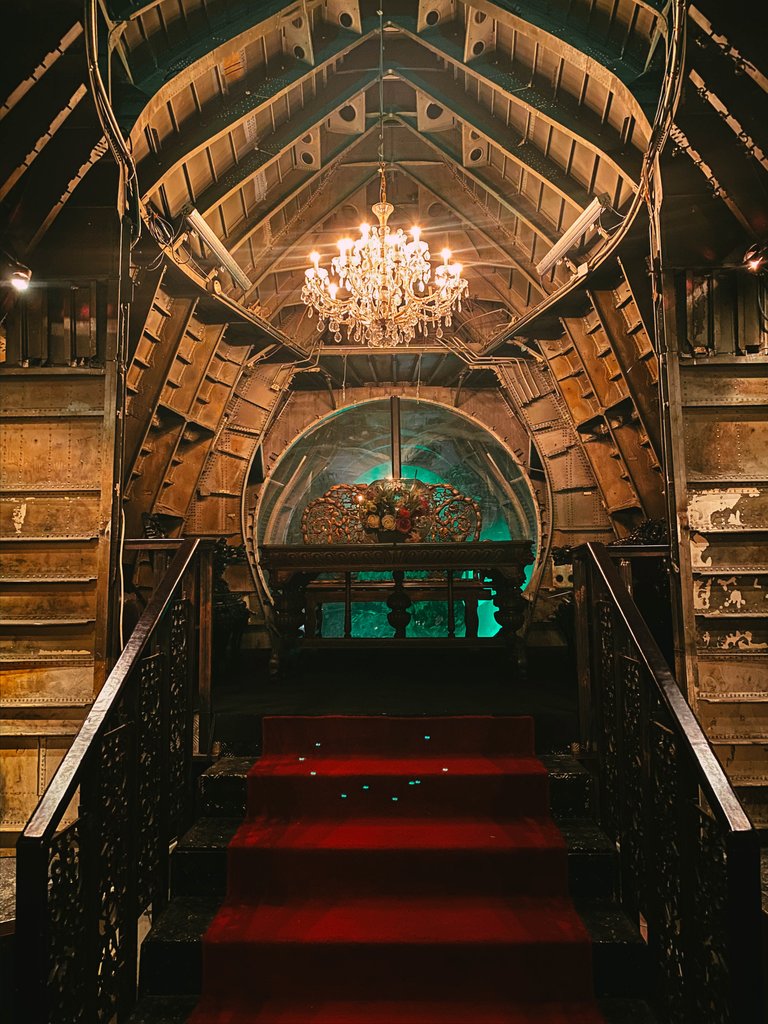 I really have no idea what that represents, looks like a control point of an aricraft from a 90s sci fi movie.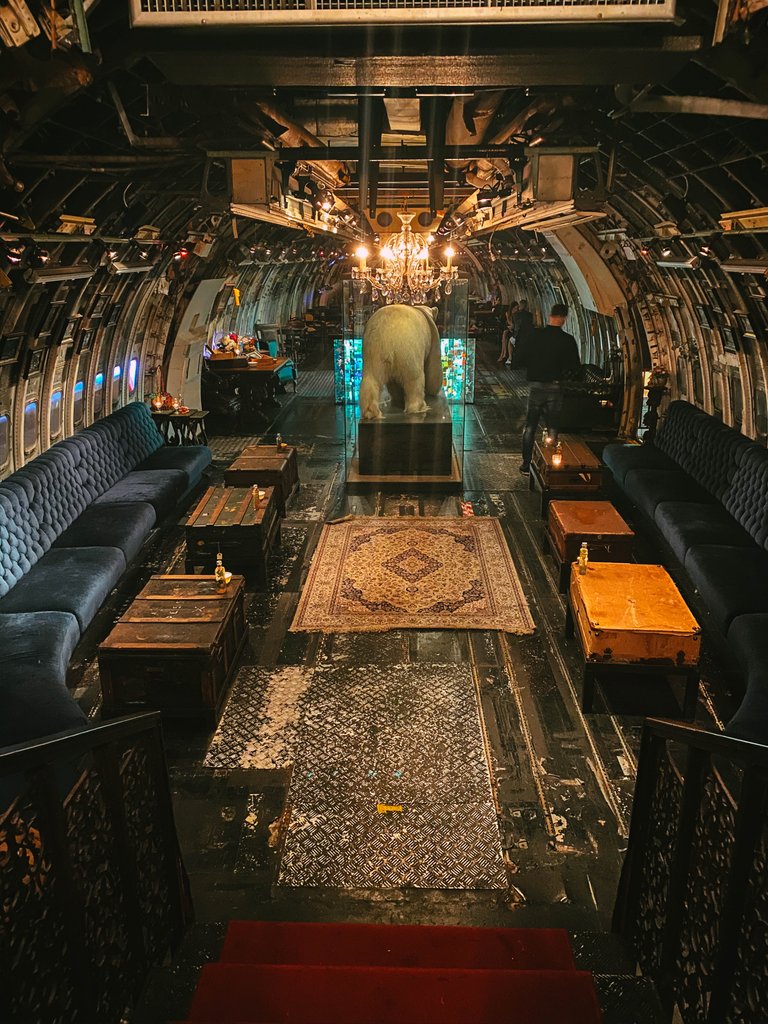 This photo is taken from the stairs down, giving a perspective of the whole place. Can't really see much past the bar from here though.
The Show
When we went to this restaurant we knew very little about it. It was a last minute decision to visit it and it just looked like an interesting place to go - being a restaurant built inside an old plane. We didn't know there was a whole storyline behind it. The 'survivors' on the ship being served a futuristic fare while travelling. Midway through our meals the lights went down and loud music started playing. The music was from Carl Orff's - Carmina Burana (I know pretty dramatic and thematic). With the music began an amazing light show lighting the whole cabin making it feel like you really are flying in a space ship.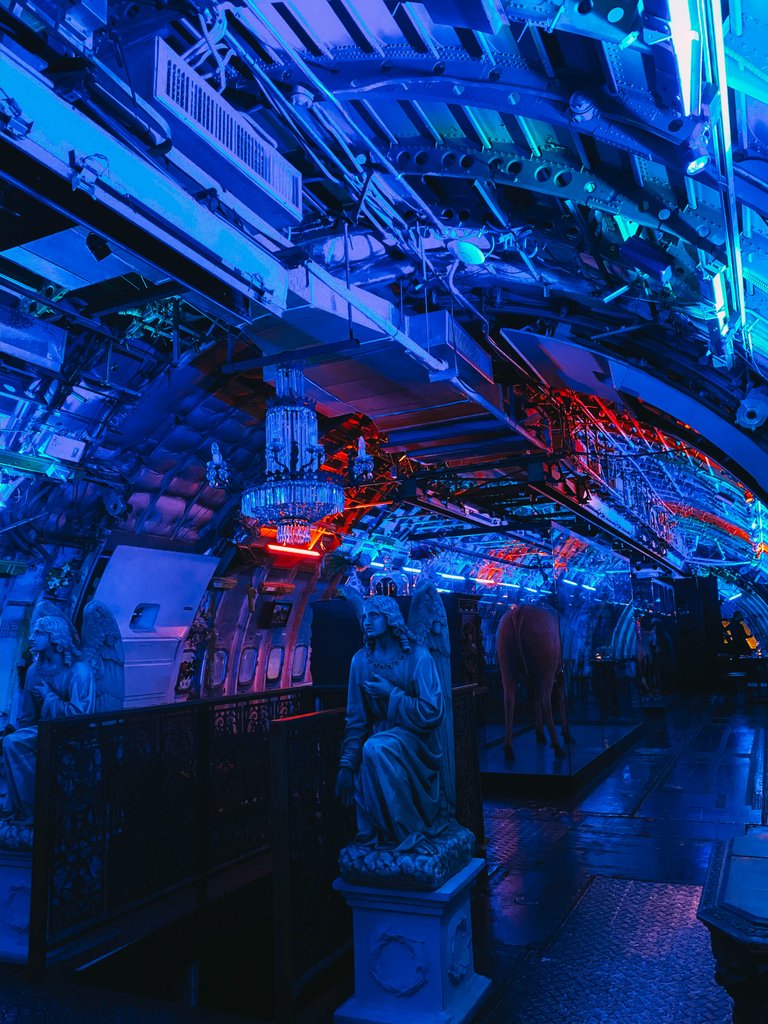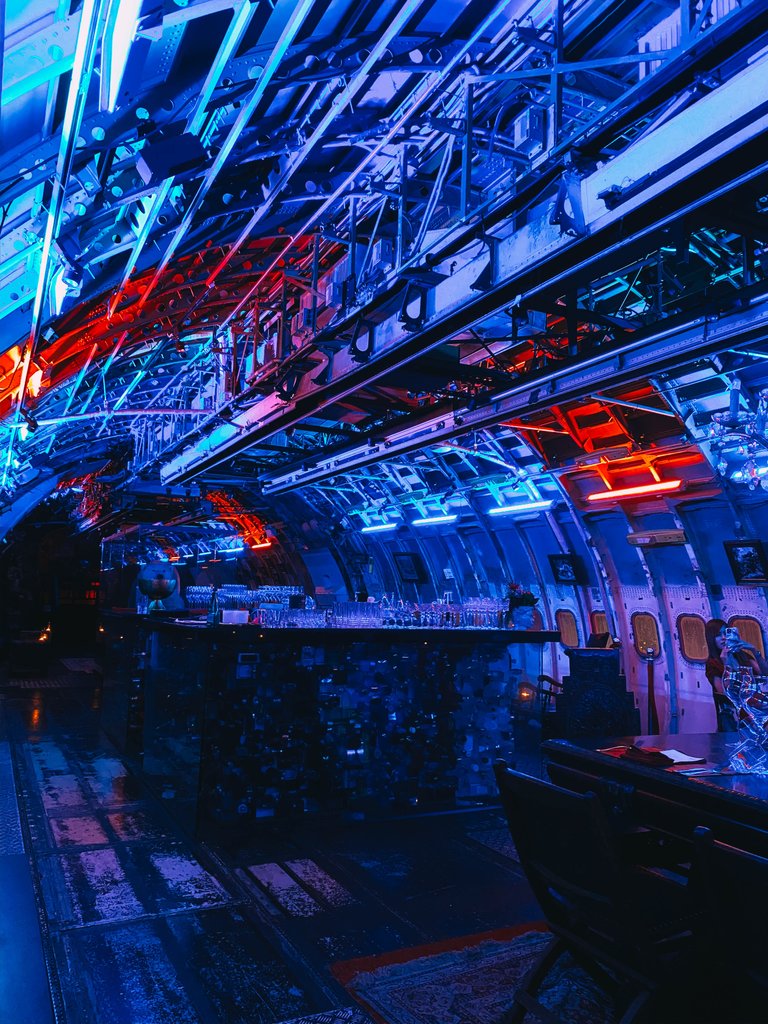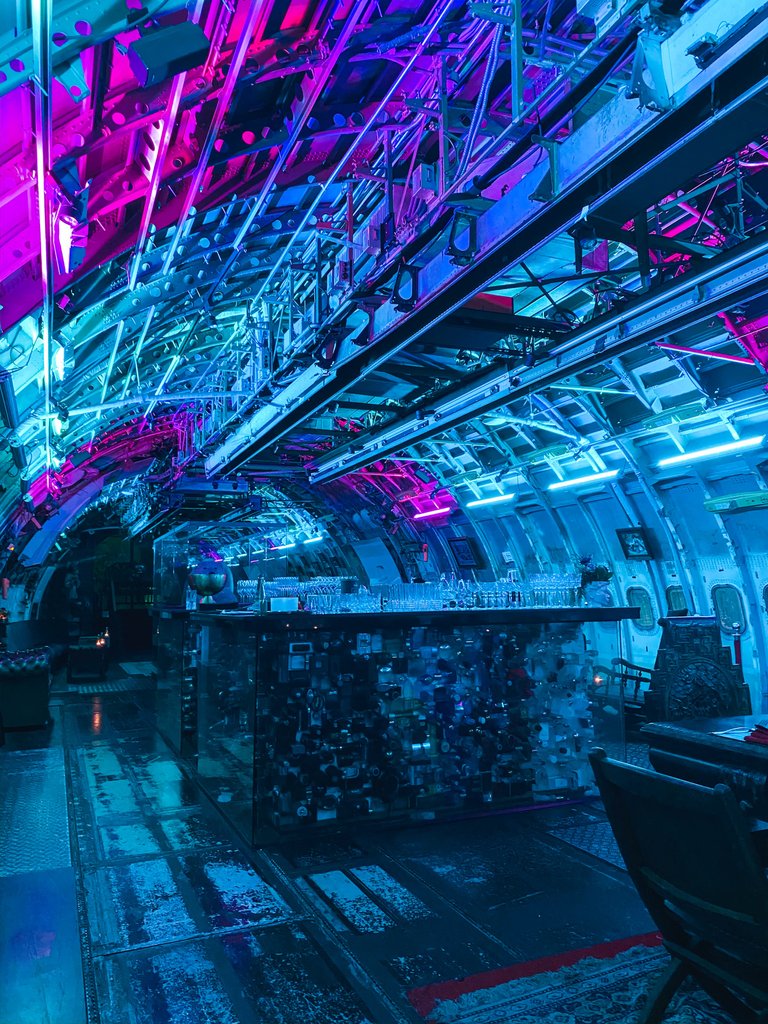 The show has to be seen on video at least. It was synced with the music and the lights were going from the back towards the front, creating the illusion of the aircraft moving really quick - kind of like hyperjumps in Star Wars. (I know you know what that is!) The show lasted for a good few minutes and then everything went back to normal with the last few courses of our dinner.
The Food
Last but not least - the food! The menu is a set five course where you can chose your main course. Every single thing they serve - they give a thorough explanation of how it's made and what exactly is it. The portions weren't too big but the 5 couses were quite filling.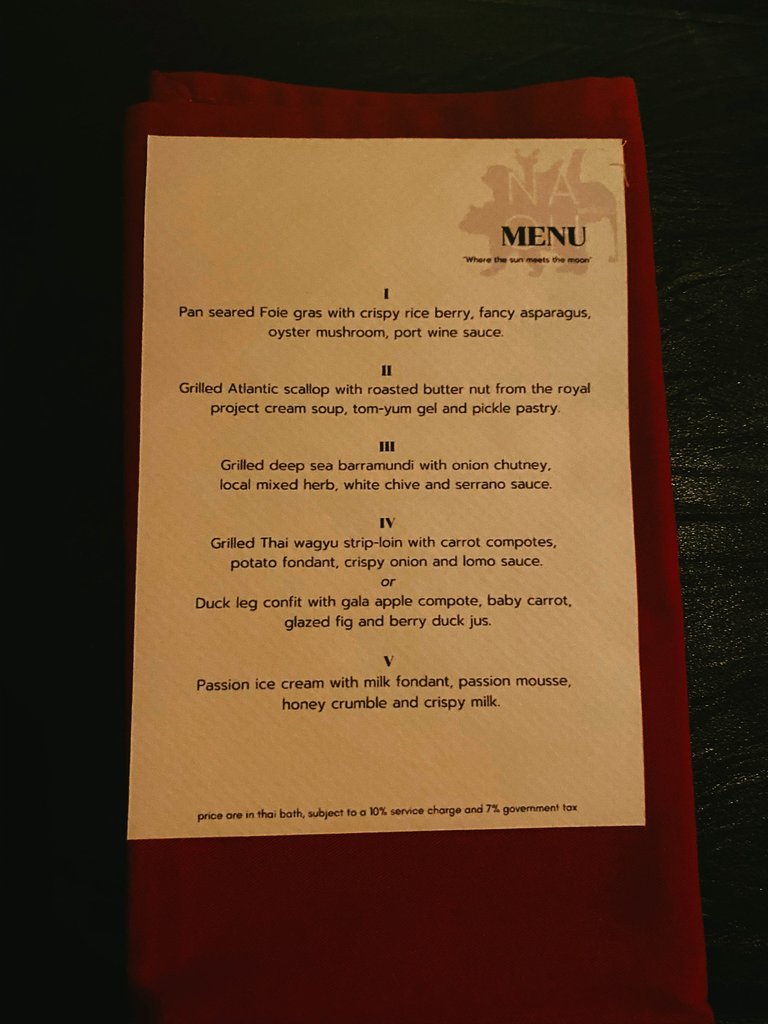 Here's the menu itself. It was placed on the table when we arriveved and we only had to pick what main course we would like. We picked both - I had the Strip-loin and Nat had the Duck leg.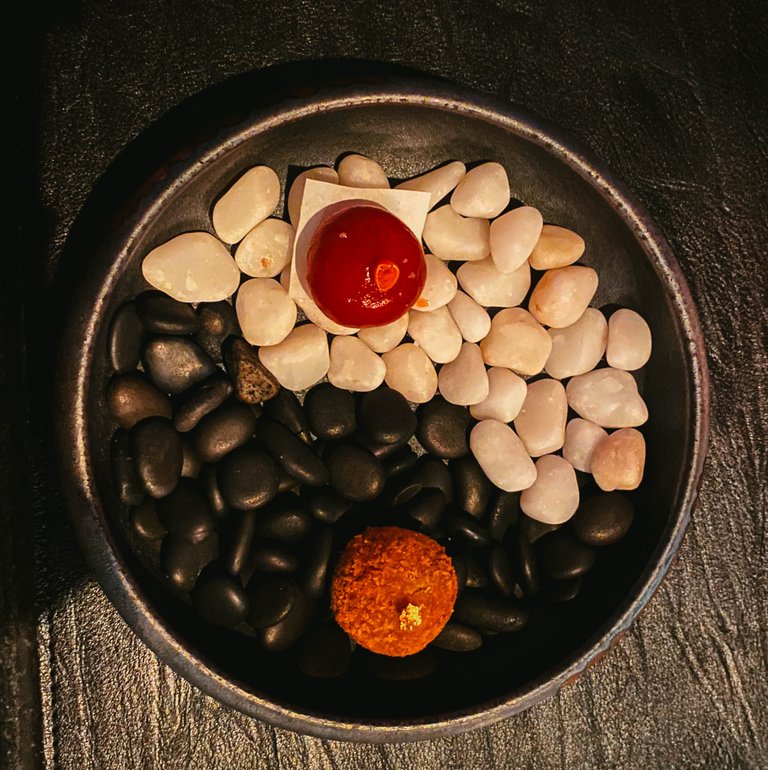 That was the starter. It was served on a rock platter that I assume symbolizes ing and yang? The waiter did warn us the rocks are not edible and are just for decoration. I bet someone broke a tooth before! :D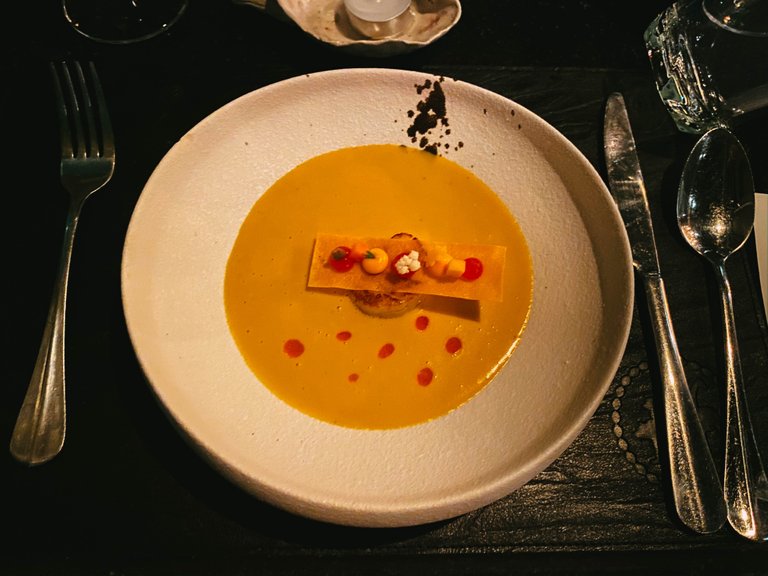 The Scallop was our second course. Pretty small but you know how it is with 'fancy' restaurants - big plates and small amount of food. I always wonder how come I always end up full anyways. And the taste is so good!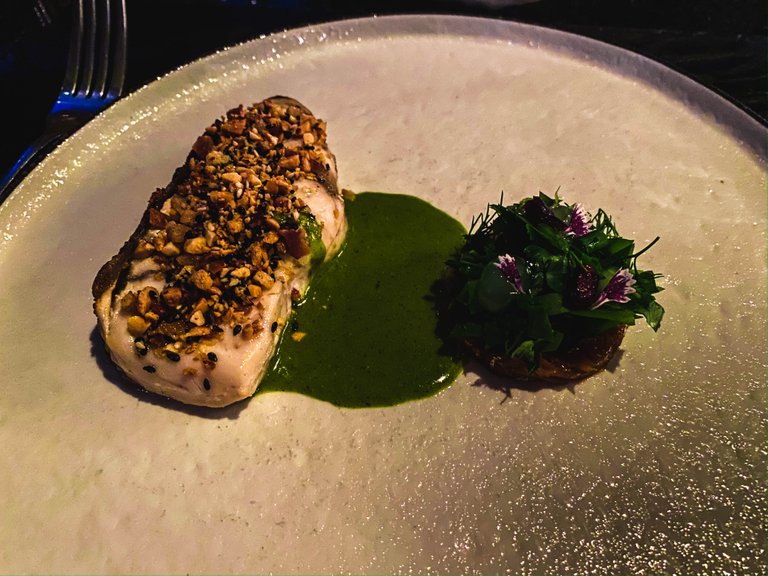 The grilled deep sea barramundi was the first 'bigger' portion we had. It was real nice with very interesting side - white chive and mixed local herbs.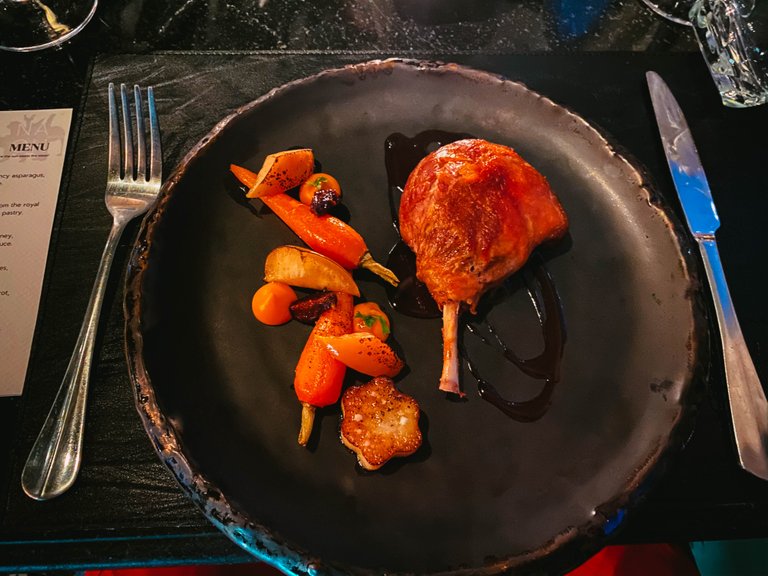 On to the main course - this was Nat's portion - Duck leg juiced with apple compote. I only tried one bite and it did taste quite nice.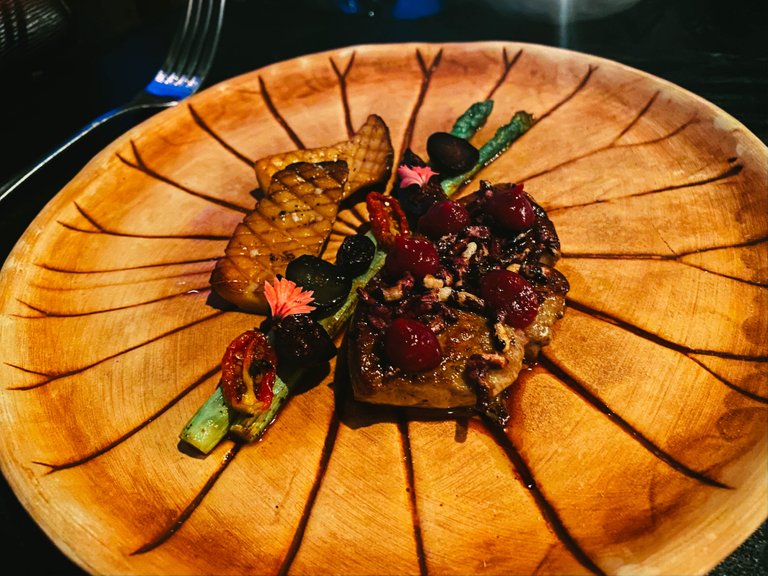 That was my main dish - Thai wangyu strip-loin. It was interesting mix of sweet and salty flavors. The berries ontop of the meat made the taste so authentic and nice. Food was nicely decorated as well.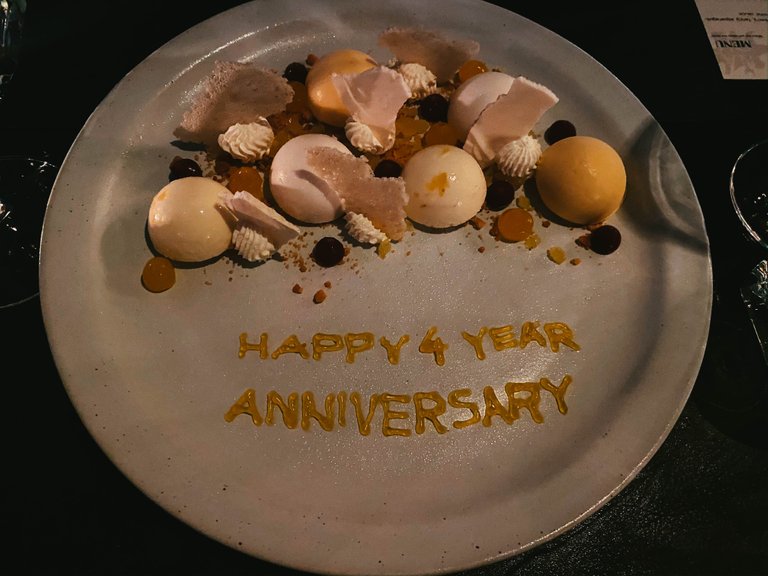 For dessert Nat asked them to do something special for us. It was quite sweet to see that and the dessert itself was really good - we finished it in no time. I'm a sucker for sweet stuff and that crumble was amazing!
The place is a bit pricey but worth the visit. Food is amazing and filling and the surroundings are so unique, it's hard to find something similar anywhere else. It's the sheer randomness of things that somehow fit together, the light show and the great customer servise that made our 4th anniversary quite memorable! If you ever end up in Bangkok and are looking for a funky place to have dinner at - this might just be the spot!