Hey Hive travelers! I've been sharing a lot of beach photos lately and it's a natural thing while exploring an island. However the islands often have more things to offer like waterfalls, hikes or interesting bars and restaurants. Having said that there is still one more spot near the sea we visited, that I'd like to show you as well. Let's get to these magical places once more!
Klong Chao Waterfall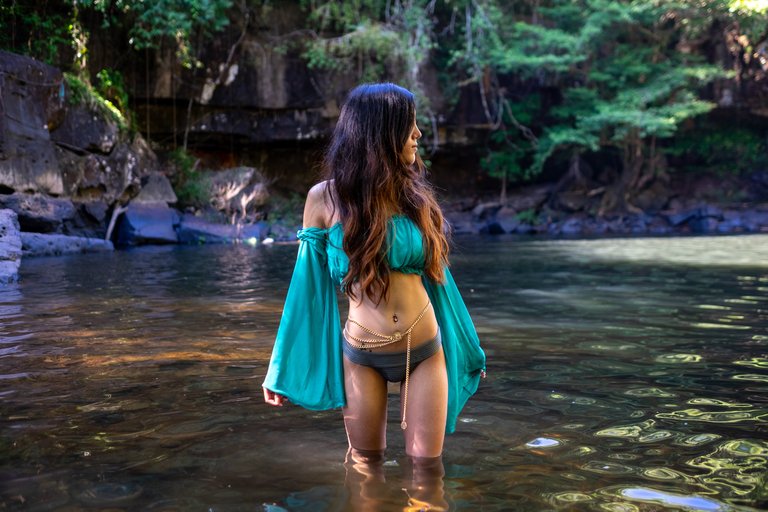 Klong Chao is the biggest waterfall on the island and one that really has to be seen if you ever travel to Koh Kood. We went there after we visited Siam and Klong Chao beaches. We weren't very hungry even though it was lunch time and when our guide asked us if we want to go to eat first or to the waterfall - we picked the second option. I'm so glad we did that because at lunch time, me and Nat were the only visitors of the place. There was a group of 3-4 girls that came along a bit after us but the place is quite big anyways.
Don't think there was an entry fee or anything like that. You just park, walk through somewhat rough rocky area for 4-5 minutes and you get to this beautiful place, cool water and nice shade from the trees.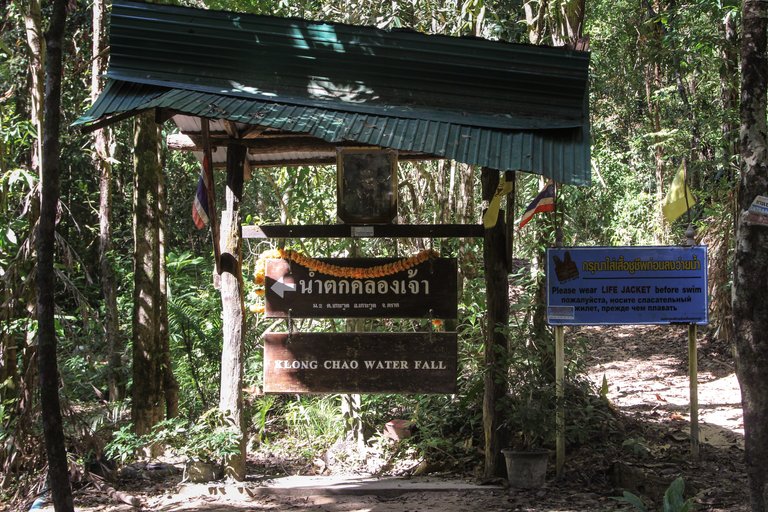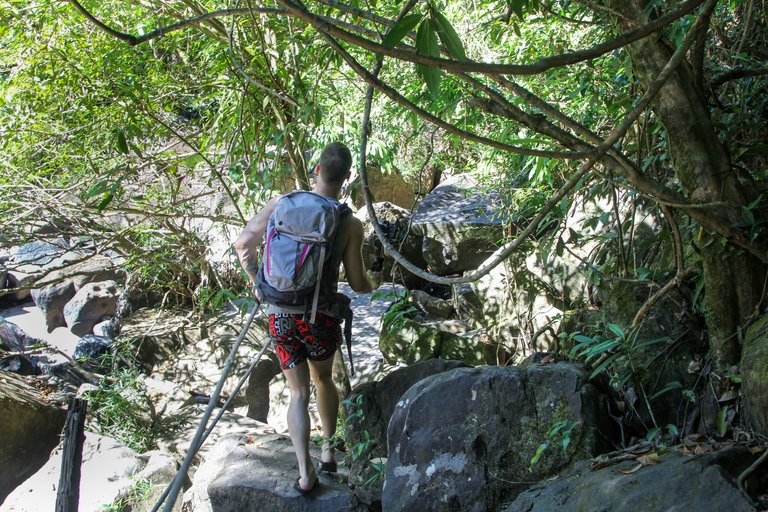 It wasn't that big of a challenge to go through these even with all of the camera gear on us. It only looks like it but there were plenty of people coming with small children as well (either carrying them or the kids climbing the rocks themselves).
It is allowed to swim in the water and we took full advantage of being alone here to take some nice photos and explore the whole place. From all of our photos from this trip there is something about the light and colors here that makes them some of my favorites.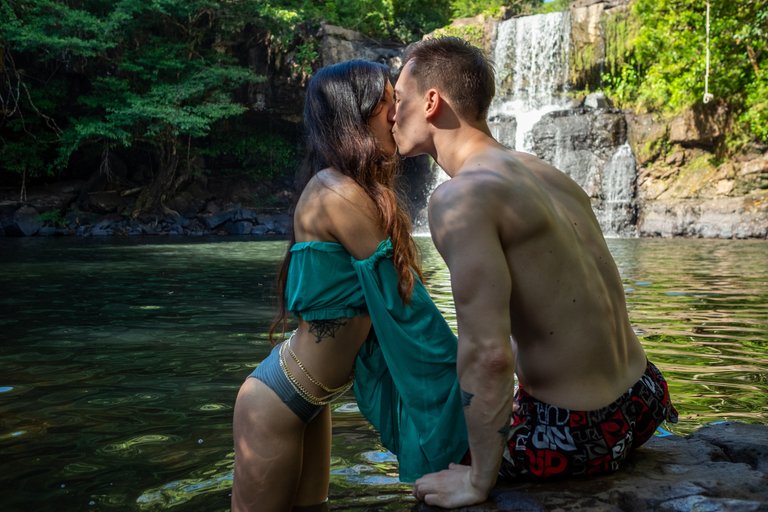 Okay this one took awhile.. It was so hard to adjust the settings because the background was overexposed and we were deep in the shadows. On top of that the timer was about 10 sec and the camera was placed on a mini tripod attached to the gimble a bit further away. I had to go start it, run down the rocks (or quickly climb through them) then sit on the rock and pose and be in the frame. Let's say.. It took a few tries. :D
In the rainy season the waterfall is a lot stronger and there's a lot more water on the left side. How it was now though really made me want to swim there and explore more on the other side.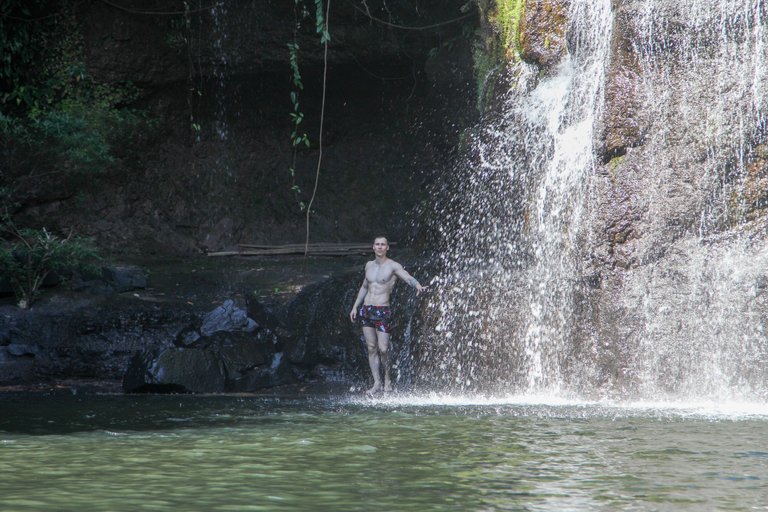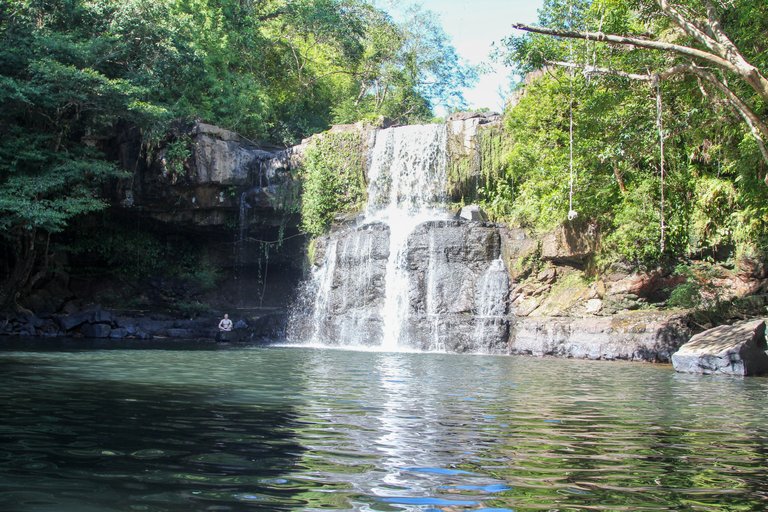 In photos like these I realize how pale my skin is. It's hard to believe I've been living in Thailand for over 2 years and still don't have any tan whatsoever.
The water was pretty clear but as you go closer to the waterfall itself it gets slightly deeper and obviously the water gets misty from the waves. There are plenty of fish inside waiting for you to dip your feet to come and have a bite. (don't worry it doesn't hurt, it's just surprising when something pinches you underwater)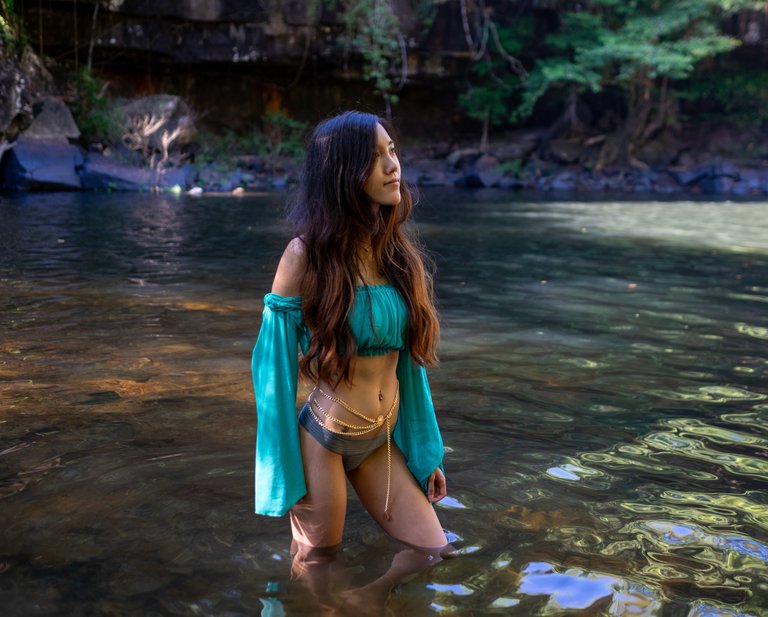 Nat kept flipping out because things were pinching her underwater while we were taking these.. :D
We had the place to ourselves for about an hour and then the lunch break for all the tours finished I guess because by the time I swam back from the waterfall area to where our cameras were, there were at least 40-50 people and more coming in. That's why I never like group tours - you get to the same spots with 3-4 other tours and anywhere you go, you can't even take a photo without having 5-6 people in the background. We always prefer taking a private boat or car with a local to take us around - we pick some spots and then ask if they recommend anything. It sounds like it's a lot more expensive but it actually isn't. There were even times where it was cheaper to get a boat for ourselves only, rather than booking a group trip. The only problem with that is you need to either speak the language or have someone that speaks Thai with you (ehm.. Nat) because communication can be hard and experience may not be as good if you can't even tell the guide where you want to go.
Anyways after the waterfall got crowded with people that finished their lunch it was time to have some lunch ourselves!
Sea Dog Restaurant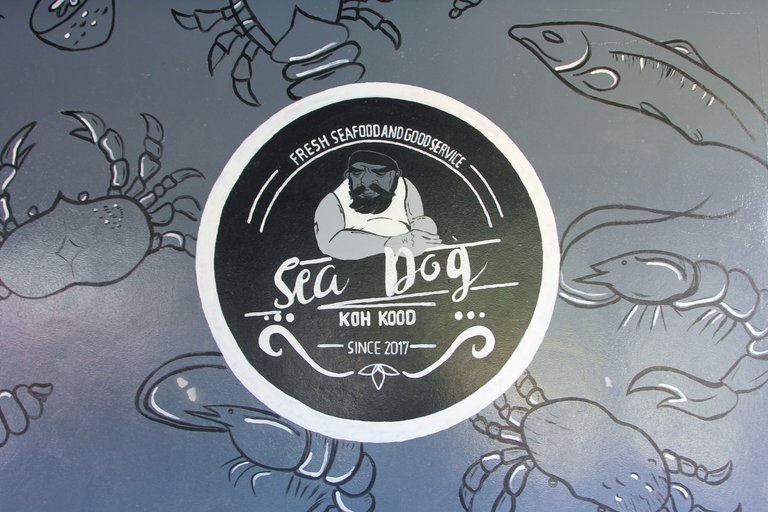 Initially the local that was taking us around wanted to take us to a different place but they were closed until evening and this was his second choice. The place was quite big and pretty new with pretty fresh decoration. There is no indoors area with air-conditioning, everything is out in the open. Just like at the waterfall - it was just me and Nat in this big restaurant. She took advantage of that and went around taking photos.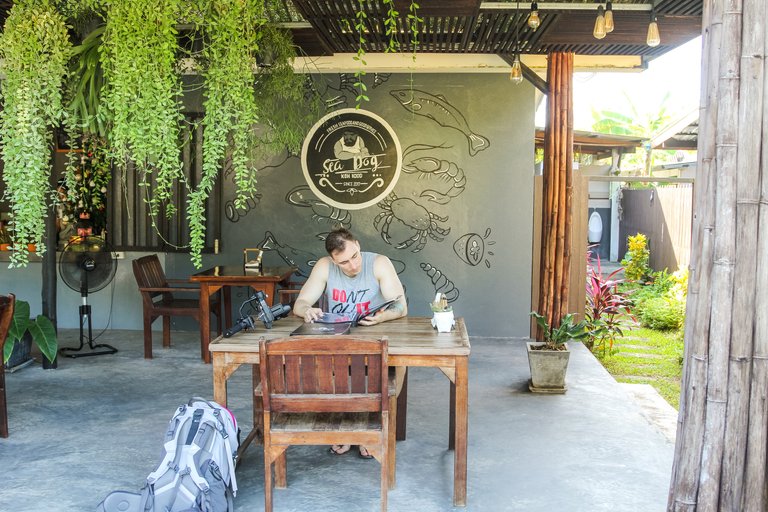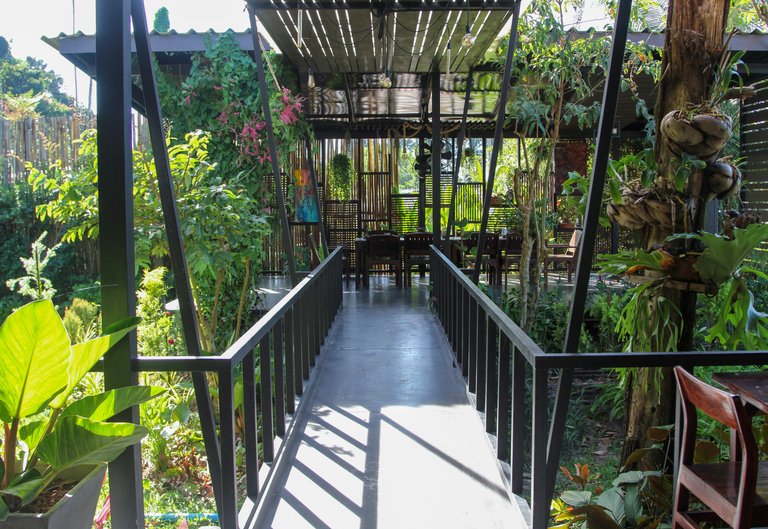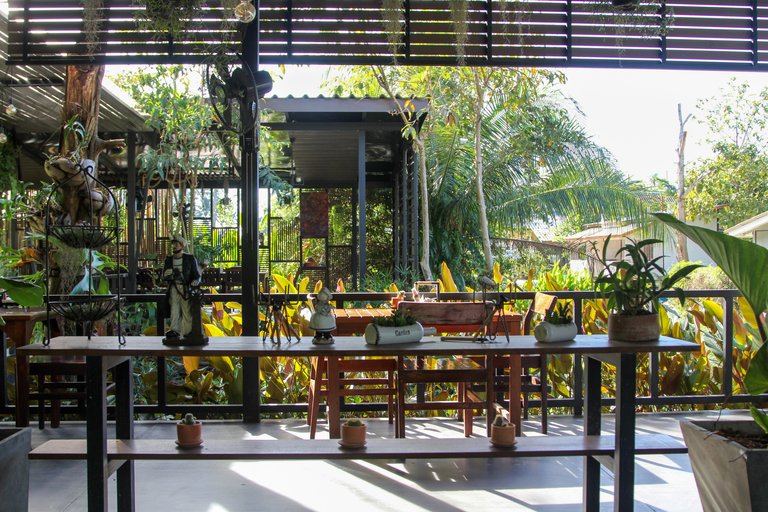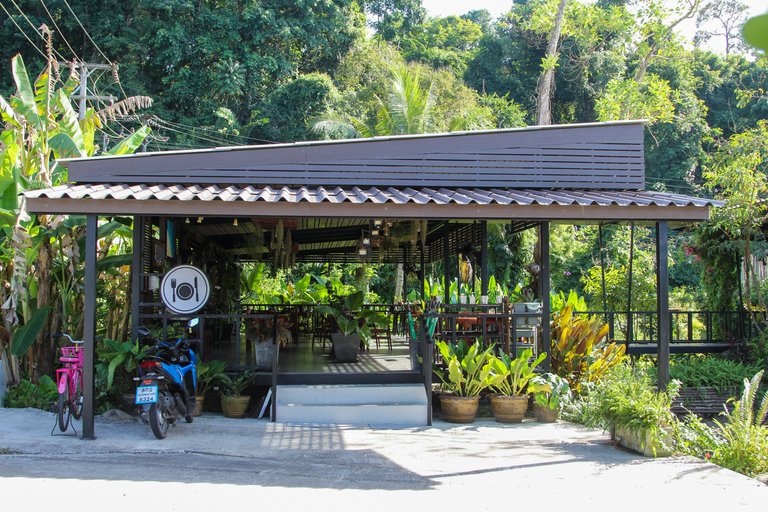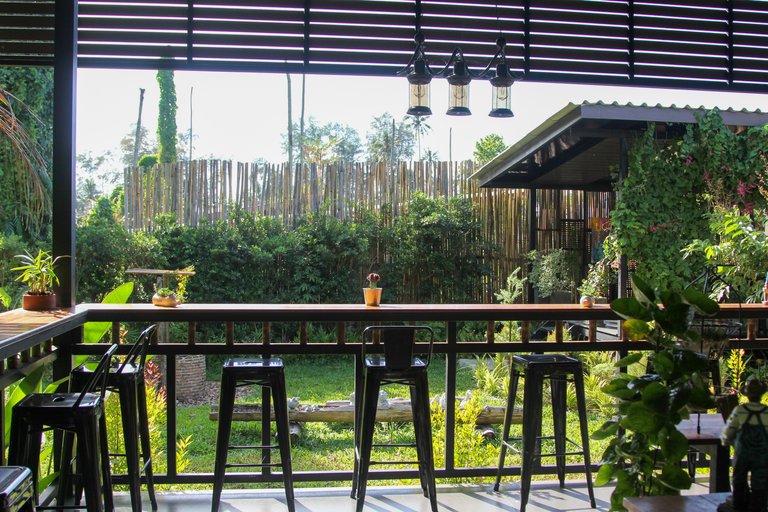 The restaurant is so big it goes all around and across the road of where we were. The girl serving us had to point out that the area across the road is part of the same place, when she saw Nat going around taking photos. We would't have even guessed because it even looked different.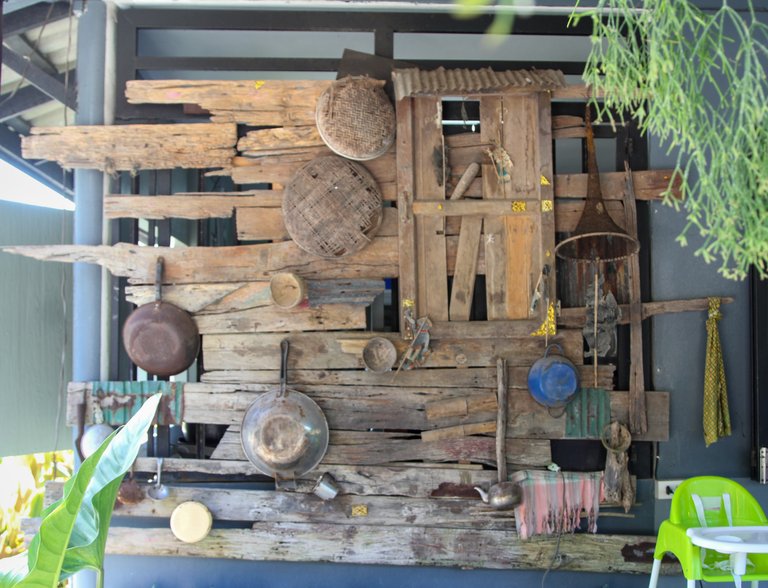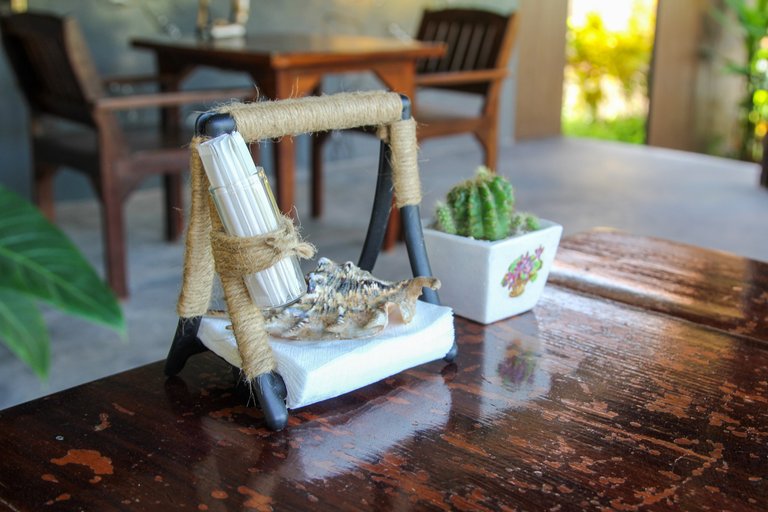 Some of the decorations around. That wooden frame wall was particularly interesting with all of these old pots and pans hanging from it.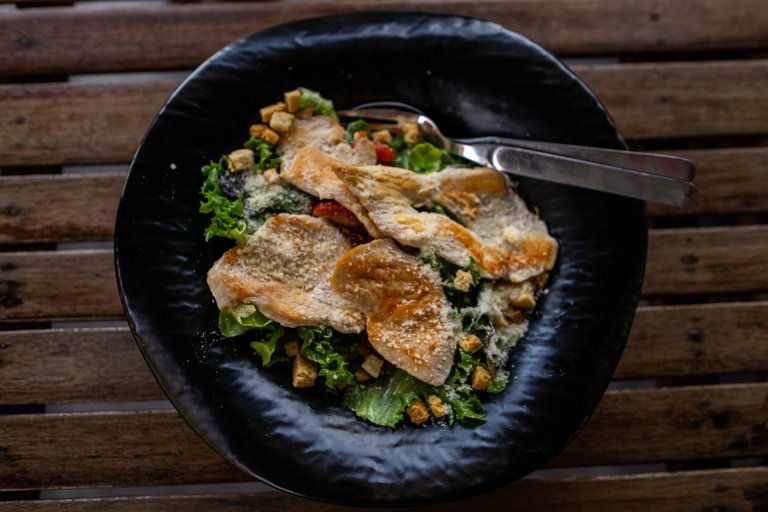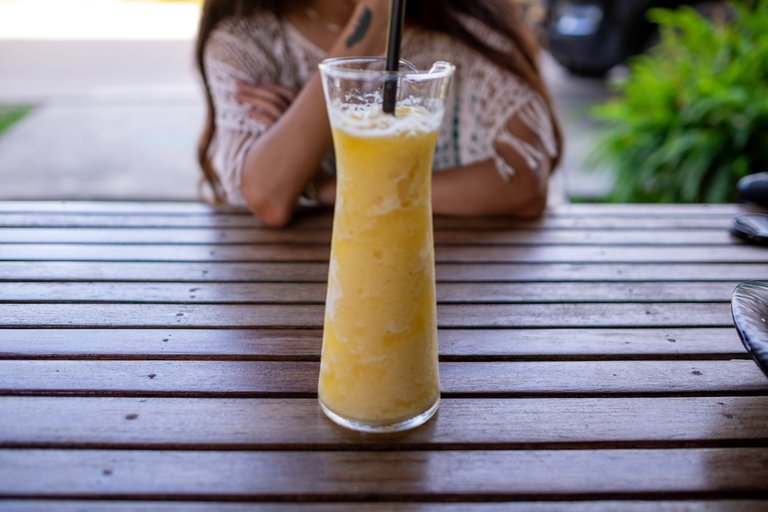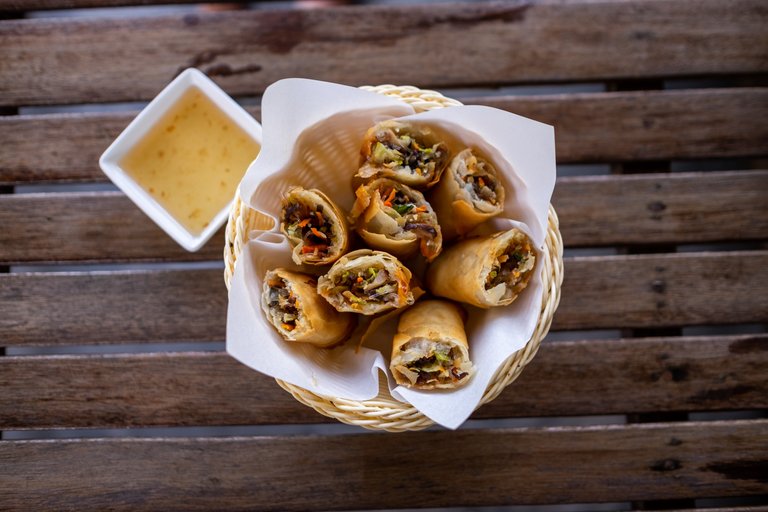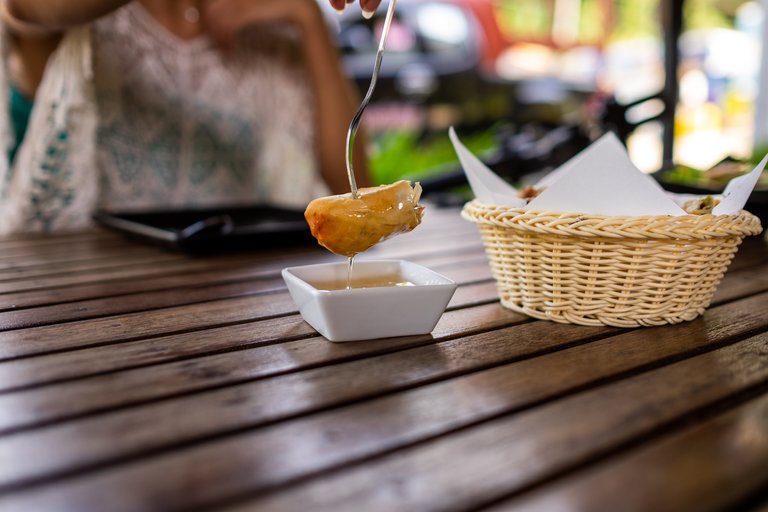 While Nat was going around taking pictures of the place I got us some food and photographed that while waiting. We weren't super hungry so a salad and a side/starter was enough. Combined with some fresh smoothies it made for the perfect little lunch!
The next place we went to, we didn't plan for going but our guide recommended.
Klong Mard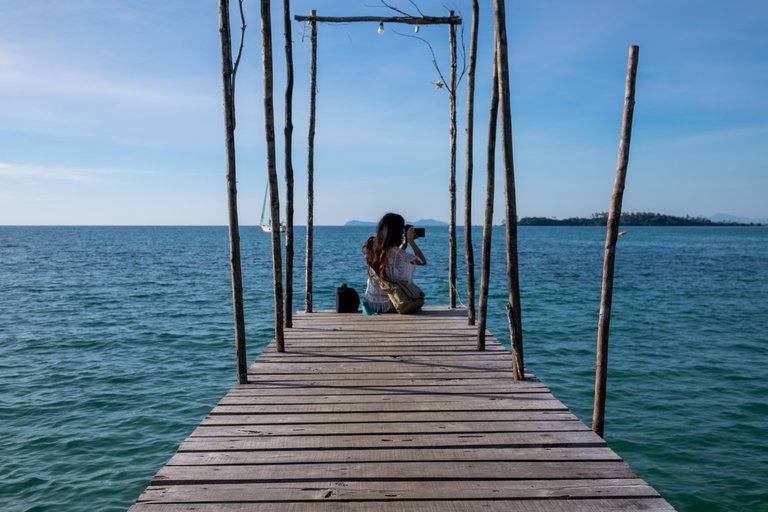 Klong Mard is a little spot right next to the pier where locals have their fishing and tour boats. It has another seaview pier going into the sea just like at Siam Beach. A small beach and resort take place further to the right.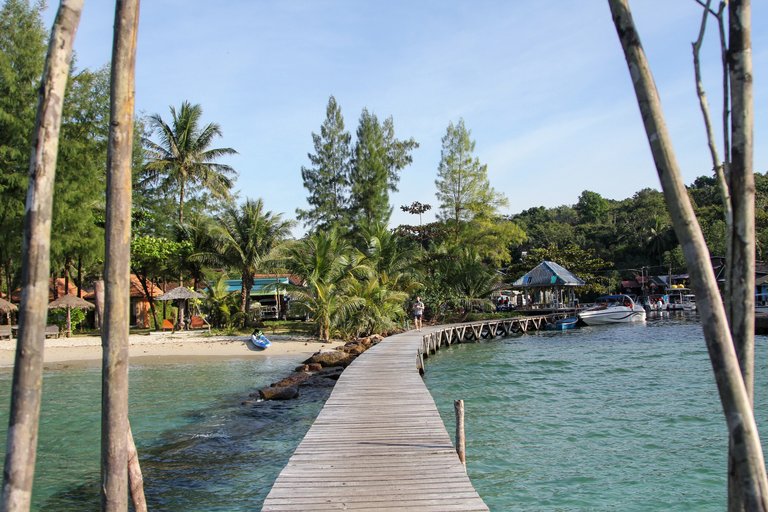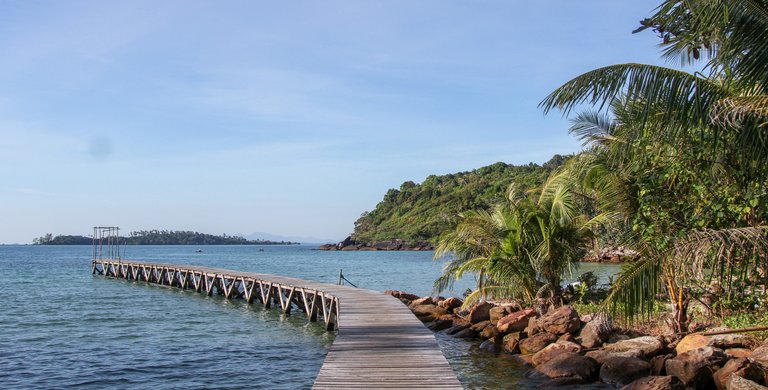 The wooden seaview pier seemed a lot newer than the other ones on Siam Beach. It looked a lot more.. stable. The view was beautiful all around it.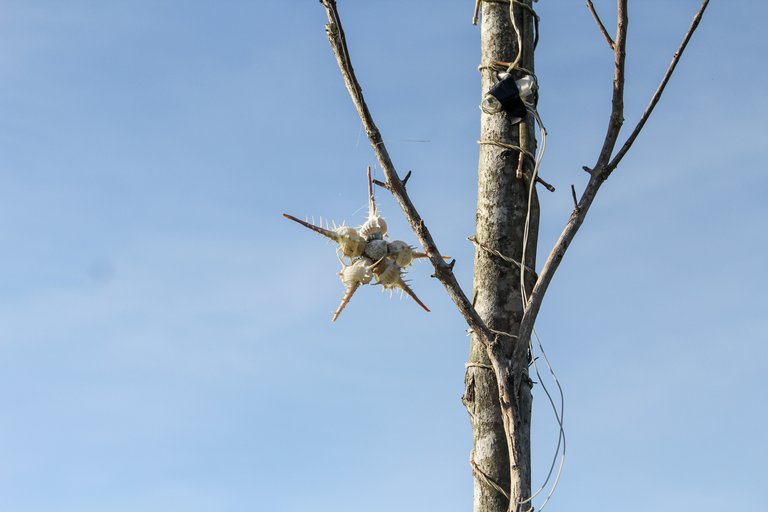 These interesting small decorations were wrapped around the wooden frame at the very end.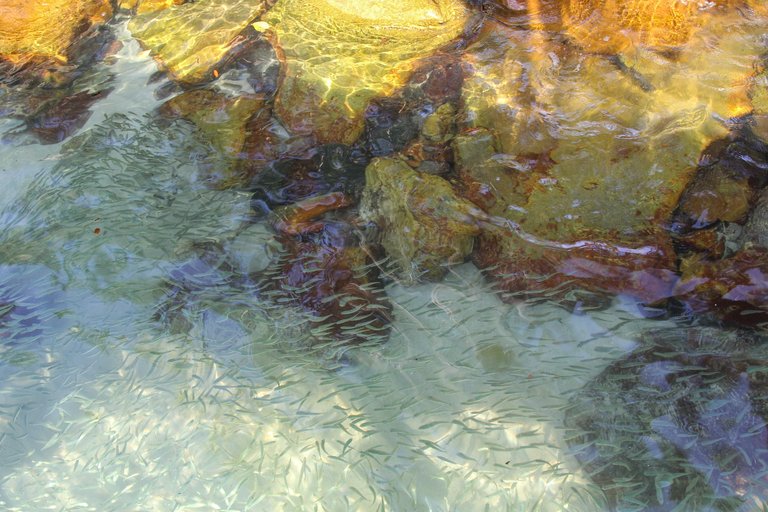 A large fishing school was just chilling on the side. They weren't moving at all. I have a video of it since I was still going around trying to look professional with my shaking not calibrated gimble. Unfortunately the video is so shaky, you'd think the fish was actually moving.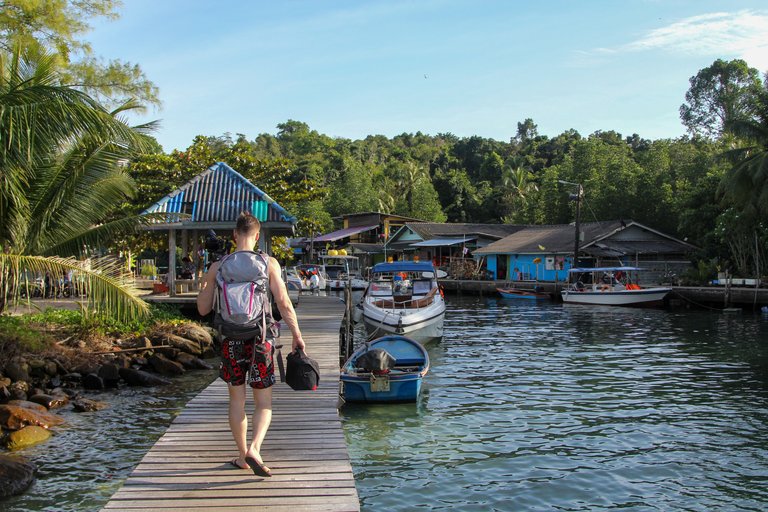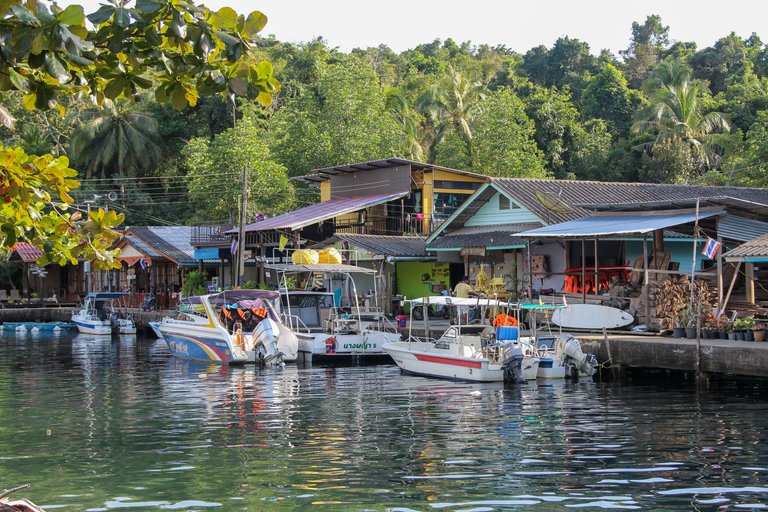 That's one place we would've never found on our own probably and were glad we had a local with us to show it. If we only had another day to go on the other side of the island. I heard there's a mangrove forest and so many other interesting beaches and viewpoints to be seen. Hope we can come back soon and explore the place to the fullest!
That's the last part of our Koh Kood adventure. I hope you enjoyed the trip! It was an amazing experience and definitely one of my favorite islands. From what I've seen so far - the islands that take longer and are generally harder to get to, are significantly quieter. Add covid to that and you have heaven on earth just to yourself! If you ever visit Thailand, consider visiting one of these places instead of the overcrowded places like Phi Phi and Phuket. Not saying Phi Phi isn't an amazingly beautiful place, you just may not have the greatest time when there are literally thousands of people on the same beach as you. Anyhow one adventure ends and another begins. I have quite a bit more to share from our travels so stay tuned for that and have a great start of the new week!