Hello everyone! This would be my first dedicated travel post on Hive I guess, since my last one was more of a reintroduction. In the following week or so I'll be posting about places in Chiang Mai, Thailand. Right now is the so called 'cold season' in Thailand, which isn't really that cold at all - temperatures are still around 30 degrees in Bangkok, but up North it gets a bit more chilly and Thai people love to go there for a holiday, especially around New Years. Chiang Mai is one of the more famous destinations up there with a big expat community.
Unfortunately resently there was an outbreak of Covid19 in Chiang Mai and most places are closed for the time being, so the photos you'll see are from our last years visit. To start with I'll be showing you this little Gem called Chom Cafe and Restaurant which is famous for it's picturesque garden. We visited it for our travel page 'Run Away With Me' just a couple of days before New Years day 2019.
Chom Cafe and Restaurant

The garden looks amazing, especially if you go in the morning or afternoon when the light shines through the trees
We arrived at Chom Cafe early afternoon. At this time of the day and of the year there is a queue outside. We had to wait about 20 minutes before we could go in. Once you are in, the restaurant and cafe part is indoors and you can look at the garden while eating or enjoying your beverage. Everyone is free to go out and take photos as well and this is where the real queues started. There are a few spots where you can pose - there is a bridge in the middle of the lake, a waterfall which you can sit infront of and a few other spots that weren't as obvious but looked very nice on camera.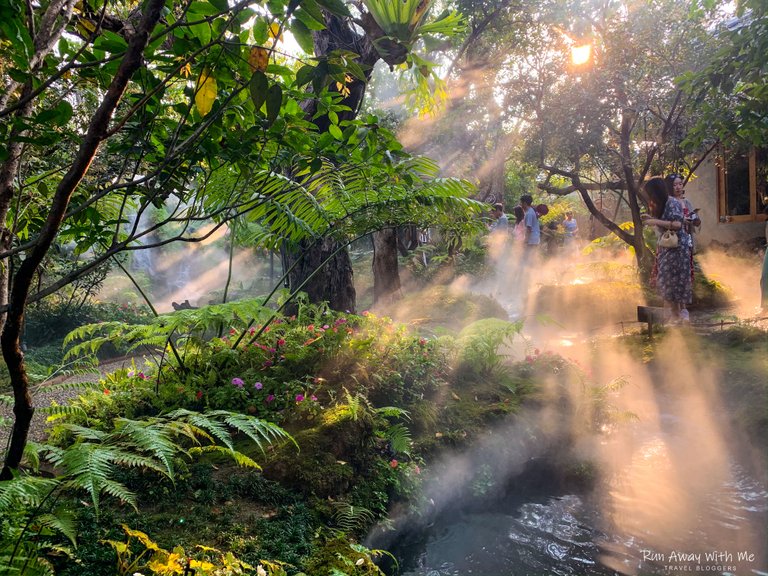 You can see part of the queues on this picture. We spent more time taking photos and waiting in line, than we did eating and drinking coffee.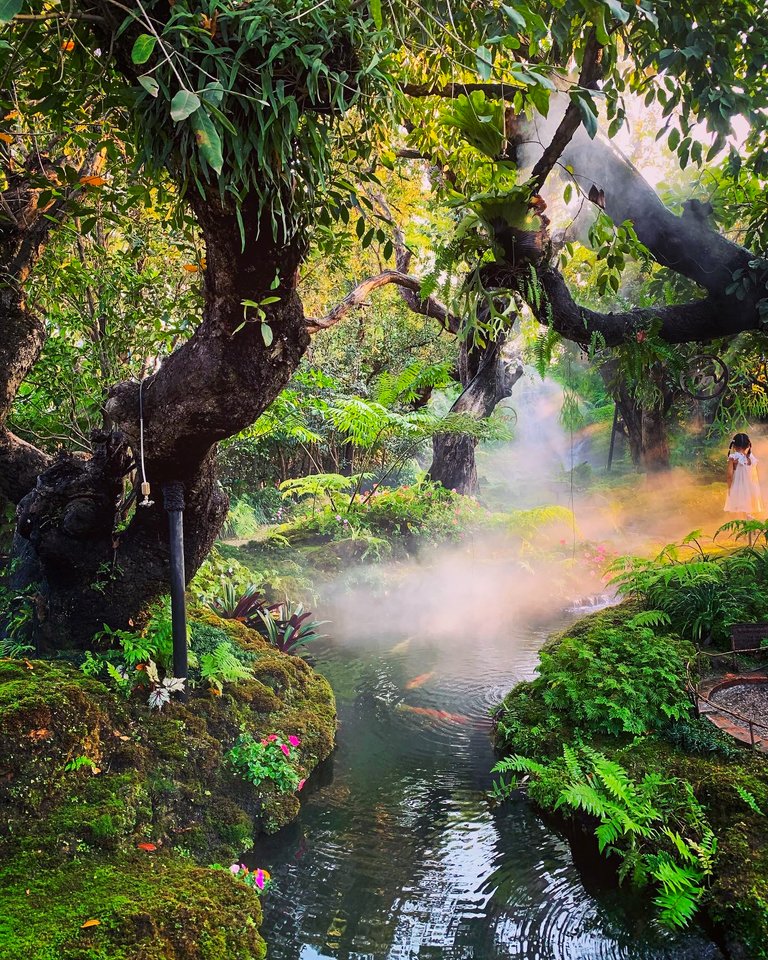 This is probably my favorite photo. The little girl was wandering around while I was trying to take a photo of just the scenery (it was quite hard and I had to find many different angles and do some heavy cropping to cut all the people out). I caught her in the frame by chance. Feel like she just fits the part and makes the photo better, so it's one of the few photos I left untouched.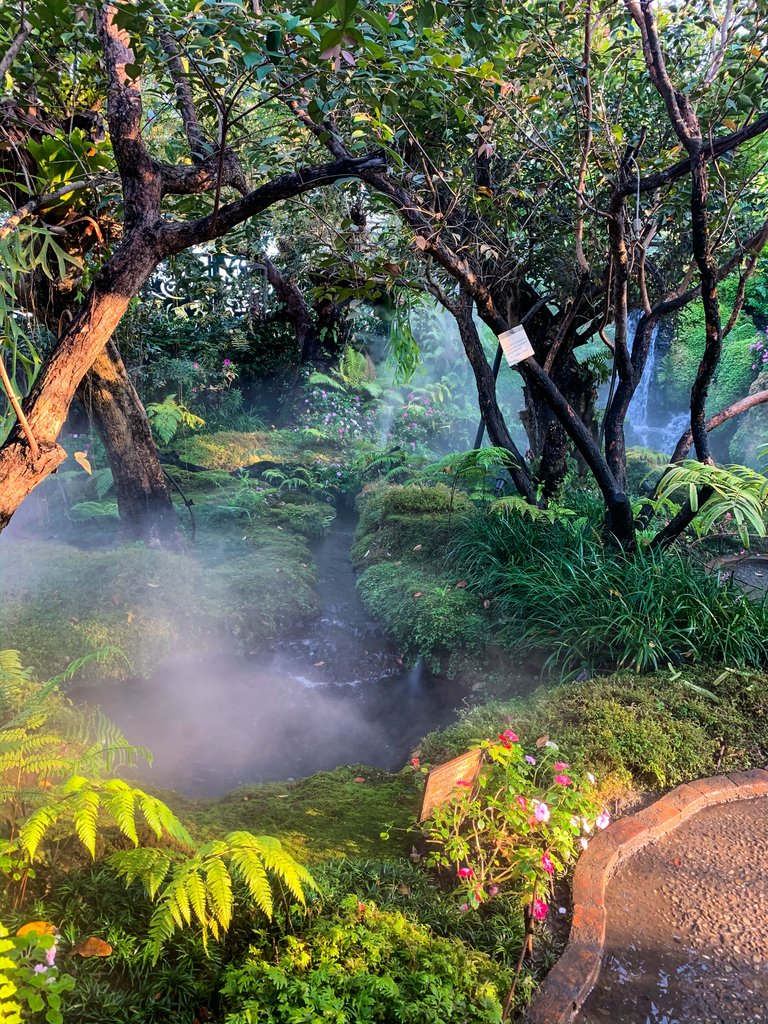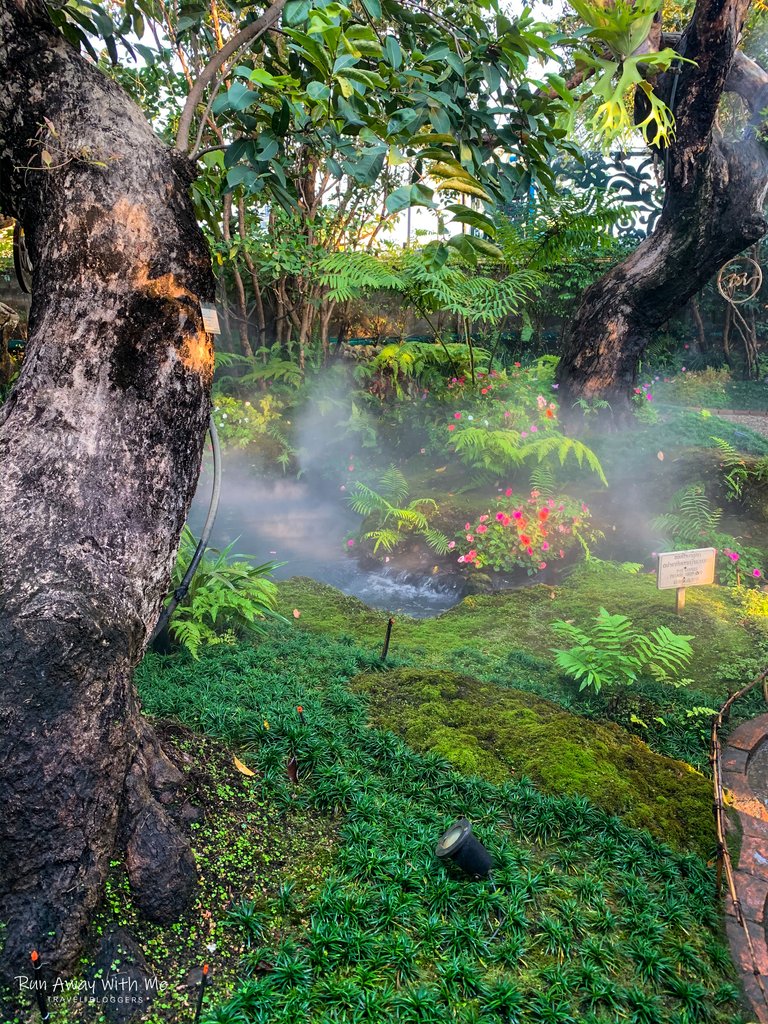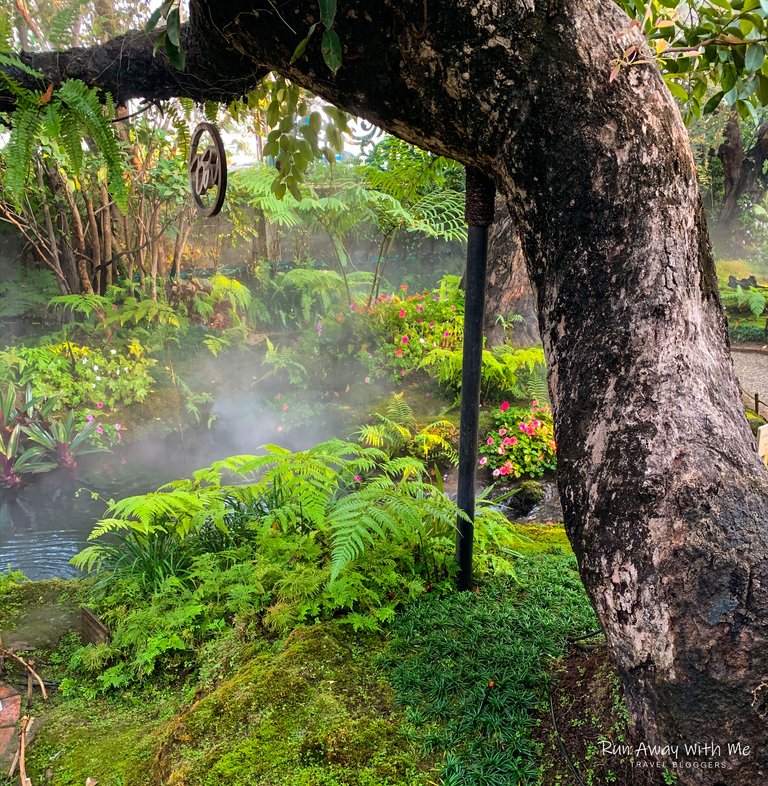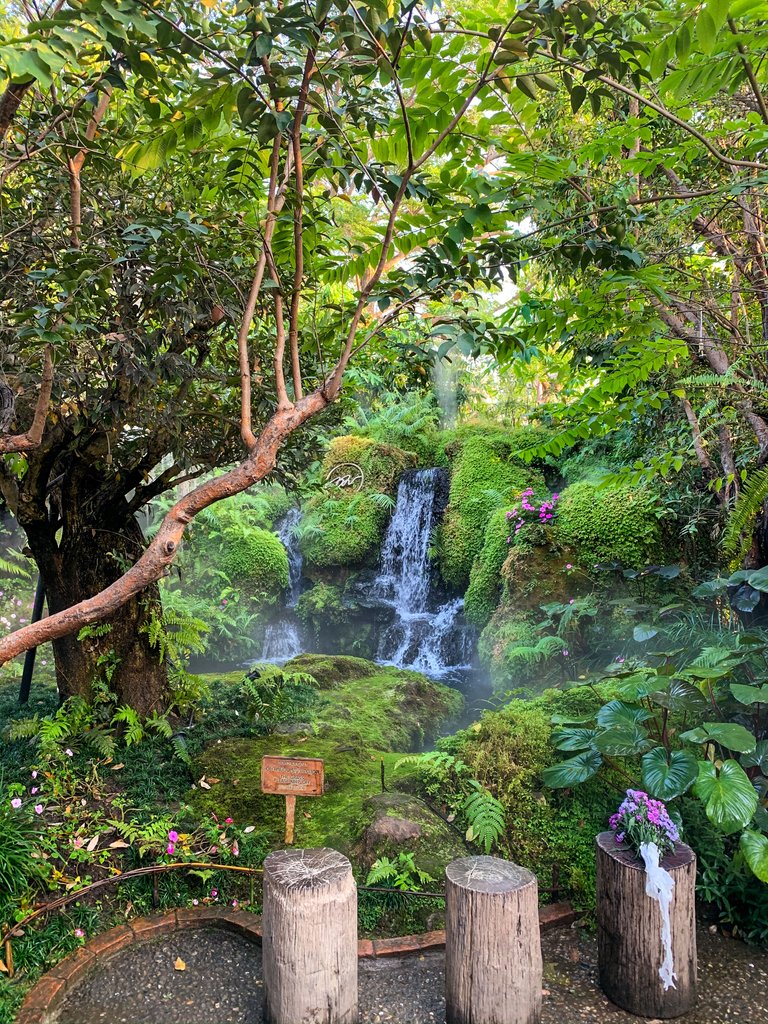 The Food
It was afternoon so all we ordered was a starter, coffee and some pastries. Everything we had was delicious, but the place is a bit pricey for Thailand. It makes sense since it isn't just an ordinary restaurant, but some may get surprised by the bill.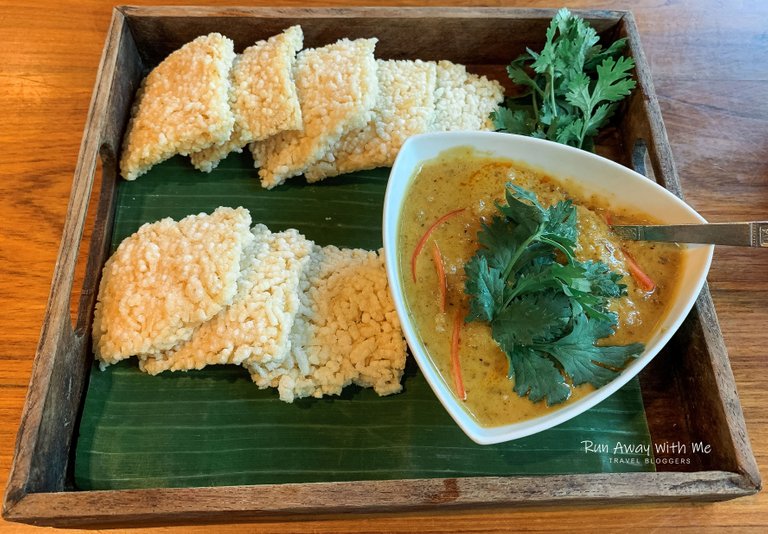 The starter we ordered was Rice Cakes with Crab Curry topping. It isn't a thing all places offer, so when we see it on the menu, we usually order it. It's one of our favourites.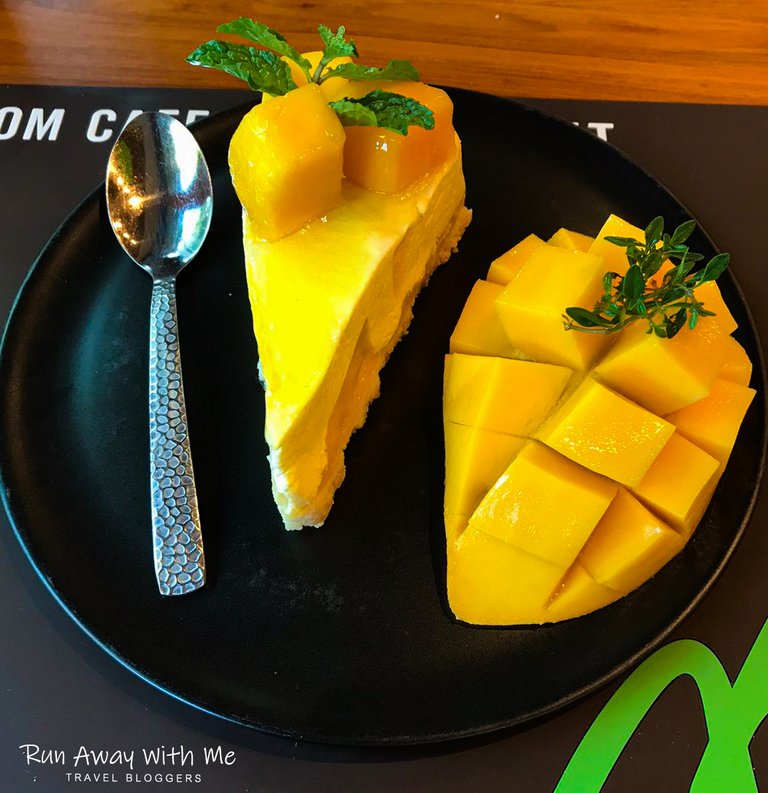 We both had cake - mine was a Mango Cheesecake. I love cheesecakes but this was the first time I tried one made with mango. It was nicely arranged in the plate and tasted pretty good!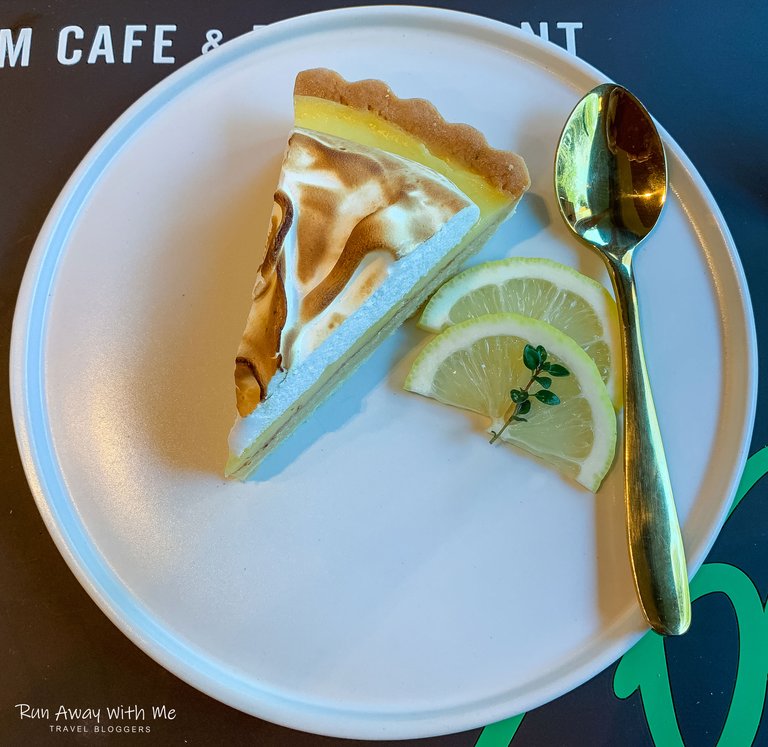 Nat had a Lemon Cake. She doesn't like very sweet stuff so this one was perfect for her liking.
What do you think of this place? Have you been to Chiang Mai?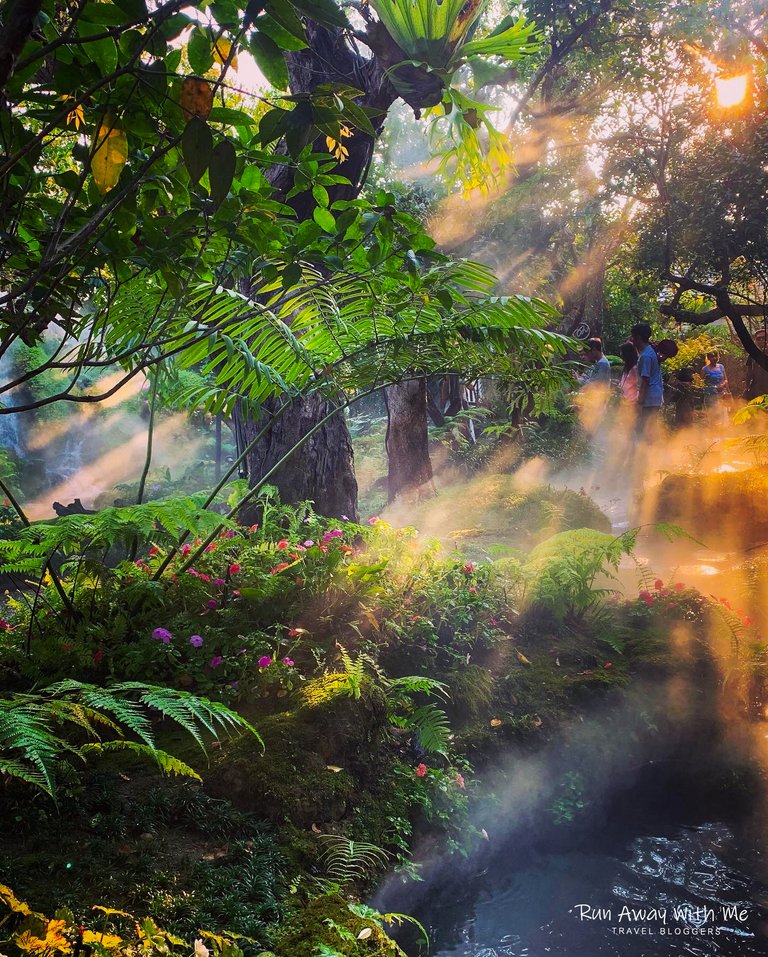 All of the photos were taken with my good old budget camera - The Panasonic Lumix G7 with it's 14-42mm Kit lens and I believe a couple of them are even taken with a phone camera. Lately we've been borrowing a Fuji camera with a lot better lenses for our latest travels, but these are going to pop up on Hive a bit later on. Hope you enjoyed the post. Let me know what you think about this Cafe/Restaurant.