A cave where we forget about black and white landscapes and the silence and echo created by each step made or any whisper told, but most likely a forgotten gem of nature which delights its visitors with lots of colours and Ambiental music.

Not for a few times, I related in my posts that even though I love nature and wild places, I've never been a fan of caves, and I know this might sound a little bit ironic since I could share this kind of feelings to citadels for example, since in most of the cases they have a painful past, but the thing is that the story of a place will never keep me away from discovering it no matter how chaotic or scarry might seem.
My lack of enthusiasm when I visit caves or grottos comes from the simple fact that I enjoy having my eyes delighted with the light and colours of nature which in the dark it's often hard to be noticed without a flashlight which is not a good choice since there are lots of bats and colonies who are living in the underground world and it would be real cruelty coming from us that after we bother them with our visit to also make them become blind for a few moments for our entertainment.
Either way, we all know that the underground world represents a genuine treasure that deserves way more attention from each one of us, no matter if we talk about caves naturally designed with stalactites, stalagmites and other amazing formations, or if we are talking about some mines of crystals, gold, and other minerals of great importance.
But a thing is clear for sure, I'd never be able to discover all this beauty if I limit my explorations on the surface, where, by the way, I would nevermore be even close to guessing what I'm about to discover as soon as I enter the Bolii Cave and find myself getting lost on the Ambiental music which is caressing my body while having my life suddenly coloured by lots of lights and spotlights.
You won't notice anything uncommon at first, but as soon as you make your first 20 meters you'll start hearing some music in the background while your path suddenly becomes a game of different colours, finding spotlights of different shades, from the boring white to bright red, from yellow to blue, and so on.
Not only that the cave represents one of the most well maintained and well designed underground grottos I got to discover, but it's also one of the very few one from our country where tourists can visit it entirely, while we are often used to be able to hear stories about caves of a few kilometres long and various galleries but where we are limited to only a small part of it when it comes to exploring it.
Bolii Cave is located in the northern part of Petrosani city, Hunedoara county, which makes it also become part of the glorious Transylvania.
The cave measures just 455 m length and even though it was discovered in the Middle Ages, it used to be considered as having one of the most special acoustics and this is how since the interwar period people used to take advantage of the largest hall of Bolii Cave, and often play music and host concerts inside of it but also outside.
This is how the first part of the cave we will discover is called Sala de Concert si Dans (EN: The Dance and Concert Hall), which is also a very lighted space arranged with a small stage, some benches and a table in front of it, and a few tens of chairs for the general public who wants to attend to some unique concerts held here.
Source: gohunedoara
The access to the cave can be made from two different spots but the main entrance is the one from this side since you also need to buy a ticket for visiting it. The huge portal naturally formed into the stones that represents our entrance to the beautiful underground world measures 10 m height and 20 m width and it's a limestone cave where you should keep in mind that kind of entrance and the way the water dug the stones because it represents also the main architect for some other gorgeous touristic attractions we are going to discover in my following posts. :)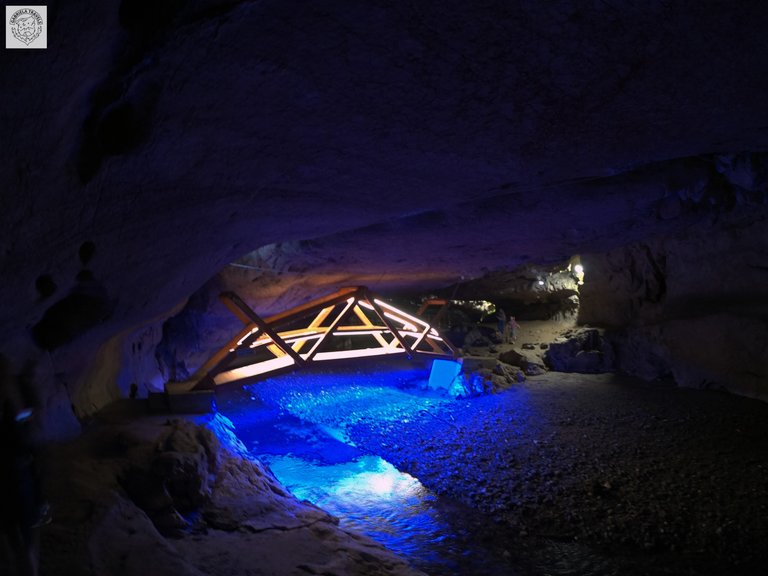 Even though Bolii Cave had the chance to be arranged and opened to the general public since 1960, the river from the cave represents a permanent source of water which never gets dried, and so, after heavy rains and rough winters most of the bridges built were destroyed making it seem like a place that will be ruined over and over again on every spring.
Happily or not, the passage of years had its contribution too, making many natural stairs be formed inside of the cave which were completed just right by some new bridges, way stronger this time, and finished by many lights that are turning the whole place into a great delight for each tourist's eyes.
Even though it might seem like the whole place slowly turns into an underground location where people can have some fun between the lights, find out that none of the lights you see are not placed in the galleries where the bats are living, where have been recently discovered that are located two very rare species of bats.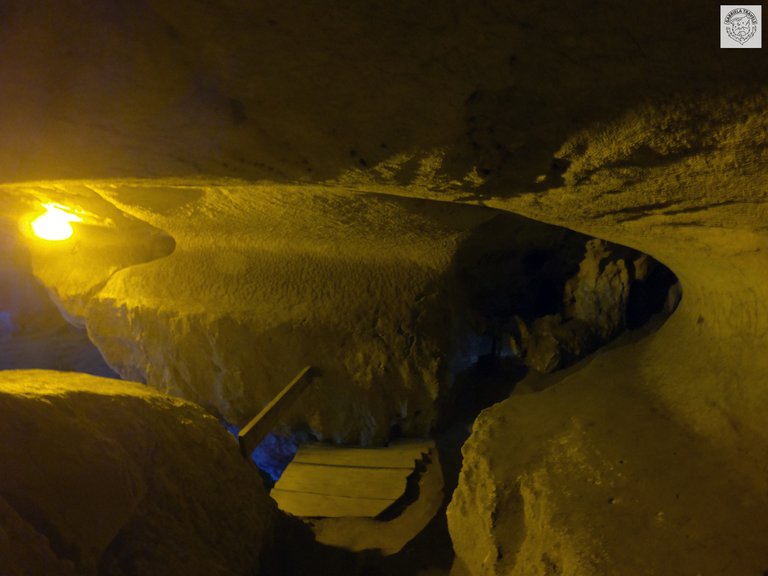 Actually, Bolii Cave was first mentioned in the official chronicles from Vienna, at the beginning of 14th century when it used to be a great refuge for the merchants, armies, outlaws, and for all the people who were against the Communist regime.
This is why from the many colours and sounds we get to discover and listen to, we will also find some stories written right on the walls of the cave which most likely will make no sense in 2020 being unable to read or translate them, but which are for sure some great treasures for Romania and the touristic potential of the cave.
The galleries of Bolii Cave are usually pretty large measuring some impressive dimensions since it was an inhabited place for around 2000 years where people used to ride horses in order to get to the other side through the water which created the beautiful formations, but there are also a few spots very narrow where you will have to bend over in order to make your way to the end of the tunnel.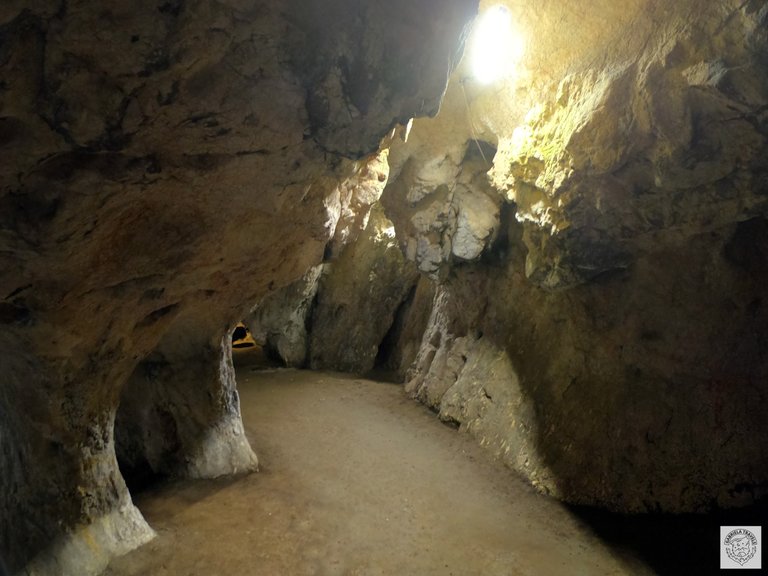 A unique thing of the cave is that if you look carefully there are no stalactites or stalagmites, the formations we are all used to discover when it comes to explore the underground world. This is caused by the airflow which is continuously crossing Bolii Cave and makes them unable to be formed, as well as the river and the constant temperature of 7°C.
But as I mentioned at the beginning of this post, the cave has two entrances and there is just only one where you will have to buy a ticket in order to visit it. The explanation is pretty clear since the other entrance represents a tunnel which is often crossed by trains with a high speed and which represents a real danger for the tourists, thus not being encouraged to opt in for that option.
The schedule for visiting Bolii Cave:
from 1st June to 15th September: 9 AM - 6 PM ;
from 16th September to 31st May: 9.30 AM - 4 PM .
The taxes for visiting Bolii Cave:
Adult Ticket: 10 RON/2.07 EUR ;
Retired & Student Ticket: 5 RON/1.03 EUR ;
Children Ticket: 2.5 RON/0.52 EUR .
---
Bolii Cave is located on the northern part of Petrosani city on 6 km away from it, on the European road E79 that makes the connection between Jiu Valley and Țara Hațegului. The cave is just one km away from the main road and it can be accessed by cars until you reach a parking lot.

SEE YOU IN THE NEXT TRIP! 🗾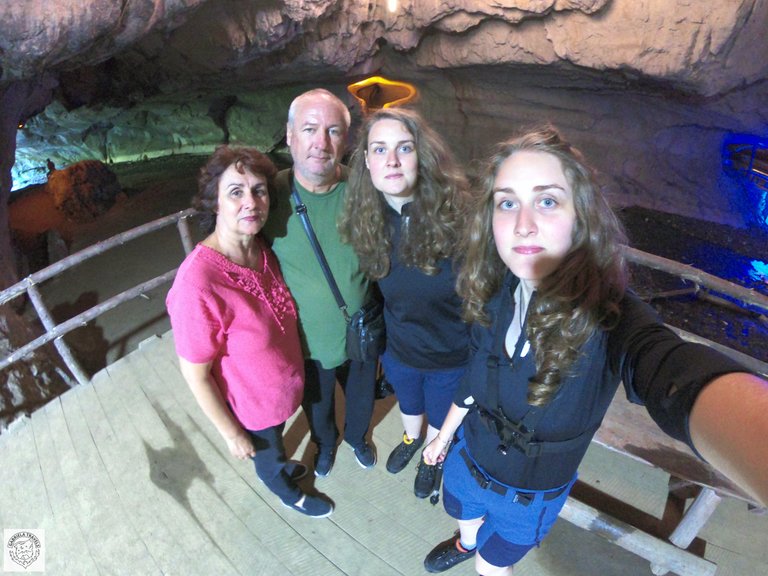 All rights reserved.

FIND ME ON:
↪ Blog: http://gabrielastravels.wordpress.com/
↪ Fiverr: https://www.fiverr.com/gabrielatv/
↪ Discord: GabrielaTravels#0104
↪ Facebook: https://www.facebook.com/gabrielaistraveling/
↪ YouTube: https://www.youtube.com/gabiivdesign
↪ Instagram: https://www.instagram.com/gabriela.tv/
↪ Twitter: https://twitter.com/GabrielaTravels
↪ Patreon: https://www.patreon.com/GabrielaTravels