@pinmapple has launched a very interesting contest, to celebrate a wonderful milestone they have reached recently, and that's 1000 Travel Digests. You can read about it here. It's a great achivement especially in these conditions, when dapps are appearing and disappearing on a daily bases. They are not only resisting, but thriving as well, as the number of active users is getting bigger and bigger. What I love about it is quality, unlike at the other communities and the opportunity to see the world sitting in front of my laptop.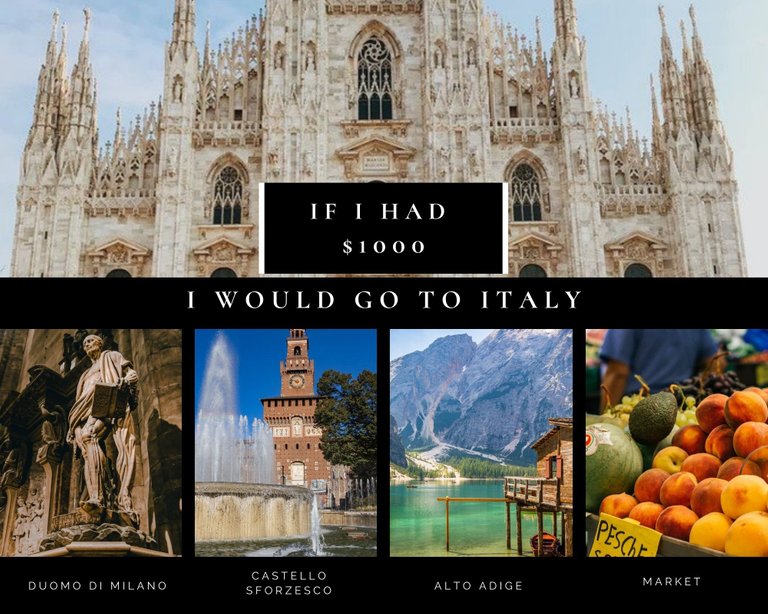 Today I'd like to show you on what I would virtually spent that $1000, although it would not be enough to pay for my dream trip.
Italy is the first country I'd love to visit as it has everything I love when it comes to picking travel destinations. It's a Mediterranean peninsula delimited by the Alps and surrounded by many islands.
Being European it may seen strange to see another European country nominated as my dream destination, but in fact it's not that simple. I'd like to visit the whole country, from small villages to big cities and to do that I'd need much more than $1000 and a few good months.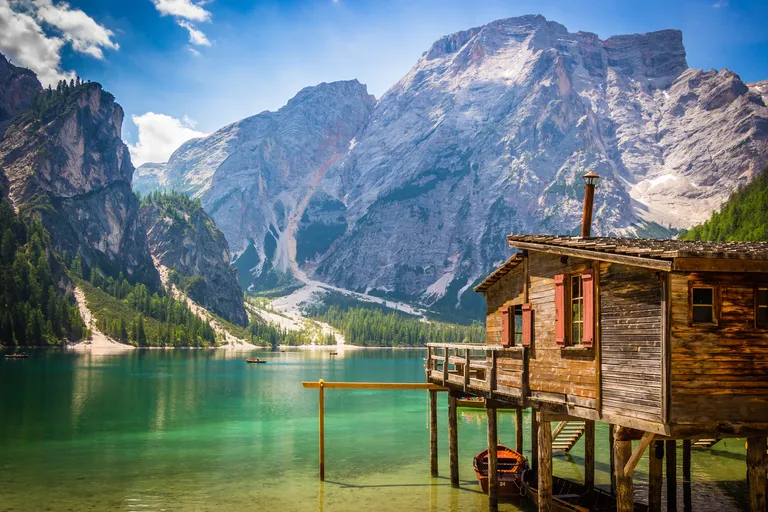 source
Trentino-Alto Adige/Südtirol
The Italian Alps are a dream destination for anyone who loves snowy mountains or fresh air and lakes in the summer. Bolzano, the capital city of the province of South Tyrol is especially interesting for what it has to offer from touristic, culinary and cultural point of view.
According to the 2011 census, 73.80% of the city's inhabitants spoke Italian, 25.52% German and 0.68% Ladin as their first language. source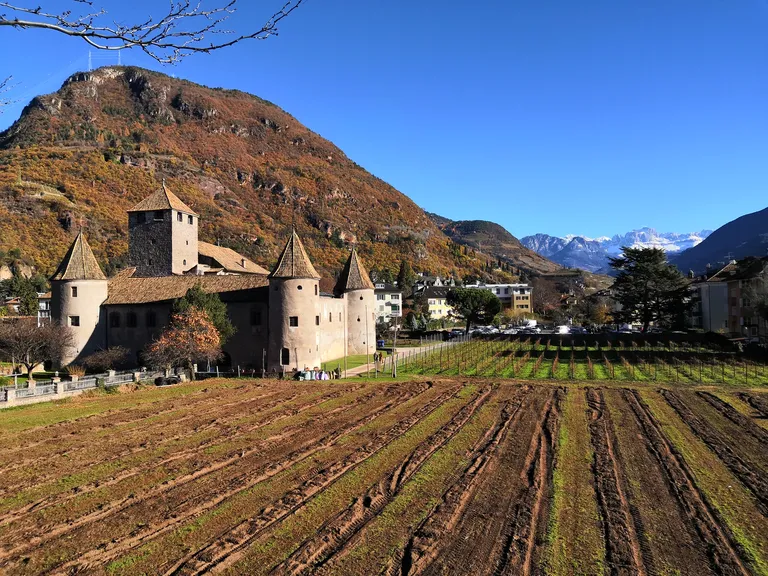 source
Regions that have mixed population also have a rich culture. In this wonderful Alp region people speak with a German accent and the dishes, traditional and new are a mix of both cultures.
Canederli, the Italian bread dumplings, crauti, the sour cabbage and the famous strudel, the layered pastry with apple filling are just a few dishes you have to taste if you're visiting.
The architecture of region is impressive, those typical Tyrolean houses made of wood and old of a couple of centuries are the business card of the region. Then there are the medieval buildings made of stone, among which I have to mention the Maretsch Castle built in the 13th century, functioning as convention center.
South Tyrol Museum of Archaeology is another interesting place to visit if you're interested in history. Frozen Fritz – Otzi is displayed here, the 5,300 year old corpse that was found frozen in the Alps.
From architectural and cultural point of view Duomo di Bolzano is another must as originally was constructed in the 4th century. Obviously it went through a series of changes over the years.
Castel Roncolo that stands high above the city is an impressive castle built in the 13th century. There is a myriad of beautiful 14th and 15th century frescos in the castle, featuring medieval life.
Although Italy has suffered a lot of damages during the two world wars, and the Alp region was a front line, many of its cultural treasures got away without being destroyed.
Another wonderful castle you have to visit is the Castel Tirolo. Built in the 12th century, it is considered one of the most important fortifications in this region, that served as the seat of the Counts of Tyrol.
Italy has many monasteries, one of which is the Bolzano Franciscan Monastery, built in the 14th century, the place of worship for the Franciscan monks. The beauty of the monastery is the stained glass windows and a vaulted ceiling.
Last but not least there's one of the first Gothic inspired buildings in the city, the Dominican Church built in the late 1200's.
Learning history is important as if we don't know the past we tend to make the same mistakes and what better way to learn history then to see with your own eyes how our ancestors have lived and what they have built.
Italy was a gateway to Europe if you like, most of the ships bringing merchants to the continent stopped in Italy, which helped the country flourish. The House of Malatesta was an Italian family that ruled from 1295 until 1500 and built around 150 castles, many of which are still standing today. I'm not saying I'd like to visit all these castles as it's basically impossible, but would be glad to step in a few.
Lombardy
As much as I'd like to write about all Italian regions, space and time is always limited, so I need to limit myself. That's why I picked Lombardy next.
Lombardy is rich in tourist attractions, offering a lot of activities for everyone. Locals are known as welcoming, which is essential to know when picking your destination. I don't know about you but I wouldn't visit a country or place where people are not welcoming, that could ruin your hole journey.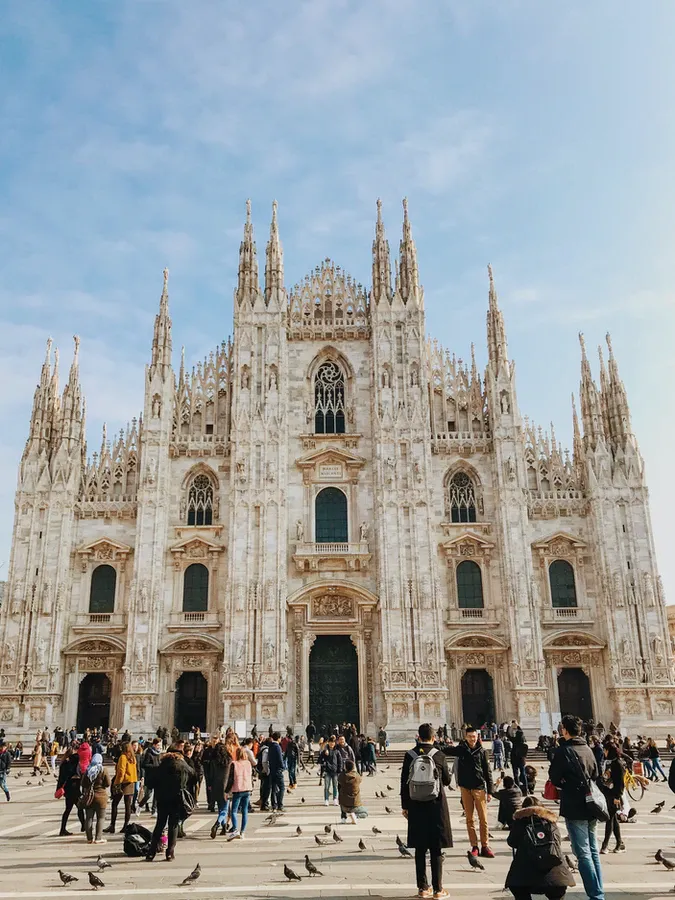 source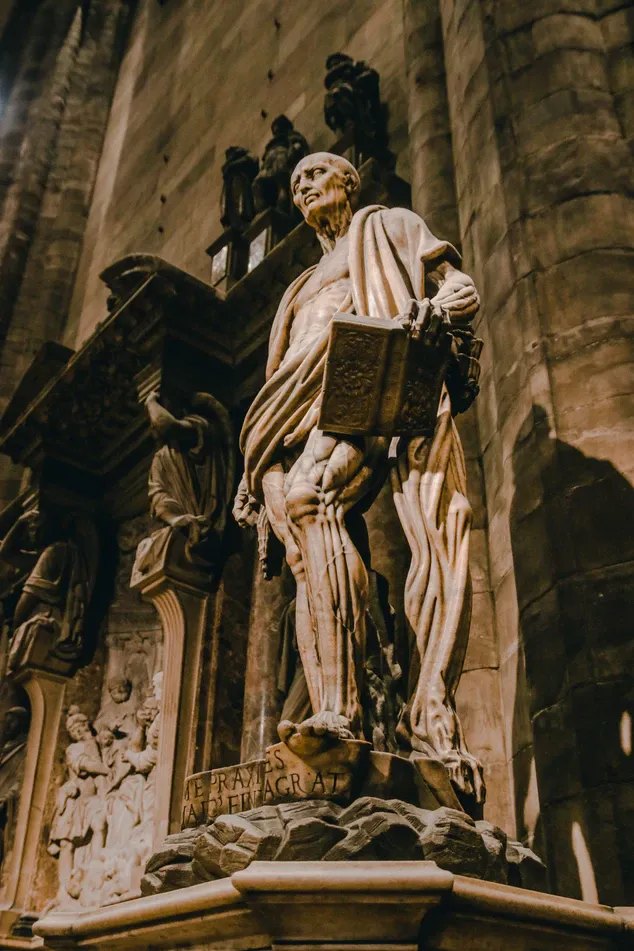 source
Milan is a must as travel destination if you visit Italy. The metropolitan city is full of real, historical gems, one of which is Duomo di Milano, or Milan Cathedral in English, the seat of the Archbishop of Milan. Constructions began in 1386 and it took nearly six centuries to complete. Although I haven been in the cathedral yet, somehow I'm imagining the inside similar to the Notre Dame of Paris. When I'm visiting important architectural and old religious cathedrals like these two I'm always stopping for a few minutes inside and think of how life must have been back in those medieval times, when the church had almost all the power and people were afraid of God. Although I admire these beauties as architectural art and I'm grateful we still have them, can't think of how much money and labor went into them, money that could have been used to educate kids, feed the hungry and so on.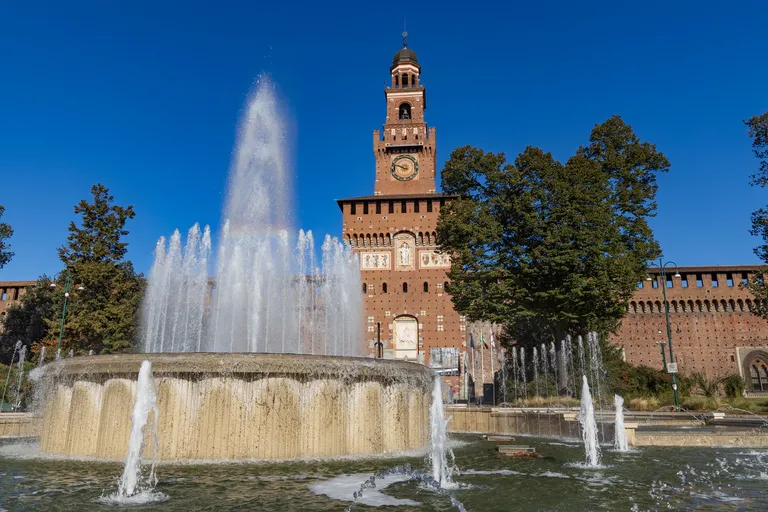 source
Castello Sforzesco (Sforza Castle), the medieval fortress is another beauty I would visit. It was built by the Visconti dynasty and became home to Milan's ruling Sforza family in 1450. You must have heard about the Sfortza's, the House of Sforza, the ruling family of Renaissance Italy, based in Milan. The tower od the castle is overlooking the central courtyard, its defensive walls were designed by Leonardo da Vinci. The castle is home to a number of world-class museums and galleries, open to the public.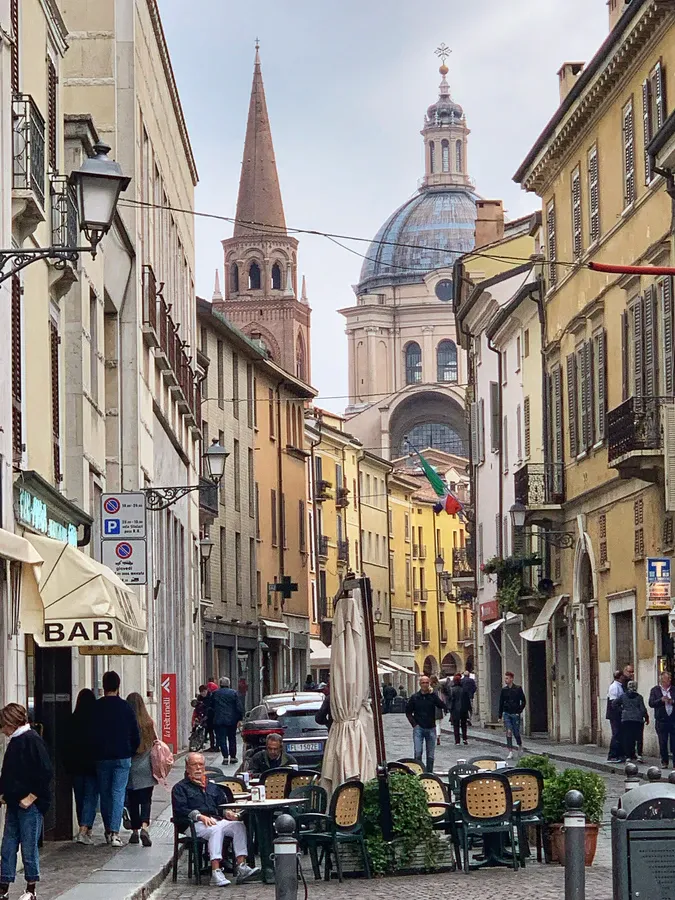 source
Mantua is printed in my mind as Passuth László an outstanding Hungarian author of historical novels has a book called A Mantuai Herceg Muzsikusa, in English The Musician Of The Mantova Prince. Passuth has a series of medieval novels, many of which I have on my bookshelf.
If I look at the photo above I know it worth visiting. All those old architectural beauties, churches and galleries are not something you want to overlook.
Mantua is a little gem that takes your breath away with its beauty. The beauty of Mantua is not only in its impressive buildings but also in its beautiful squares and charming alleys, lined with galleries and beautiful houses. Start your downtown tour at Sordello Square. Piazza Broletto is located near Piazza Sordello, where the magnificent Palazzo del Podestà is situated between the Arch of Arengario and the Civil Tower. Almost all the buildings surrounding the square were built in the 13th century. Basilica of Sant' Andrea is a must to visit monuments of Mantua. source
As I've never been there, I' quoting others who know what they are talking about and based on that description, Mantua is definitely a place to visit for me.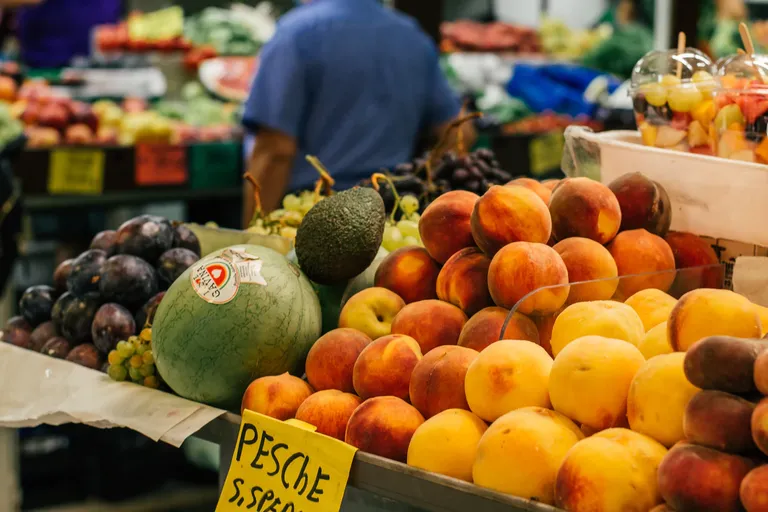 source
Food
One of the advantages of being a Mediterranean country is that you can buy fresh fruits and vegetables all year round. Not only the price of the products is lower but the quality is better as well. Tropical fruits are not treated with chemicals as those don't have to travel half around the world. Fish are from their own water and also fresh, that can't be compared with the artificially grown in infectious water, full of antibiotics ones that are imported. You can go to the port and buy fresh fish caught a couple of hours ago. Mediterranean cuisine for me is the healthiest.
Why Italy?
This is just a snippet of what I'd like to visit, it would take me a year to sum up all the places I'd go to and all the events I'd visit. I like how they are working towards sustainability, using km 0 products to help small businesses grow. There many green projects to transition to using green and renewable energy, which is the future and a must if we want to survive and leave something to the next generation.
Protecting the cultural heritage is a priority for them, many of the monuments are protected and restored to their original status. If you like architecture, history and culture, Italy is the place to visit and explore as much as you can.
Tradition is taken seriously, almost all the villages as well as big cities are celebrating traditional events every year, that is holding together the community and attracts tourists as well.
The country has everything you need, mountains, beaches, plains, islands, and the good thing is no matter ehere you are located, withing an hour or two you can reach the mountains or the beach, which makes domestic traveling more interesting.
There's a dark side of the country as well, not everything is sugar and cream, but I'm not going to write about it in this post.
So this is my entry to the 2000 Hive contest to celebrate reaching 1000 Travel Digests contest hosted by Pinmapple and Haveyoubeenhere. Hurry up, you still have 13 days to enter.

Check out my latest travel posts: