Today I'd like to invite you to visit the Brukenthal Palace that was hosting The Exhibition Of Saxon Goods From Transylvania at the time of my visit. I had the chance to visit this amazing place in September and had a series of posts but I forgot to post the most interesting part. So please feel free to visit my other posts about the place.
I'm glad I'm able to show you these items as each region is different with their own style and traditions.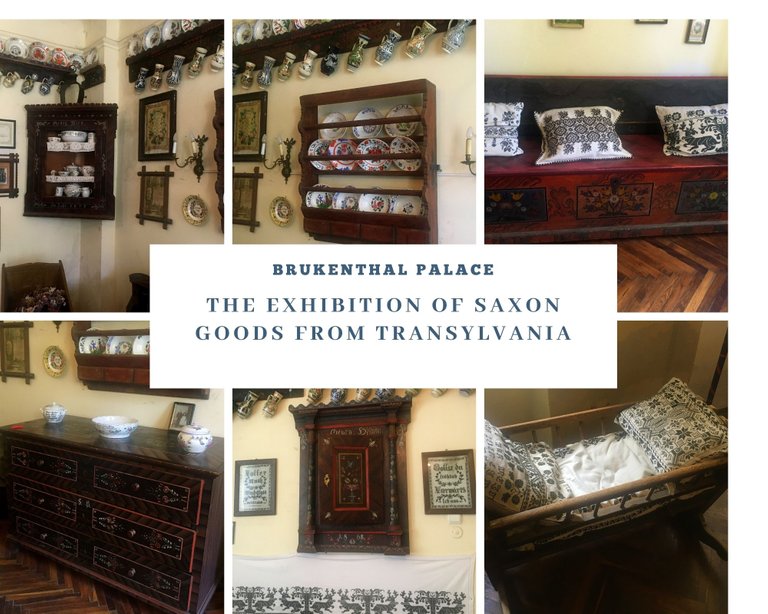 History
Baron Samuel von Brukenthal (1721 – 1803) was the Habsburg governor of the Grand Principality of Transylvania between 6 July 1774 and 9 January 1787. The Brukenthal Palace that was hosting the exhibition was his residency. The palace unfortunately is in a deplorable state, only the green house has been renovated, that serves as a luxury hotel, plus the park that is also place for different events like weddings and sports events.
Saxons were settled in Transylvania starting from the mid 12th century until mid-19th century. These objects are characteristic to those times in this region.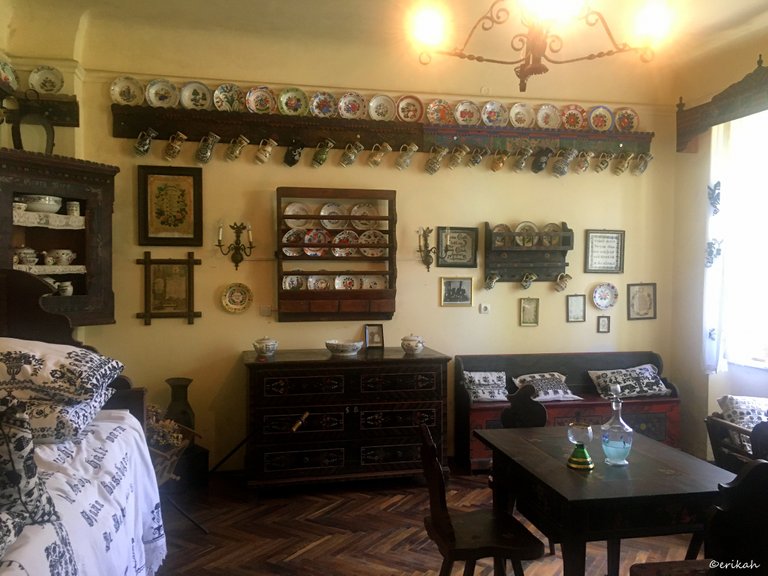 This room is one of the front rooms of the palace. It's furnished with handmade, hand painted wooden furniture specific to those times.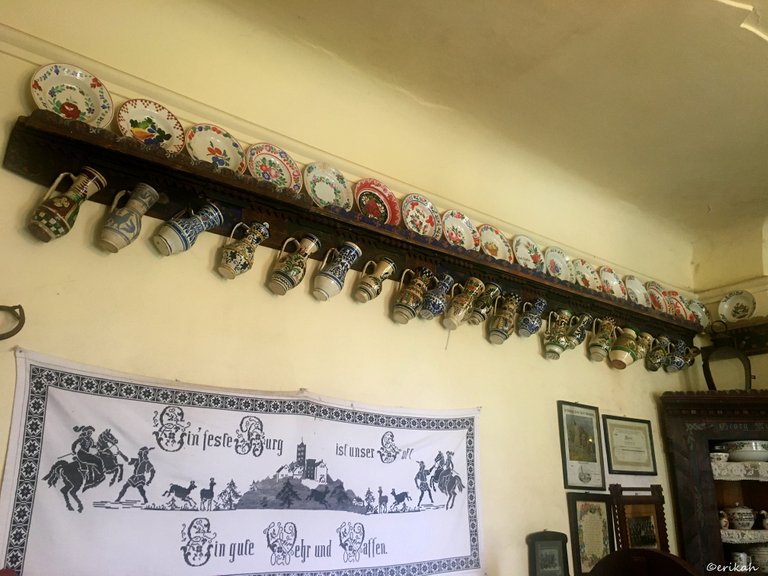 Glass was scarce and expensive, so ordinary people were using ceramics. These plates and carafes are handmade and hand painted, decorated with folk elements like flowers, birds, leaves and fruits. In some regions of Romania you can still find these objects in use and you can also find these at craft fairs. Some rustic inns are still using them as well.
The wall cover is also an item that could never be missing from any home. Some were embroidered with religious or just house blessings, while others, like this one had war scenes embroidered with family stems, if they were wealthy nobles.
This wall cover is a cross stitch work, with one of the best known hymns by the reformer Martin Luther.
Ein feste Burg ist unser Gott, ein gute Wehr und Waffen
Translated to English, it means "A Mighty Fortress Is Our God".
According to Wikipedia Luther wrote the words and composed the melody sometime between 1527 and 1529. Source. Here is the song if you want to listen to it.
I'm a reformed christian and we have this song in out song book.
I'd like to say a special thanks to @muscara, our friend from the needlework community, who was kind to help me with the text. Thanks to her, today I've learned something and now I'm able to share this lovely song with you! Isn't this community amazing? 🙂 No matter what you need, you always find someone who speaks the language and can help you!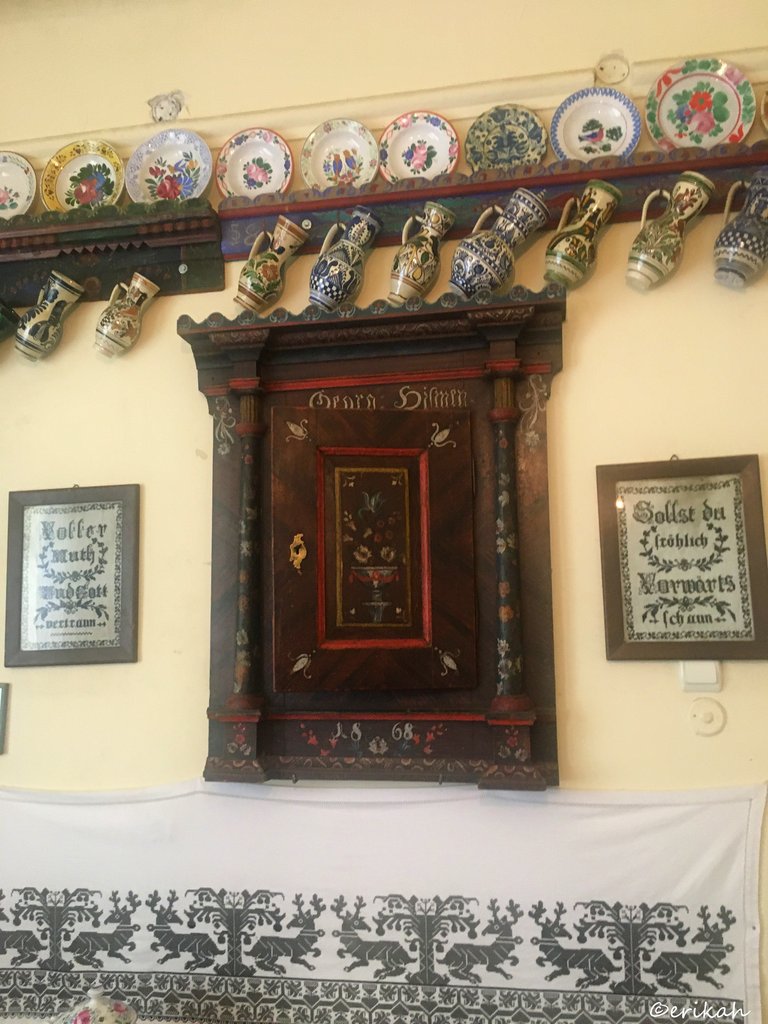 The front part of a cupboard, made of wood and hand painted with flowers, from 1868. Again, please keep in mind that not everyone had such a lovely furniture. Those less fortunate had a few items made of wood, without any decoration.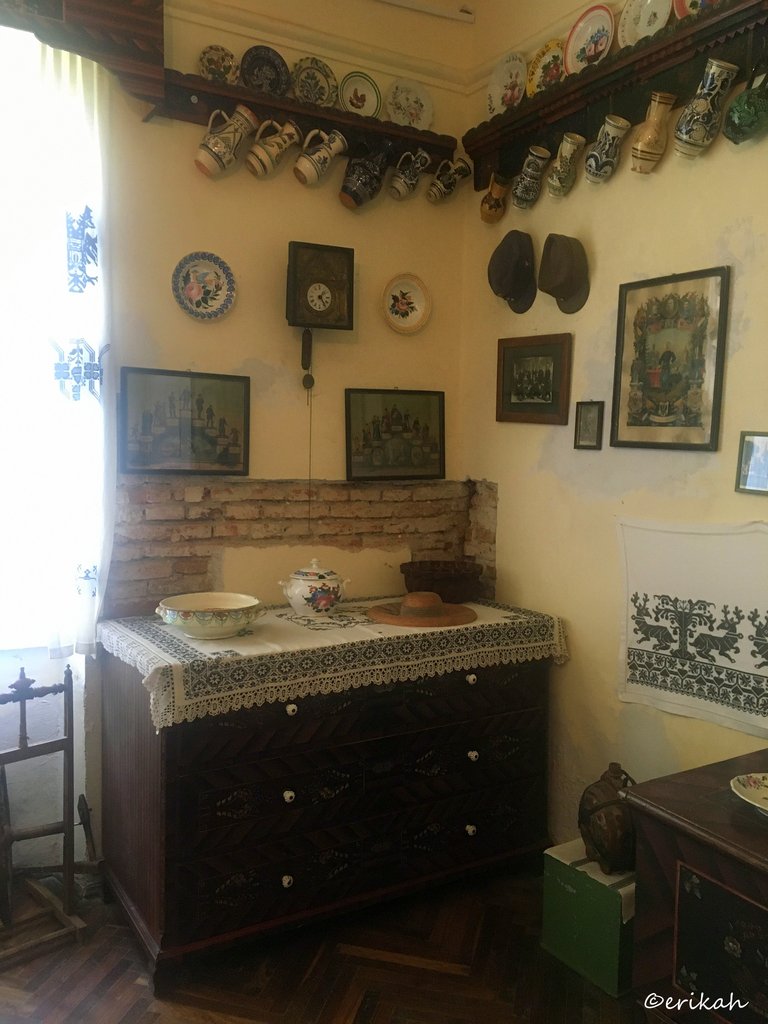 Another wonderful drawer covered with a cross stitch cloth. On the drawer you can see a porcelain bowl and another porcelain item and a straw hat.
This is a closer look at the drawer and next to it there's a wooden tool that was used by women to make yarn.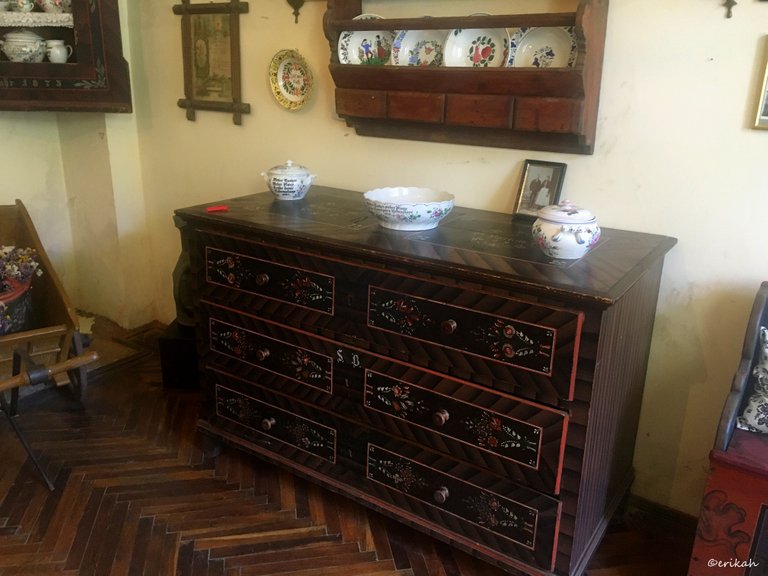 Another drawer and porcelain items, which were only for the wealthy. Poor people were using ceramics. As you can see here and on the upcoming photos, most of the ceramics have inscriptions, which are mostly religious messages.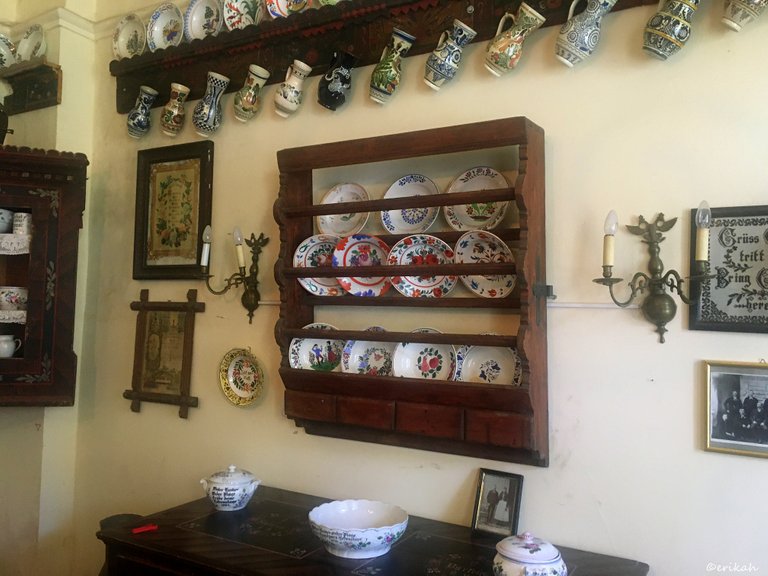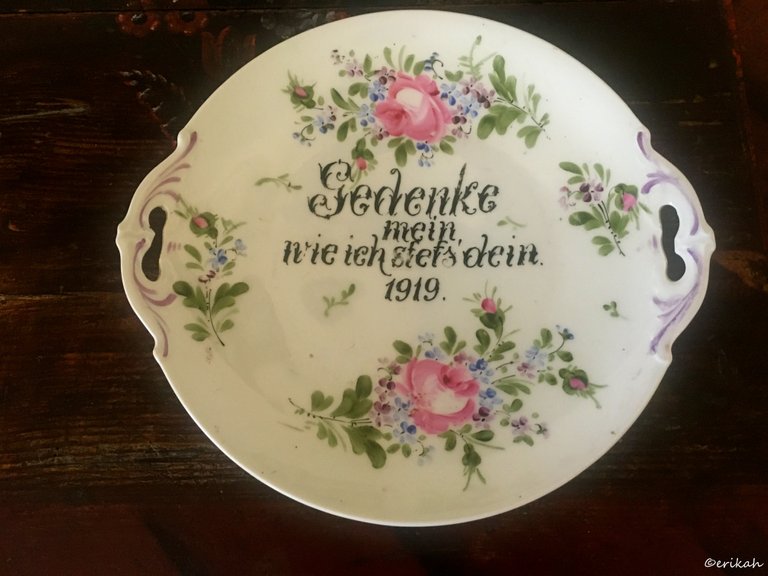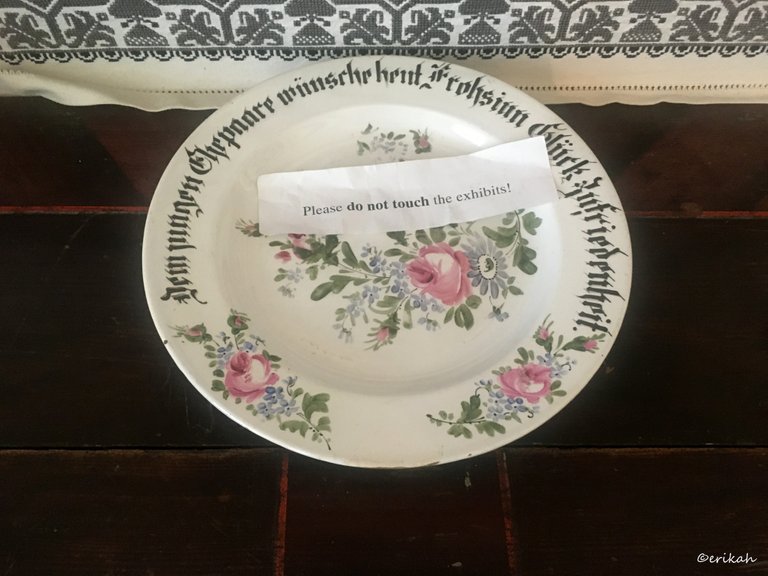 In those times the church had a huge role in people's life, most of them were church going people, starting the day in the church, saying a prayer before going to work the fields.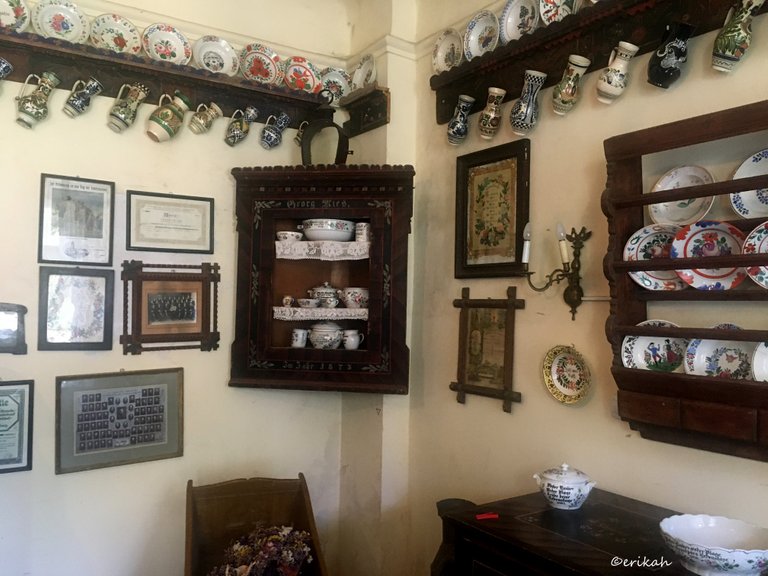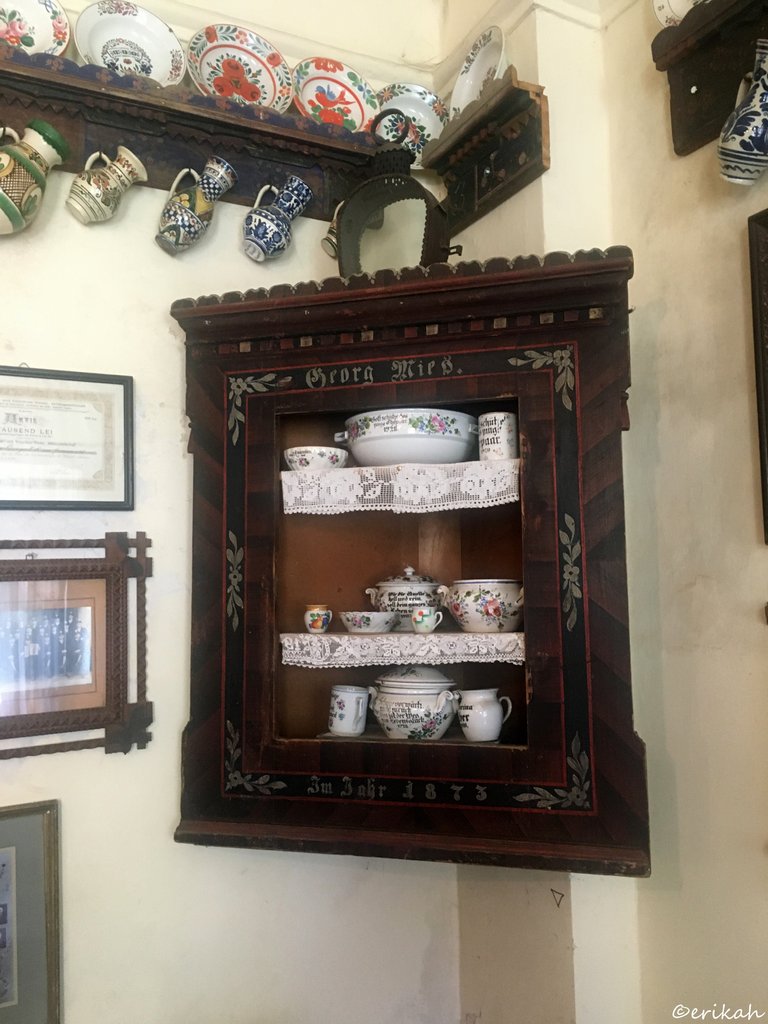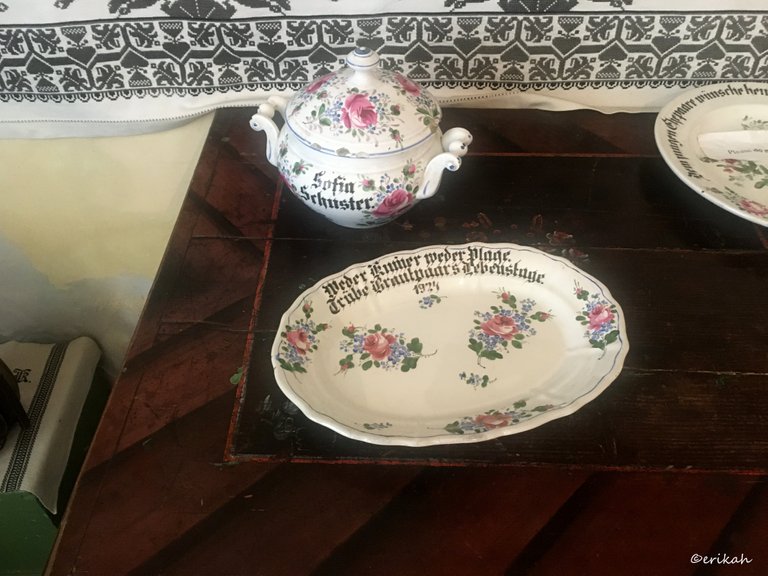 A replica of a bad of those times, probably belonging to a child as it's too small. Bed covers and pillow covers were also made of cross stitch embroidery. Usually any young woman had to have her trousseau or dowry. This was a chest full of bed sheets, cloths, pillows, blankets, shawls, tablecloths, towels, and crates and furniture for holding clothes. This was a must and it was negotiated in many cases. Marriage was not based on love, it was a business made by the two fathers based on wealth and the bride had no saying usually. Girls were working on these clothes themselves (not the wealthy though) before marriage so they can have these things to start a life. The wealthier the family was, the better the chance was to get a wealthy husband.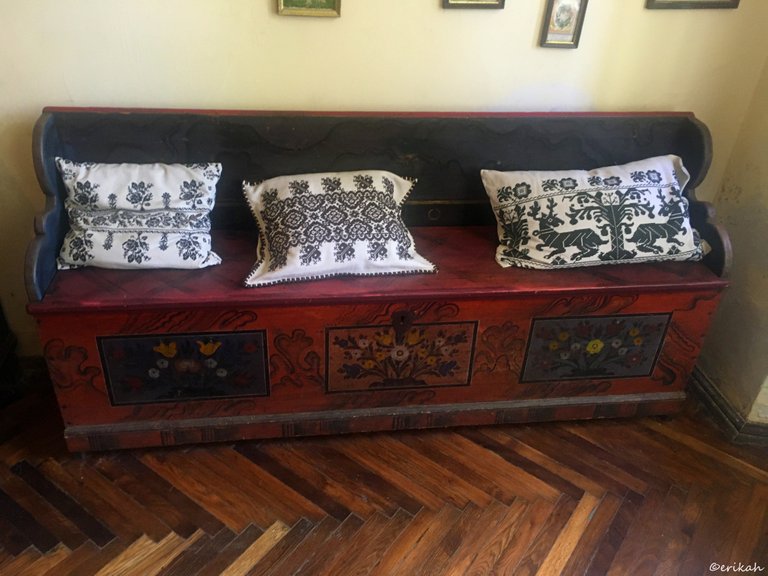 Another seating furniture made of wood, that had a double purpose. The top could be lifted and there was a storage space inside for clothes, pillows, bed sheets etc.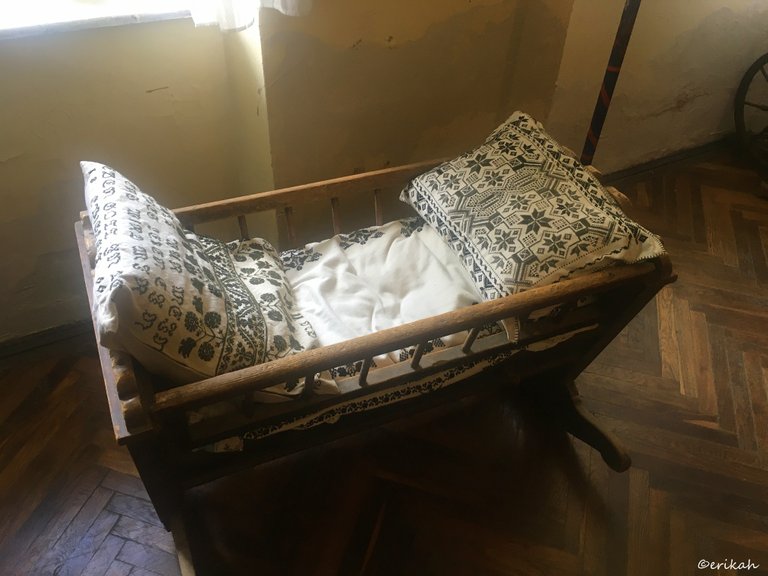 A crib, made of wood. Mothers were usually busy making yarn and were rocking the crib with their leg in the meantime. Tough times were those for some.
This is a very interesting illustration, featuring the age of the man. Starting from 10 years old, to 100, you can see what they thought a man should do or be at each specific age.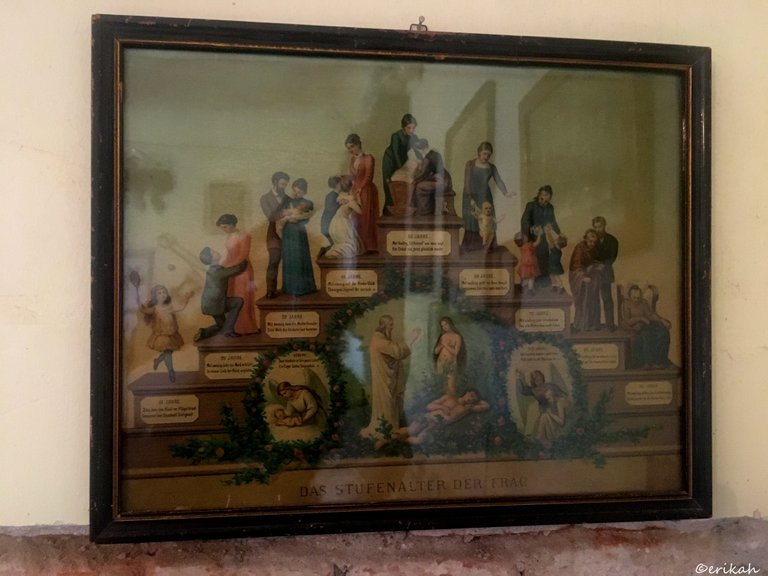 The same for women.
I'm sorry for the quality, unfortunately most of these photos, illustrations were under glass, the light in the room was on and there was very little or no room for me to get closer. I did what I could.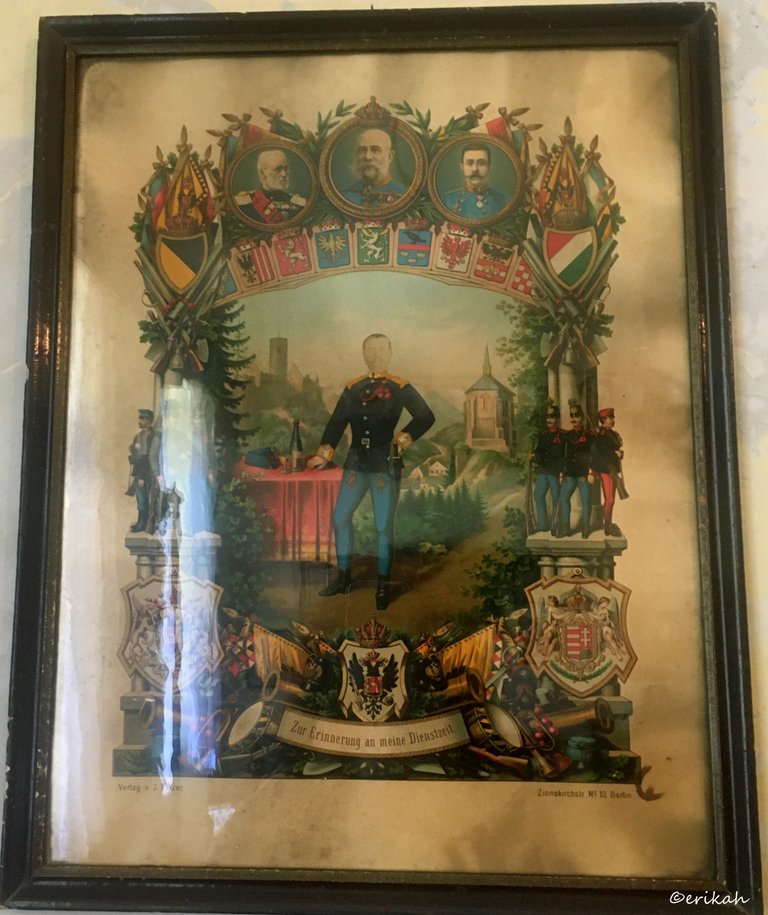 In memory of my service
The man in the center of the photo was most likely a high ranking officer in the Austro-Hungarian army and this is an illustration of remembrance. Up in the middle there's the photo of Franz Joseph I of Austria, the Emperor of Austria, King of Hungary, Croatia, and Bohemia, and monarch of other states of the Austro-Hungarian Empire. On his left, the photo of Archduke Franz Karl Joseph of Austria, member of the House of Habsburg-Lorraine, father of two emperors: Franz Joseph I of Austria and Maximilian I of Mexico (right).
It took me awhile to research all the things I needed for this post but I don't mind. It was like a traveling back in time. I love history and traveling, the two are combined most of the time, so it's a lot of fun.

Check out my latest travel posts: