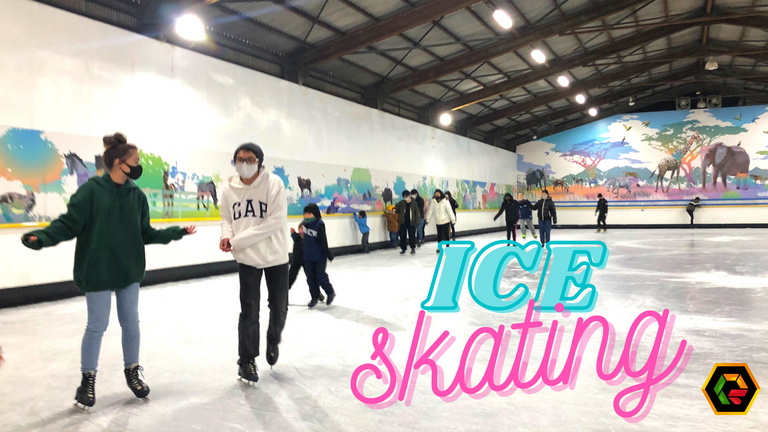 Greetings HIVE people.
Last weekend my family and some friends went ice skating. Well, they went ice skating, I just watched, took some pictures and babysat the toddler. It was a good excuse not to embarrass myself and as a Jamaican, ice just isn't my thing.
Jet skiing, wind surfing and snorkeling are more up my alley. But... I will try ice skating the next time around. Why not? We only live once right? It was very interesting watching my sons learn how to skate as I didn't have that opportunity growing up in Jamaica. Lets dive into the pictures.
The name of the place is called Isesaki Skate Center and is located in Gunma prefecture about 2 hours by train from Tokyo. From the outside, it looks like warehouse and I am sure that is what it used to be.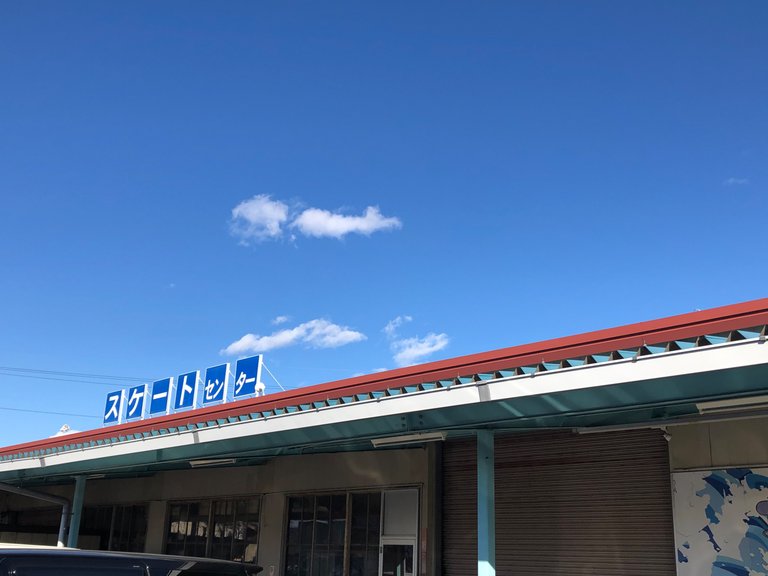 By the entrance there is a cute mural of sea creatures with this lady whale being the center piece, so if you see that, you know you are at the right location. Of course, you don't have to bring your ice skate boots as you can rent them there along with helmets. The prices aren't bad.



Entrance Fee With Shoe Rental
| Children | Junior High | Adults |
| --- | --- | --- |
| 500 yen | 700 yen | 1,000 yen |

But if you just want to watch your friends skate, it is still gonna cost you. And it is priced in such a way that it only makes sense to rent the shoes and skate ( I just realized that).



Entrance fee without Shoe Rental
| Children | Junior High | Adults |
| --- | --- | --- |
| 400 yen | 500 yen | 700 yen |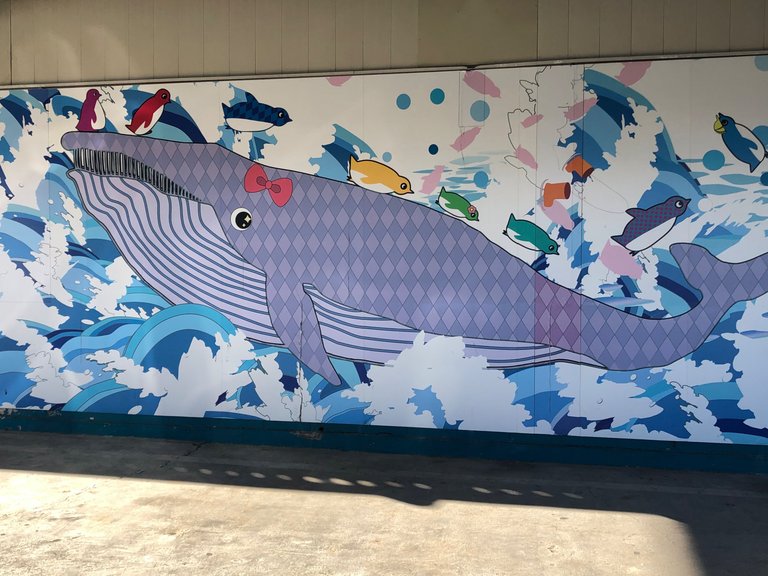 Here is the whale I was talking about. If you see this art on the wall, you are here.
Get the helmets and Skates on!
---
It was a proud moment seeing the boys get ready to go skating. I admire the fact that they aren't afraid to try new things. As adults, many of us give up on trying the new, much like how I chickened out of ice skating. But seriously, I will do it next time. That should be around a year from now. I be sure to get some video footage for your amusement.
Off they went, so brave are the young. They held on to the rail and went around the skating ring a good number of times to get a feel of the ice. At times they were discouraged and fussed a bit. They got knocked down but didn't stop trying. A part of me wished I had learnt to skate so I could teach them, but as a parent you are not gonna know how to do everything and that is fine.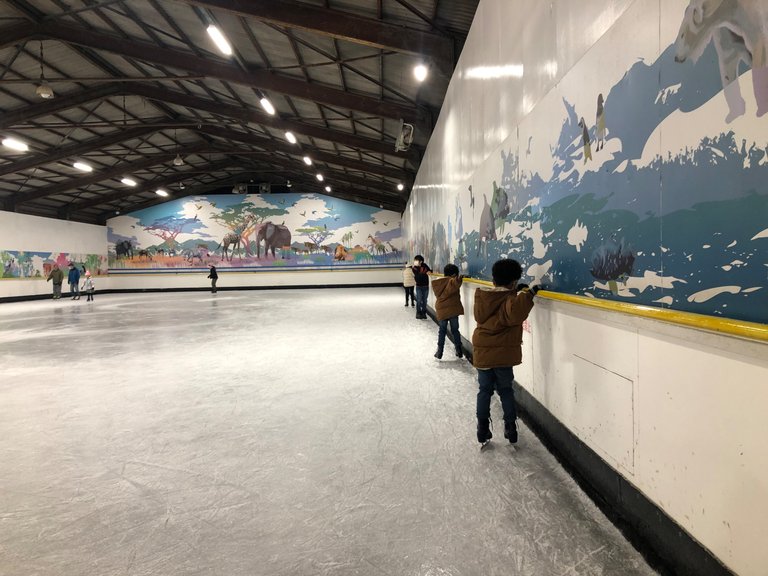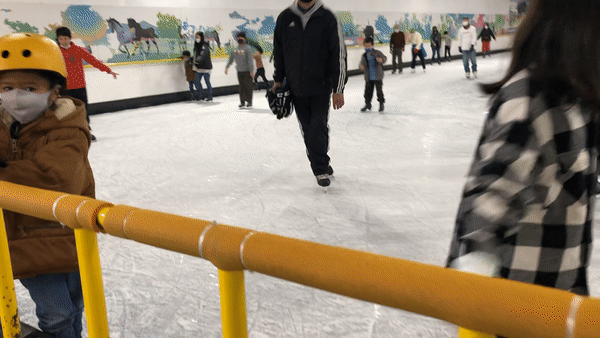 Despite a surge in covid 19 cases in Japan, a decent amount of people were around. I suspect it would be crowded under normal conditions. In this region of Japan, there aren't too many cases. Isesaki is in Gunma prefecture which has a population of around 2,00,000 people. Since March last year, 2,907 people have been confirmed to have the virus with 36 added on January 13th, 2021. So far there has been 54 deaths. So I guess people in these greener areas aren't as concerned, but they are still being cautious. But if those numbers rise, Gunma could be on the list on prefectures to declare another state of emergency ( like Tokyo, Osaka, Saitama, Chiba, Hyogo, Kyoto and Osaka, who all declared a state of emergency recently).


Animal art on the wall seems to be a thing here. I imagine they did it to attract/set an atmosphere for the kiddies. But in reality, the kids are too busy having fun skating, only the old dude watching his kid probably noticed it.😄 Yes I am talking about myself.
As you can see, by looking at the roof, this used to be a warehouse as I said. For what? I have no idea, but I do think it is a great idea to transform a warhorse into a skate ring. They probably saved tons of money by doing this.
The pro of the day!
This guy was doing some pretty impressive moves. Didn't catch any on video, but just the way he stops and spins in this gif, you know.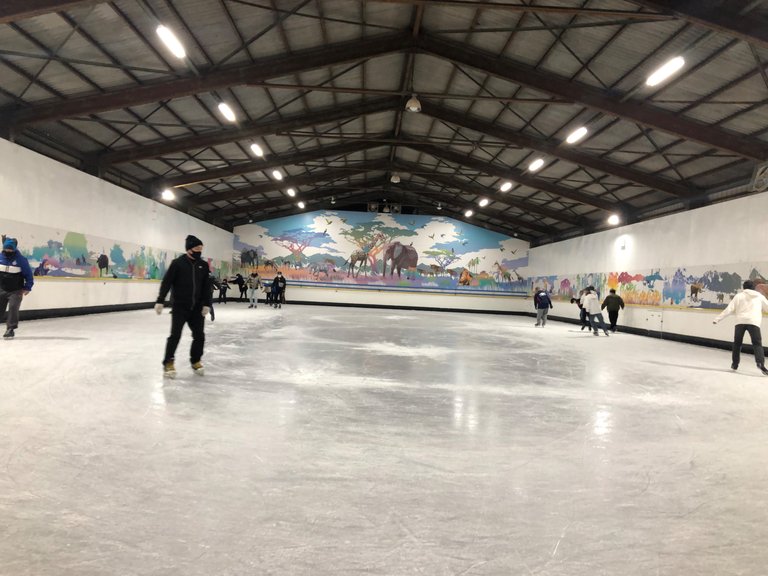 The couple on the cover
The couple in the cover photo, I have no idea who they are, but I thought they looked good together. Alright you got me, I was checking her out, can you blame me? But they do look good together. I overheard them talking in the cafeteria area and hey were speaking Portuguese, so I assume they are from Brazil as there is a large Brazilian population here.


---
---
Here are two of the adults we went with enjoying some time on the ice. There is an upstairs section where the food court is located. Nothing fancy, but good for a quick bite to get back on the ice.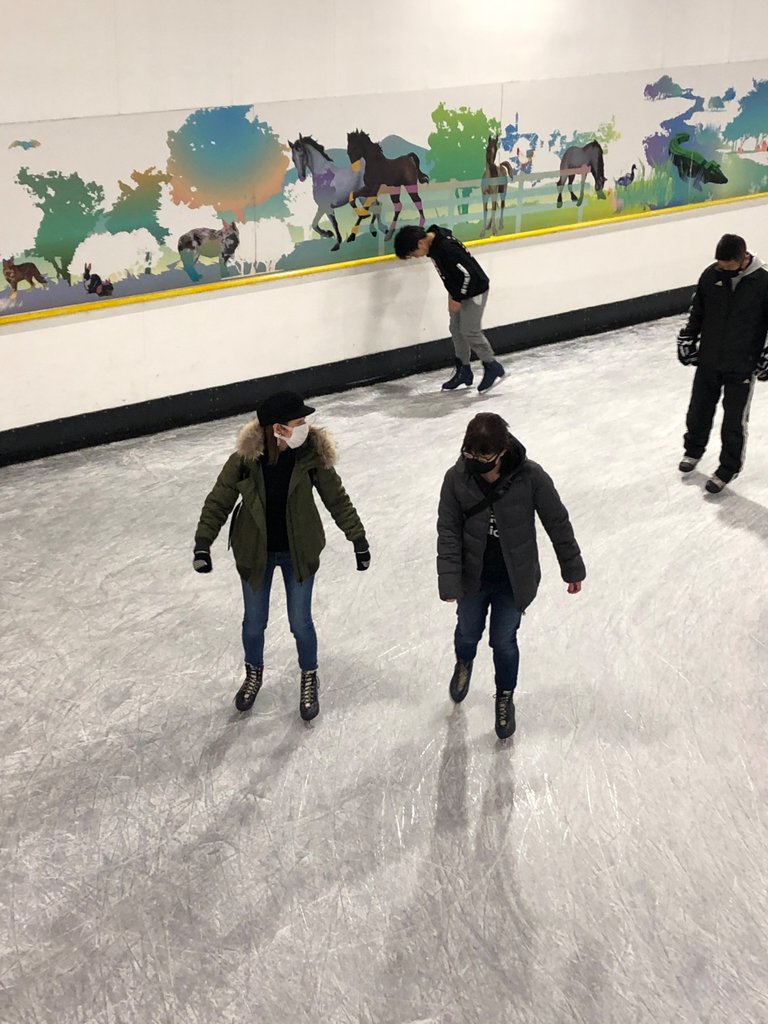 ---
After awhile the boys did get burnt out tying to keep their balance. I could tell because they were getting cranky and falling a lot. Even my wife had a good fall😆. I told her, "that's why I don't mess with the ice". Everyone had a good workout as days had passed and all the adults were feeling/talking about the muscle pain. That muscle pain is good though, means skating worked some places that doesn't usually gets flexed.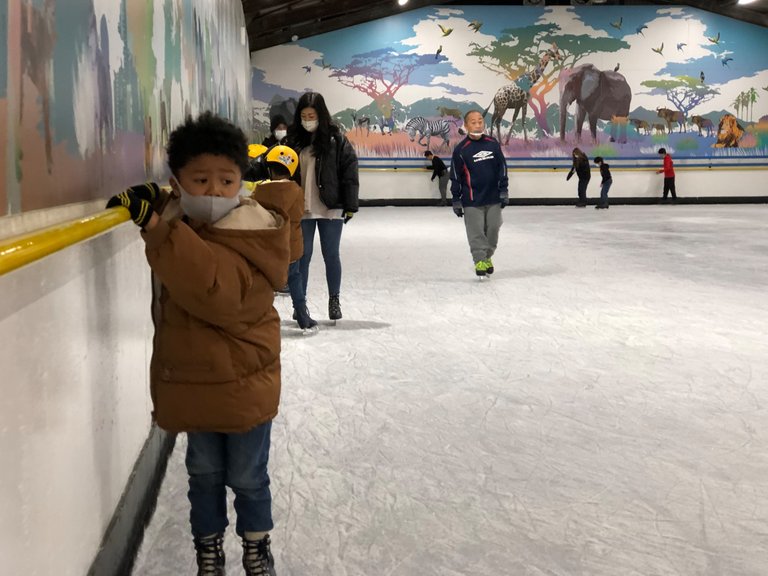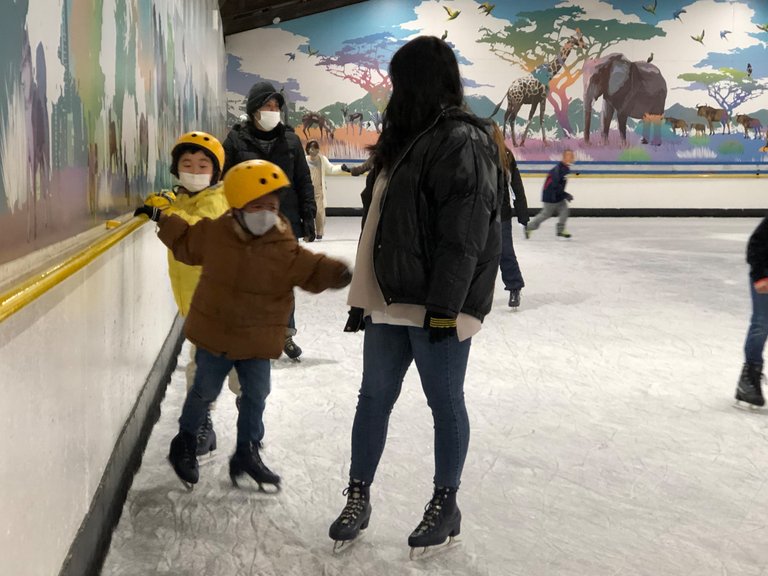 If you are looking for something fun and affordable to do with the entire family while in the Gunma area, I highly recommend going skating at the Isesaki Skating Center. It's affordable, large, and they have all surfent size skat boots even fur the biggest of 🦶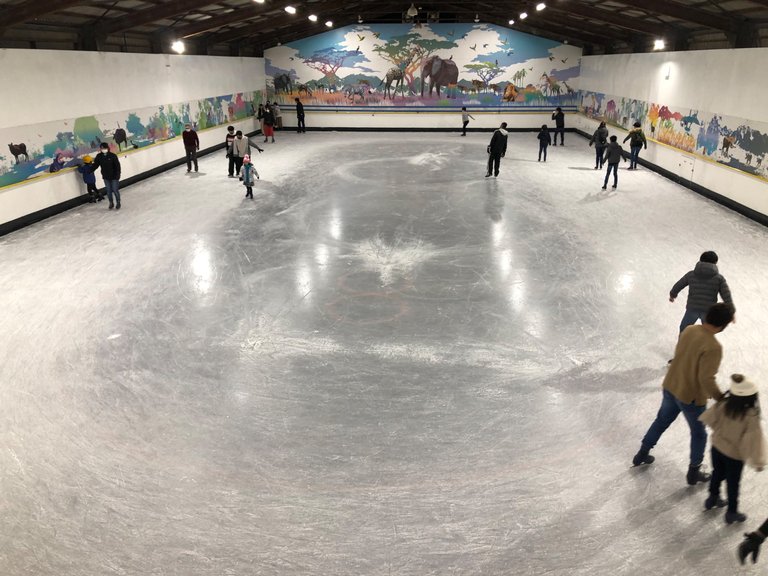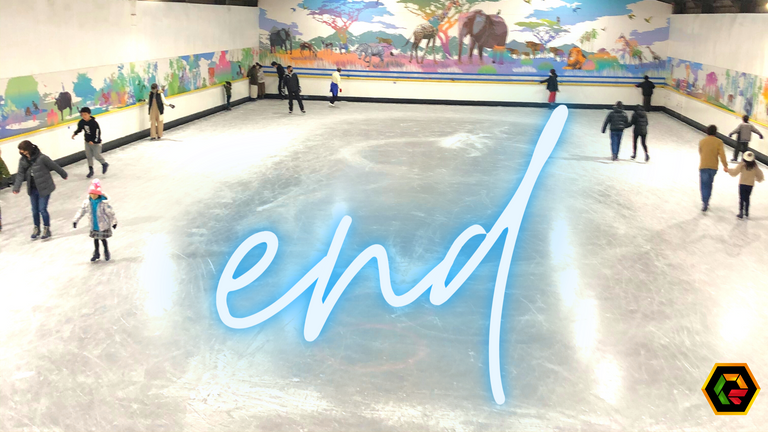 [//]:# (!pinmapple 36.305822 lat 139.184334 long Great place to skate in Isessaki Japan d3scr)