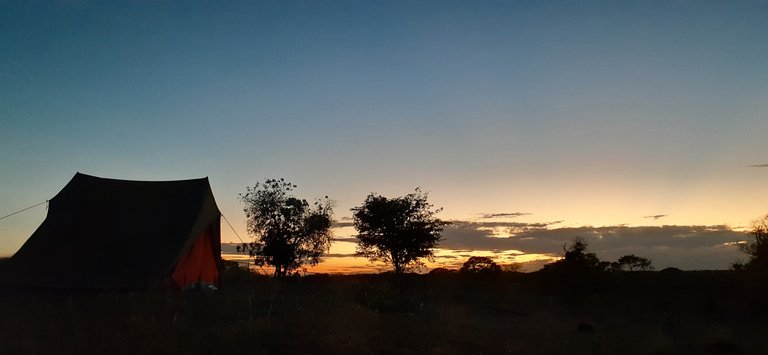 Hoy les cuento mi aventura viajando al llano venezolano; para las fechas navideñas y en tiempos de grandes retos para cualquier viajero que se atreva a recorrer parte de Venezuela.
Viajar por Venezuela en el año 2020 no es para cualquiera. Recientemente en un post me preguntaron si era fácil viajar por el mi país. Sinceramente solo lo recomiendo como turismo de aventura, porque para tener comodidades que cualquier turista podría tener en otro país; aquí debes pagar mucho más.
Este viaje consta de dos partes. Una para navidad y otra de fin de año. Por lo que fuimos dos veces al encuentro con la naturaleza y siempre pasando por retos desafiantes en el trayecto.
El principal reto y al que nadie escapa en este momento, es la gasolina. Desde hace un año el "tema gasolina" en el país se ha complicado bastante. En Venezuela, un país petrolero no se produce gasolina y hay que importarle. El único país dispuesto por las sanciones económicas impuestas por EEUU, es Irán. Por esto la gasolina demora mucho y llega poca.
En el país el precio del combustible pasó de ser casi gratis a costar $0,50 por litro. Sin embargo hay algunas gasolineras que la dan subcidiada a, más o menos $0,01. En estas gasolineras las colas pueden durar 3 días.
En Caracas, la capital y donde vivo; puedes conseguir gasolineras sin regulación, donde no haces cola. Sin embargo cuando sales de la ciudad te consigues con una situación diferente. Como no hay ninguna gasolinera sin subcidio, todas están repletas de filas interminables de vehículos y esto hace que viajar en carretera por Venezuela, tenga requerimientos especiales, como por ejemplo tener gasolina almacenada o como en nuestro caso; familiares que te esperen con gasolina en el destino.
Por esto y porque el auto tiene dañado el medidor de gasolina, el viaje se tornó un poco estresante, ya que nunca sabíamos cuánto teníamos.
Después de haber recorrido unos 100 km, el auto comenzó a sonar extraño y a los 50 metros se apagó. Pensamos que era la gasolina, pero después de pensarlo bien concluimos que fue otra cosa.
Al bajar vi que la liga de frenos de la rueda tracera se había ido. Dimos la vuelta por la bajada y paramos el carro en una alcabala de la policía; que por cierto no se acercaron a ayudarnos.
Como había familia cerca los llamamos para que vinieran con cuerdas a remolcar el vehículo. Despues de más de una hora de espera llegaron, pero sin cuerdas. Había que evitar una grua porque iba a salir extremadamente costoso.
Se llamó a otro familiar que conocía a un mecánico y se les fue a buscar en el otro vehículo. Al descartar lo primero que pensamos, que se trataba de batería, el mecánico descubrió que el carro no encendía porque las bujías estaban llenas de aceite. Al ver eso me asusté...
Today I tell you about my adventure traveling to the Venezuelan plains; for the Christmas season and in times of great challenges for any traveler who dares to travel part of Venezuela.
Traveling through Venezuela in the year 2020 is not for everyone. Recently in a post I was asked if it was easy to travel around my country. I sincerely only recommend it as adventure tourism, because to have comforts that any tourist could have in another country; here you must pay much more.
This trip has two parts. One for Christmas and another for the end of the year. So we went twice to the encounter with nature and always going through challenging challenges along the way.
The main challenge and the one that nobody escapes at this moment, is the gasoline. For a year now the "gasoline issue" in the country has become quite complicated. In Venezuela, an oil producing country, gasoline is not produced and has to be imported. The only country willing to accept the economic sanctions imposed by the US is Iran. For this reason, gasoline takes a long time and arrives little.
In the country the price of fuel went from being almost free to cost $0.50 per liter. However, there are some gas stations that give it a price of about $0.01. In these gas stations the queues can last 3 days.
In Caracas, the capital and where I live; you can get unregulated gas stations, where you don't have to wait in line. However, when you leave the city you get a different situation. As there is no gas station without subcide, all of them are full of endless lines of vehicles and this makes traveling on the road in Venezuela, have special requirements, such as having gasoline stored or as in our case; family members waiting for you with gasoline at the destination.
Because of this and because the car has a damaged gas meter, the trip became a little stressful, since we never knew how much we had.
After having driven about 100 km, the car started to sound strange and after 50 meters it turned off. We thought it was the gasoline, but after thinking it over we concluded it was something else.
When we got off, I saw that the brake line of the rear wheel was gone. We turned around and stopped the car at a police station, which, by the way, did not come to help us.
Since there was family nearby we called them to come with ropes to tow the vehicle. After more than an hour of waiting they arrived, but without ropes. We had to avoid a tow truck because it would be extremely expensive.
Another family member who knew a mechanic was called and they were picked up in the other vehicle. After discarding the first thing we thought, which was the battery, the mechanic discovered that the car would not start because the spark plugs were full of oil. Seeing that scared me...
Lo primero que pensé fue que se había roto la correa de los tiempos o algo en el motor. Gracias a Dios no fue nada de eso. Solo el tapa válvula que estaba vencido. También tenía un problema de alternador y sumado a eso, la liga de frenos.
Al limpiar las bujías el carro encendió pero sin la correa del alternador, por lo que solo se podía rodar hasta el taller. Una vez ahí se dejaría para repararlo. Todo esto sucedía un 24 de diciembre en la tarde, mientras la familia nos esperaba 150 km más adelante.
Nos fuimos en el otro vehículo y llegamos a nuestro destino a las 10 de la noche, para la cena de navidad.
The first thing I thought was that the timing belt had broken or something in the engine. Thank God it was nothing like that. Just the valve cap that was expired. I also had an alternator problem and on top of that, the brake line.
When cleaning the spark plugs the car started but without the alternator belt, so you could only roll to the workshop. Once there would be left to repair it. All this was happening on December 24th in the afternoon, while the family was waiting for us 150 km ahead.
We left in the other vehicle and arrived at our destination at 10 pm, for Christmas dinner.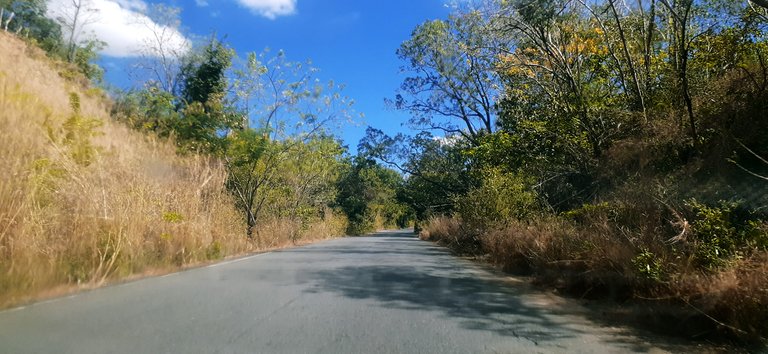 Este es parte del camino a la finca donde nos quedamos esos días de fiesta decembrina. La foto la tomé el 31, que fue nuevamente cuando regresamos. El carro estaba en mejores condiciones, porque otro mecánico lo reparó totalmente ya que el que nos había auxiliado nos estafó, pero ese ya es otro cuento.
This is part of the way to the farm where we stayed during the December holidays. I took the photo on the 31st, which was again when we returned. The car was in better condition, because another mechanic repaired it completely, since the one who had helped us had swindled us, but that's another story.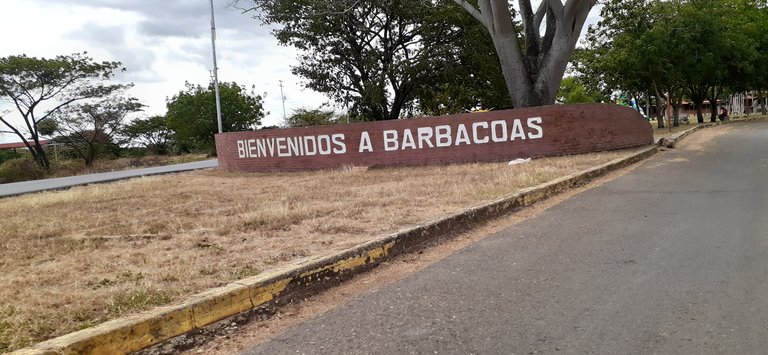 El pueblo de Barbacoas es conocido en el país, porque ahí nació un gran compositor de música venezolana, que conquistó el mundo entero. Simón Diaz, quien compuso "Caballo Viejo", canción Celia Cruz, Rubén Blades, Armando Manzanero y Plácido Domingo entre muchos más.
The town of Barbacoas is known in the country, because there was born a great composer of Venezuelan music, who conquered the whole world. Simón Diaz, who composed "Caballo Viejo", song Celia Cruz, Rubén Blades, Armando Manzanero and Plácido Domingo among many others.
También compuso una canción a su pueblo Barbacoas. Se las dejo:
He also composed a song to his village Barbacoas. I leave them to him:

Sinceramente el pueblo no me gustó en absoluto. No provocó el interés en tomarle ni una sola foto. No tiene ningún atractivo y sus adyacencias igual. Este viaje fue divertido por la aventura y la compañia; sin embargo el paisaje dejaba mucho que desear aunque gracias a este fotógrafo mejoró la cosa.
Estas dos fotos anteriores son de una finca cafetalera abandonada. Hay muchas tierras así. Otras que si están ocupadas y productivas pero con instalaciones un poco deterioradas. Mi asombro fue que había más actividad en el campo de lo que imaginaba. En un país donde nadie es dueño de su tierra, sino es solo un préstamo del Estado, es admirable las ganas de muchos campesinos.
Honestly, I didn't like the village at all. It didn't provoke interest in taking a single photo. It has no appeal and its surroundings are the same. This trip was fun because of the adventure and the company; however the landscape left a lot to be desired although thanks to this photographer it improved.
These two photos above are from an abandoned coffee farm. There is a lot of land like this. Others that are occupied and productive but with somewhat deteriorated facilities. My amazement was that there was more activity in the field than I imagined. In a country where no one owns their land, but it is only a loan from the State, the desire of many farmers is admirable.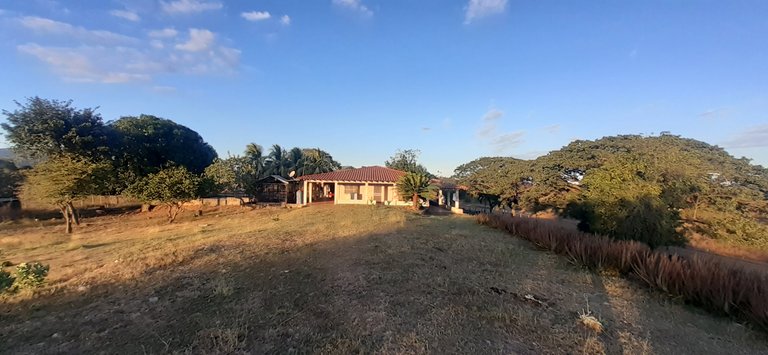 Por fin llegamos a la finca. Con una casa súper cómoda de 5 habitaciones y piscina. También una parrillera (barbacoa) y mucho lugar para caminar y tener contacto con los animales.
We finally arrived at the farm. With a super comfortable 5 bedroom house and pool. Also a barbecue and a lot of place to walk and have contact with the animals.
---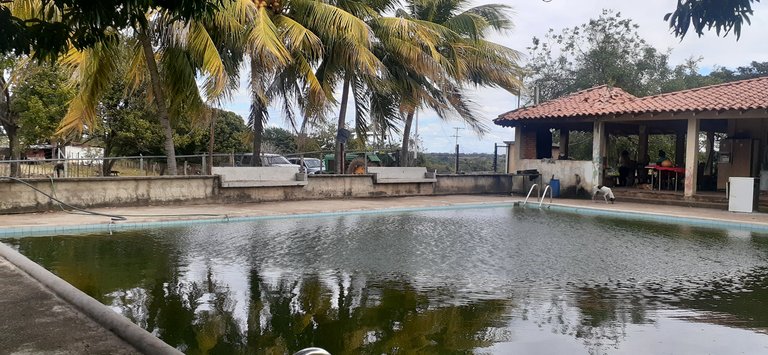 ---

Esta es la vista desde la casa. Por donde se visualiza la carretera por donde llegamos.
This is the view from the house. You can see the road from where we arrived.
---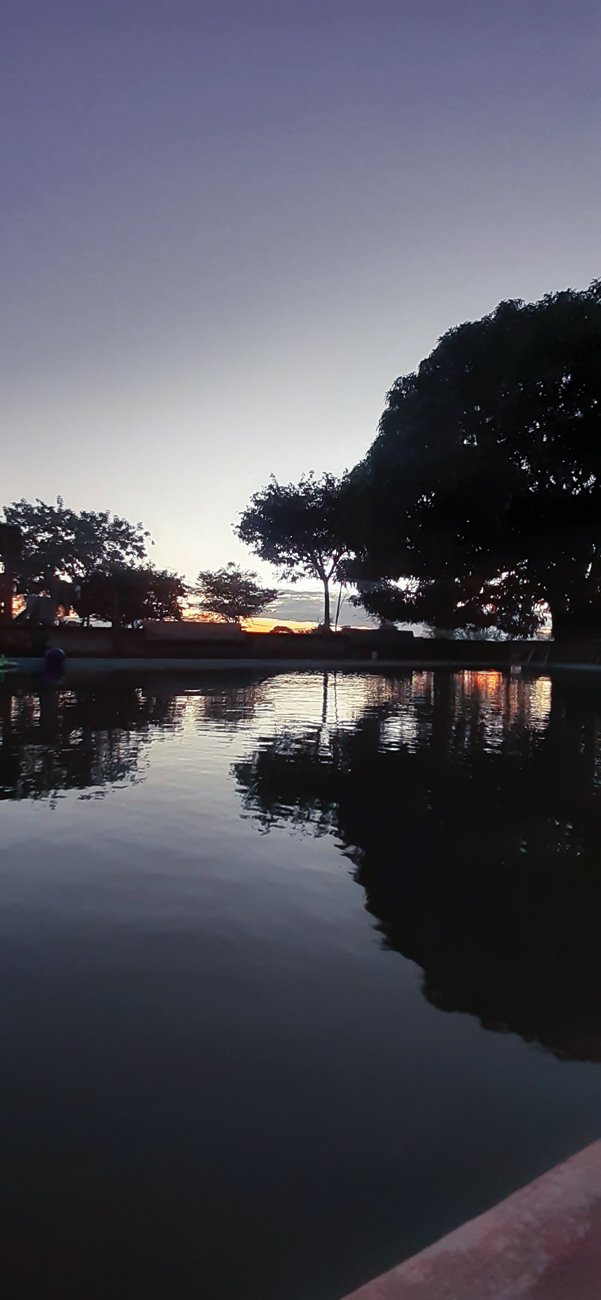 ---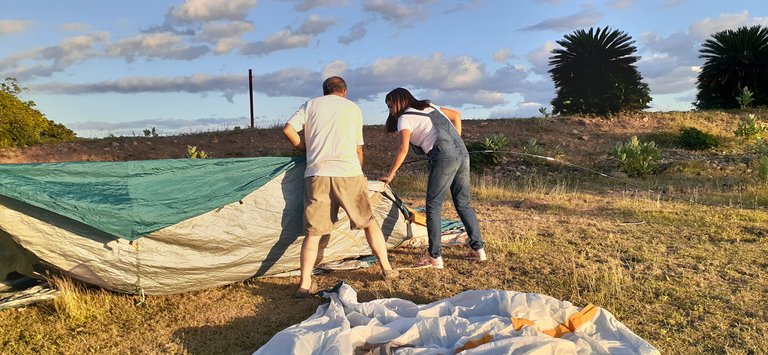 Antes de que oscureciera nos dispusimos a armar la carpa. Aunque había muchas habitaciones, también había muchas personas. Como soy de acostarme tarde no quería molestar a la hora de dormir. También me gusta despertar tranquilo y sin ruido con el sonido de los pájaros y no de las personas jajaja.
Before it got dark we set up the tent. Although there were many rooms, there were also many people. Since I'm a late sleeper, I didn't want to disturb bedtime. I also like to wake up quietly and without noise with the sound of birds and not people hahaha.
---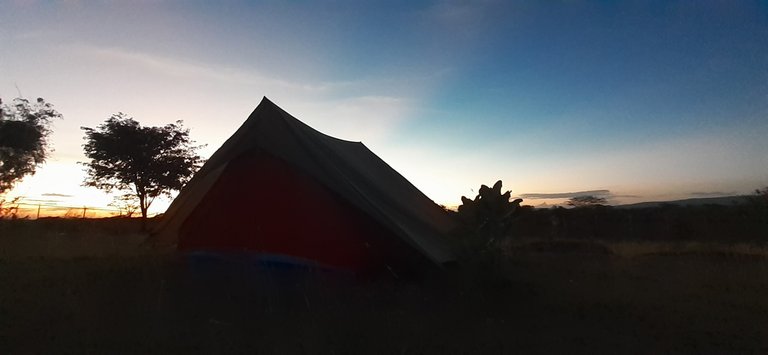 Esta carpa tiene más de 40 años. Ha viajado por toda Venezuela. Son incontables las veces que dormí ahí dentro y me emociona que todavía pueda hacerlo. Aunque el calor en la mañana nos despertaría sin piedad.
This tent is more than 40 years old. It has traveled all over Venezuela. I've slept in it countless times and I'm thrilled that I can still do it. Although the heat in the morning would wake us up mercilessly.
---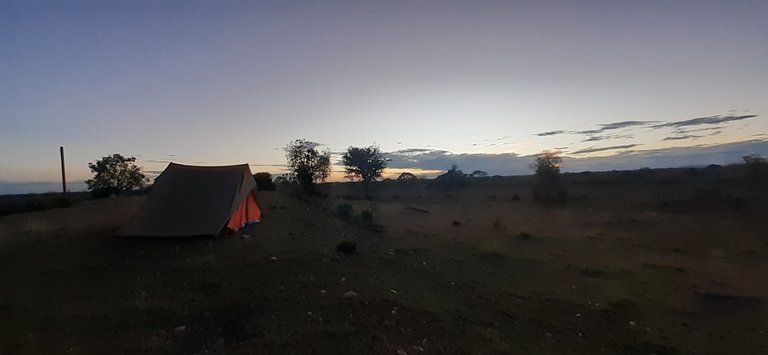 ---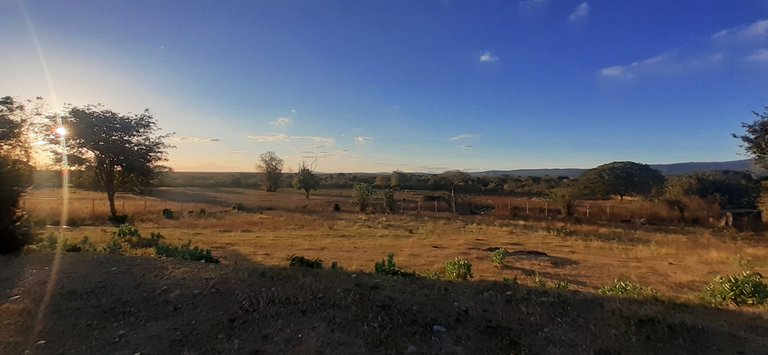 ---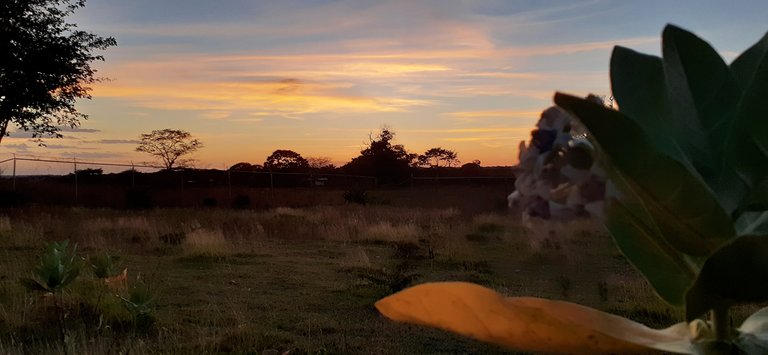 ---
El amanecer es sabroso cuando uno lo primero que hace es abrir HIVE. Ver nuevo contenido en las mañanas y noticias sobre la plataforma es genial; más cuando estás acompañado de vacas y cerdos que pastan a tu al rededor en el campo. Una experiencia única.
The sunrise is tasty when the first thing you do is open HIVE. Seeing new content in the mornings and news about the platform is great; even more so when you are accompanied by cows and pigs grazing around you in the fields. A unique experience.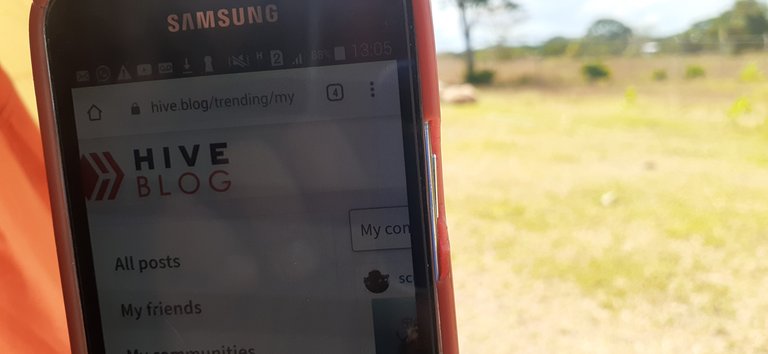 ---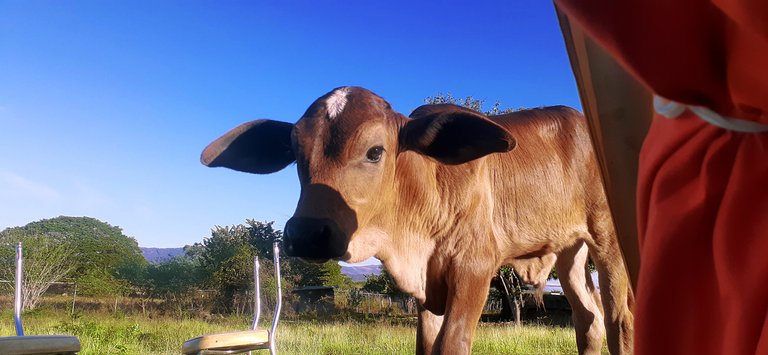 ---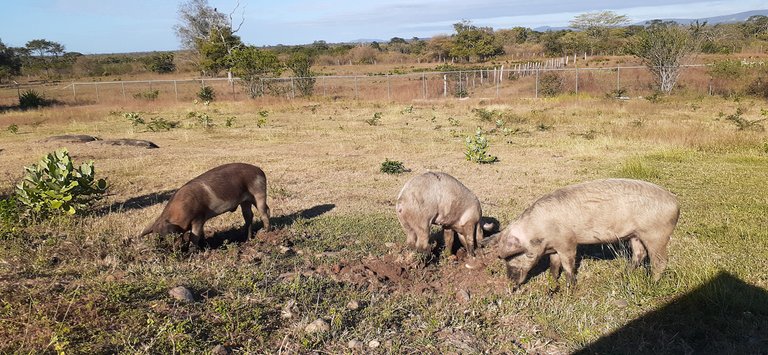 ---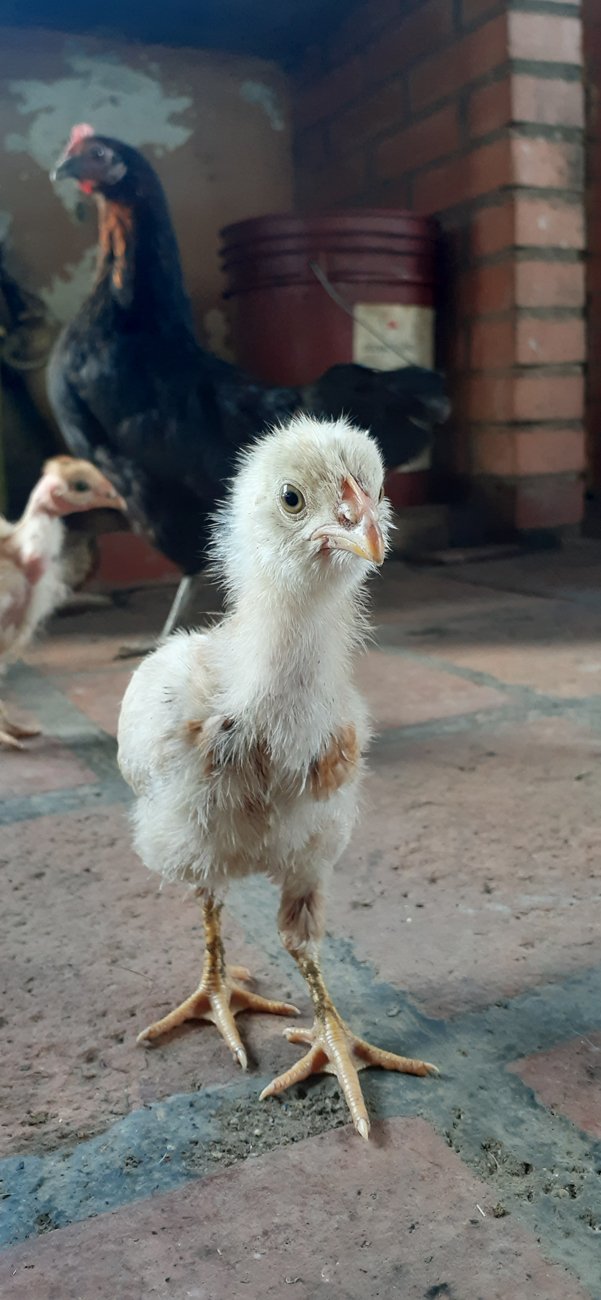 ---
Les dejo con más fotos del llano y su paisaje de praderas. También puedes ver otras fotos espectaculares en este post
I leave you with more pictures of the plain and its prairie landscape. You can also see other spectacular photos in this post
---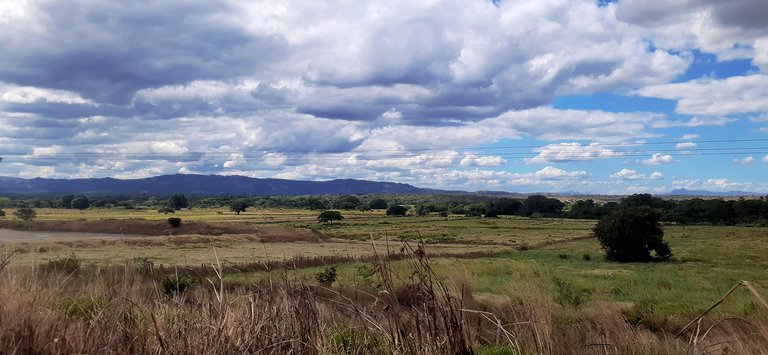 ---

---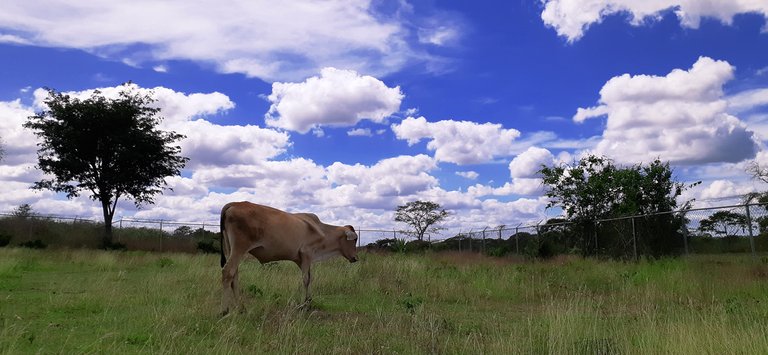 ---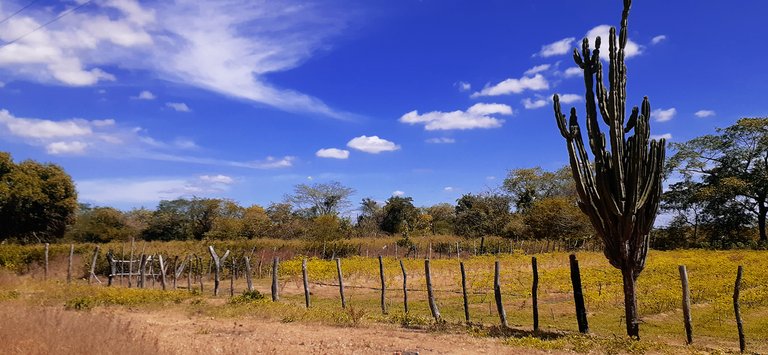 ---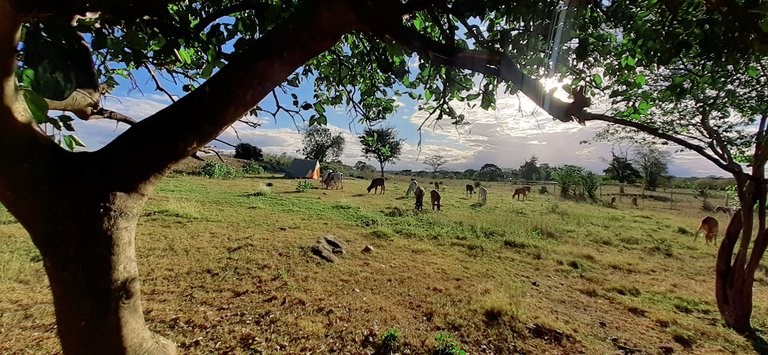 ---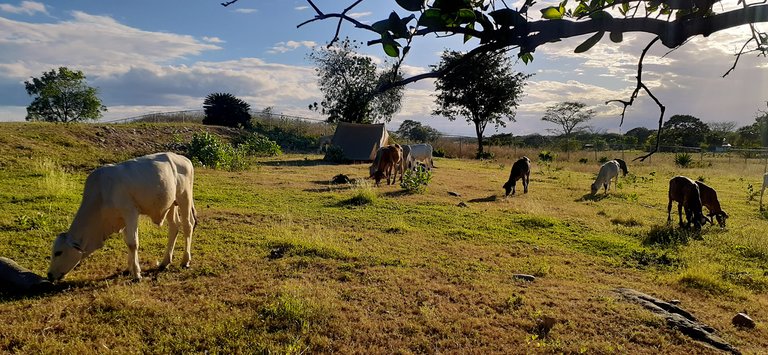 ---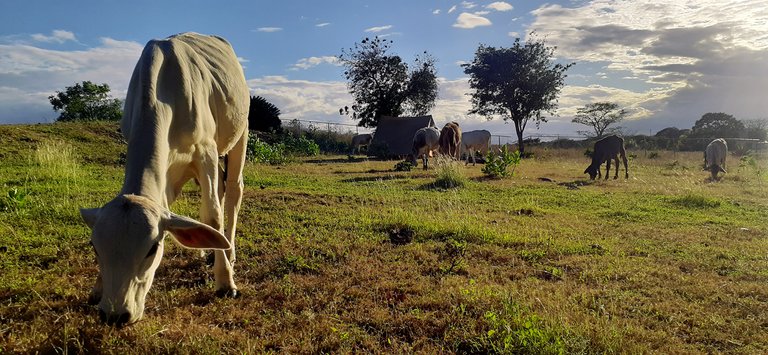 Al final del viaje regresamos a Caracas, después de haber disfrutado de la tranquilidad del campo, con buena comida y compañía. Faltando pocos kilómetros para llegar a casa, el carro comenzó a fallar mucho y nos asustamos pero logramos llegar. A los días se apagó porque el alternador dañado descargó la batería. Fue a pocos metros de la casa y pudimos solucionar.
Esta fue un poco de la aventura que es viajar en carretera por Venezuela en el 2020. Lo bueno es que no tuvimos ninguna situación de inseguridad y solo se trató de mecánica. Por supuesto que hacer el recorrido con luz de día es indispensable. También algo curioso es que en el interior del país nadie usa marcarilla, como si el virus no existiera ni pasara por esos lugares.
Espero que les haya gustado el viaje. Aunque para esa zona específica no lo recomiendo a no ser que vayan a compartir con la familia. Un poco más adelante está el parque nacional Aguaro Guariquito que es espectacular y 100% recomendado.
At the end of the trip we return to Caracas, after having enjoyed the tranquility of the countryside, with good food and company. With only a few kilometers to go home, the car started to fail a lot and we got scared but we managed to get there. After a few days, it shut down because the damaged alternator discharged the battery. It was a few meters from the house and we were able to fix it.
This was a bit of the adventure that is traveling on the road in Venezuela in 2020. The good thing is that we didn't have any unsafe situation and it was just mechanics. Of course, doing the tour with daylight is indispensable. Also something curious is that in the interior of the country nobody uses marcarilla, as if the virus did not exist nor passed through those places.
I hope you enjoyed the trip. Although for that specific zone I do not recommend it unless you are going to share with the family. A little further on is the Aguaro Guariquito National Park which is spectacular and 100% recommended.
Translated with www.DeepL.com/Translator (free version)