Hi hivers - Hola hivers
How is my fabulous Hive community doing today? I hope everything is very well, especially those who make life in this travel community and help me to know the world through their photos and their writings, today I come to talk to you about this monument, for those of us who pass by regularly there is a little left unnoticed but the truth is, it is very impressive.
¿Cómo se encuentra mi fabulosa comunidad de Hive hoy? espero que todo muy bien, en especial los que hacen vida en esta comunidad de viajes y me ayudan a conocer el mundo a través de sus fotos y sus escritos, hoy vengo a hablarles sobre este monumento, para los que pasamos cerca regularmente queda un poco desapercibido pero la verdad es, que es muy impresionante.
---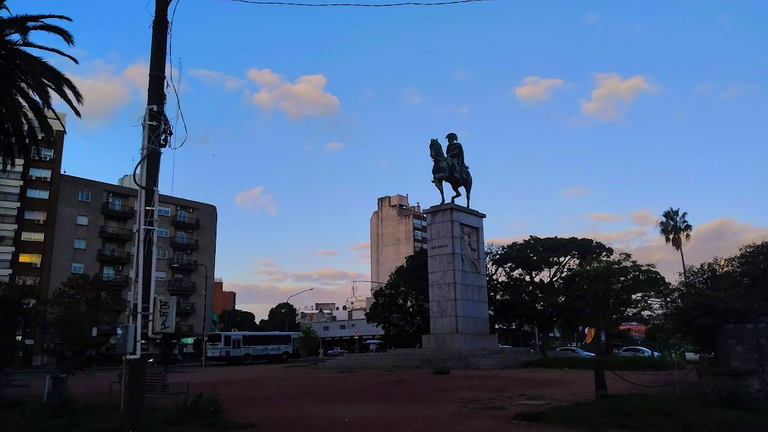 ---
In Uruguay there are many truly incredible and gigantic monuments, although this one seems to me to be overshadowed by its poorly maintained green areas and the large number of buildings and avenues that are in its surroundings.
The square has become a space for the elderly, athletes and children to spend time outdoors, on chairs, games or exercise machines.
En Uruguay hay muchos monumentos realmente increíbles y gigantescos, aunque este me parece que se ve opacado por sus áreas verdes poco cuidadas y la gran cantidad de edificios y avenidas que se encuentran a sus alrededores.
La plaza se ha convertido en un espacio para que personas mayores, deportistas y niños pasen un rato al aire libre, en las sillas, juegos o maquinas de ejercicios.
---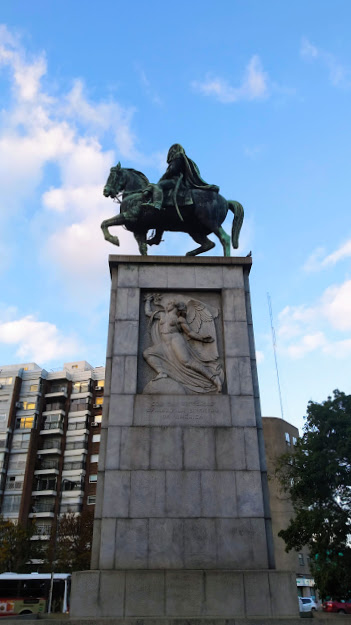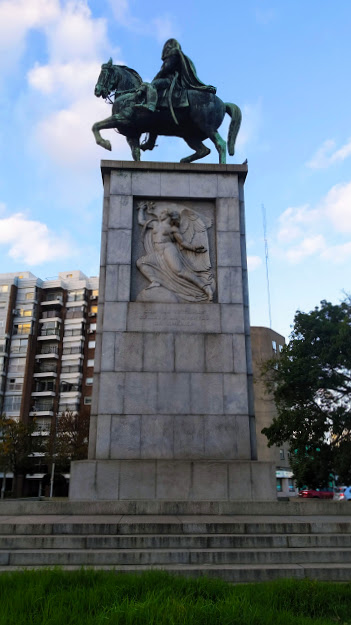 ---
This monument was inaugurated on February 22, 1963, being the product of a law enacted in 1932 in Uruguay that sought to honor the Republic of Argentina, said tribute would be represented with a sculpture of José de San Martin (Argentine military and politician, hero liberator of Argentina, Peru and Chile).
After calls for various artists of the time to apply in the selection to carry out said monument, the Uruguayan sculptor Edmundo Prati is chosen to carry out this work of art.


At the foot of the work there is a carved inscription that says "TRIBUTE OF THE ARGENTINE ARMY TO THE EASTERN REPUBLIC OF URUGUAY".
Este monumento se inauguro el 22 de febrero de 1963, siendo producto de una ley promulgada en el año 1932 en Uruguay que buscaba homenajear a la republica de Argentina, dicho homenaje seria representado con una escultura de José de San Martin (militar y político Argentino, prócer libertador de Argentina, Perú y Chile).
Luego de llamados para que diversos artistas de la época se postularan en la selección para llevar a cabo dicho monumento, se elige al escultor Uruguayo Edmundo Prati para la realización de esta obra de arte.
Al pie de la obra se encuentra una inscripción tallada que dice "HOMENAJE DEL EJÉRCITO ARGENTINO A LA REPÚBLICA ORIENTAL DEL URUGUAY".
---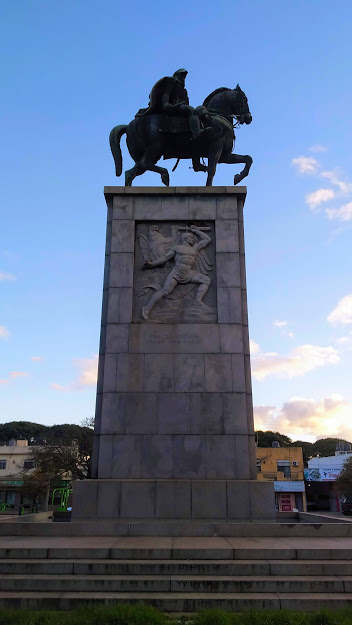 ---
The square has little vegetation, but behind the monument we can see some trees that embellish the arid space that surrounds the monument with their greenery, sometimes with striking pink flowers that are peculiarly large and with a very exotic appearance.
I could tell you that this is not a mandatory stop if you visit Montevideo, because it does not have that spark that other places in my section of walking through Montevideo, however the sculpture is really wonderful, it is possible not to appreciate (due to the great height where it is) in great detail how wonderful it is, but for me, that I like sculpture a lot, it seems to me a great work that should get more attention and praise how incredible it is, attracting tourists as other less impressive monuments do around it. the city.
.
La plaza tiene poca vegetación, pero tras el monumento podemos apreciar algunos arboles que embellecen el árido espacio que rodea el monumento con su verdor, en ocasiones con unas llamativas flores rosadas peculiarmente grandes y con una apariencia muy exótica.
Podría decirles que esta no es una parada obligatoria si visitas Montevideo, porque no tiene esa chispa que otros lugares de mi sección de paseando por Montevideo, sin embargo la escultura es realmente maravillosa, es posible no apreciar (por la gran altura donde se encuentra) a gran detalle lo maravillosa que es, pero para mi, que me gusta mucho la escultura me parece una obra grandiosa que debería obtener mayor atención y enaltecer lo increíble que es, atrayendo a turistas como lo hacen otros monumentos menos impresionantes que este al rededor de la ciudad.
---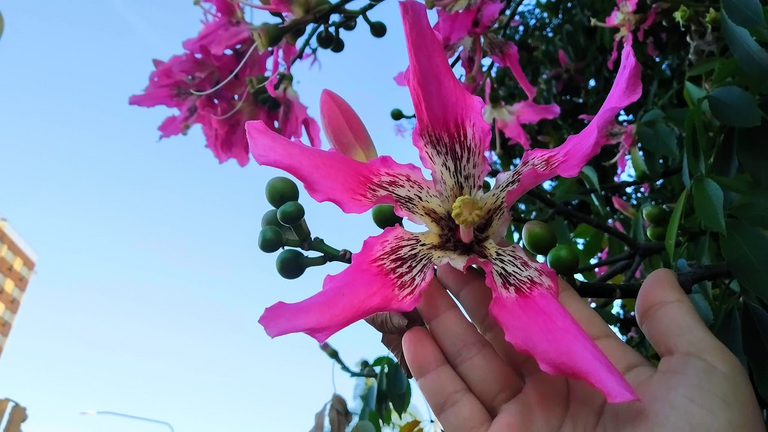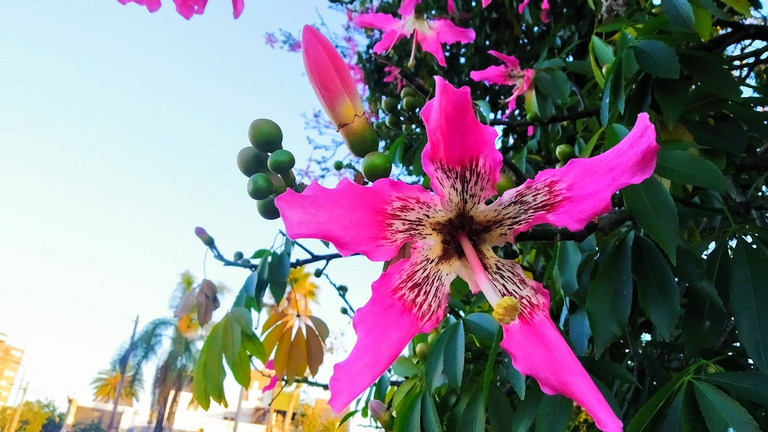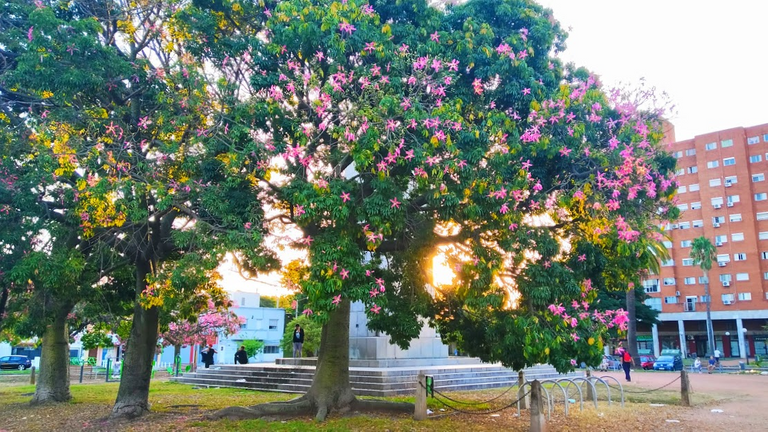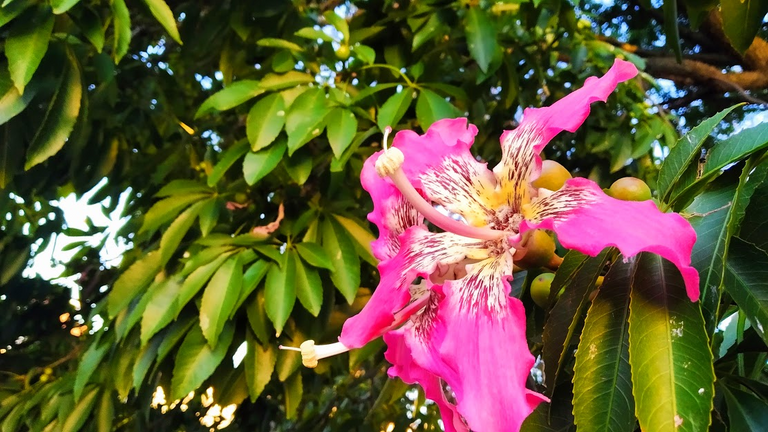 ---
If you dare to visit the square and check for yourself everything that I have shown you in this post, do not forget that the square is located on the entire corner of Avenida Agraciada and General Francisco Urdaneta, it is very close to Bulevar General Artigas which I love it because it has hundreds of palm trees on both sides, this will show them in a next post.
Si te animas a visitar la plaza y comprobar por ti mismo todo lo que te he mostrado en este post no olvides que la plaza se encuentra en toda la esquina de avenida Agraciada y general Francisco Urdaneta, queda muy cerca de Bulevar General Artigas el cual me encanta porque tiene cientos de palmeras a ambos lados, este se los mostrare en un próximo post.
---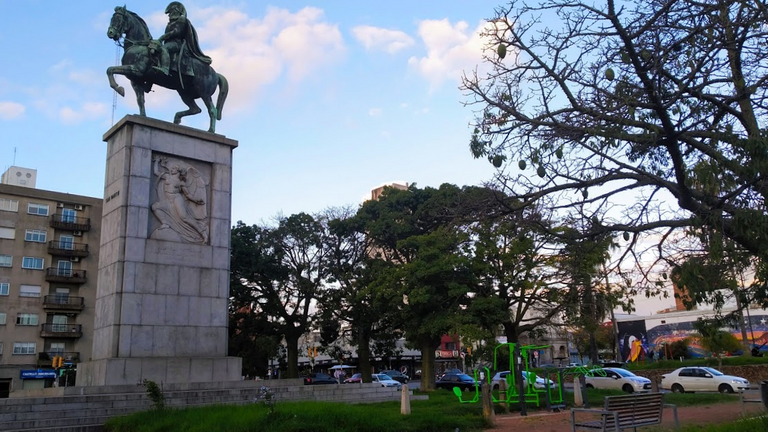 ---
Esto ha sido todo por hoy, si te gusta lo que hago, siente libertad de ayudarme a seguir
This has been all for today, if you like what I do, feel free to help me continue
Δ
https://www.paypal.me/carlagonz
Δ
El ingles no es mi idioma natal, me ayudo de traductores para realizar estos post
Todas las fotos son de mi propiedad tomadas con Xiaomi redmi 7
English it is not my native language, I help myself with translators to make these posts
All photos are my property taken with Xiaomi redmi 7

Muchas gracias por leer
Ten un bonito y feliz día
Con amor Carla Gonzalez Venezolana en Uruguay
Thanks so much for reading
Have a nice and happy day
With love Carla Gonzalez Venezolana in Uruguay