Loosely based on the 1950's Japanese manga and the 1960's animated television series of the the same title, the animated film Astro Boy, is a futuristic thrill ride that sci-fi fans of all ages are sure to enjoy. Borrowing a page or two from Dickens and Disney, it is a visually stunning coming-of-age story, about a young boy caught between two worlds.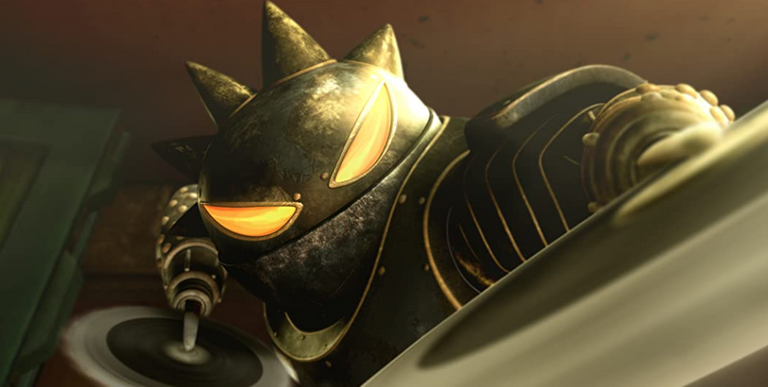 source
Set in the distant future, Toby (voice of Freddie Highmore) is the son of a brilliant scientist, Dr. Tenma, (Nicholas Cage) living in Metro City, an idyllic pollution-free floating city above the Earth, where robots are subservient to humans. When Toby is accidentally vaporized by a military robot, created as a weapon by the diabolical President Stone, (Donald Sutherland) Dr. Tenma attempts to bring him back to life with a Blue Core energy source created by his colleague, Dr. Elfun. (Bill Nighy) Although programmed with Toby's memories and personality from DNA, Dr. Tenma discovers that Toby's clone cannot replace his real son, and banishes him from his home.
With his newly discovered robotic features of x-ray vision, superhuman strength, and jet propelled legs, Toby travels back to Earth, which has deteriorate into a wasteland with giant junk heeps. There, he is abducted by a trio of rebel robots known as the Robot Revolutionary Front, who re-name him Astro Boy, and befriended by a gang of orphans, under the care of former Metro City robot repairman, Dr. Hamegg, (Nathan Lane). Desperate to fit in, Toby neglects to tell his new friends that he is part human and part robot.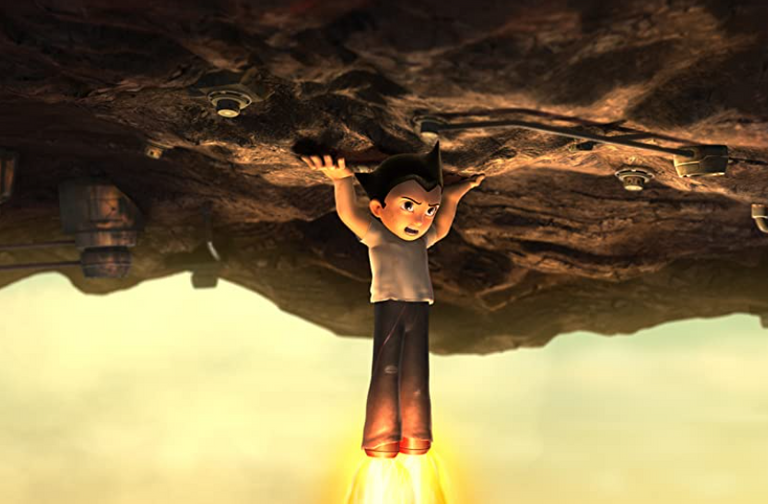 source
In the meantime, President Stone launches a mission to capture Astro Boy and steal his positive blue Core energy source, and use its negative Red Core byproduct to fuel his oversized Peacekeeper military robot, that will start a war to secure his re-election. Astro Boy is pitted in a good vs evil battle with the Peacekeeper, but will his superpowers be enough to save Metro City and win back his father's approval?
This rather curious re-cycling of Oliver Twist, WALL-E, and Frankenstein, among others, succeeds on the strength of its supercharged action sequences and well-developed characters. The quality of the animation is breathtaking, with colorful 3-D CGI, set against the backdrop of a fascinating futuristic landscape, and a heart-warming backstory of a young boy's journey of self-discovery. On the downside, there seems to be some sort of hot button political message about pollution resulting in the downfall of the planet Earth, that is a bit lost in all the subplots.
The vocal performances by the distinguished cast are all outstanding. Freddie Highmore (August Rush/Spiderwick Chronicles) very skillfully combines intelligence with innocence, in his heroic lead role, while Donald Sutherland delivers a wickedly devious vocal track as the villain. Matt Lucas, Bill Nighy, and David Bowers provide comic relief as the blundering revolutionaries, while Nathan Lane adds a strong vocal performance as the Dickensesque Fagin-like character.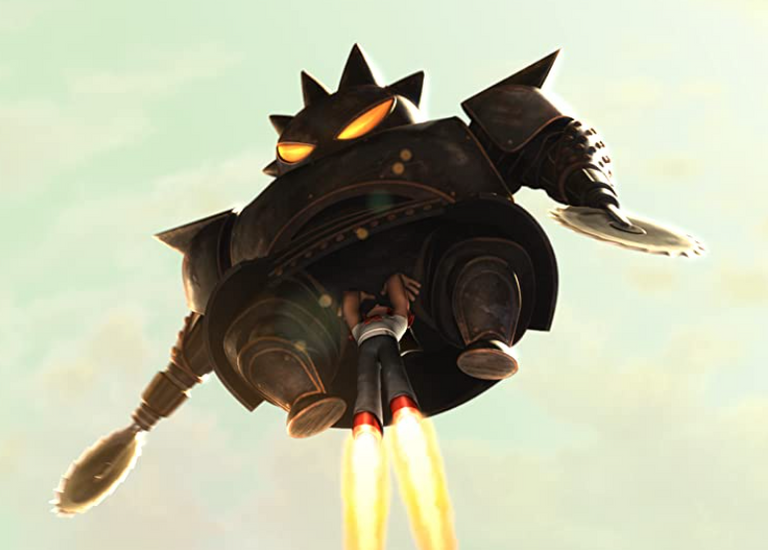 source
Overall, Astro Boy is a very entertaining, action/adventure film about the redemption of an outcast. The rather intricate, at times violent, plot may be a bit difficult for younger children to follow. However, adults and children 8 or over, will find a lot to enjoy in this engaging pint-sized superhero thriller.
Posted with STEMGeeks