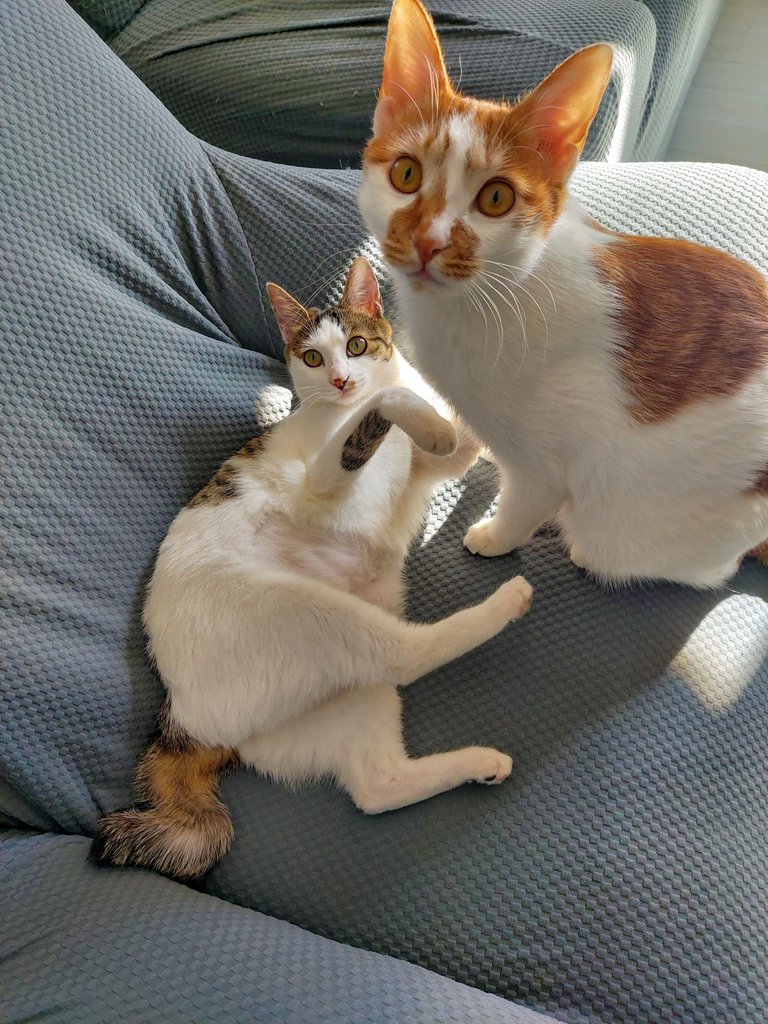 The two kitties that the story is about. Captain on the left and Fred on the right.
---
It has been a while since I have been fully awake at 10am. Don't get me wrong, it is not that I sleep too much. I just tend to go to bed really late since I only have to be at work at around 2pm. So for me at around 10am it might be the time that I start waking up. It really is a nice time of day for me. Even though it might not be the healthiest routine, I still get my 8 or so hours of sleep each day.
For me 10am is great, my better half has gone off to work and my apartment is nice and quiet. My bed is the definition of cozy. Oh, so all that, huh? Well, yeah. I have 2 cats that are normally awake in the early morning hours. So around 8-9 they head to bed and for them, that is cuddled up next to me. I can't dare hold or cuddle them or they retreat, but for them being there and sharing the heat is pure bliss. They tend to get grumpy when I get up, unless I shake their food bowl, then they don't mind.
So yeah, my 10am might not be the best looking but it surely is a happy and cozy one with the 2 little darlings.
---
For more info about the 5-Minute Freewrite challenges, check out @mariannewest 's blog.
---
---
Did you hear about the Qurator witness? Qurator is my main project here on Steemit and it has grown to over 1700 members. We are proud to announce the witness is now live! If you like what I do here on Steemit consider voting for Qurator as a witness. =)

Via steemit.com.

Thank you for reading! Steem on Steemians!