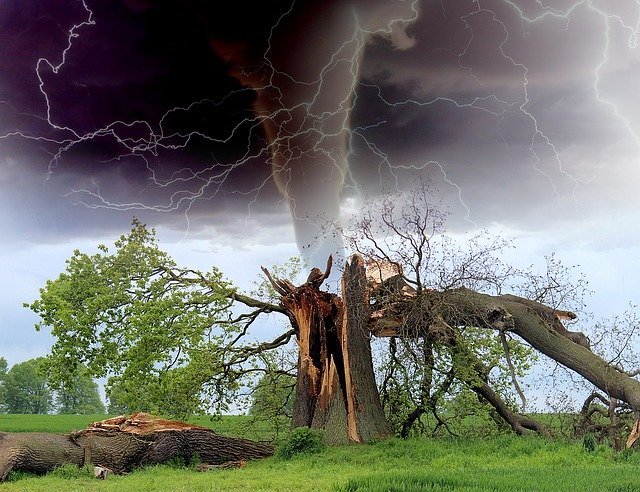 The rain wasn't letting up. We got in the car and drove out to Wahnahatchie Park and when we turned into the park, I saw my first tornadoes that day. They were taking off the tops of the trees. I had never seen one tornado, let alone three. Maybe they had split from one larger tornado before we got there.
Any rational person would have freaked and sought shelter, but Jimmy and I weren't at all rational. We were super stoned, and a little drunk too. So we had a blast watching the swaying tops of the trees getting ripped. The three of them were moving west to east and we'd entered the park from the south so, blind luck, thought we weren't actually in danger. We actually cracked open a couple more beers, got out of the car, and walked closer to get a better view of the show. When we got closer, we heard this loud bang and looked up, expecting to see another tornado on top of us. But it had been a lightning strike that had hit a tree next to where we'd parked the car.
That finally focused my attention. I've been scared of electricity ever since I'd had a finger between the prongs when I'd gone to plug in the Christmas lights when I was three years old. There'd been a flash-boom, I'd gotten thrown across the room, and my arm had gone so numb that it felt like it wasn't attached to the rest of me.
So Jimmy and I jumped in the car and got the hell out of there. That day at Wahnahatchie Park was probably the stupidest day of my life, but not Jimmy's. Two years later he cracked his skull while showing off with nunchuks trying to impress a woman he'd met in rehab.
Written in response to the #freewrite challenges that @mariannewest has been posting.
Pixabay image