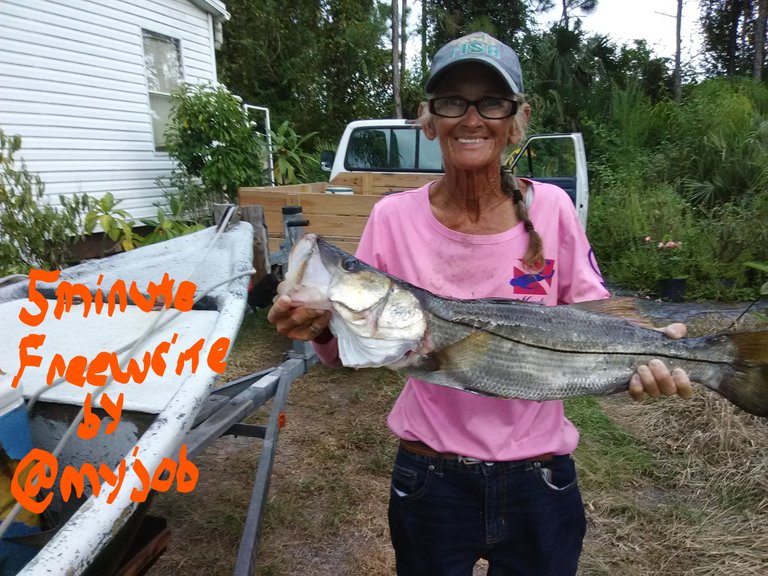 This is my post for #freewriters Thursday prompt stiff fingers hosted by @mariannewest
The river water temperature is still too cold for pompano to come in. So yesterday after looking everywhere for warmer water. I tried jigging down in the inlet, hoping that some might pull in on the flood tide. I jigged all day and only caught 4 sheepsheads, I stayed until 5:00.
Today I was fired up to catch sheepshead. I stopped in the channel and cast netted shrimp to use as bait plus I took a bag of sand fleas with me. I also put a grappling hook anchor on my boat. Yesterday I could not anchor because the one I have will not hold in a rocky bottom.
I go over there and get anchored. I take one of my pompano rods with the two hook rig on it and put smaller hooks on. I dropped it over the side of my boat and the rod tip starts jumping as soon as it hit bottom. Little snappers. Every time I dropped it down there the little snappers either ate all the bait or I caught them, all undersize. I tried jigging and kept getting hung. The tide was running a lot harder today. When the tide slowed down I pulled the anchor and the first drift I caught a legal sheepshead. Then I caught 3 that were undersize.
I looked at my phone and could not believe it was already 5 o'clock, my back was hurting and I had stiff fingers, even typing this hurts them, having arthritis in them does not help but I keep making myself use them because I figure if I let them get soft then that will be it.
When I got my boat pulled out a woman that I have got to know was there, she likes to take pictures of people and things on her walk every day. She asked to take my picture with a fish so I showed her my biggest sheepshead.