5-minute Freewrite by @myjob

This is my post for #freewriters Thursday prompt barking dog hosted by @mariannewest
We have had our granddaughter's dog for a year now, or a little over a year. My husband insisted that we will never have another dog with the passing of our last dog. He said the same thing when our dog before the last one had passed. But this time he was sticking to it. Until our granddaughter asked if we could keep her dog. She got the dog when it was 6 months old and had it for almost 2 years. Everything was fine, then one day it started fighting with her mother's dog. They tried to keep them separated, one day my daughter came out of her room and thought she closed the door behind herself. It came open and her dog came to the living room and the granddaughter's dog jumped her. My daughter tried to break them up and she ended up getting bit. Our granddaughter's dog is a heinz57 and our daughter's dog is a red pitbull, she could have easily killed the granddaughter's dog but she is too kind to do such a thing, she didn't even bite the other dog. so that is how we ended up with her.
She is a good dog but for some reason, she does not like my husband which hurts him, every night before going to bed he sits down by her and says," why don't Sasha like me, I never be mean to Sasha, I be nice to Sasha". I quit giving her snacks so he can try to win her over. The only thing that I can figure is maybe the family who said they could not keep her, the man might have mistreated her.
She is not a barking dog if she barks you need to go see what she is barking at. Like last September I was not home but my husband was and she went to barking next to our gate, my husband went out to see what she was barking at and quickly called her to him, this time she listened. He got her in the house and grabbed his gun.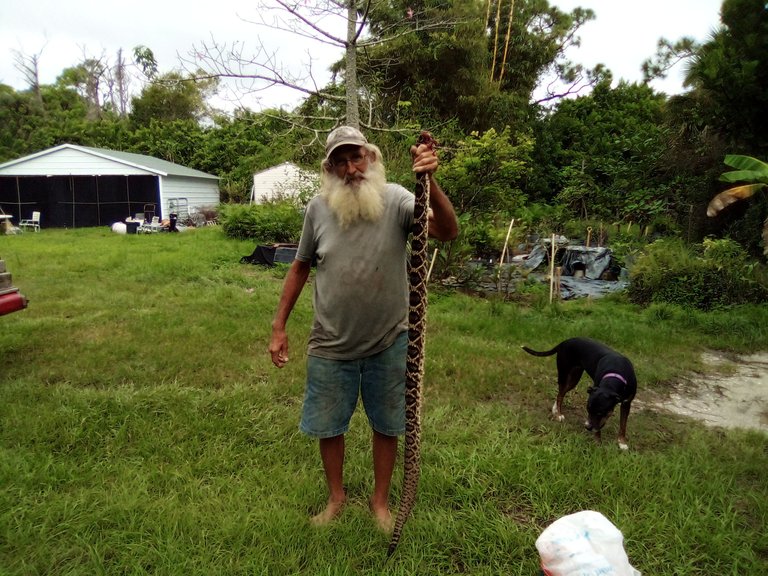 He does not like to kill the rattlesnakes this big, he calls them "old warriors" but he says if he hears that a kid in the neighborhood gets bit, he will never forgive himself. He skins them and tans the hide, he has me fry the meat and heart. I will cook it for him but can not bring myself to eat it.
After a year of having her, she has started coming to him when he calls her, and now she even lets him pet her, but if they are outside she runs around him like she is scared.
---
---