Saludos, amigos de Club de Poesía. Dejo mi participación en la nueva convocatoria, con la promoción de @freewritehouse.
Greetings, friends of Poetry Club. I leave my participation in the new call for entries, with the promotion of @freewritehouse.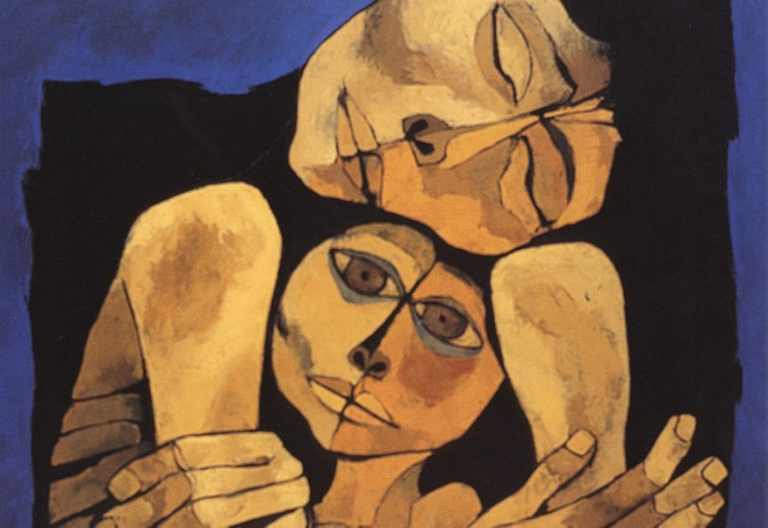 De la colección "Mientras viva siempre te recuerdo" | de Oswaldo Guayasamín Fuente - Source
¿Cómo juntar la esperanza y el amor
en un domingo tan desolado?
Solo una figura en el recuerdo,
amniótico y cálido,
podría hacer ese sortilegio
en estos días interminables,
que se repiten como el cansancio.
En mi raíz, en el alba,
o en la noche tierna,
deseadas, soñadas,
el sueño con la madre ida
vuelve con su abrigo
para salvarme de los escalofríos
de una fiebre en el cuerpo
o en el alma, sembrados
por el pesar del hoy,
y ella sigue estando.
Vuelve y la siento cerca
con su mirada oblicua
como quien quiere siempre
reconocer lo que no se ve
en lo directo y recto,
y siento su mano de alcanfor
sobre mi pecho.

How to put hope and love together
on such a desolate Sunday?
Just a figure in the memory,
amniotic and warm,
could perform such a spell
in these endless days
that repeat themselves like tiredness.

In my root, in the dawn,
or in the tender night,
desired, dreamed,
the dream with the mother gone
returns with her coat
to save me from the chills
of a fever in the body
or in the soul, sown
by the sorrow of today,
and she is still there.

She comes back and I feel her close
with her oblique gaze
as one who always wants
to recognize what is not seen
in what is direct and straight,
and I feel her camphor hand
on my chest.

Translated with www.DeepL.com/Translator (free version)



Gracias por su lectura.



Gif diseñado por @equipodelta