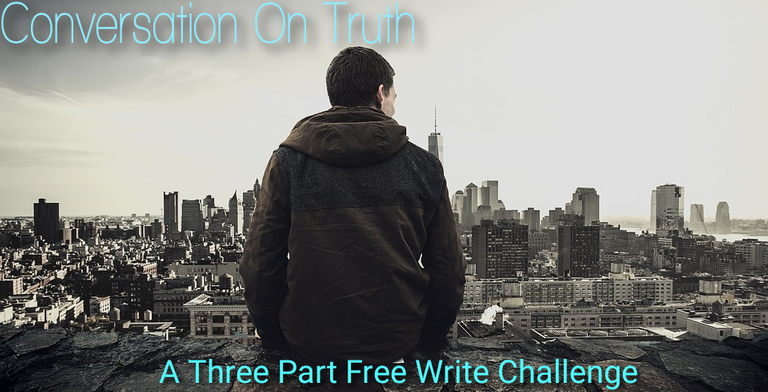 "I am afraid that means nothing to me at all." Steve said dismissively to his friend standing next to him. At least he thought he was nearby. As he sat on a lone boulder on top a hill that overlooked town, he pondered if his friend was just a figment of his imagination or a spirit or ghost of some sort. As it was it was his only companion these days.
He wiped a sticky trail of tears from his cheeks. And looked from the blade of grass he had been focusing on by his ragged old shoes and gazed absently back at the streets and houses below.
The town was not his home, just where he found himself to be. The faces strangers. Smiling happy faces. But strangers still. Home was somewhere unfathomably far away and it haunted his heart and mind. It was hard to find beauty in that town when everything reminded him of all he'd lost.
"Ah but it does. Otherwise you would have done it already. But you know you're not alone." The voice spoke softly from somewhere behind him.
Steve shrugged and sniffled not answering. He'd been told that before and looked down at the piece of metal in his trembling hands. Its hard edges were familiar to him but this time it felt different. It weighed more. Seven grams more. The weight of a single bullet.
---
"What happens when we die?" Steve turned to see his friend as he sat down next to him on the boulder.
For a few moments the two watched life go by in the cul de sac at the bottom of the hill in silence. Some children laughed and chased each other, until one of them started crying about something and marched back into the house.
"It doesnt hurt if thats what you mean." The man said and patted him on the back.
"No. I mean after we die what happens." Steve said weakly. His voice barely a whisper.
"Oh. Are you familiar with satori?" He asked in return. Steve shook his head no.
"It's like. Well. Like youre body and soul dissolves and it feels like you're a drop of water returning to the ocean. Like returning home only that you have always been a part of home. " The man said warmly, a slight chuckle in his voice.
"Home." steve repeated an aching feeling of longing in his tone.
A few more moments passed by before Steve broke the silence. "Are you death?"
The mans eyebrows widened in surprise at the question. "I play many rolls. But I'm willing to bet that today not death. "
---
Steve turned to face him and saw his own reflection in the man next to him and a bit of recognition spread across his face.
"Happiness, home is always in you're heart. It doesn't matter where you are or your circumstances. That is your lesson. To be happy with yourself you need to love yourself. Truly. " The man got up and walked away and vanished. His words were like a cold cup of coffee. Jarring but envigourating. It brought a little bit more clarity.
Steve turned the pistol over and over in his hand and stared at it for what seemed like a good ten minutes.
Then finally he grabbed it firmly and turned it just so. With his other hand her grabbed the slide and pulled it back hard ejecting the lone bullet. It fell onto his lap. Smiling he grabbed it, stood up and flung it as far as he could down the hill and didnt bother to see where it had landed.
"Time to try again." He said and repacked his bag and walked back towards town.
---
This is my three part weekend freewrite as hosted by @mariannewest and the Freewriters Community.
The weekend freewrite challenge and prompts can be found here;
https://peakd.com/hive-161155/@mariannewest/3-part-weekend-freewrite-8-22-2020
The prompts had a dark tone to me and i ran with it. Hopefully ending on a high note. I realise after the fact i could have gone totally different directions. Which is why i like these sort of prompts.
Hope the hive community enjoyed my first attempt at a three part freewrite and i look forward to reading everyone elses submissions.
Wishing everyone a fantastic weekend,
Hidave
---
Photo provided by pixabay.com