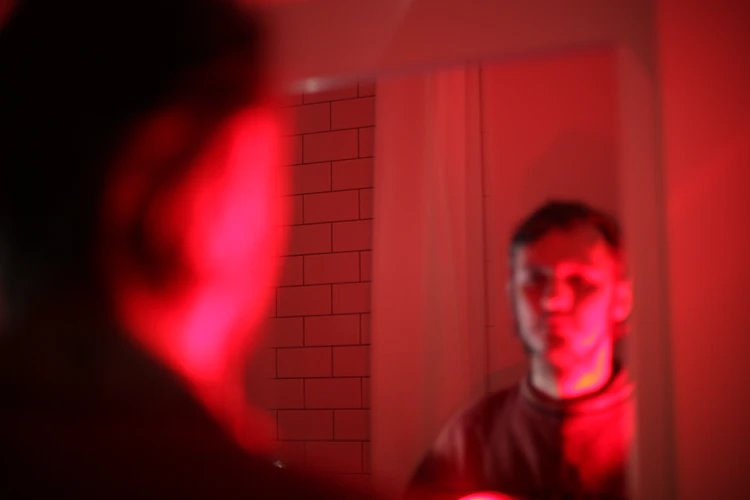 Finally back to Tunisia, his first minutes in the airport are too emotional. He doesn't know whether to cry out of joy or sadness and regret, so there he was in the bathroom crying. The stranger in the mirror is crying too, not knowing the nature of the tears he's shredding either. They look up to face each other, both surprised and both shocked!
Ahmed was much more handsome than this a year ago when he left Tunisia, seeking wealth and adventures and freedom as he used to call Europe. Funny because now, barely a year later, he calls Tunisia freedom. He smiles at the thought, to see his yellow teeth with black spots all over them, one more thing Italy has ruined! "Let's check them all while we're at it," he says to the stranger in the mirror "This scar under our right eye is the mark I got left after being rubbed three months after my illegal immigration. They took all the money I worked for during that month. God, I had so big plans for that money!"
"This white hair and these swollen cheeks, not something unheard of for my age of nineteen, but quite rare; they are the results of stress, fatigue, lack of sleep, and lack of proper food throughout the year, I used to work as hard and spend as little money as I could just to save some to eventually buy a car and start a small business when I go back home, but rubbers, unemployment, and finally my work accident (and the fact that I had no health insurance because well... I was an illegal worker) have eaten all my savings. Now here we are, in Tunisia again, broke again, after one year that felt like ten and definitely had the effects of ten years of darkness!"
"I will be mocked and shamed in the neighborhood for going to Italy and coming back broke but at least I'll have my family and friends back. Here I will never suffer starvation. Whenever I need money, I can borrow. Everyone in my city knows me and knows my family and where I live, where we've lived for decades, and maybe centuries. We have roots in this land and we have a reputation. I never appreciated these things until I tried to borrow money in Italy, where I was insignificant, unknown, and degraded. See, poverty is something I can bear, but humiliation, and, let's call things by their names, Slavery are unbearable."
"How I wish I never left my homeland. I used to have many options and many possibilities ahead of me but I took the riskiest and I paid the price. Now I need to live with my choices and fix what can be fixed..." He cleans his face to wipe away the dried tears, he wears a determined look on his face, and he leaves the bathroom, then the airport, thinking of a convincing story to tell his friends and family when he surprises them with his early return.
---
Image source: Unsplash
If the title "Ten Years Of Darkness" sounds familiar, then you should know that this is not an entry, cause I've broke a few rules if not all of them. If the title is not familiar to you, well you need to be more involved in the communities around here :p