Un desgraciado mal encaminado [ESP-ENG] | A 5 minute freewrite
En aquella comunidad pequeña, había un joven lleno de resentimiento... Por la vida, por Dios, por el destino, por sus hilos o lo que encontrara como objetivo para dirigir sus quejas y gritos. Toda esa ira lo llevó a seguir ideas frías en las que en cierto modo "escupía hacia arriba" pues sus insultos fácilmente podían destinarse a él, pues su proceder no era distinto de aquellos a los que insultaba como animal que sigue su instinto.
El no tener a papá, el ser un inmigrante, su situación económica, el ser tratados como parásitos o seres indignos de respeto, solo acrecentaba la ira del pequeño. Quien ya había empezado a seguir malos pasos solo para conseguir algo de dinero para asegurar su pan diario. Una noche, empujado por la presión del grupo al que se unió quemó una de las casas de la zona en la que él mismo se crió.
La temperatura subía a la vez que las voces de sus antiguos vecinos lo hacían, sus respiraciones irregulares se escuchaban, estaban apurados tratando de evitar que algo peor pasara. La culpa luego lo golpeó, como basura se sintió y en busca de redención se acercó y confesó solo para luego irse, aunque el orgullo hizo que su disculpa pareciese hecha bajo obligación. El dueño del hogar lo confrontó y le pidió que dejara los malos pasos, que no tomaría grandes represalias pues vienen del mismo barco, de la misma zona que ya no ofrecía un buen futuro.
El joven no lo escuchó y en silencio se marchó, aunque por dentro una guerra de pensamientos se llevaba a cabo y su caminar parecía automático, como el de un robot programado pues su atención estaba en lo que en su mente estaba pasando. Ya a varios kilómetros de donde empezó, uno de sus vecinos lo alcanzó en su moto y le dijo "Vuelve joven, si no lo haces te arrepentirás por mucho tiempo".
La necedad le abrazaba pues le pidió que se largara, solo para hallar la muerte poco tiempo después a manos de asaltantes de poca experiencia que desesperaron y dispararon al no manejar bien el armamento que con sigo llevaban. Fue un final trágico, terminó olvidado, el resentimiento, el orgullo y la ira fueron los ingredientes para su ruina...
---
English version
In that small community, there was a young man full of resentment? For life, for God, for destiny, for his threads or whatever he found as a target to direct his complaints and shouts. All that anger led him to follow cold ideas in which in a way he was "spitting upwards" as his insults could easily be aimed at him, for his behavior was no different from those he insulted as an animal following his instinct.
Not having a father, being an immigrant, his economic situation, being treated as parasites or beings unworthy of respect, only increased the anger of the little boy. Who had already started to follow bad steps just to get some money to ensure his daily bread. One night, pushed by the pressure of the group he joined, he burned down one of the houses in the area where he himself grew up.
The temperature rose as the voices of his former neighbors did, their ragged breaths could be heard, they were in a hurry trying to prevent something worse from happening. Guilt then hit him, like garbage he felt and in search of redemption he approached and confessed only to then leave, though pride made his apology seem made under compulsion. The owner of the home confronted him and asked him to leave the bad steps, that he would not take great reprisals because they come from the same boat, from the same area that no longer offered a good future.
The young man did not listen to him and silently left, although inside a war of thoughts was taking place and his walk seemed automatic, like that of a programmed robot because his attention was on what was going on in his mind. Already several kilometers away from where he started, one of his neighbors caught up with him on his motorcycle and told him "Come back young man, if you don't you will regret it for a long time".
Foolishness embraced him as he asked him to leave, only to meet his death a short time later at the hands of inexperienced assailants who became desperate and fired when they did not handle the weaponry they were carrying with them. It was a tragic end, he ended up forgotten, resentment, pride and anger were the ingredients for his ruin...
---
---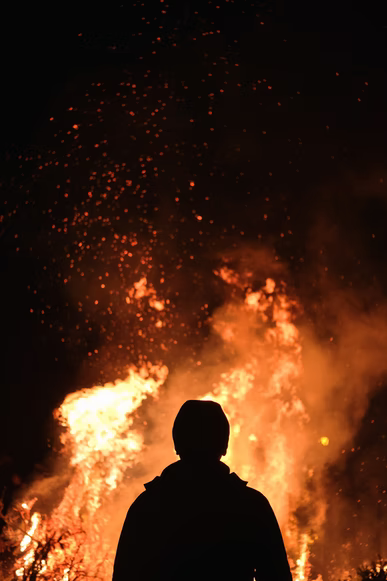 Unsplash, Adam Wilson, @fourcolourblack

---
Puedes seguirme por acá si lo deseas:
You can follow me here if you want:
---
---