Дякую @hivebuzz за прекрасну новину. Вчора виповнилось 3 роки, як я розпочав свій непростий шлях в на соціальному блокчейні. В моїй активності були як гарні так і не дуже гарні моменти. В перші роки мені дуже бракувало розуміння того, що за допомогою обману та шкодячи іншим нереально побудувати щось дійсно важливе та цікаве. Через це, перші роки я часто вибачався перед спільнотою за велику кількість сесамоподібних повідомлень.
Thanks to @hivebuzz for the great news. Yesterday it was 3 years since I started my difficult journey on the social blockchain. There were both good and not so good moments in my activity. In the early years, I really lacked the understanding that it is unrealistic to build something really important and interesting by deceiving and harming others. Because of this, in the early years, I often apologized to the community for the large number of spam messages.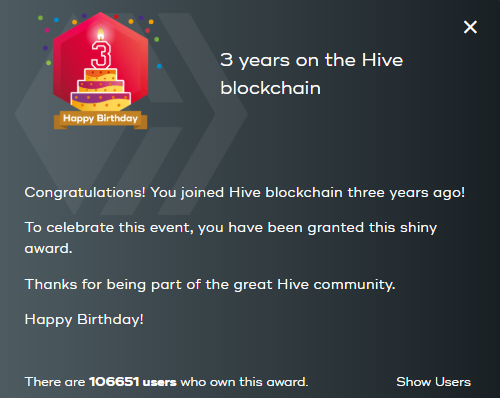 Лише зараз, чи може трошки раніше, я зрозумів, що для того щоб щось отримати потрібно щось віддати. На блокчейні HIVE присутня унікальна можливість віддавати свій час та енергію, які ми витрачаємо на створення повідомлень та отримувати винагороди та визнання. Винагороди не завжди повинні бути в вигляді фінансового еквіваленту. Досить часто достатньо бачити, що твою працю хтось прочитав. Спілкування в коментарях не менш цінна винагорода чим виплати в виді HIVE POWER та HBD.
Only now, or maybe a little earlier, I realized that in order to get something you need to give something. The HIVE blockchain has a unique opportunity to give away the time and energy we spend creating messages and receiving rewards and recognition. Remuneration does not always have to be in the form of a financial equivalent. Quite often it is enough to see that someone has read your work. Communication in the comments is no less valuable reward than payments in the form of HIVE POWER and HBD.
Для того, щоб ви змогли отримувати винагороди у вигляді коментарів та upvotes дуже важливо створювати контент, що буде цікавий іншим користувачам. Я навмисно не писав якісний, так як цікавий - значно зрозуміліше і цінніше для платформи, адже цікавий контент притягує увагу людей не тільки із самої спільноти а й з різних пошукових сервісів. Маю надію, що порада створювати "цікавий контент" допоможе іншим користувачам HIVE в їхньому становленні.
In order for you to receive rewards in the form of comments and upvotes, it is very important to create content that will be of interest to other users. I intentionally did not write quality, because interesting - much clearer and more valuable for the platform, because interesting content attracts people's attention not only from the community itself but also from various search services. I hope that the advice to create "interesting content" will help other HIVE users in their formation.
10% від виплат даної статті я відправляю на своєрідний "депозитний" рахунок своєму синові @andruto. На мою думку заощадження на блокчейні HIVE буде набагато цікавішим за будь-який депозит, що я знаю.
I send 10% of the payments of this article to a kind of "deposit" account to my son @andruto. In my opinion, saving on the HIVE blockchain will be much more interesting than any deposit that I know of.
    Весь зміст створено автором за псевдонімом @cranium для однойменного блогу на блокчейні HIVE. Використання будь-яких матеріалів дозволено лише після погодження з автором.
    Все содержимое создано автором за псевдонимом @cranium для одноименного блога на блокчейне HIVE. использования любых материалов разрешено только после предварительного согласия автора. 
    All content was created by the author under the pseudonym @cranium for the blog of the same name on the HIVE blockchain. The use of any materials is allowed only after agreement with the author.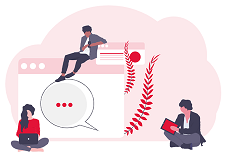 Not got an account yet? Sign up to Hive!

AD
Ти вже вариш пиво? Щоб почати грати просто натисни на картинку. @cryptobrewmaster - перша криптогра на блокчейні, в яку можна грати без обов'язкових інвестицій!!!
Are you already brewing beer? To start playing just click on the picture. @cryptobrewmaster - the first blockchain cryptogame that can be played WITHOUT mandatory investment !!!