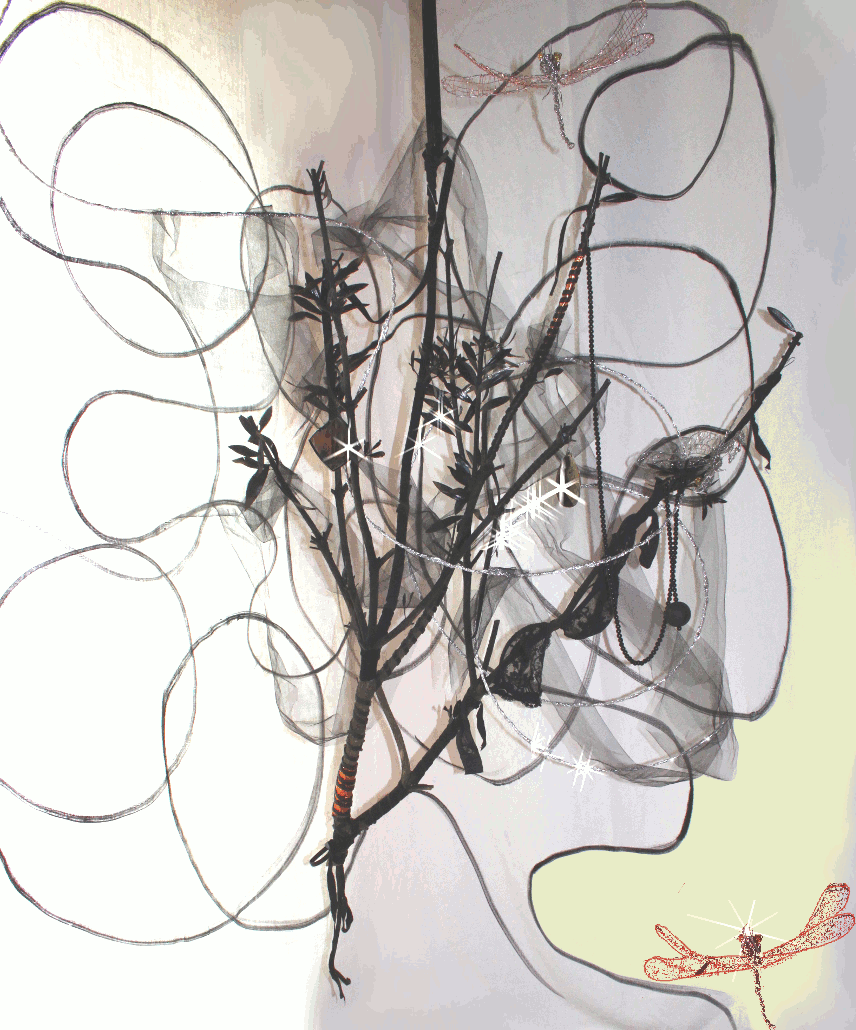 Hello everyone, today still a digital work. I started by taking a my old istallation composed by a branch of a plant with dry leaves, lined with objects that remind us of the female world like, makeup box mirrors, lipsticks, bra, necklaces etc.
As a background a wite panel drawn with black circular lines of acrilyc color and in the upper part a dragonfly made with copper wires, single point of color in a black and wite scenery.
I took this image and turned it into a gif. Through the color and the flight of dragonflies I animated this a few static and dark image and like magic I gave it back life and positivity.
The dimensions of this image are: 856x1030 px, 5,13 MB
I hope you like!!!
Bye
Ciao a tutti, oggi ancora un lavoro digitale. Ho iniziato prendendo una mia vecchia istallazione composta da un ramo di una pianta con foglie secche rivestito con oggetti che ci rimandano al mondo femminile come, specchietti presi dai cofanetti per il trucco, rossetti, reggiseno, collane etc. Come sfondo un pannello bianco disegnato con linee nere circolari con acrilico ed in alto una libellula realizzata con fili di rame, unico punto colorato in uno scenario nero e bianco. Ho preso questa immagine e l'ho trasformata in una gif. Attraverso il colore e il volo di libellule ho animato questa immagine un po' statica e scura e come magia le ho ridato vita e positività.
Le dimensioni di questa immagine sono: 856x1030 px, 5,13 MB
Spero vi piaccia!!!!
Ciao
• Personal Links:
► NFTShowroom: https://nftshowroom.com/titti/gallery
► Personal Web Site: https://www.valange.it
► FB: https://www.facebook.com/anty.valange
► IG: https://www.instagram.com/val.ange