🌌 Futuristic Reflection Story on Entrepreneurial Feminism, Crypto & Other-worldly Stuff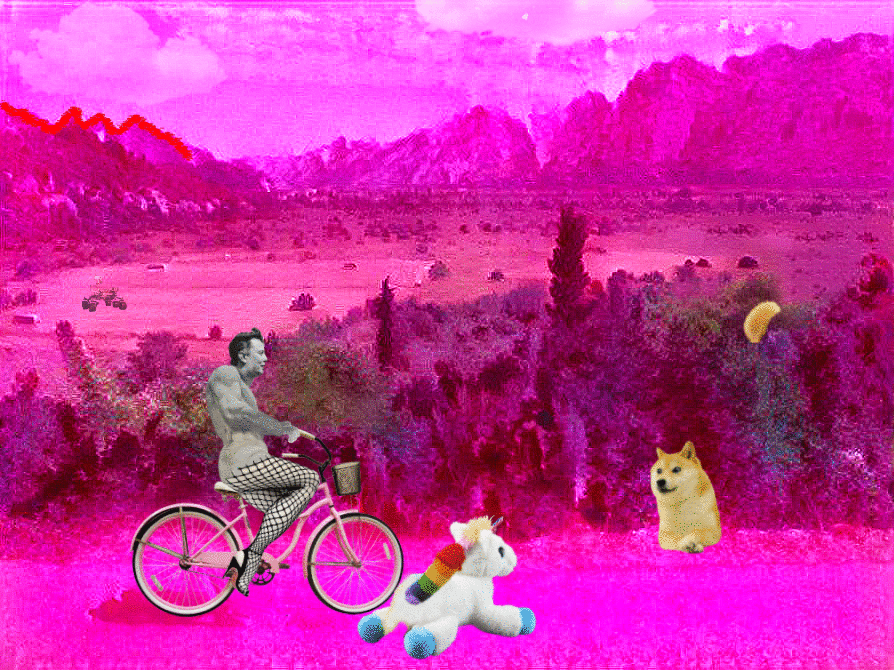 In private messages and chat rooms, my piece "Elon Muskules Cryptotine 150" has triggered some passionate discussions. From the start I knew that I would use the muscular base again for my second work. For this reason, "Bicyclelon Muskles on Gliese 504 b" would have been placed within my Public Pleasures Vienna Collection. So, I headed off with good weather and sunshine in my back to Märzstraße 6, in the fifteenth district of Vienna (Austria) to photograph the statue and body again in better quality. On the way the inspirational source, the music and rhythm for the artwork has flooded my whole body: Broom, Broom, get out of the way, cause entrepreneurship is freakin' awesome!
With the thoughts that Elon Musk can turn around the entire car industry in Europe, I've been wondering if Elon Musk can ride a bicycle at all and if so would he try to switch on the thing, which is so much more environmentally friendly, like a motorcycle? Perhaps this would have been the reason why the bike isn't moving an inch. Or is the reason for not being able to continue driving perhaps the female gender? Do female entrepreneurs even stand a chance, and what role does the Ethereum unicorn's fluffy patriarchal penis play in all this? Obviously, the tail of the unicorn got excited by the Dogecoin Shiba Inu. Crypto-interest seems to be mutual in a way. In any case, it was clear that on this pink planet (Gliese 504 b) all muscle contractions and movements had to beat in the same rhythm. Who would have ever thought it possible that an Elon Musk dressed in fishnet stockings would manage to turn the downward red crypto trends that were emerging in the mountains so much to the positive green? This path could have only been paved with Bitcoin. While in the distance the Gliese rover was doing its gas analyses and evaluations for the science of the future, some cryptoartists of the @alienarthive collective @nftshowroom leaned back their tentacles to enjoy this otherworldly spectacle.
---
---