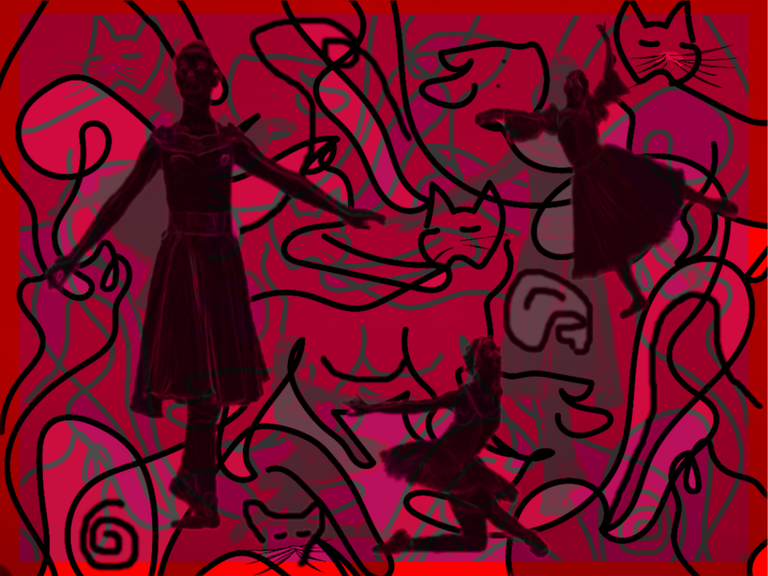 * * *
Hello Hivers
Greetings, digital visual art lovers. My work for today is inspired by dance. All of us who have had the opportunity to be behind the scenes know that there is a real catfight going on there. The dancers are tense, restless, concentrating to go out and show what they do best - dance.

Their bodies feel the music even before they hear it and transform it into a visual message in the eyes of the audience. But behind the scenes they practice their poses or their figures as if they were in a ritual.
This time I worked with four photographs of my own. In three of them there were dancers and for the background I used a photograph of the Cumanese sky taken in August.
I also used a photographic filter to intensify the passion of this cat dance.
I hope you like my third digital work from September. Enjoy!

Hola Hivers

Saludos amantes de las artes visuales digitales. Mi trabajo para hoy está inspirado en la danza. Todos los que hemos tenido la oportunidad de estar detrás del escenario sabemos que allí se produce una verdadera pelea de gatas. Los bailarines están tensos, inquietos, concentrándose para salir a mostrar lo que mejor saber hacer –bailar.

Sus cuerpos sienten la música incluso antes de escucharla y la transforman en un mensaje visual a los ojos del espectador. Pero detrás del escenario practican sus poses o sus figuras como si estuviesen en un rito.

En esta ocasión trabajé con cuatro fotografías propias. En tres de ellas estaban bailarinas y para el fondo utilicé una fotografía del cielo Cumanés tomada en el mes de agosto.

También utilicé un filtro fotográfico para intensificar la pasión de esta danza de gatas.

Espero que les guste mi tercer trabajo digital de Septiembre. Disfruten!
* * *
---
---
Thanks for your appreciation and support for this artwork.
Gracias por su apreciación y apoyo para este trabajo artístico

Welcome your comments - Bienvenidos sus comentarios
Infinite greetings! – ¡Saludos Infinitos!
---
Digitalart @marcybetancourt
© Sep 2020, Marcy Betancourt. All rights reserved