Hello everyone! ♥️ Well, you should know that I like Japanese culture and its traditional stories, in which there are also creatures, and one of them is the kitsune, which means fox in English. But in Japanese mythology they're not just ordinary foxes, they can transform into humans and have magical or extraordinary powers.
¡Hola a todos! ♥️ Bueno, quizás deberían saber que me gusta la cultura japonesa y sus historias tradicionales, en las que también hay criaturas, y una de ellas es el kitsune, que significa zorro en español. Pero en la mitología japonesa no son sólo zorros ordinarios, pueden transformarse en humanos y tener poderes mágicos o extraordinarios.
By the way, kitsune is also my nickname here on Hive, but with a z instead of an s: kitzune. I really like 🦊. Anyway, back to the main theme! This illustration was inspired not just by these Japanese legends, but by a drawing challenge.
Por cierto, kitsune es también mi apodo aquí en Hive, pero con un z en lugar de un s: kitzune. Me gustan mucho los 🦊. De todos modos, ¡de vuelta al tema principal! Esta ilustración se inspiró no sólo en estas leyendas japonesas, sino en un reto de dibujo.
If you've read my blog before, you might know I like to do drawing challenges in platforms like Instagram for example. In February an incredible artist called MakoVice made a call on his IG for everyone to participate in a "Draw it in your style" challenge. I obviously had to do it because I like his themes and art.
Si han leído mi blog antes, quizás sepan que me gusta hacer desafíos de dibujos en plataformas como Instagram, por ejemplo. En febrero, un increíble artista llamado MakoVice hizo un llamado por su IG para que todos participaran en un desafío de "Draw it in your style" o "Dibújalo a tu estilo". Obviamente tuve que hacerlo porque me gustan sus temas y su arte.
The point is to do an illustration in your own style, so this was my entrance to the challenge. Check my profile here I changed the original drawing quite a bit and I made my own version with not just one but two foxes! One might be evil and the other one a warrior, and I really like the result! The rest of the story is up to you! I leave you a little bit of the process below, and the black and white version 'cause I find it aesthetically interesting.
La idea es hacer una ilustración en tu propio estilo, así que esta fue mi entrada al desafío. Visita mi perfil Cambié bastante el dibujo original y he hecho mi propia versión ¡con no sólo uno sino dos zorros! Uno podría ser el malo y la otra una guerrera, ¡y me gusta mucho el resultado! ¡El resto de la historia depende de ustedes!
Les dejo un poco del proceso de abajo, y la versión en blanco y negro porque me parece estéticamente interesante.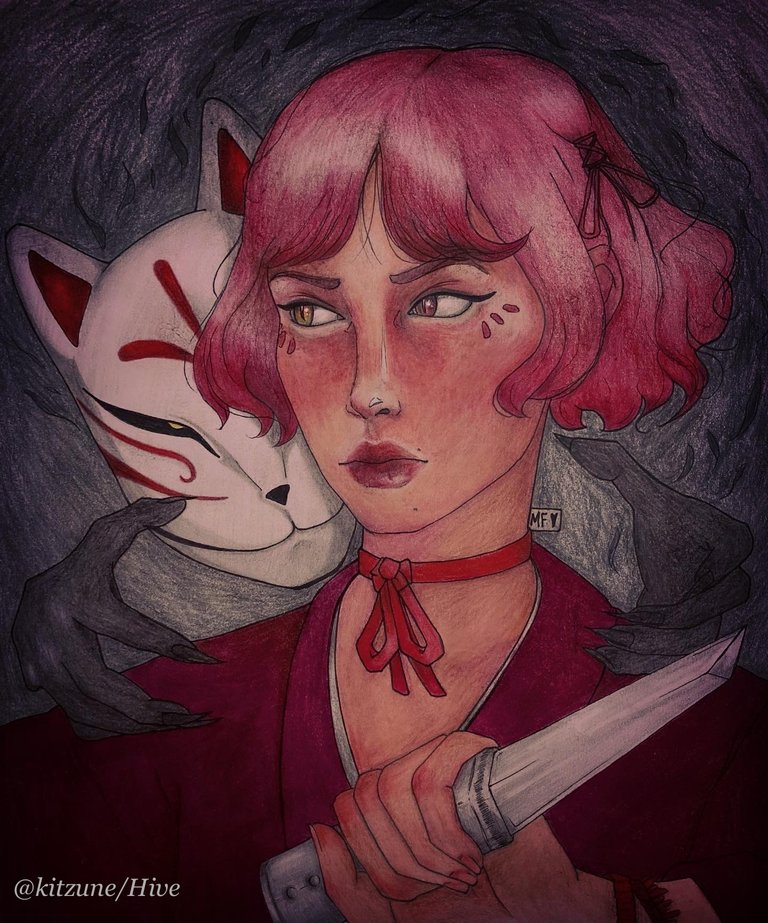 Original and final version. Media: pencil, crayons and ink markers on white regular bond paper.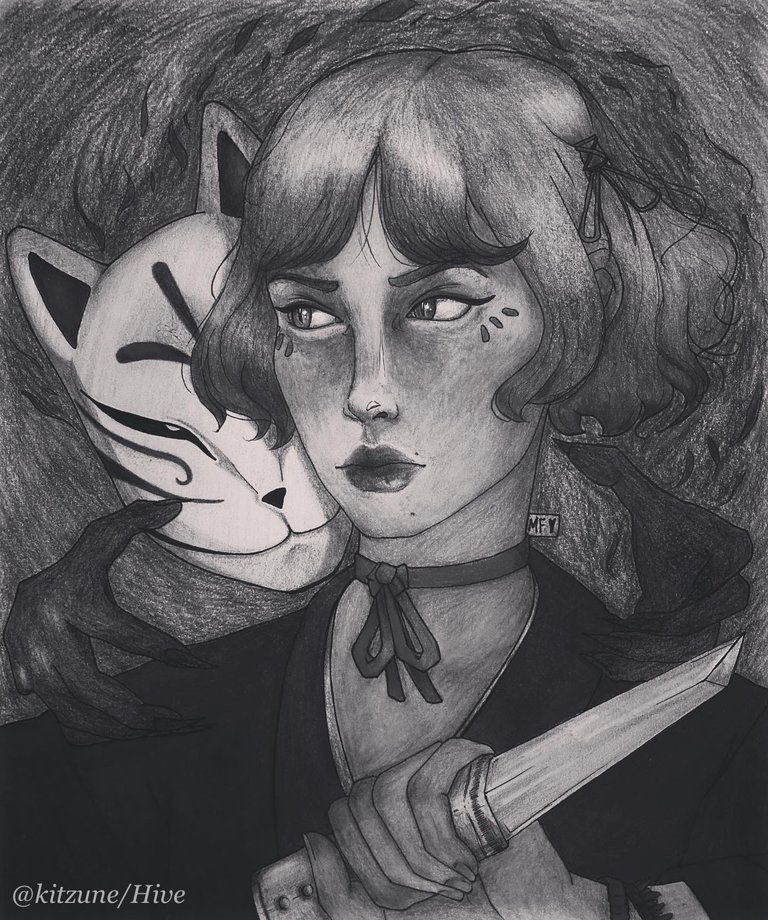 Black and white version.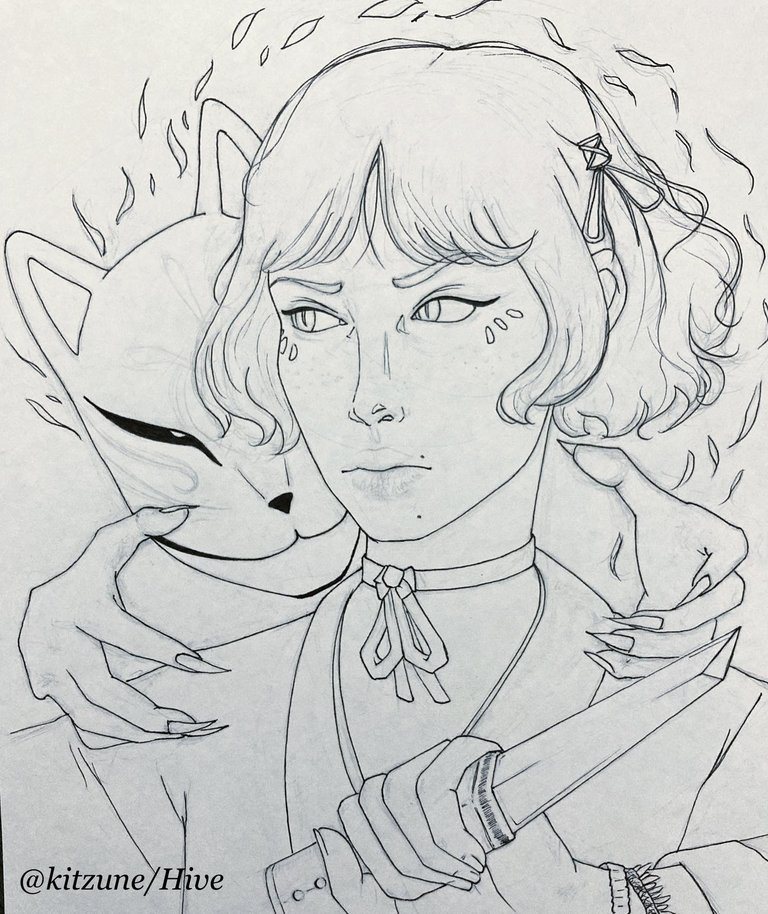 Outline art

Pencil sketch
Let me know your impressions! I'm always glad to read comments and opinions. Thanks for reading! If you like my art or wanna read and see more of other challenges I've made check out my profile! ♥️
I also have some posts about my journey with Japanese language and culture in case you're also interested in this great world. 🧚‍♂️✨
¡Hazme saber tus impresiones! Siempre me complace leer comentarios y opiniones. ¡Gracias por leer! Si te gusta mi arte o quieres leer y ver más de otros desafíos que he hecho visita mi perfil! ♥️ También tengo algunos posts de mi aventura con el idioma y la cultura japonesa, en caso de que también estén interesad@s en este gran mundo. 🧚 ✨
By Fernanda Rojas @kitzune


.
.
.
.
.
.
.
Vote, comment or reblog it ! 🌸
You can also read and support my last post/ También puedes leer y apoyar mi último post 👉 "Shadows of anxiety" Here