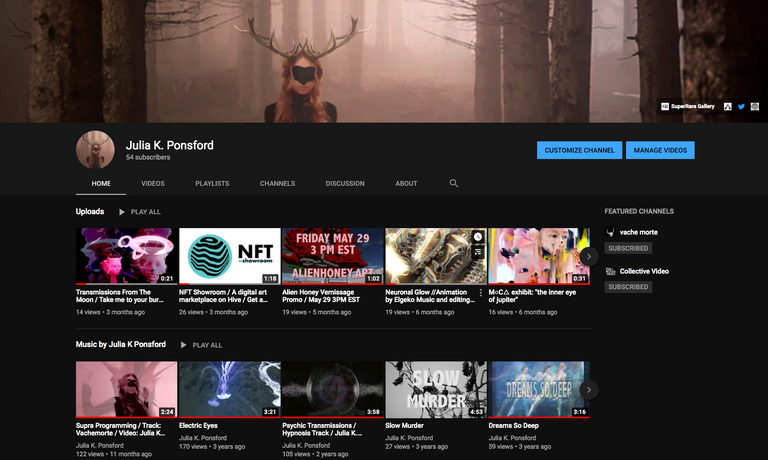 I haven't ever shilled my youtube channel very much, I mostly use it for hosting videos so I can embed there here on peakd posts and other places, one of the reasons is the URL, it currently looks like this:
https://www.youtube.com/channel/UCr98txN6aj65BqZpVTogPRQ/featured
💩💩💩💩
so it isn't easy to remember and I don't bother, I just give out direct video links. Obviously I would much rather have youtube.com/channel/juliakponsford!
I was updating some links today and noticed that to get a custom URL you need 100 subscribers, I thought it was 1000, not sure if they changed it at some point or I just misunderstood but I am currently at 54 so that seems pretty manageable :D
I post music videos, sometimes violin stuff and audio visual art stuff! If you want to subscribe and help me out please do so here!
https://www.youtube.com/channel/UCr98txN6aj65BqZpVTogPRQ/featured
While I'm shilling you can also find me on spotify, I am gradually updating my catalogue :)
https://open.spotify.com/artist/03eCEy26BeASQ7yFE8ToYO?si=_dxg5DoISvauONME00Fx5g
>>>>>>>>>>>>>₳ⱠłɆ₦ ⱧØ₦ɆɎ<<<<<<<<<<<<<
Join the Alien Art Hive community and come get some Alien Honey!

To follow on twitter, personal account, Alien Community account <3