More ArtSquares - Factory of Whachamacallit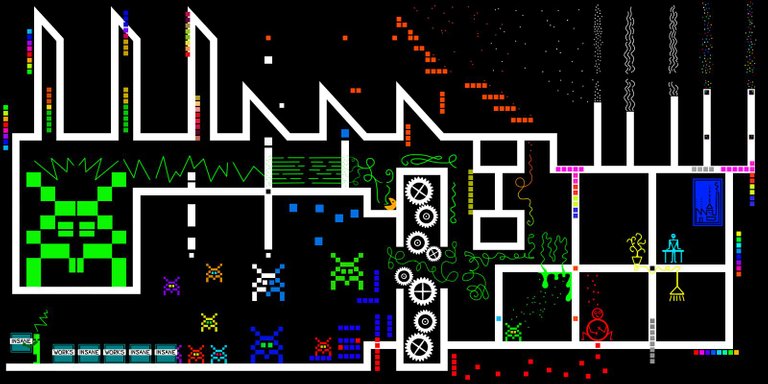 https://nftshowroom.com/insaneworks/art/insaneworks_artsquares_factory
Factory, ArtSquare pieces 67-116.
Square art is here again!
Short introduction:
This art is made out of equal sized squares and is part of ArtSquares collection. All the pieces are unique. You can reassemble it and make any modifications to it using parts from other ArtSquare pieces.
Longer explanation can be found from the links below.
Factory. Questions. Questions that we all should think about from time to time. Where does it all come from? What is in it? Who is in control? What is my part? Is this all real? Can I open the parcels already? And is it edible?
There.
The Factory gives some answers, thought the answers may be a bit cryptic. Do tell me when you find out what the answers mean.
The factory was actually the second work I started after Spaceship but I got distracted and got few of the other ArtSquare collection works ready before this one.
I was hoping that by now the unlockable content could be a zip file, that would contain all the squares but no luck there and as zip isn't accepted, there's a pdf file which points you to an internet address where you can download the zip file that contains the squares and the larger image.

I'm fascinated by the fact how many different variations of one idea there can be. Like this factory for instance. Using the same pieces but reassembling it differently. Unfortunately I don't have enough pieces yet so that if you follow my rules, connect the white lines and don't let the white line end to a black side, that you wouldn't be in trouble and wouldn't find a suitable piece to continue the ArtSquare puzzle the way you want it to reassemble, but slowly I'm getting there. Of couse there's only one way you can put the pieces together to get the factory, but there are several other options where you don't use all the pieces and get something else.
Making this, the ArtSquare images is therapeutic. And trying to match the squares in ArtSquares reassembler is also kinda therapeutic. At least for me. Until it isn't because it's infuriating if you can't continue the image to the direction you want it to go because there's no suitable piece available.
This happens.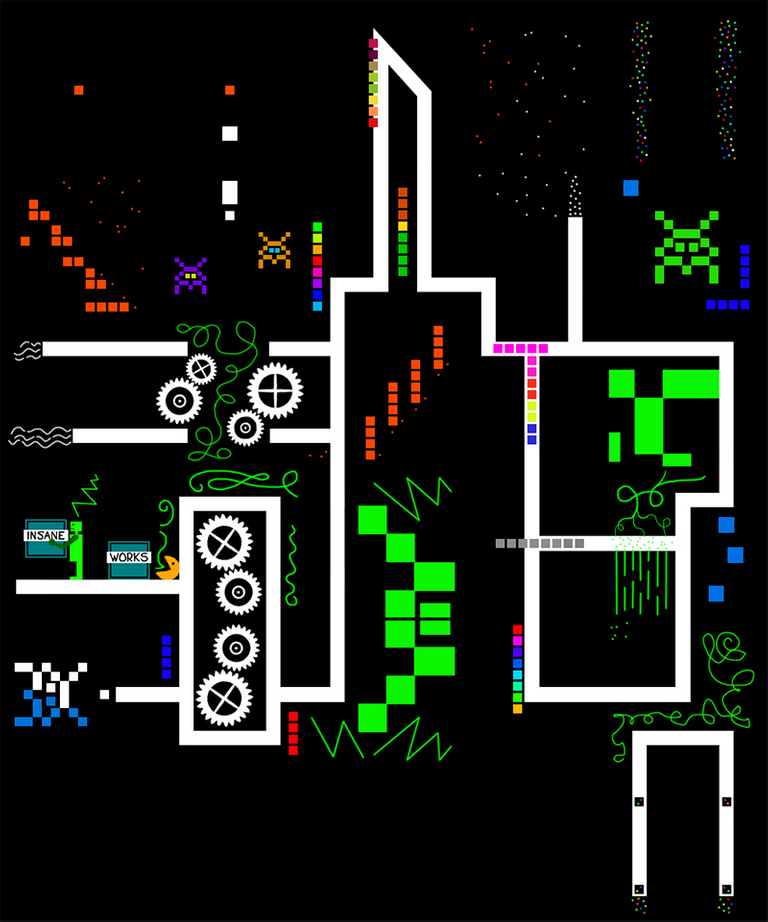 Have you ever played Pipe Dream? ArtSquares is like that but without any time limit or high scores and so much more different parts than what Pipe Dream has. Drives you insane doesn't it? And if you want to avoid blank squares, this gets so much harder.
I made an ArtSquares virtual exhibition, of course: ArtSquares – Mix and Match – Reassemble. The next time I make a new ArtSquares work, I will update the exhibition and perhaps, if I manage to invent pieces that make the reassembling easier, then perhaps I won't loose as much hair as I did when making the reassembled art pieces.
Life goals: not end up pulling my hair when making art.
Oh, you want a proverb? Well, here goes.
Life is just art and individual pieces that you can put in any order you want. Or choose to ignore the squareness of the things around you.
And here are the links below ⌄
---
Fence, 51-66
https://peakd.com/hive-158694/@insaneworks/fence-and-underground-world
50
https://peakd.com/art/@art-anon/stick-figure-animation-unfinished
Impossible Piece, 49
A House, 47-48
Art Gear, 46
Art Invader, 45
DJ & Switchboard, 41-44
Spaceship, 1-40
https://peakd.com/hive-158694/@insaneworks/introducing-artsquares-1-48---from-spaceship-to-a-dj-and-a-house
ArtSquares reassembler
https://www.insaneworks.fi/artsquares


---
---