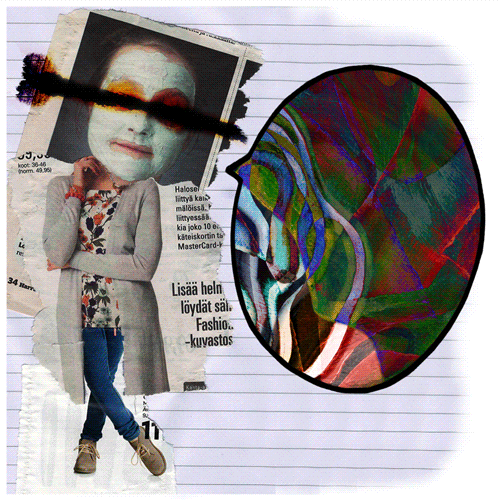 Thank you @isaria and @shortcut! You bought my art.
That.
Feels.
Awesome.
:)
The bodyswappers are originally ripped from magazines and paper ads which I've later combined with various other art pieces of my own. I love making new things from old art and I think the possibilities of a changing gif image is just what the bodyswappers needed. They needed a speech bubble and they needed to be heard.
The first version of the big head where there's only the paper clippings, can be found here. And the soccer fella below here.
What the bodyswappers are saying is also my old art. Old oil paintings years ago. As I said, I like to play with my art, mix it and see where it develops.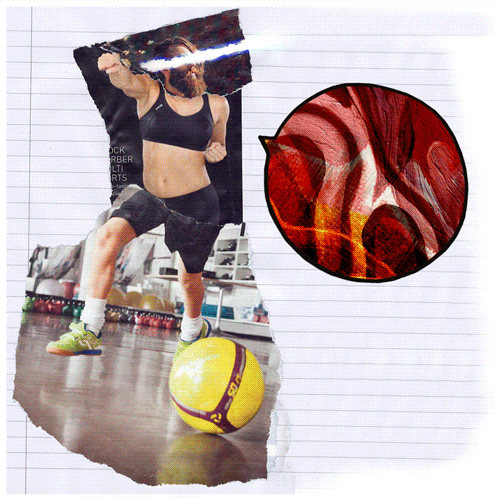 The bodyswappers is a series of art pieces and this soccer player / shadow boxer is the second one that I decided to sell in NFT Showroom. There will be more, but I think I'll wait for a while until I release the next one for the world to wonder.
I've kept the price low so that people like me, who do not have hundreds and hundreds of HIVE to spent, have also few more options to choose from as there's not that much art for sell under 20 SWAP.HIVE. I do think that artists should not sell their art too cheap as one should always value their time spent making the art, but I also do think that it's wise to sometimes advertise yourself by selling teasers or on sale or what ever you want to call it.
Anyway.
My bodyswappers are not teasers. Far from it. They are really serious. And they are what they are and I think more than anything, they are a group of characters that will develop to something else in the future. To which direction, that remains to be seen. So that's why the price of these is so low. There will be more in the future. Something new, something old and something bl... bodyswapped.
---
BODYSWAPPERS
NFT Showroom
https://nftshowroom.com/discover?q=bodyswap
Just Cut The Bullshit Boss, Put Your Honey On
https://peakd.com/art/@insaneworks/just-cut-the-bullshit-boss-put-your-honey-on
Big Head Thoughts
https://peakd.com/art/@insaneworks/big-head-thoughts
Collage Art - Mixed Media - TV-themed
https://peakd.com/mixedmediaart/@insaneworks/collage-art-mixed-media-tv-themed
Collage Art
https://peakd.com/collageart/@insaneworks/collage-art
Collage Art - Mixed Media
https://peakd.com/mixedmediaart/@insaneworks/collage-art-mixed-media