NTF The Ring - El Aro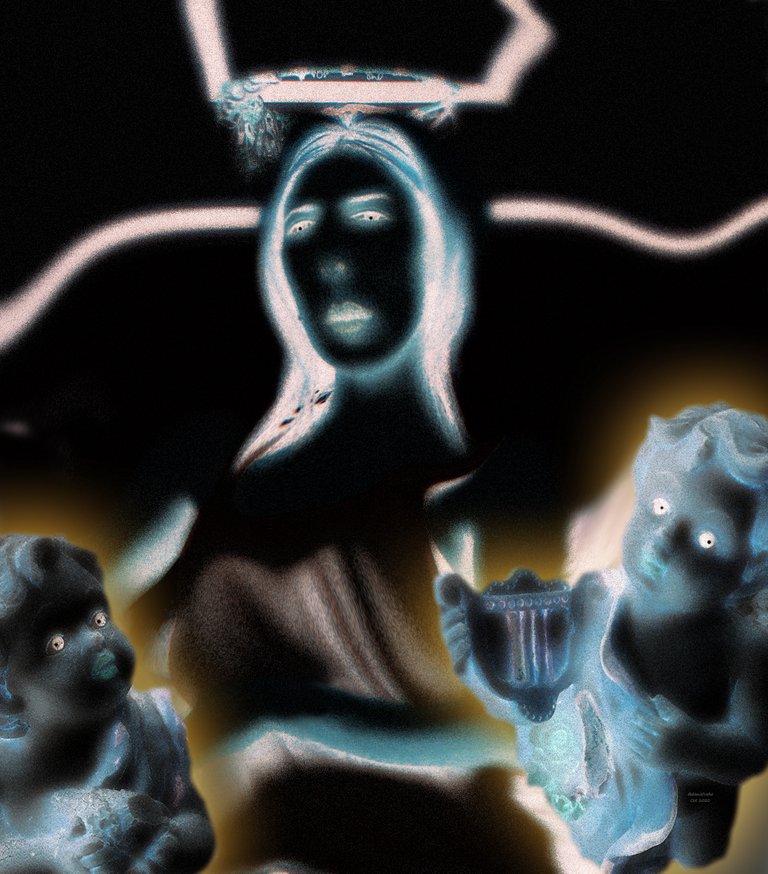 Hola hivers. Hoy traigo el paso a paso de este NFT y su historia es algo curiosa.
Resulta que tenía pensado armar una composición para la fotografía que realicé con Rosinmar; donde el aro de basket simula la aureola de santidad.
Pensé colocarle unos ángeles que serían fotos mías también. Todo esto lo imaginé antes de siquiera buscar las fotos. Ya tenía a Rosinmar en el aro y como recordaba esa foto, la fui armando en mi mente...
Sabía que hallaría a los ángeles, ya que en la casa de mi tía hay muchas figuras religiosas.
Hello hivers. Today I bring the step by step of this NFT and its history is something curious.
It turns out that I had planned to put together a composition for the photograph I took with Rosinmar; where the basketball hoop simulates the aura of sanctity.
I thought of putting some angels on it that would be my photos too. I imagined all this before even looking for the photos. I already had Rosinmar in the hoop and as I remembered that photo, I put it together in my mind...
I knew I would find the angels, since my aunt's house has many religious figures.
Translated with www.DeepL.com/Translator (free version)
---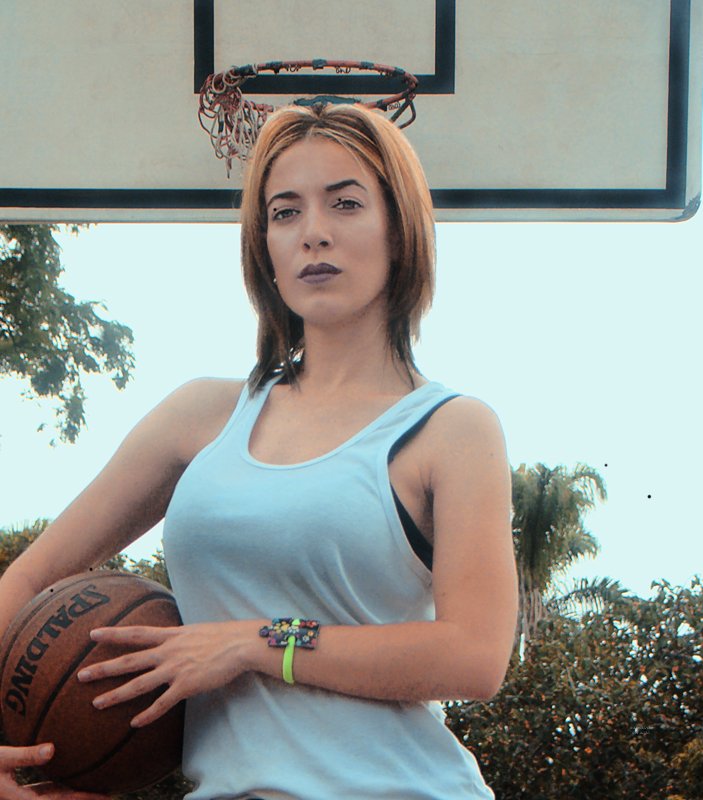 Conseguí a estos ángeles que son figuras de yeso. Tomé la foto pensando que solo con recortarlos tendría suficiente
I got these angels that are plaster figures. I took the picture thinking that just cutting them out would be enough
---
Apliqué un efecto de resplandor difuso y me parecía que ya había terminado. Luego pensé que se vería mejor crear un GIF. Así que me puse manos a la obra.
I applied a diffused glow effect and it seemed to me that it was over. Then I thought it would look better to create a GIF. So I set to work.
---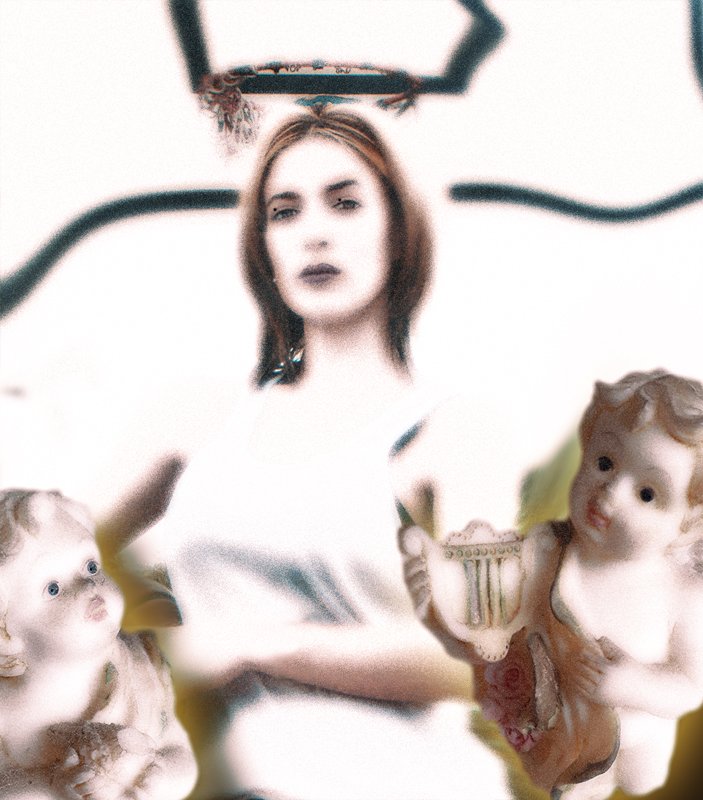 Para el GIF probé moviendo a los ángeles como si pudieran volar de verdad. Algo no me terminaba de convencer y sentía que les faltaba algún efecto. Fue cuando decidí invertir los colores. Entonces pensé que el GIF con cambio de color quedaría bien.
For the GIF I tried moving the angels as if they could really fly. Something didn't convince me and I felt that they lacked some effect. That's when I decided to reverse the colors. Then I thought that the GIF with color change would look good.
---
El arte me gustaba pero algo me decía que no era sobresaliente. Fue entonces cuando guardé el GIF y me dispuse a publicarlo. Sin embargo no cargó la imagen y me regresé para bajarle el tamaño a ver si me subía.
Cuando lo estaba guardando, el programa me muestra una vista previa y en esta vista se mostraba más cerca la imagen; de hecho todavía no había arrancado el movimiento del GIF y por unos segundos se quedó con el color invertido.
Ese acercamiento con el color invertido fueron determinantes para que me enamorara de la imagen y me decidiera hacerla fija.
La recorté y ajusté algunos detalles como cambiar el color de rojo a amarillo para el resplandor de los ángeles. También modifiqué la cara y el pecho; además de acentuar los ojos de los ángeles y colocarle más granulado a la imagen.
I liked the art but something told me that it was not outstanding. That's when I saved the GIF and set out to publish it. However, I didn't upload the image and I went back to resize it to see if it would go up.
When I was saving it, the program showed me a preview and in this view the image was shown closer; in fact I had not yet started the movement of the GIF and for a few seconds it was inverted.
That approach with the inverted color was determinant for me to fall in love with the image and decide to make it fixed.
I cut it out and adjusted some details like changing the color from red to yellow for the glow of the angels. I also modified the face and the chest; besides accentuating the eyes of the angels and placing more granulation to the image.
---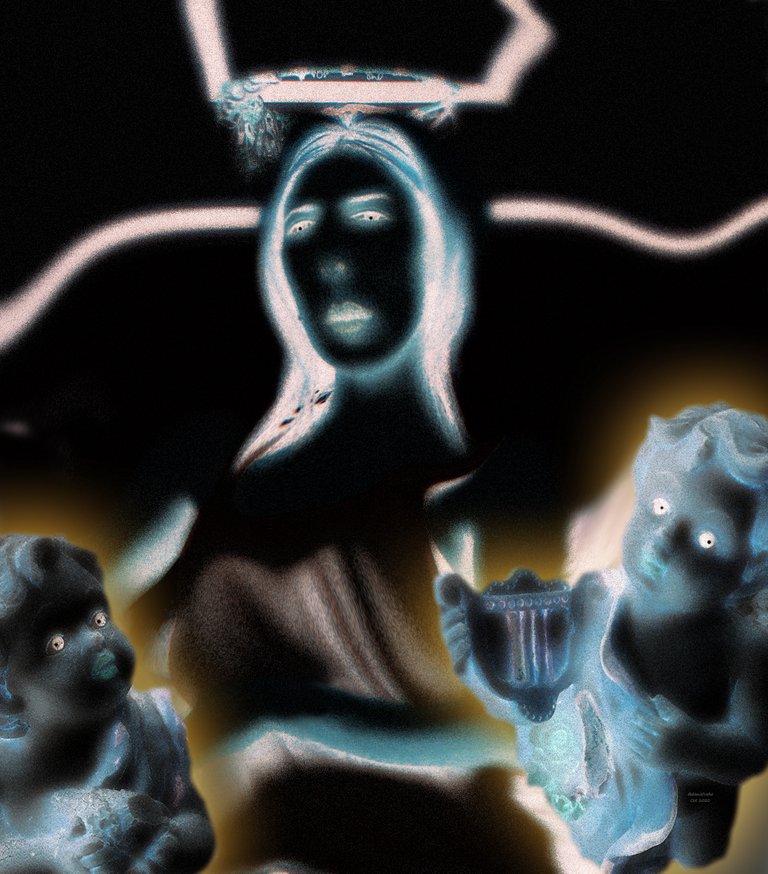 ---
Artes digitales anteriores - Previous digital arts
| | |
| --- | --- |
| Enemigos - Enemies | Buscando mi estilo para NFT Showroom - Looking for my style for NFT Showroom |
---
---