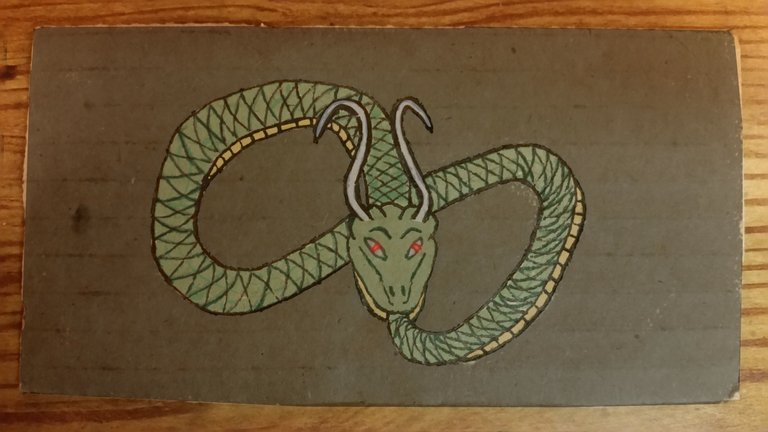 ---
I've never considered myself a visually artistic person, but getting involved with the @nftshowroom has led to an awful lot of inspiration. It's pretty interesting since I've always operated on the belief that words are where my artistic abilities are centered. Anyway, I'm pretty new to this and I realize that not all of it is amazing, but I thought I'd share a few pieces from my gallery with you guys to give you an idea of what I've been up to when not working.
I think my favorite so far is the one featured at the top of this post. When we started the site, I figured I would only be involved in the business and backend operations, but I started getting inspired by @richardfyates's (aka Yatesy) style of mixed-media on reclaimed cardboard and decided to give it a try one day while I was bored at work. After drawing the image on a piece of scrap cardboard, I digitally colorized it and produced the piece below:
---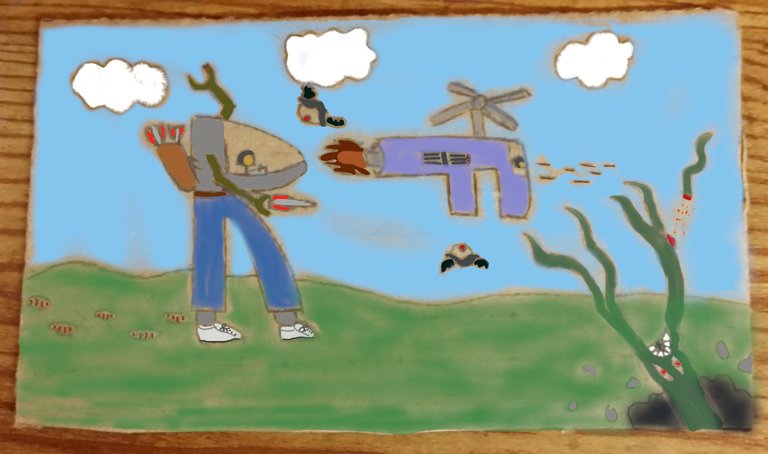 ---
I've since done a few more of these mixed-media pieces and even a couple purely digital pieces.
Surprisingly some of them have even sold out, which I never really expected. I've moved in to making a few nsfw pieces as well as I try to explore and find a style that I really like. Surrealism inspires me quite a bit and I think I'd like to do more of that, but for now it's just whatever comes to me in the moment.
---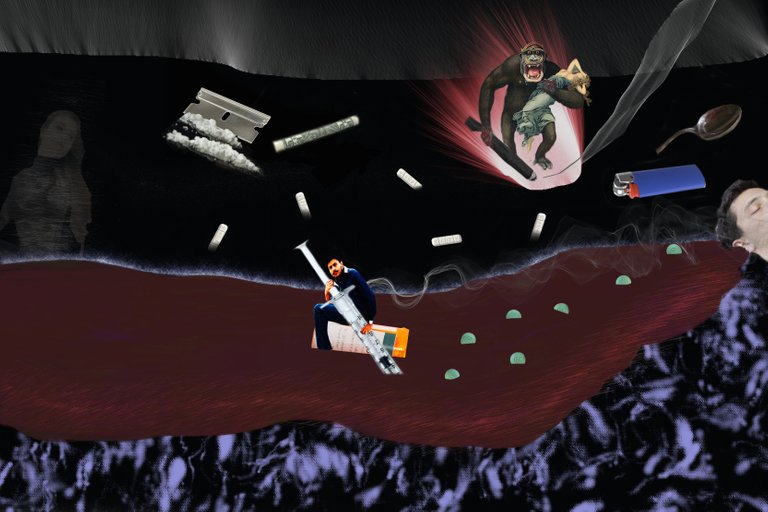 ---
Above is my first experiment with collage art. I painted the scene and then modified random creative commons licensed images to tell a story. It's very interesting how random items can be transformed and come together to make a piece of art and I have some ideas for a few more collages, but time will tell if they ever come to exist.
Anyways, I'm a bit all over the place as I'm just exploring how to even "do an art," but I've been collecting quite a bit as well. I am almost certain I have the largest collection on @nftshowroom anyways and I know I'm over 200 pieces. Perhaps next time I'll share some of the art that I've purchased with you guys or try to figure out how to do one of those whole process posts and show you my (most likely) bizarre workflow. Much love.
---