I am a fan of a German series called "Dark" is a science fiction series, the synopsis of this one, are the time travels, the parallel timelines, the temporal paradoxes (open and closed) that occur in a quantum random process that produces a branching of the universe, creating parallel universes or multiple copies of the same universe, where the protagonists have a tragic end in each of these parallel universes, on the other hand we can see elements such as the creation of the portals in time through the Higgs boson or the God particle, as well as a tangle of events that keeps us trapped in the plot because if you neglect you completely lose the thread of history.
Soy fanática de una serie alemana llamada "Dark" es una serie de ciencia ficción, la sinopsis de ésta, son los viajes en el tiempo, las líneas de tiempo paralelas, las paradojas temporales (abiertas y cerradas) que ocurren en un proceso aleatorio cuántico que produce una ramificación del universo, creando universos paralelos o múltiples copias del mismo universo, en donde los protagonistas tienen un final trágico en cada uno de estos universos paralelos, por otro lado podemos ver elementos como la creación de los portales en el tiempo mediante el bosón de Higgs o la partícula de Dios, así como una maraña de sucesos que nos mantiene atrapados en la trama ya que si te descuidas pierdes por completo el hilo de la historia.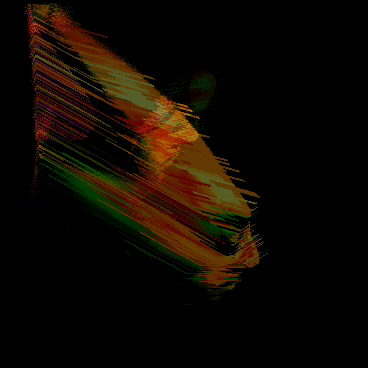 One of the things that fascinated me in this series was seeing each of the characters in the different stages of their lives, in multiple occasions my future self travels to my present, or to the past to guide me about certain decisions that I must make since these, even though they are painful, are necessary for our growth and evolution.
As a new artist who is learning and evolving, I find the processes of growth fascinating because they allow us to experiment, to explore what we like and what we don't like, what kind of technique I am best at and what I don't like, until we find our own style.
I like to draw and create a sketch from scratch until it comes to life is simply magical, in my case I combined the traditional drawing with digital art, I also like to take photographs and make manipulation, collages as well as movements to the still images.
Una de las cosas que me fascinó de esta serie fue ver a cada uno de los personajes en las diferentes etapas de su vida, en múltiples ocasiones mi yo del futuro viaja a mi presente, o al pasado para guiarme sobre ciertas decisiones que debo tomar ya que estás aunque sean dolorosas son necesarias para nuestro crecimiento y evolución.
Como artista novata que está aprendiendo y evolucionando, los procesos de crecimiento me parecen fascinantes porque nos permiten experimentar, explorar que nos gusta y que cosas no, que tipo de técnica se me da mejor y cual no, hasta que encontremos nuestro estilo propio.
Me gusta dibujar crear un boceto desde cero hasta que cobra vida es simplemente mágico, en mi caso combino el dibujo tradicional con el arte digital, también me gusta tomar fotografías y realizar manipulación, collages así como movimientos a la imágenes fijas.
This week I worked on several pieces some of them are for sale in NFT Showroom and CRYPTOAR in mp4 format, you can see them in high resolution by clicking on the links, my inspiration was varied as my imagination is somewhat restless, so in my work is very likely to see a cosmic dancer in the middle of a sea at night or as I imagine someone feels at the time of entering a multiverse.
Esta semana trabajé en varias piezas algunas de ellas están en venta en NFT Showroom y en CRYPTOAR en formato mp4, puedes verlos en alta resolución en haciendo clic en los enlaces, mi inspiración fue variada ya que mi imaginación es algo inquieta, por eso en mis trabajos es muy probable ver a una bailarina cósmica en el medio de un mar en la noche o como imagino yo se siente alguien en el momento de entrar en un multiverso.