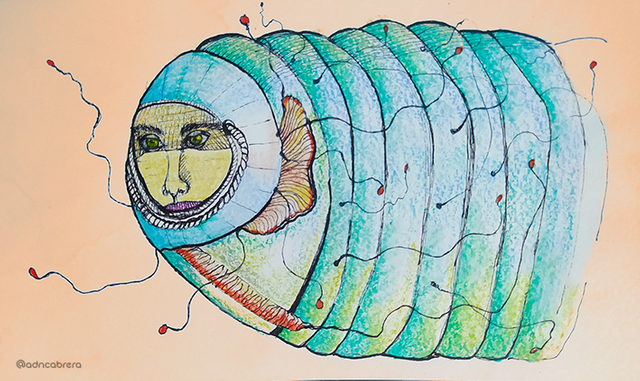 Eve and the New World / Eva y el Nuevo Mundo

Friends,
And if... it is the expression that presages the emergence of an alternative world. In Fiction Theory it is usually held that to found a fictional reality you need the minimum of one being.
These affirmations may seem too serious or academic to present my drawings, but the truth is that every work, however modest it may be, is governed by these laws of representation.
With these drawing exercises I would like to construct little by little an alternative universe, strange, futuristic perhaps. I want them to guide me in this imaginary exploration.
I leave with you the first one, made with colored pencils, markers and edited with PhotoShop.
I hope you like it.
In the end, you'll find a sequence of the process.
I am very grateful to @juliakponsford for the space they offer for my publication in their Alien Art Hive community.

Amigos,
Y si... es la expresion que presagia el nacimiento de un mundo alternativo. En Teoría de la ficción se suele sostener que para fundar una realidad ficticia hace falta el mínimo de un ser.
Estas afirmaciones tal vez parezcan demasiado serias o académicas para presentar mis dibujos, pero lo cierto es que toda obra, por modesta que sea, se rige por estas leyes de representación.
Quisiera con estos ejercicios de dibujo construir poco a poco un universo alternativo, extraño, futurista quizá. Quiero que sean ellos los que me guien en esa exploracion imaginaria.
Dejo con ustedes el primero de ellos, realizado con lápices de color, marcadores y editados con PhotoShop.
Espero que les guste.
Al final, encontrarán una secuencia del proceso.
Agradezco enormemente a @juliakponsford por el espacio que ofrece para mi publicación en su comunidad de Alien Art Hive.

Process / Proceso


Gracias por la compañía. Bienvenidos siempre.