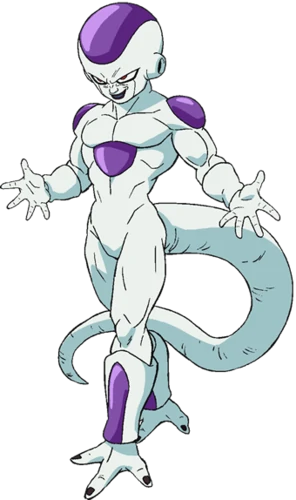 Source: https://dragonball.fandom.com/es/wiki/Freeza
Freeza, created by Akira Toriyama, is a fictional character that was introduced in chapter 247 of the Dragon Ball manga. His transformations are multiple and he is considered the most prominent villain in the series.
He is responsible for the death of Bardock, Goku's father.
Why is he considered the best villain?
Freeza has been in the entire manga saga, he has super powers almost as strong as that of the hero Goku. He has been resurrected several times, but this does not make him regret anything he has done.
He ruthlessly murders everyone he fights with and is not called the Emperor of Evil for nothing.
Source: Zeus AZ - YouTube
Some curiosities of the Villain of the Saga, Freeza:
1.- Its name comes from the English word Freeza, translated into Katakana.
2.- He was inspired by all the childhood nightmares of the creator, Akira Toriyama
3.- Despite being callous, he is a very polite villain to speak, unlike other villains.
4.- He is a sadistic and ruthless character, who enjoys the suffering of others. He likes to make his victims suffer before killing them. He is also sarcastic and arrogant.
5.- He is the author of the destruction of the planet Vegeta.
6.- It belongs to an unknown alien race, but so powerful that it proclaims itself as the owner of the universe.
For these reasons, he considers that Freeza is worthy of the title of villain in the Dragon Ball saga. This is my entry to the contest carried out by the @theanimerealm community, the best villain of Shonen anime. To participate, enter the contest link:
https://hive.blog/hive-158489/@jandresd07/the-anime-realm-contest-the-best-villain-of-the-shonen-anime-engesp
Information sources:
https://es.wikipedia.org/wiki/Freezer_(Dragon_Ball)
https://www.dragonball.uno/curiosidades/20-curiosidades-freezer-quizas-no-conocias/

Traducción al Español:
Freezer, creado por Akira Toriyama, es un personaje ficticio que introdujeron en el capitulo 247 de la manga Dragon Ball. Sus transformaciones son múltiples y es considerado el villano más destacado de la serie.
Es el responsable de la muerte de Bardock, padre de Goku
Por qué es considerado el mejor villano ?
Freezer ha estado en toda la saga de la manga, tiene super poderes casi tan fuertes como el del héroe Goku. Ha sido resucitado en varias oportunidades, pero esto no lo hace arrepentirse de nada de lo que ha hecho.
Asesina despiadadamente a todos con los que combate y no por nada es llamado el Emperador del Mal.
Algunas curiosidades del Villano de la Saga, Freezer:
1.- Su nombre proviene de la palabra en Inglés Freezer, traducida al Katakana.
2.- Fue ispirado por todas las pesadillas de la infancia del creador, Akira Toriyama.
3.- A pesar de ser insensible, es un villano muy educado al hablar, a diferencia de otros villanos.
4.- Es un personaje sádico y despiadado, que disfruta del sufrimiento ajeno. Le gusta hacer sufrir a sus víctimas antes de matarlas. También es sarcástico y arrogante.
5.- Es el autor de la destrucción del planeta Vegeta.
6.- Pertenece a una raza alienígena desconocida, pero tan poderosa que se proclama así misma como dueña del universo.
Por estas razones considera que Freezer es el merecedor del título de villano en la saga de Dragon Ball. Esta es mi entrada al concurso que realiza la comunidad de @theanimerealm, el mejor villano de Shonen anime. Para participar, entra en el enlace del concurso: