Dear Chessfriends,
The first round of Season 5 (called "Spring") was a classical 5+0 round with record-breaking 15 players participating (although some of them showed up a bit late)! @sawko was of course unstoppable, but this time @jaki01 came quite close and ended up only 1 point behind as second. Congrats to both!
With a distance of 9 points, I was able to make the 3rd rank, very closely followed by @yazp (zulukill) as 4th. With quite a gap again @pereu4ivatel (pereu4uwatch, formerly known as drak0nb) (5th) and @sammy00 (migmag) (6th) followed. The remaining tournament points went to 2 players new to Hivechess, @lighteye and @pirex (DaD3v) who were able to score with their first appearance - congrats to both as well!
@rodrook had the unlucky 9th place and with an average opponent rating of 1902(!) he was this time the one with bad luck with the pairings.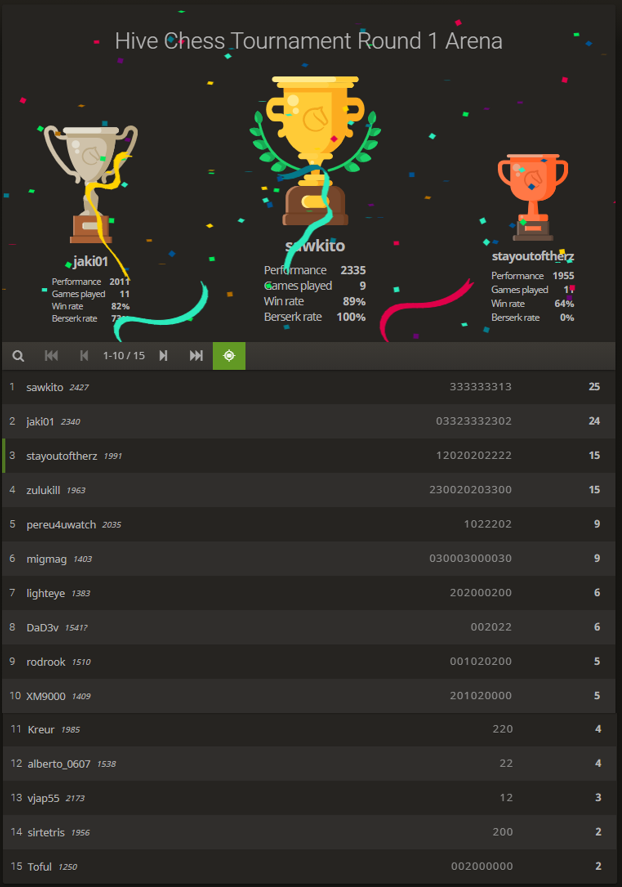 The games of this round can be found here, in case you want to replay some of them.
Season 5 "Spring": 12 Feb to 23 April 2021 / Ranking after first round:
The rules you can look up in the announcement post.
See you next week and keep practicing!